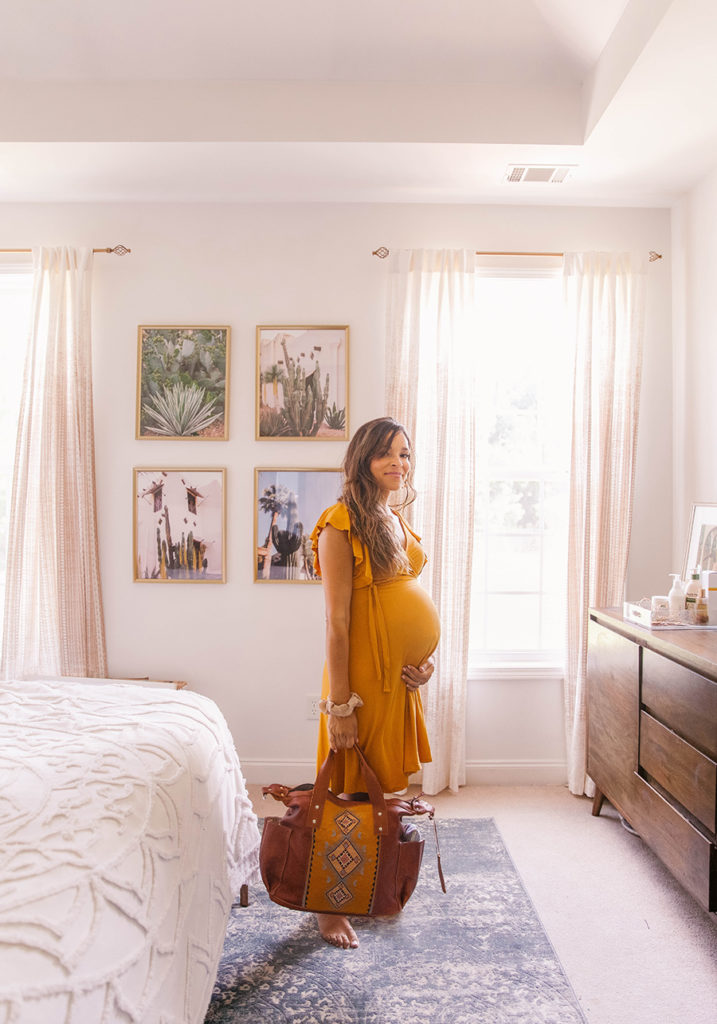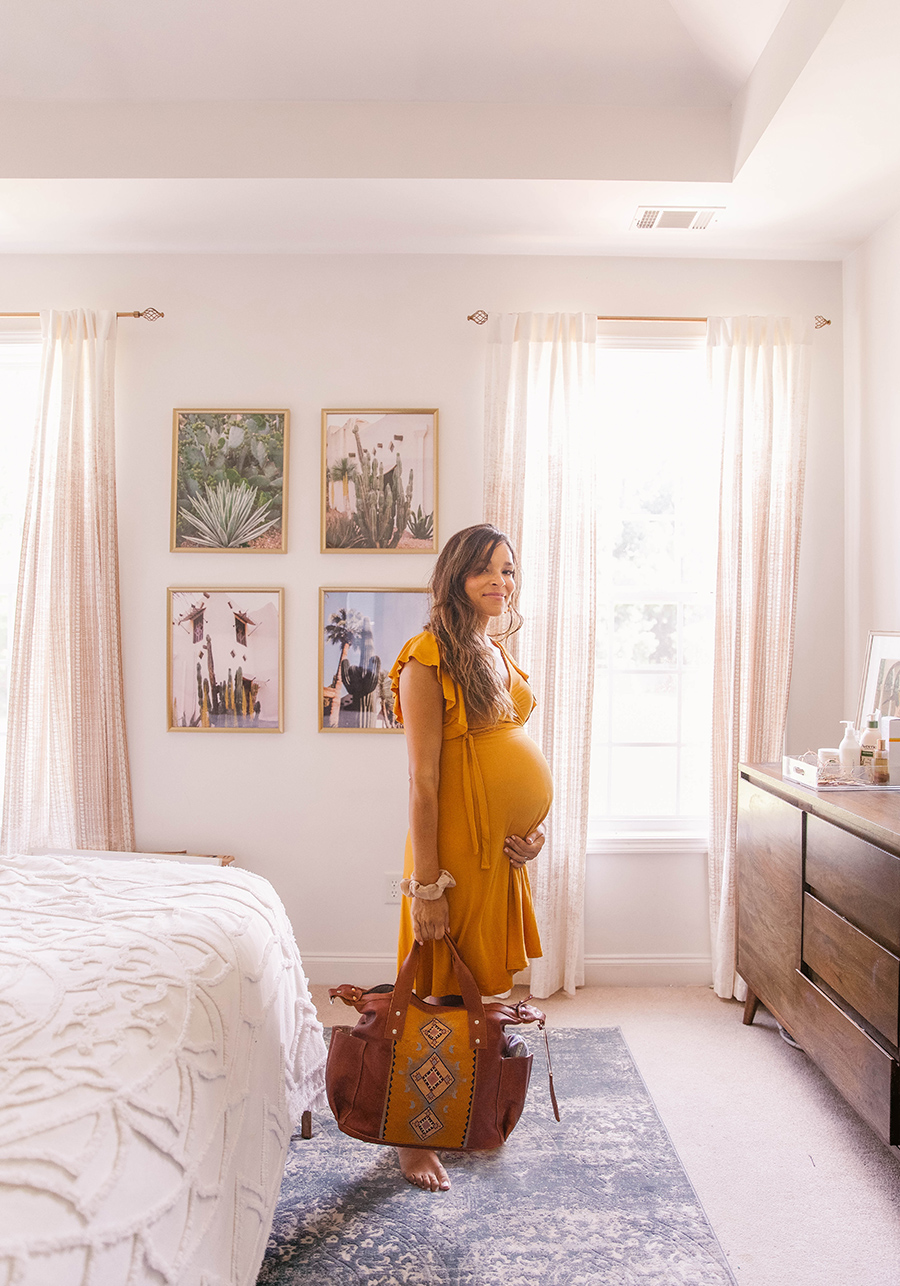 Considering Azelie came 4 weeks early, I started scrambling over the weekend to pack a bag this time to be ready to go! (The braxton hicks are already starting. Yikes!) As I am learning more about the perspective and narratives surrounding birth in our culture, it is no surprise I was under the impression it was as simple as choosing to have an epidural or not. After sharing more of my experience about healing from past birth experiences to prepare for this one, so many of you had some encouraging tips and resources I started to dive into. My eyes have been opened to how more importantly than a birth plan is preparing yourself mentally and emotionally for bringing your baby into the world. I wanted to share a few things that have helped me prepare for this birth, as well as what I am bringing in my hospital bag…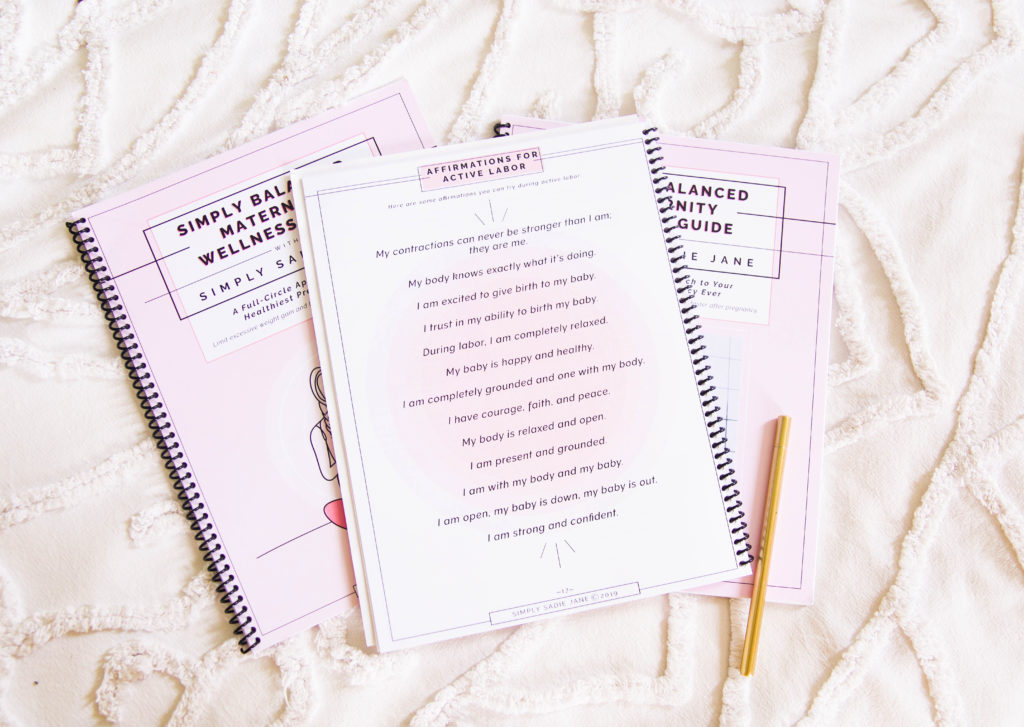 Mental, physical, and emotional aids for birth prep:

Australian Birth Story and The Birth Hour podcasts – Sometimes it just takes listening to other stories to open your mind and perspective on birth. I listened to some of these podcast episodes, and I learned a great deal even about different cultural norms!

Creating a birth playlist – I never have done this, and yet music can one of the most calming and motivating elements in my life. It gets my mind and soul in the right place. I have been working on one to hook up to our speaker in the labor and delivery room:)
Chiropractic care – I have a chiropractic adjustment scheduled next week so my spine is aligned and body more in sync for birth. This is something simple, but getting your body physically ready may prevent some of the back pain during labor.

Birth books – An eye opening and easy read for me was You Are Superwoman. I have been going through on my kindle app at night. No matter what type of birth we have, it is true that we aren't often given the accurate perspective or even confidence in our abilities due to what we are or aren't told throughout our lives. Highly recommend this book. Also reading stories from Ina May Gaskin's book was super encouraging.

Birth Affirmations + Prayer – I have been using the Simply Balanced Maternity Wellness course throughout my pregnancy, and reading the birth affirmations alone were such an incredible mental and emotional boost for me. I weave them into my prayer, putting it all into God's hands knowing He desires good for me and my baby.

Meeting with a doula – my sister has been a doula in training, and has given me some really helpful tips for getting into the right mindset. Meeting with her eased so much of my fears just by verbalizing them, talking them through. She knows me so well, and will be such an intuitive and calming force in the birth room. I am so grateful to have her by my side this time. If you want to leave her any questions below I will have her answer them! Not everyone can have a doula or midwife by their side at birth. If you have a friend, family member, or significant other who can be an advocate for you in the birth room it can make all the difference. There were several times in the past I felt likeI couldn't communicate the way I wanted to the medical staff because I was in so much pain. Someone who understands you, knows your birth intentions, and can be a voice for you when you need is I believe, one of the most important elements you can bring with you to have your baby;)


Birth Intentions
After Veronica's surprise unmedicated birth, I tried to be a little bit more prepared with Max and took a water birth class. Which is actually humorous considering how Max's birth came about and I almost delivered him in the parking lot of the hospital. Since things weren't going according to "plan" and the pain was shocking, I was unprepared and felt the experience shocked me. Without the mental prep, your plan can end up hindering or harming your overall birth experience. So instead of a birth plan this go around, I am setting more of an intention: To accept what is happening to my body, to accept the pain that paves the way to meeting my baby, and to be open to however that baby needs to come into the world. This intention makes way for the peace I so desire for this birth, no matter what happens. I've already put this baby in God's hands and I know just like in the past, He will be right by my side through it all.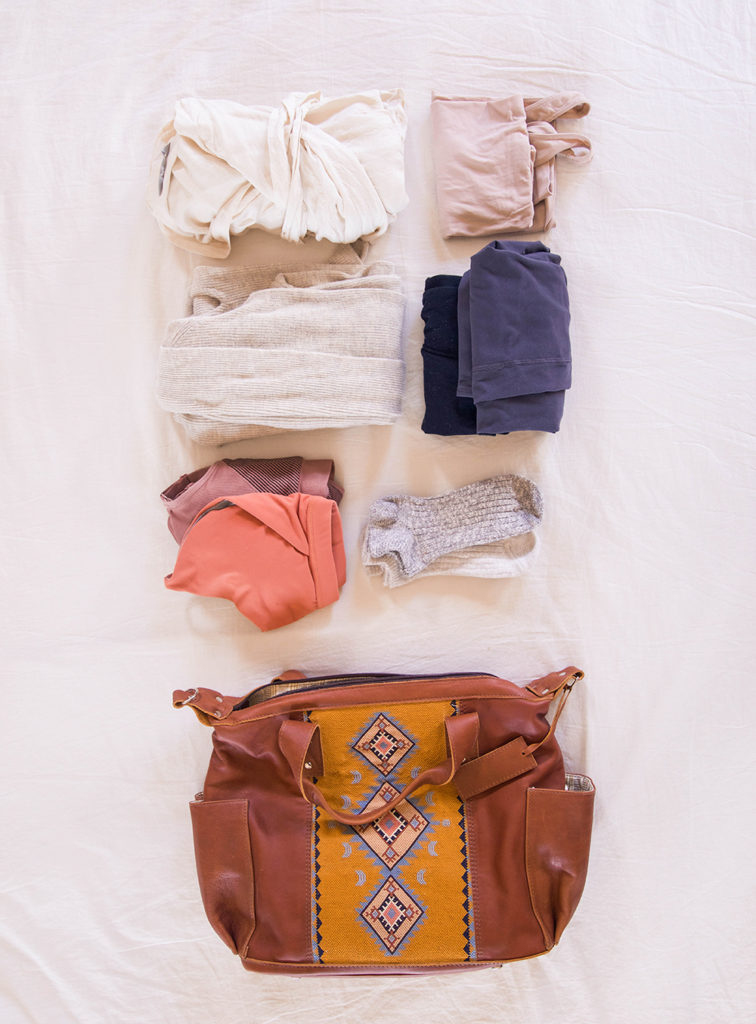 After 5 births, I have come to realize how little you really need in the hospital. They give you just about everything for you and the baby! Here are the essentials I have narrowed it down to over the years.
Hospital Bag Essentials:
Robe or nursing gown for post delivery
Nursing tanks
Nursing bras – Really love this one from Avyn. The fit is perfect.
Postpartum leggings – I basically just wear nursing tanks, leggings, and robes the whole hospital stay, and the first few weeks at home!
Sweater robe
Cozy socks
Slippers – Gabe got me the ones pictured below a few years ago, and here are some similar ones.
Take home onesies and swaddle for your baby
Pacifiers if you have a preferred one for your baby
*Bag is from Nena and Co. They last forever because they are hand made, and I have used them for diaper bags and travel bags for years!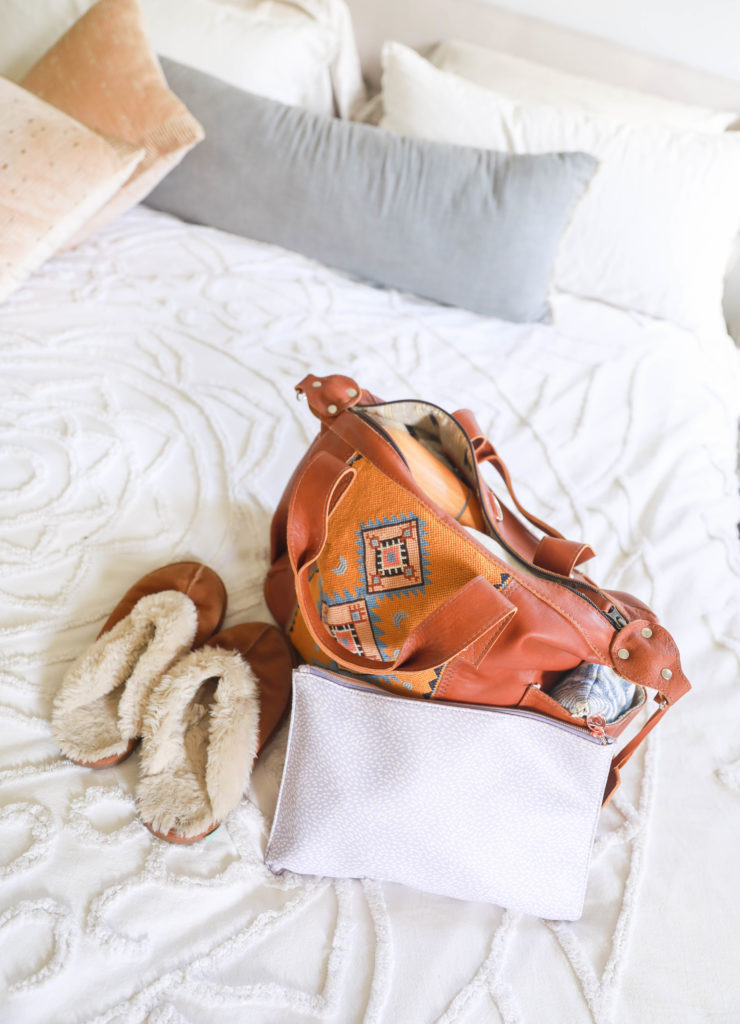 Toiletries – dry shampoo, deodorant, makeup remover wipes, toothbrush, toothpaste, shampoo…that's about all I will use!
Lip balm – my lips get super dry during pregnancy and labor so this is a must!
Heating pad – you can use your own heating pad for the post birth cramps no one prepares you for. They get more painful with each baby so the heating pads can be a lifesaver. I got one like this on ETSY years ago that had aromatherapy scents inside.
Diffuser + Oils – I have a few go-to oils (Peace & Calming, Joy, Lavender) that immediately relax me and help set a peaceful environment, so totally worth bringing to the hospital. I've been diffusing it at night already so my memory will instantly recognize and go into relaxation mode in the labor room.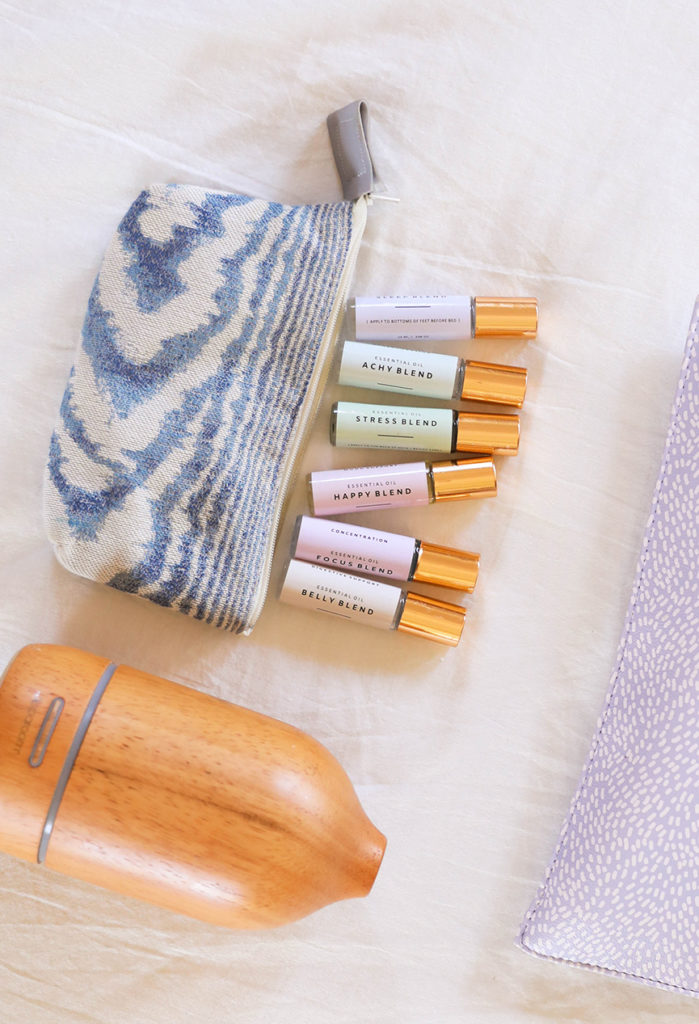 Roller bottles for labor and recovery – I have a few I have packed for the labor that I know we will use:
Stress Relief/focus blend – (10 drops valor, 10 drops peace and calming, 10 drops Stress Away) to rub on wrists and spine as labor starts to combat anxious thoughts and relax the mind.
Belly blend – (10 drops Clary Sage to every 10 drops fractioned coconut oil.) Rub on uterus area through contractions. It helps regulate contractions and also what I will use postpartum to help uterus go back into place.
Happy blend – (10 drops Joy, 10 drops Lavender, 10 drops Peace and Calming, fill the rest with fractioned coconut oil ) The scents that help mood boost or relax – it really is your preference. It can be as simple as smelling this roller bottle that can be incredibly calming and boosting!
Hormone balance/ Postpartum anxiety – (Equal parts Ylang Ylang to equal parts fractioned coconut oil.) This time I want to start combating baby blues and anxiety right away so planning on using this blend by rubbing on feet, spine, and over the heart a few times a day after birth.
Deep Relief Massage oil – Gabe or my doula can use this for muscle tension, aches, and soreness relief during labor.

My doula sis will also have some birth supplies as well that I don't have to worry about bringing!

Gabe is in charge of the following:
Phone chargers
Camera/video + battery
Snacks or food for both of us – anyone else crave fries and a milkshake after having a baby? 😉
JBL speaker for music
His own change of clothes and pillow for staying the night!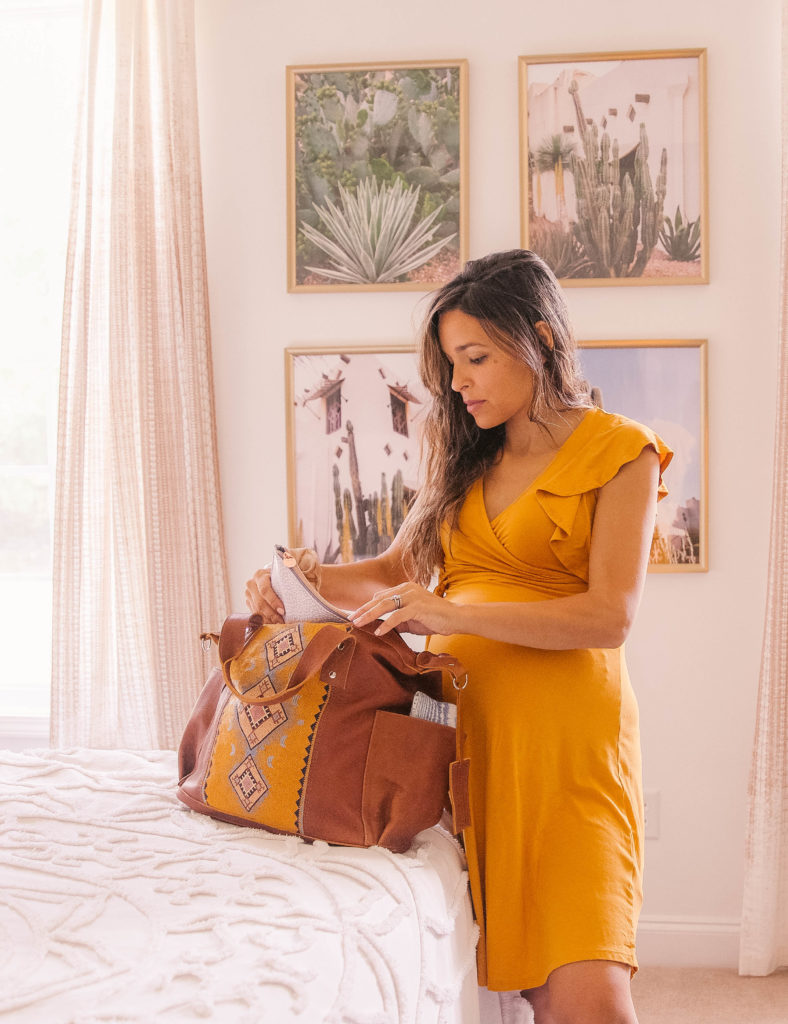 Whether you are having a planned c-section, epidural, or unmedicated birth, the hospital really does have everything you need for you and the baby. Don't worry about the diapers (for you or baby -lollllz), creams, and pads. Just bring your essentials that you think you will use in the time you are there.
Something I read recently in You Are Superwoman is that we are so quick to share our hard birth experiences, but it isn't often we share the positive experiences! It's okay to be disappointed and even have fears surrounding births. I obviously have, and it seemed to get worse over time. So I want to end this post with an opportunity for you to share a positive birth experience with everyone reading. I would love to uplift and encourage any new mamas to be. Please keep my family in your prayers as we get ready to welcome this new little one. I appreciate it so much!