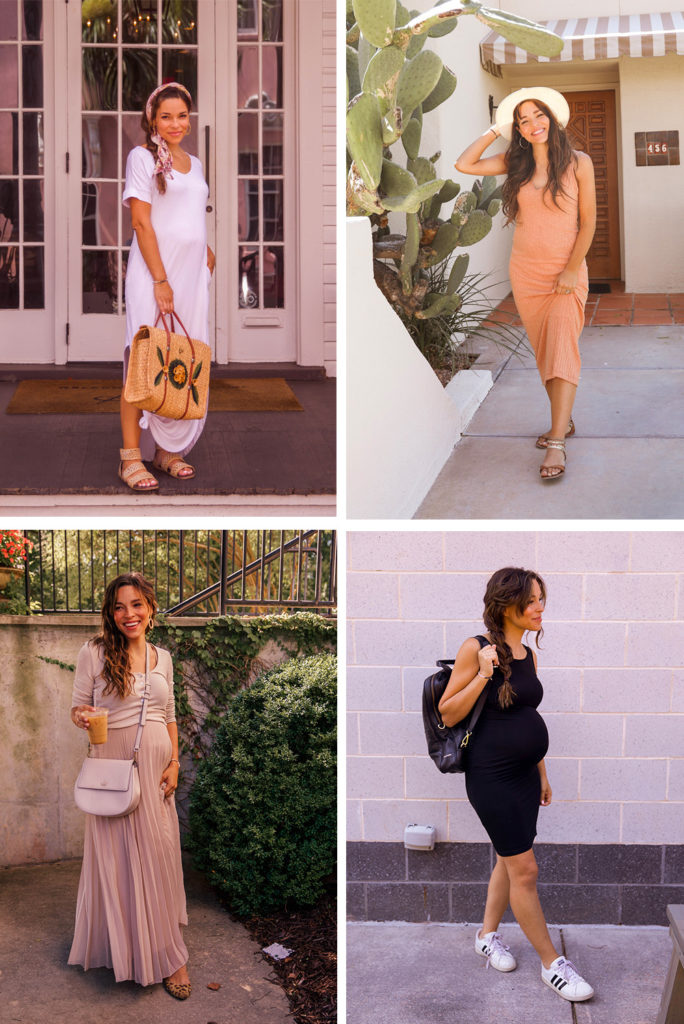 Top left to bottom right: White tunic dress, Clementine midi dress set, Pleated neutral flowy skirt (similar), Black tank dress
I never want to spend money on clothing I am only going to be wearing a few months! However, it can make all the difference in your pregnancy to find a few things that make you feel comfortable. I decided this go around to buy just a few basics to pair along with what I already had on hand, and repeat throughout my second and third trimester. So here ya go….a simple maternity capsule for warmer months!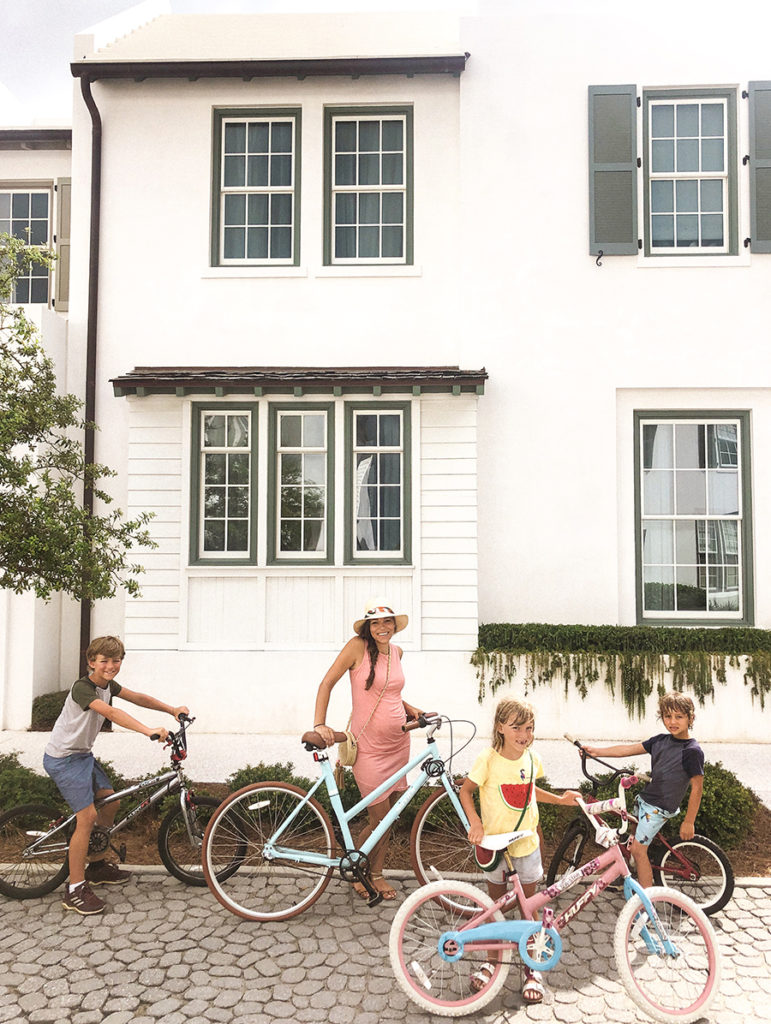 Ruched bodycon dress – Non maternity cotton dress, but if you go a size bigger it works!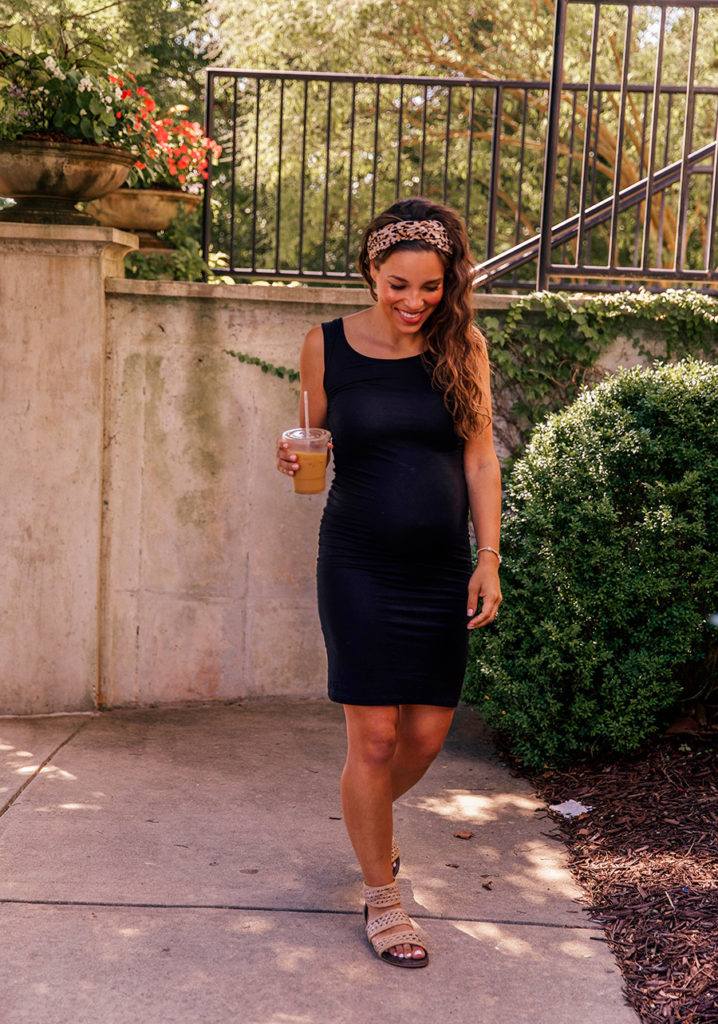 The most comfortable tank dress and stretch headband
At home I usually am a jeans and tee kind of girl, but through a summer pregnancy, nothing feels good around the waist line so I have pretty much stuck to a wardrobe of cotton dresses and flowy skirts. My kids always think I am dressed up to go somewhere;)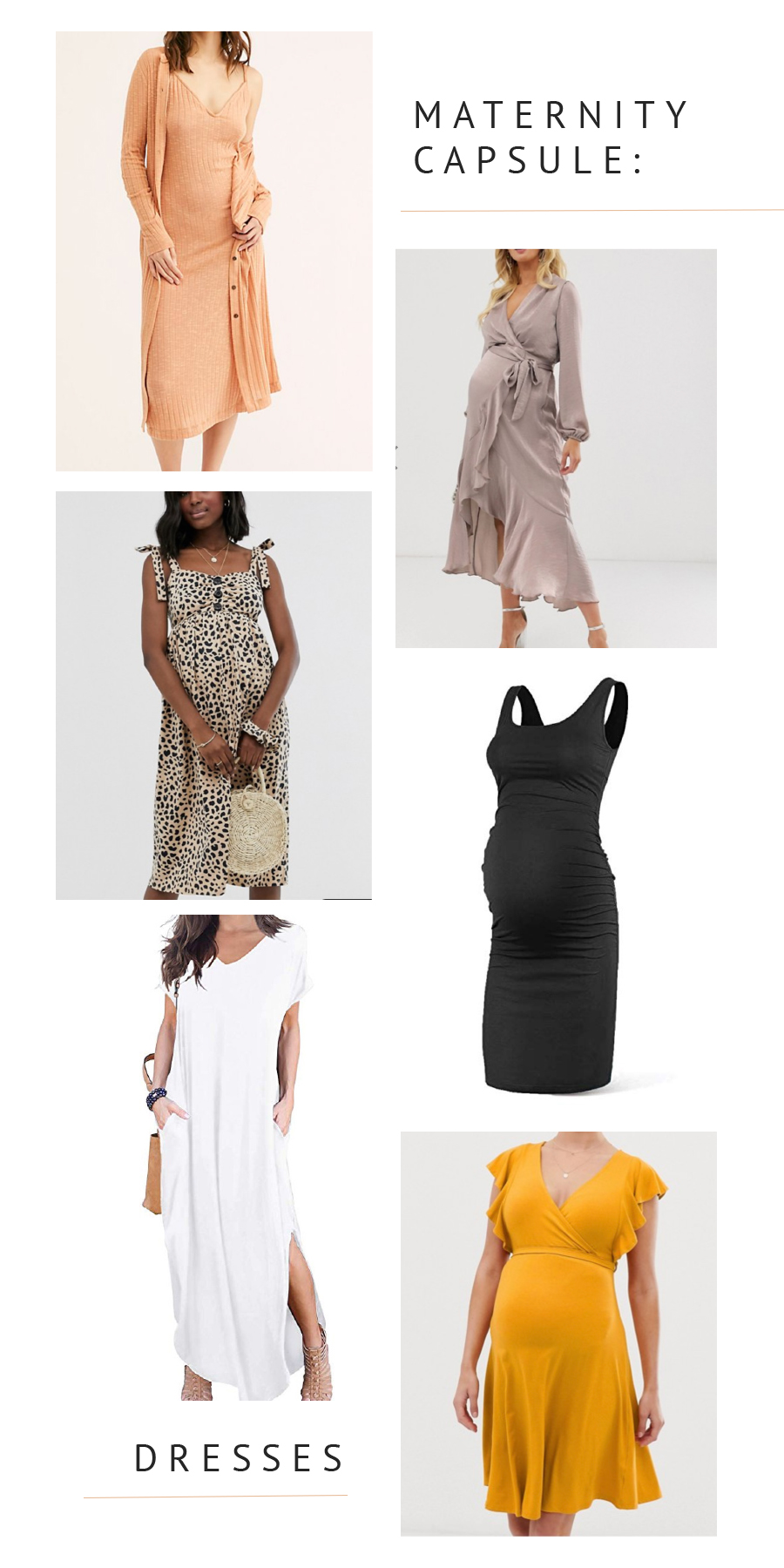 Dresses + Skirts
Everyday:
Black tank dress
White tunic dress – comes in several colors
Sleeveless maxi dress
Ruched Bodycon dress

Dressed Up:
Jersey Yellow Dress
Sleeveless sweater midi dress set (40% off)
Satin Wrap Dress
Pleated neutral flowy skirt (similar here)
Spanx maternity shaper – I've loved this for under dresses!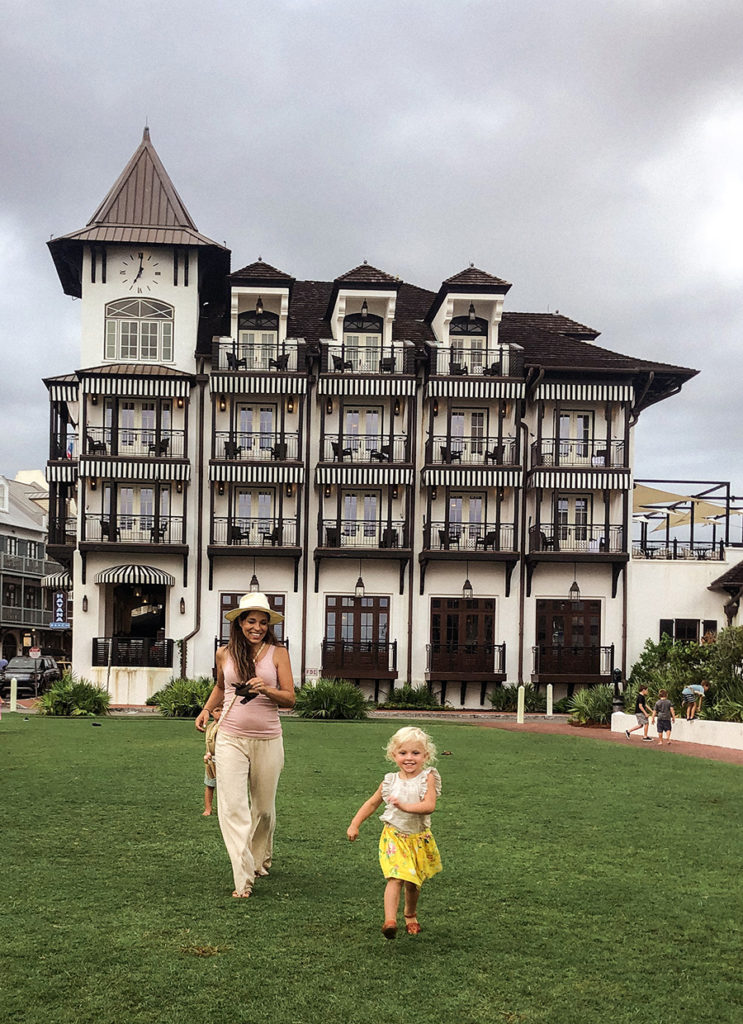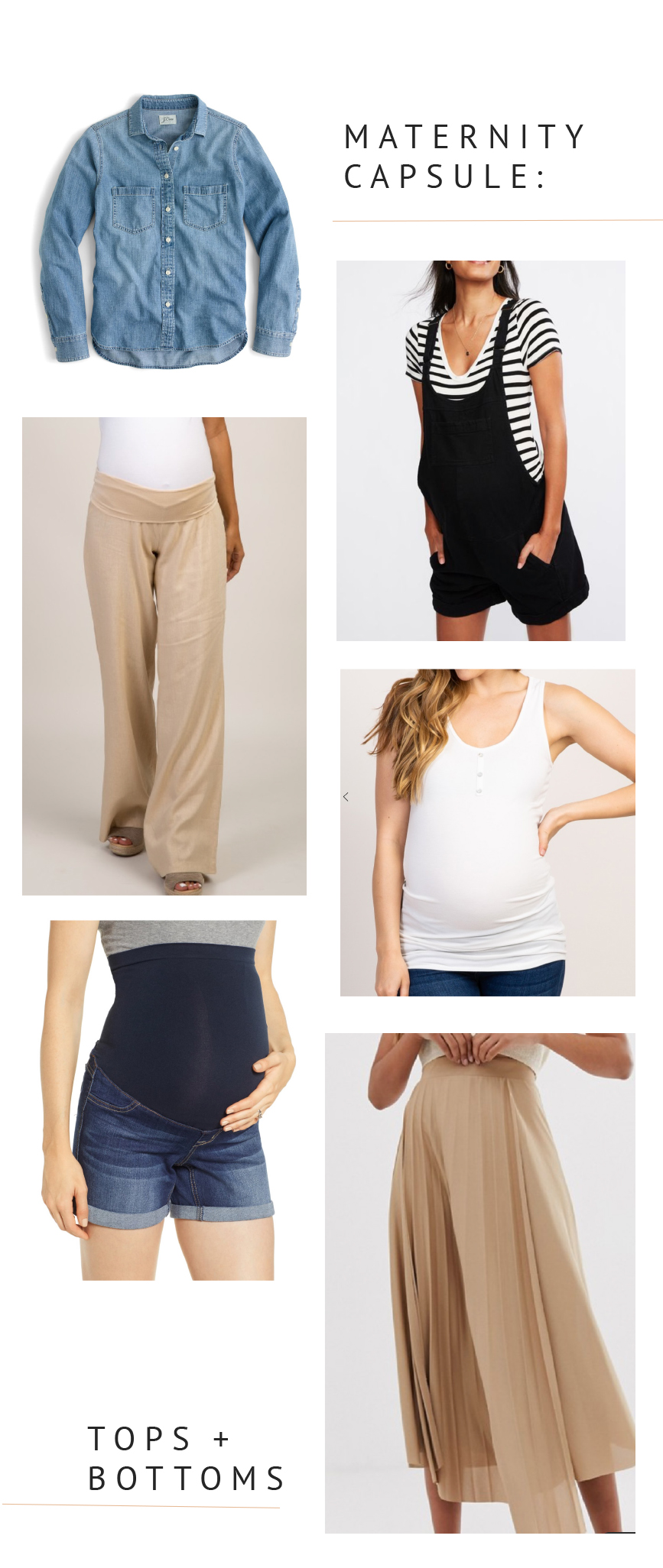 Shorts / Pants:
Denim shorts (similar here )
Pull on shorts *on sale*
Linen Pants
Overalls

Tees and tops:
White tank
Grey tee
V-neck three-pack tees
Boyfriend Tee
Neutral seamless tank
Chambray denim shirt (or here) to tie over dresses and skirts.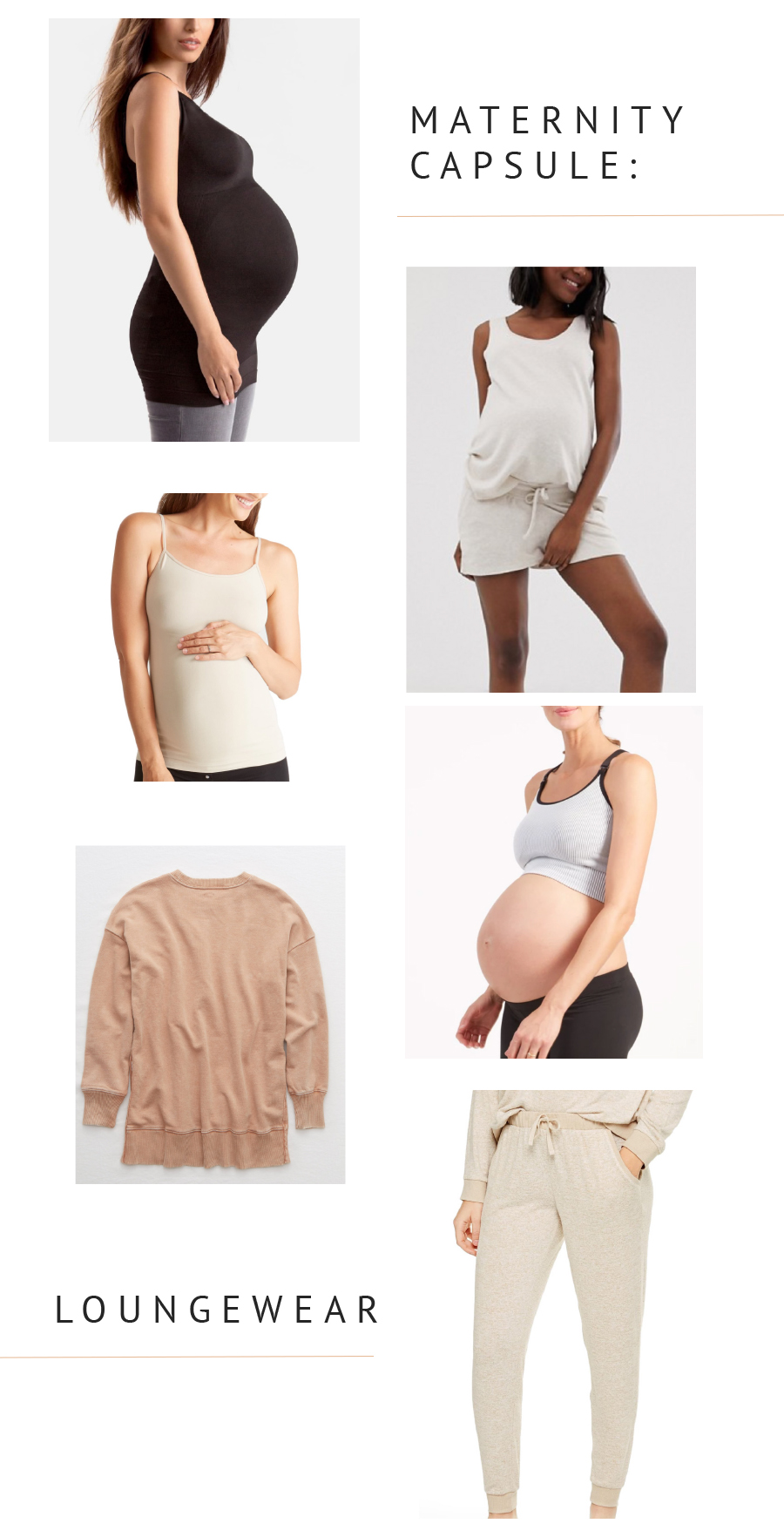 Loungewear (I use these items postpartum as well):
Supersoft Knit Joggers
Cozy grey joggers
Lounge sweatshirt
Pajama set
Blanqi Support Tank
Sportswear + Bathing Suit:
Sports tanks + sports pants – I had some from last pregnancy from Beyond the Bump and Seraphine I wore over and over!
Sports bra – I love this seamlass one!
Sneakers I lived in: Adidas Gazelle + Adidas Baseline
Tankini Bathing Suit – comes in 5 colors






                
                


                    
                    
                


            


  
That's about it! Sticking to either flowy dresses or stretchy waistbands this summer has saved me. I am working on getting another post up for you sharing the things that have helped me through this last trimester, and are helping prepare me for this birth!