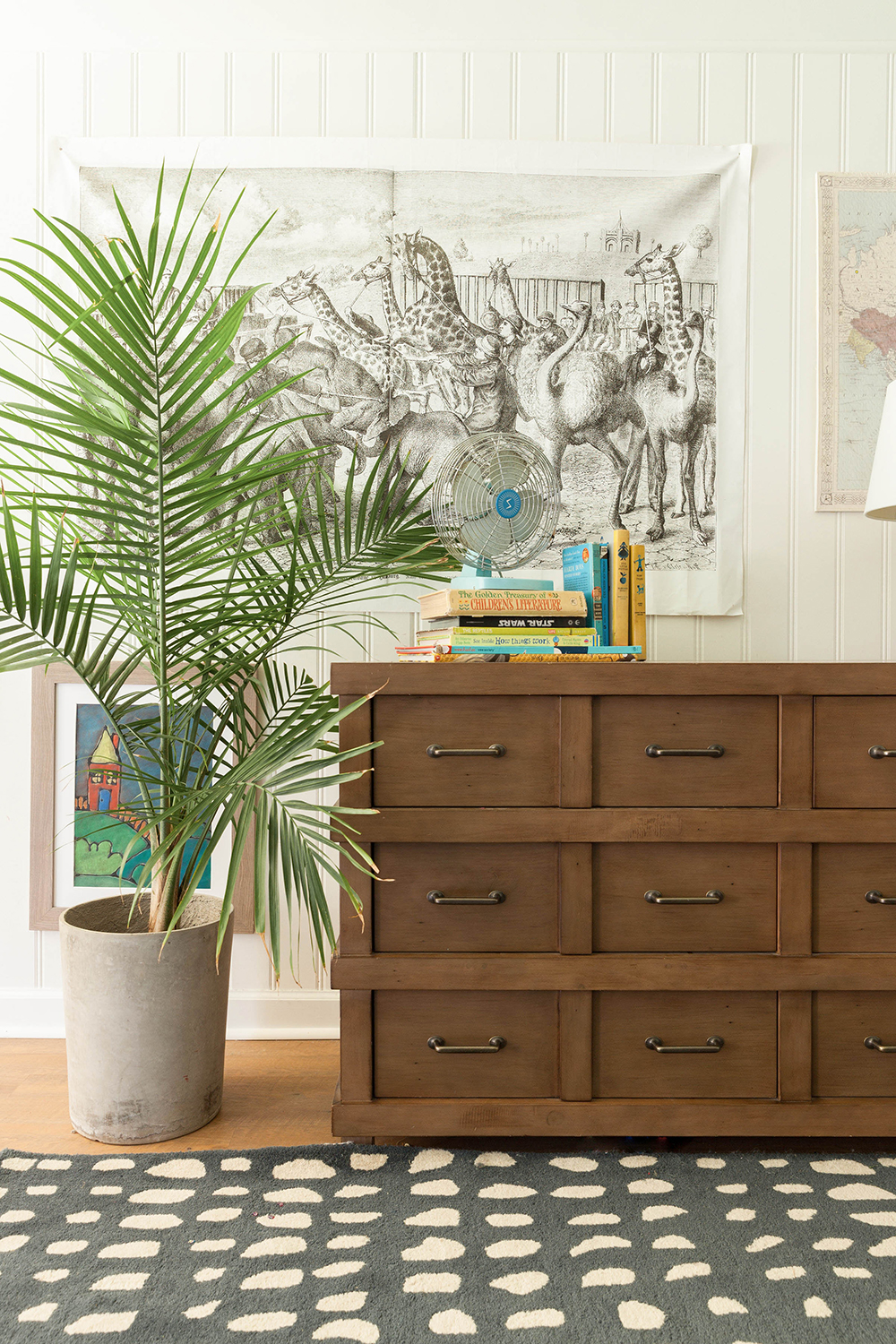 I had Tara Carter come and shoot some updated photos of the boys' room…and shockingly got it lego free for a few brief hours! Over the last year I have kept my eye out for vintage pieces and organization solutions for my boys' room to tie it all together. It's one of my favorite things about finishing a space….finding the things that will make the room more personal to the people who will use it the most.
Today we are sharing an updated tour of this bedroom with never before seen views, and hopefully answering some of your source and layout quesitons!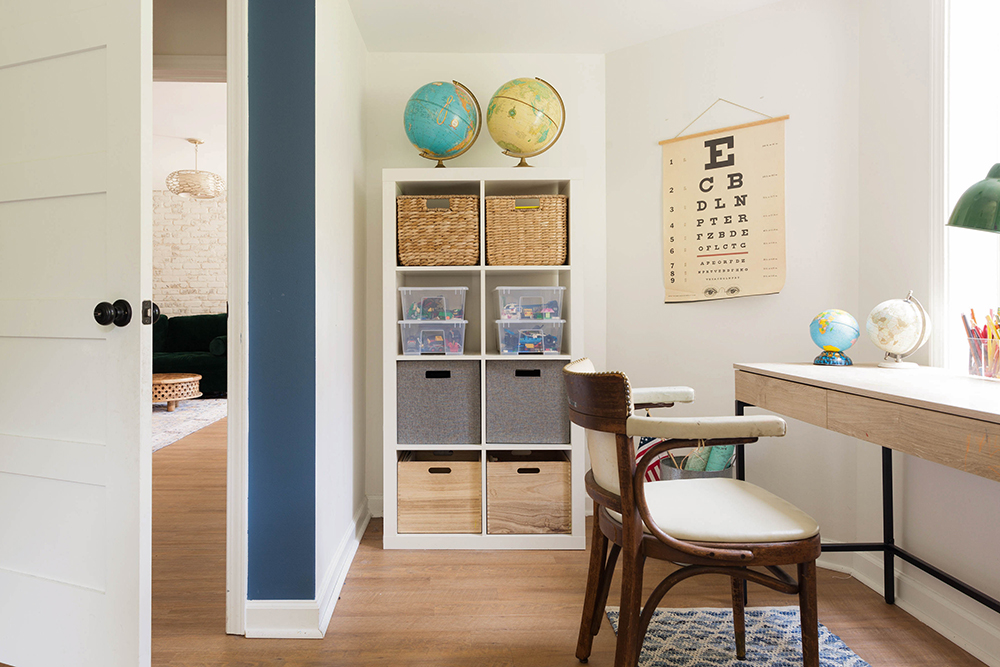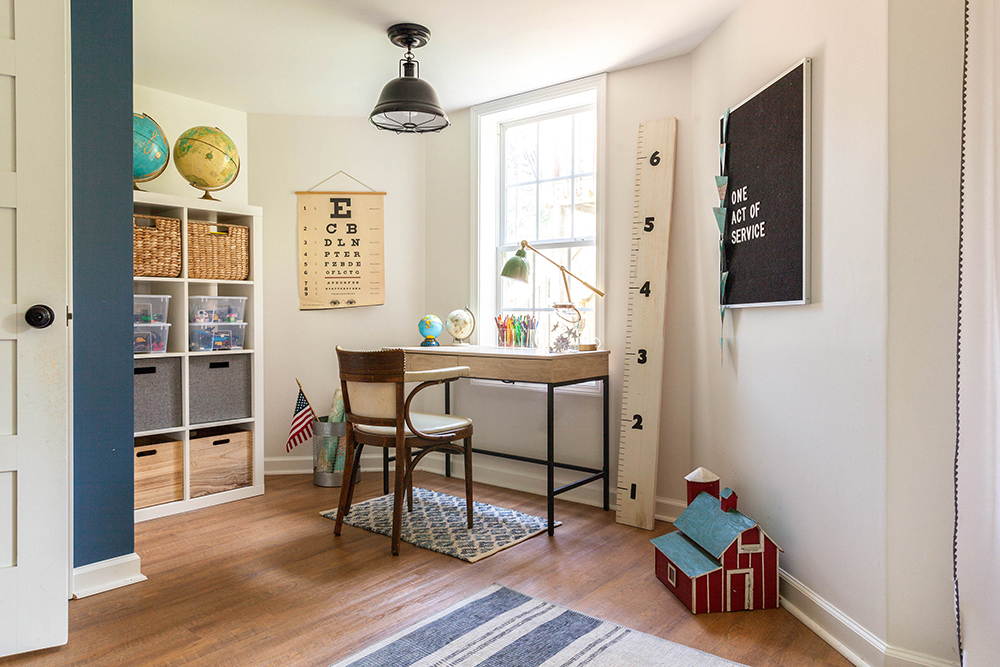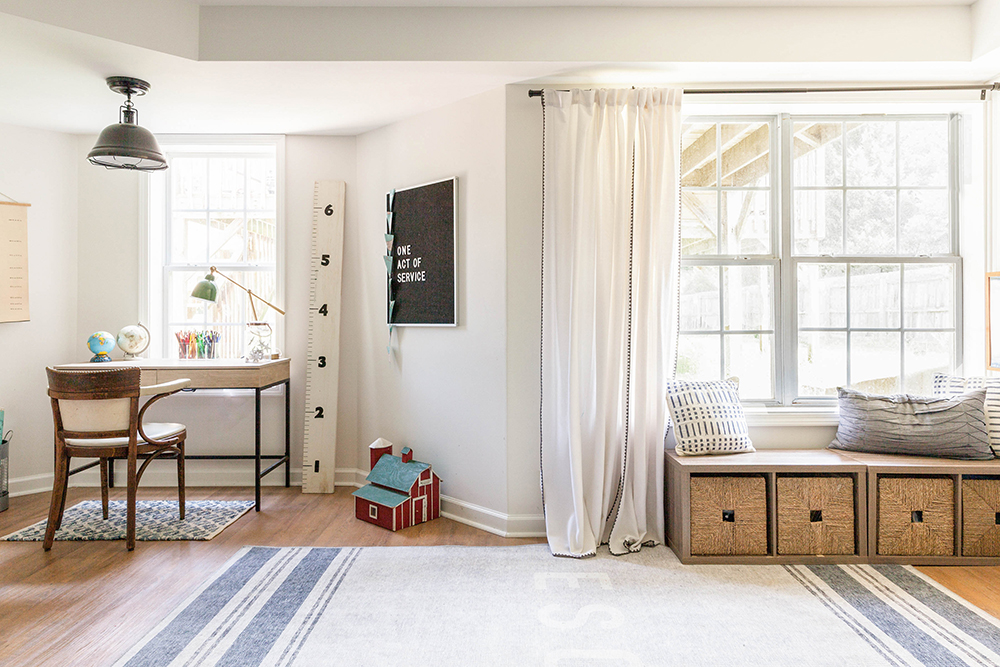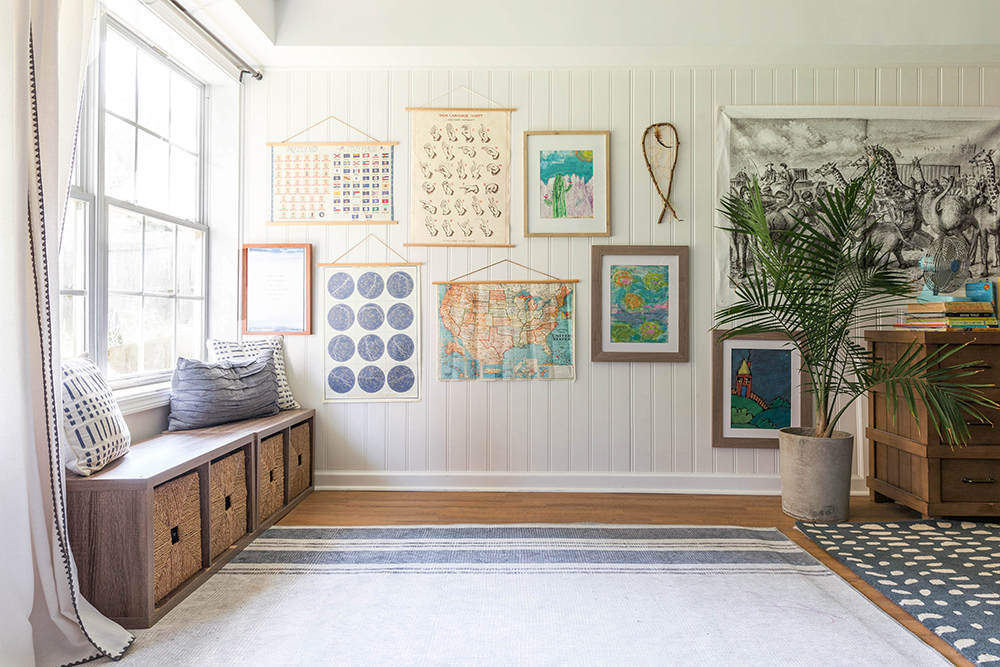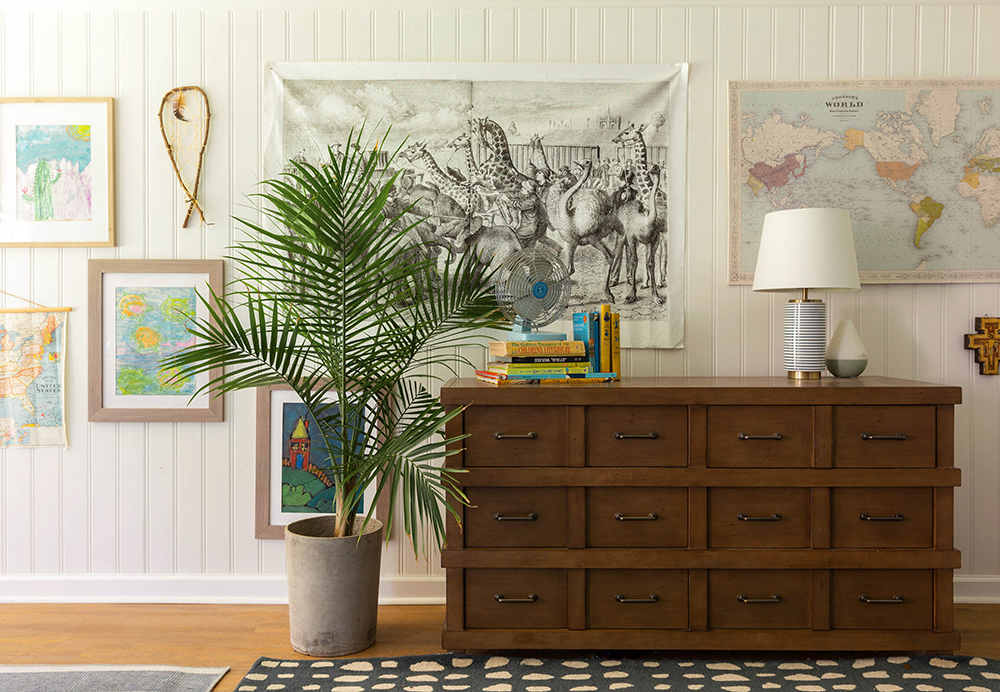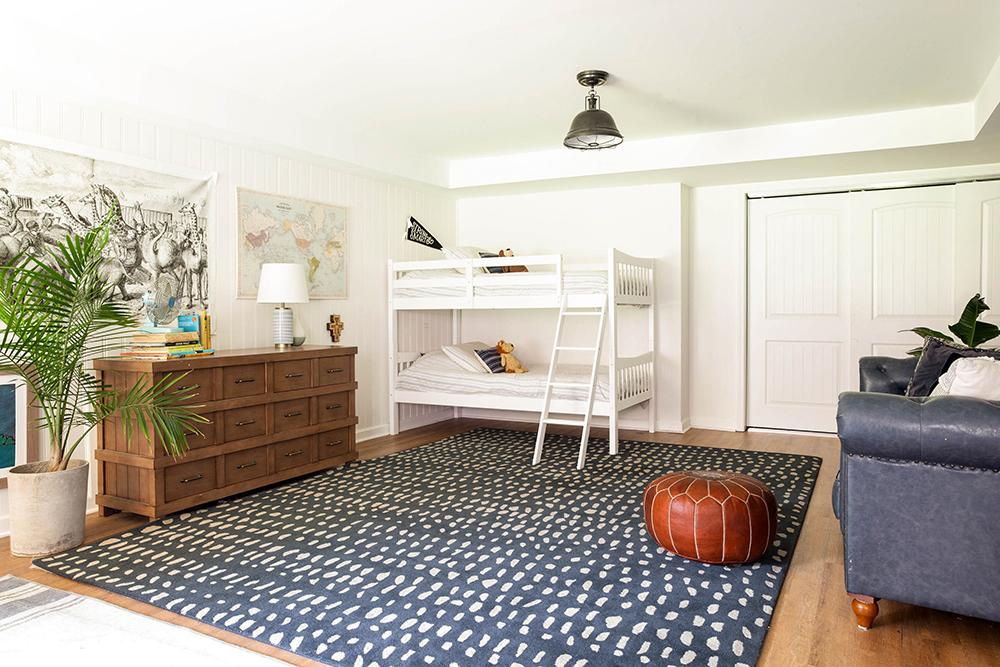 I really wanted this room to grow with the boys over time since there ages vary from 4 to 10. When I was thinking through the design and functionality of the room I wanted it to be a place that would encourage them to spend time here – whether that be creatively, imagination play, reading in a cozy space, or even wrestling (which is why I kept it big and open for my very energetic and active sons).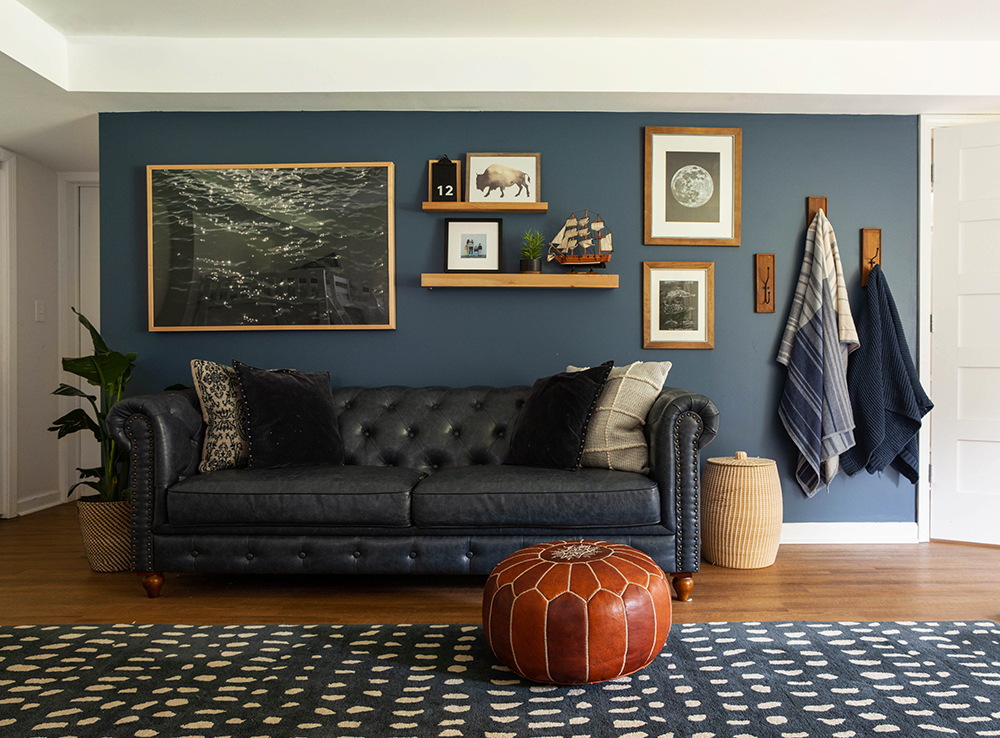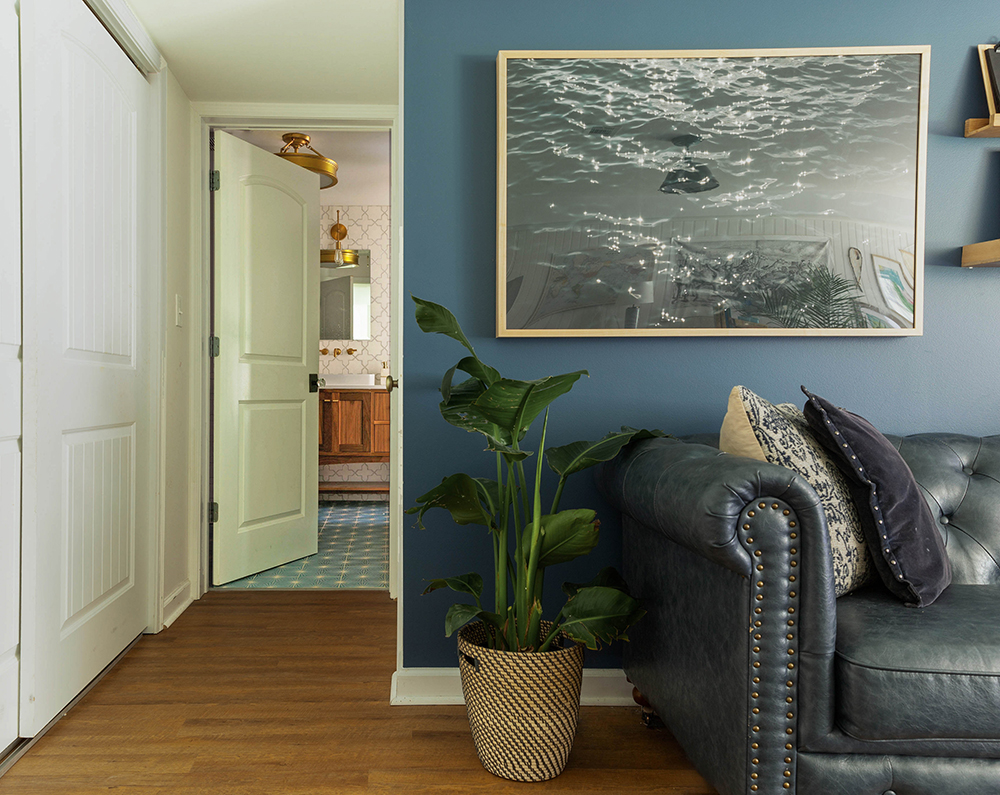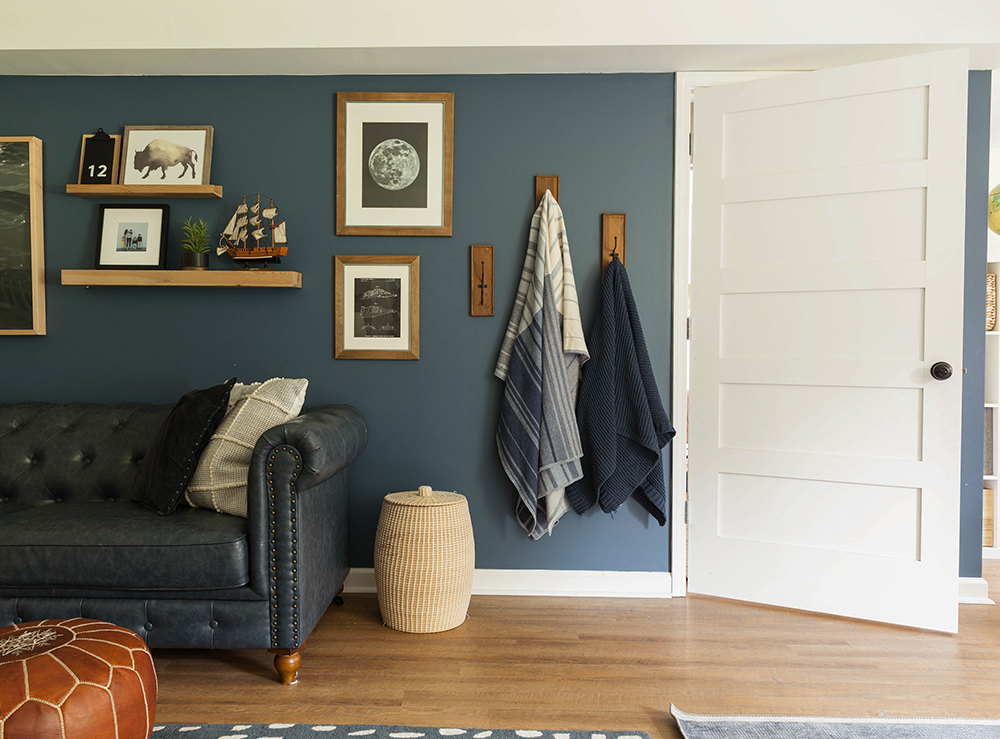 You can catch the timelapse video of the accent wall side in this post. I love the color and character doing a darker wall brought to an otherwise all white room. We are curently working on the closet build outs for additional clothing and storage organization which we will share soon!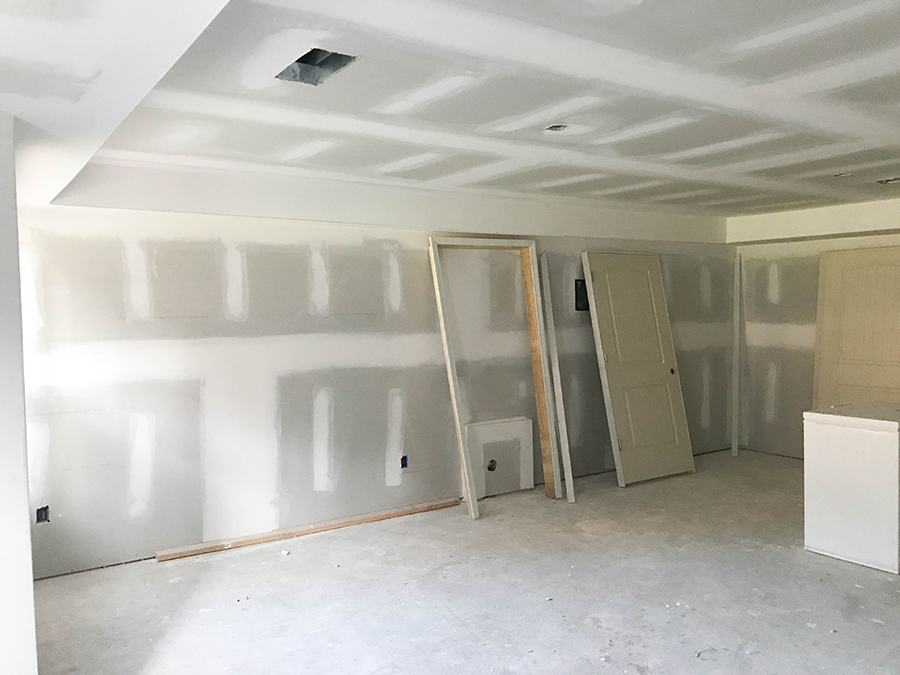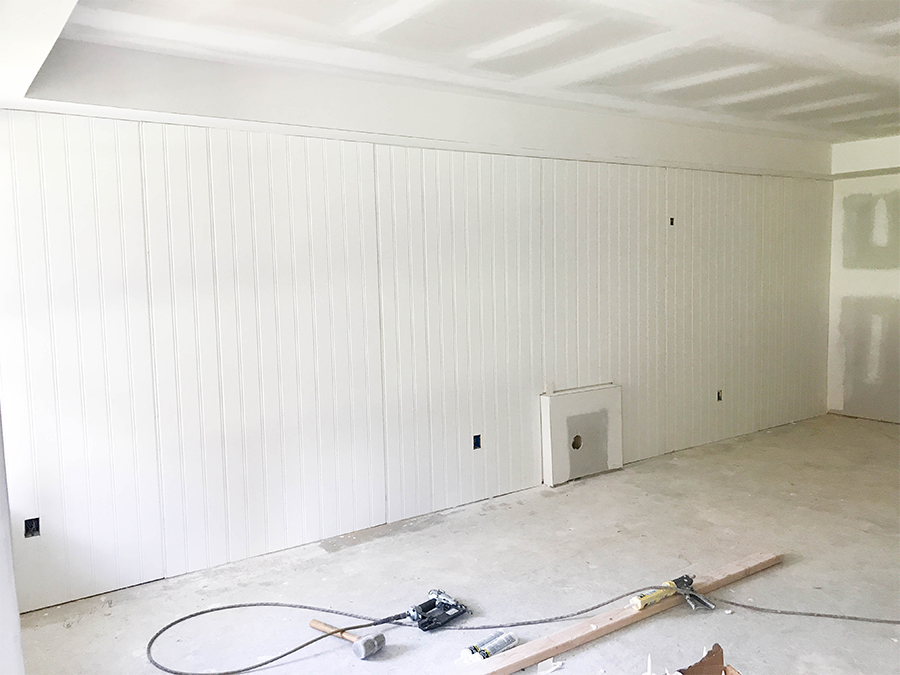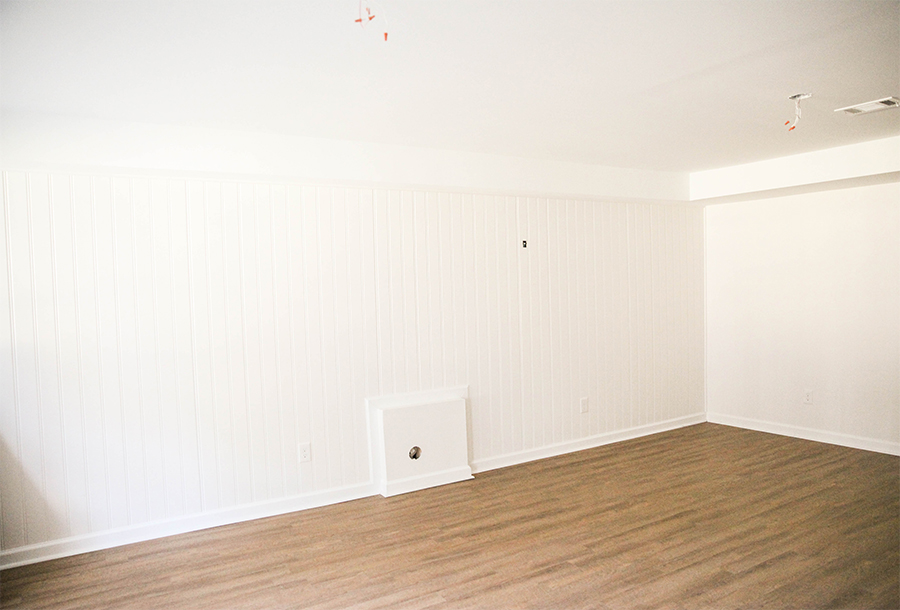 In case you missed the original reveal, these are the views we started with! An unfinished basement room that we finished off with drywall, and slowly built into a livable room. It's been a work in progress for a few years now, so don't be fooled by the result photos! We used beadboard panels on the walls which was an easy and inexpensive way to add some dimension and variation to the space.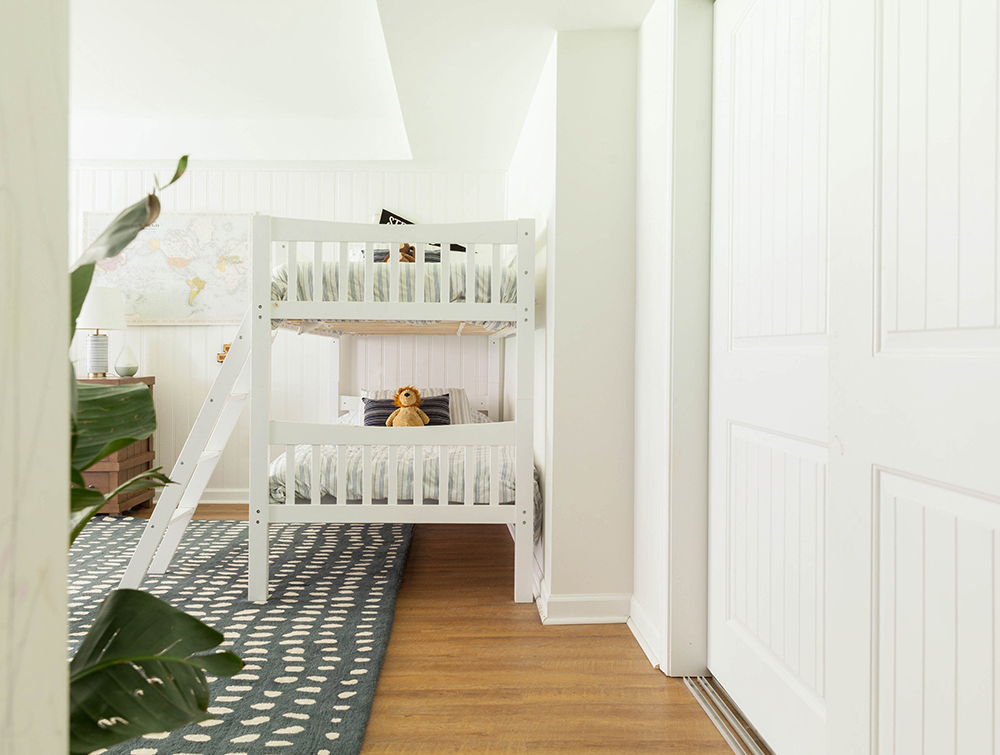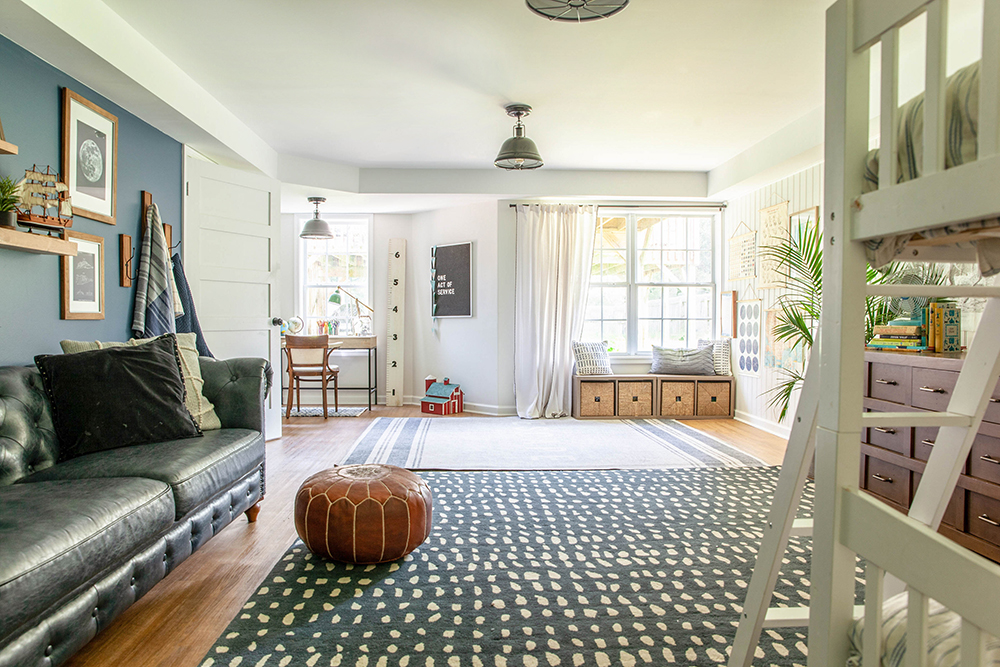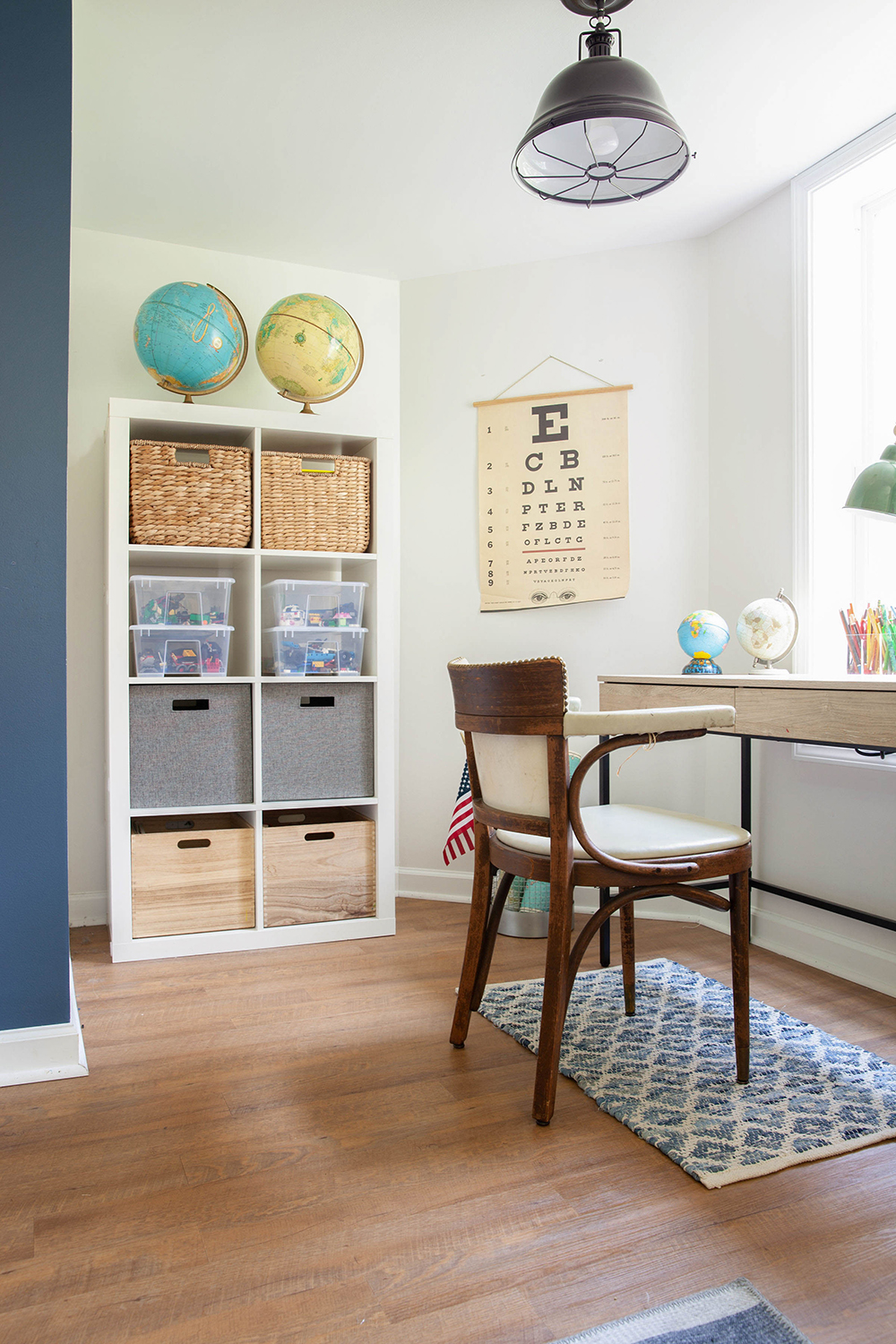 It's already proven over and over again, how the time we spent on this room has paid us back ten fold with the hours of contented occupancy it has provided;) (This is where we send them during the squirrely dinner hour!) Since it is in our daylight basement, I consider that a victory! Even the girls come and hang here. It's been fun to see the sleepovers and memories made amongst these brothers, and hopefully that will continue over the years.
S O U R C E S:
Paint colors:
Pratt and Lambert in Heron (27-18) on accent wall + White Moderne by Behr on doors and side walls

Furniture:
Bunk Beds: Amazon similar here (I receive so many questions about these! They have been awesome, and hold up well. Best for younger ages.)
Bedding: Sold out but similar here
Tufted sofa: Home Depot sold out but similar here
Rugs: Spotted Rug (wool rug so does shed some, but excellent quality) + Escape Rug – The Novogratz Collection by Momeni Rugs (sold out)
Dresser: Pottery Barn Kids sold out but similar here
Desk: Target
Desk Chair : Vintage
Small Desk Rug: Waiting on Martha
Curtain Rod: Target

Storage Units + Baskets:
Window Bench storage units: I used two of the weathered gray units from Target
Storage Bin Baskets: Target
White Bookcase: Ikea (Billy Bookcase)
Bins for Bookcase: Ikea + Target
Plastic bins for legos: IKEA

Lighting:
Pendant Lights: Pottery Barn Kids (sold out but similar here)
Recessed canned lighting: Bellacor
Green Desk Lamp: Target (sold out but similar here)
Striped Blue Desk Lamp: Target (sold out but similar here)

Art + Decor:
Large Art: Max Wanger Mediterranean print (sold out)
Picture ledge shelf: Target, Float shelf: Target
Blanket hooks: Target sold out but similar here
Blanket and Throw (similar): Bed Bath and Beyond `
Art Prints on Accent Wall: Buffalo Print (sold out) , Star Wars ships print (sold out), Moon Print
Sailboat: Vintage
Posters + Art on Bead board Wall: Be Brave print, Sign language poster, U.S. map poster (sold out but similar here), Constellation Poster
Large Map: Vintage
Large canvas art: Anewall Decor
Kids art frames: Target
DIY Poster Hanger tutorial here
Strong & Smart Pennants: Marigold Curated
Letterboard: Sold out but similar here
Eye Chart Poster
Globes: Vintage
Fan: Vintage
Ceramic planter: sold out but similar here
Plants: Palm leaf via Lowe's
Thank you to Tara Carter photography for capturing these photos!