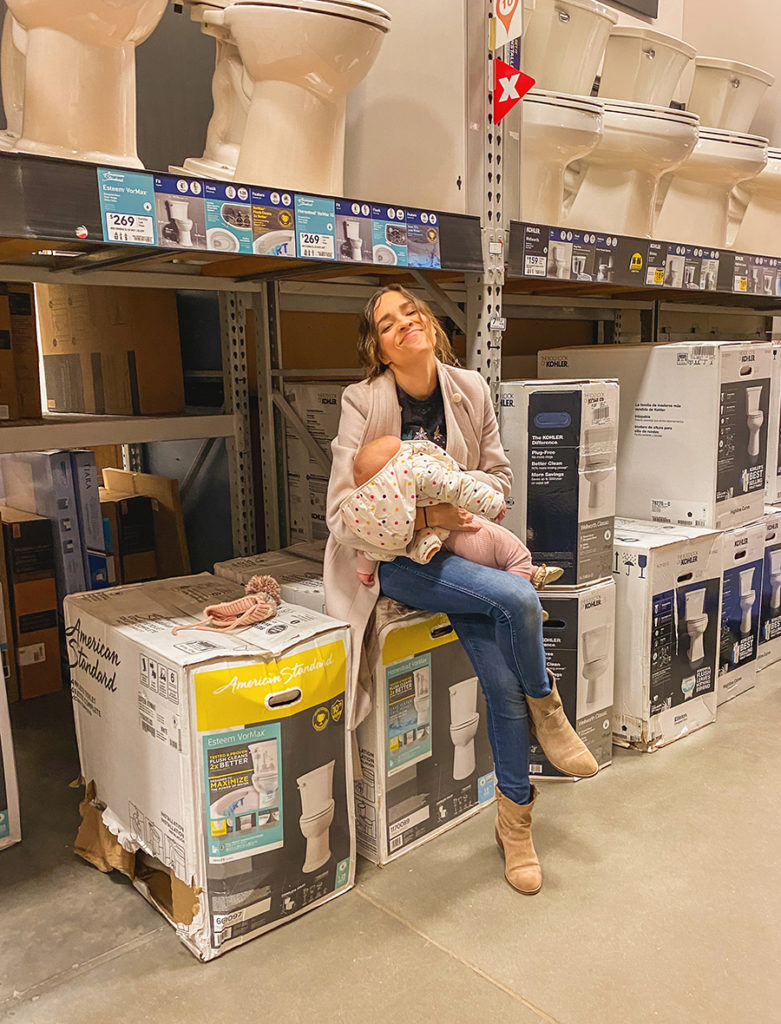 Need some comedic relief for your week? Read through the comment section of this post "Where is the funniest place you have had to feed your baby?" I was laughing tears last night. This photo is from yesterday feeding a hangry baby in the toilet aisle of Lowe's. We spent the morning there picking out items for a few final projects in this house!
We started a series on instagram, as a way for readers to send in their "design dilemmas" to have an extra pair of eyes to help with your spaces! These challenges have been so fun for us. The goal is always to meet the vision of the reader vs what popular opinion would be. I will share some of these here when I can for you to reference back to! First up….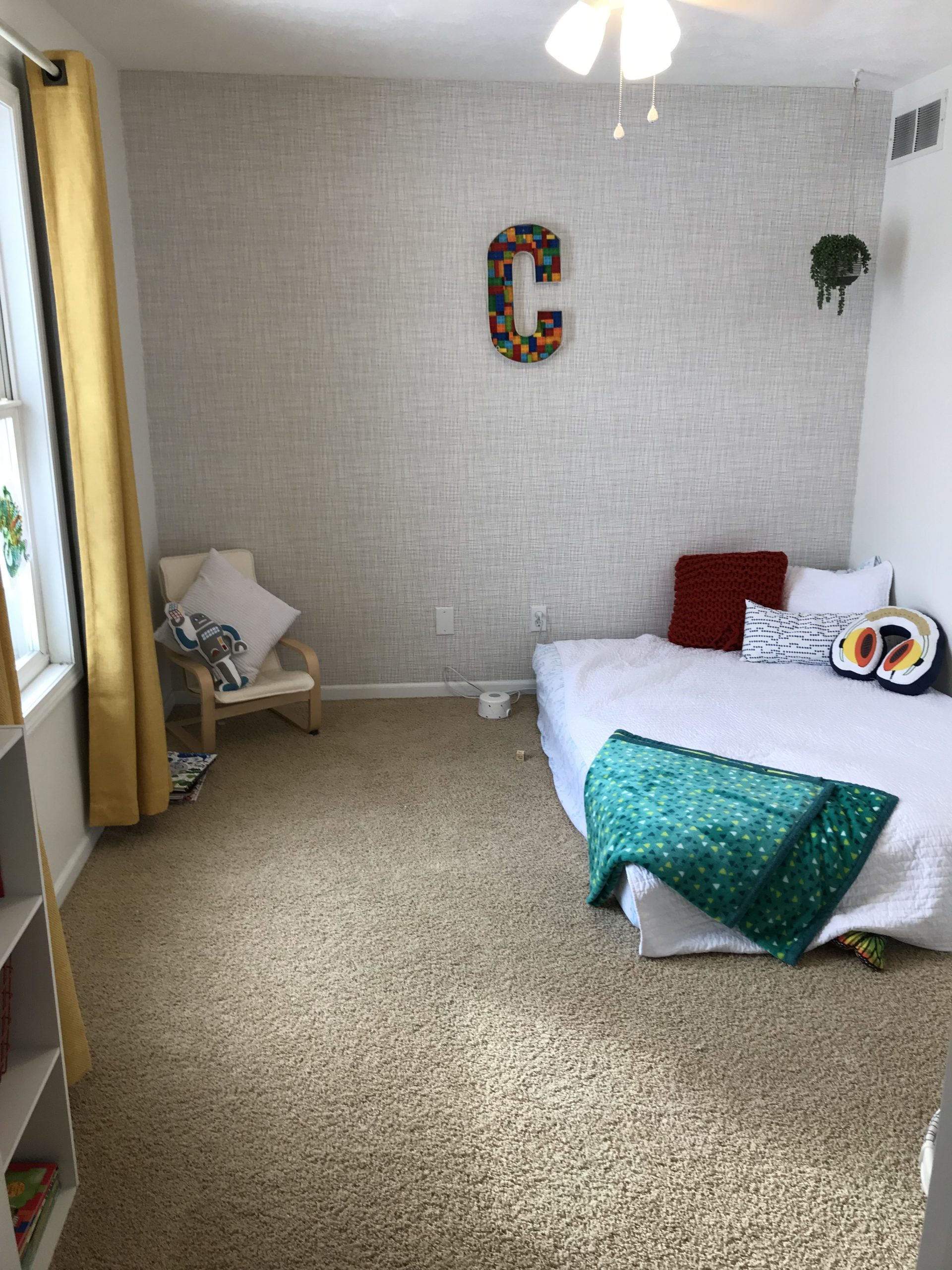 Dilemma: "I have been in and out of the hospital with hyperemesis and just have had no time/energy/strength to get it together and get working on this space. The time has come we need to get going on it, and I'd love your help to design this space to make it more functional and fun for my boys.
Our two boys will soon start sharing a room (once baby is out of ours) and I need major help reconfiguring the space to make it work for them.
It is a small room, with a decent sized closet, not great ceiling height (hard to find bunk beds that will work). Anything you can come up with we'd be extremely thankful."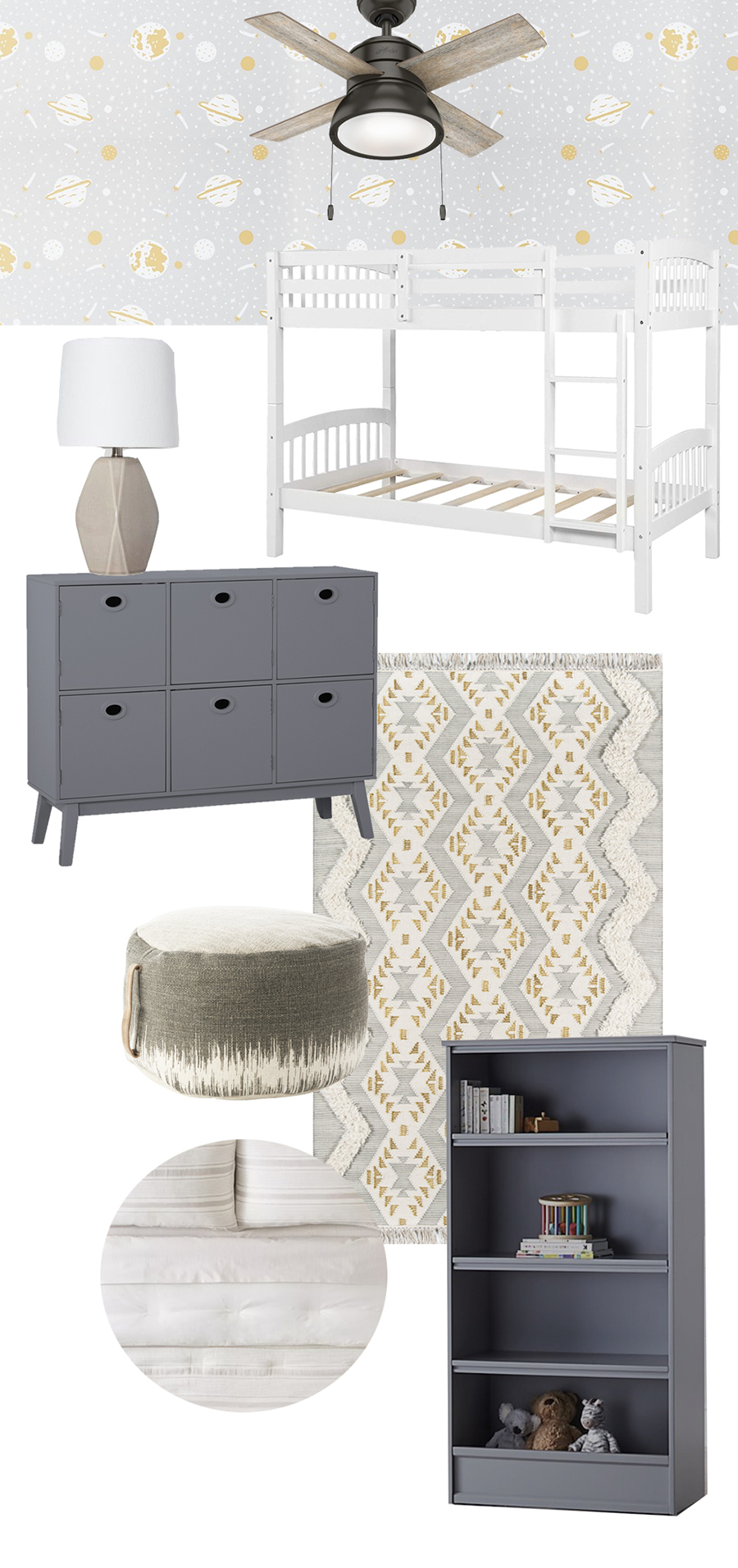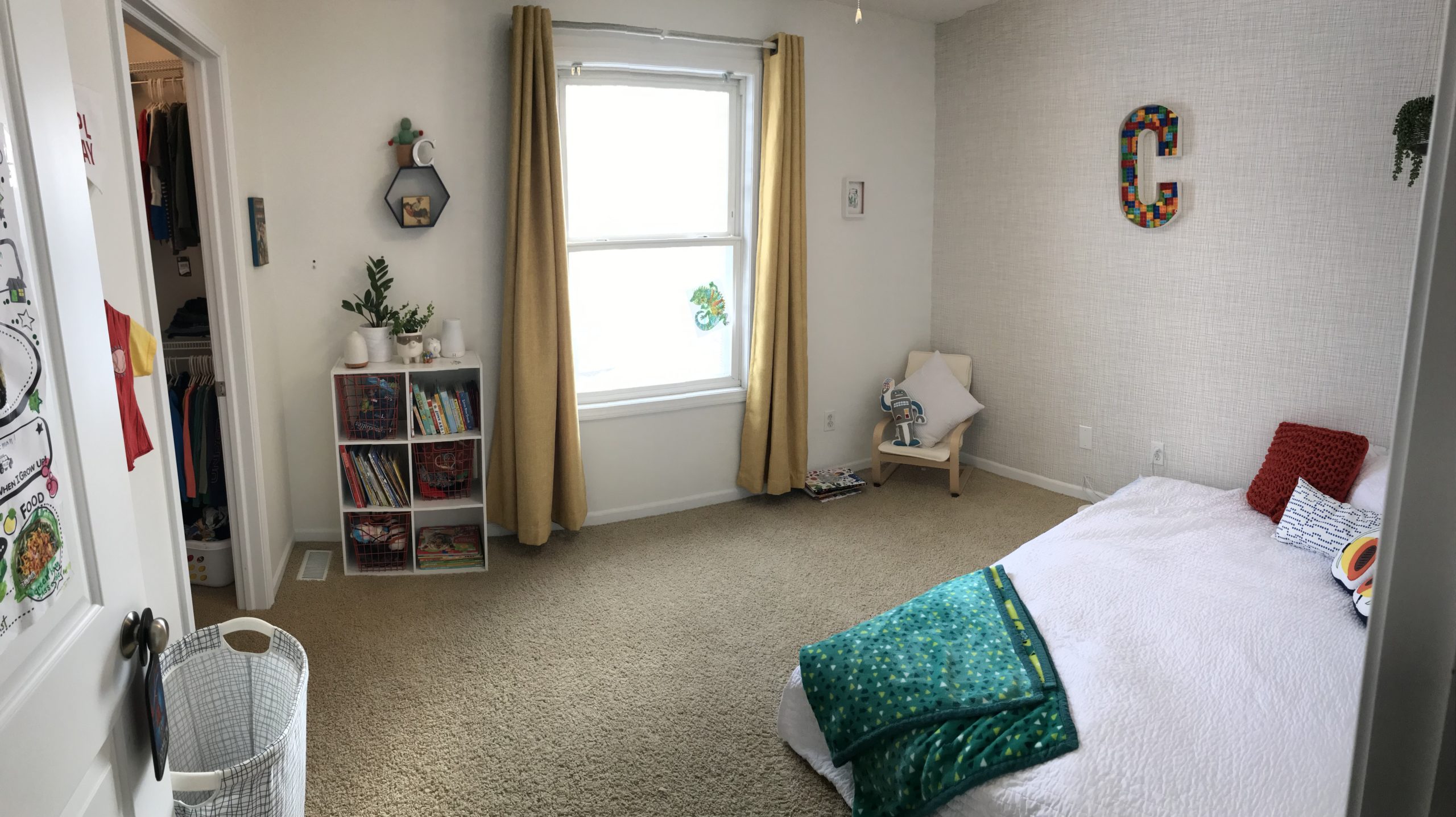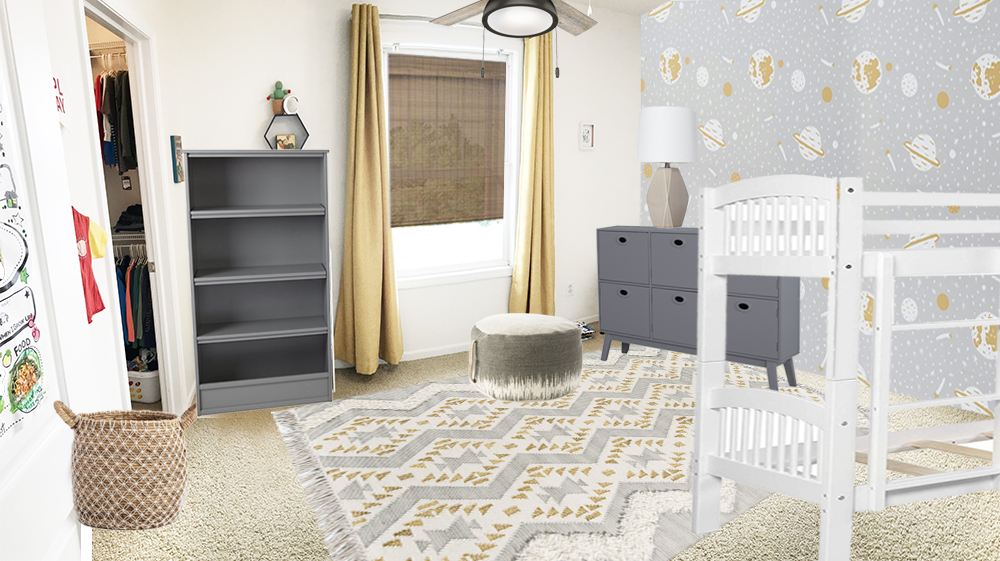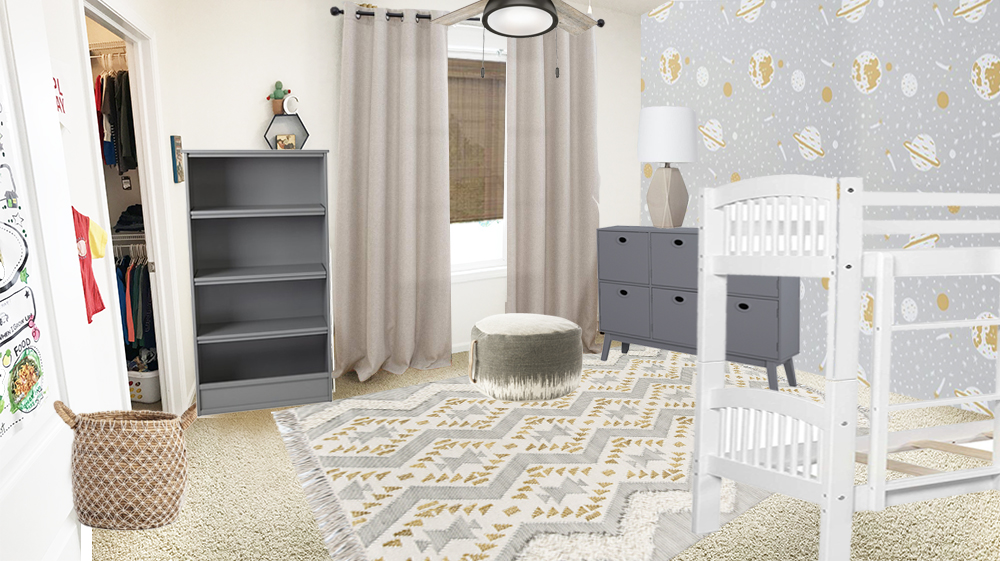 Re-usable wallpaper is a fun option to bring in pattern or color, but it can also be removed when they get older. (There are actually many options she could use!) We have this same set of bunkbeds in both of our kids rooms that work with 8 ft. ceilings, and can be taken apart to be used as twin beds. The darker furniture will allow for a more mature look as they grow. Here are sources for all of the elements:
Wallpaper
Bunkbeds
Fan
Rug
Boookshelf
Dresser
Lamp
Floor Pouf
Basket
Bamboo Shade
Curtains
Curtain Rod
Bedding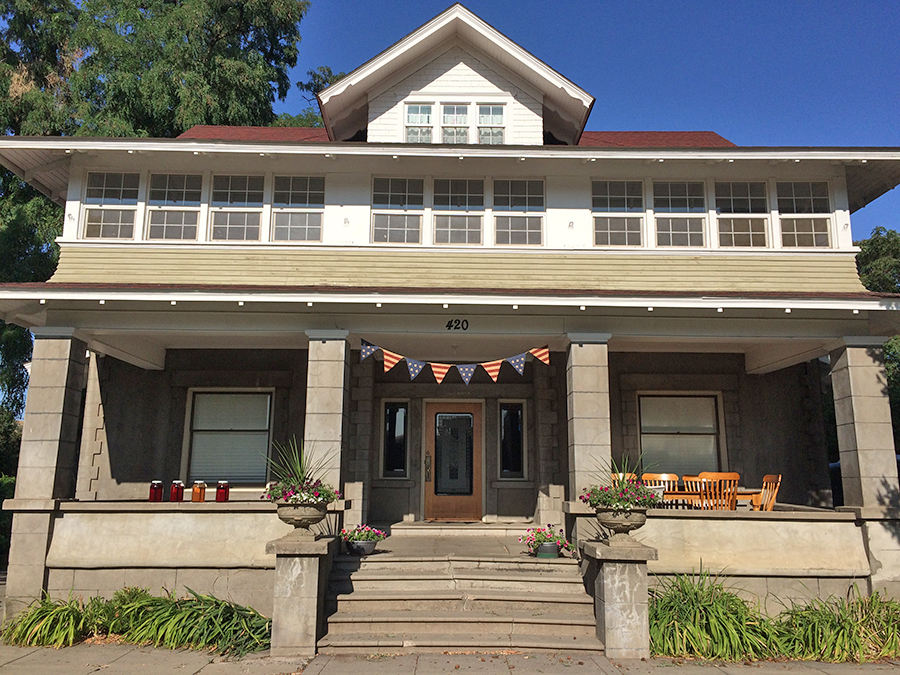 Dilemma: "My husband and I purchased our first home – a 1906, old American foursquare in a small town of about 1200 people. We love it so, so much! Our biggest project so far is patching all the cracks in the external stucco, and then painting over it to seal things really well. My husband is not a design person at all, and I'm having a hard time nailing down what colors to paint the exterior. Any ideas are gladly welcome!! We toyed around with either blue, grey, or white as a base paint color, but we don't even know what kind of accent colors to use. We do have a reddish asphalt shingle roof to coordinate with, so that makes it a little harder. I'd love help if you have time!"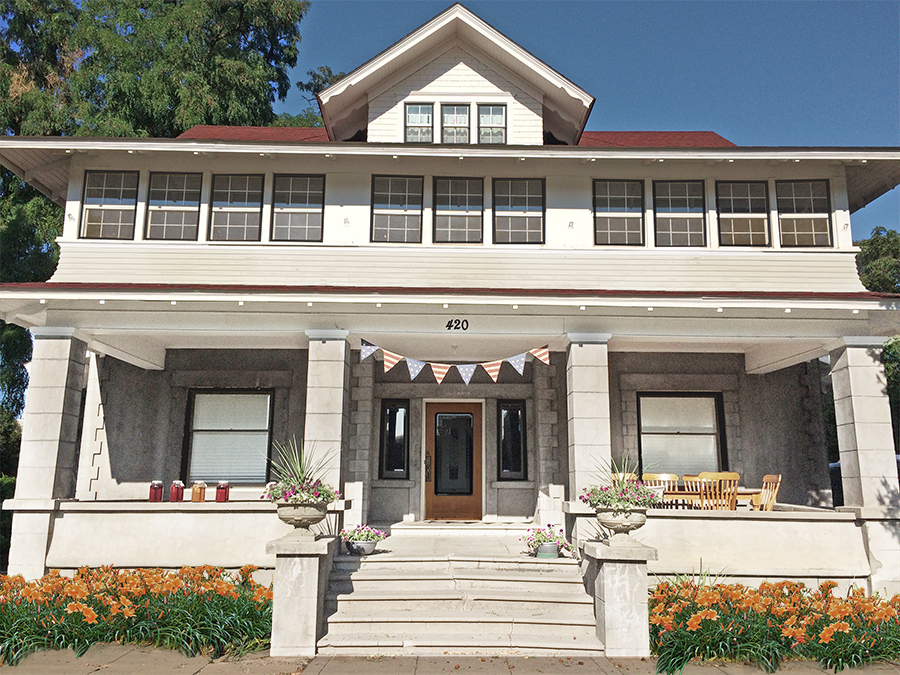 What a beautiful 1900s home, huh? Gabe helped me trouble shoot this one. Stucco is actually pretty easy to paint as there isn't too much prep work involved. Although a rendering will not quite do it justice, this is an after example of a white wash paint finish and black trim that wouldn't take away from the design of the home. It also compliments the red roofing and original door! When those day lilies bloom it will be quite a sight. I look forward to sharing more in this series!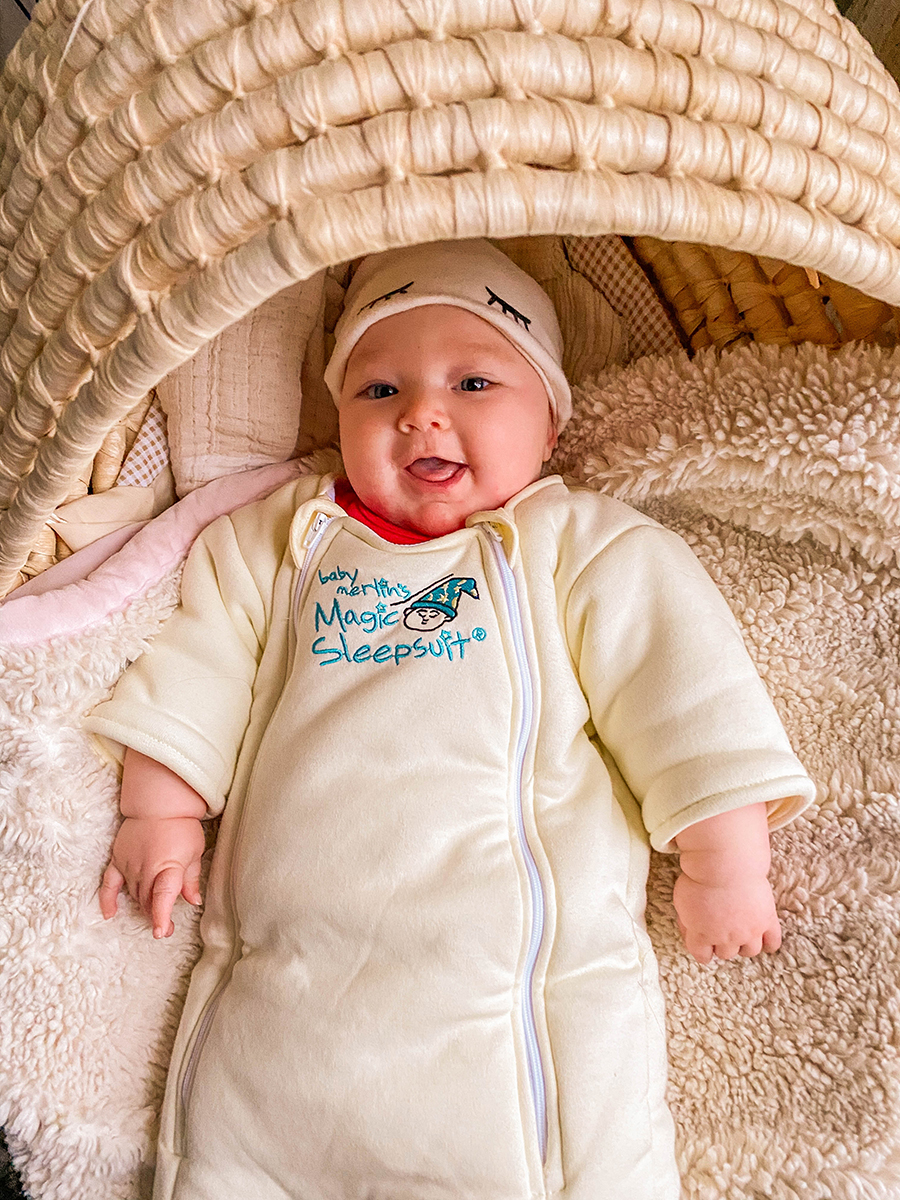 A few other quick things to note! Chiara was waking up every two hours, and I was getting so worn out that I finally bit the bullet and tried the Merlin's Magic Sleep Suit. The first night she used it she only woke up once! It's been the same ever since, so now I am a happy to pass along the recommendation. Several of you also recommended the zippadee zip! A round up of my baby favorites here.
Some non-toxic beauty faves – I have been hunting for a good mascara that has a primer, and so far I am loving Honest Beauty's. I also have been really happy with this clean ingredient concealer by Vapour Beauty. Lastly, the best eye cream ever is FREE today with purchase of the Countertime Regimen (the skin care line I use). I also love how they have a skin care quiz to determine which free eye cream and regimen is best for you. Oh, and the perfect long lasting lip color for spring! Wearing it in the pic above.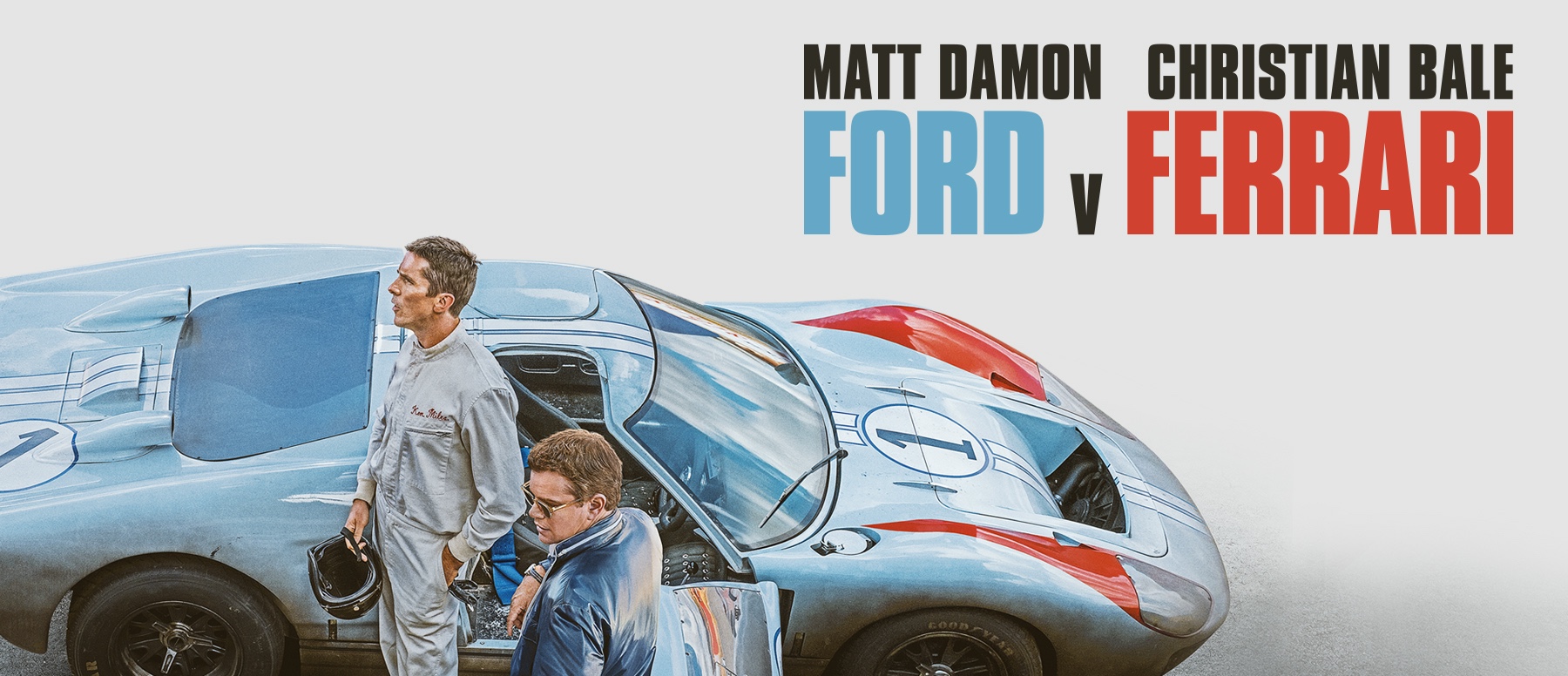 Lastly, if you need a good movie to watch tonight, Ford vs. Ferrari and Midway are two that we really enjoyed this month. Really good story lines and characters! The best movies I have seen in a while.
Happy weekend!