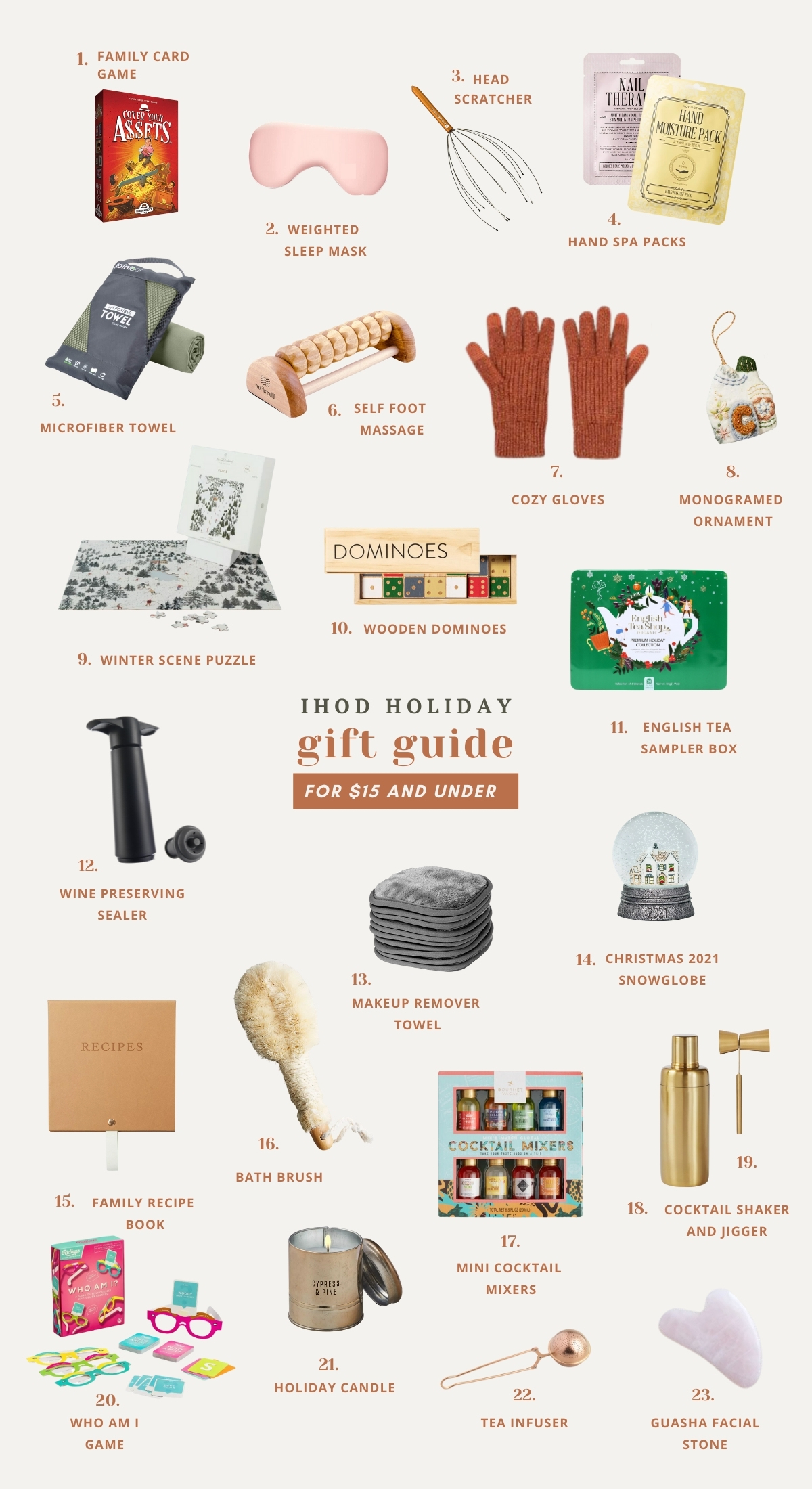 ONE // TWO // THREE // FOUR // FIVE // SIX // SEVEN // EIGHT // NINE // TEN // ELEVEN
// TWELVE // THIRTEEEN // FOURTEEN // FIFTEEN // SIXTEEN // SEVENTEEN
EIGHTEEN // NINETEEN // TWENTY // TWENTY ONE // TWENTY TWO // TWENTY THREE
Kicking off our annual gift guides today! We look forward to these every year. It is fun to be able to share ideas that will help you in the hunt for meaningful, fun, or enjoyable gifts. We have 8 total guides this year, and wanted to make sure to include one that is $15 and under. Gifts don't have to be extravagant, but often times even something small to a teacher, friend, or loved one says you were thinking of them.
My brother introduced everyone to this game last Christmas, and it is one of our family favorites now!
Never experienced the joys of a sleep mask till this year. Great option for mom or MIL.
I can't even describe how good this feels. I sometimes employ Rocco or Max to give me a head massage with this thing;)
There are a few different spa care options that would be fun for a stocking.
A friend of mine sent this to me a few years ago. It is great option for someone active.
Need I say more?
I always need new gloves, and these look cozy!
We give our kids an ornament each year, and I love this personalized one.
A sweet winter scene puzzle that you can actually finish!
I like portable games like these classic wood dominoes.
A festive tea sampling.
We need one of these!
I use similar ones at night with cleansing balm, and they feel so good on the skin.
My girls are fascinated by snow globes right now, and this reminds me of the old Christmas movies.
A great gift for newlyweds or anyone who likes to cook.
I have been wanting to get one of these! Great price too.
Mini cocktail mixers make a great host gift.
To dress up a bar cart.
To pair with #18.
Another good family game option.
They have a few other holiday scents available right now as well.
For the tea drinker! Pair with a bag of loose leaf tea.
I started using this in the AM after reading about the benefits. Pairs well with any spa theme gift.
We hope these gift guides serve you well this year!