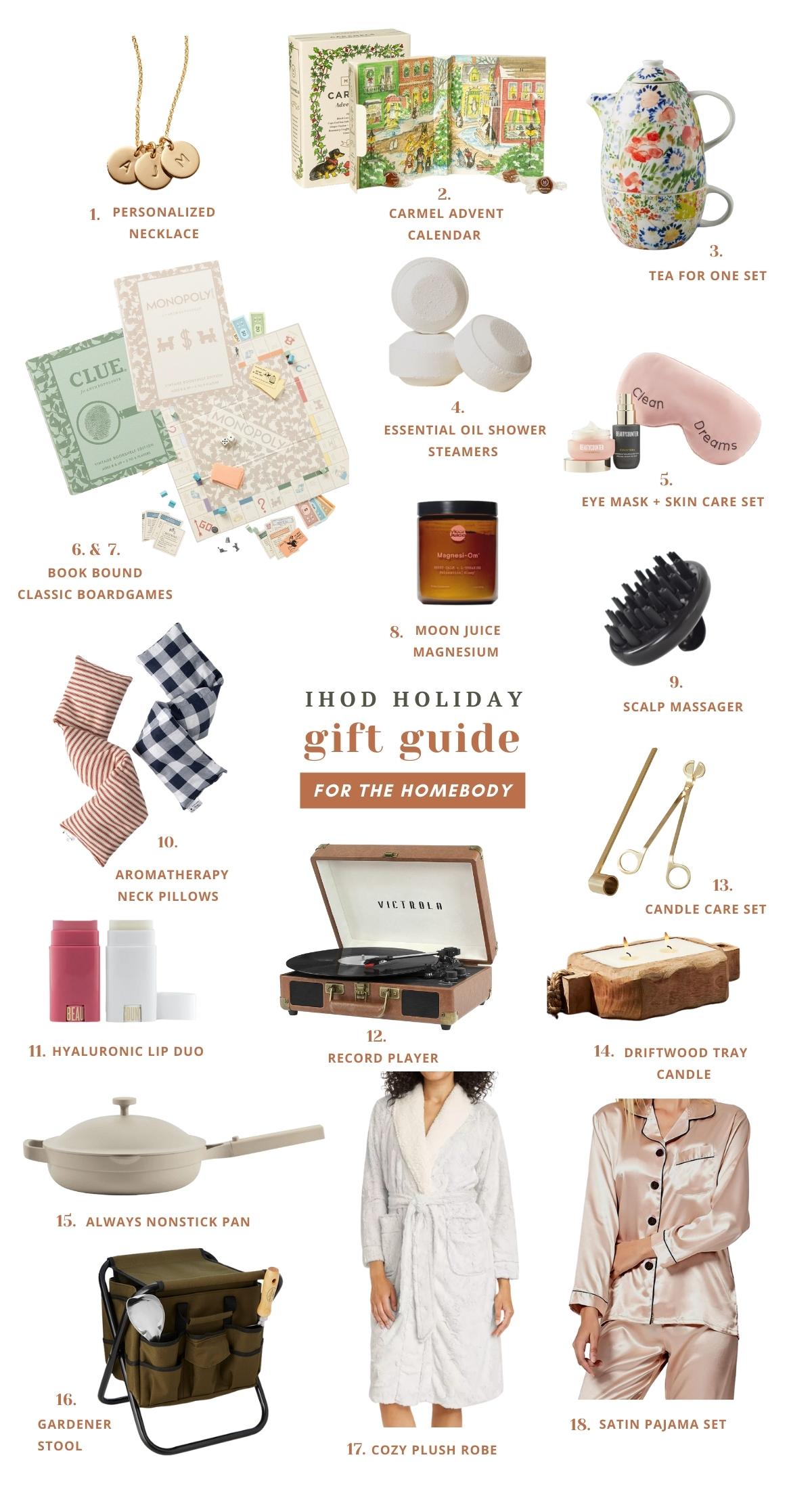 ONE // TWO // THREE // FOUR // FIVE // SIX // SEVEN // EIGHT // NINE // TEN // ELEVEN
TWELVE // THIRTEEN // FOURTEEN // FIFTEEN // SIXTEEN // SEVENTEEN // EIGHTEEN
This gift guide includes all of the things that make winter a little more enjoyable at home.
Personalized gold disc necklace -I don't wear much jewelry, but I love a simple necklace. Also love these birth flower necklaces.
Advent calendars are so nostalgic for me. This caramel advent calendar would make such a sweet snail mail surprise.
This tea for one set is a stackable tea pot and mug!
I am so intrigued by these essential oil shower steamers. Such a fun gift.
Clean Dreams Set – Two of my favorite every day skin care products + a satin mask. (Use code CLEANFORALL20 for 20% off if it's your first purchase.)
Books that convert to classic board games you can stick on your shelves! I still like playing Clue with my kids.
Classic book bound Monopoly game.
Moon juice magnesium – I started taking this sleep support magnesium, and want to gift it to all of my sisters. (It tastes really good – add a small scoop to water.)
This scalp massager looks like a dream.
Aromatherapy neck pillows smell divine and you can heat them up to help with relaxation or headache control. I have shared the heating pack version before. They really are the best.
Hyaluronic Lip Duo – I will take any lip balm gifts in the winter! This set includes one clear and one tinted balm with hyaluronic acid for extra hydration.
Vintage style record player that looks good in any room.
Candle care set to pair with #14 or any favorite candle.
I love that these driftwood tray candles make for beautiful decor. A great gift for any homebody.
The Always Nonstick Pan is on my personal wishlist this year. I have heard so many great things about this nontoxic, nonstick pan.
Gardner stool that can be used as a foldable seat as well as storage for all the garden tools. We are sending this to my mother in law.
Gabe gave me this cozy plush robe for Christmas last year. It is extremely soft.
I get so excited about new pajamas. I love this satin pajama set.
We will still have a small business gift guide, and helping families opportunities coming up soon. We hope they were helpful for you, save you time browsing, and give you more opportunity to enjoy advent and holiday time with your families.