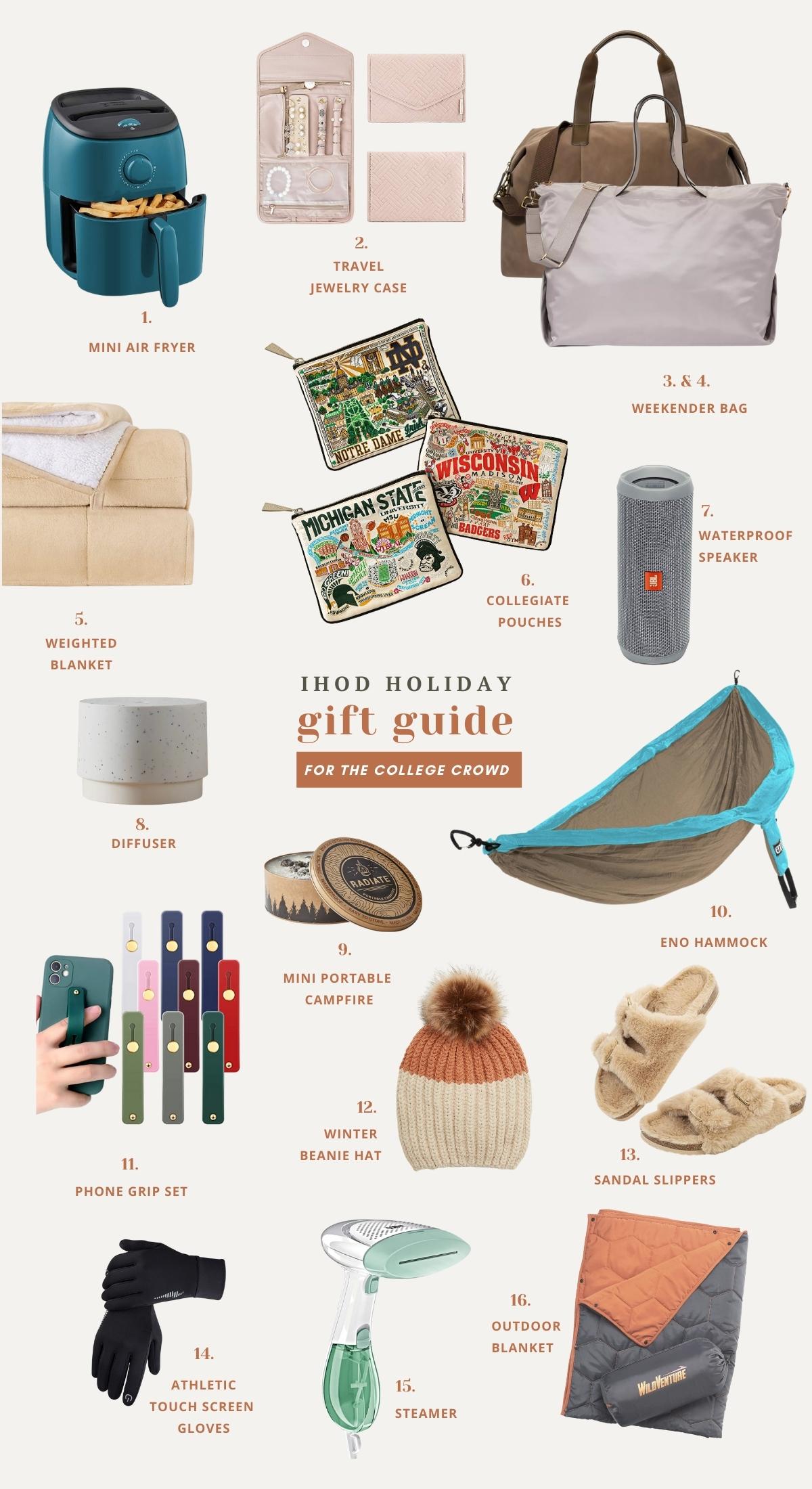 ONE // TWO // THREE // FOUR // FIVE // SIX // SEVEN // EIGHT // NINE // TEN // ELEVEN
TWELVE // THIRTEEN // FOURTEEN // FIFTEEN // SIXTEEN
We consulted my sister in college to create this list for us, and she is here to give the down low on what every college student wants/needs.
Mini Air Fryer – Where all your late night snacking dreams come true.
2. Envelope Jewelry Case – Good for traveling, or just organizing jewelry when you're sharing a small space with multiple people. Save yourself from the frustration of hurriedly sorting through jumbled jewelry.
3. / 4. Men's Weekender/Women's Weekender – (#3 is sold out, but this one is similar) For sleepovers at your friend's house or going home for the weekend. College students are always on the move!
5.Weighted Blanket – My mother always reminded me to prioritize a good night's sleep during the most rigorous academic weeks. This baby always did the trick.
6. Collegiate Pouch – Great for storing pens & pencils and others backpack items. The girl who sits next to you in class will probably be jealous (alt cap- probably give you a compliment on it.)
7. Waterproof Speaker– Needed and wanted by every college student, ever. For every occasion.
8. Diffuser– Candles are forbidden in dorms. So when I'd hit those late night cram sessions, I'd throw some good smelling oils in there to help me relax.
9. Mini Portable Campfire – This is such a cool idea. I envision a night away from the books and a gathering of good friends and good marshmallows.
10. Eno Hammock – For those beautiful days on campus when everyone is hanging outside, throwing a frisbee, reading under a tree, having a picnic. You want to be that guy in the hammock.
11. Phone Grip Set – When you're in the crowded stadium and everyone is bumping elbows and you're just trying to get the perfect shot of the field-don't drop and shatter your phone.
12. Winter Beanie Hat (sold out, but similar) Winter is a hard season for me, having fun accessories gives something to be excited about when you have to trudge through campus in the snow to make it to your 8am class.
13. Sandal Slippers – The floors of your dorm building are gross. Having slip on shoes to get around is so necessary. Having FURRY slip on shoes is a game changer.
14. Touchscreen Gloves – I used these every day to keep my hands from getting dry on my walk/run, but I could still use my phone to text and play music without having to take my gloves on and off. Very functional!
15. Steamer – Sweatpants everyday kinda gal. But for the days of interviews or class presentations, the blouses in the back of my closet needed help.
16. Outdoor blanket – For beach trips, picnics on the campus lawn, camping, or any outdoor activity. I keep this in the back of my car at all times and use it for all occasions.