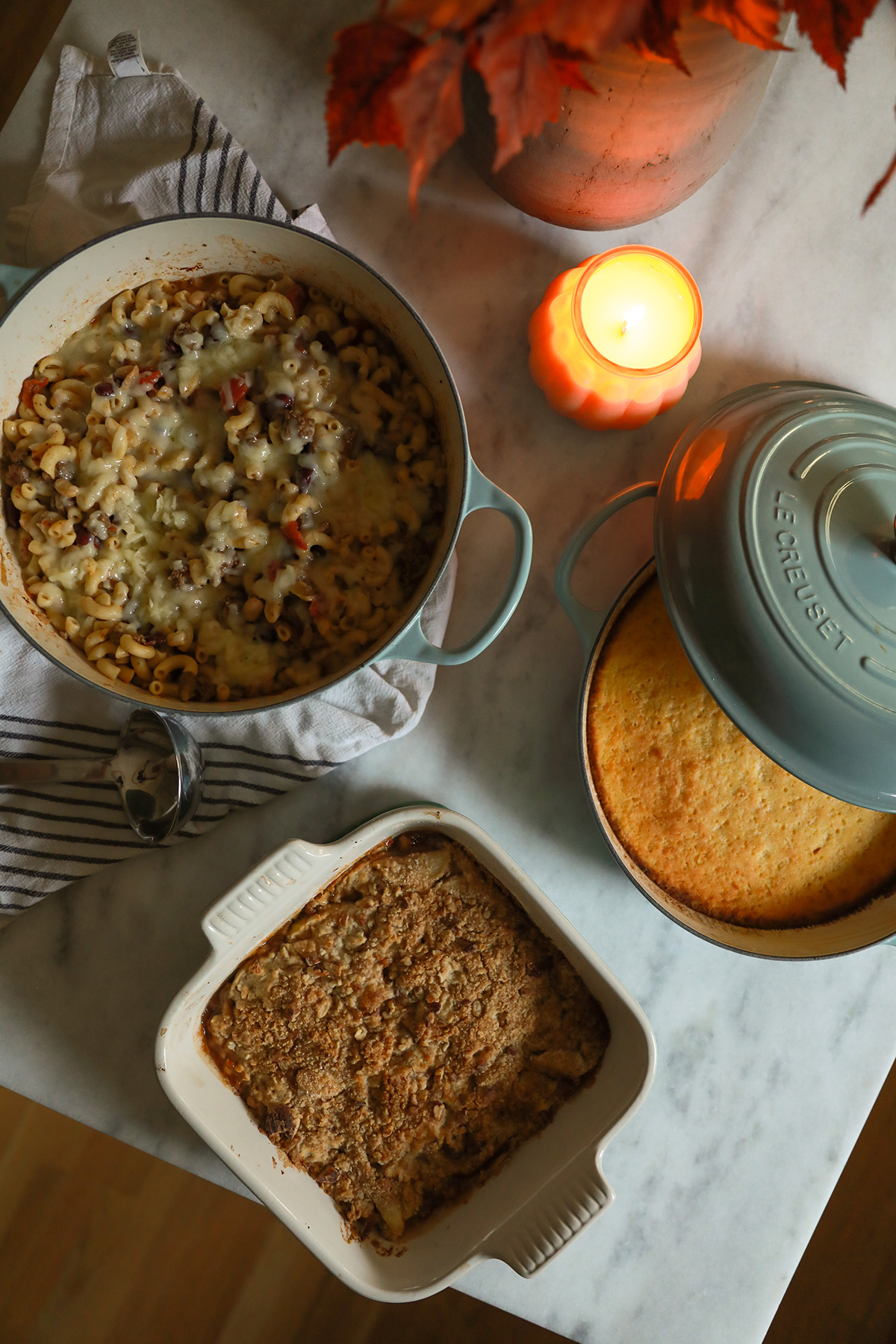 Chili Mac n' Cheese is one of those recipes I make frequently in the cooler months due to the convenience of it. I usually have all of these ingredients stocked in the pantry, and it yields a big pot full!
Chile Mac n' Cheese Recipe
INGREDIENTS
1 tbls. minced garlic
1 chopped onion
1 – 1 1/2 lbs. ground beef
Salt and pepper to taste
8 c. chicken broth
1 can diced tomatoes
1 can kidney beans
1 can northern or cannellini beans
1 tbls. chili powder (add more if you prefer!)
1 tsp. cumin
1 lb. macaroni or whatever pasta you have on hand
2 c. shredded cheese
1 tbls. dried parsley
INSTRUCTIONS
1. Heat olive oil in a large pot or dutch oven over medium high heat.
2. Add garlic, chopped onion, and ground beef. Cook until browned. Season with salt and pepper as you go.
3. Stir in chicken broth, diced tomatoes, beans, chili powder and cumin.
4. Bring to a low boil and stir in 1 lb. pasta. Continue to simmer on medium – low for about 8 min. or until pasta is cooked.
5. Remove from heat. Stir in 1 c. shredded cheddar and 1 tbls. parsley.
6. Sprinkle on the rest of the shredded cheddar and let it melt. Serve warm.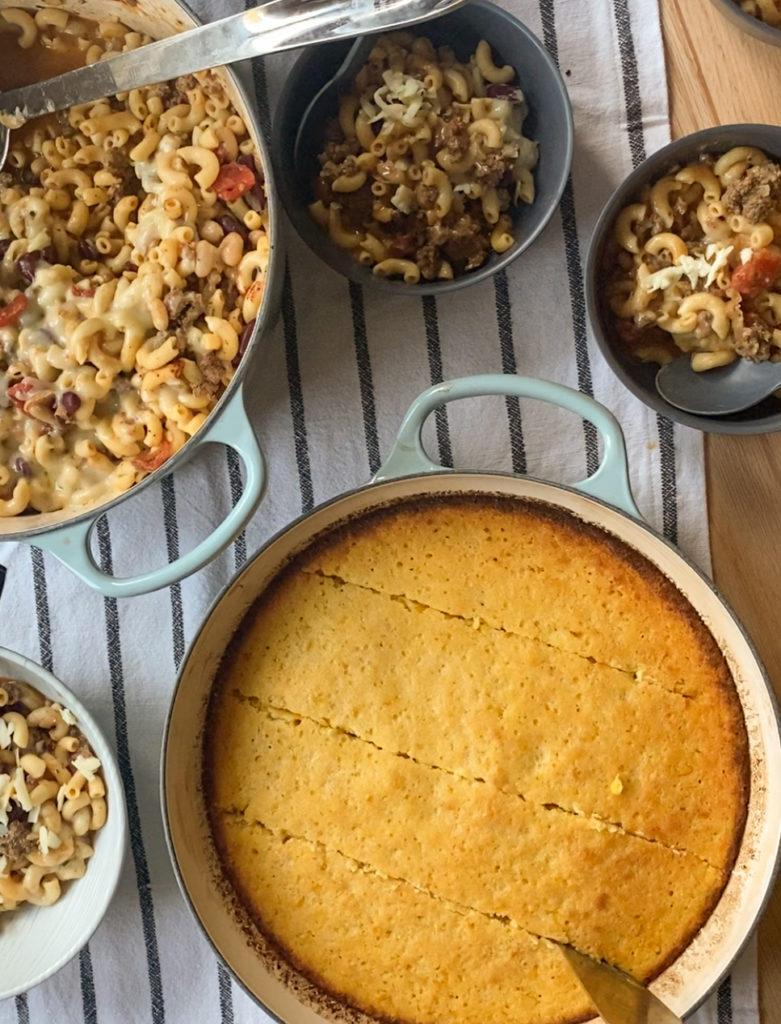 Cornbread Recipe
INGREDIENTS
1 c. Cornmeal
1 1/2 c. flour
1/4 c sugar
1 tbls baking powder
1 tsp salt
1/2 c. buttermilk (or 1/2 c. milk mixed with 1 tbls. white vinegar)
2 eggs
2 cans cream corn
2 tbls. melted butter
INSTRUCTIONS
– Preheat oven to 425°
– Grease or butter a 9 x 13 in. baking dish or braiser and set aside.
– Mix cornmeal, 1 1/2 c. flour, 1/4 c sugar, 1 tbls baking powder, and 1 tsp salt in a large bowl. Set aside.
– In a medium size bowl, mix buttermilk and eggs.
– Add in 2 cans cream style corn and stir well.
– Mix in 2 tbls. melted butter.
– Pour batter into a buttered into baking dish, and bake at 425° for 20 min or until golden brown on top.
(I baked with the braiser lid on for 15 min., removed the lid, and baked uncovered for 5 additional minutes.)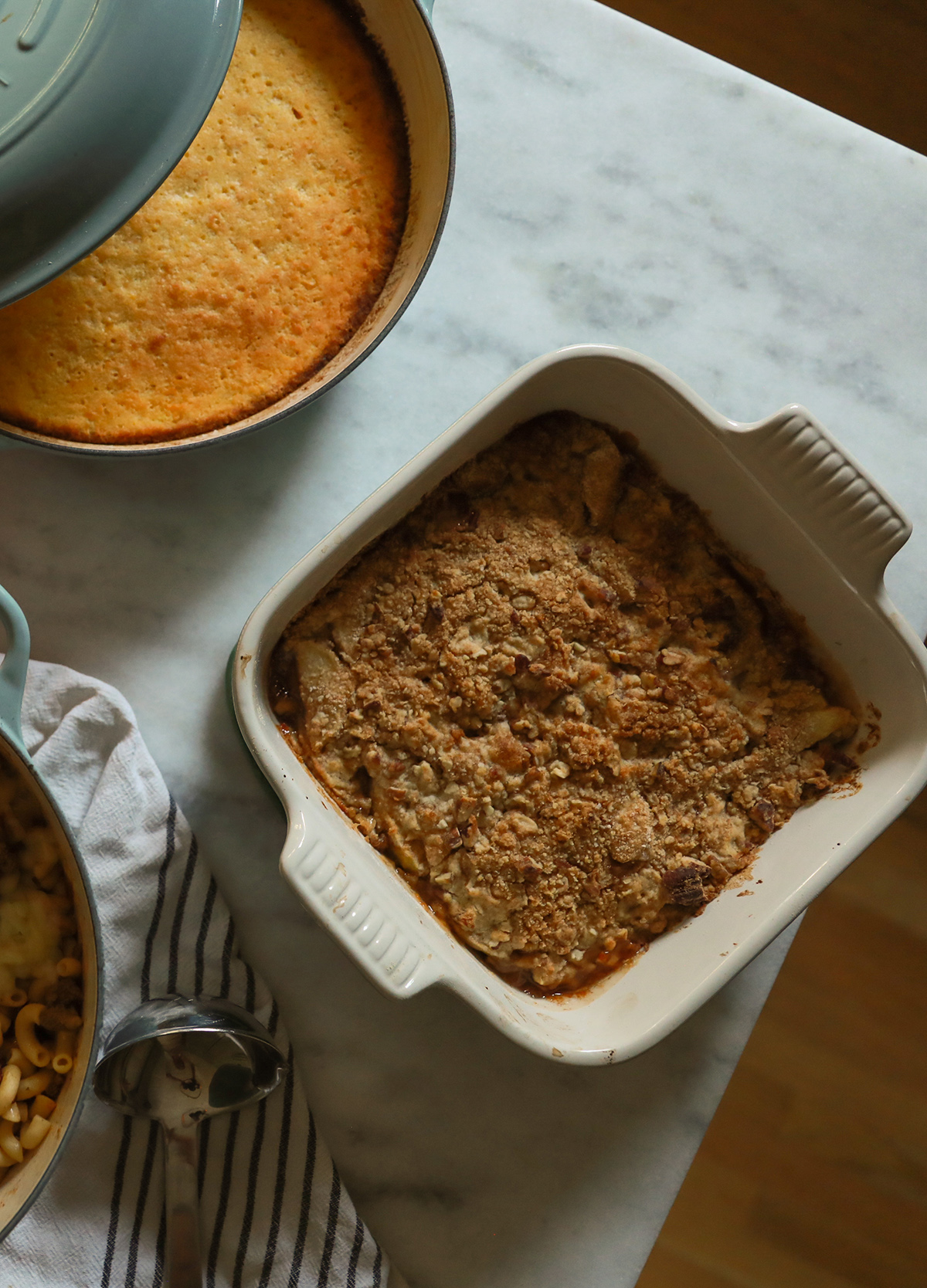 Apple Crumble Recipe
INGREDIENTS
6-8 medium size apples, peeled and chopped
¼ cup sugar
2-3 tbls. flour
1 tsp. cinnamon
Crumble Topping:
1 cup flour
½ cup cold unsalted butter
⅓ cup packed brown sugar
¼ cup raw sugar
½ teaspoon cinnamon
½ teaspoon nutmeg
⅛ teaspoon ground ginger
¼ teaspoon salt or to taste
INSTRUCTIONS
1. Preheat oven to 375°F.
2. Peel and chop apples. Place in a large bowl and toss with ¼ cup sugar, 2-3 tbls. flour, and 1 tsp. cinnamon.
3. In a separate medium bowl, add dry ingredients and mix with a whisk.
4. Add the cold butter chopped into cubes, and use a pastry cutter to cut in until you have a crumble consistency.
5. Pour apples into a buttered or greased pyrex dish. 9 x 9 deep dish or 9×13 in. will work.
6. Spread crumble topping over top and bake for about 30 minutes or until golden and apples are soft.
Serve warm.
This is the best meal for a fall Sunday dinner with loved ones. Body and soul filling. Hope you enjoy!