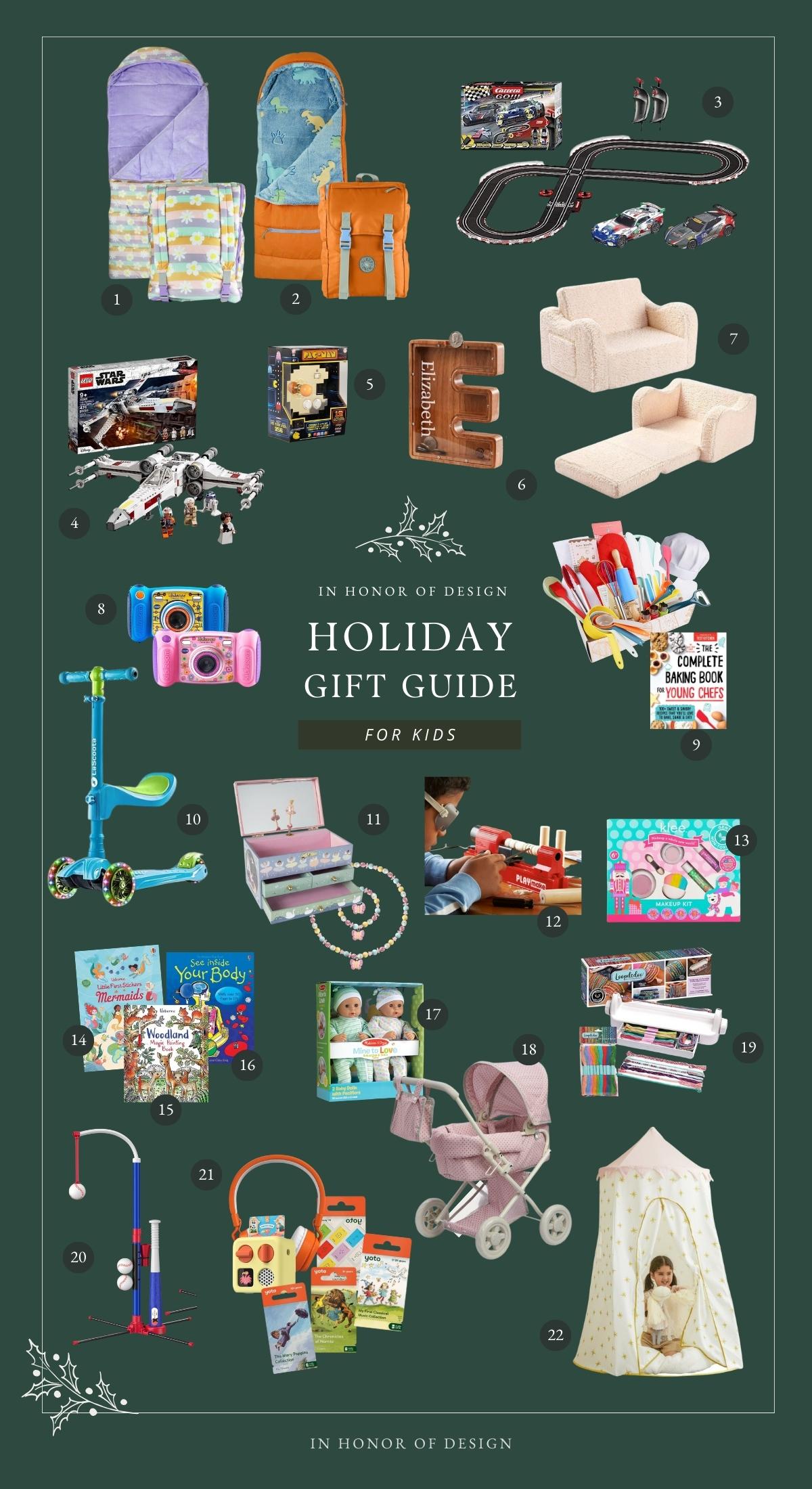 This is always my favorite guide to pull together. I hope this helps in your hunt and find for gift ideas your kids will actually use and love!
1. + 2. Backpack sleeping bags – I love all of the pattern and color options for these backpack sleeping bags. Made with plush fabric. Would be a fun gift for the 5-10 yr. age range. Flower design + Dino design.
3. Electric Race Track – We got this for Max for his birthday (10 yrs.), and he and Rocco have loved it. It's well built (the hot wheels tracks never last in our house!), and well powered!
4. Star Wars Luke Skywalker X-Fighter – I think Legos have been a part of our last 8 christmases;) We are always looking for a good challenge for the boys, and I knew this one would be exciting for them.
5. Pac-Man Connect and Play – This is the classic pac-man + 12 retro games that easily connects to the TV. It has been a big hit around here and a fun way for the kids to spend time together. (Every age loves it!)
6. Initial Piggy Bank – For whatever reason I had a few kids requesting piggy banks this year, and I love this letter option!
7. 2 -in-1 Convertible Chair – This is more for the 2 to 5 yrs. age range. Converts from chair to sleeper and is easy to tote around from room to room. (Apply the $13 coupon!) For the older kids, this is a good size bean bag chair!
8. V-Tech Camera – I found one of these at a consignment shop this summer, and it really came in handy for long road trips! It can take pictures, but also has little games they can play. My younger girls have loved this.
9. Kids cooking and baking set + Young Chefs Cookbook
10. Kids 2 in 1 Scooter – This is a great starter option for kids with three wheels for balance, and a liftable seat if they want to sit and scoot along. Several colors available and a great price point.
11. Jewelry Box + Kids jewelry – Our local toy shop had the sweetest jewelry boxes, and Chiara and Zel got one for their birthdays. They fill them with all kinds of trinkets which is always humorous to find. (Dental floss anyone?) This one is sturdy!
12. 4-in-1 Woodshop Carpentry Tool – Max and Rocco are always asking Gabe for wood and tools to build things. I was excited to find this versatile kid-friendly carpenter tool for them to start learning some basic skills! (Currently 50% off) Wooden lathe kit + service kit also available.
13. Kids clean play makeup – The only thing on Chiara's wish list currently for dress up play. I love that this set is all clean and safe ingredients.
Usborne Books – Some of my favorite crafts/books for kids are usborne books. These are a few options we have enjoyed:
14. Little First Stickers Mermaids
15. Woodland Magic Painting – No mess paint with water!
16. See Inside Your Body – Flap book
17. + 18. Twin baby Dolls + Buggy Style Doll Stroller – This was Azelie's Christmas gift last year along with the twin baby dolls. It is used weekly, and has held up well considering Gus gets toted around in it.
19. Friendship Bracelet Kit – I wish this was around when I was a girl! Includes little drawers for the strings too.
20. T-Ball Set – Our youngest Augustine loves baseball, so Gabe found this T-ball set for him that keeps the ball attached. Great gift for the younger ages!
21. Yoto Starter Pack – This is the second year in a row I am including this on the gift guide for kids, because it remains one of our family favorites. The kids have gotten so much use out of it. It could be a shared portable storytime/music player since the sound quality is so good, but it is also fantastic for quiet time with headphones. This starter pack includes several cards, but a few additional ones we have enjoyed: Mary Poppins Collection, Chronicles of Narnia, Brain Bots, Classical Music Collection – I am hoping they run a Black Friday sale!
22. Pop Up Playhouse – I love this whimsical pop up play tent design, and that the size can fit into small rooms.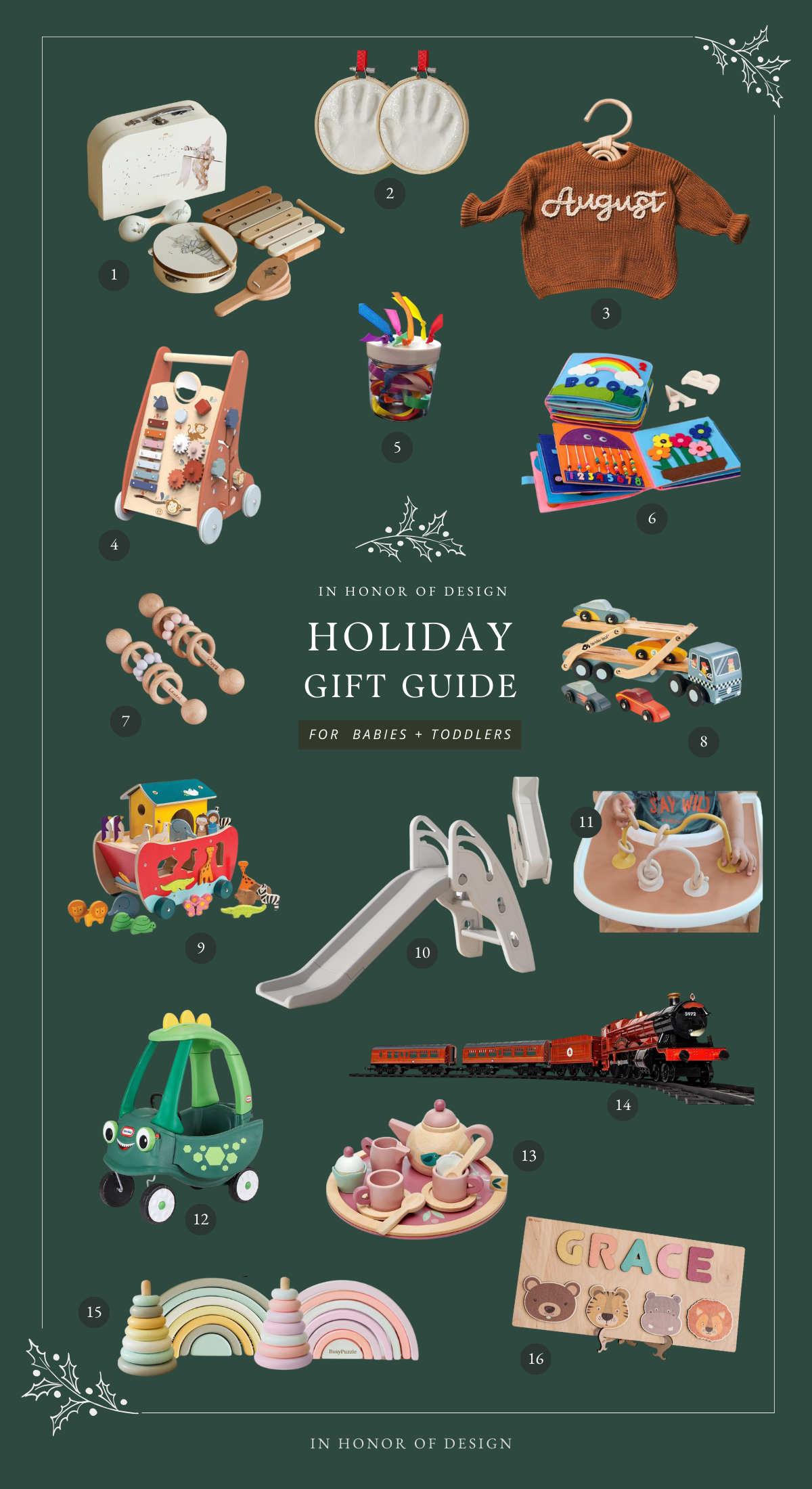 ONE // TWO // THREE // FOUR // FIVE // SIX // SEVEN // EIGHT // NINE // TEN
ELEVEN // TWELVE // THIRTEEN // FOURTEEN // FIFTEEN // SIXTEEN
These gift ideas are items my little ones have loved, or ideas I would gift!