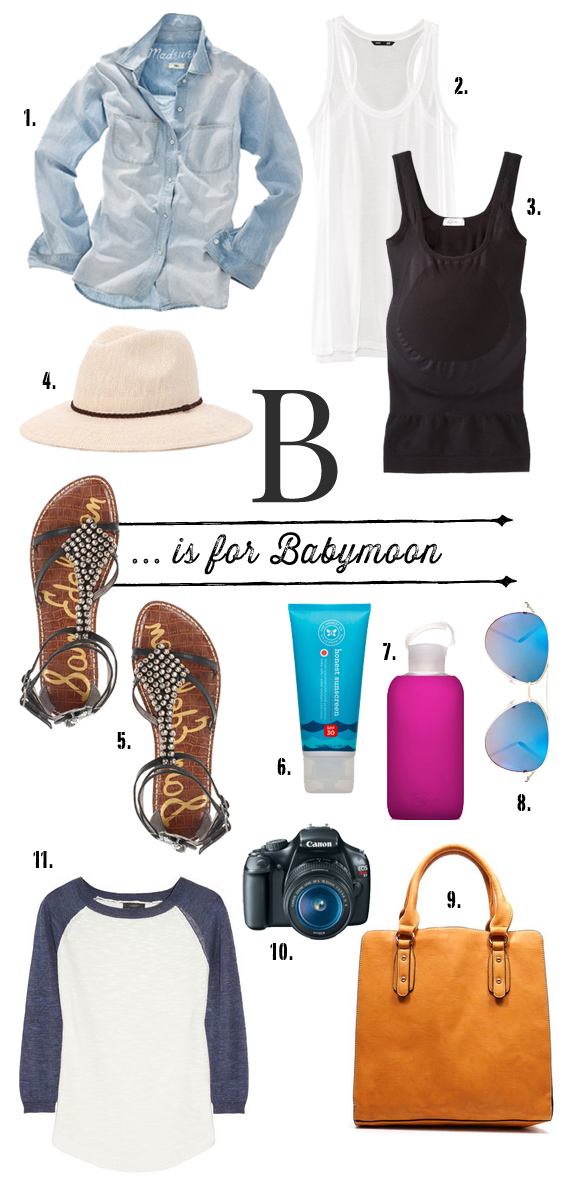 Gabe and I have not been away together since before Gabriel was born! Since we don't have family near by, leaving them with a sitter is not an affordable option or one I have felt comfortable with yet. Lucky for us, my sister is living with us this summer working here in Atlanta, and she so generously offered to stay with the kids for the weekend so we could squeeze in a Babymoon/Anniversary celebrating this weekend. So very excited to have time with my husband all to myself. We are heading to Charleston, SC since we have been dying to see the city, and since there is a beach there. (Necessary.) Have you been? Any fun places to recommend?
Here are a few essentials I am packing:
1. Denim Chambray – that piece you can throw over anything and use as a jacket for cooler evenings.
2. & 3. Picked up a few of these $5 tanks at H&M to layer over the Blanqi support camis.
4. Wide rim fedora – easy way to finish a look and mainly provide sun protection at the beach. Similar one here.
5. The most comfortable sandals that I have been wearing daily as of late that go with both dresses and casual shorts.
6. Honest Co. Sunscreen…because its one of the few safe for your skin. Also love their healing lip balms!
7. I was terrible at staying hydrated when pregnant with Gabriel and it got me into trouble! So this pregnancy I carry around this BKR Glass Water Bottle with me everywhere.
8. H&M also provided some fun sunglasses choices this year. Similar pair here.
9. Finally found an expandable tote in just the right color that can separate travel essentials + laptop or camera in different sections.
10. Camera…you know, that thing lifestyle bloggers can't really go anywhere without;) (We use aRebel T3
)
11. Baseball tee – one of my few tees that still fits over my belly bump and is comfortable and easy. (Affordable option here.)
Not pictured: Bathing suit ( ahhh do I have to??) Well beach time is a must for Gabe and I so I will swallow my pride for this one. Love ASOS' maternity suits. Beach cover ups – I just received this one in the mail which is fun. Also will be bringing my Tolani Cover up and dresses for evenings. (See recent Bump Styled posts:))
Would love to hear your essentials!
Will be posting a few photos to instagram over the weekend if you want to see the city from afar!