Every year on approximately Oct. 28th I am scrambling to put together costumes for the little ones. (Last year I took an easy route.) Thanks to a little nudge and encouragement from Pottery Barn Kids, I am a whole 6 weeks early this year;)
Their entire line of costumes for kids is outstanding. I mean really, who can compete with this? I am so glad they included Captain America in their treat bag section because he happens to be my son's favorite super hero. Gabriel has been asking me for a Captain America shield so when this opportunity arose to do a little DIY action for PBKids, I knew exactly what I would attempt. I got a little carried away and made the whole costume.
Materials:
Frisbee (We had a few of these from parades we had collected.)
Sticky back foam sheets
Regular foam sheets
Red and White Duck Tape or
Duck Tape sheets
Elastic trim
Sticky back velcro
Blue T-shirt
Instructions:
Shield: Cut out a white ring, white star, and blue circle out of the sticky foam sheets,(You will need red too if you can't find a red frisbee) and attach to the front of the frisbee. Turn over, attach sticky back velcro circles in two rows. Hot glue elastic or fabric strips to the top sides of the velcro dots.
Shirt: Using duck tape rolls or sheets, cut strips and place vertically along the bottom half of the shirt. Cut out a second white star out of a duck tape sheet to place at the center of the shirt.
Mask: Trace a mask shape on blue foam and cut out. Draw an A and two small wings on the scraps of your white duck tape sheet to attach on the front of the mask. Staple an elastic trim piece on either side of the mask. (Pre-measure.)
PB Kids is offering 20% off all their treat bags (+ Free Shipping!) which means we will be getting that Captain America one for Mr. Superhero…;)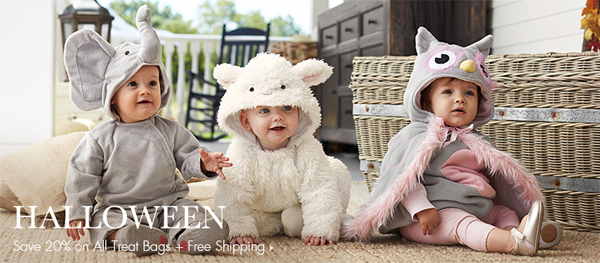 *Thank you to Pottery Barn kids for sponsoring today's post.