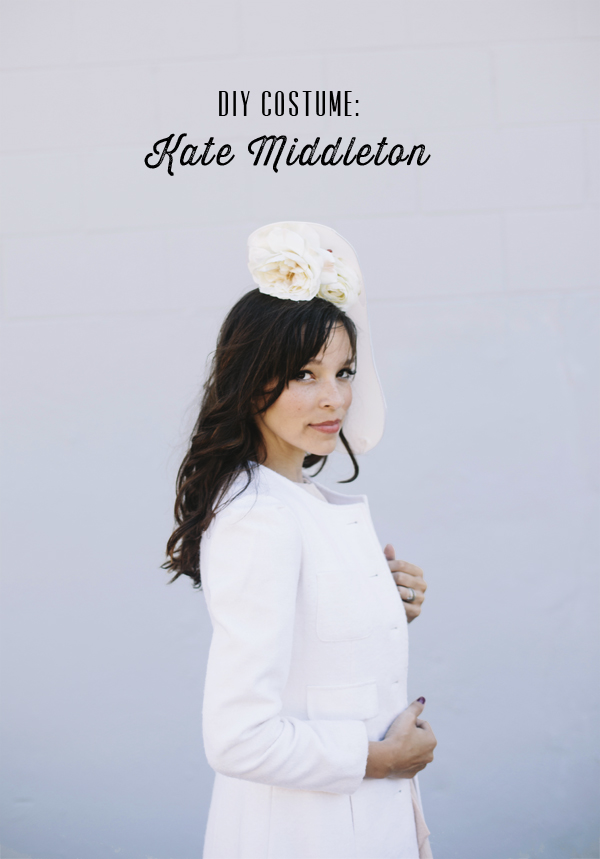 Costume Breakdown: Dress – De La Hooke // Jacket – Sheinside // Nude Pumps // Hat – DIY
That Kate Middleton….always classy, always cute, and always has a smile on her face. What's not to love? This is an easy DIY modeled after one of her many many cocktail hats she wore. Pair it with a cocktail dress, long jacket, and nude pumps for the finished look! And of course don't forget the Royal wave.
Cocktail Hat Supplies:
2-3 Big ivory florals
Girls Tights or Hosiery in Ivory
Wire hanger
Pliers
Hot Glue Gun
Instructions:
Using your pliers, re-shape your wire hanger into a long oval shape.
Cut one leggs length off of the tights and slide over your oval shape. Tie the end into a knot.
Hot glue the backs of your florals over the knot area.
Secure over your head by sticking bobby pins through the tights.
And in case you missed last week's DIY Halloween Costume.