Last weekend, I was able to partner with AT&T U-Verse for some behind the scenes action at the Country Deep Tour! (Did you all catch the re-caps on Instagram?) Being a country music addict as of late, this was such a fun night to be a part of!
I headed down to the Tavern to meet up with Canaan Smith and Jana Kramer for some Q & A time before the concert. I tried my best to choose questions that I thought you all would want to know:)
Canaan is so down to earth and you can sense his gratitude for being able to do what he loves so much. He is a guy's guy with a ball cap and jeans, but with a good grasp on what matters most in this life. Newly engaged with an excitement for life ahead, I really enjoyed getting a little glimpse at what life is like for a country music artist…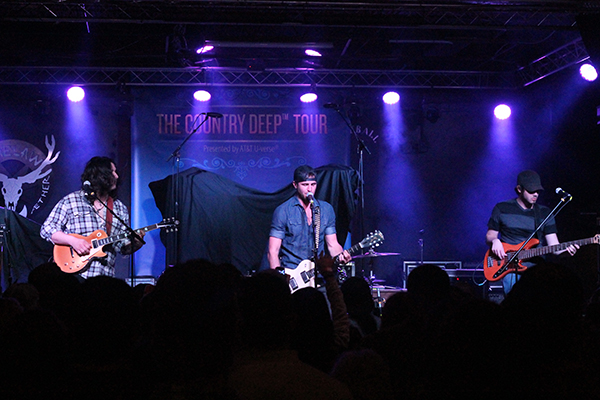 Anna: Dream music collaboration?
Canaan Smith: Well, in country music, Eric Church and Dierks Bentley. I love those guys. Outside of that…..Coldplay.
Anna: Favorite song to perform on stage?
CS: Honestly, all of them. Seriously, I love playing every single one. But out here on the road, 'Young and Country' really gets the crowds going.
Anna: Do you have people that help you write music on occasion?
CS: Yes, we do co-writing, which is one of the things that makes Nashville unique is that there are many different people you can co-write with. I have tried to make an effort to co-write with people who are better than myself so I can always be improving.
Anna: So you have a girlfriend?
CS: A fiancée!
Anna: A fiancée?? That is awesome. Congratulations!
CS: She's actually coming tonight to the concert.
Anna: Ahh so great! Was just going to ask you how often you get to see each other? And how often she gets to see you perform?
CS: I'd want her at every show, but it's not possible since she is a nurse. And she wants to make sure and give me my space too, but it's been pretty often. Probably one of every 10 shows. And when I get a break, I go see her.
Anna: Aw, I am so happy for you guys! Where are you getting married?
CS: Nashville. Since Nashville is where we are going to be, we just decided to do it there.
Anna: Did you fill out a bracket for March Madness? Who's your pick?
CS: I didn't but the only thing I care about is if the Blue Devils lose (Duke), and the North Carolina Tarheels win. My buddy picked Duke to win the whole thing, so there goes his bracket!
Anna: So I think we both have large families?
CS: Oh yeah, you too?
Anna: 11. Seven sisters, three brothers.
CS: 11?! Holyyy crap!
Anna: It was a fun way to grow up; they are my best friends.
CS: I thought six was big. I've never met anyone with that big of a family. That is awesome.
You can find more of my interview with Canaan at the Country Deep Tour website! And of course, had to save some room for my girl, Jana….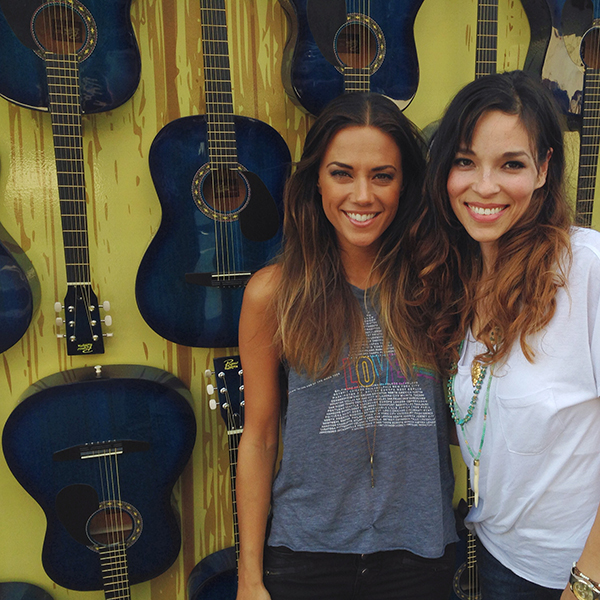 Jana is the kind of girl everyone wants to be best friends with. She is fun loving, energetic, super stylish, and easy to talk to. Especially loved her heart for mission work. I can't wait to see what she does next. Was kind of enamored with her flawless skin and hair too 😉 Some things we chatted about…
Anna: It's easy for the audience to assume you have it all together when you come out on stage, but obviously there has to be some prep to making it flow well on stage. What is that routine for you?
Jana Kramer: Honestly, it is the same almost every time. Rinse and repeat. We are up late the night before so we sleep in late in my back bunk. Like right now I am just chilling watching Notting Hill. Two hours before I will have my dinner, have a glass of wine and relax. We say a prayer before the show, and once I get on stage, all I need is the adrenaline to carry me through it. And even when I am at home I am really chill. Hanging out with my dog, drinking a glass of wine, and watching a movie.
Anna: Holly wood crush?
JK: It kind of changes a lot. Probably Ryan Gosling since I am such a romantic at heart, so are his movies.
Anna: If you had to choose a city to settle down in what would it be?
JK: Somewhere in the south. Probably Nashville. I want to raise my kids in the Midwest or the south since there is such a good moral atmosphere there similar to mine, and they are so polite! Would love my kids to have the same values as I did growing up so somewhere south or Midwest.
Anna: So you love fashion I hear? If you could fill your closet with your favorite brands which would they be?
JK: Oh that is a tough one because there are so many. Probably Burberry and Helmut Lang tees. I love a good casual look with an edgy vibe.
Anna: So when you are having a rough day, who to you go to for the confidence boosters?
JK: My mom and my band. My band are like my brothers. When I am having a rough day, they always will sit and have a glass of wine and talk with me – they are so great. They know me so well. My mom, my aunts and uncles, and my brother, of course, are also such a support. We are all very close. I live with my mom in Nashville.
If you want to read more of both interviews, and get photos and updates from Jana and Canaan while they're on the road, be sure to visit the Country Deep Tour website.
Gabe joined me for dinner at the Tavern and we got to check out the ATT U-Verse bus with karaoke, photo booth, etc. Such a fun time! We also got to catch up on some March Madness before the concert started. Definitely a perk!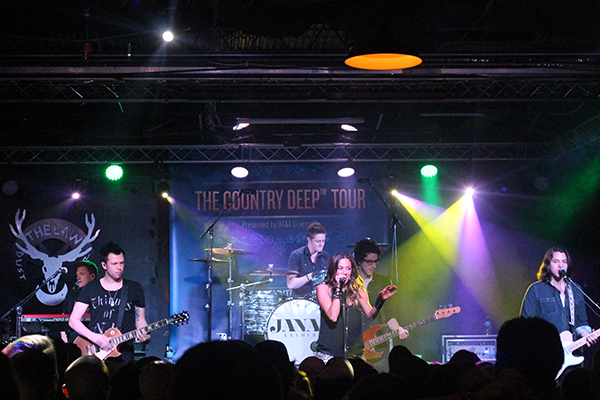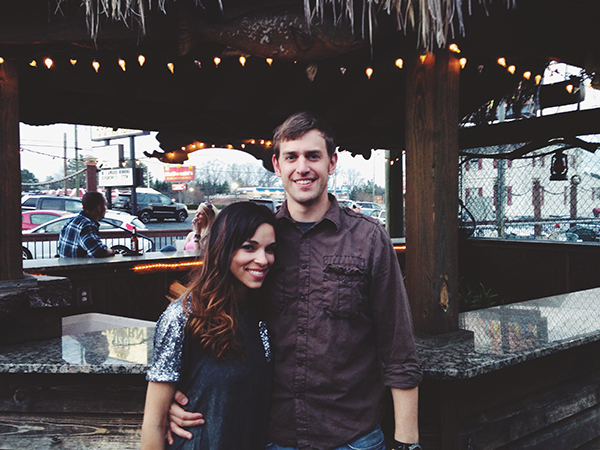 The concert started off with Austin Webb who knows how to get a crowd pumped. Personally loved his ability to play harmonica in between guitar stretches!
You can only hope a music artist sounds as good live as they do in their albums. Thankfully, Canaan Smith sounds fantastic live. I have no doubt this guy will become a big presence in the country music scene. The songs have you on your feet and wanting to sing with the band. Gabe thought the band was awesome and he is tough critic 😉 He gets the crowd involved and making you feel like you are in on this whole thing with him.
Jana Kramer finished off the concert with a bang! She has a strong stage presence, that girl. She knows how to put on quite a good show. Everyone sings along to the songs we all can relate to. I really love her voice- its got a unique tone and a strong vibe. Such a good sound live! Her energy is contagious and the crowd loved her.
So grateful for a night out with my boy to hang out with good people over good country music!
Here are a few snippets I brought back for you;)
This post was made possible through my association with AT&T Country Deep. The prize was provided by AT&T, but AT&T is not a sponsor, administrator, or involved in any other way with this giveaway. All opinions expressed in the post are my own and not those of AT&T.