Atlanta has been really mean with the yo-yo weather and spring taunts, but this weekend made up for all of it! We lived outside and my little ones have sun kissed cheeks to prove it. Now how to survive a week of rain ahead? I have an idea…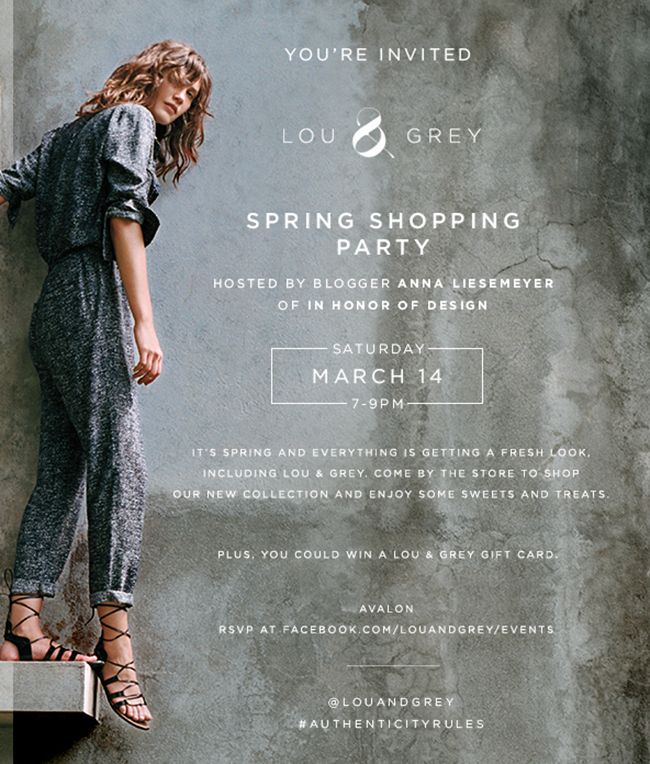 If you are local to the Atlanta area, I would love to have you come hang out Saturday night! I will be at Lou & Grey at the Avalon from 7-9pm. We will be having wine, appetizers, styling fun, and even making some wine charms you can take home with you!
I got a peak at the spring line, and as you know, I love pieces that can work well with a wardrobe over time. They are the perfect affordable pieces to build a closet with. I will be there to help you have fun mix and matching and styling a good look for you! Of course, if you only have time to come in and say hi, I'd love that too! AND they are giving away gift cards to sweeten the evening. There are a slew of fun things to do at The Avalon before or after the event too! Grab dinner, a movie, or hang out on the lawn. So call your best gal and come for a visit!
You can RSVP here.
Here's to the hope of spring around the bend!
Anna
P.S. I am all about that hashtag:)