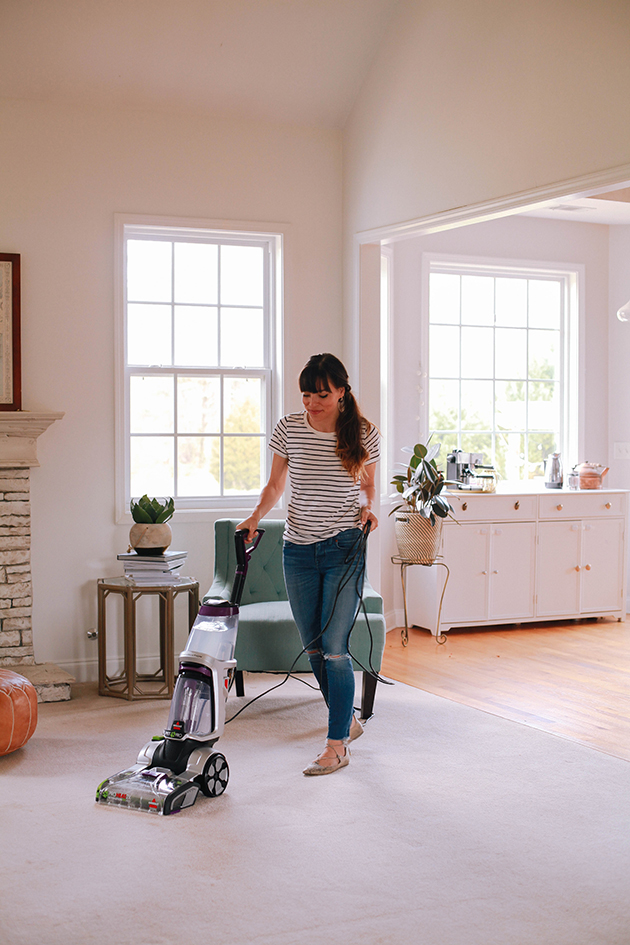 Every year around March I get the itch to clean the house from top to bottom, and inside and out. Anyone else? My spring cleaning routine usually involves bagging and donating any excess items we aren't using, re-organizing drawers and closets, and deep cleaning baseboards, floors, and cabinets. Suddenly dirt seems to be more visible then ever come spring!
Before we bought this home, I slightly panicked when I saw there was ivory carpet in the main living room because I knew it would show allllll of the grime that comes with raising boys. Lo and behold, it only took a few weeks after moving in that the carpet was covered in spots and stains from very busy little feet. Needless to say, I was praising the high heavens when BISSELL stepped in to save the day. We got to try the new ProHeat 2X Revolution Pet Pro Carpet Cleaner, along with their three-step formula system, and now have what appears to be new carpet.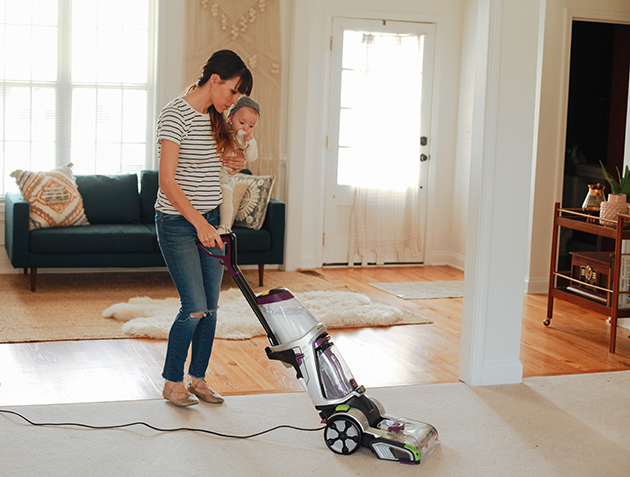 The previous owners had a dog so I was still finding pet hair in the carpet along with a pet smell. I pre-treated the carpet with BISSELL Oxy Stain Destroyer Pet for Carpet and Upholstery by spraying directly on dark spots and stains. Then I mixed the BISSELL 2X Professional Deep Cleaning Formula and BISSELL Oxy Boost Carpet Cleaning Formula Enhancer with a gallon of hot water and went to town on a wild Saturday evening. (I know it is odd, but I totally love vacuuming and carpet cleaning.) It took out every single stain, and was incredibly easy to use. The whole carpet is now a shade lighter, too, which kind of weirds me out by how dirty it was. Yikes. Here's a before and after of just one section…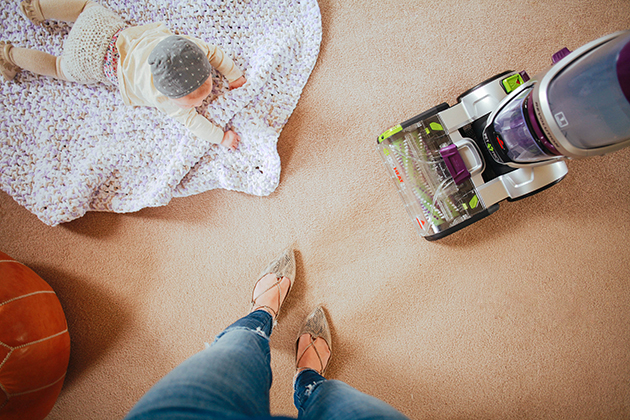 The Pet Pro also comes with an attachment that I used to clean the stains out of a rug and armchair. This thing is a showstopper! I am so excited to GIVE ONE AWAY today to one of you as part of the #SpringByBissell campaign to help with your own spring cleaning. Winner will take away a 2x ProHeat Revolution Pet Pro Carpet Cleaner + the 3 Step Cleaning Formulas. Enter via Rafflecopter below and I will draw a winner one week from today. Best of luck!
This post is sponsored by BISSELL. Thank you for supporting the brands that make this blog possible!