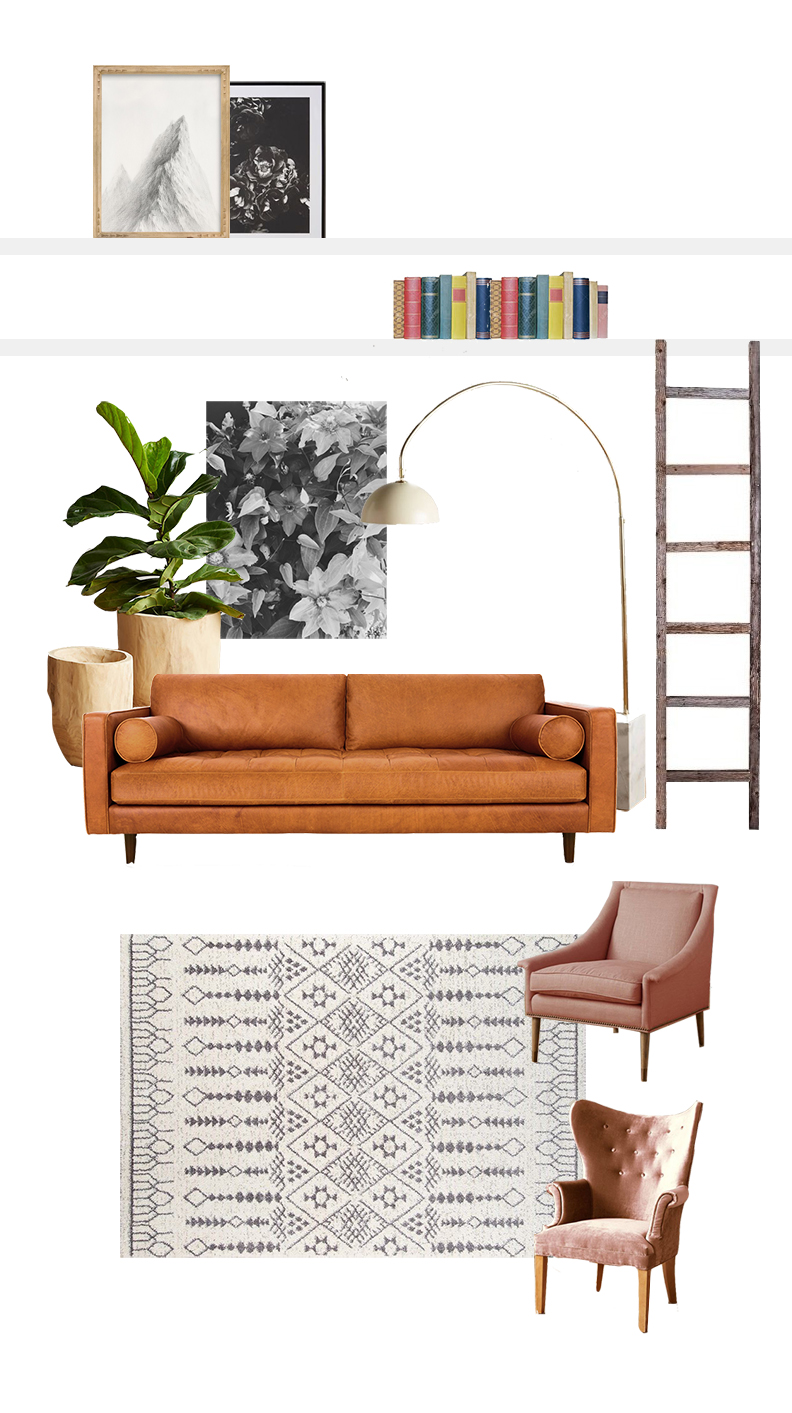 Our home is a very open layout which makes its smaller square footage feel much larger. Our living room faces the dining area and has very high ceilings. We spend the majority of our time in the living, dining, and patio areas and we have been itching to pull this room together! We've had some pieces fall apart over wear and tear so it was time to hunt for replacements. (Here is what the current living room set up looks like.) I look forward to sharing the finished result, but for today here is the process and progress we currently have for the room…
Room goal: I usually start with nailing down the overall purpose and goal of the room which for our living room is to be a comfortable and inviting place with a continuation of the Spanish/European/midcentury influence we have going on in our dining room.
Area Rug – Choosing a rug is my favorite thing to hunt and find, but also the hardest to make a decision on. A rug can set the tone for the room, but it feels like such a commitment! This Lima rug from Momeni was actually a wild card pick for me because I went against my better judgement of using an ivory rug with kids, but I fell in love when I saw it and couldn't let it go! We have already established a no shoes on the rug rule with the kids so a few months in, and no stains (yet)! I really loved the plush and soft feel of it as well as how it offered some pattern and texture in neutral tones. It currently is everyone's favorite place to sprawl out and nap on. Including me.
Sven Sofa – As one of the focal points of a room, a sofa can pull everything together. I really wanted an option that was durable and comfortable with a house full of little ones. We love the current sofa we have in the room, but we are moving it to the boys room in the basement. I was really thrilled with the Sven sofa Italian leather quality from Article. I know the Tan color choice will give me the flexibility to change up pillows or artwork over the years. There are so many sofas that offer the midcentury look that are poorly constructed and super uncomfortable. Not too long ago we saved for a year before adding a couch to our couch-less living room. I went for an online modern sofa for a steal, but quickly learned you get what you pay for. It felt like sitting on a wooden bench. Needless to say it is with genuine gratitude we add this piece to the family! We are all looking forward to family movie nights curled up on this couch.
Armchairs – The armchairs are how I am bringing color into the space. These were just the right blush/mauve pink tone I was looking for, and since there are many custom color options I was able to choose two varying styles (Tillie armchair and Velvet wingback) in the same petal swatch. Anxiously awaiting these to arrive in a few weeks!
Lighting – we have an overhead and fan and light in this room already, and we are still using the gold floor task lamp. However, our other floor lamp was recently demolished by a certain 3 yr old. So we are adding in this arched floor lamp that is weighted with a marble base. I don't think it will be going anywhere.
Artwork – Gabe just finished making 18 ft. shelves to add to our high ceiling wall to break up the area and make more space for books and artwork. It has already made a big difference to the room, although that ladder will have to be heavily monitored while we have young tots around;) I am pulling out old family photos of my grandparents on both sides of the family to blow up and print because I want to be reminded of them often. I also am going through some of our old travel photos and vintage posters to use. Art always is more enjoyed to me if there is a significance to it. The black and white floral print pictured is one I snapped and converted to grayscale. The 10 ft. ladder that leads up to the shelves I found at a local antique market. They are hard to find over 6ft online but here is a similar one.
Windows – Under the windows is where we will eventually build window benches with storage for toys and kids books. Even though the kids' toys will be mainly in the basement and in their rooms, everyone always wants to be together so it helps to have some baby toys at hand in a place where we all gather. How do you all feel about curtains? I love naked windows but if they are the right type of curtains I know it can add amore dimension and warmth to the room. Maybe some sheer panels with a detailed edge? Let me know where you have found good curtain options!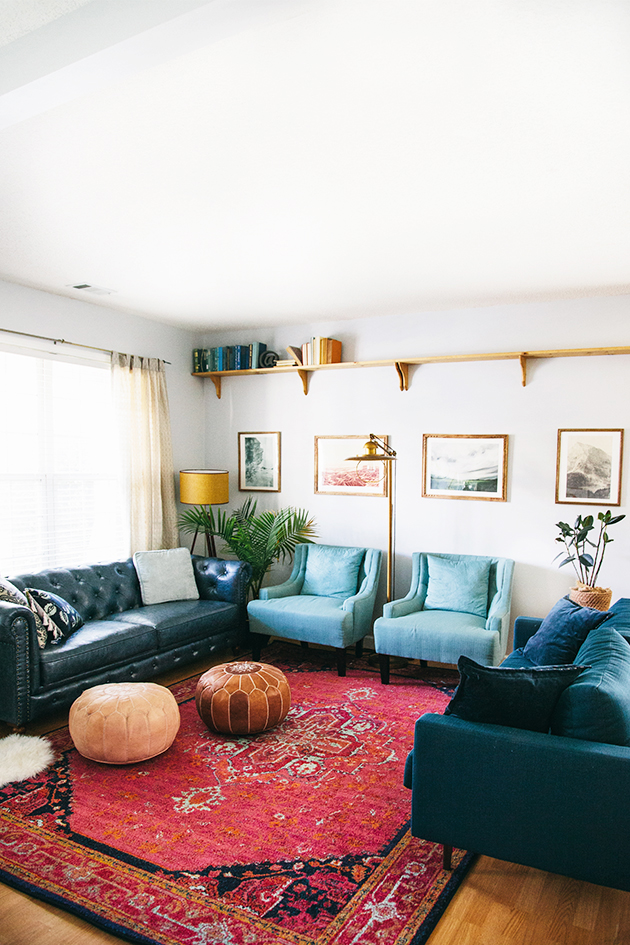 This was our old living room in our rental home. We got so much use out of the time we put into it, which motivates us for our current home.
Since home design is a big part of IHOD, it kicks me in the pants to get things together. However, I am pretty sure I wouldn't hang art for two years otherwise, let alone have furniture all at one time. If you can only get one piece at a time, start with your sofa. It will be your favorite landing place to root the room. You can take your time in finding complimentary side tables and armchairs. Browse facebook marketplace, craigslist, and your local thrift stores for gently used pieces you can add to your home for a fraction of the price. This has served us well on multiple occasions.
I'll be sharing this room overhaul very soon, so stay tuned! Sneak peeks to come on insta stories🙂 Have a great weekend gang!