Gabe has the greener thumb of the two of us, so he is here today sharing some ideas to get your edible landscape going. Everything mentioned are things we have tried in our own yard here in Georgia.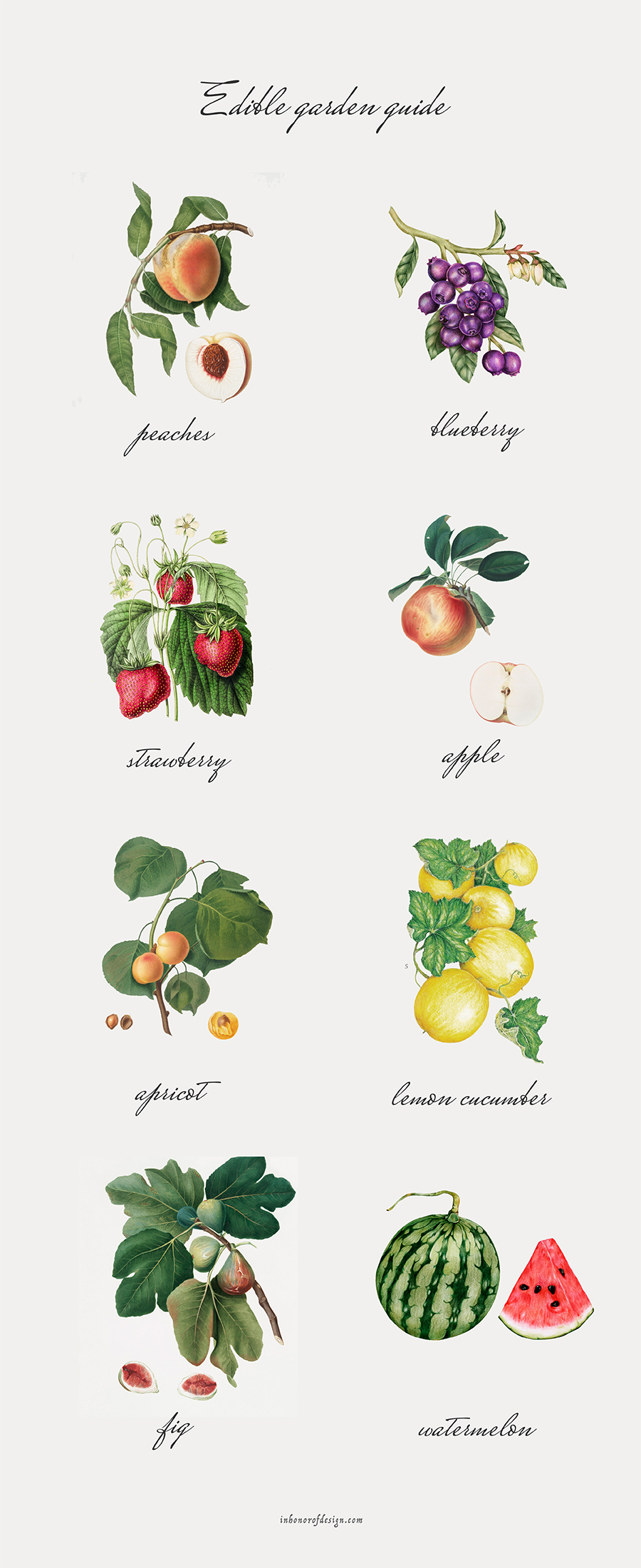 (pinnable graphic we made to bookmark post for later!)
Having a new home with a relatively blank yard has opened a world of planting possibilities. The only problem is I love flowers, trees, and shrubs, and I think a little bit too much about these possibilities. When we first started to plan out the landscape, we knew that one of our top goals was to have variety of fruits growing in our yard. Few things better than snacking on your own blueberries, peaches, figs, and other amazing morsels throughout the summer, especially for a child. Not only can it create really good memories for children, but the flavor of your own home grown produce blows your supermarket away. Most people seem to think they need a huge yard in order to have some amazing home grown produce, but it only takes a little bit of space and a little bit of planning to work edible plants into decorative setting of a landscape. You don't need to create an orchard, you just need to work some edible treats into your ornamental landscape. Here are a few plants, both perennial and annual, and few basic ideas to help you begin the process of creating an edible landscape.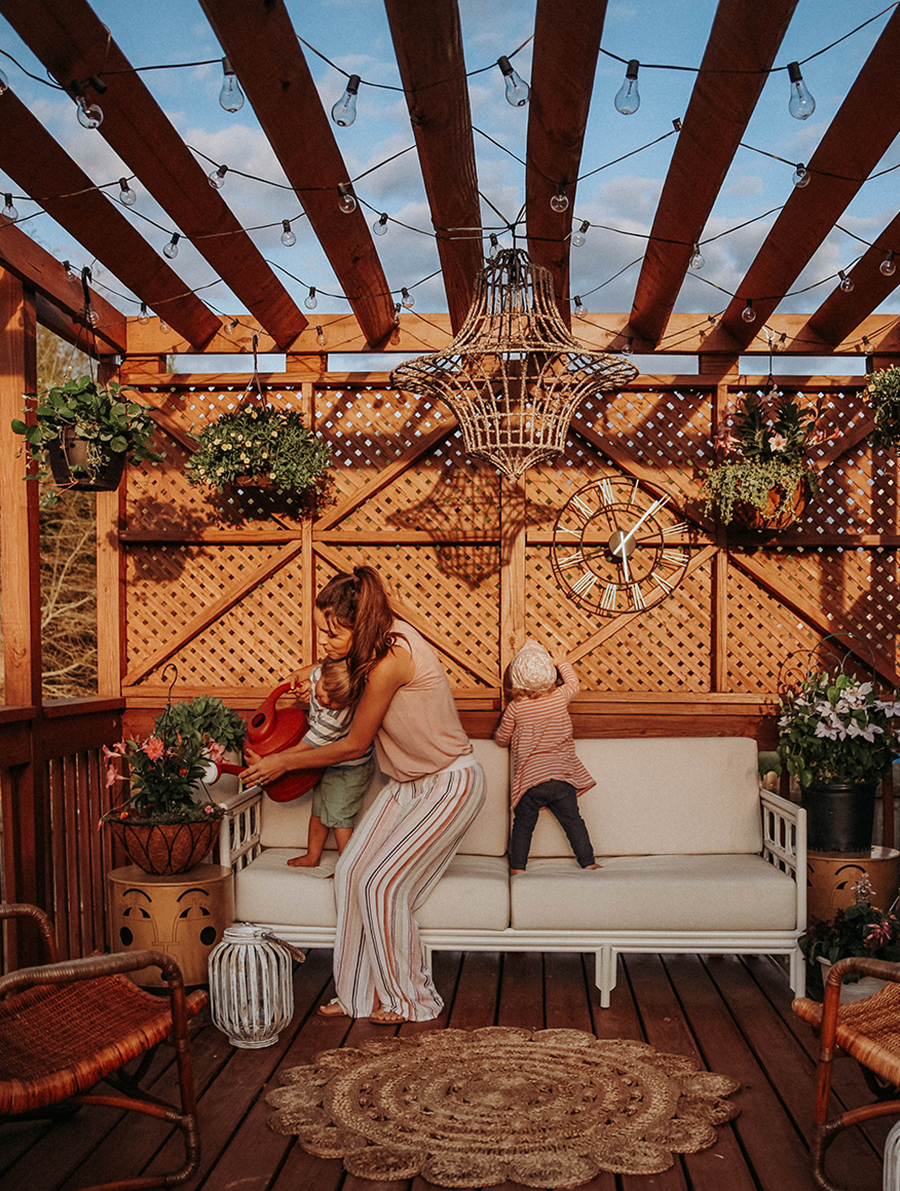 Blueberry – This candy like superfood grows on an incredibly hardy bush, so hardy in fact that you can find a variety that will grow in nearly any region of the US. They are low maintenance, provide three seasons of visual interest (their fall color is amazing), and are prolific fruit producers once established and mature. They can be planted close together to form a hedge, or planted singularly wherever another flowering bush would go. They are self fertile, but having another variety helps produce a bigger fruit crop.
Serviceberry – This amazing plant has many different varieties, some of which grow in more of a bush form, while others grow in a compact tree form. In a tree form their standard height at maturity is usually around 20 – 25 feet, but can be kept shorter with annual trimming. They can be grown nearly anywhere in the country if you select the proper variety for your area. The serviceberry provides three amazing seasons of interest with amazing white flowers in the spring, large bunches of blue/red crabapple sized fruit in the summer, and dazzling red in the fall. They work well wherever a compact flowering or ornamental tree would go, even in partial shade. But the greatest part about the tree is the fruit, which is similar in flavor to a blueberry, although with a different texture. Be advised that the birds love the fruit, so pick the fruit in the morning before the birds can get at it. There are many different types, so do a little research to determine which is right for your needs. I personally am a fan of "Autumn Brilliance"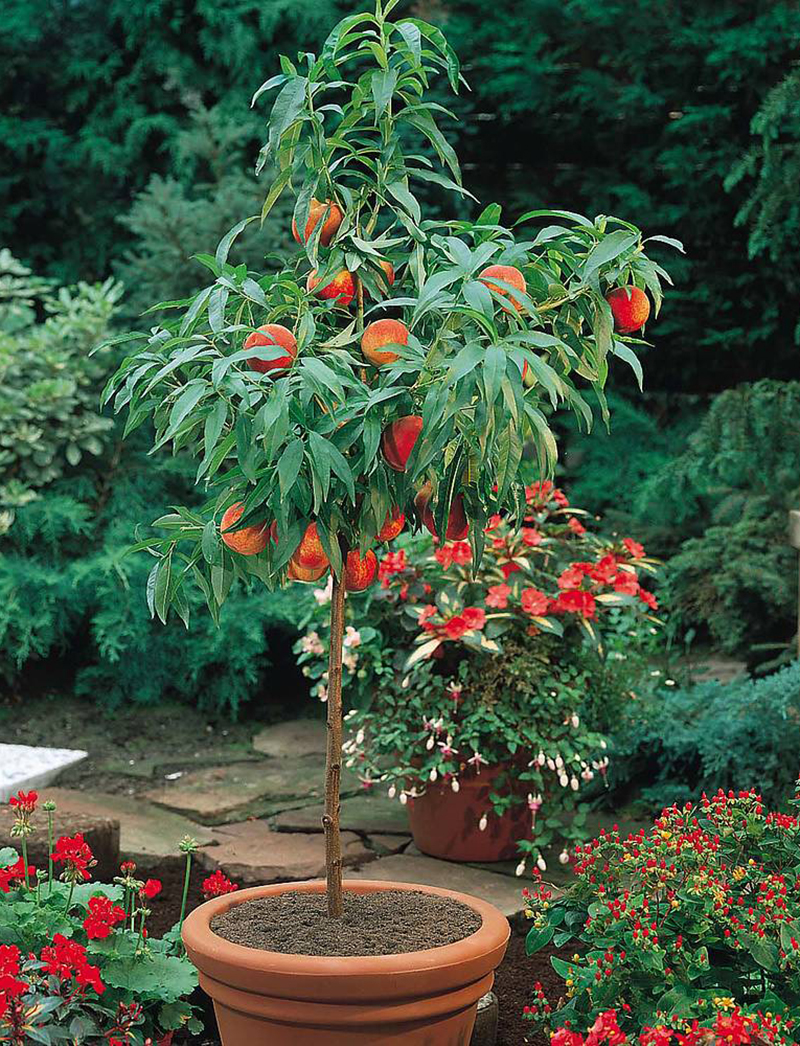 (image via)
Dwarf and Semi-Dwarf fruit trees – Just about any fruit tree can be found in a dwarf or semi-dwarf variety. These are simply compact varieties that will not reach the height of a standard fruit tree. A dwarf tree will usually be between 7ft and 10ft while a semi-dwarf will usually reach a height between 12ft and 15ft. This provides huge possibilities for landscaping as they can be used in place of commonly used ornamental trees. They provide great spring color of white and pink while in bloom, and provide great summer or fall interest when their fruit sets. Be aware that some types of fruit trees are not self fertile and may need a second tree to pollinate and set fruit. I have two dwarf peach trees called "Bonanza Patio Peach" that are super compact, self fertile, and produce mind bending sweet peaches. Peaches and other "stone fruit" trees (cherries, apricots, plums, and nectarines) may need to be sprayed periodically to protect the fruit depending on your area, but this is easy when the tree is so compact.
Fig – If you live in a warmer climate and want an easy growing, low maintenance, highly productive source of sweet fruit, the fig should be your go to source. Their large tropical looking, deep green leaves provide a great textural contrast to most small leaved shrubs and flowers, and I personally love their yellow fall color. Their maturity height can vary between 10ft and 30ft depending on the variety, and respond well to annual pruning to maintain a smaller size if desired. Be aware that some varieties can grow quite wide, so just do a little research before you select your variety. There are some varieties that have more of a shrub growth habit as well. Depending on where you live, they may need some winter protection, and therefore you may want to consider a southern facing location.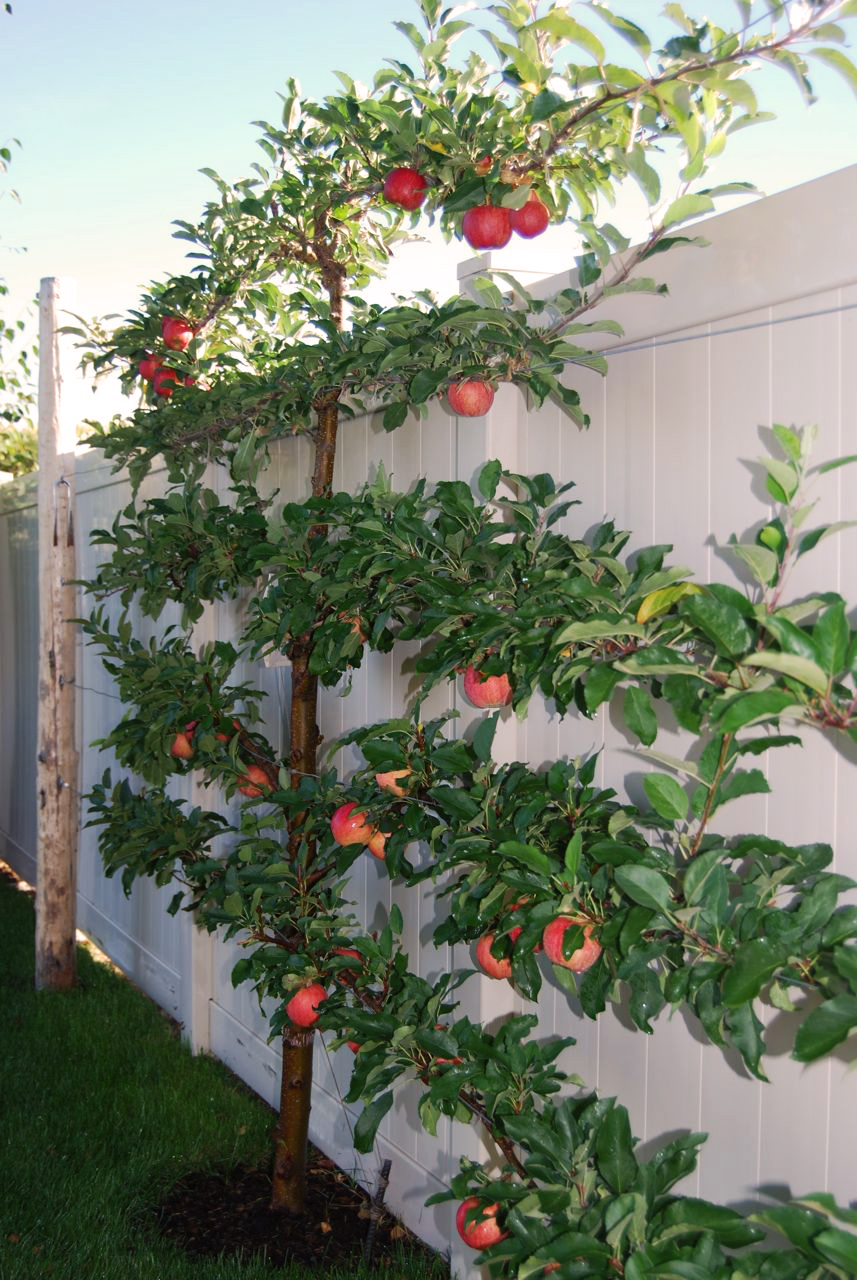 (image via)
Espalier training – If you are short on space or want a unique element to your garden, and are looking for a bit of a fun challenge, consider espalier training. This is when you prune and train a tree to grow flat against support system. It allows you to get very creative with the tree growth and even allows for the creation of flat geometric shapes. Espalier training also limits the amount of foliage growth through regular pruning, allowing more of the plants energy to go into fruit production. Nearly any fruit tree can be trained in this way, although some trees, such as peaches and other stone fruit (plums, nectarines, ect) takes more planning and pruning.
I currently have a young peach tree that is in its second year of espalier training along wires that I strung against our porch. It adds a very unique design element to that part of the landscape, and thus far has been much easier than I expected.
You can also use annual fruit and vegetable plants in place of annual flowers in your garden bed or pots. Here are a few ideas to get you started…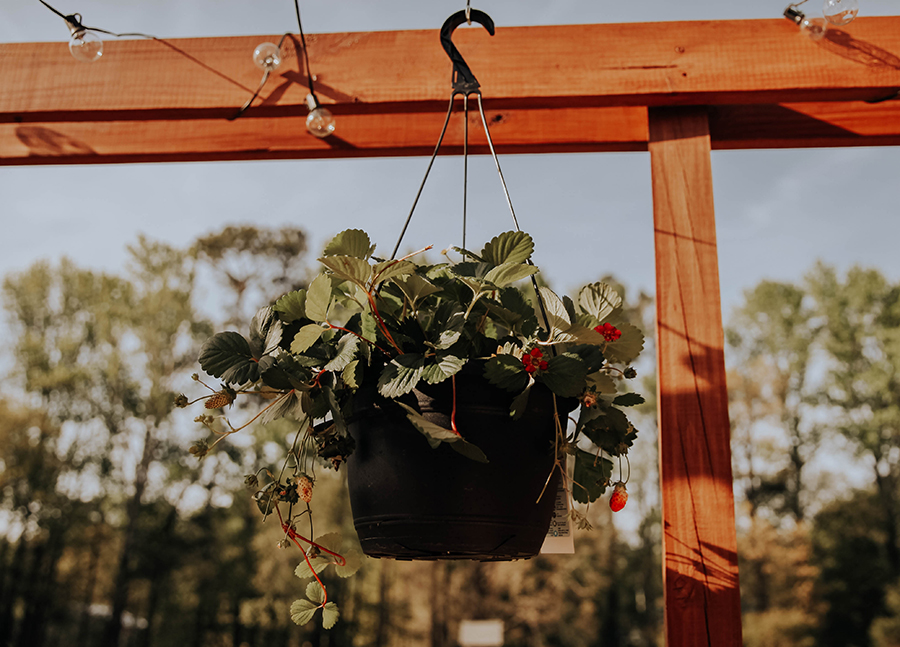 Strawberries are really fun for kids to watch grow, and they are easy to hang on your patio or put in with annual flowers in pots or window boxes.
Lemon cucumbers can be planted in a pot and trained to grow up a cage to showcase the beautiful yellow lemon looking fruit. Once established in a large pot, plant some low growing flowers near the edge of the pot for a unique patio display, or front entryway display.
Consider using vining plants, like melon, squash, or pumpkin, to grow up a trellis, along deck railings, or up a pergola. The fruit will hang down from the vine as it matures creating a unique display. Support the fruit with mesh produce bags (easily found on Amazon), or any other support system. I have seen cloth and stockings used as well. If you plan on doing this, consider using varieties of vines that produce smaller fruit. We will be attempting this with sugar baby watermelon planted in 6 gallon pots on our back pergola, and I must say I am very excited to do so!
If you have any questions about the above feel free to drop them in the comments below. Hope this is a helpful start to your edible garden. Good luck!