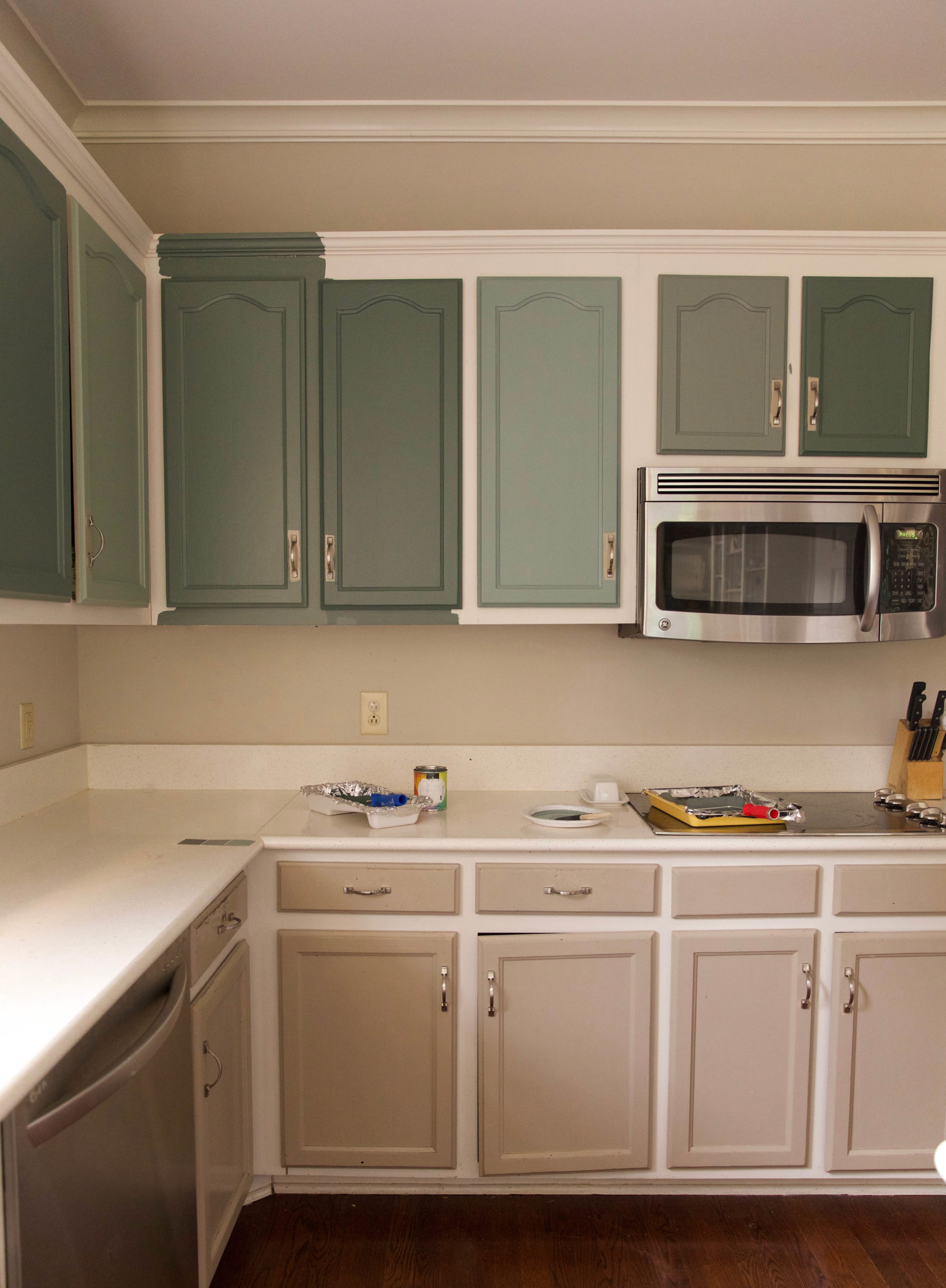 You may remember I originally debated between timeless white and going green. I originally was worried more about re-sale value, but chances are we will be here a good long while. So I re-focused on the original goal of renovating this house to what feels more like us! That being said, color is always what I am drawn to most, and I think it's possible to use timeless shades. After researching several color options, we are going GREEN after all. Below is a cheat sheet of fantastic green paint colors for kitchen cabinets too.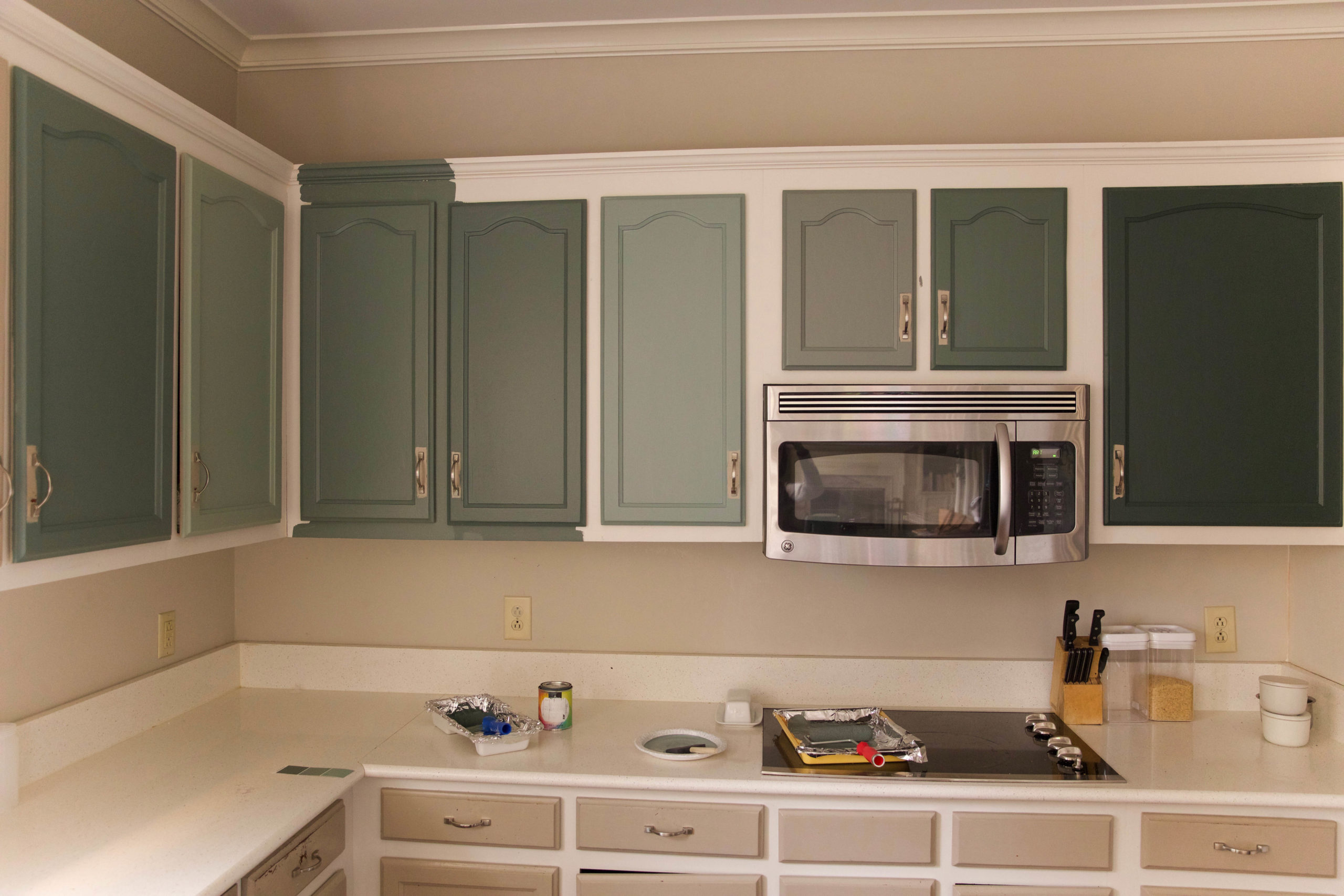 We will be completely replacing these cabinets so which gave us some freedom to test directly onto the fronts! The new ones will be going all the way up to the ceiling.
From Left to Right on the back wall (no filter):
Green Smoke – Farrow and Ball
Caldwell Green – Benjamin Moore
Silverado Sage- Magnolia
Intrigue – Benjamin Moore
Enchanted Forest – Benjamin Moore
Calico Blue – Benjamin Moore
Some helpful tips for when you are selecting a kitchen cabinet color:

1) Picking a color online will rarely translate exactly the same in your home. Computer screens have different calibrations, photos online have often been edited, lighting in someone else's home will look differently in yours, etc. If I am drawn to a paint color online I will often search the name of it to see how it looks in several spaces before even picking up a sample.
2) Take the paint swatch home from the paint store before ordering a sample. That paint store lighting will fool you. Bring home those swatches and tape them up in your room so you can get a better feel for it. This will save you all the money and time in ordering samples.​​​​​​​​​​​​​​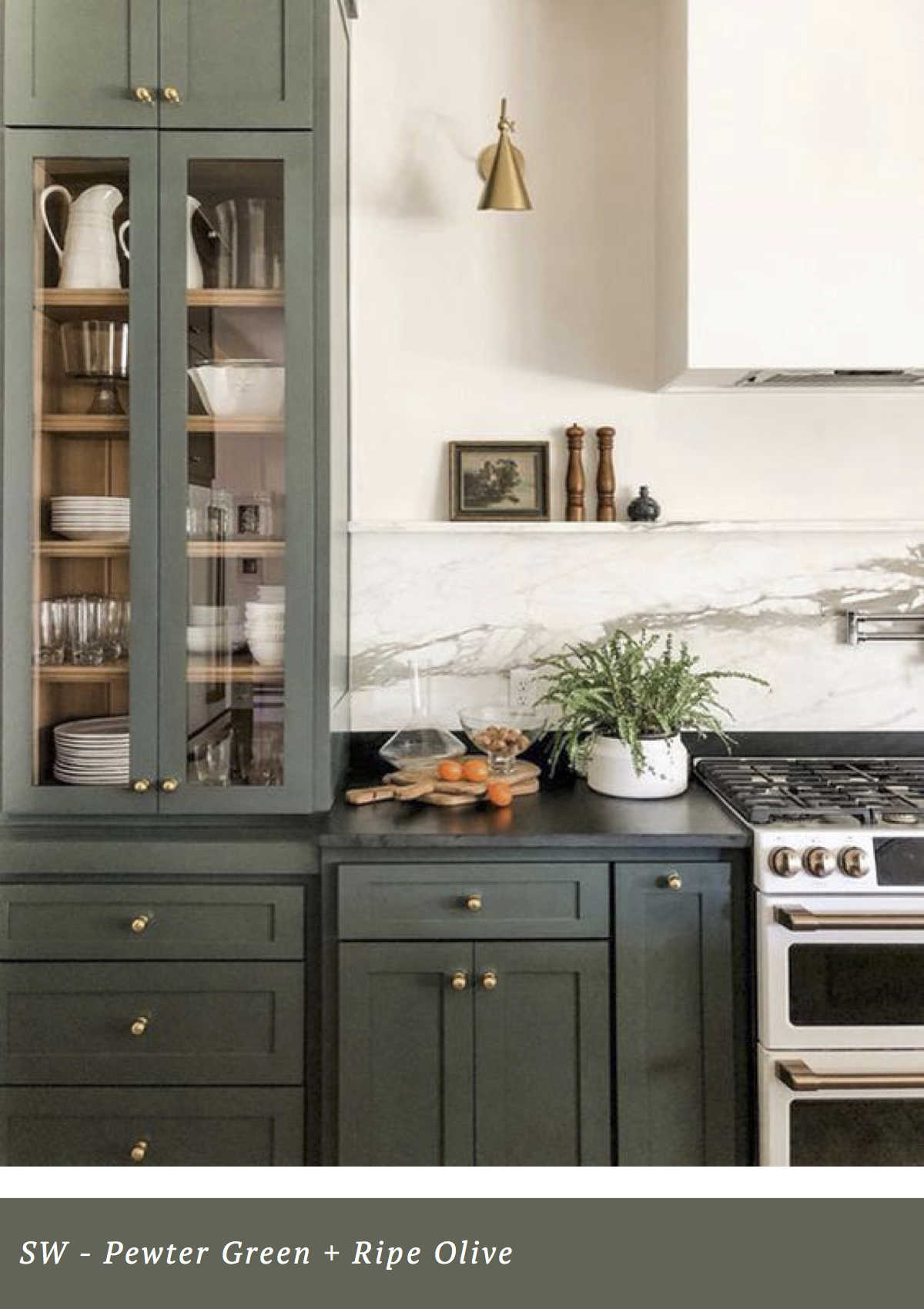 3) Take note of lighting throughout the day. How does the paint sample look in the morning, afternoon, evening, and at night when the lights are on? Chances are it can shift drastically….especially with greens. It may look blue grey one hour and blue green the next. This is why I tried several shades, and was surprised by the one I ended up loving the most. It just worked well in our space at all times of the day.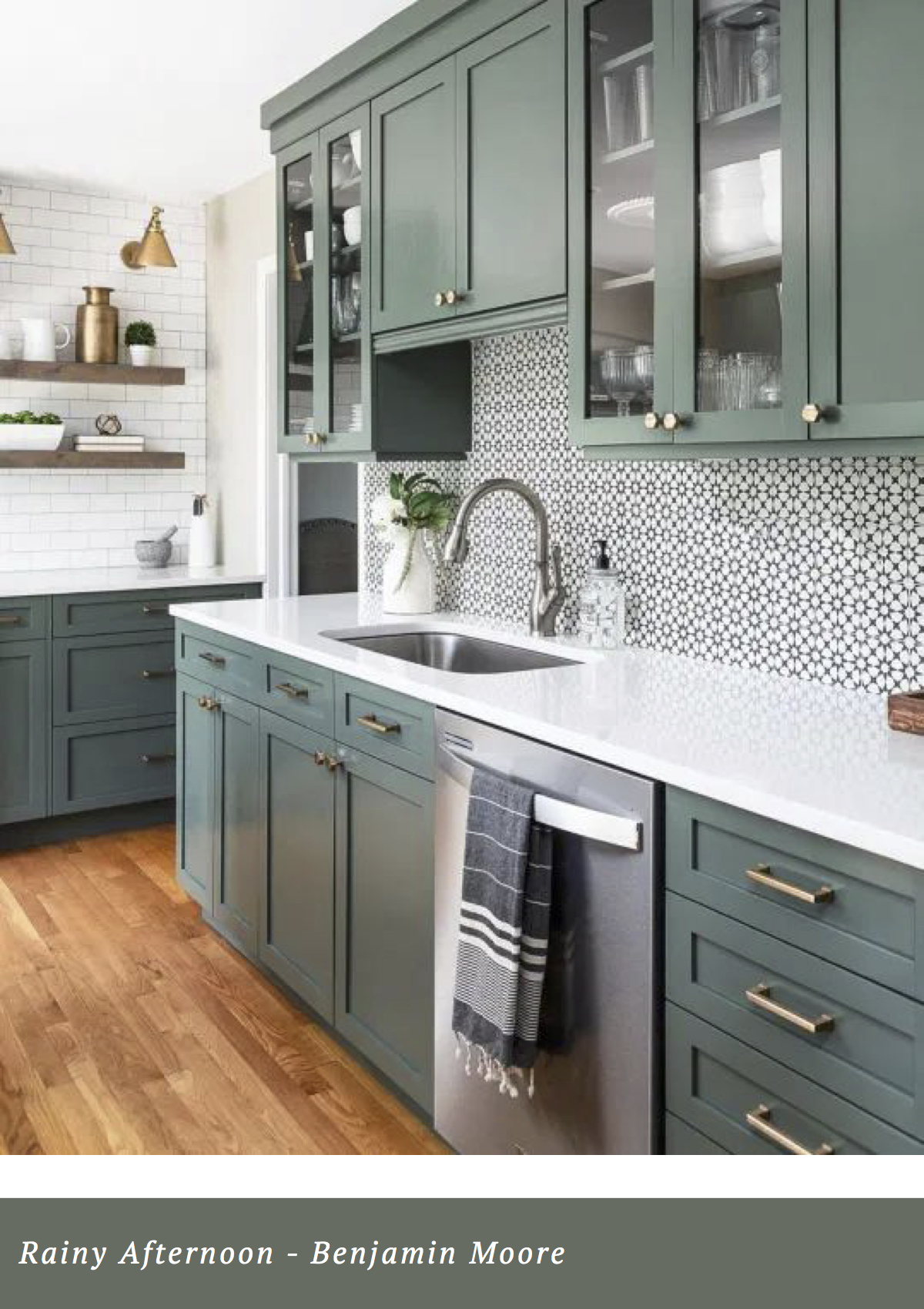 4) Consider the other players in the room. We will be selecting the other kitchen details after selecting the color. However, maybe you are just painting cabinets vs. starting from scratch? If so, consider the other materials in the room. If you are working with already installed countertops or kitchen hardware, it can make a big difference to see how the paint colors work with the materials you have to give you that overall picture of the finished outcome.
​​​​​​​5) Type of paint – Our cabinet install company uses Benjamin Moore which is why we stuck with sampling their color palette. I found this sight to be helpful for Benjamin Moore equivalents to Farrow and Ball colors. Color matching can be a gamble to be honest, depending on the employee working so I usually prefer to get a color straight from the source. However, you can bring a swatch into the store to try color matching. We did this for Green Smoke by Farrow and Ball and loving the way it's looking!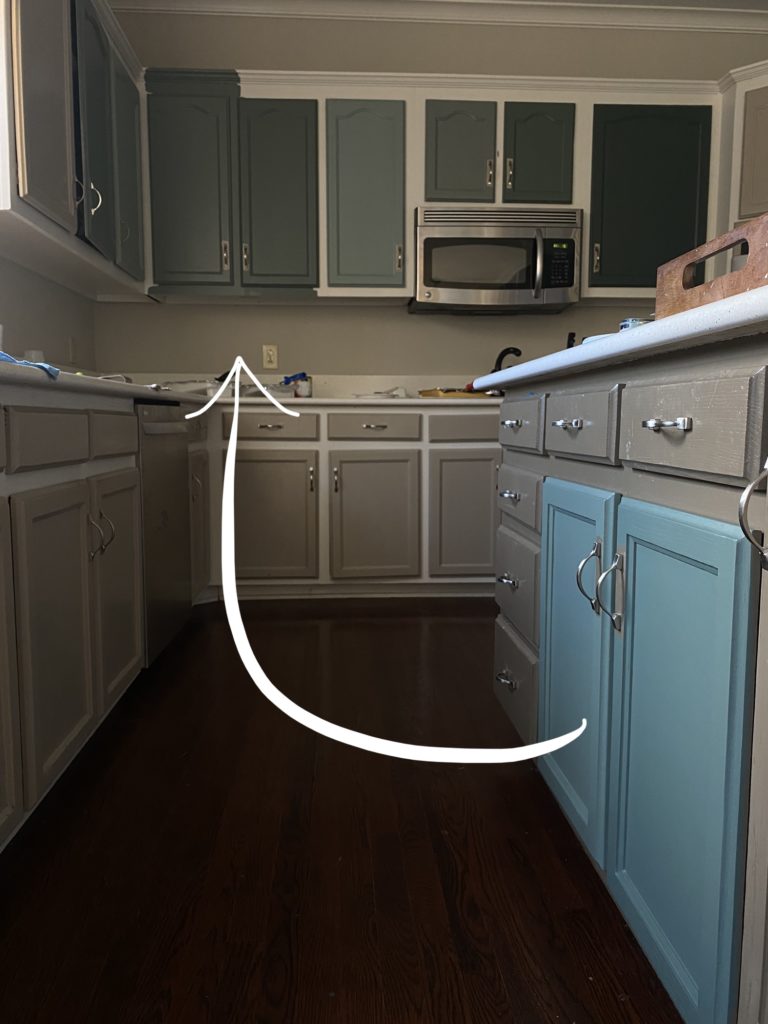 The same color in different lighting. Can you believe it??
Our paint picks – Picking a paint color for this kitchen kind of felt harder than naming one of my children. Maybe because it was the pressure of long term commitment? I'm slightly kidding, but I will say landing on THE color is worthy of a celebration. As of today, we feel strongly about Green Smoke by Farrow and Ball, and the island will be natural wood. ​​​​​​​The color reads completely different around the room as seen above, and was way brighter on the island than the back cabinets. It kind of left our heads spinning! I'm telling you – green is a fickle beast.

Update: I changed my mind again. (Shocker) We narrowed it down to Intrigue by BM or Pigeon by Farrow and Ball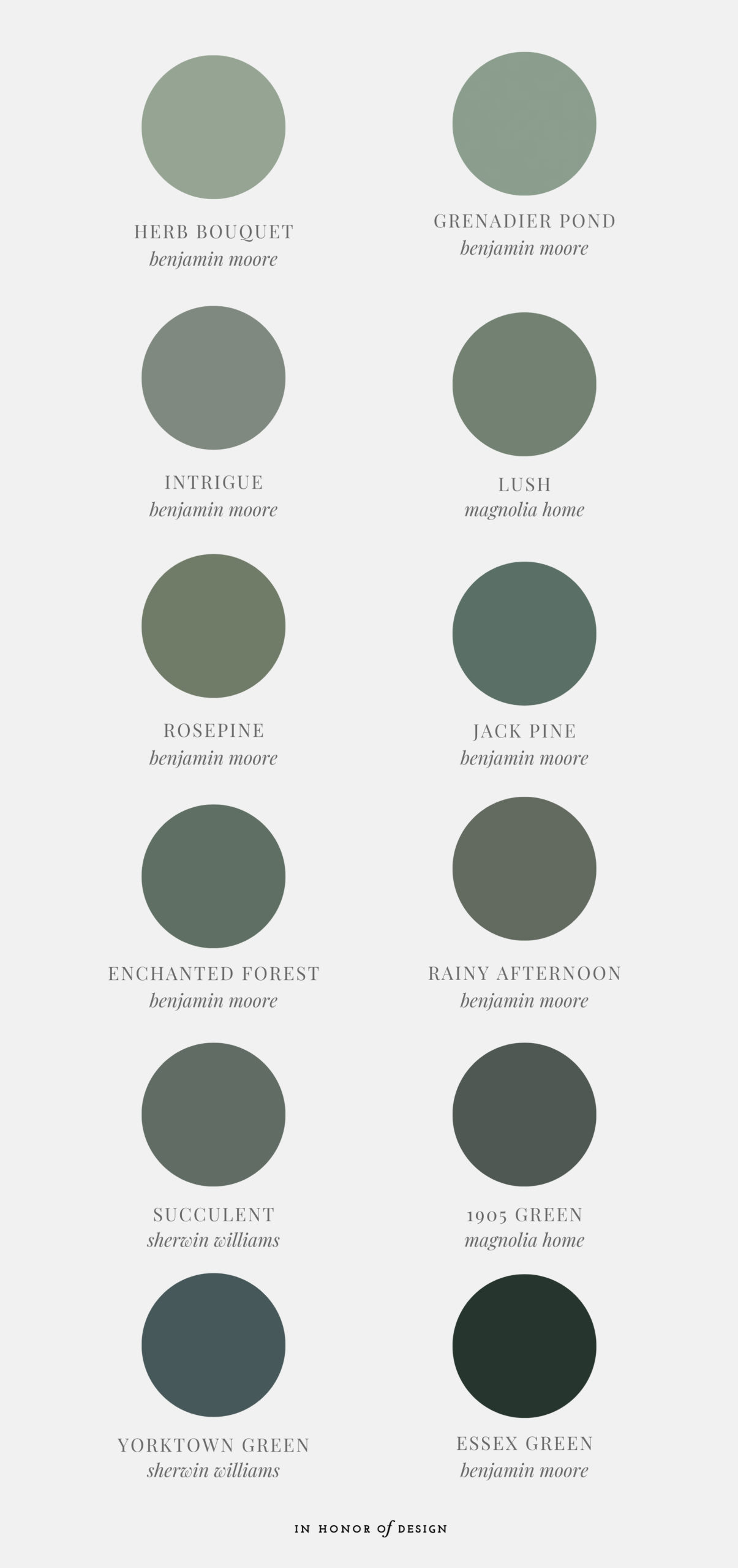 These are a range of greens from light to dark that I actually sampled or have seen done well in other spaces. The top two were the very first I tried before deciding to go dark.
​​​​​​​​​​​​​​​​​​​​​Will continue this series throughout the renovation in hopes of sparing you a headache or two along the way;)