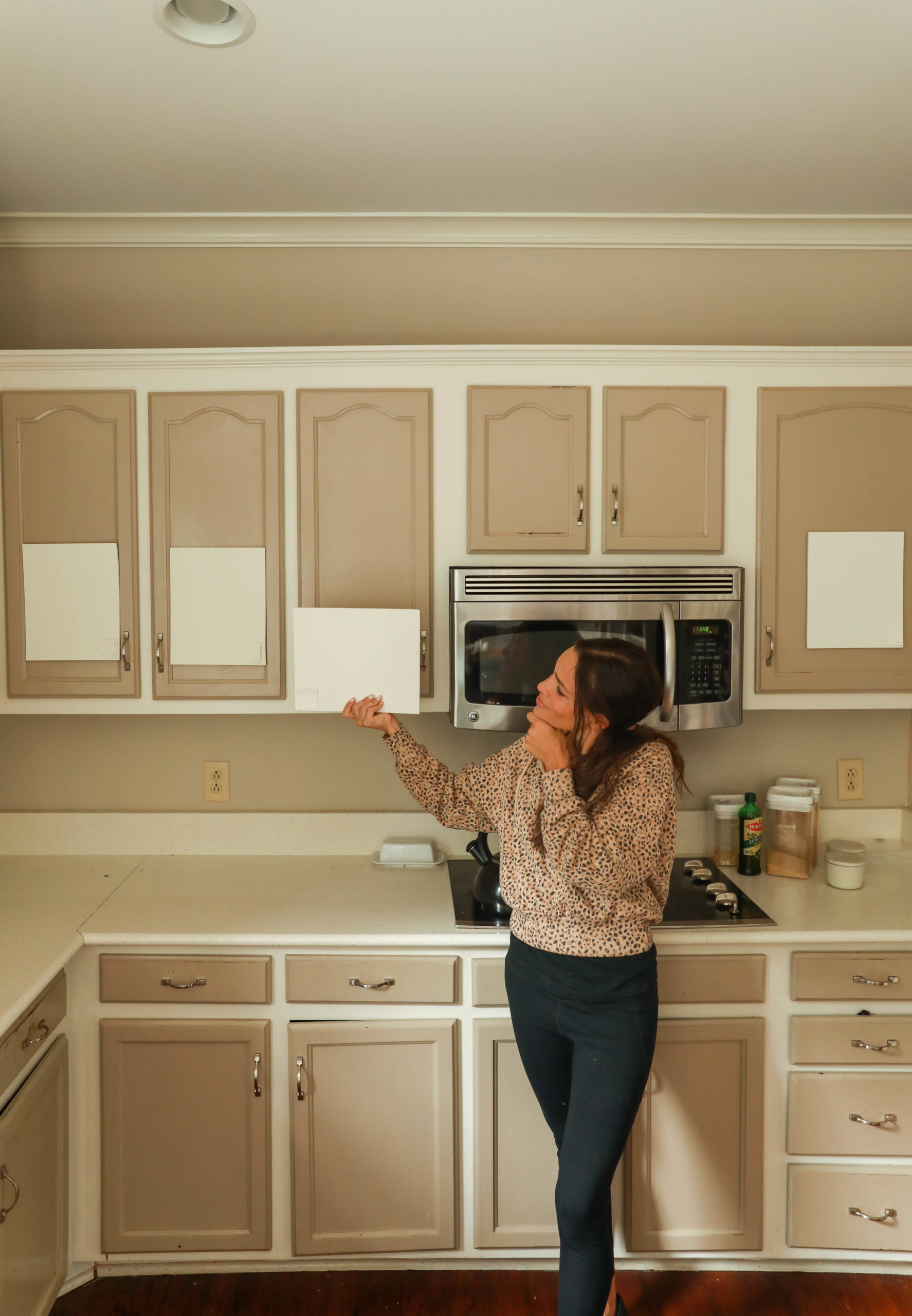 There are so many facets to consider in a kitchen renovation. It takes a good deal of prep before you can even start the renovation. I want to continue to share this whole process as we go, and today I am sharing an honest Q & A about creating renderings, what we ask contractors, and price differences between cabinet options.
What do you look for in a contractor? Meet them in person to get the estimate if possible. It helps to get to know their personality, and if you could work well with them.​​​​​​​Ask them questions.Always try to find a contractor that has been referred to you. Ask family, friends, neighbors, etc. This is really the best way to find a great one you can trust.Check online reviewsAsk contractor for references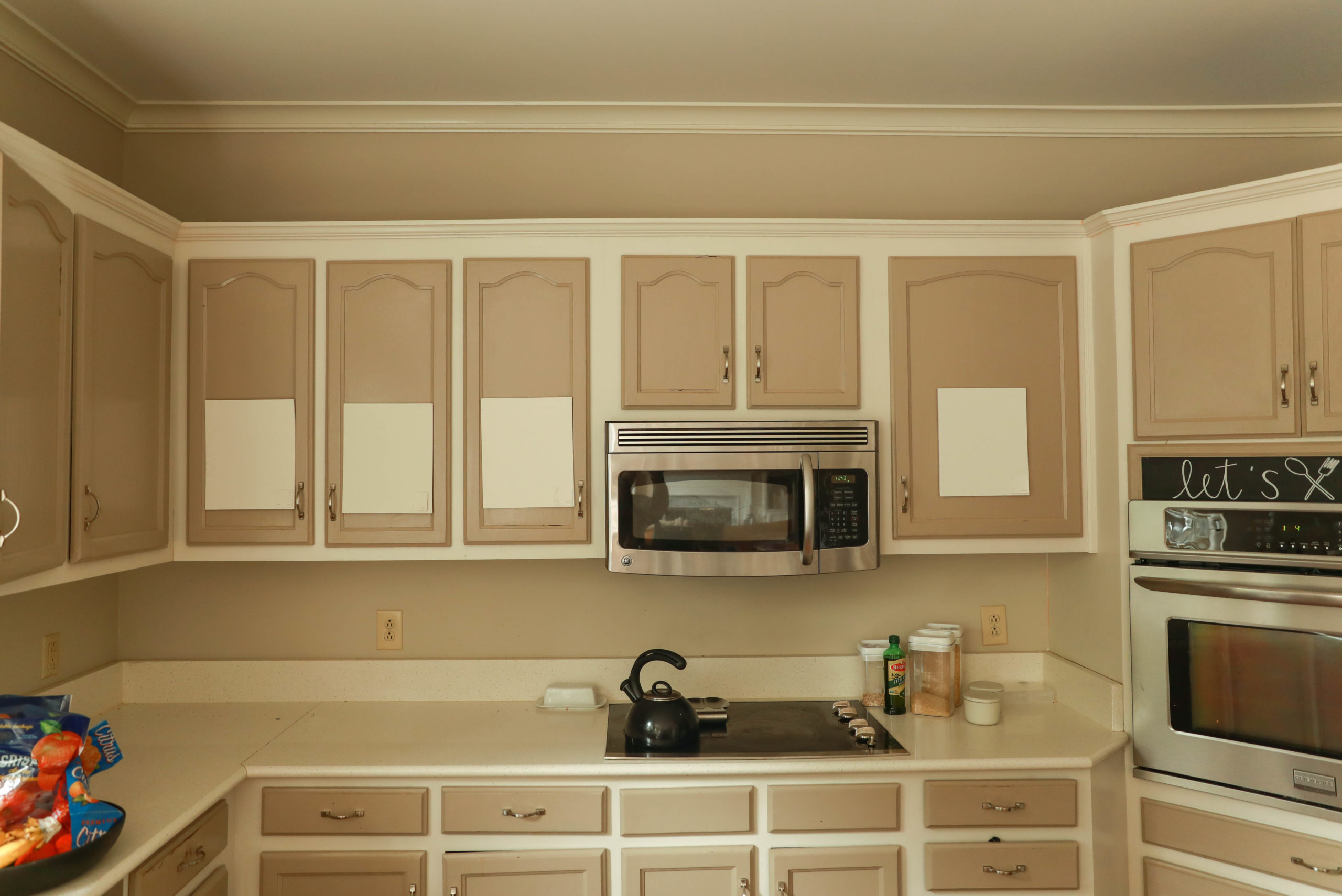 What options are there for cabinets? ​​​​​​​​​​​​​​​​​​​​​Custom – Custom cabinet companies will take your design dreams and renderings and create custom sizes and builds for you. Since they are handmade it will be a higher price point.Box cabinets – pre-built cabinets at standard sizes that can come in pre-finished or unfinished, and generally a better price point than custom, although they have less color options. Plywood cabinets will always be better quality than MDF. (For reference, IKEA has plywood cabinet fronts with MDF boxes.) Re – facing – The option to just replace the fronts of your cabinets. A great option for this is semi-handmade.Painting – Of course there is always the option to paint only. Affordable option that gives you a big visual difference. If you are painting on your own, you are better off using a spray painter, and follow some helpful tips from Chris Loves Julia.
How many quotes to get? How to ensure pricing will be accurate? Differences in pricing packages. Three is a good number. If someone has good references and reviews, but their price is higher, you may be better of paying the higher price point to ensure the quality work. We have made the mistake of going for the best price over hearing reviews and had a lot of trouble throughout the project! Pricing differences will depend on how much custom work you are getting done, materials used, region, etc. Sometimes you may be shocked how different the quotes come in.​​​​​​​​​​​​ We are currently getting quotes from a few local contractors, Stoffer Cabinetry, and InsiDesigns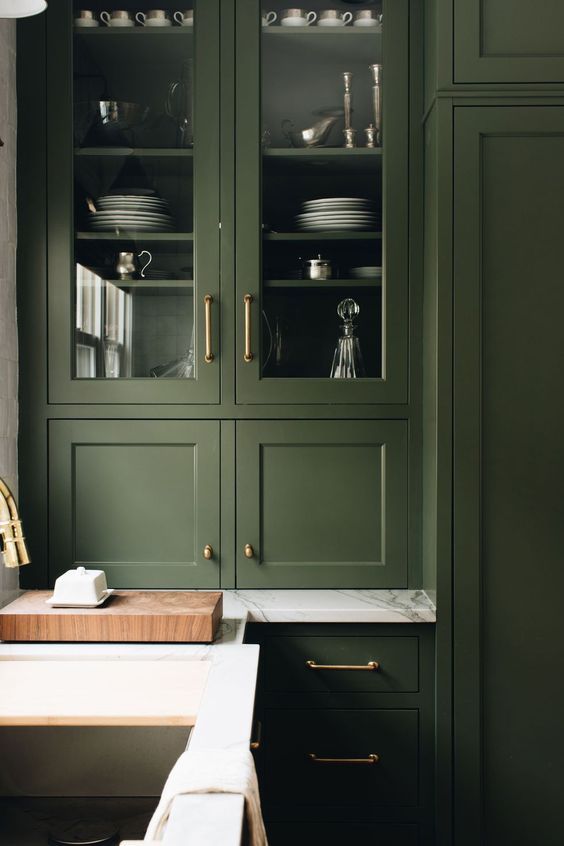 Can you do a mix of DIY and hired help? Will contractors work with you on lowering costs? Yes! There are a few scenarios that could lower your cost if you are up for the time do-it-yourself takes. For instance: you can assemble cabinets yourself and have a contractor install. Another example: You can have them installed, and paint yourself. When you are getting quotes you can ask the contractor what the price differences would be. Different companies or contractors may have different preferences on the order of things as well.
Should you get a designer to create your new layout or can you trust a contractor to do that? There are some cabinet companies that offer design renderings built into the cost and some offer in house services for additional fees. I would always recommend a designer if it is in budget,you as they are able to talk through all of your preferences with you, and think through a more detailed design rendering. It was extremely helpful to work with Gabe's mom (an interior designer) on thinking through the purpose of each section of the kitchen, the functionality of placement, and options for overall goals of the space.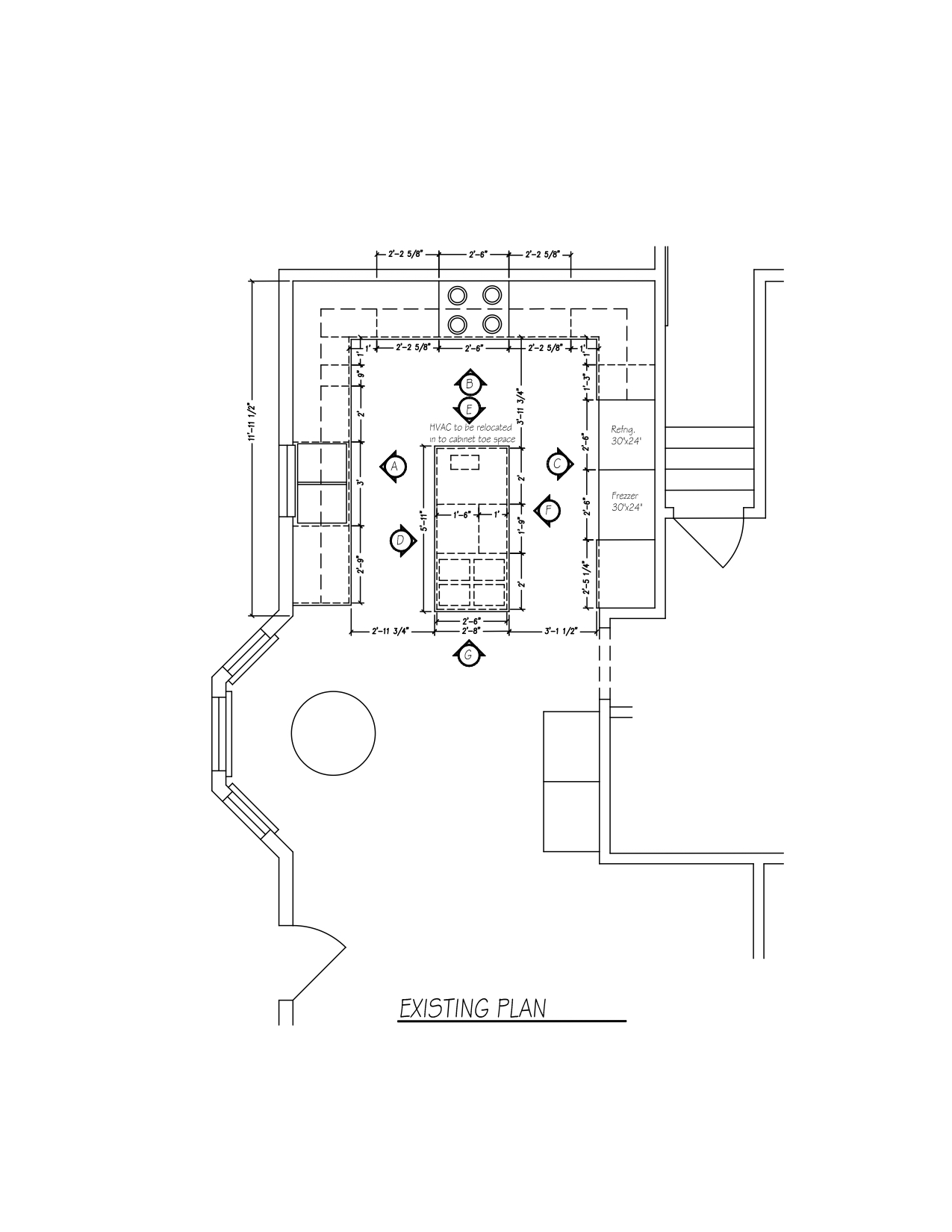 An example of our existing layout rendering with measurements.
Is it worth replacing cabinets vs. just re-painting? It just depends on the condition of your cabinets. If they aren't super outdated or in poor shape, having them professionally painted could make them feel like new! In our situation, the cabinet doors are falling off, and we also want to maximize the functionality of the space. We are adding height to the cabinets which will also update the overall look and feel. However, if the cabinets were in good shape, we could have just opted for a phase 1 renovation of painting the cabinets, or just replacing cabinet fronts.
What is the difference between sub-contracting and all in-house services? The difference of all in house vs. sub-contracting is that in-house are all empoloyees of the construction or cabinet company. The sub-contracting is when the cabinet contractor works with other individuls to do the electric, plumbing, etc. Sometimes they will schedule them for you, and other times they will let you find your sub-contractors (which may be more time for you, but saves you money if you want to ask for multiple quotes). You can ask the contractor for the names of their sub-contractors if you'd rather just make sure they are trusted individuals.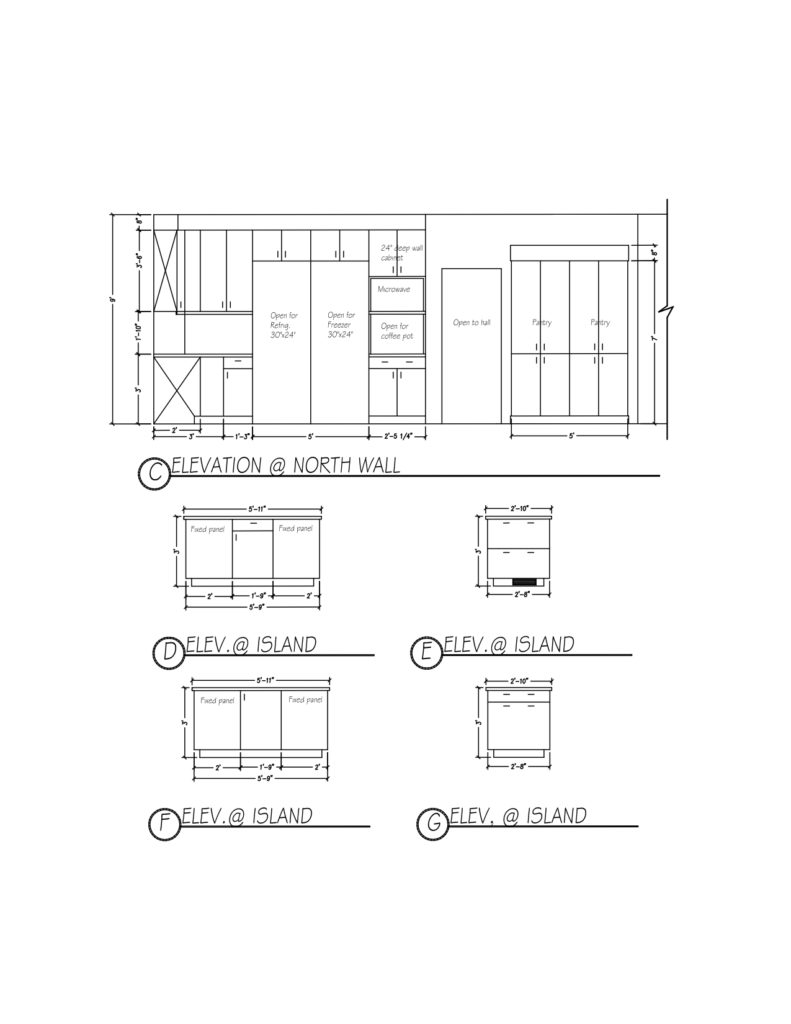 Design renderings for renovation plans.
What order is the best if doing cabinets, floors, and painting? If you are re-surfacing floors or having new floors installed and finished, you would want those done first. You would want your cabinets out of the kitchen since it is much easier to sand and stain your floors that way. You also don't want to risk the floor sander scuffing up the cabinets. After floors are done you can install your painted cabinets or install cabinets followed by painting.
(source)
Where is best to invest /spend vs save? If you aren't totally gutting your kitchen (the most pricey investment), you're best investment is spending money on a quality contractor and designer who will more likely get you the outcome you are looking for without taking years of your life due to stress;) When it comes to splurge or save on cabinets or appliances…I think that comes down to personal preference! You do want your appliances to go the long haul though, as they can be a money drain to fix and replace.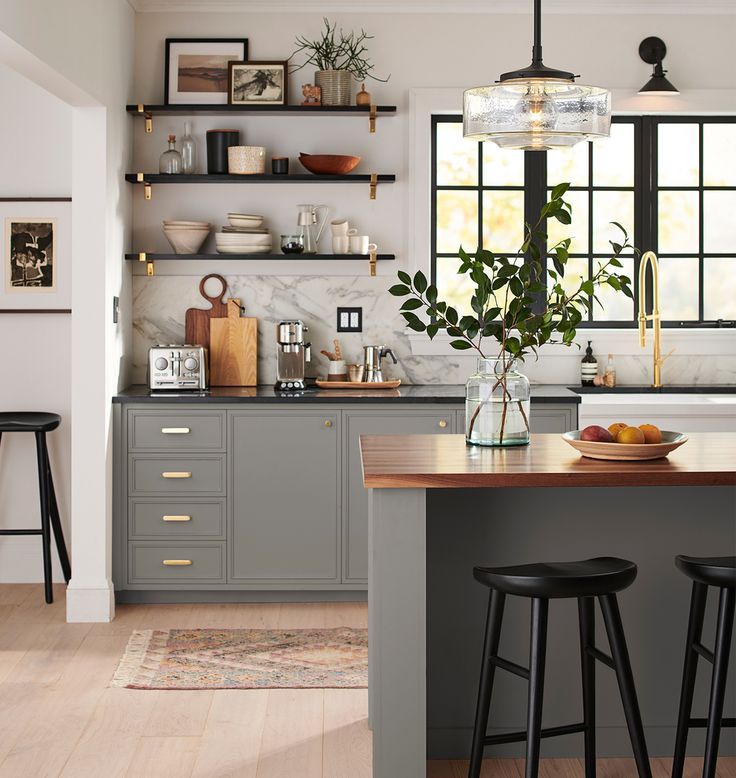 Cabinets vs. exposed shelving? Pros and cons. This is another personal preference choice when it comes to the style and functionality of open shelving vs. cabinets.
Pros of Cabinets:​​​​​​​​​​​​​​
– You don't have to keep your dishes and cups looking organized. Hide anything you want in them…including your chocolate stash;)
– They can be a beautiful way of incorporating color into your kitchen.
– It is a timeless style.
Cons:
– Can block natural light from entering your kitchen on the window side.
– They can look visually heavy.
– Pricier than open shelving.

Pros of open shelving:​​​​​​​
– Makes your space feel bigger and open.- Easy way to change things up visually per season depending on what you want to style on your shelves.
– Less shadows.
– Helps you to be more minimal in the amount you own/use.
Cons:
– A good deal more dusting/cleaning required.- Hard not to keep things looking cluttered.
– Less space for storage of seasonal items.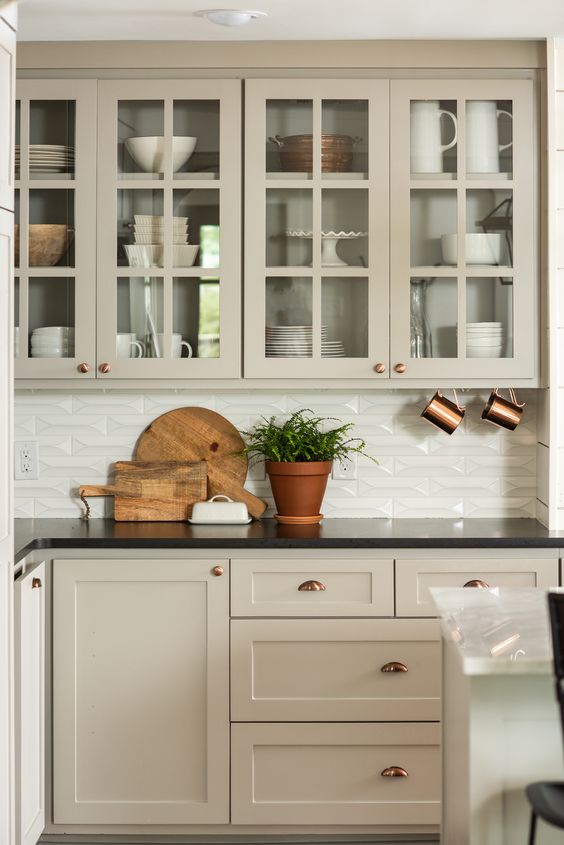 Drawers vs. shelves​​​​​​​? Drawers (for lower cabinets) are going to have a higher price point than shelves, but the functionality and options for use for drawers can't be beat.
Best resources for cabinet inserts and things to include in a kitchen design? A few good places I have been browsing are Rev-A-Shelf and Hafele.
Are you doing anything with the old cabinets? We are going to donate them to the Re-use (Habitat for Humanity) Nashville store, and if we can't salvage them the contractor will usually take them.
Do you have to pull a permit for a kitchen remodel? It depends on the scope of work. If it's not a full re-model where you are knocking down walls and such you generally won't have to. You can check local regulations however and ask your contractor when you are getting quotes. They will be familiar with local regulatons.
Can you get a custom color on box cabinets? Yes, but that requires custom painting. Some cabinet companies will do this themselves for a fee, you can hire a separate company to do this for you, OR you can attempt it yourself!
I hope this was helpful! We will continue to share our renovation process in this kitchen series. Feel free to drop any additional questions below!