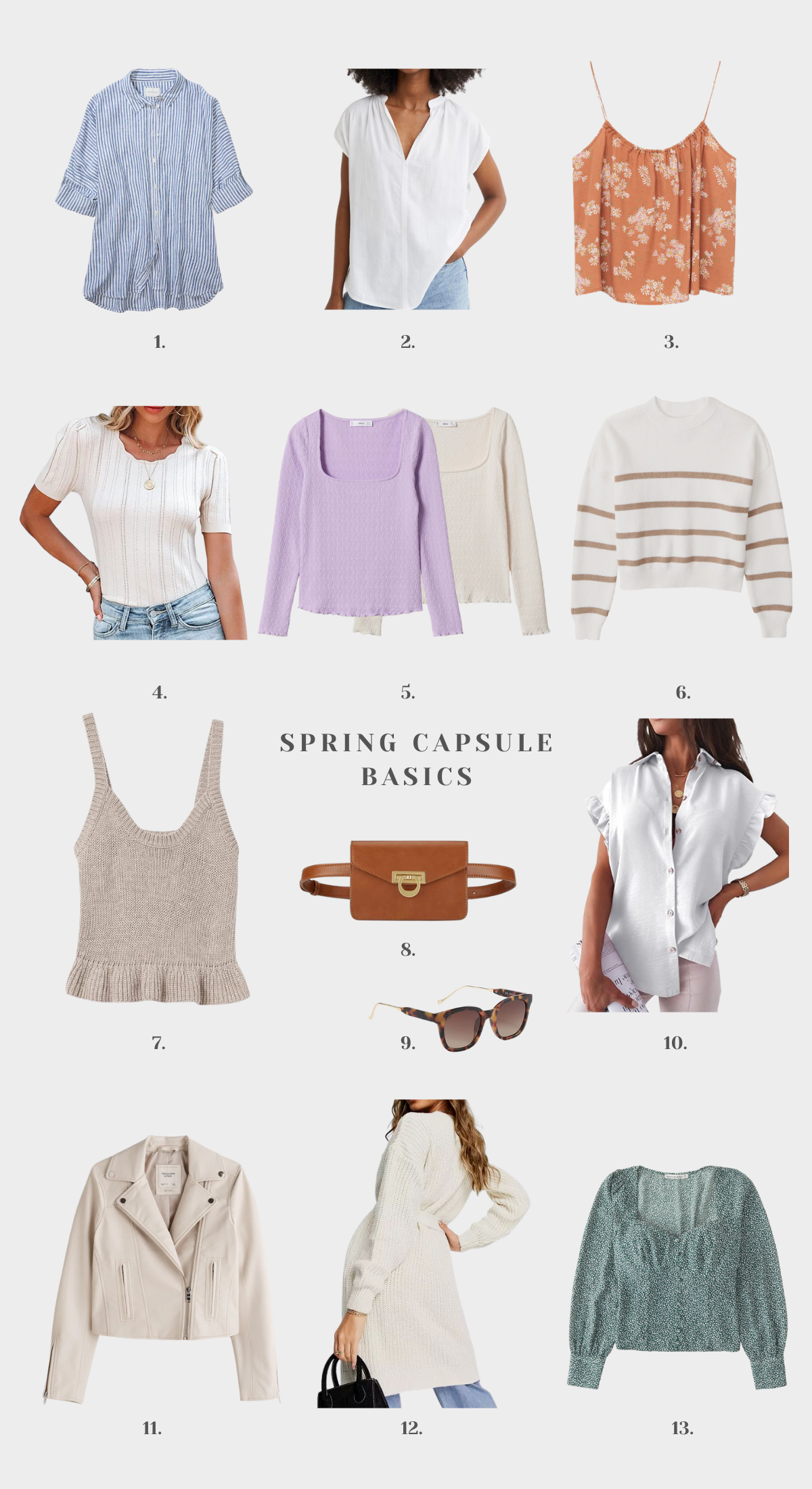 ONE // TWO // THREE // FOUR // FIVE // SIX // SEVEN // EIGHT
NINE // TEN // ELEVEN // TWELVE // THIRTEEN
I have been wanting to share more capsule wardrobe ideas, because it's a mindset that has been so helpful for me in saving time and money. I like to be more intentional about purchasing the basics I know I will use more than once and only hang onto clothes that fit me well in that season of life. (Lord knows how much the pregnancy years yo-yo!) I also wanted to make sure and try on these items before recommending them to you, so most of the ones shared in this post have notes below!
1. I ordered this, but it hasn't arrived yet so will update later.
2. I have one similar to this, and it is one of my most used tops.
3. I loved this pattern. True to size and a good one to layer in spring and wear with shorts in summer.
4. I have been looking for a dupe to my favorite Sezane scalloped top, and this is pretty close! Nice and thick and pairs so well with jeans or a skirt. (Pictured below.)
5. I love the texture and neckline of this top. It's pictured in two of the looks below.
6. Love this camel and cream striped sweater for cooler spring days.
7. You know I love a good ruffle trim. This is a sweater material, and is pictured in two of the looks below.
8. This leather hip purse is really great quality for the price, and could be worn a few different ways. Has several notches for varying sizes.
9. I never spend more than $30 on a pair of sunglasses because of the rate I lose them. I was really impressed with the quality of this pair for the price.
10. I love the material in this top. Can wear multiple ways, and comes in a few different colors.
11. Also ordered this because I needed a spring jacket, but it hasn't arrived yet. Will update when I try it on.
12. Always love a good duster sweater to layer in the spring, but I especially love this belt tie option.
13. This top is sadly near sold out, but they have other patterns available. (Pictured below)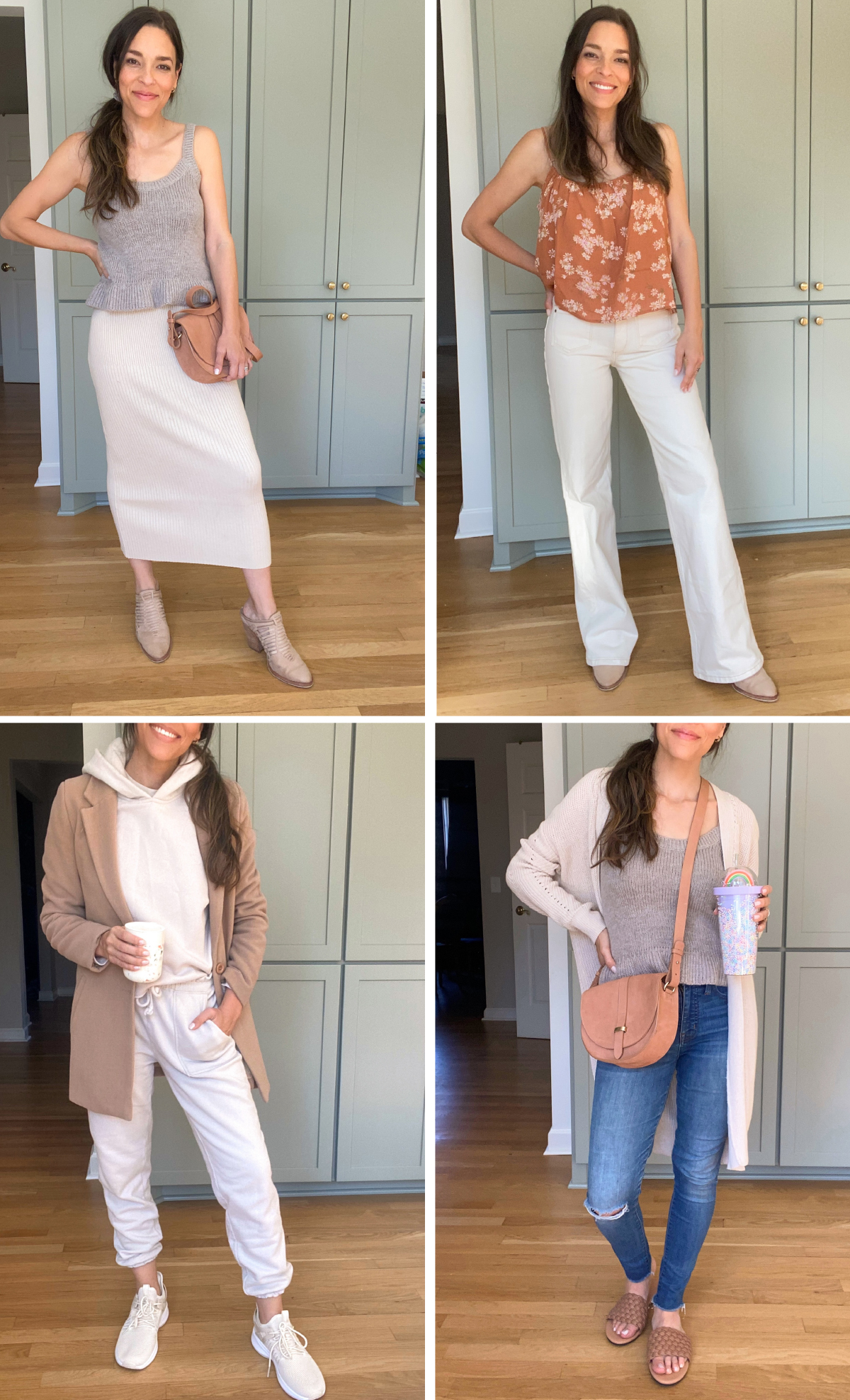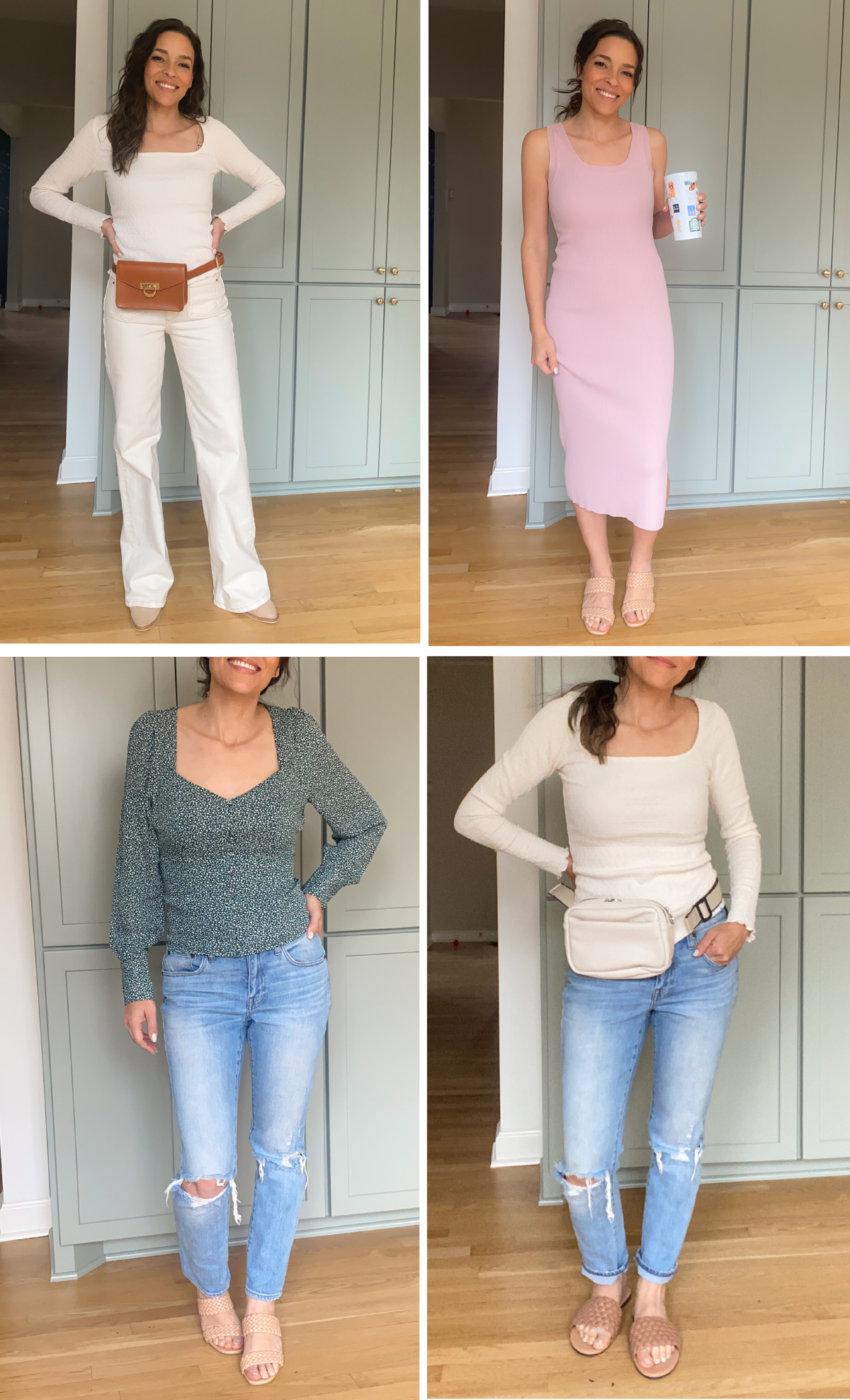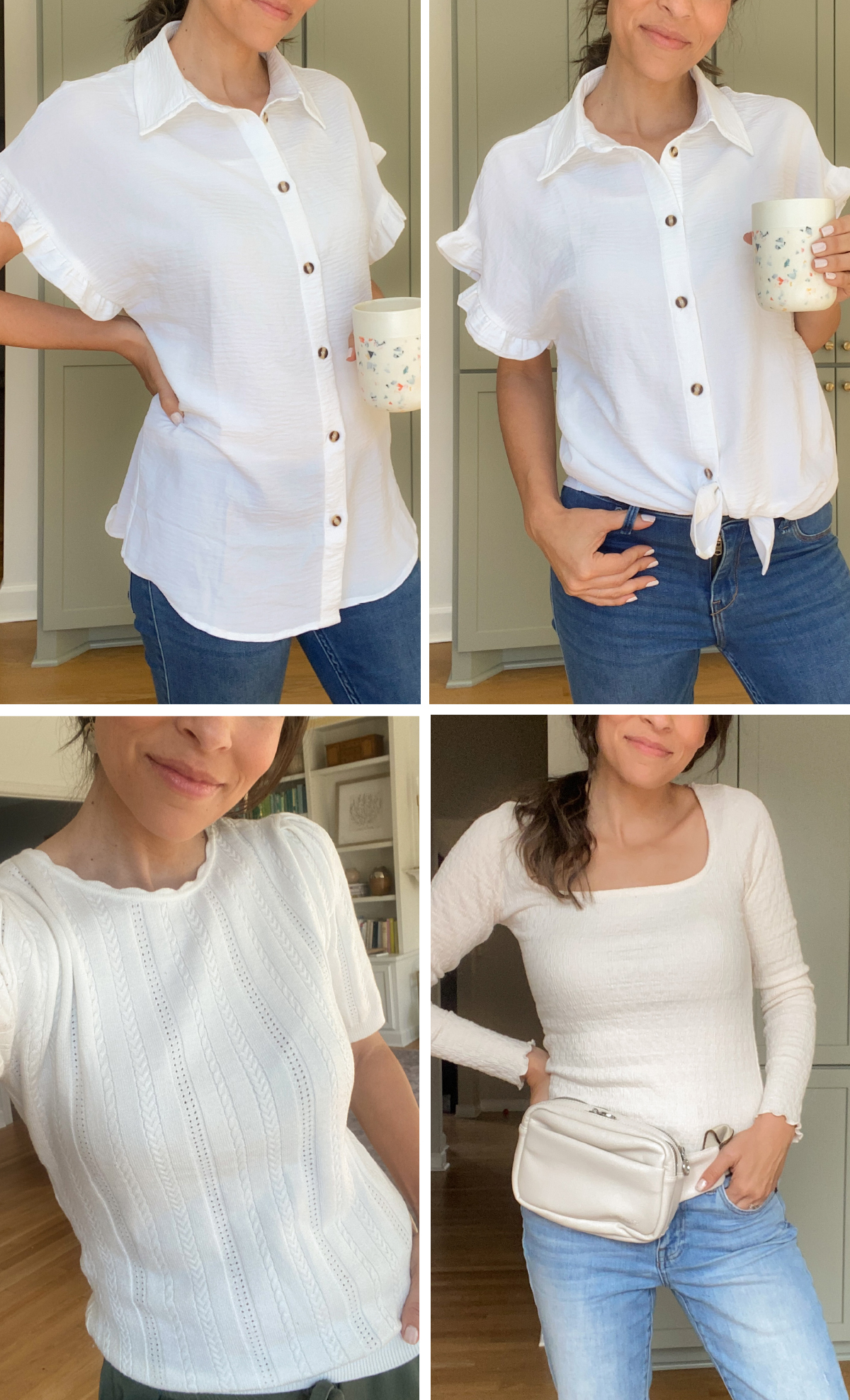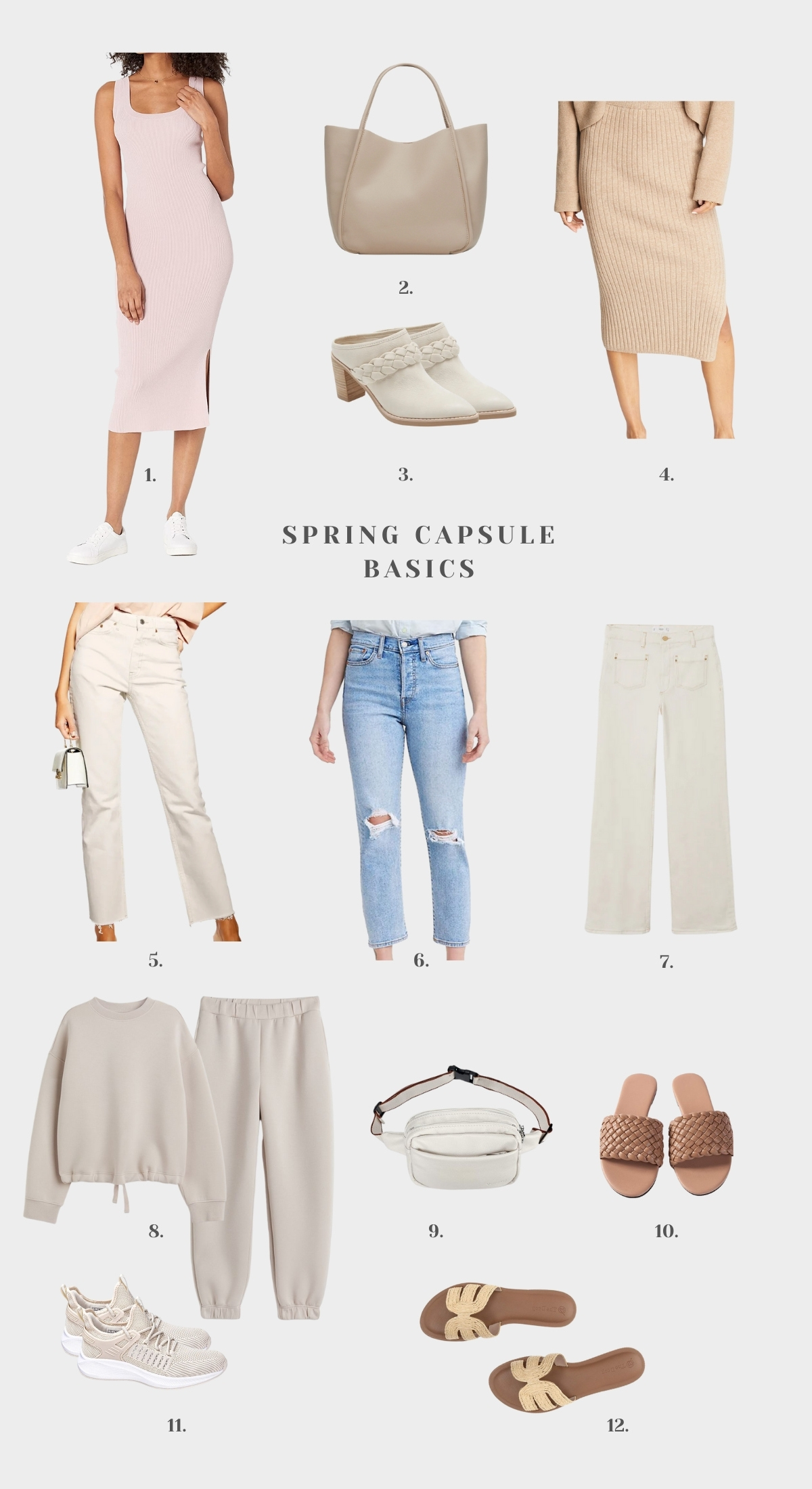 ONE // TWO // THREE // FOUR // FIVE // SIX // SEVEN (sold out – similar pair)
EIGHT(top), (bottom) // NINE // TEN // ELEVEN // TWELVE
Really good quality, true to size, and comes in a few colors. I like how easy this dress is to layer.
I have a similar bag with an organizer insert, and it works as a diaper bag/work bag.
The perfect spring to summer transitional shoe. Similar to the ones I am wearing.
Very similar to the sweater skirt I have. It pairs with most of the tops pictured!
Crop straight leg denim is where it's at right now! I love this style as someone who doesn't have super long legs.
This is the closest pair of straight leg distressed denim I found to the style I am wearing above. This is another similar pair without the knee rips..
These wide leg cream denim pants are pictured above in few looks. They run a tad small and long. I am 5'5" and wearing a size 4. (Pictured above in two looks.) *These sold out quick! A similar pair here or here.
The sweats I am wearing above are sold out, but this set is pretty darn close.
Soft leather double zip buckle bag that can be worn as a mini backpack or around the waist. This is what I grab if I don't have to haul a diaper bag.
These are incredibly comfortable, a great price, and they go with everything. Runs true to size. (Pictured above in several looks.)
I love this comfy every day sneaker (wearing above). It comes in several colors.
Another great sandal slide option.
I hope this saves you some browsing time! Let me know if you have any questions:)