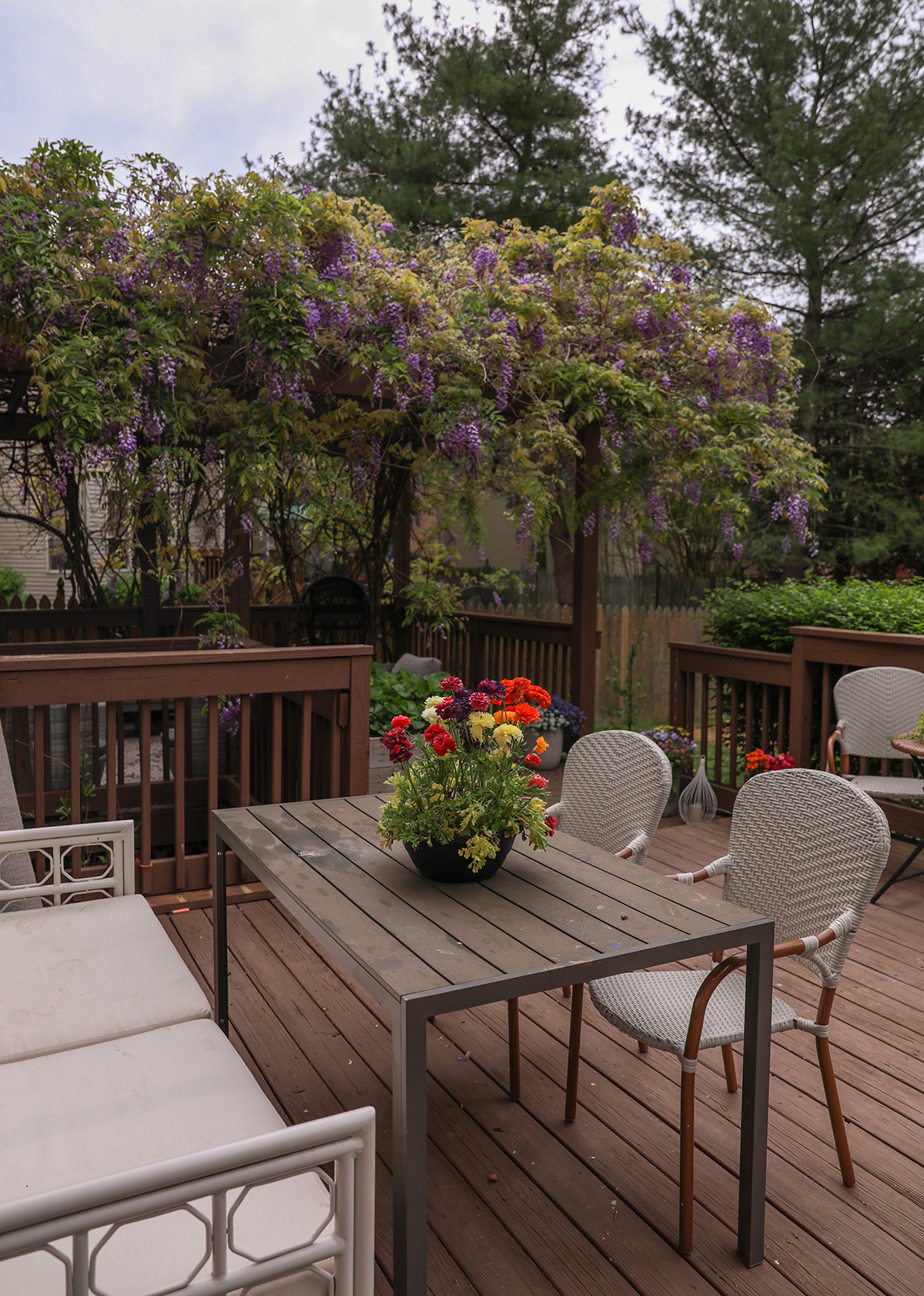 This is the first time we have gotten to see the wisteria over our pergola in all it's blooming glory. A late frost killed all the blooms last year, and we never got to see the flowers. I am completely in awe every morning, and it has been a beautiful visual to the feeling of coming out of a long hard season. We wanted to share some of our favorite spring blooms today + some of the planters and patio furniture we used out back!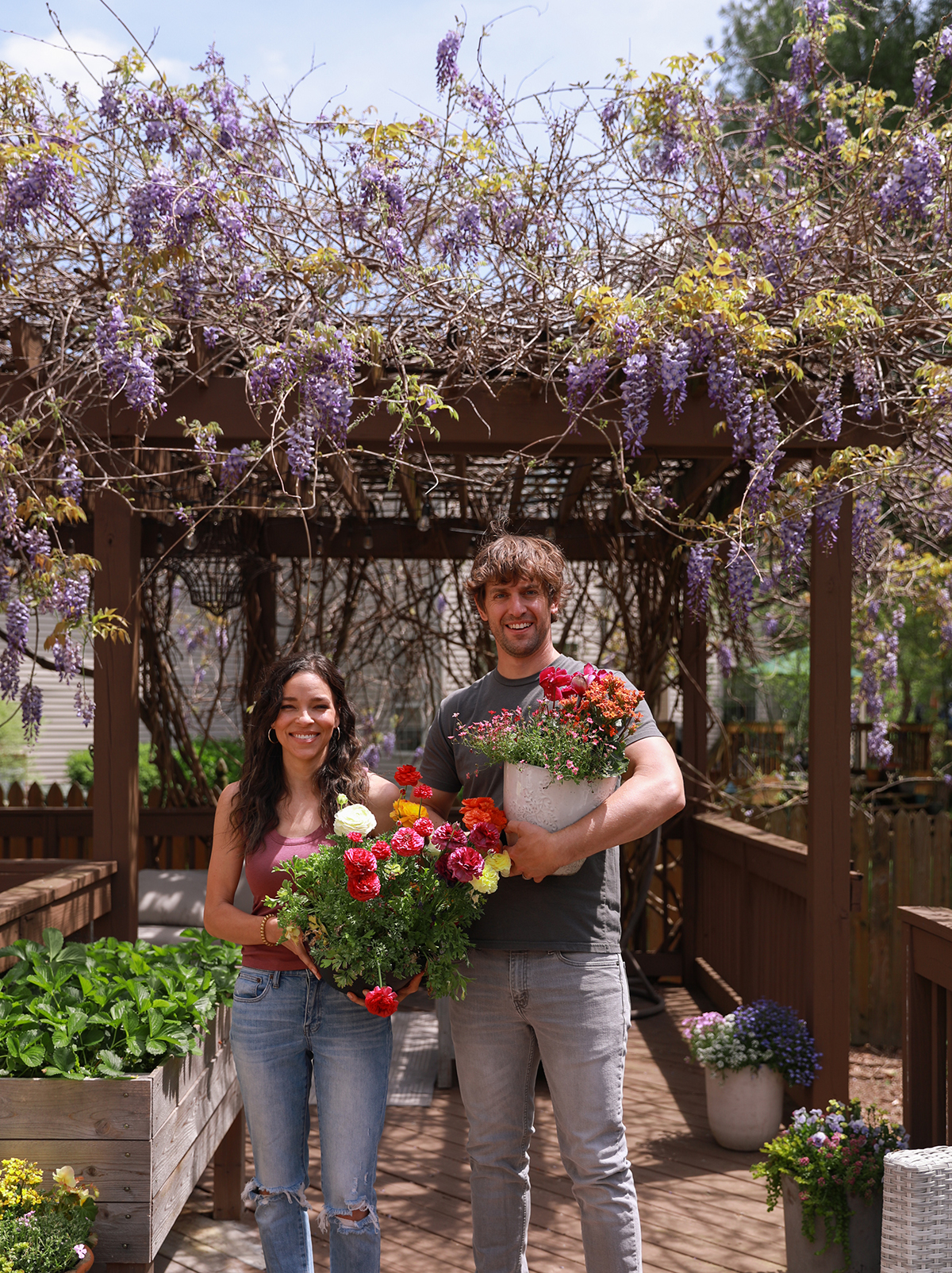 Gabe has the ability to retain all kinds of plant info, while I seem to struggle how to remember to say the word ranunculus. I am grateful he loves to learn and practice all things landscape and gardening. It makes it fun for all of us to enjoy his edible landscape experiments. Chiara dutifully flowers the strawberry beds knowing pretty soon some will be sprouting for her to snitch.
Here is our list of flowers and sedums we have used over the last few years to create different patio pots:
Double Begonias
Hydrangea (may need some protection from hot midday sun depending on region)
Bougainvillea (not hearty below 40 deg)
Geranium (two types, common and trailing)
Sunpatiens
Dianthus (3 different types)
Creeping Jenny (trailing)
Autumn Brilliance Sedum
Petunia
Phlox
Clematis (that violet vining flower in the back right corner)
Tricolor Sedum (trailing filler)
Alyssum (creeping/trailing – some are full sun, some are not as sun and heat tolerant. Check label before you buy!)
Calibrachoa (mounding/trailing)
Wishbone flowers (mounding/trailing)
Everblooming/Everbearing Strawberry
Verbena
Mona Lavender (may need protection from hot midday sun in some regions)
Lobelia (creeping/trailing flower)
Creeping zinnia (mounding)
Dragon's Blood Sedum (trailing filler)
Firecracker sedum (Trailing filler)
Ranunculus
We found our strawberry bed from someone who hand builds them locally. They keep them high off the ground away from rabbits. We use this netting to cover they sprout fruits to keep the birds out. One of you even said painting some rocks red can trick and deter birds from eating the fruits. "Hey kids! Want to paint some rocks?"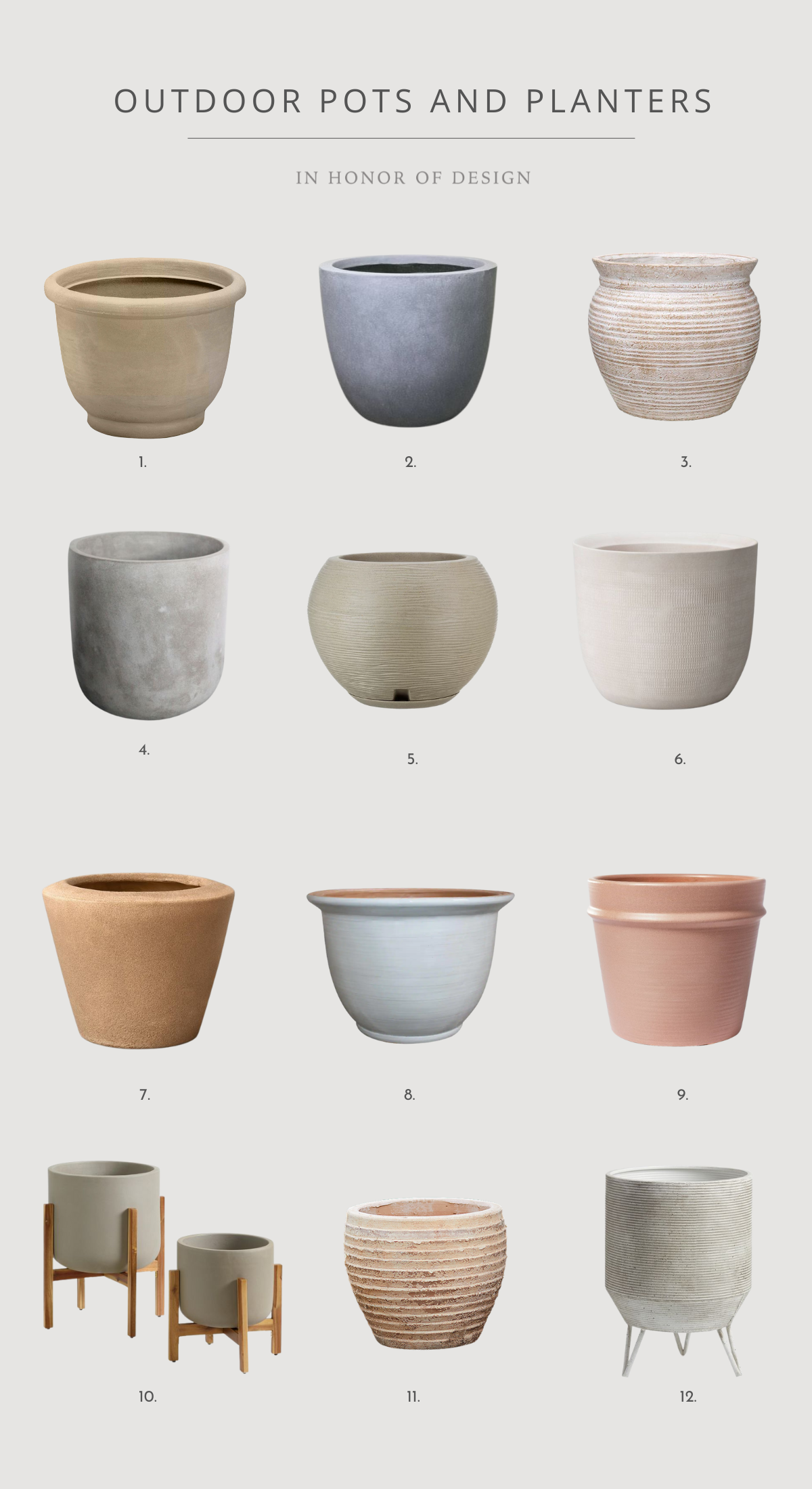 ONE // TWO // THREE // FOUR // FIVE // SIX // SEVEN
EIGHT // NINE // TEN // ELEVEN // TWELVE
Pots and planters can be pricey, but many will last for years if they are the right materials. You can also can find pretty affordable options at Home Depot. I am including a bunch of options above that would hold your spring blooms well, and hold up outdoors.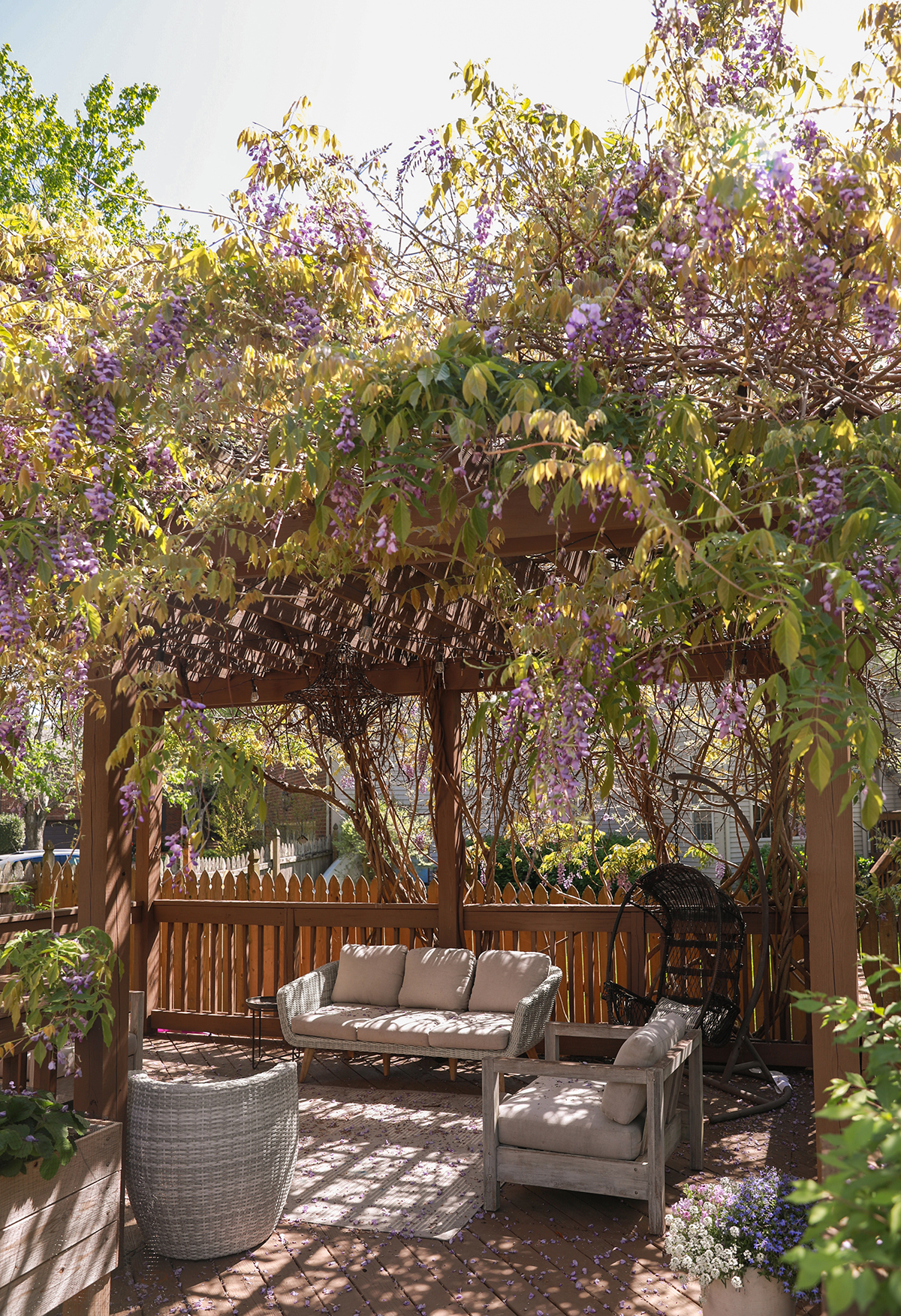 We moved all of our outdoor furniture from our old home, and thankfully had just the spot for it. Under the pergola is an outdoor set from Article we have had for a few years now. It has held up exceptionally well, and is very comfortable. I found the barrel chair set at HomeGoods which another great place to check for outdoor pieces. This is the area that feels like an extra outdoor room that provides some heat relief in the warmer months. The downside is that it requires weekly trimming and leaf blowing so it doesn't get overrun by wisteria and leaves!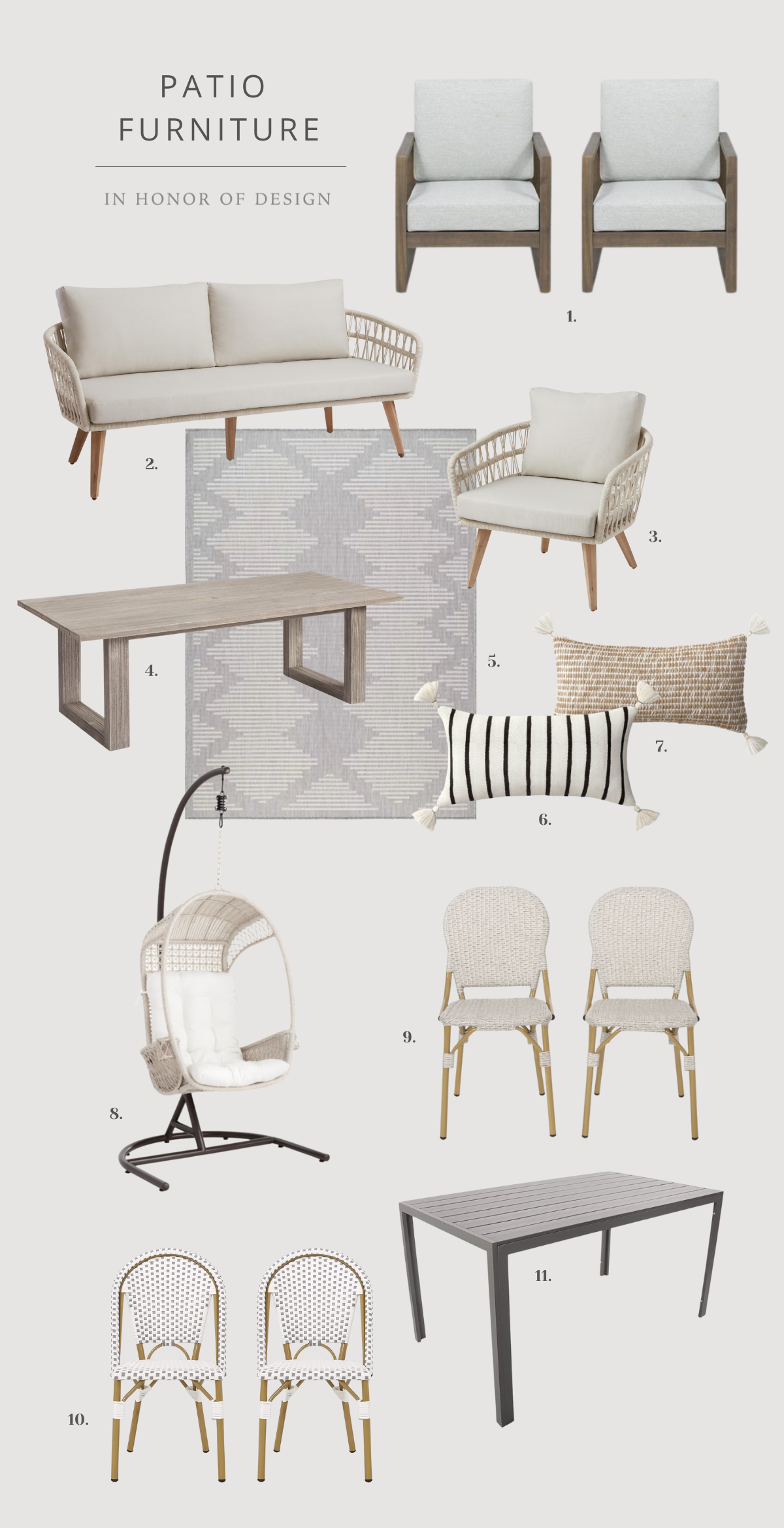 ONE // TWO // THREE // FOUR // FIVE // SIX // SEVEN
EIGHT (similar) // NINE // TEN // ELEVEN
I found our patio bistro chairs at Target a few years ago, but have seen similar styles pop up recently so linked those above. I have LOVED this outdoor table for many purposes. The kids do a lot of outdoor crafting here, and we also do many meals out back during the spring and summer. The table is weather proof and has held up really well.
When it comes to outdoor rugs, I recommend polypropylene material. We have gone through a few and those last the longest and are easiest to clean and dry. This is the outdoor rug we use under the pergola, and so far no mold problems even with all the shade it gets!
Spring is the best season in Tennessee. The bugs aren't too bad yet, the mornings are cool and the afternoons warm, and everything is blooming. Let us know if you have any questions about the above – happy to help if we can:)