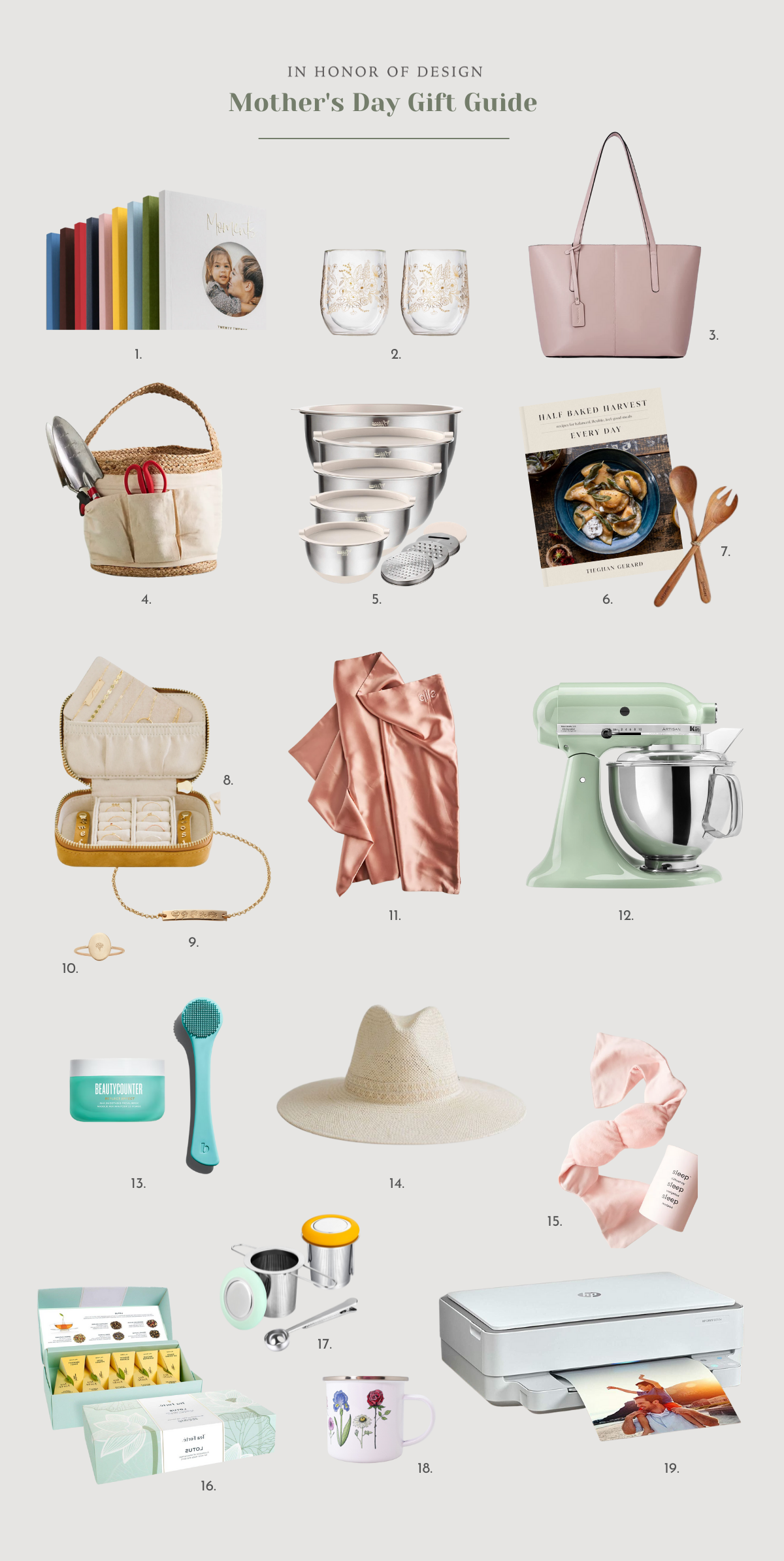 ONE // TWO // THREE // FOUR // FIVE // SIX // SEVEN // EIGHT // NINE // TEN // ELEVEN // TWELVE THIRTEEN // FOURTEEN // FIFTEEN // SIXTEEN // SEVENTEEN // EIGHTEEN // NINETEEN
For this gift guide I tried to think of both the new mom, seasoned mom, and every phase in between. The truth is, the best gifts are ones that come with personal notes, thoughts, or time well spent.
Photo books – To me, there is nothing more priceless than memories with my children. I don't ever remember to print photos, so I am trying to get better at uploading them to memory albums. I love the quality of Artifact Uprising's. One of these is all I am wishing for this mother's day. (Hint hint Gabe!)
Floral wine glasses to pair with mom's favorite wine. I have these and they
Leather Tote – An option most mother's can use – a catch it all size! Comes in several colors.
Another kind of tote for those who love to garden. Pockets big enough to hold garden tools, and a shape that makes it easy to tote around and stand up on its own.
Mixing Bowl and Lid Set – I have used these mixing bowls with lids almost daily since I got them. A kitchen favorite. (Love that there are different attachments for the large mixing bowl for baking!)
Every Day by HBH – My sisters and I are big Half Baked Harvest fans so her new cookbook is on my wishlist.
This wooden serving set is from a home goods shop I recently discovered. Would pair well the cookbook.
Leather Travel Jewelry Case – A well made travel jewelry case from a small business I really love.
Custom Bar Bracelet I've included this shop before for personalized jewelry, and I think the bar bracelet would make a really sweet gift.
Oval Custom Ring – A simple, but personal gift.
Silk pillowcase – Didn't know what I was missing out on until I tried a silk pillowcase my sister gave me. I love the color of this one.
Kitchen Aid Mixer – My siblings and I often pitch in for a larger gift for my mom. This would be a great family gift option for Mother's Day since there are so many life long uses for it. This mixer is definitely one my most used kitchen items.
AHA Reflective Mask and Facial Tool – This is my favorite skin care product. I notice a visible difference every time I use it. Since it feels like an at home spa treatment and facial massage, it would make a perfect gift for moms everywhere. (Use code CLEANFORALL30 for 30% off first time purchases.)
Straw Fedora – A good multi-task hat. Great for beach, pool, gardening, and an overall cute sun protection hat.
Nodpod Weighted Eye Mask – Known for improving sleep and soothing migraines. This one has a very soft fabric and comes in a gift ready box.
Tea Sampler Set – A good variety of handcrafted tea samplings in unique flavors.
Tea Infuser Set – We use these around here regularly for loose leaf teas. They slip into standard mugs, and the lids keep them nice and hot while the flavor seeps. Would pair well with #18!
Floral Mug – My sister hand painted the design for this mug for her shop just in time for Mother's Day!
HP Photo Printer– I can't tell you the amount of times I have used my HP photo printer for last minute school projects the kids have. (I use this photo paper.) Had to include this for saving mom's sanity reasons.