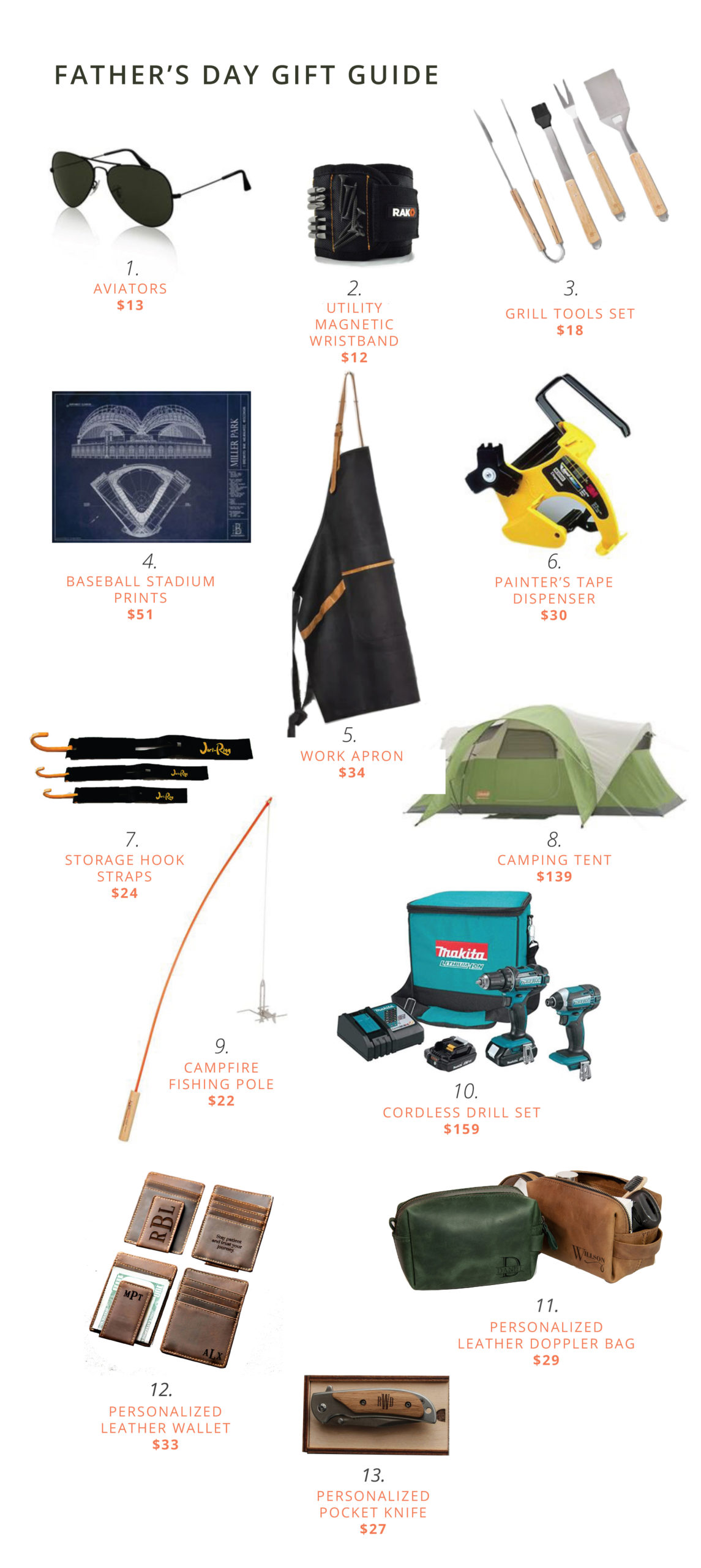 Coming up for air in between selling a home and buying one! We keep Father's Day pretty simple, and I usually pick out a few gifts for the kids to give their dad, they make homemade cards, and we make a big brunch. I always consult Gabe for these gift guides because he has a much better knack for finding cool things he would actually use. We wanted to include a range of options at different price points too. Hope this is helpful!
1. Aviators – With little ones, our sunglasses tend to conveniently disappear quite often. For this reason, I never like to spend more than $20 for a pair. Gabe loves aviators, and I like the pricepoint and style of these!
Utility Magnetic Wristband – A reader recommended this to us, so I ordered it over Christmas. Gabe has used and loved it for home projects. A very useful and cost friendly gift.
Grill Tools Set – We were gifted a grill tools set for our wedding and we have put them to good use! I loved the price point of this set, and I think any guy could use a good flipper for burgers. (sold out but similar here)
Baseball Stadium Posters – Gabe is a huge Brewers fan so he got super excited about these stadium prints. You can order just about any stadium!
Utility Work Apron – Really helpful in shielding your clothes from getting damaged when working on anything around the home or even grilling in your backyard. (sold out but similar here)
Painter's Tape Dispenser – I wish we would have found this sooner. A nifty painter's tape dispenser for masking off areas for staining, texturizing, sanding, and painting.
Storage Hook Straps – It may not look like a fun gift, but they have multiple purposes! You can even hang bikes from these in your garage.
Camping Tent – I got Gabe a Coleman tent a while ago and it has held up so well. We have even done backyard camping with one similar to this.
Campfire Fishing Pole – For the guy who is hard to shop for. Roast marshmallows or hot dogs on this campfire fishing pole:)
Cordless Drill Set – Gabe uses this weekly around here. It is his top rec for a good duo drill set.
Personalized Leather Wallet – Etsy always has some good gift ideas. This looks like a quality option with a great variety of personalization options.
Personalized Leather Doppler Bag I like the color and initial options for these, and could be used for multiple purposes!
Personalized Pocket Knife – I want to get one of these for my dad!
Need more ideas? Here is another recent gift guide we have shared.