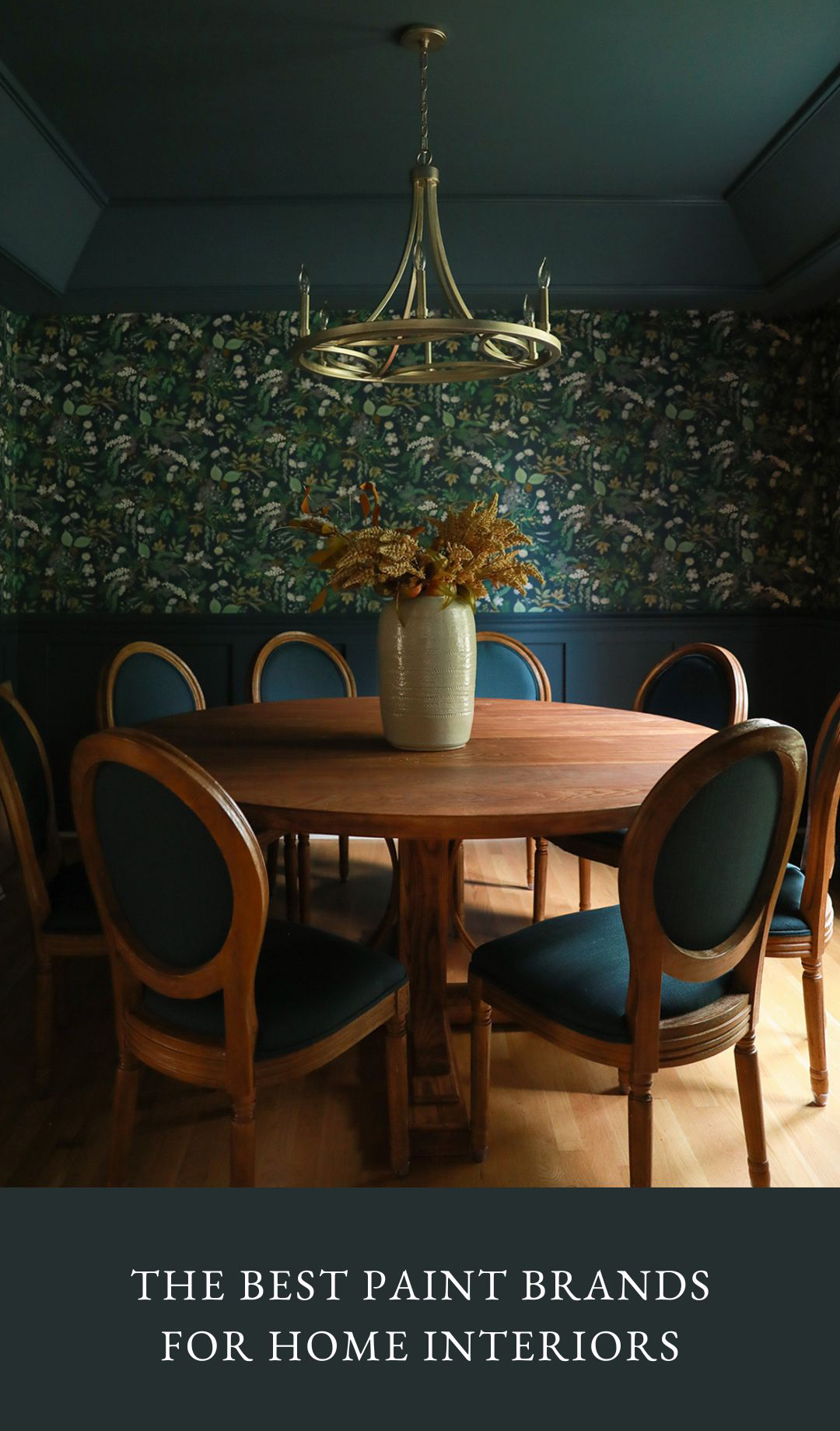 There are so many different paint options available, and it can be hard to know which to use for your home projects. Gabe used to paint as a side job, so I asked him to share his honest opinion about the pros and cons of the most commonly used paint. We are breaking down the price, quality, and coverage in today's guide to the best paint brands for home interiors.
Generally when it comes to paint, you get what you pay for. I find it is always worth the extra cost up front to purchase a quality brush, roller pad, roller frame, and paint rather than the most "economical" options. Not only will your paint project look better in the end, but your painting experience and efficiency will be more positive as well. We have often found that paying for the higher quality paint means less mistakes and less coats needed resulting in time and money saved!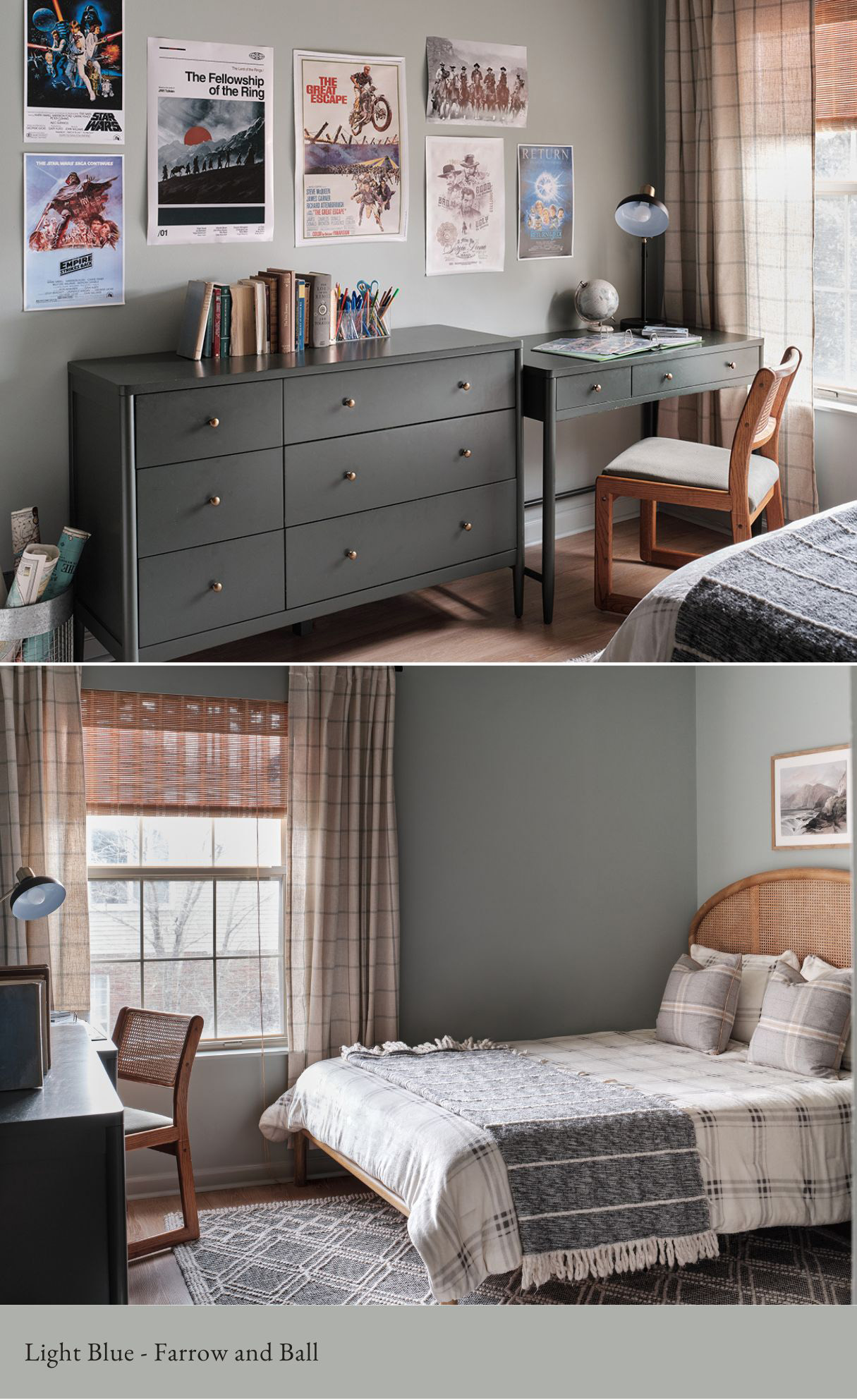 Key terms to better understand paint quality
Hide – The paint's ability to hide stains or previously used colors. The more drastic the color change the more coats may be needed to hide the previous color.
Open time – The time it takes for the paint to become tacky once applied. The more tacky the paint becomes the harder it is to blend and level, and the more apparent roller marks and brush strokes will be.
Coverage – How smoothly the paint applies to the surface as well as how far the paint will spread before seeing the old paint underneath.
VOC levels – Each of these wall paint line formulas have low VOC levels and are safe to use in your homes. An odor may still be present for a short time while the paint dries. The trim enamels will have a slightly higher VOC level, with the hybrid versions having the most. These levels are still drastically lower than past used formulas and oil based trim paints.
Sheen – We generally prefer to use an eggshell sheen level for wall paint because it is just flat enough to hide imperfections, but also has just enough gloss to brighten. It is also easier to clean and more durable than a flat. Satin, which is one gloss step up from eggshell, is generally our second pick. As a rule, the more sheen, or glossiness, the paint has, the more wall imperfections will be noticeable.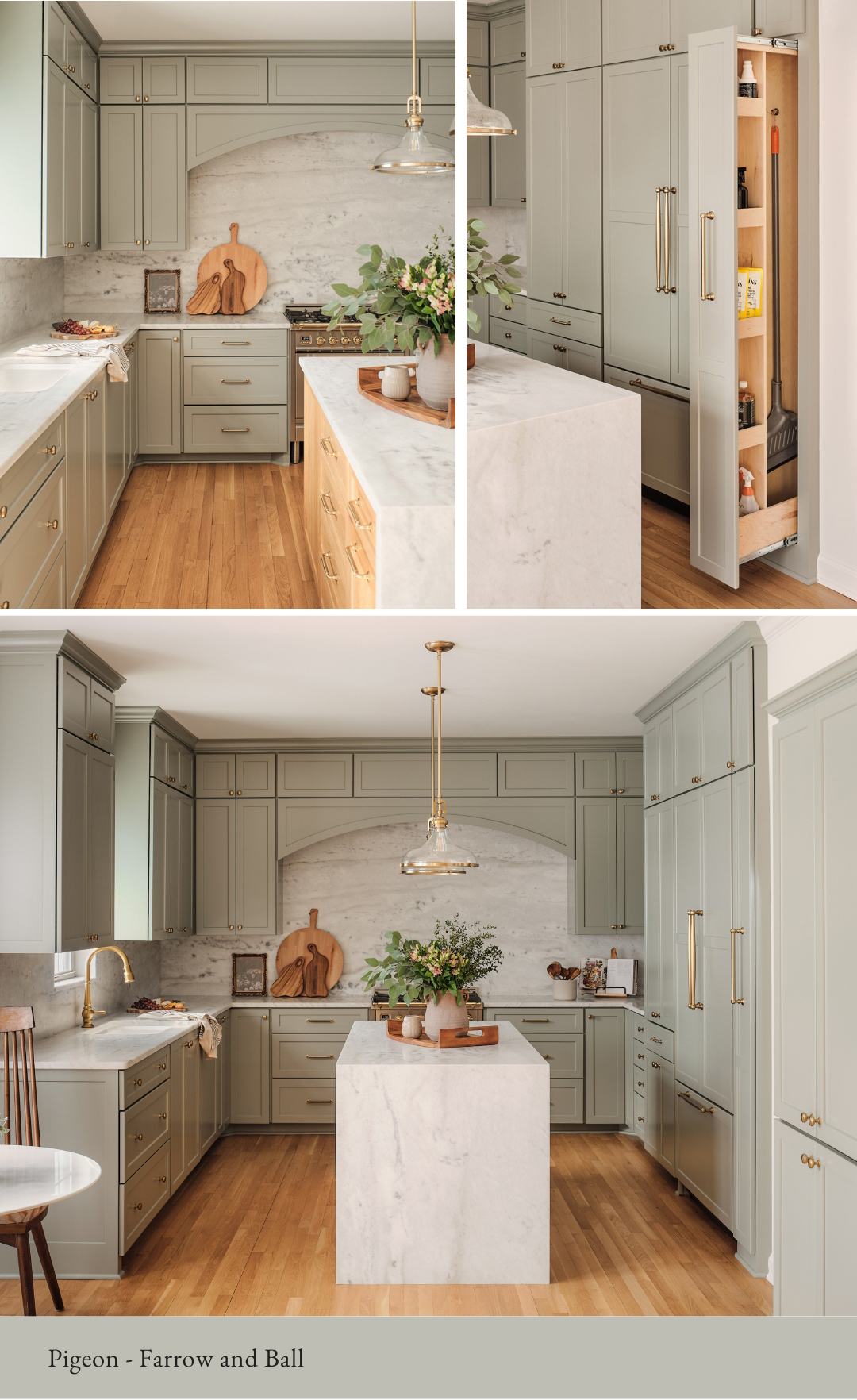 Farrow and Ball – $130 – $150 per gallon
Farrow and Ball is a boutique paint company that has focused on quality over high selection. Their color selection is limited compared to other paint manufacturers, but they have a detailed color formulation process which results in a beautifully curated and timeless line that is hard to replicate. Their paint is deeply pigmented giving the color a depth and richness in any light that most other paints cannot compete with. F&B's flat paint is the best flat on the market when it comes to beauty, especially in their Estate line. Their Modern line has more sheen across the board compared to the Estate line and therefore has a higher level of washability and durability. I find it very easy to work with as it has good open time. The hide and coverage is very good. I find it generally will take one heavy coat followed by a light touchup to get the job done if there is not a drastic color change. Highly recommend it for that room where you really want to make a statement. There are a few Farrow & Ball showrooms in a couple major US cities, but most often the paint is purchased online.

Samples: Farrow and Ball offers free color card booklet online if you want to see all of their paint colors in person. They also offer small paint tub samples for $8 ea.when you are ready to test them out!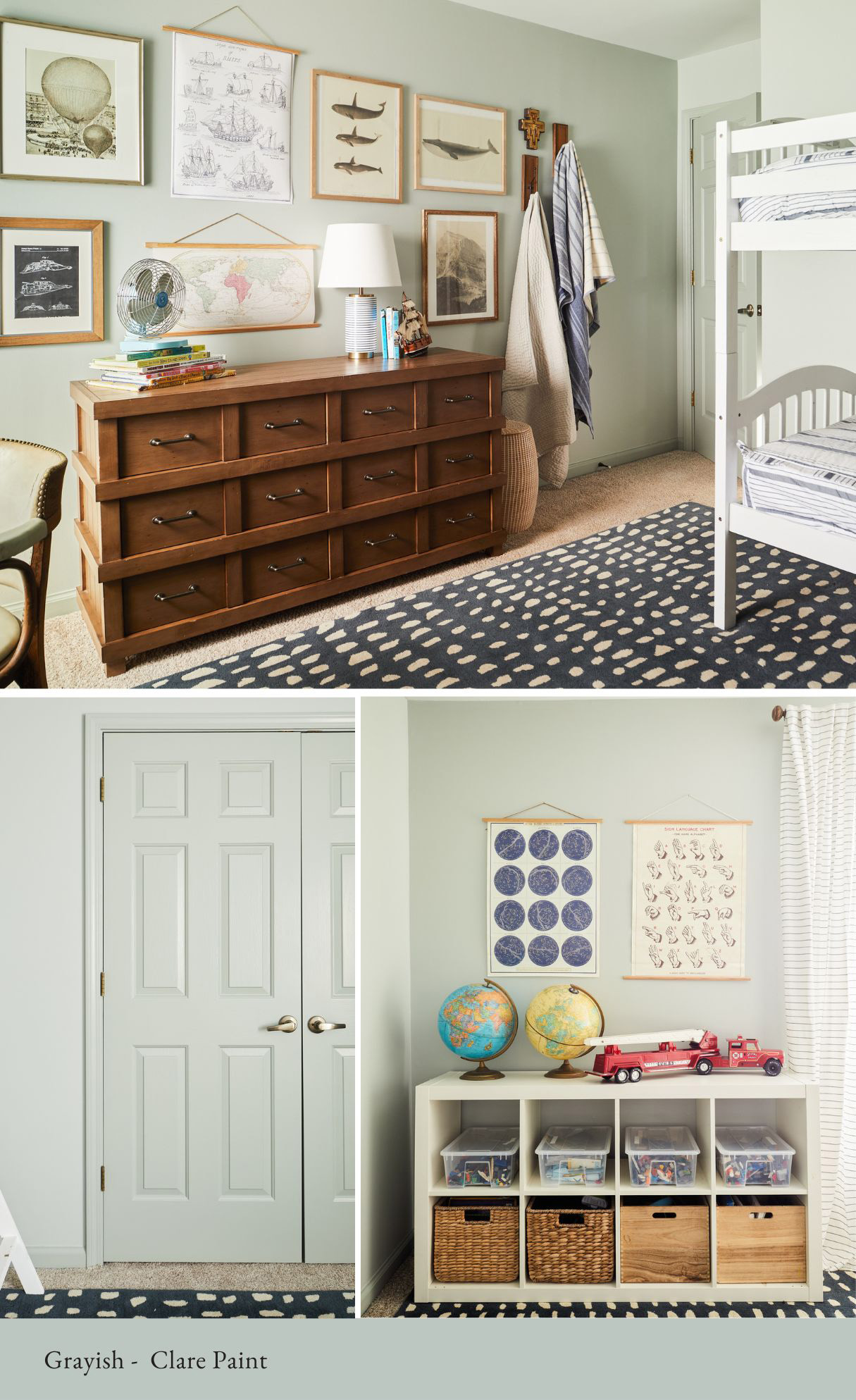 Clare – $65 per gallon
Clare has quality paint at a competitive price, and their paint is zero voc. It has good hide and coverage, but I was a little disappointed in the limited open time and its ability to level out and tighten. Because of this I feel the need to work faster than usual. I also found that it had a tendency to splatter, so I recommend using a high quality roller pad (I prefer Purdy Marathon) over a standard cheap roller pad. You will generally need two coats. On the plus sid, Clare paint seems to be a very durable/washable wall paint and has held up well, especially to the wear my boys put it through in their room. It is only sold online, and all their paint is color tinted at the time of production rather than at the time of purchase. This means you will never find tinting variations between cans of the same color, which can sometimes happen at a paint store when tinting occurs at the time of purchase.
Samples: Clare Paint offers their full color deck of swatches for $35. You can also order 8 x 8 in. peel and stick swatch samples for $3.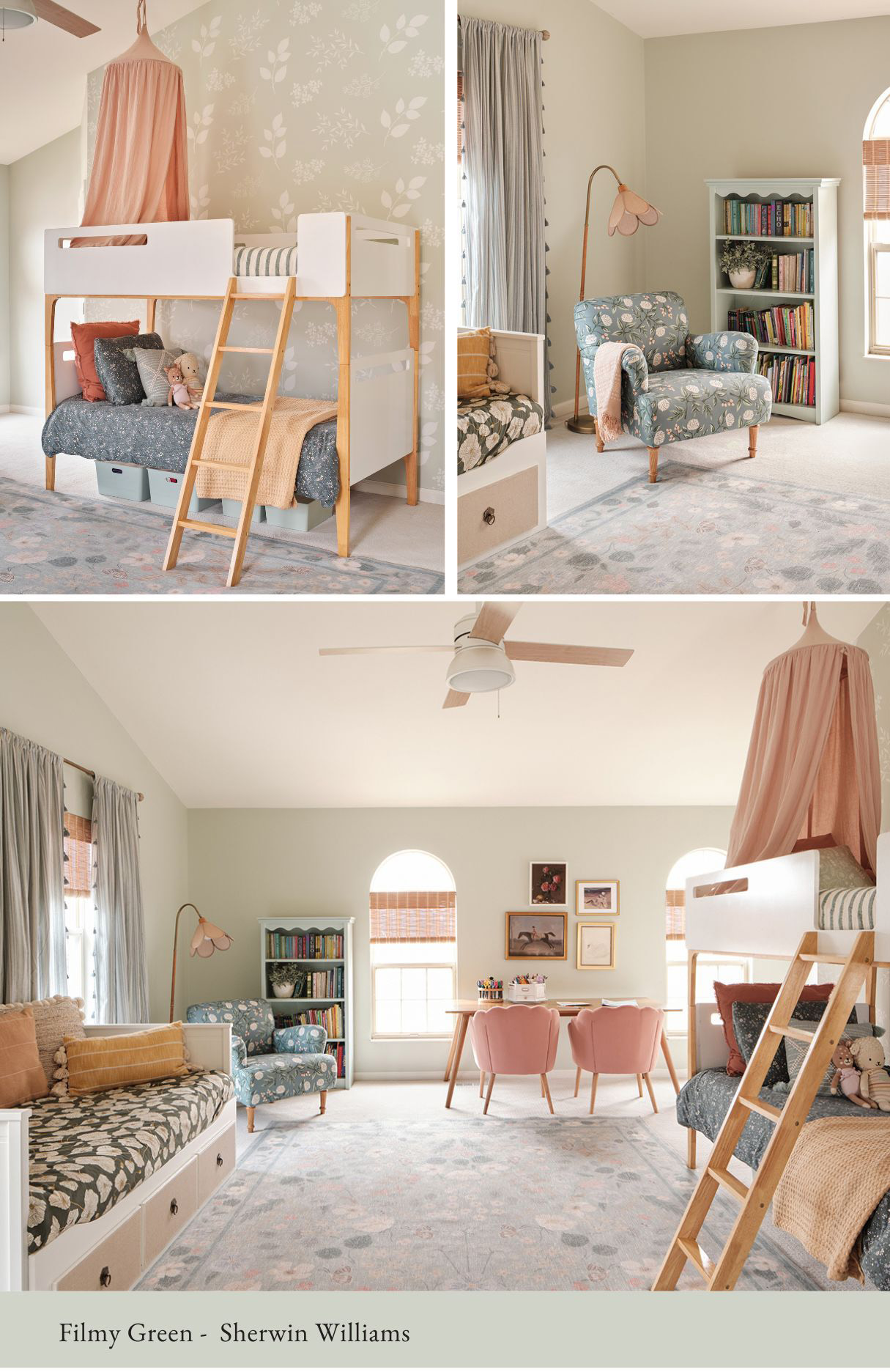 Sherwin Williams – Duration $80 per gallon (but is often discounted to $50 – $60), Cashmere is generally about the same price as Duration.
My experience with it over the past few projects with Sherwin Williams Duration line is that while it has great open time and good durability, the overall hide and coverage has been lacking. It has a good deal of splatter even with a good roller. My last job using Duration took three full coats on top of a full coat of high quality primer to reach full color and evenness. On the plus side, once on and cured it does really well handling high traffic areas. Sherwin Williams Cashmere lays down a smoother, more even coat and has the best coverage of their lines. However, Cashmere is not as durable as Duration.
Samples: There are free 2 x 3 in color chips available online as well as 8 x 8 in. peel and stick swatches online for $3.95 a sample. You can also order smaller pots of paint in store or online for $8-$10.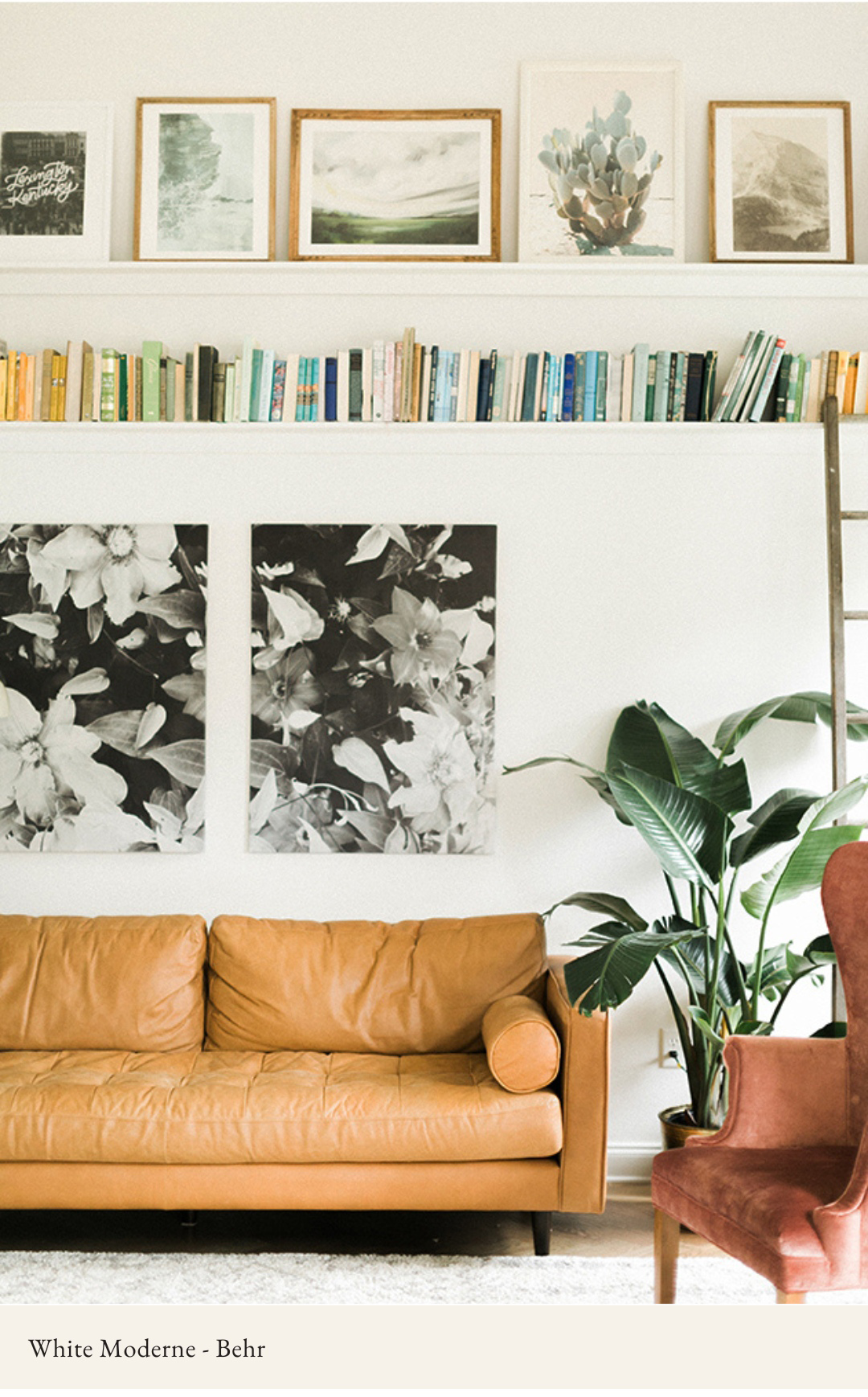 Behr – Ultra $45 per gallon
Behr's Ultra line is the best easily acquired budget choice, being sold exclusively at Home Depot. It is still a quality paint that you can have confidence purchasing and using. It has good hide, durability, and leveling for the price tag. It's open time is decent, but not amazing. Is it as easy to work with, as washable, or able to hide previous paint like Benjamin Moore's Aura? It is not. Will it give you the depth of color, leveling, and durability of Farrow and Ball's Modern line? It will not. It is a step below most other paints on this list in nearly all categories, but it is also the most economical choice that still produces high quality results at a very competitive price point. I have no problem working with it in a pinch, or if my preferred brand is not available. Expect to apply two full coats for full hide and protection.
Samples: Behr offers peel and stick paint swatches for $2 ea. as well as small paint pots for $4 ea.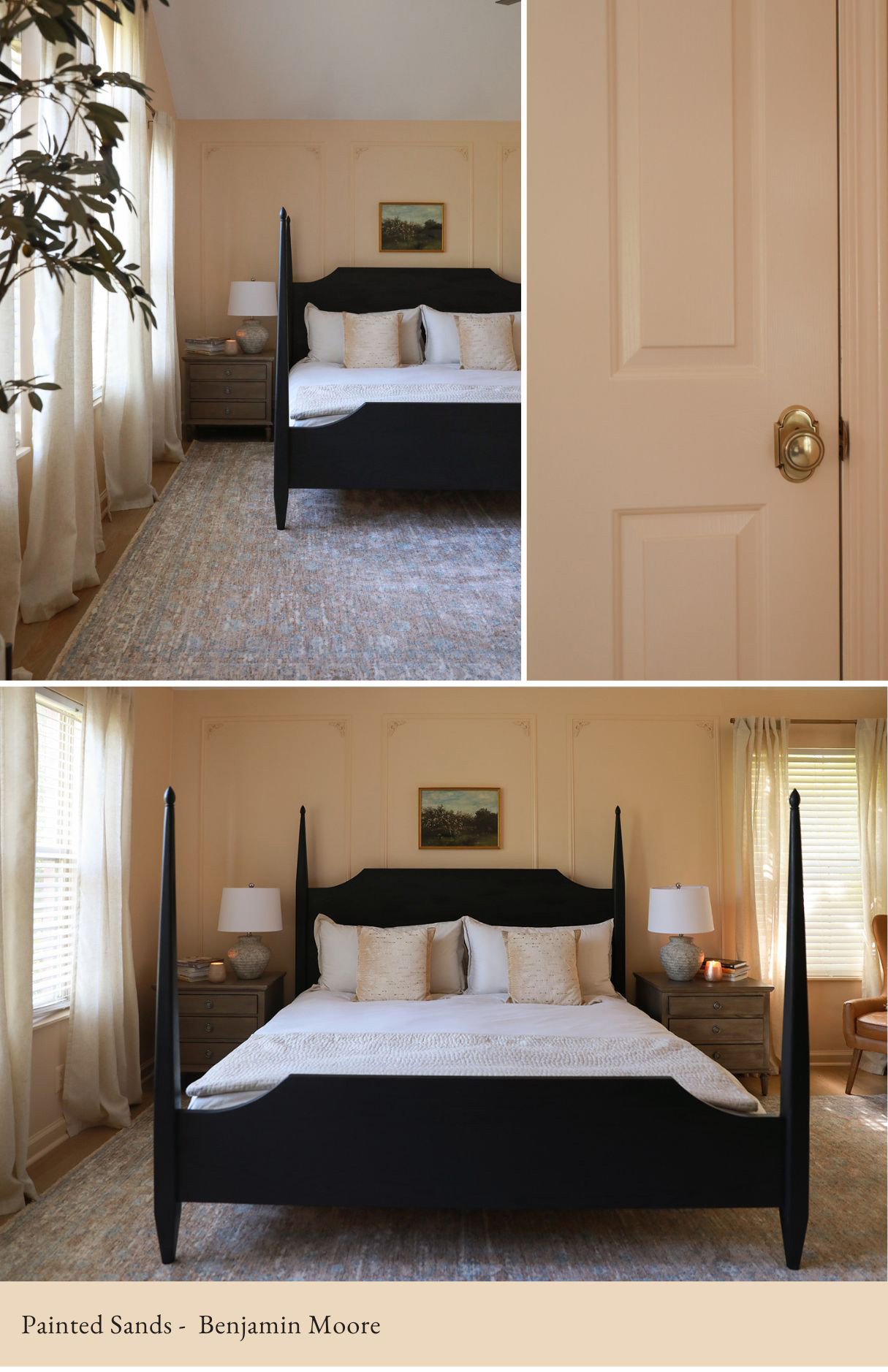 Benjamin Moore – Aura $95 per gallon
This is hands down my favorite wall paint. In my experience, Benjamin Moore's Aura is the most durable, easiest to clean, smoothest, and easiest to work with interior water based paint. It has a wonderful ability to hide the undercoat. The coverage is second to none, and I have rarely needed more than one coat to hide the previous wall paint. When I have needed more than one coat it is usually due to a drastic shade difference between the two colors. Keep in mind that two full coats will always provide more durability. Aura does not dry too fast and therefore levels and smooths out very well. It is on the expensive side when compared to most of the paints mentioned above, but due to its hide and coverage abilities, I find that I use less cans per project than with other less expensive brands, so the cost seems to generally even out.

Samples: You can purchase their complete classics color deck online for $30. They also have 4 x 8 in. peel and stick swatches available for $2.50 ea., and paint pint samples for $6.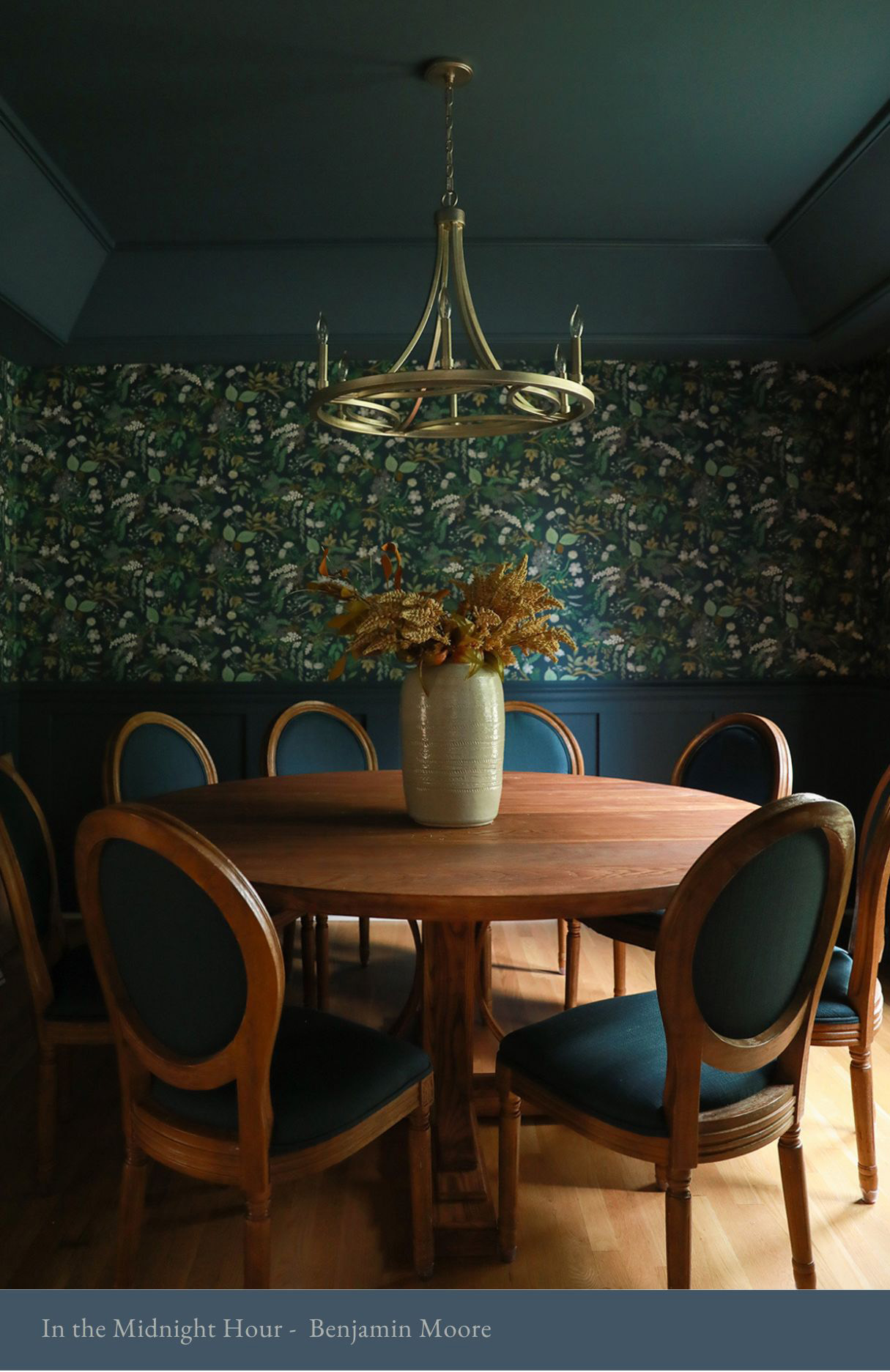 Our most recommended trim paint
When purchasing a trim paint it is important to look for a high solid, durable enamel because trim, doors, and baseboards generally take more abuse than walls. Trim enamel will generally have more sheen than wall paint, so using a product with good leveling capabilities is important as well. If in a house that is 20 years or older, I will always use denatured alcohol to check for oil based paint on the trim. If oil based trim paint was previously used you will need to scuff and prime with an oil based primer before applying a latex enamel. Always scuff the surface of the old trim enamel whether it is oil or latex to ensure proper adhesion of the new paint.
We generally prefer to use a semi gloss for trim, doors, and baseboards, and generally a Satin for furniture. I prefer to use my HVLP sprayer whenever possible to provide the smoothest finish, but the paints below will all do well with a high quality soft 100% nylon brush or fine low nap mini roller. (See our post on best paint sprayers for every project.) When it comes to trim paint, it is critical to use high quality tools to achieve the best possible finish. Use long even strokes to apply, and once applied do your best leave it alone.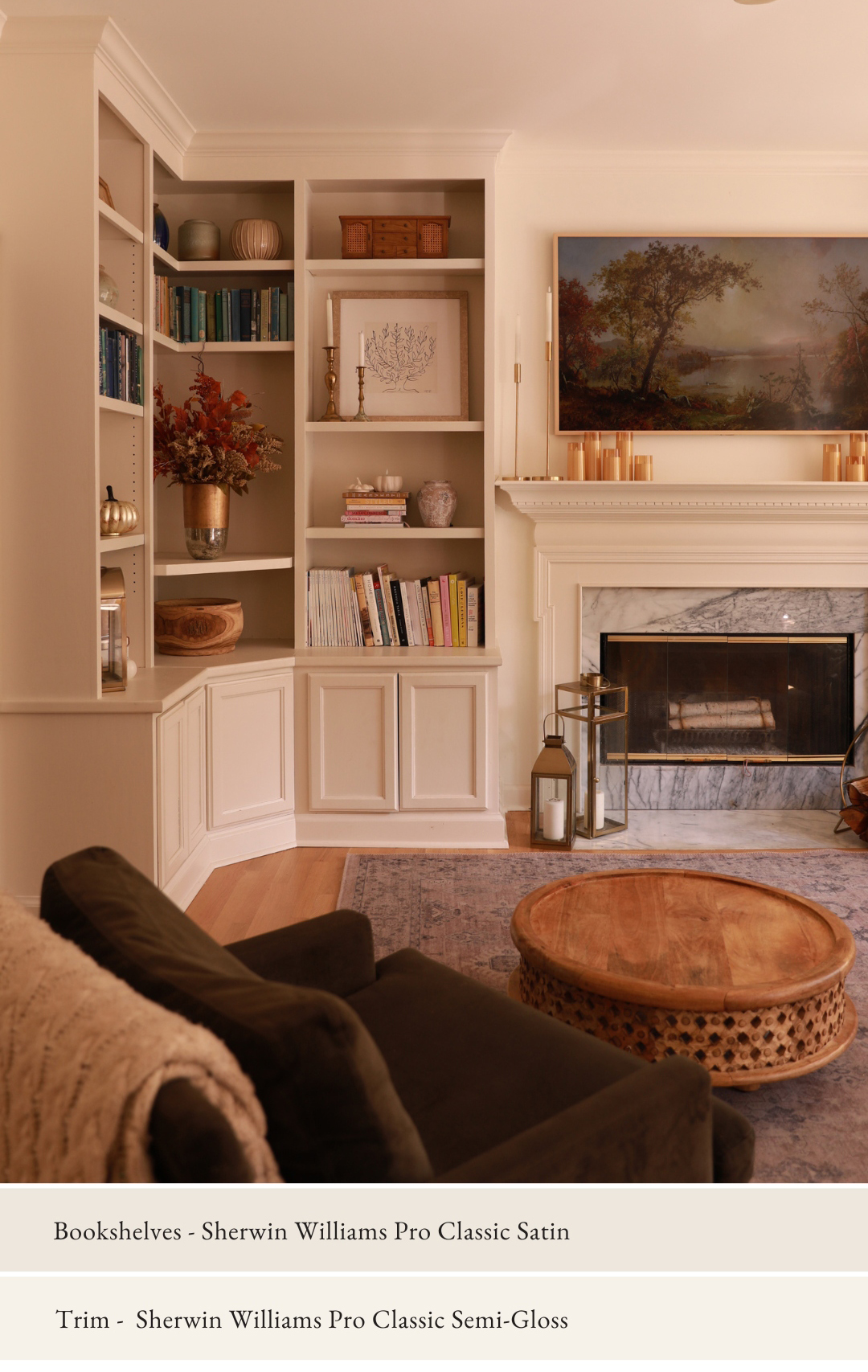 Benjamin Moore Advance – $75 per gallon
Advance is my preferred choice. It has low odor, applies evenly, and has arguably the best smoothing characteristics of readily accessible trim enamels. It has great durability and will not yellow overtime. The only downside is that it has a longer recommended time between coats to ensure the product fully cures.
PPG – Advantage 9000 – $80 per gallon
Advantage 900 is my second choice for trim enamel due to its durability and even sheen, but found that it gets tacky a little faster than I prefer. I also found it will sometimes crack once cured when applied over the top of a high elasticity caulk that has not fully cured. On the plus side, this has the best adhesion over oil based paints, but does have a stronger odor. Unfortunately PPG changed the Advantage 900 formula a couple years ago, so I cannot speak for the newly revamped product.
Sherwin Williams – Emerald Urethane – $100 per gallon (but is often discounted to $80)
Emerald Urethane is a great choice for trim paint due to its durability, flow characteristics, and workability. It has a reasonable recoat time, and does reasonably well directly over the top of oil based paints, but I still recommend using an oil primer if painting over an old oil based trim. It can be inconsistent in sheen level. It seems that lighter colors using the light base appear to have less sheen in satin than the deep base. It will also have a stronger odor due to its hybrid characteristics.
Sherwin WIlliams – ProClassic – $85 per gallon (but often discounted to $70 or below)
I have used Pro Classic extensively, and at one time it was my go to trim enamel. A few years ago the formula was changed causing me to move on to Ben Moore Advance, but it is still a quality trim paint that I am comfortable using in my home. It flows and tightens very well, but is softer than others mentioned above and is therefore slightly more prone to scuffs. I find it is also a little more prone to runs/drips. There is a hybrid water based alkyd version of ProClassic that is a great choice as well to provide more durability, but at the cost of a stronger odor.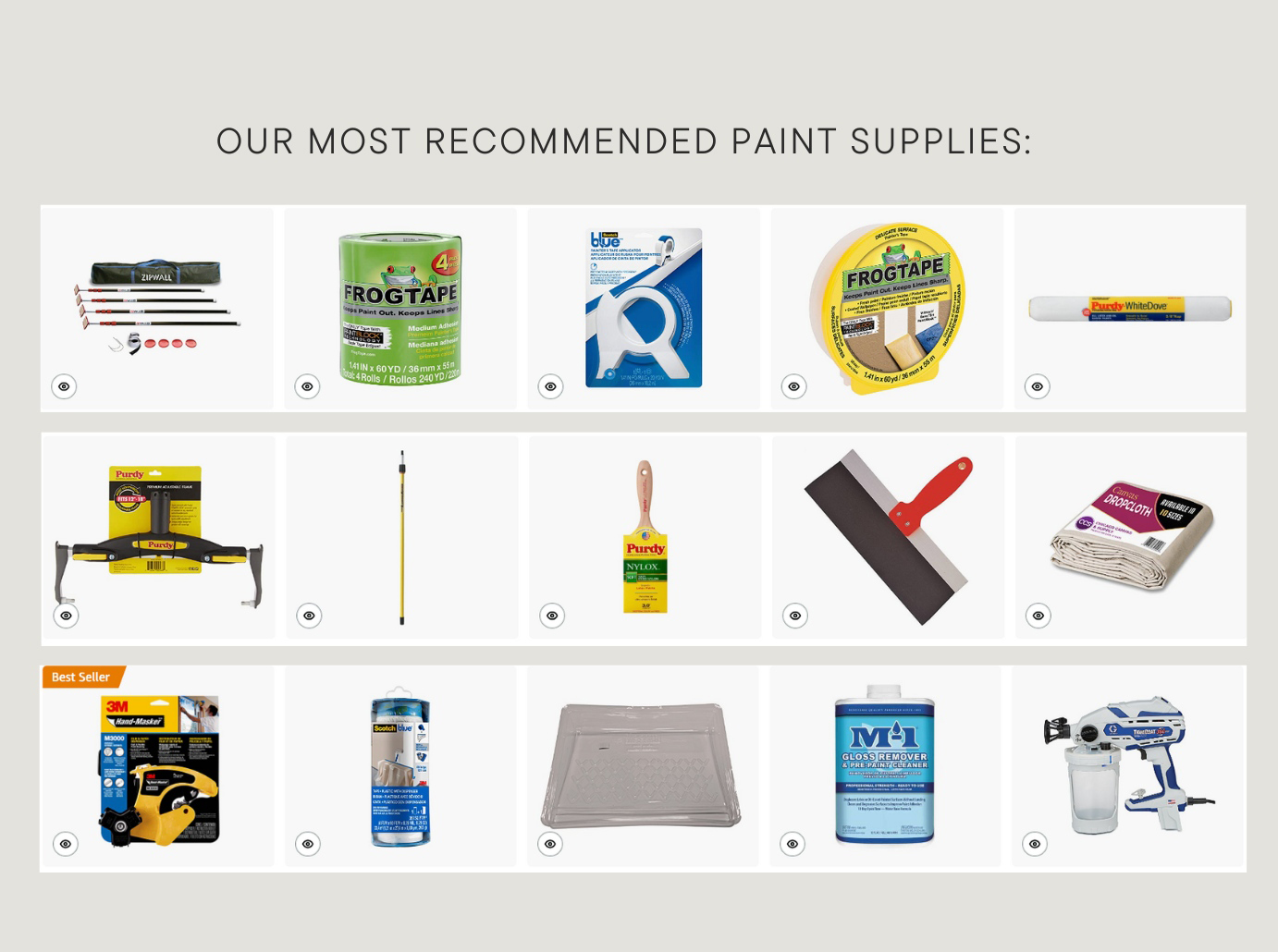 Above are my top recommended paint tools and supplies. You can find several of these at your local paint stores or Ace Hardware.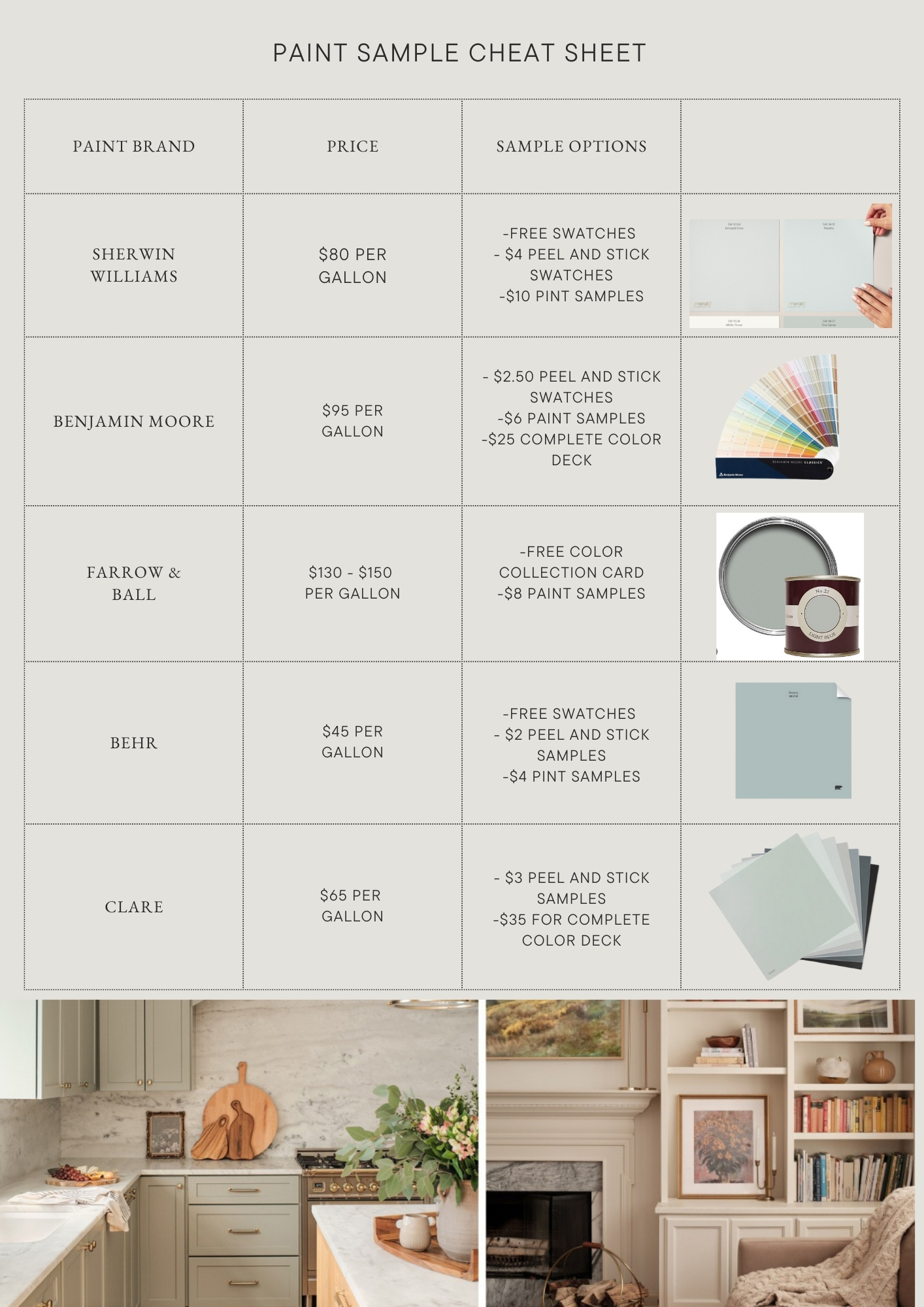 Lastly, Anna created a cheat sheet for paint sample offers from each paint company. I think this covers it! Please let us know if you have any additional questions in the comments.
Room photos by Joseph Bradshaw, Design by IHOD