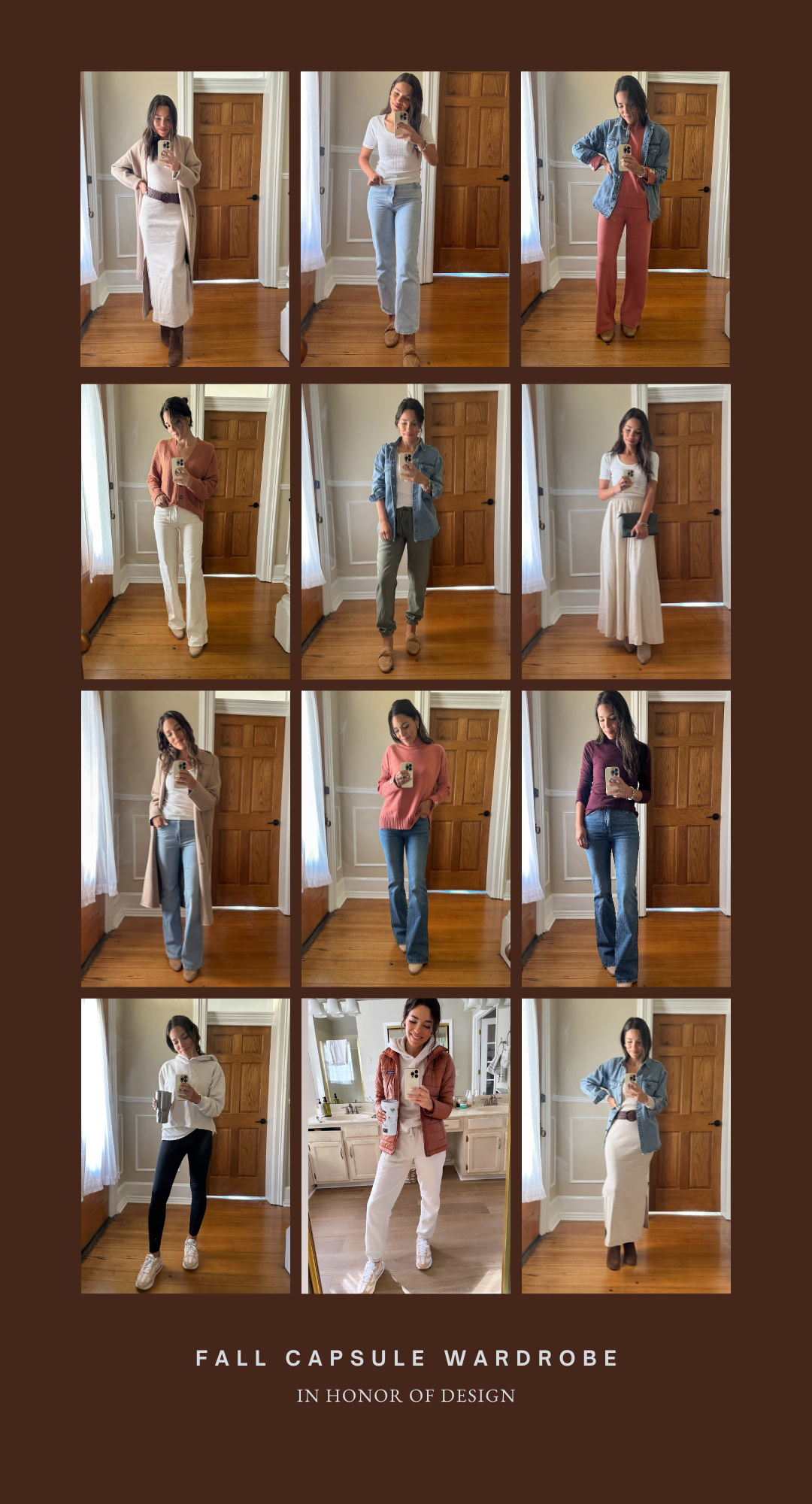 It has been a lovely yo-yo of summer and fall temps here, and I am more than ok with that knowing winter will be here too soon. I have slowly built a closet of staples I love over the years by doing capsule wardrobes! It saves me so much unnecessary spending if I take time to think through some pieces that I know I love enough to wear throughout the next few years. I enjoyed putting together this fall capsule wardrobe, and I actually tried most of these pieces to make sure they were worth recommending!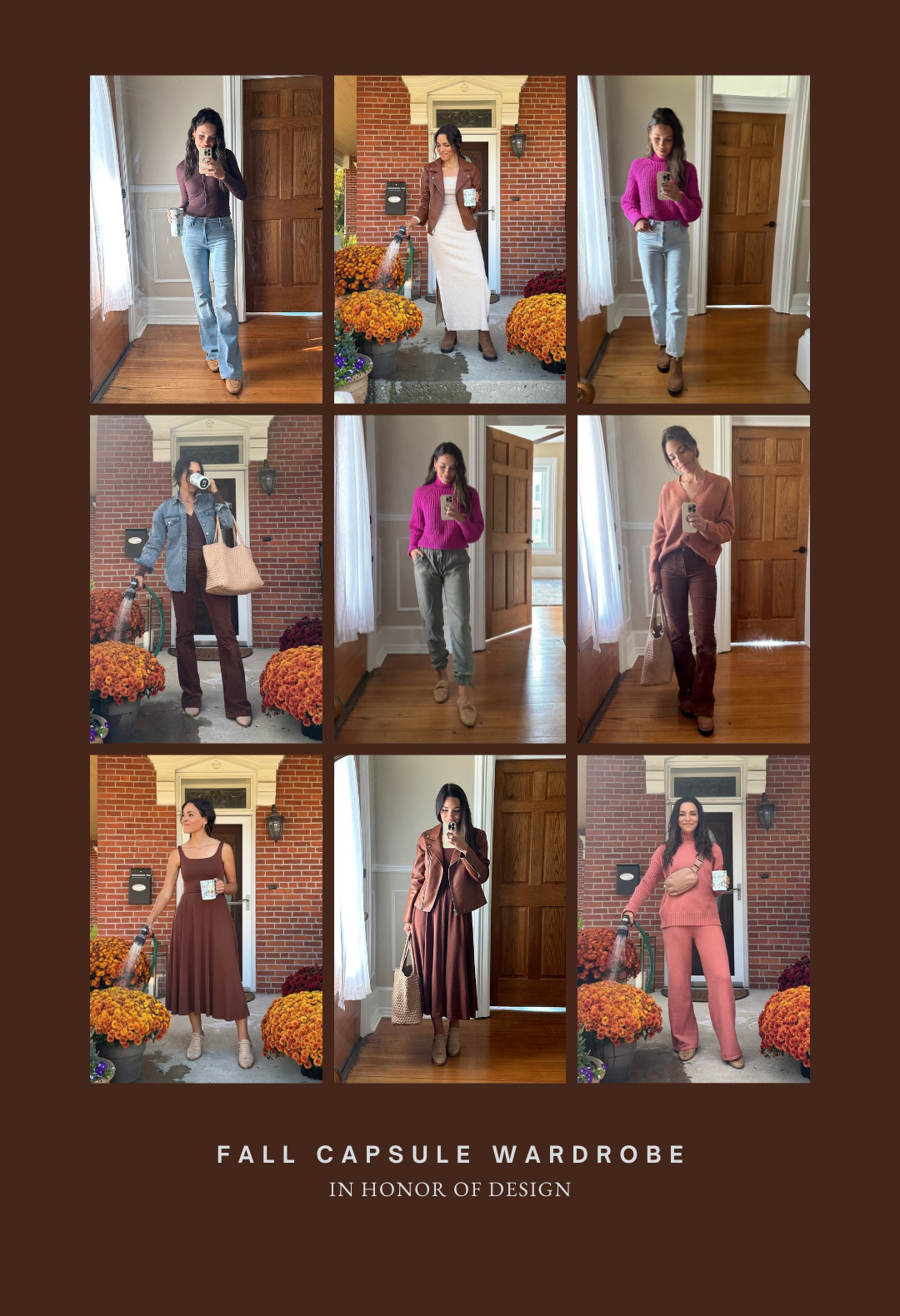 How many clothing pieces do you typically want in a capsule? I have seen examples of as few as 12 pieces, and as many as 40, but I tend to use the capsule concept as a guide to making smarter purchases, cutting down on excessive spending, and creating more confidence in what I do wear. I have a rule for myself…if I don't absolutely love how it fits, I don't purchase. Clothing costs don't always allow us to purchase the high quality pieces we would like, but I have found you can slowly build a wardrobe you love over time.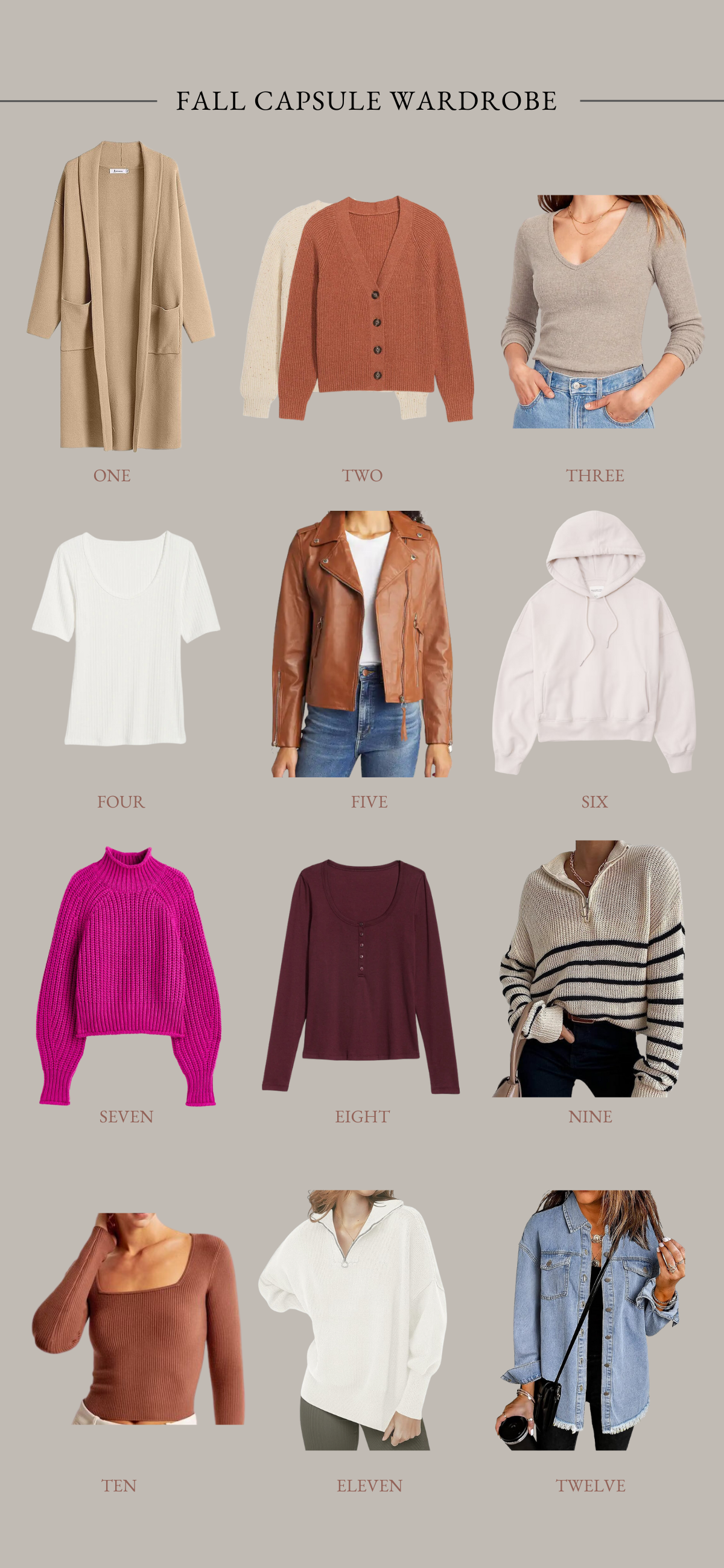 ONE // TWO // THREE // FOUR (size up) // FIVE // SIX
SEVEN // EIGHT // NINE // TEN // ELEVEN // TWELVE (size down)
Note: The sweater coat I am wearing I got on sale from Mango last year, but found a similar one for half the cost that I linked here.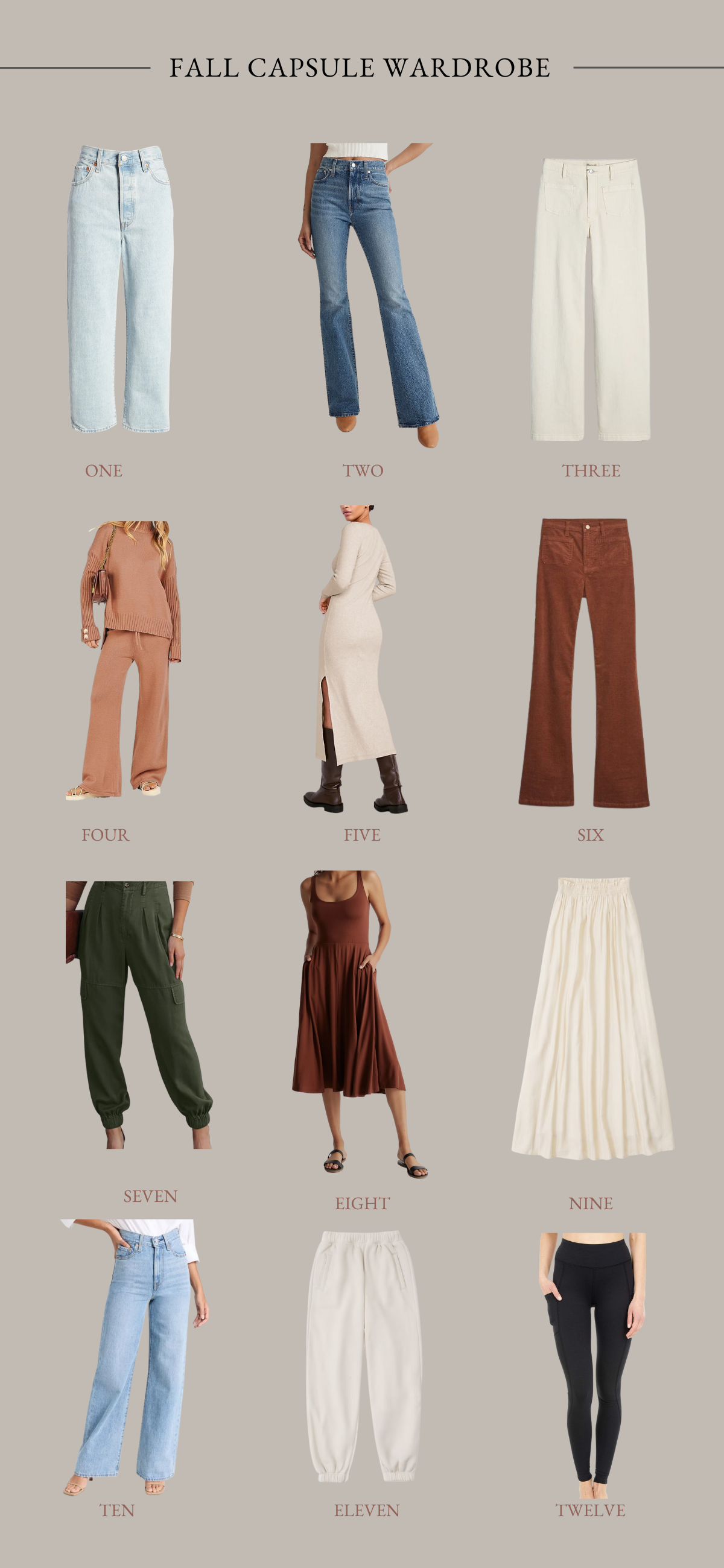 ONE // TWO // THREE // FOUR // FIVE // SIX
SEVEN // EIGHT // NINE // TEN // ELEVEN // TWELVE
I do spend a little more on jeans knowing the quality will last longer, but I will say this $26 pair of denim is one of my favorites this year. They fit well, and since there is some stretch they are comfortable! As much as I would like to get dressed and feel more productive every day, I tend to land in number 11 and 12 most of the week;)
*Madewell denim runs true to size, and I do love that they offer the tall and short lengths for most styles. I am 5'5" and regular length usually requires a heel for me.

*I needed to go a size up for the old navy short sleeve tees, and size down for old navy bottoms. Sweaters seem to run true to size.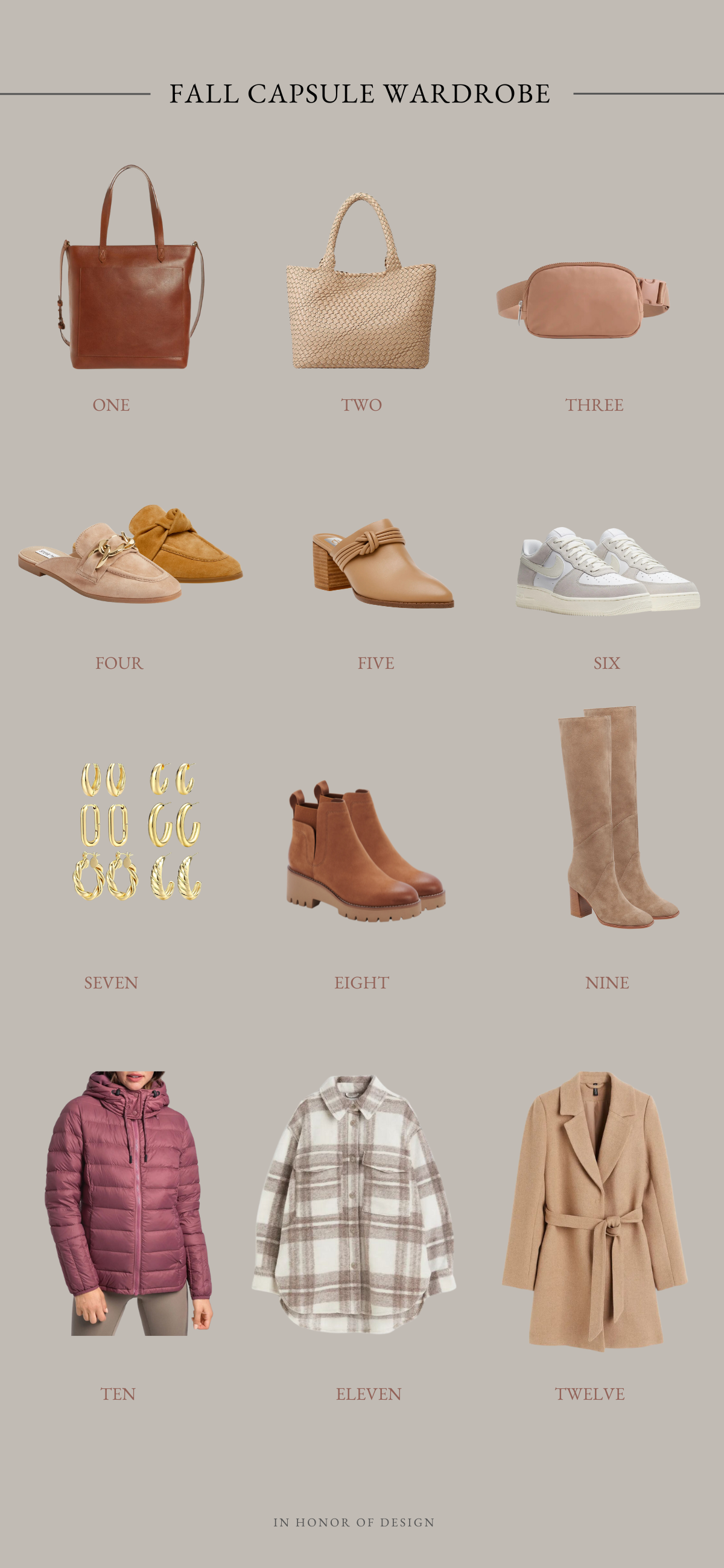 ONE // TWO // THREE // FOUR // FIVE // SIX
SEVEN // EIGHT // NINE // TEN // ELEVEN // TWELVE
Do I only wear these pieces all season? No – this is just a base, but I love to add in more color and pattern if I find a good item on sale! Capsule wardrobes don't have to be neutral colors! You can make it as fun as you want;) Remember this bold summer capsule wardrobe?
Hope this capsule makes the fall shopping easier for you – is it just me or is it getting harder to find good options these days??