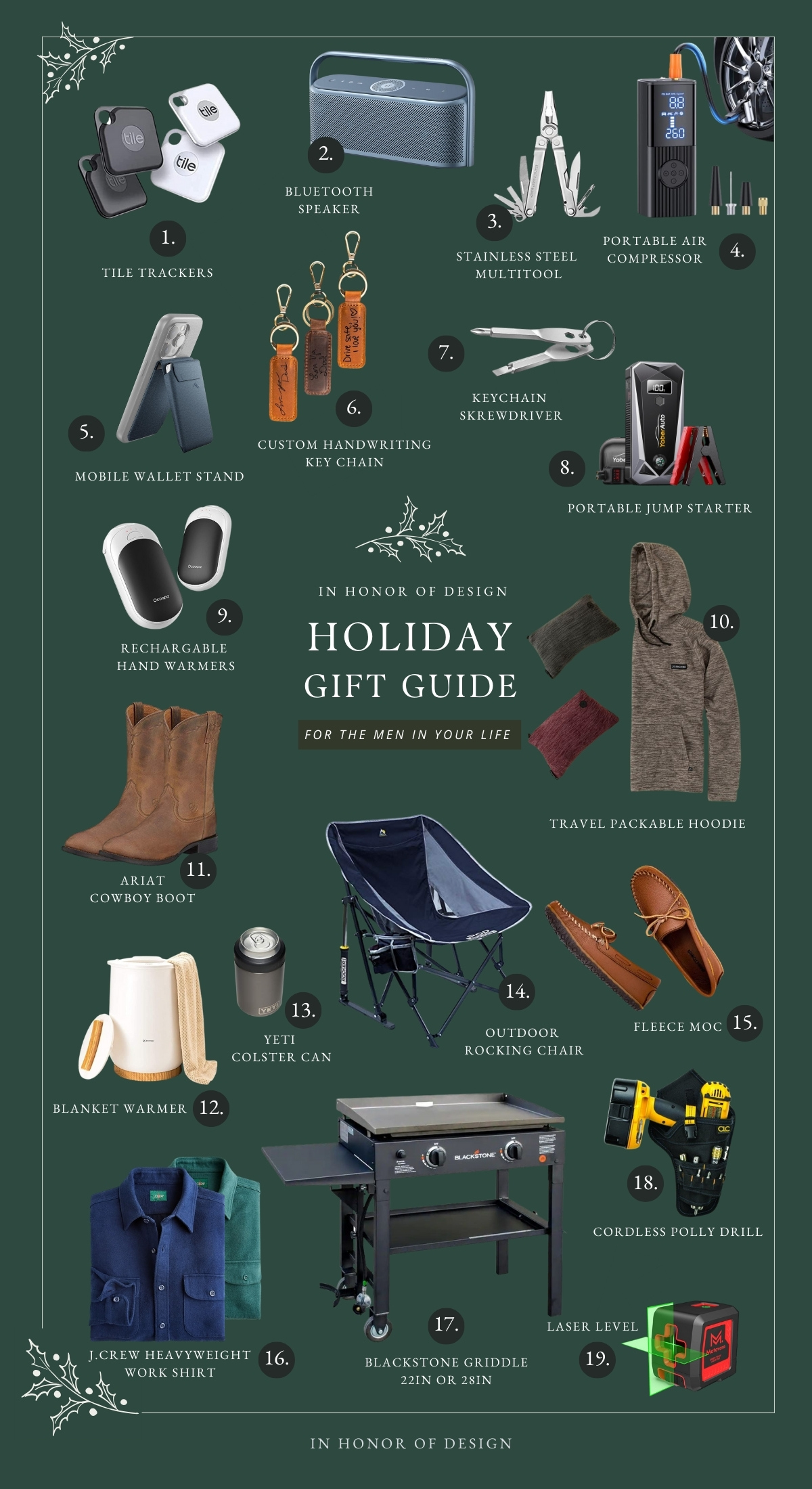 It's always fun for me to round up items for the men folk for our annual gift guides. I have included items that would make great gifts for any age at varying price points. Hope you enjoy! – Gabe
1. Tracking Tiles – An amazing tracker for all those items easily lost. These little guys have saved me an innumerable amount of times after absent mindedly losing my keys, wallet, phone, etc. (Anna can confirm this is on the daily.)
2. Soundcore Motion Portable Bluetooth Speaker – This has the best ratings for sounds and quality, and I love the portability aspect.
3. Leatherman Steel Multitool – Incredibly versatile multitool for any tradesman, hiker, camper, outdoorsman, homeowner, and handyman.
4. Tire pump – Compact and powerful, this little pump can inflate anything from a basketball to a flat tire. It's the perfect emergency device to keep in any car! A great gift for high school or college aged students as well.
5. Card/phone holder stand – A nifty all in one case great for keeping your cards, phone, and propping up for faceTime or to watch your favorite sports team.
6. Personalized Leather keychain – This would be a great gift for a new parent, grandfather, mentor, etc. It engraves a child or loved one's personal handwriting onto the keychain.
7. Screwdriver Keychain – A mini phillips and a mini flathead screwdriver keychain for quick fixes and battery changes. I find myself using mine constantly.
8. Portable Car Battery Jumper – A must have item to keep in any car, especially in northern winters. This one has 5 star ratings, and has multiple uses. Will quickly jump a dead battery in any location, includes a flashlight, and a USB power bank!
9. Set of Electric Hand warmers – Quick, compact heat to keep your hands warm at any outdoor events! (My kids love these too!)
10. Packable Fleece Hoodie – I like how this is compact because I am a light packer! A warm addition to any backpack, hiking pack, or car backseat.
11. Ariat Heritage Roper Boot – My favorite leather boots for daily use in cool to cold months, and outdoor work. They are rugged enough to be a workboot, but look good enough for a night out. I would even wear these daily with a shirt and tie during my teaching days!
12. Towel warmer – Not something you would buy for yourself, but a perfect gift! Warms towels or blankets on cold winter nights.
13. Yeti Rambler – Vacuum sealed stainless steel drink holder fits most cans and bottles, keeping them cold and refreshing on a hot day. Multiple color options as well!
14. Pod Rocker Camp Chair– The king of outdoor chairs, versatile, comfortable, and easiest to set up. We have one of these and used it on the sidelines of our kids' games this year.
15. Flannel Lined Moose Moccasins – These beauties by Minnetonka are the most versatile and comfortable slippers/house shoes I have ever owned. They last for years!
16. Flannel Button Down – Anna got one of thse for me, and it is one of the warmest, best looking shirts on the market. I wish I had more of them hanging in my closet!
17. Blackstone Grill – This is definitely on my wishlist. We love grilling, and keep hearing incredible things about the Blackstone for hibachi style cooking, batch griddle breakfasts, and best of all, a Wisconsin style butter burger.
18. Drill Holster – Keeps any drill or driver at your fingertips for any project, but especially when working on a ladder or uneven surfaces. Highly recommend these!
19. Laser Level – A must have for any handyman or DIY homeowner, this laser level can take the guesswork out of any project requiring straight even lines and installations. I have used this multiple times this year, and really enjoy it. (Make sure to apply the 50% off coupon which makes it $20!)