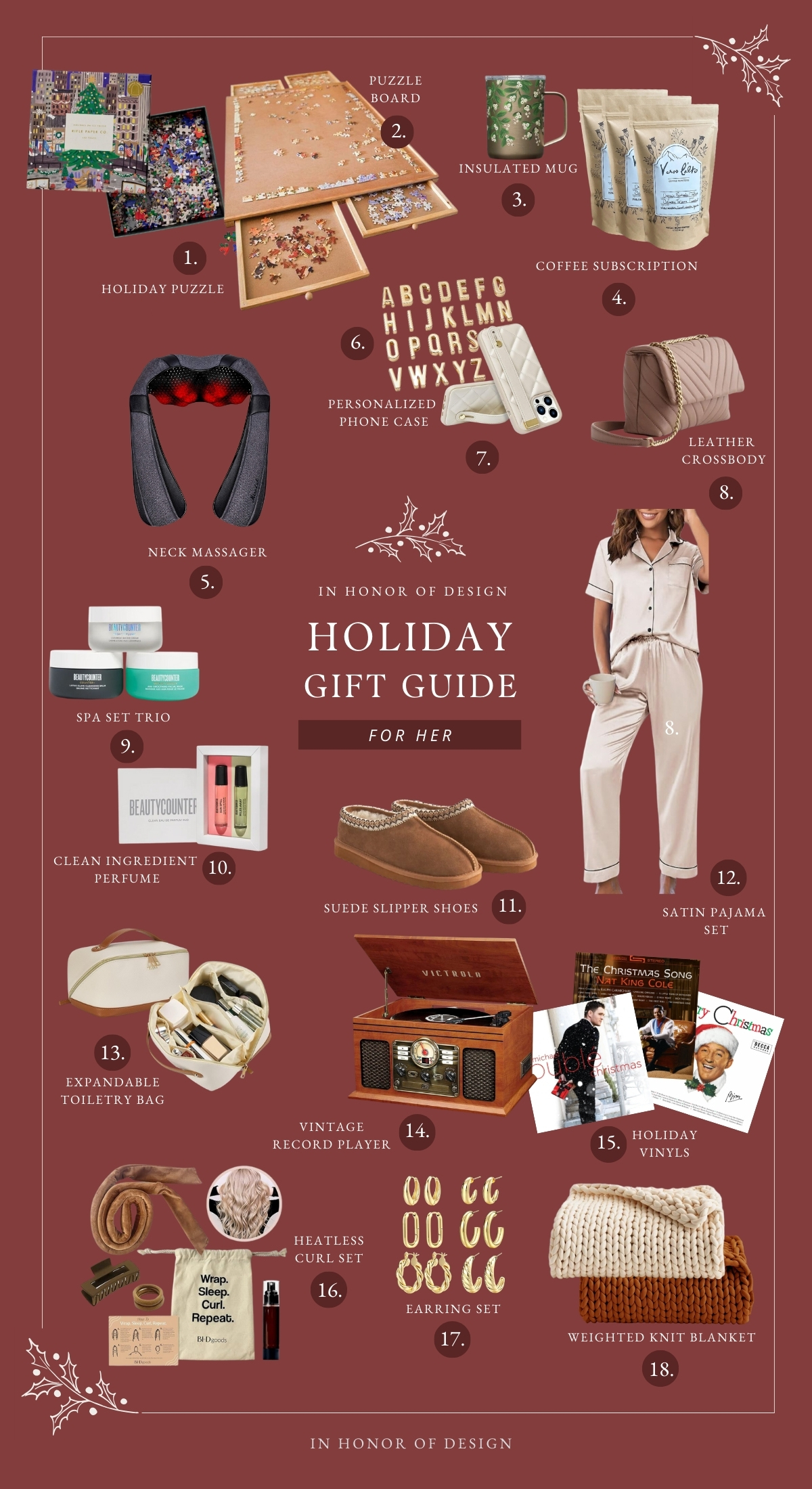 We really enjoy putting together these guides each year, and look forward to sharing a few more for men, kids, family, and small businesses this week! This gift guide is for the leading ladies in your life!
1.Rifle Paper Co. holiday puzzles – I love the Rifle Paper Co. puzzles becuase they are different shapes. They gave us a discount code for the IHOD community too! You can use code DESIGN25 for 25% off sitewide!
2.Puzzle Board – We got really into puzzles in the last few years, so we decided to get a puzzle board. It has been a game changer! You can store sections you are working on in drawers, and also easily transport your puzzle from room to room (or hide it under the bed like we need to do). This one is currently 20% off.
3.Insulated mug – This is something I use daily! It keeps coffee or hot drinks warm for hours. I love this holiday design. (You can use code DESIGN25 for 25% off )
4.Coffee Subscription – This is a small business based in CA where you can purchase fair trade organic coffee beans by the bag OR by a monthly subscription. This would make such a fun gift for the coffee fanatics in your life. I just ordered a few bags for family gifts!
5. Back and Neck Massager – I got this a few months back for both Gabe and I to try. Wow. Hands down one of the best purchases of the year. It has a few different massage settings as well as a heat setting. It even has hand rests. This would be a great gift for mom, mother in law, sister, friend, etc.
6. Quilted leather phone case + 7.Personalized letters – I love this personalized phone case idea. It is a very soft faux leather quilted case design and handle where you can slide on gold letters of your choice. (Sold separately.)
8. Quilted Leather Crossbody – I really love the brand Quince, and their Italian leather totes and handbags are beautifully made with quality materials. This is a crossbody handbag that I added to my fall/winter capsule that I know will last for years. (Multiple color options.) I also use and love and use their compartment tote bag.
9. Polish and Plump Facial Trio – This gift set includes three of my most used skin care products in mini sizes. The AHA Smoothing mask is like at at home spa facial (use once a week) that resurfaces dull skin, the Lotus Glow Cleansing Balm is a hydrating balm that removes makeup and cleanses, and the Mighty Plump Ceramide Water Cream is one of the most hydrating moisturizers I have ever tried. (Smells really good too!) All clean ingredients. They come in a gift box!
10. Clean Eau de Parfume Duo – I haven't been able to wear perfume in years because I am so sensitive to synthetic fragrance. I was so excited about this clean Ingredient perfume option that only uses natural and essential oils.
11. Suede Fur Lined Slippers – The coziest pair of house slippers (or shoes!) that are suede leather and sheepskin lined. (And half the cost of the UGG brand!)
12. Satin Pajama Set – Love this satin set of pajamas. I have a similar set that I love to wear in the winter.
13. Expandable Toiletry Bag – This zip up toiletry/makeup bag has two compartments and holds a good amount! (Make sure to apply the 15% off coupon.)
14. Vintage Record Player – We have had this for years, and have gotten so much enjoyment out of it – especially at Christmas time. (I just set it up in our upstairs corner loft!)
15. Holiday vinyls – Some of our favorite albums for record players include the classic Bing Crosby, Nat King Cole, and Michael Buble.
16. Heatless Curl Set – This has been the best solution for easy heatless waves. This would make a fun gift for any age!
17. Gold Plated Earring Set – This 14K gold plated earring set is a steal, and comes with 6 varying sized hoops. I have used these all year and really love each style.
18. Chunky Knit Weighted Blanket – Will never tire of a good cozy blanket. This one is a thick knit from Quince made of jersey knit, with all of the calming benefits of weighted blankets.