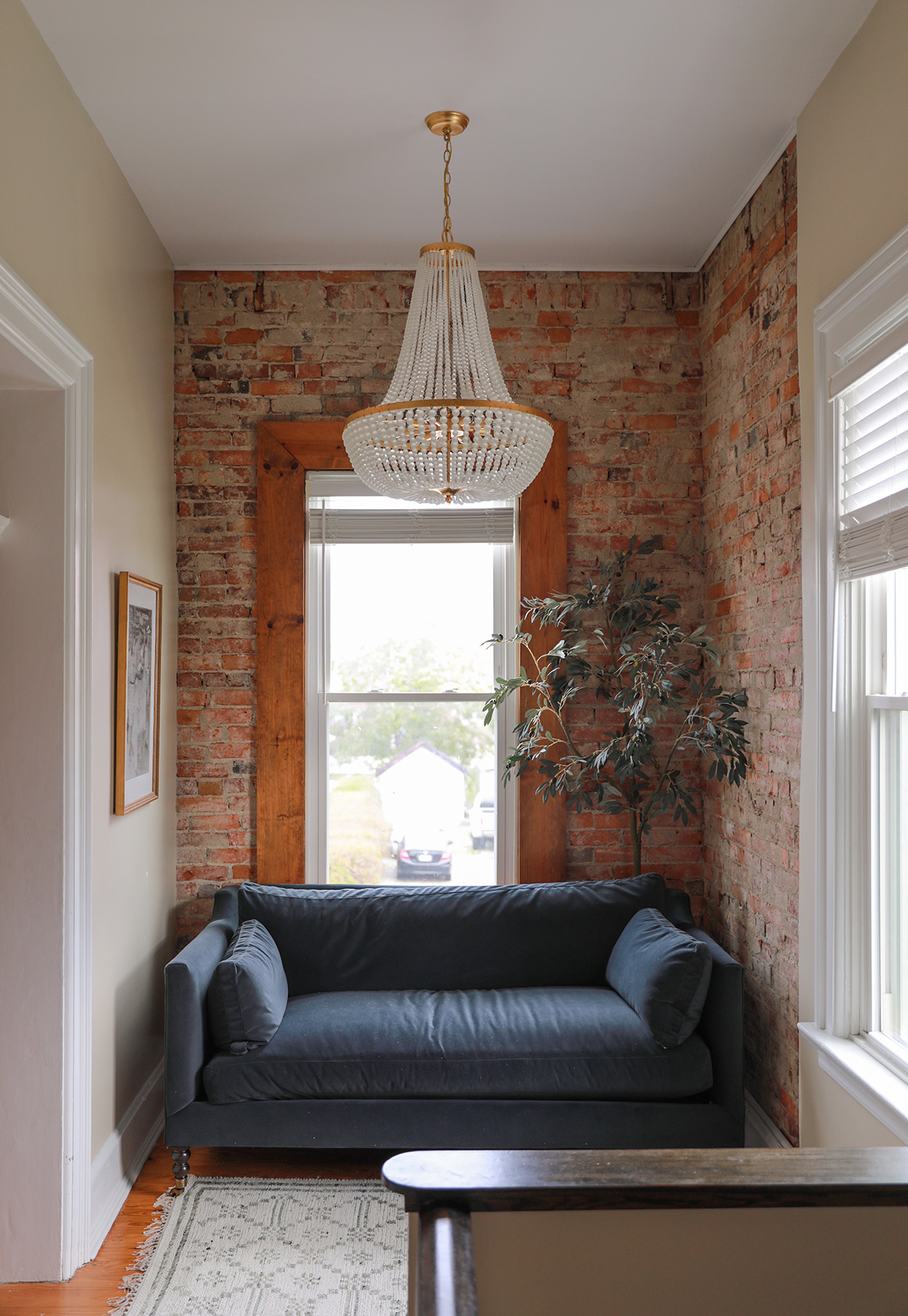 We have a few different bigger projects going on that have turned our home into a construction zone, so I welcomed the opportunity to pull together one small corner for our kids to enjoy. This is the only placesof the home that still features the original 1860s brick! It is one of my favorite spots. We decided to turn this into the brick lounge corner: for reading, listening to music, and just hanging out together.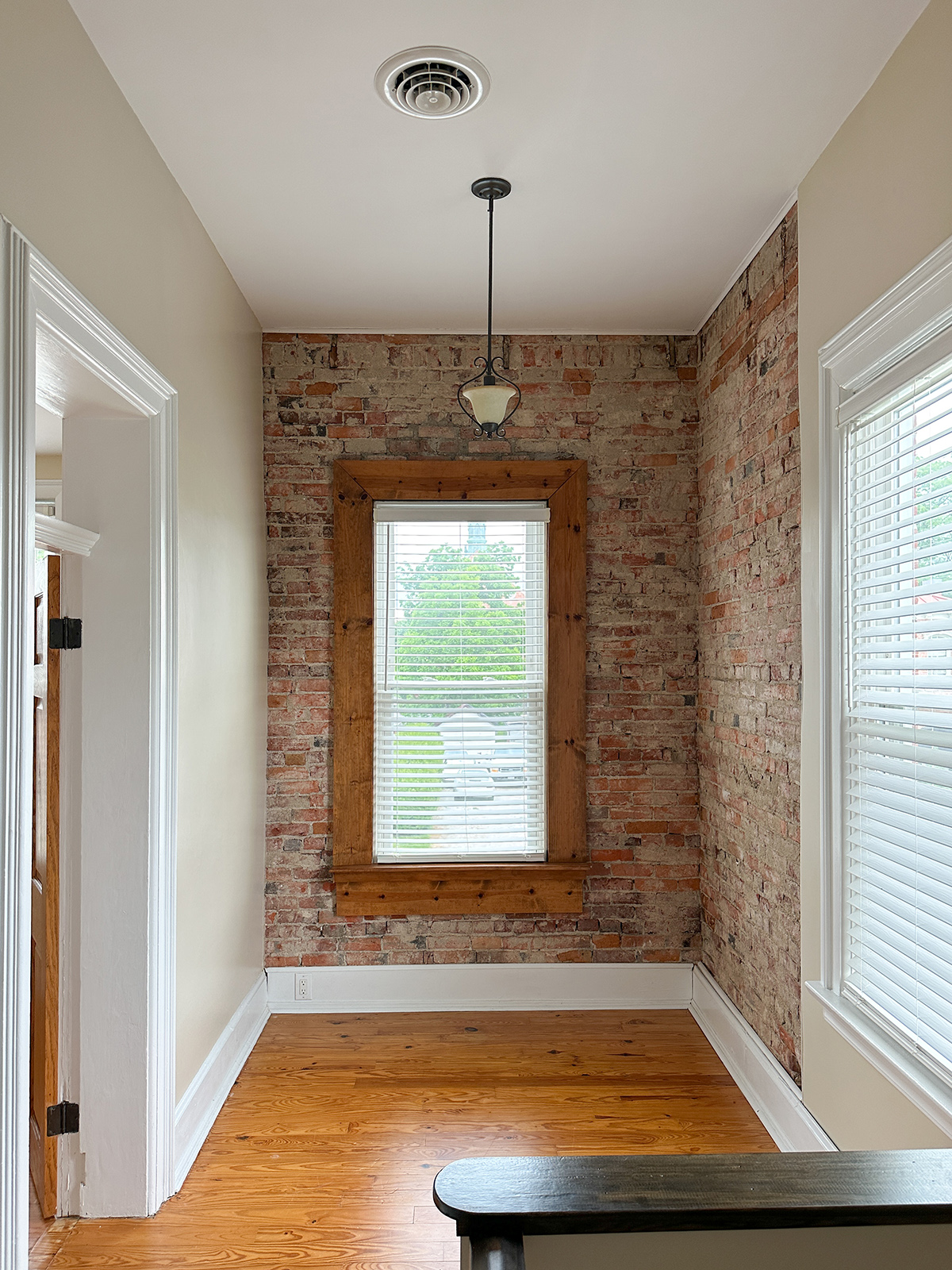 (iphone before)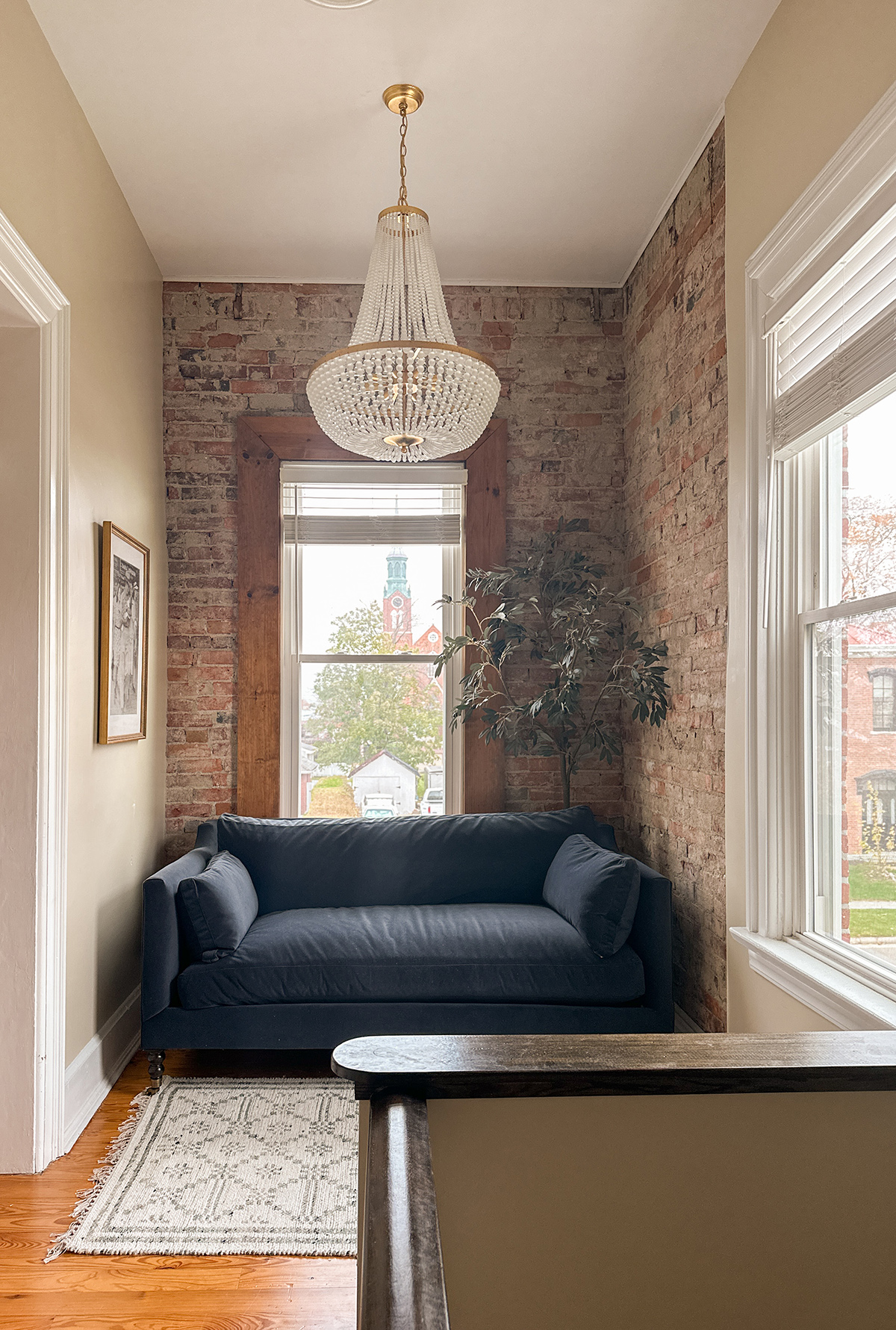 (iphone after)
We had the honor of partnering with a few of our favorite home shops to pull this space together. Thank you to Lulu & Georgia, Shades of Light, and Angela Rose Home x Loloi Rugs!

I started this room with some mockups to figure out which seating and configuration would be best. One of the first things I knew this space needed was a traditional chandelier. This spot called for something fancy! I knew it would be a beautiful combination with the brick, but it would add a lot of warm ambient lighting. I searched FB marketplace for weeks with no luck. My jaw dropped when I spotted the Sophie Chandelier from Shades of Light. (We used Shades of Light pendants in our old kitchen and loved them.) It was sophisticated and traditional with a modern edge. With the high ceilings it was also just the size we needed.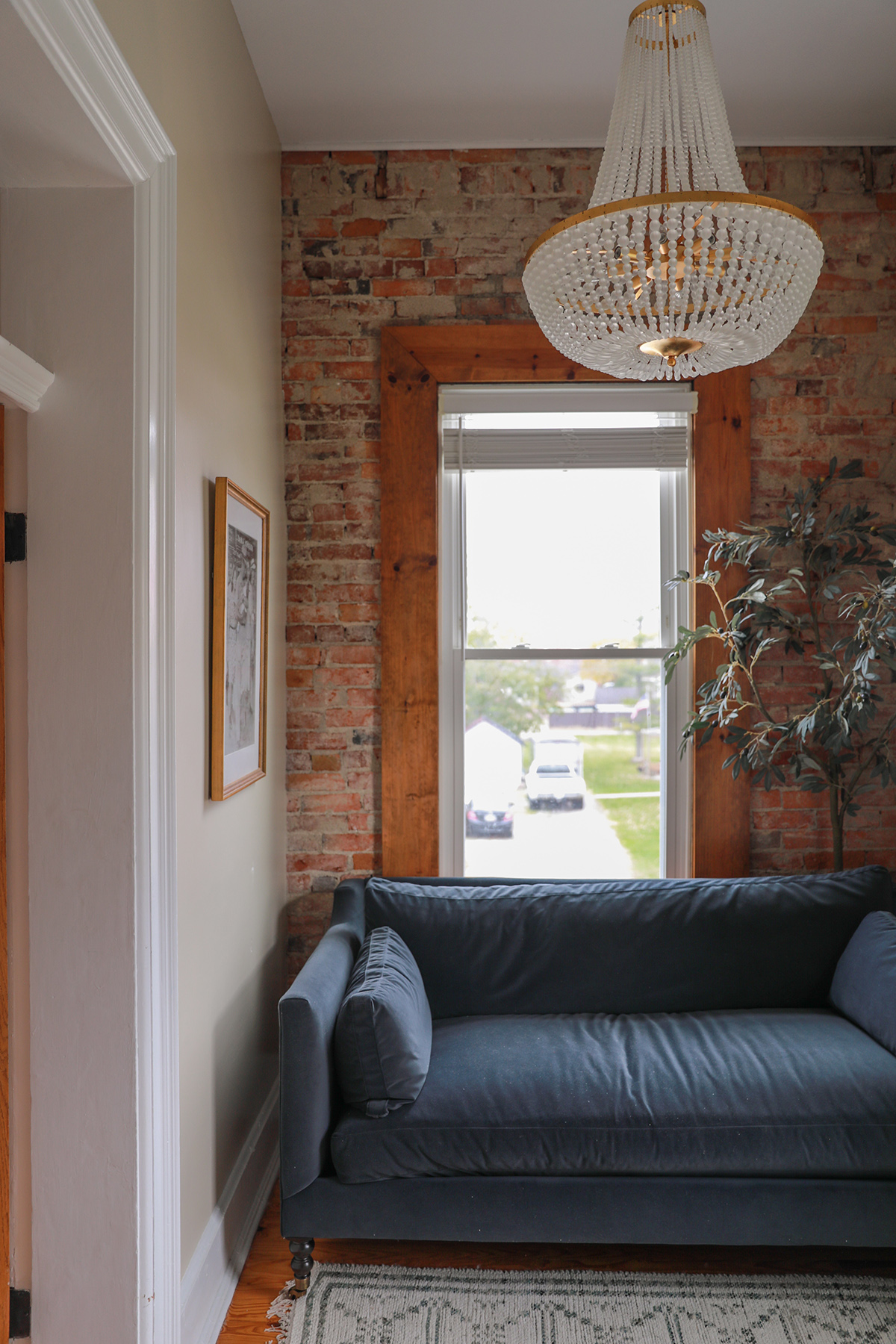 I considered a chaise lounge at first, but knew a loveseat would fit a few more people. I was looking for a loveseat in either an olive or dusty blue color that also had a more traditional style. I knew Lulu & Georgia would have some good options. I stumbled on the Fabienne sofa it was the exact width and style I was looking for. It is incredibly comfortable with a nice easy to clean polyester velvet fabric as well.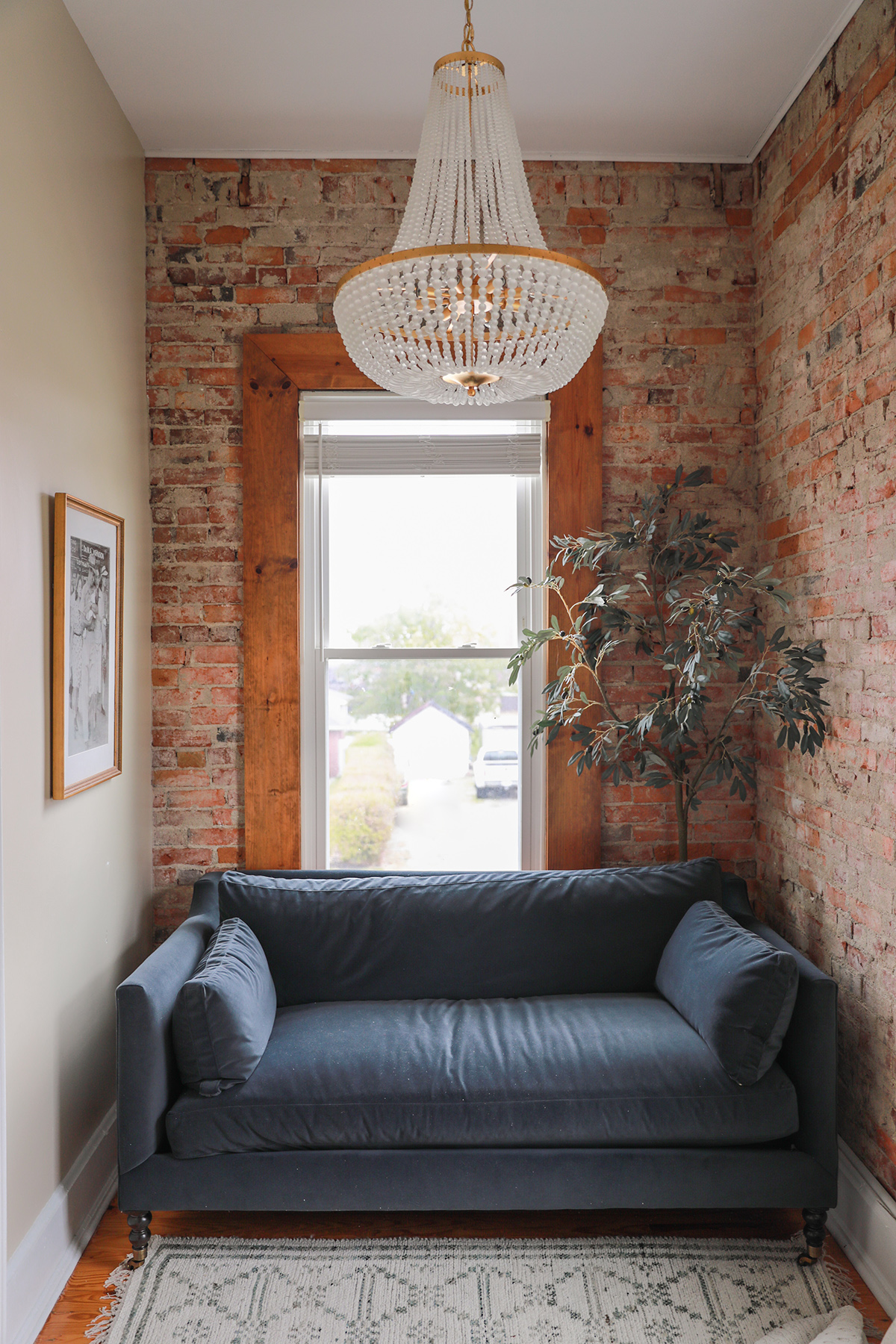 My friend Angela Rose just came out with a line of rugs with Loloi, and the timing worked out to work one into this little corner. The Rivers Collection is all reversible, so you can use either side of rug! I love both sides of this ivory/lagoon style so will most likely be rotating it every so often;)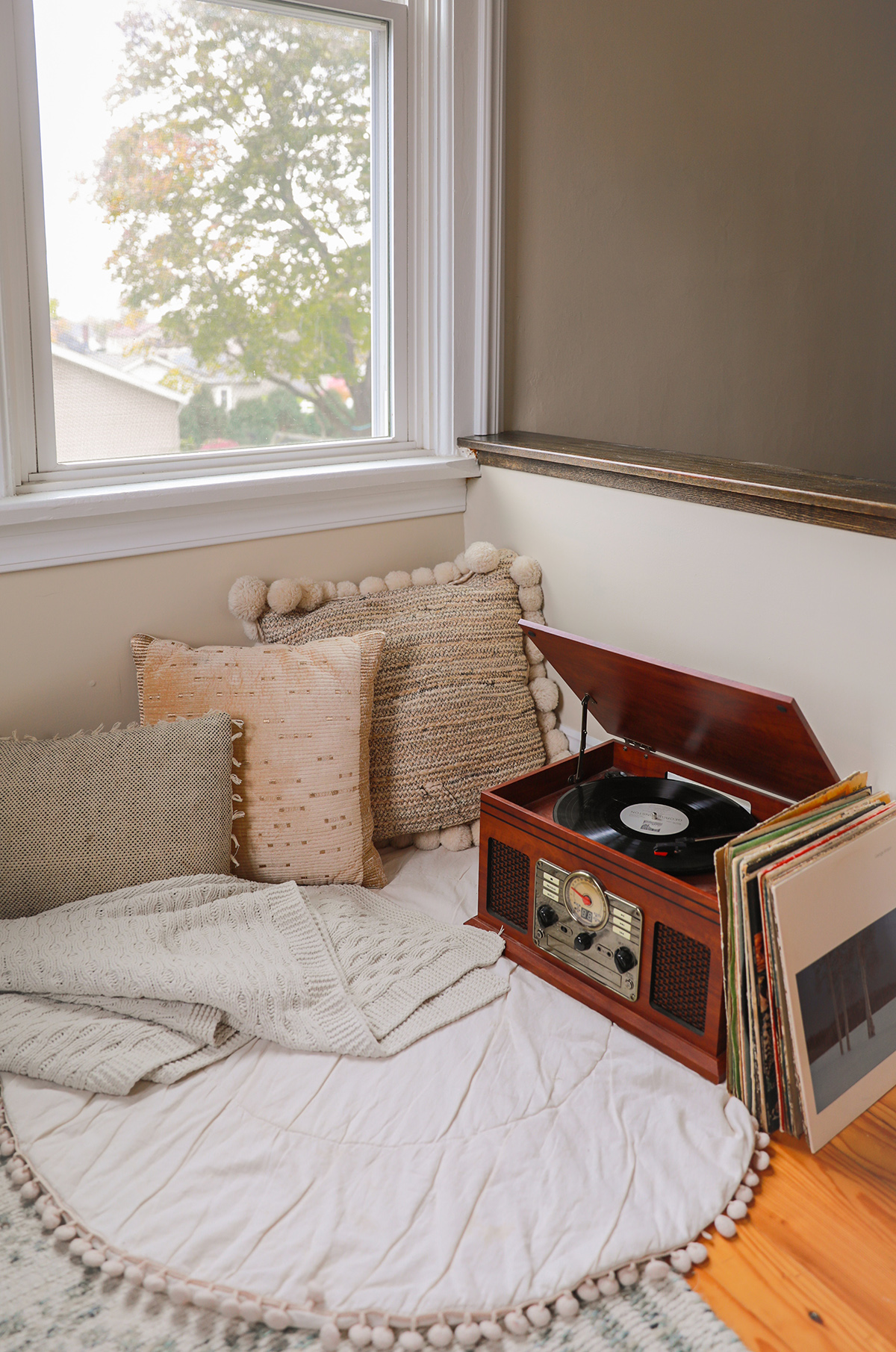 We have had this vintage record player for a while now, and my kids love it so much. (My mom even saved some of the vinyl records from my childhood that my sisters and I used to roller skate to- ha! ) I just threw some pillows and blankets in this corner for additional cozy spots on the floor.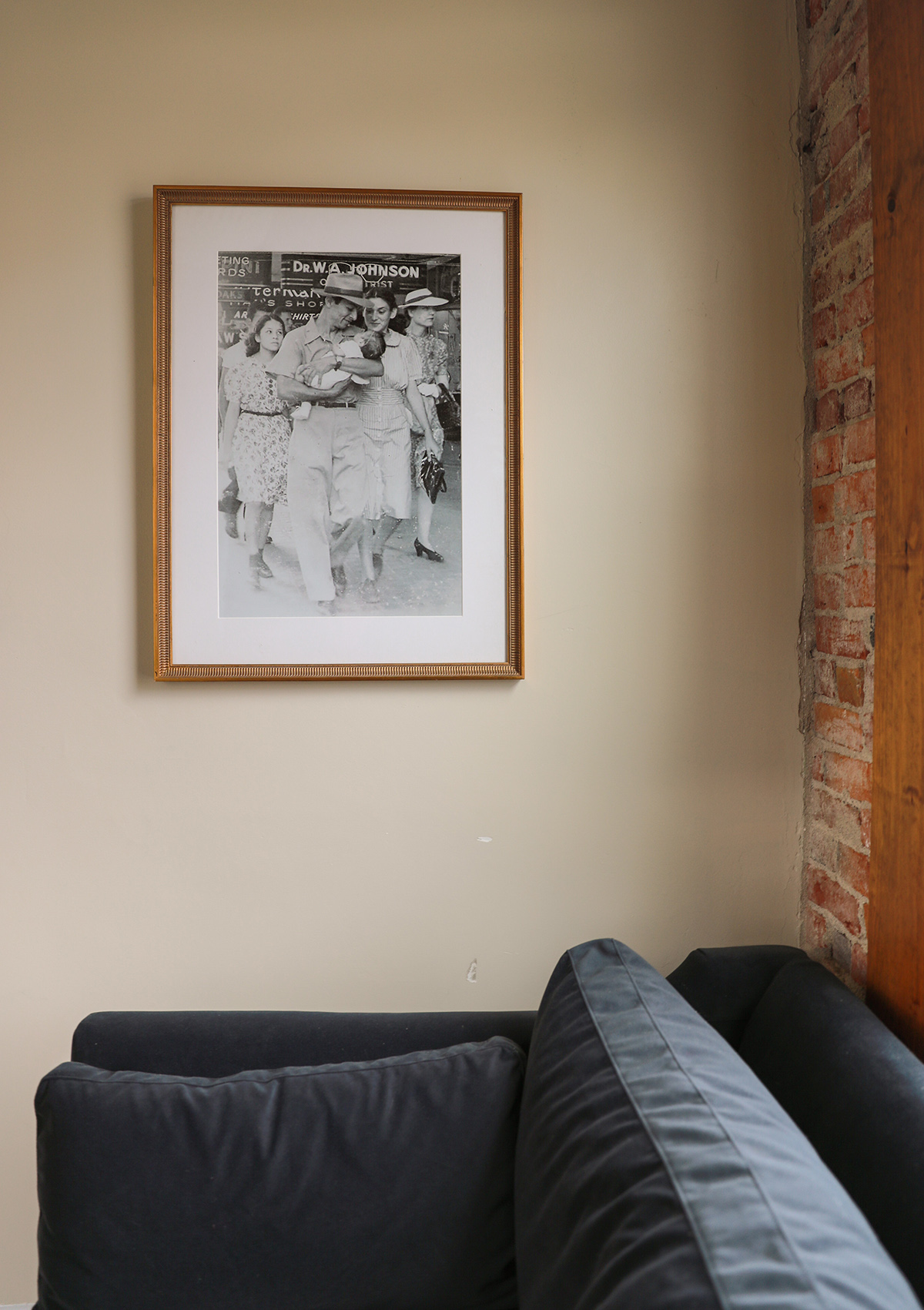 The final touch was this photograph of my grandparents. It is one of my most cherished posessions. A street photographer took it in 1941 when they were holding their first born son. I love seeing their proud gaze. I miss them dearly. My grandparents were married for over 70 years. I took the small copy of the original photograph and had it enlarged as an engineer size print, and framed at Framebridge. After hanging this photograph, I realized how it gives a greater sense of familiarity and feeling of home. I think it's time to stop procrastinating, and get our family photo gallery wall going:)
Sources:
Loveseat sofa
Chandelier
Reversible rug
Olive tree
Gold frame
Record player
Pom pillow