I usually hold off till after Thanksgiving to decorate for Christmas, and it usually takes me all month long! I do however try to order anything we may need ahead of time so it I don't have to think about it once the busy weeks come. It was hard to narrow down favorites this year! There are some really timeless options that you can re-use for many years.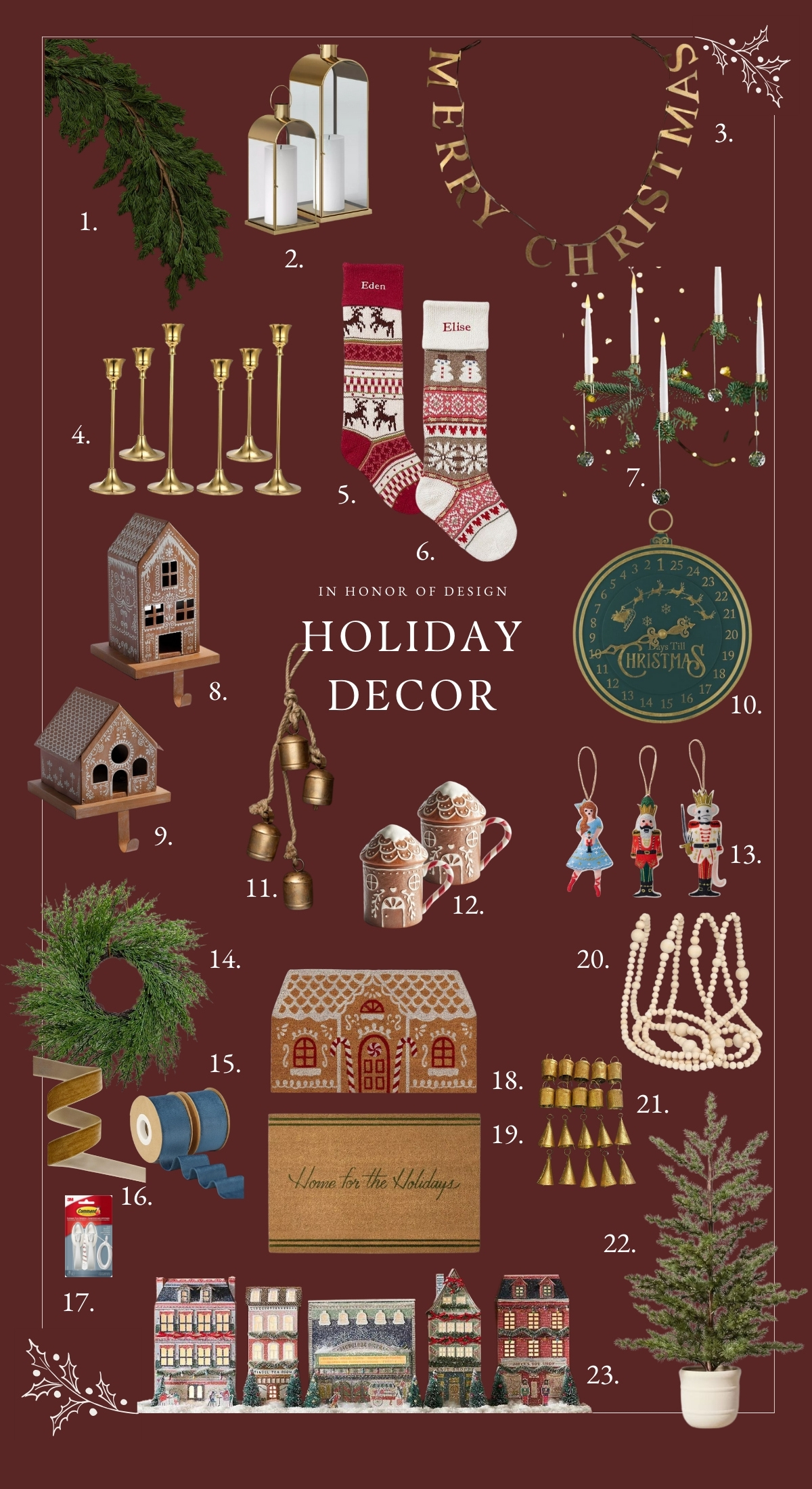 1 // 2 // 3 // 4 // 5 // 6 // 7 // 8 // 9 // 10 // 11 // 12
13 // 14 // 15 // 16 // 17 // 18 // 19 // 20 // 21 // 22 // 23
1. Faux Cedar Pine Garland– This is by far one of the best faux garlands I have ever seen. We needed some for our banister, so I ordered this to hopefully re-use for years to come!
2. Gold lanterns – I have used gold lanterns for the past 5 years by our fireplace or on our porch. It is one of my favorite decor pieces for the holidays.
3. Merry Christmas Banner – I love the way this looks on a mantel. So simple and timeless.
4. Set of gold candlestick holders – I have some similar ones that I have used over and over again in all seasons!
5. + 6. Knit Stockings – I got these for the girls a few years ago. I loved that you can add personalization. They are large too!
7. Flameless tree candles with crystals – Such a beautiful set and nostalgic take on tree candles in a safe and re-usable style! I also have these clip on tree candles we have loved.
8. + 9. Gingerbread stocking holders – I love how this would make such a sweet village while also holding stockings!
10. Countdown to Christmas clock – Couldn't resist including this – I know my kids would LOVE this visual countdown clock.
11. Golden bells – I love using these in wreaths or over banisters. This is a beautiful set!
12. Gingerbread mugs with lids – My favorite I have seen this season!
13. Nutcracker felt ornament set – We give the kids one ornament every year, and my kids still love the Nutcracker so going to give the youngest three these.
14. Mini wreath – I have used mini wreaths and ribbon on the backs of chairs, in windows, or over kitchen cabinets in the past! This is a great one from Kirklands.
15. Blue velvet ribbon – Beautiful velvet ribbon colors for wreaths, trees, stockings, etc.
17. Cord bundler command strips – These were a game changer for hanging garland on the mantel! I was able to loop a few garlands through and it held the weight all month.
18. Gingerbread doormat – Doormats are something I can't get to last very long! They get pretty demolished . I may have ordered this on October 31st.
19. Home for the Holidays doormat – I may have also ordered this one on October 31st.
20. Beaded garland – I share this every year because it is such a great addition to a mantel or christmas tree! I add the mini gold bells to it for our mantel.
21. Mini gold bells – These are what I pair with the beaded garland!
22. Mini potted faux tree – I have used similar ones in the kids' rooms. They love having a little tree to add lights to.
23. Village houses– I have slowly collected village houses over the years. I ordered a few of these last year, and love that they light up and fit easily on bookshelves.
24. Advent calendar – (As pictured below) – We use this advent countdown card pack with our advent candles. Our kids take turns each night reading the scripture on the back of the card as we light a candle on the advent wreath.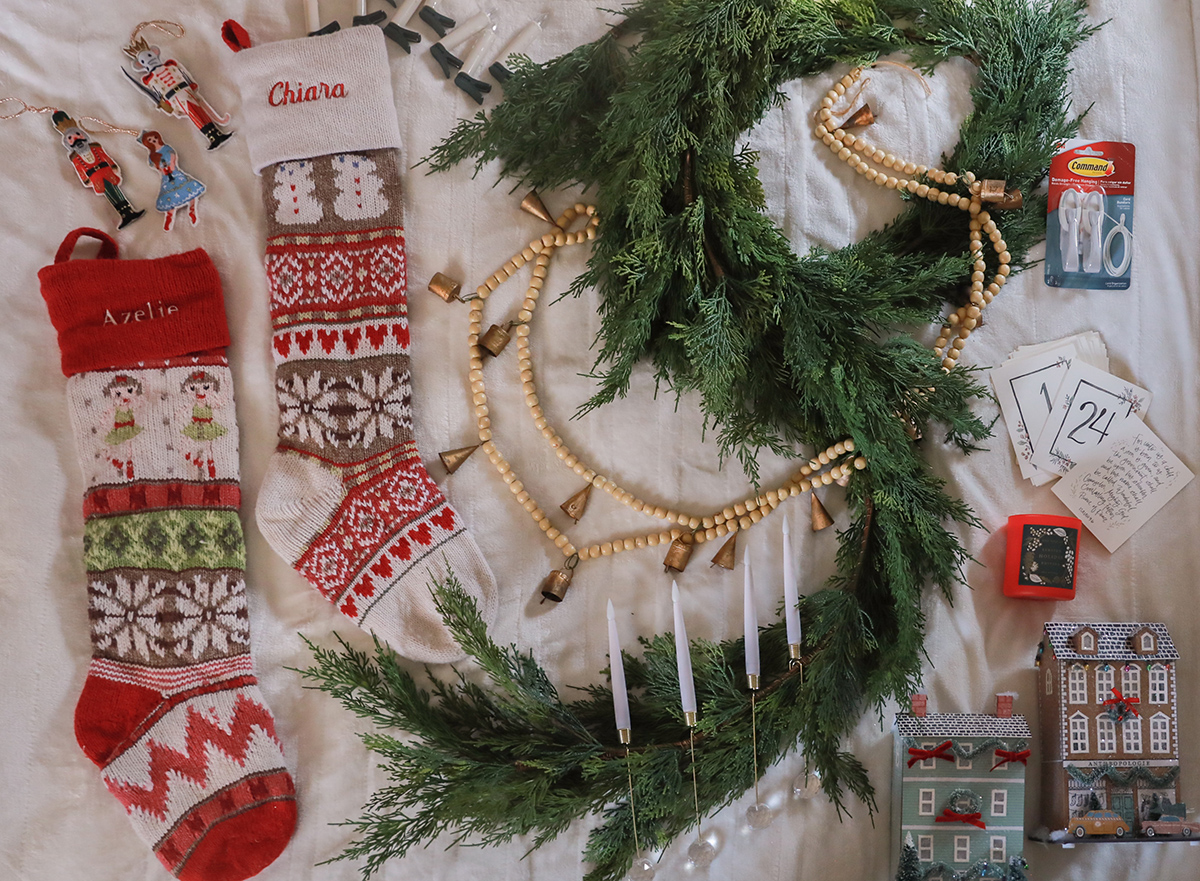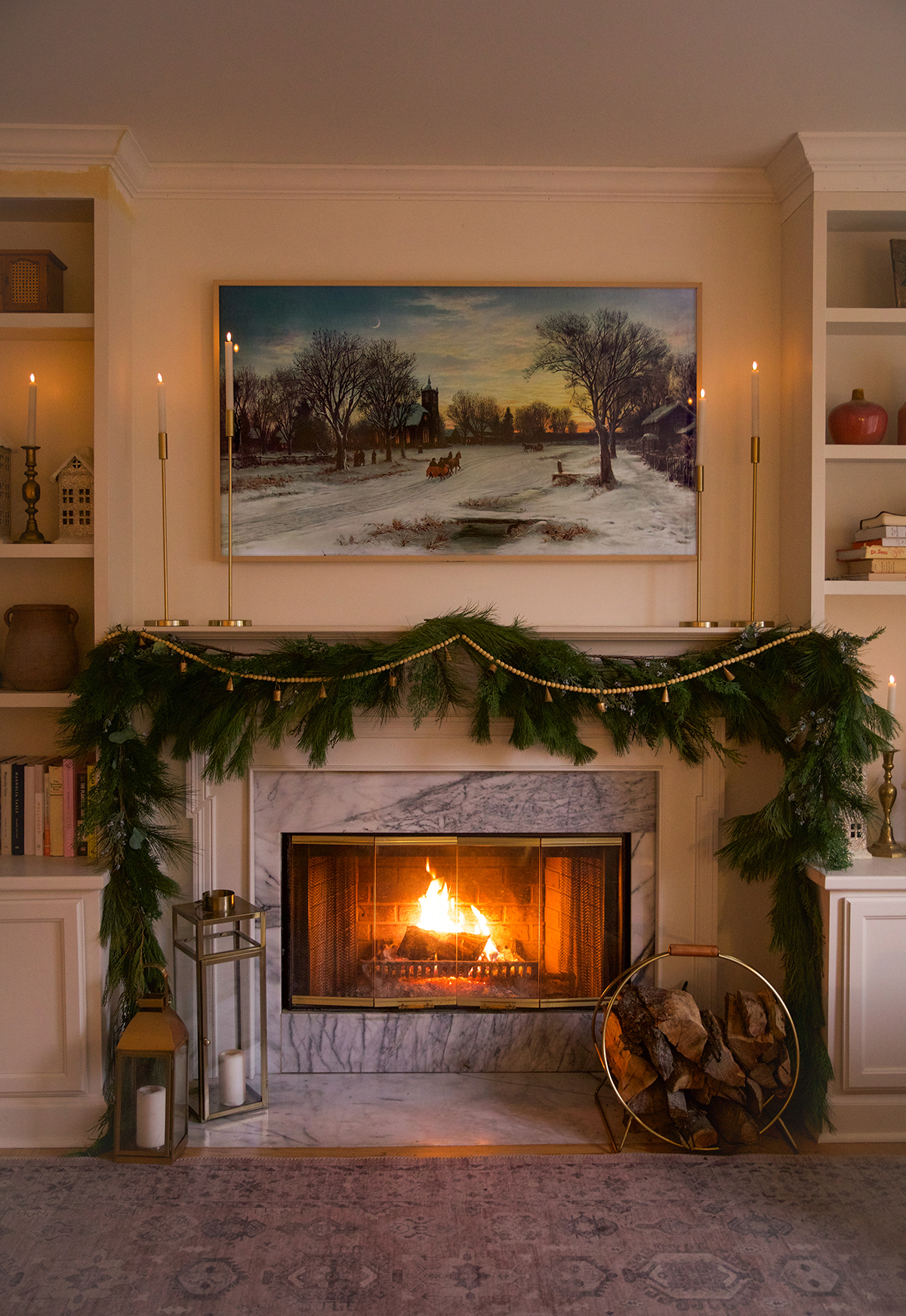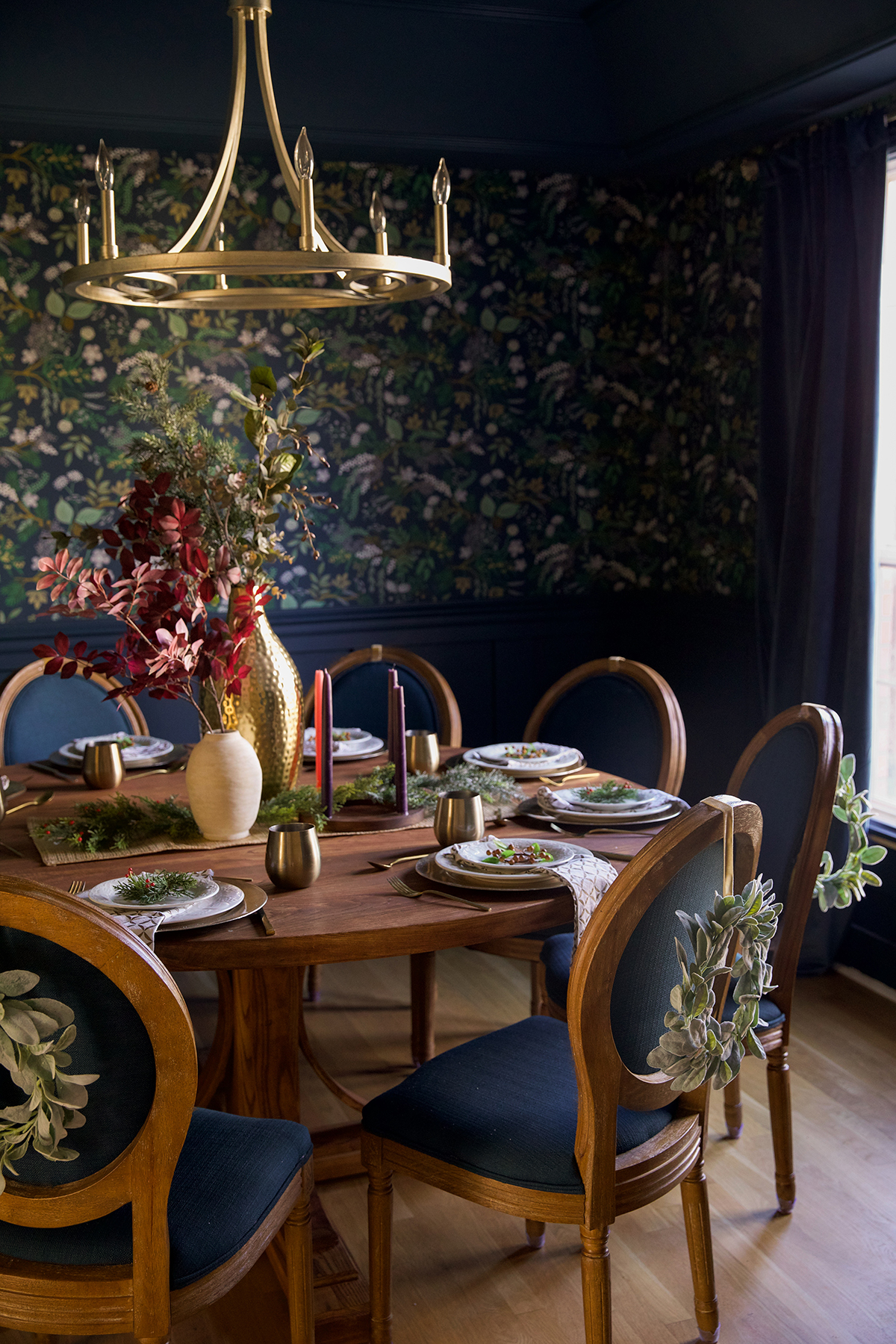 (Advent candles + wood advent candle holder, eucalyptus wreaths + velvet ribbon – I just used tape to apply)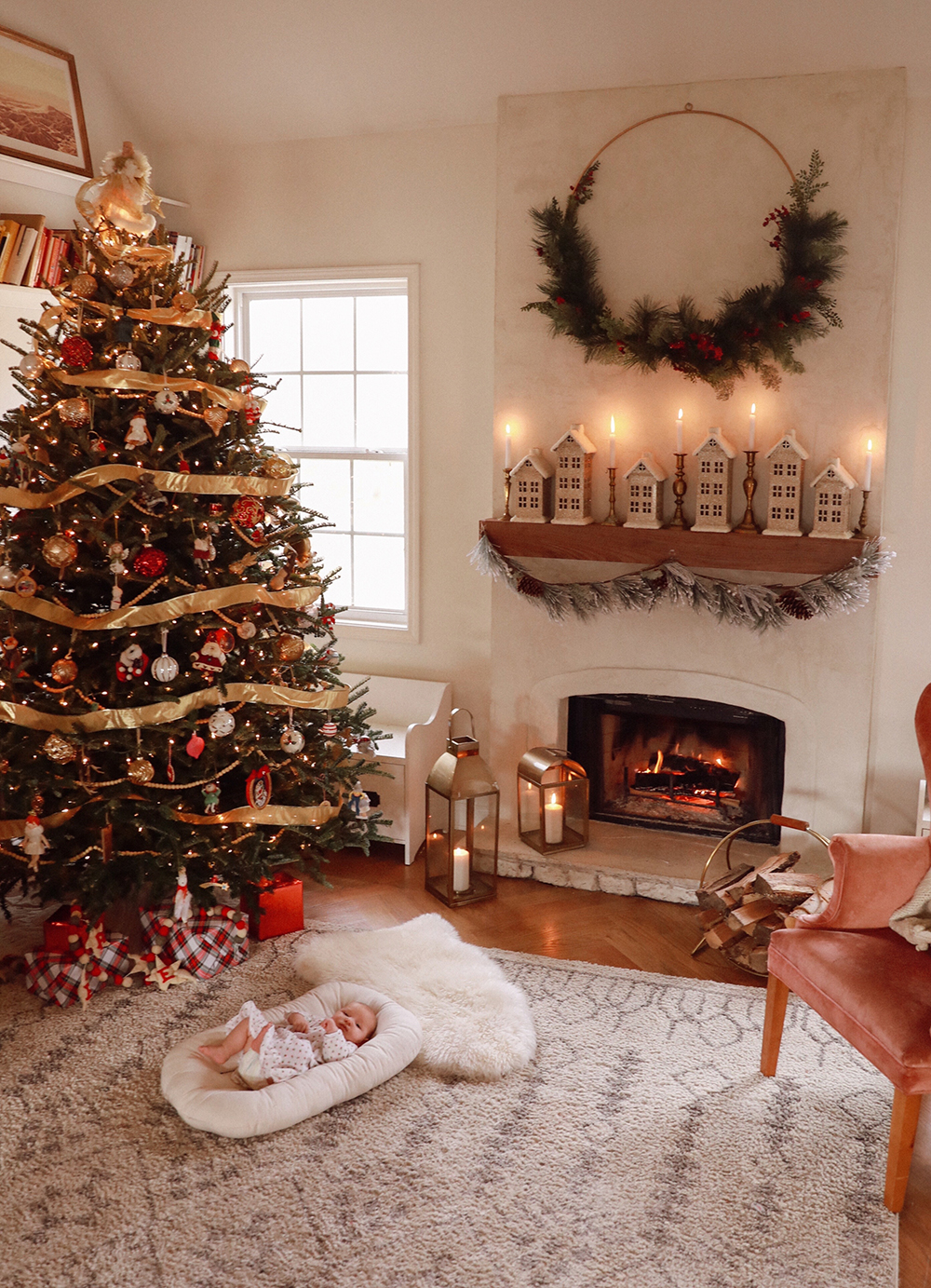 (Gold vintage candlesticks from thrift stores, led flameless candles, village houses from Potterybarn kids a few years back, gold lanterns + led pillar candles)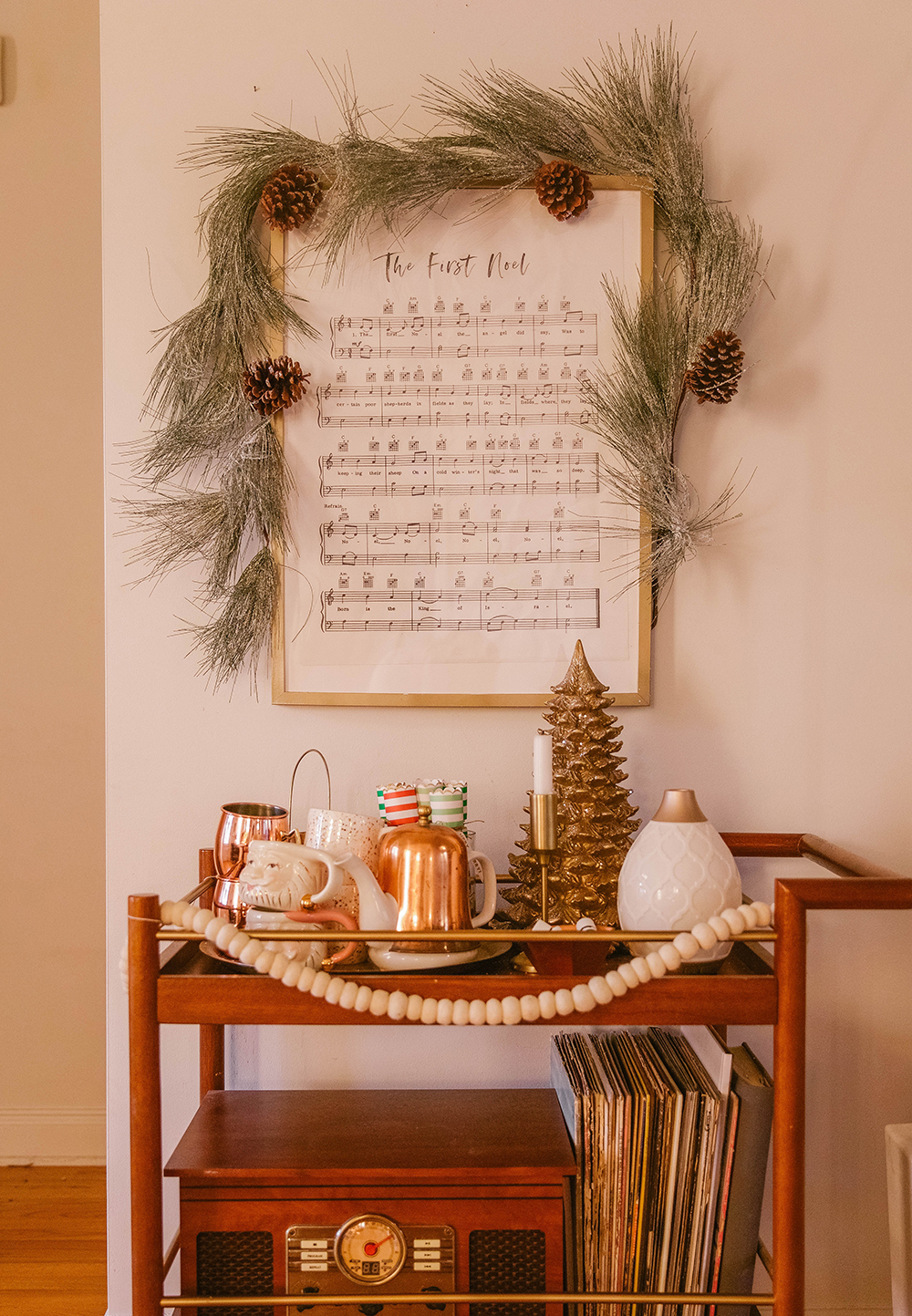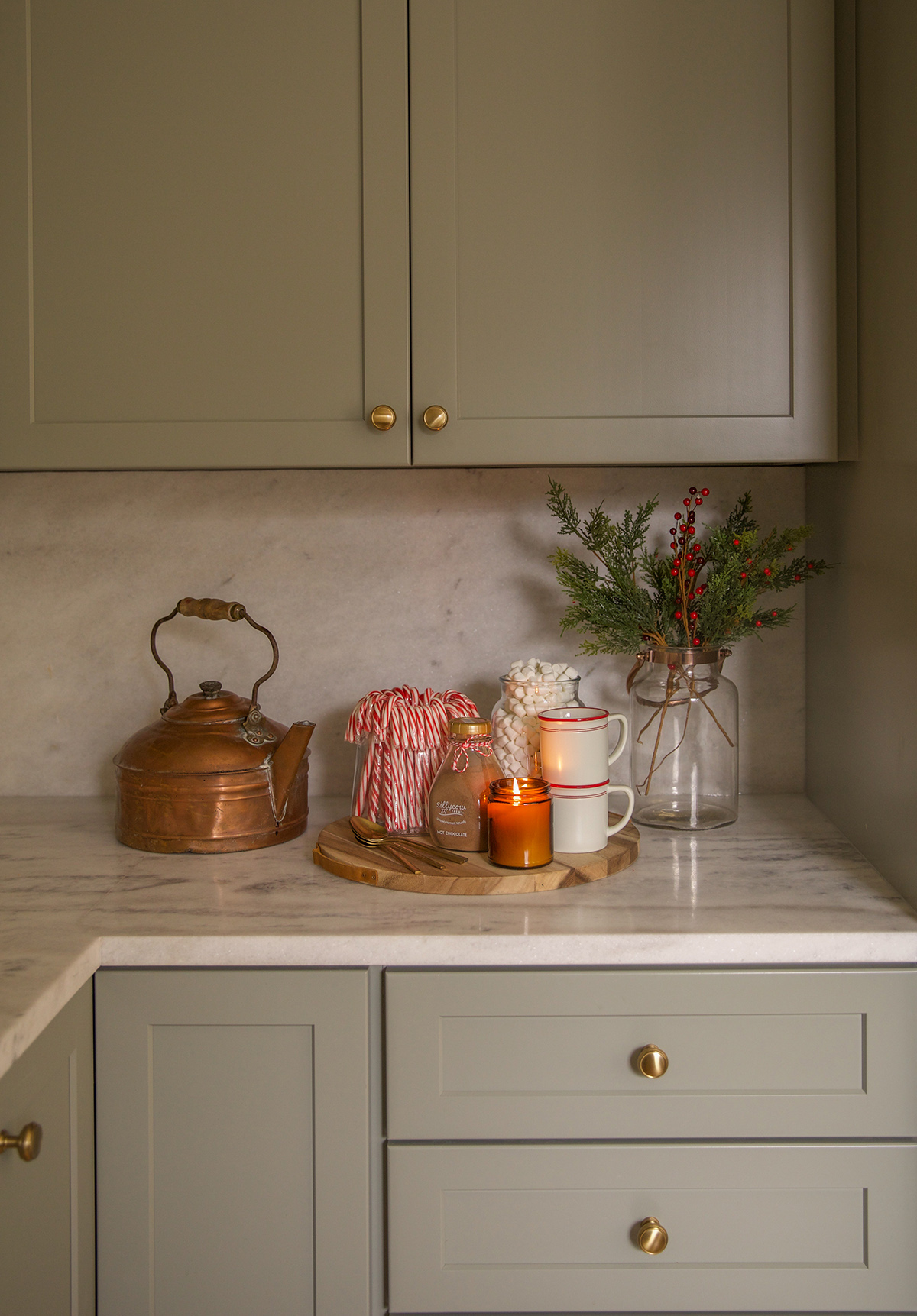 (Hot cocoa bar for the tree trimming night! Vintage copper kettle, Candy canes for stirs + marshmallow toppings placed in glass jars)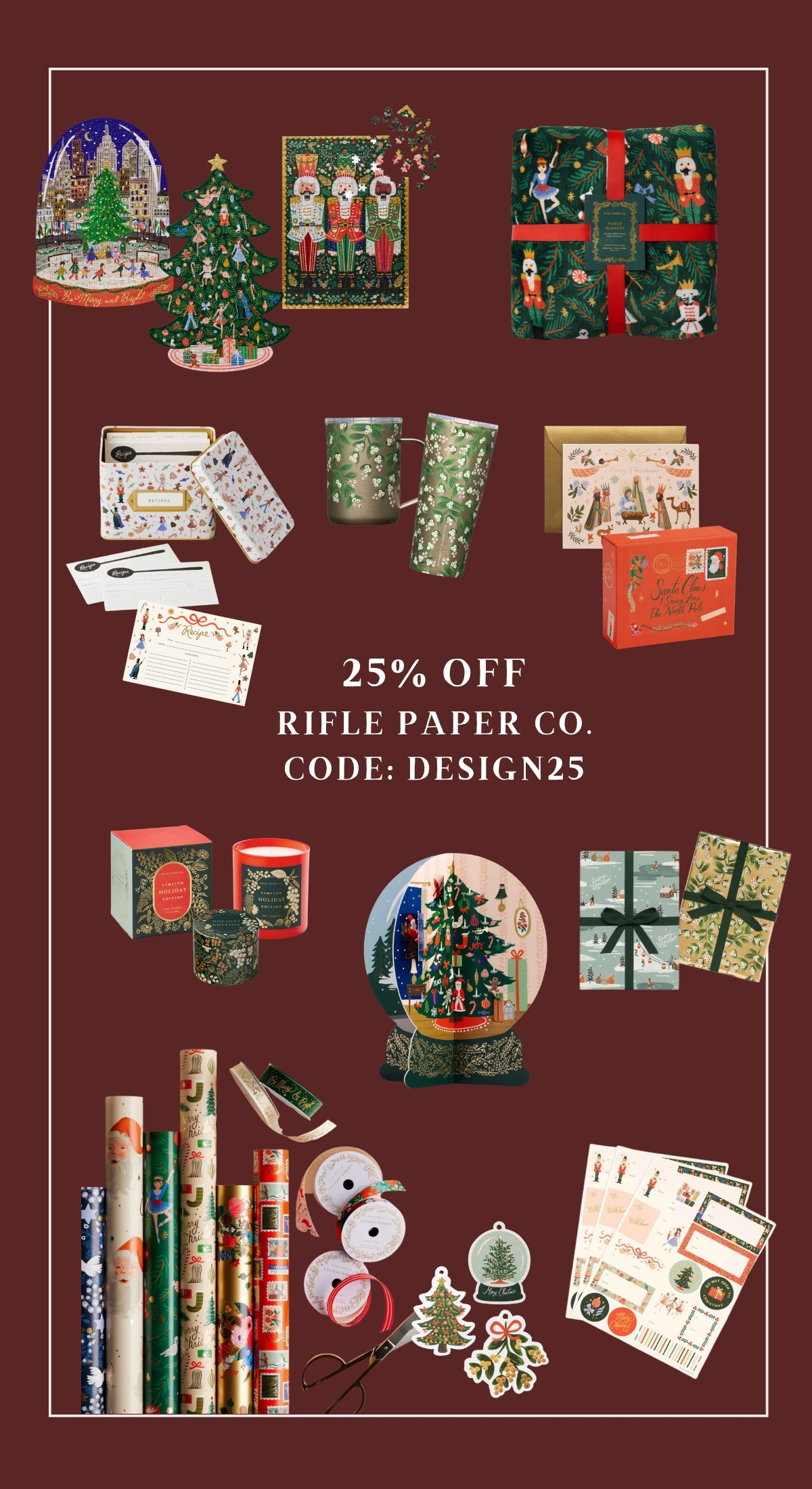 Holiday puzzles
Nutcracker fleece blanket
Recipe tin
Insulated mugs
Holiday cards
Soy holiday candles
Advent calendars
Gift wrap and gift bags
Ribbons and tags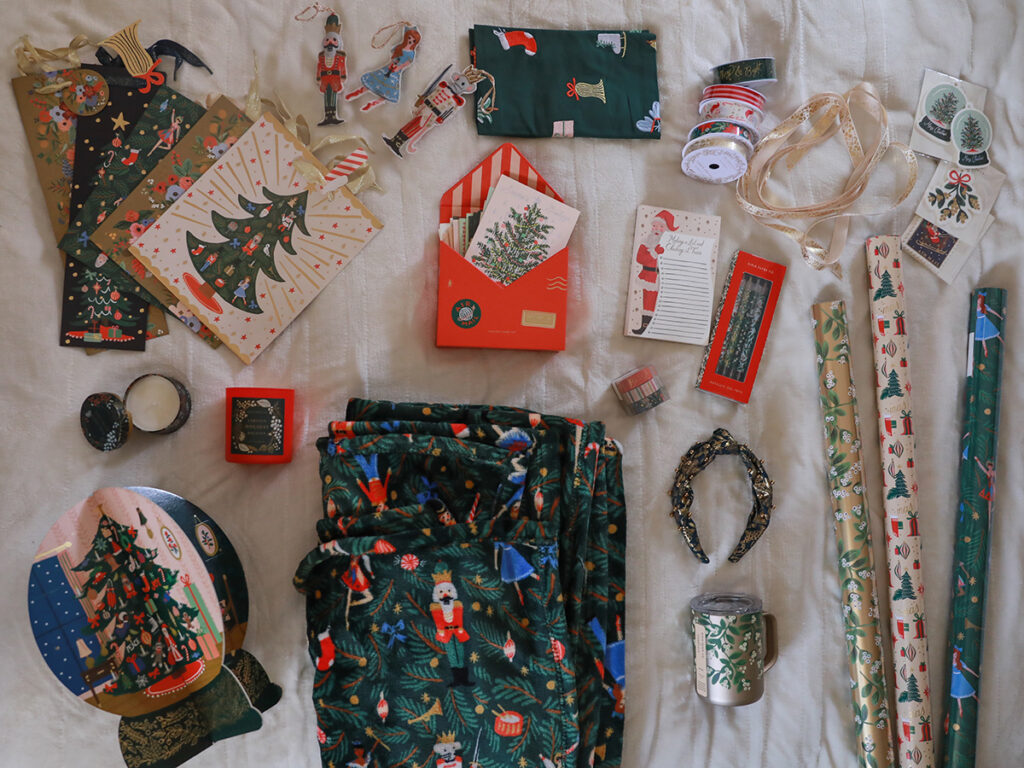 Rifle Paper Co has been a long time favorite for paper and home goods. They sent us a preview of their holiday collection so we could offer our IHOD community an exclusive discount! You can take 25% off with code DESIGN25 at checkout. Hope you enjoy!