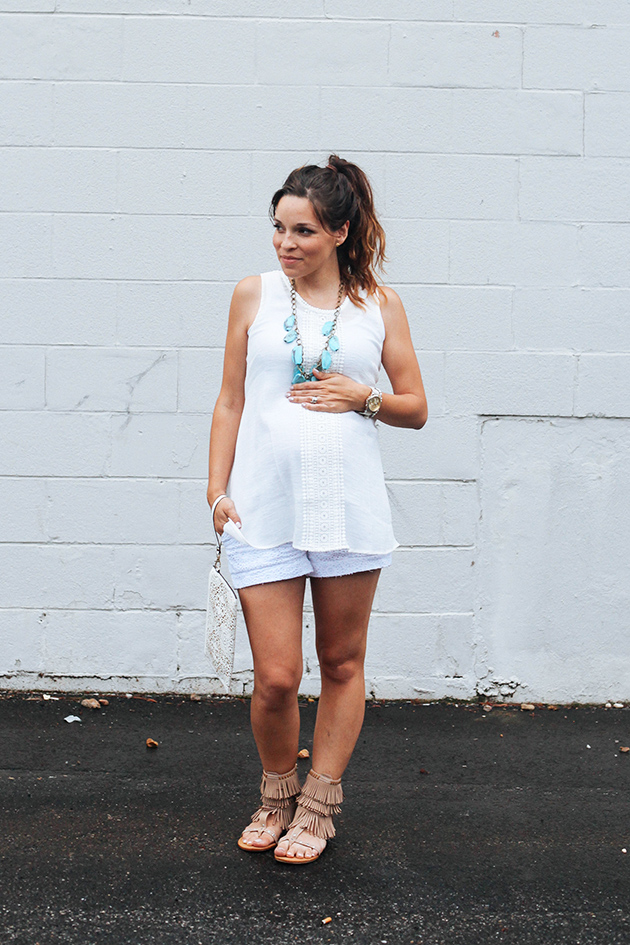 Today is the last day of the pregnancy style challenge with The Bump and Liz Lange for Target! Thank you all so much for following along:) If you like, you can go vote for your favorite look among all 5 bloggers who participated!
White gauzy dress tank – This is longer, flowy, and ties in the back. I know it will be one of the few tops to get me through the final stretch. It is difficult to find dressy tops that are actually lightweight! I have the hardest time finding ones that I like. I love the detailing of this top, and it looks so much nicer than what you would expect the price tag could buy.
Blanqi bodystyler – I wear these tanks almost every day for either layering, working out, or on their own. The over the bust white tank is perfect for underneath the Liz Lange top since it was see through.
White shorts – I have two pair that I have been rotating. I would have scoffed at maternity shorts my first pregnancy, but the comfort level cannot compare to the sometimes painful rubberband trick. I am not looking back.
Fringe sandals – They are comfortable and they hide my cankles so I consider them winners.
Bags and dark circles under my eyes – a pregnancy staple;)
We are heading to Raleigh, NC this weekend! We are all looking forward to this little getaway. We will be sharing some of our favorite spots on instagram and facebook. Have a beautiful weekend ahead~