Confession: I have never cooked anything with Kale! Lauren of Love Lola is breaking my fear of Kale with this incredible recipe….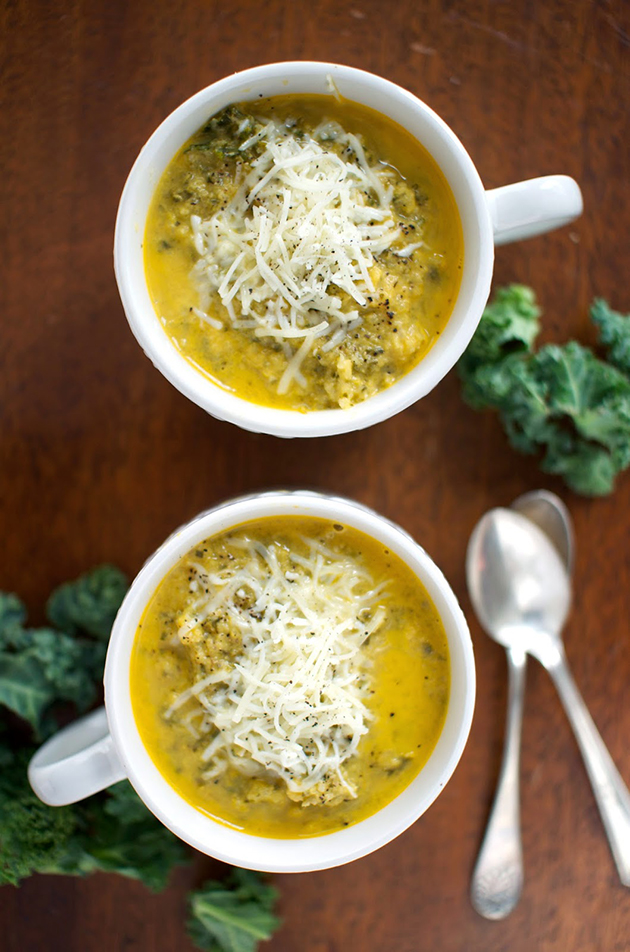 This soup was inspired by a spinach and broccoli soup recipe I found once. It was an immediate hit with my family flavor-wise, and a hit with me, nutritionally. My husband began asking for "the green soup" for dinner on a regular basis. I thought it would be fun to switch things up and try some different vegetables to add a little variation. I played around with it a little bit and fell in love with this
kale
and cauliflower combination. Not to mention, this soup is literally the only way I can get my husband to eat
kale
. The extra cheese on top definitely helps…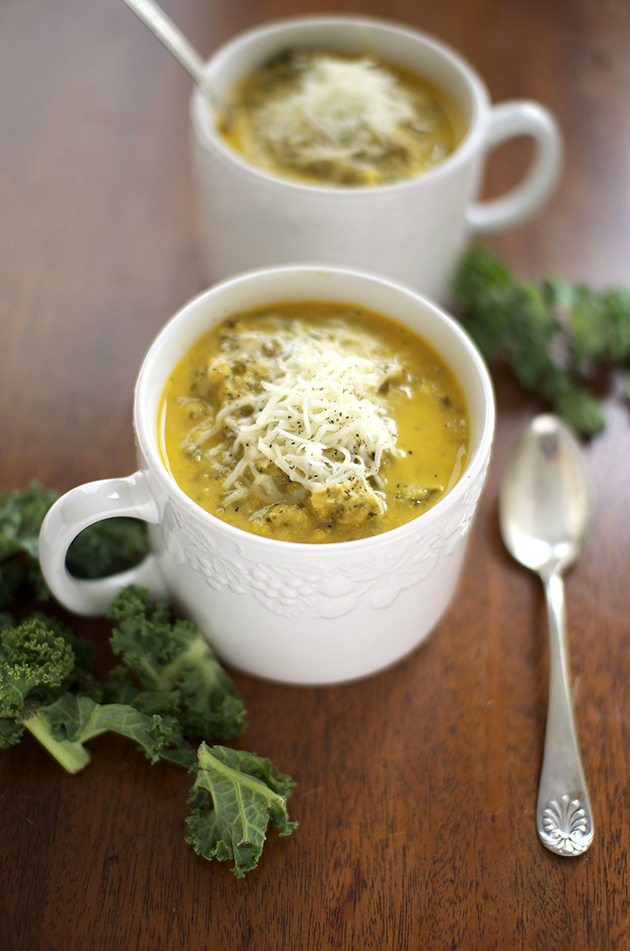 Whether it's this soup, or another vegetable focused soup, I love to keep recipes like this on the menu as the cooler weather approaches. It can serve as a great substitute to the warm comfort food we all crave, but without tacking on all the extra calories. This
kale
and cauliflower soup recipe is also a great way to sneak in some extra veggies into your diet. I love to plan ahead and make it for dinner on days when I know I am otherwise not going to be getting the vegetables that I need.
Kale

and Cauliflower Soup
Serves: 2-4
Ingredients:
1 tbsp. extra virgin olive oil
1 yellow onion, diced
2 cloves garlic, minced
1 head cauliflower, rinsed and chopped
5 cups
kale
, rinsed and dried
4 cups low sodium vegetable broth
1/2 cup parmesan cheese
1/4 cup tahini paste
salt and pepper, to taste
Directions:
1. In a medium saucepan, heat the olive oil on medium heat.
2. Cook the onion and garlic in the pan until the onion is soft and translucent and the garlic is light brown. Add the broth and bring to a boil.
3. Add the cauliflower and cook, covered, until soft (about 4 minutes).
4. Next, reduce heat to a simmer and stir in the
kale
, cheese, and tahini paste.
5. In batches, puree the soup in a blender until smooth.
6. Transfer the soup back to the sauce pan and keep warm on low heat.
7. To serve, drizzle with olive oil and serve with extra cheese!
—
Lauren Foster is a registered dietitian, blogger, and soon-to-be mama living in Greenville, SC. She is the voice behind the food and lifestyle blog, Love Lola, where she shares how healthy food doesn't have to sacrifice flavor, and health is more that what we eat, but is a state of mind.