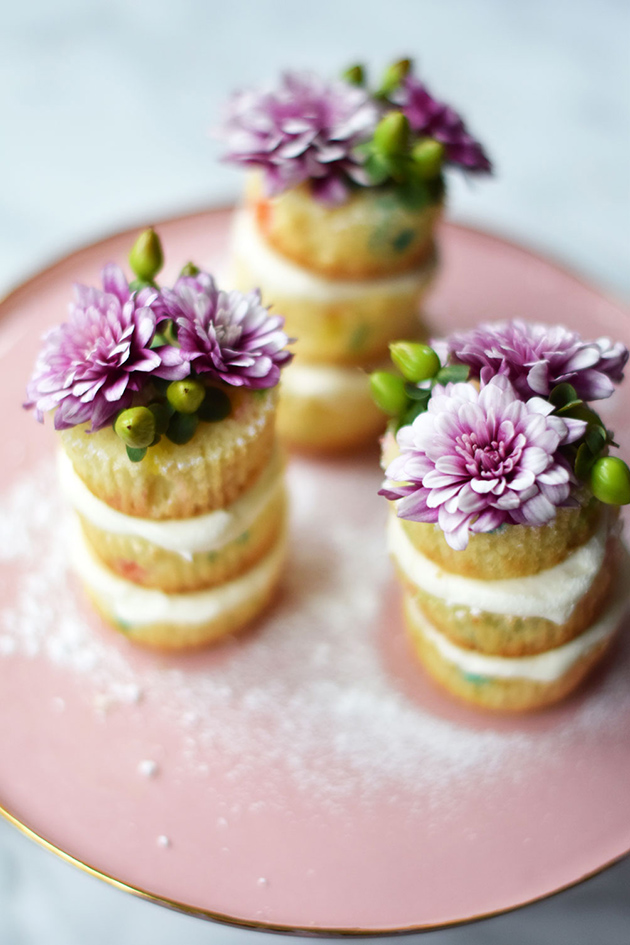 I am so thankful to the ever so lovely Leslie Musser of One Brass Fox for guest posting today. She has an incredible eye for detail, and I thought these little cakes couldn't be more fitting after the arrival of our little flower Azelie. I especially love that they are box mix easy. Read on for the easy how to and recipe for these mini layered naked cakes!


Mini Naked Cakes
Ingredients:
1 box of desired cake mix + ingredients to make
vanilla frosting
Powdered sugar
Supplies:
muffin pan (use non-stick or bake with liners)
sharp knife
fine mesh strainer
flowers for decoration
cutting shears
serving platter or stand
Directions
Prepare cake mix according to package directions
Pour into muffin tins, filling ¾ full
Bake according to box directions
Remove from oven and allow to cool completely
Using a sharp knife, cut off the top layer of each cupcake
Place one layer on the serving platter
Frost the first layer with an even coating
Gently add a second layer of cake and frost
Top with third layer and dusk with powdered sugar through fine mesh strainer
Cut flower stems using the shears and decorate each individual cake
Serve + indulge!

For more delish and easy recipes, style, and home ideas, head over to One Brass Fox! You can also keep up with Leslie on her instagram!