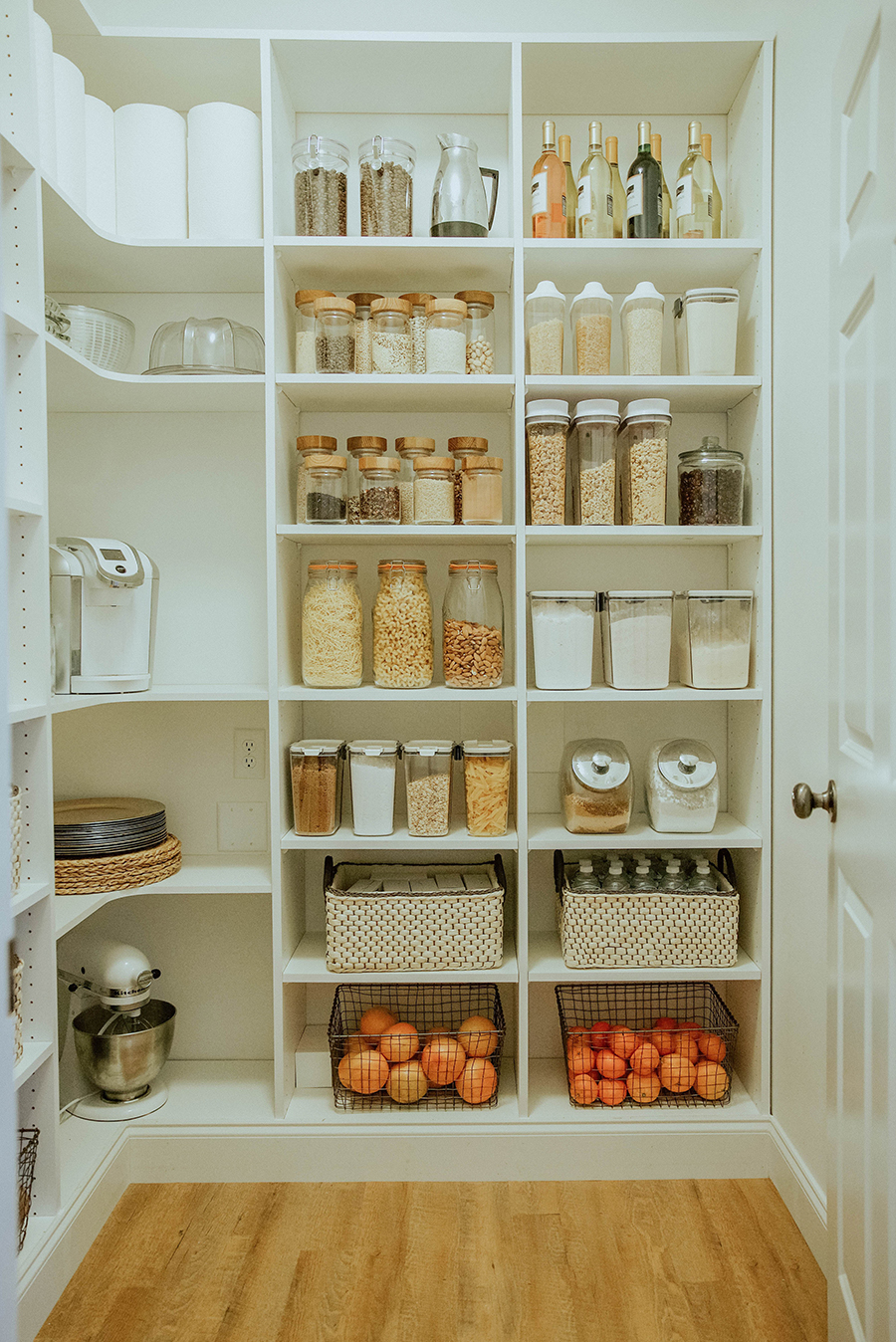 In case you missed the first pantry plan post, here is a quick re-cap! When we first moved into this home we knew we would have to figure out alternative pantry space. Our tiny pantry for a family wasn't quite doing the job for our big family. We set up some temporary storage in the garage, but we realized our laundry room right off the kitchen would actually be the perfect walk in pantry size. Here are all of the before and after photos of our walk-in pantry design, as well as a little more about the process! Don't worry, we still have a laundry room! We finished a space in the basement for that.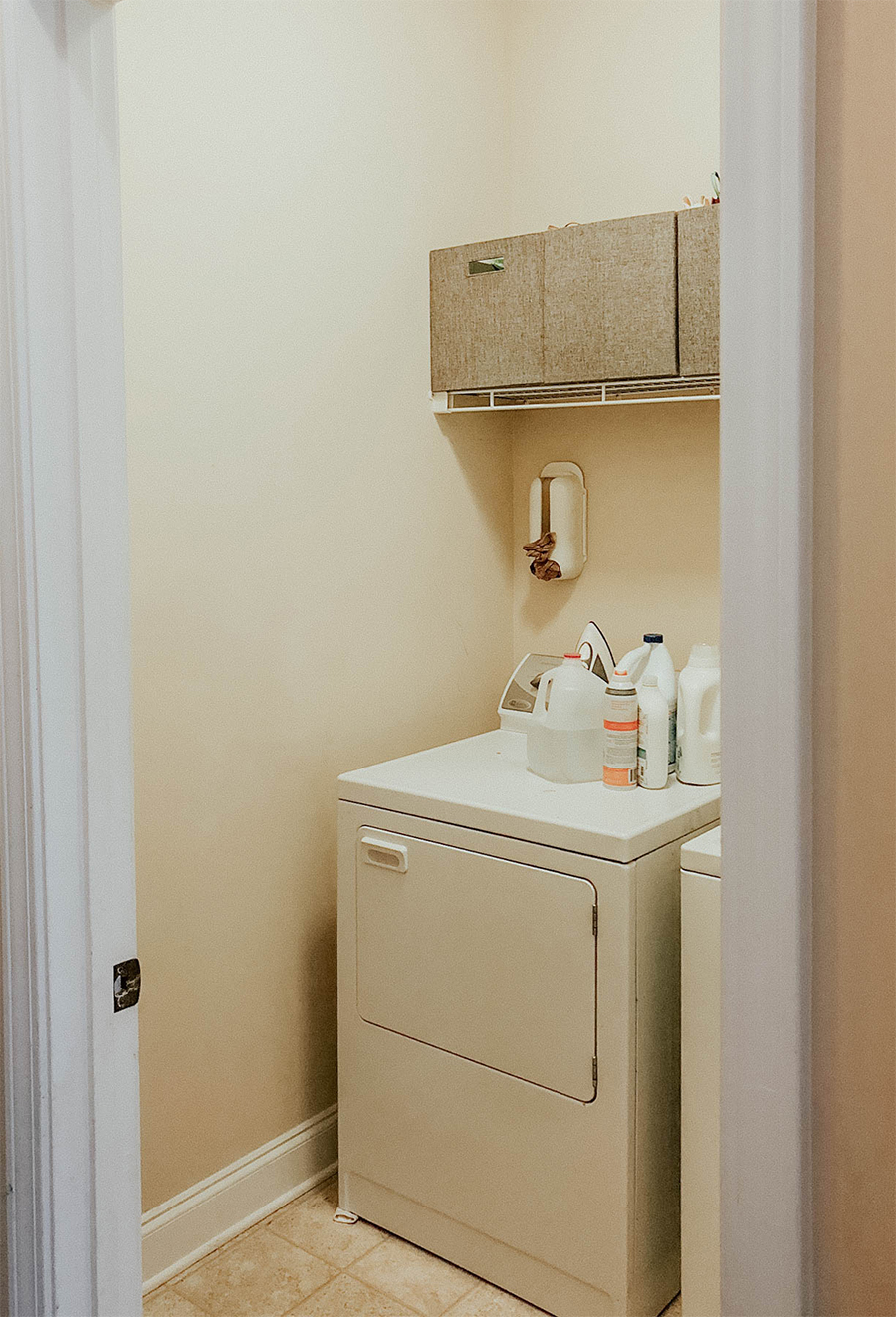 The first step to prepping this space was to haul out the washer and dryer and cover up all the outlets that we didn't need. Gabe patched the walls where needed, and painted the room Moderne White by Behr since we already had that on hand! We researched options for shelving, and found the materials we needed to do our own built-ins.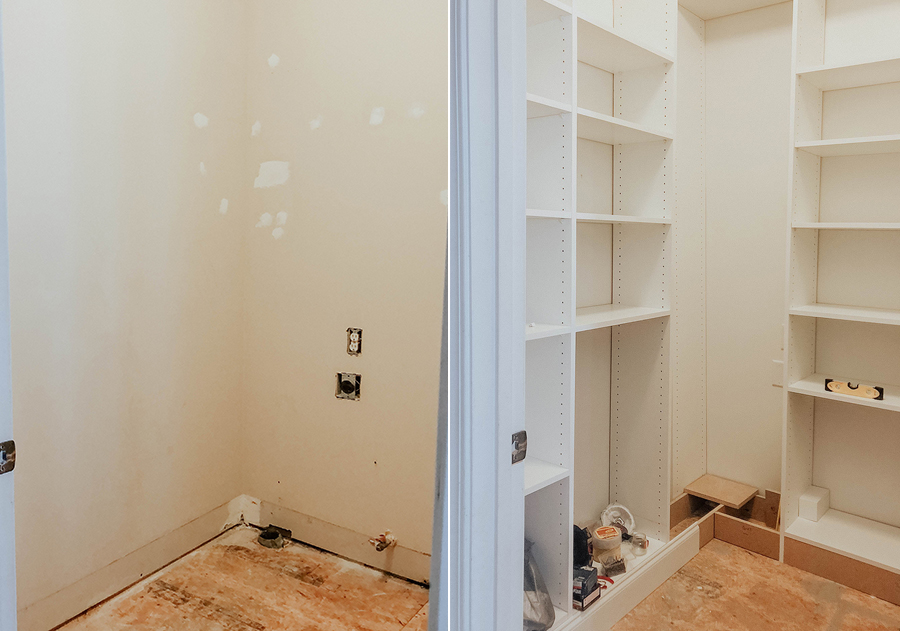 If you plan on doing built-ins yourself, we highly recommend adjustable shelves so that you can create the height between shelves you need. This did require a good deal of extra time since Gabe drilled through all of the pre-drilled holes to make sure we could insert shelving tabs on both sides. (They only come half way drilled through.) It was worth the extra time however, since we have so much more flexibility with the structure now.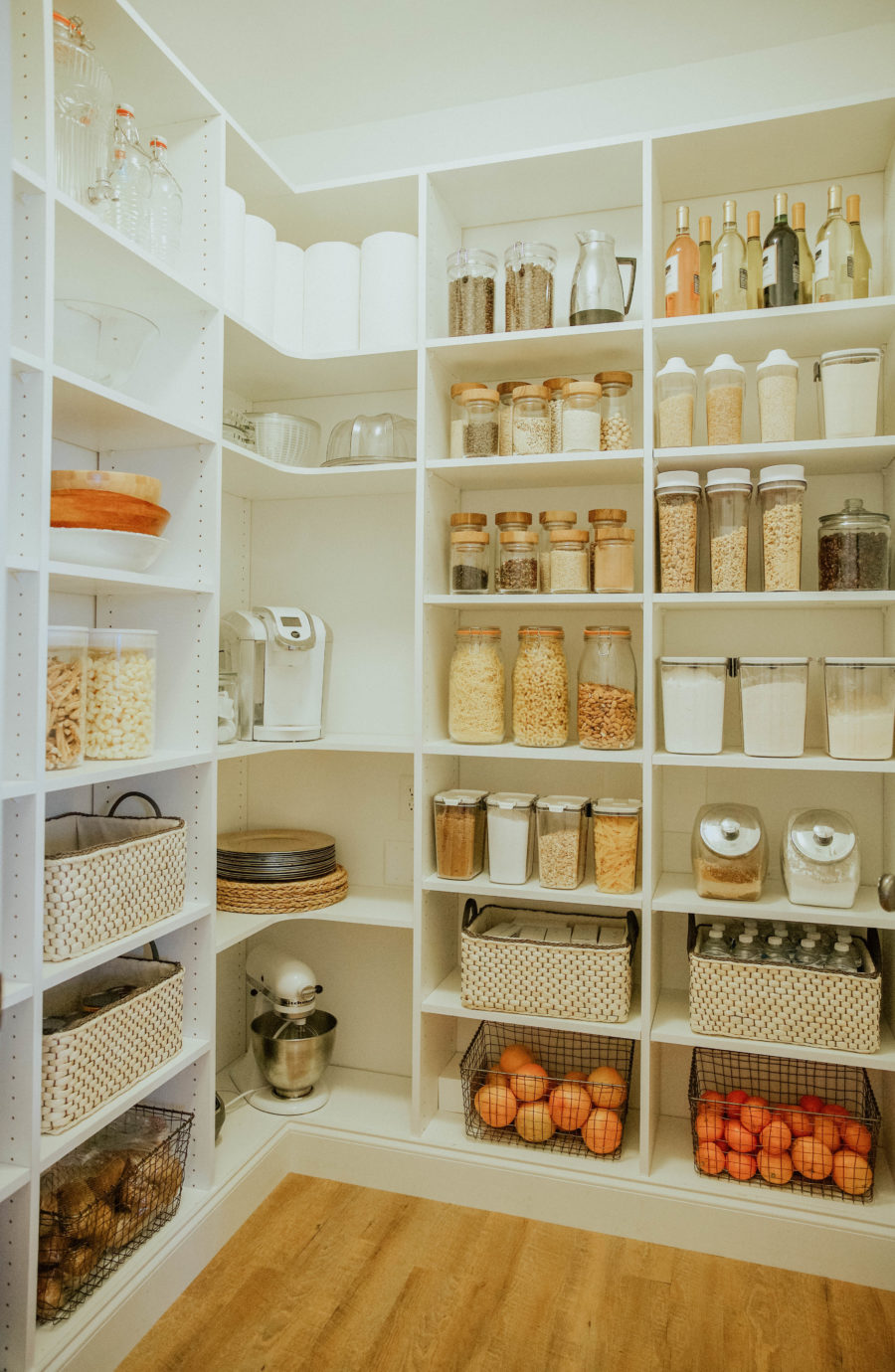 A little bit about the specs:
– We decided to use ¾ in thick and 11¾ in. deep melamine boards to construct the pantry. The vertical lengths are 8 ft. pre-drilled boards, while the shelves and top are un-drilled boards cut to length.
– All shelves except for the corner shelves are 20 in. in length. The corner is constructed from 30 in. corner shelves trimmed to size.
– The unit is secured together using 1¼in coarse pocket screws, 1½ coarse screws, 2 in. coarse screws, and a few corner brackets.
– Once the unit was fully built, we finished the floor with heritage plank flooring, which was left over from the basement, and added 5¼in baseboards. This project took about a month's worth of weekdays from start to finish!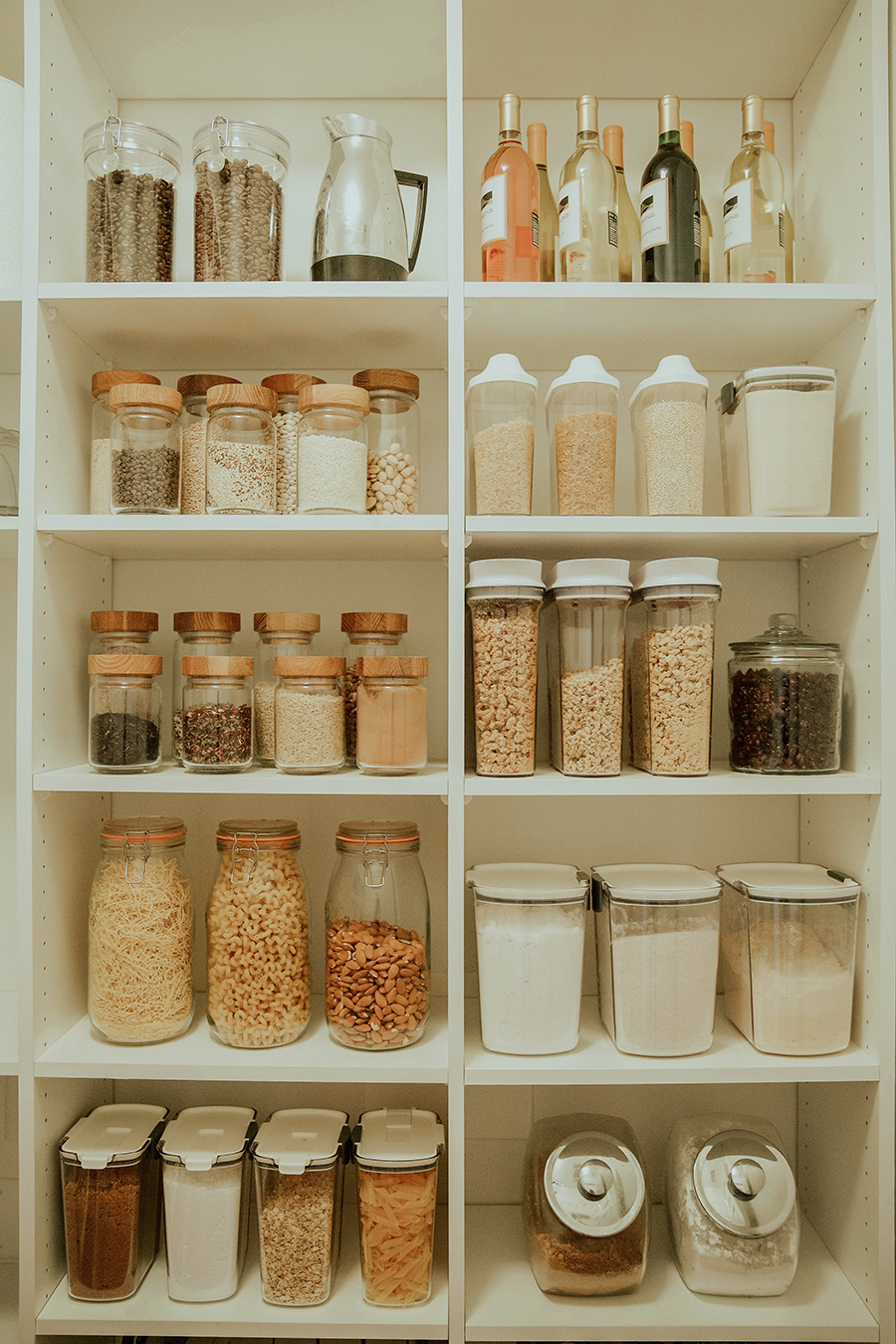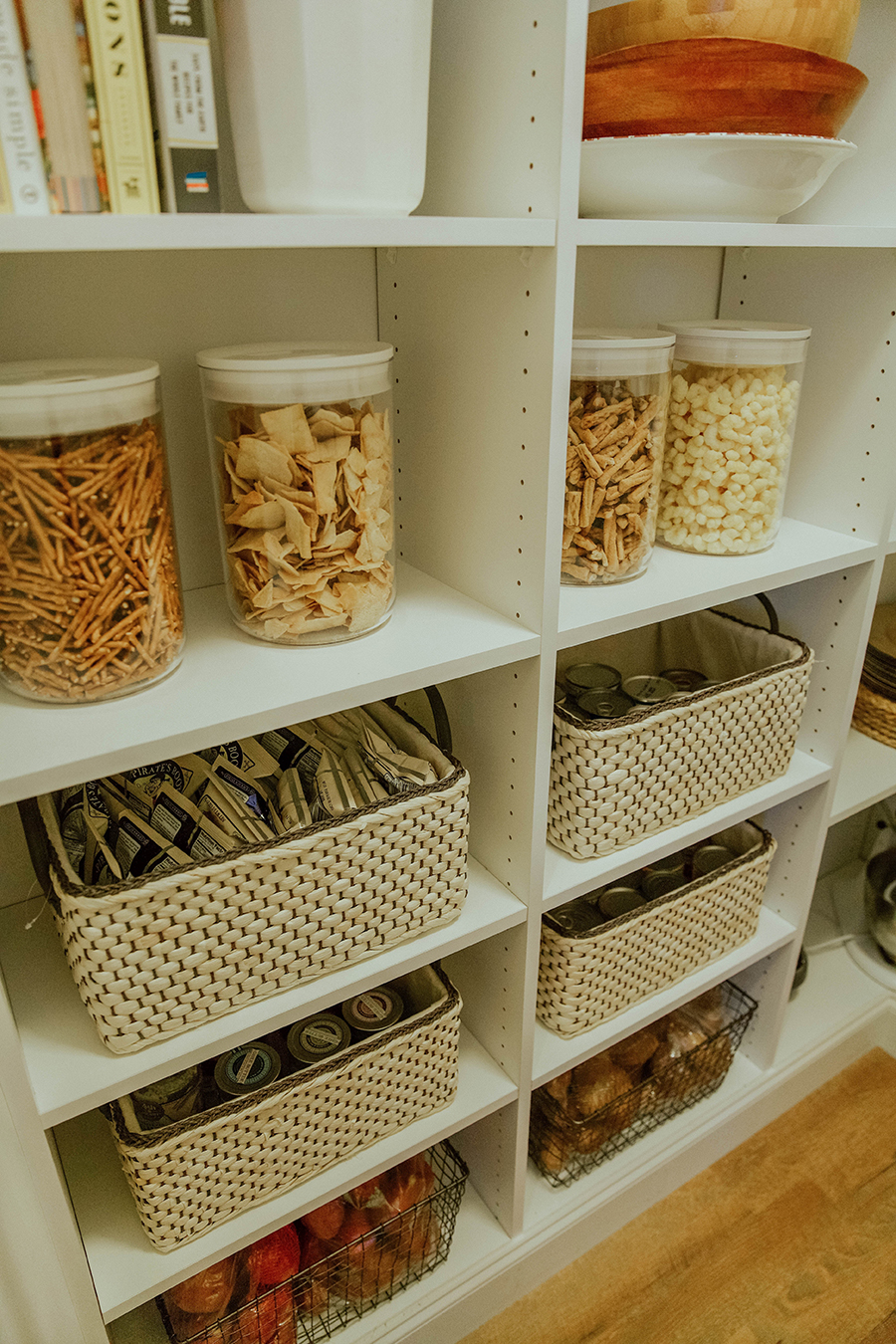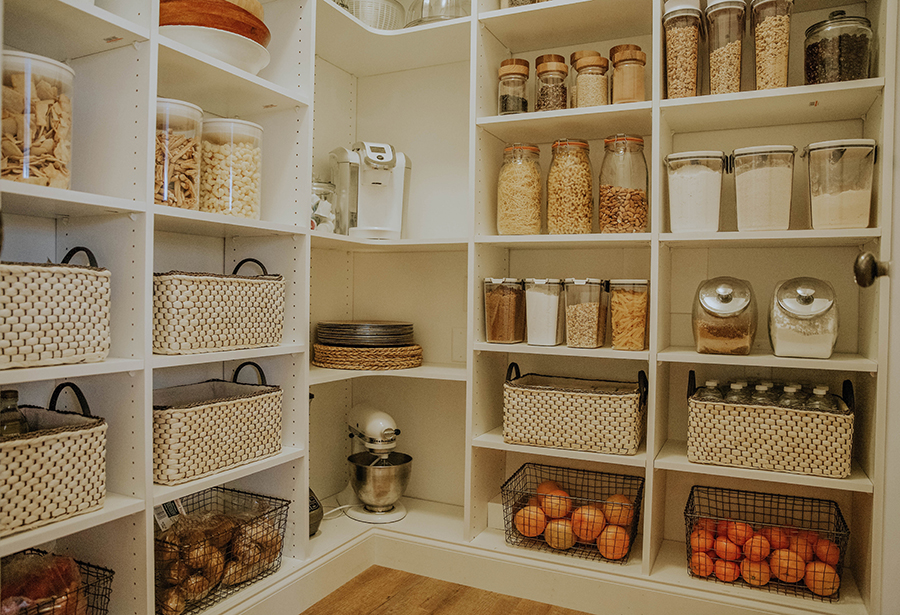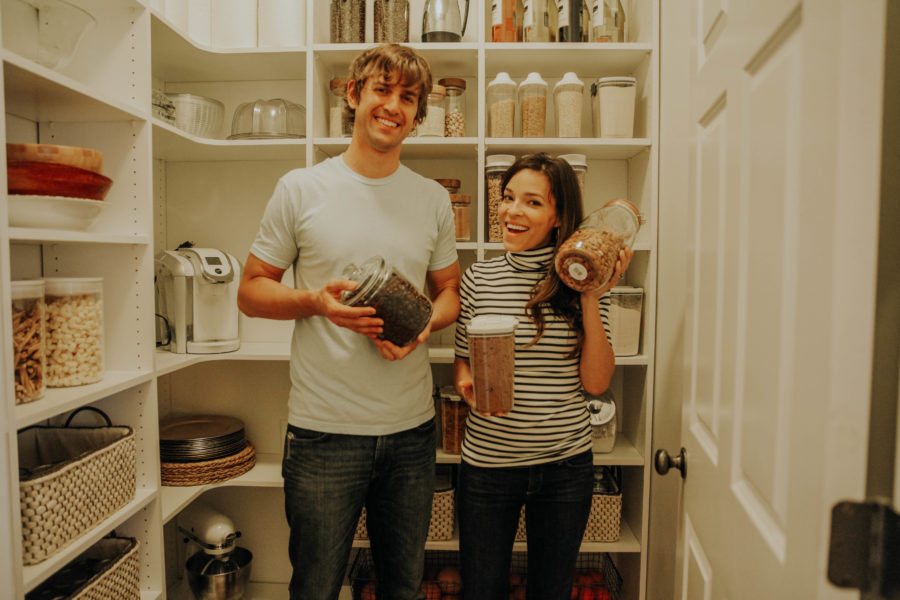 Probably the most gratifying project I have ever worked on was going through our pantry and organizing all of the half used bags of rice and flour. I apparently always think I am out of rice, and hoard it as if there was a pending snowstorm. I went to The Container Store, and found a bunch of really good options for organizing the food stock for our pantry shelves. The baskets were a great option to hold all of the loose items, snack foods, and water bottles. I had to make sure to keep all glass jars high out of reach from curious toddlers;) Here is a list of items we used as pictured:

Similar Hermitage Glass Jars (3 ltr.)
Glass Jars with Oak Lids
Prokeeper Flour and Sugar Containers
Cereal Dispensers
Acrylic Canisters (Used for coffee)
Slide and Pour Dispensers (used for rice)
Click Clack snack canisters
Rustic Wire Storage Baskets
Woven Storage Baskets

The total cost of the re-build was a little over $500, not including the flooring costs, and I know I will be forever grateful to Gabe for giving us more space to stock up on copious amounts of the G.H Creters popcorn from Costco. But truthfully, so grateful to have a little more flexibility to buy items in bulk and see everything in one place. I have a feeling it will lead to less waste and more motivation to cook! Let us know if you have any questions at all, and we would be happy to answer.
Thank you to The Container Store for teaming up with us for this post!