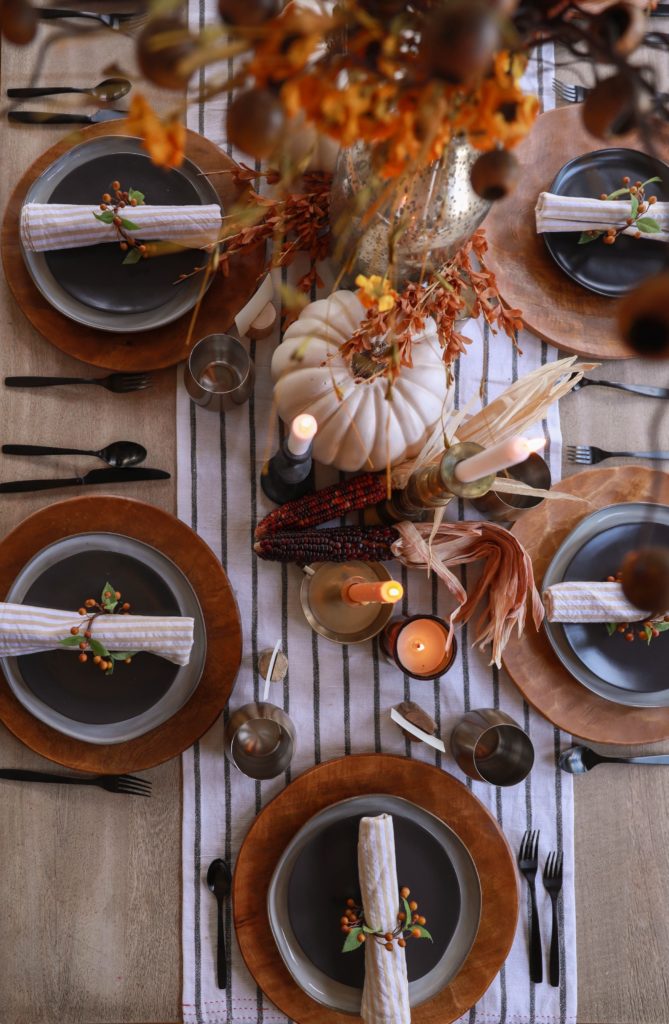 It felt good put on the styling hat again. It's a fun outlet for me amidst all of the sleep deprivation of a new baby. We are going to have a halloween shindig with my brothers and sisters this year so today I wanted to share with you some simple autumn table setting ideas I will be using throughout October and November.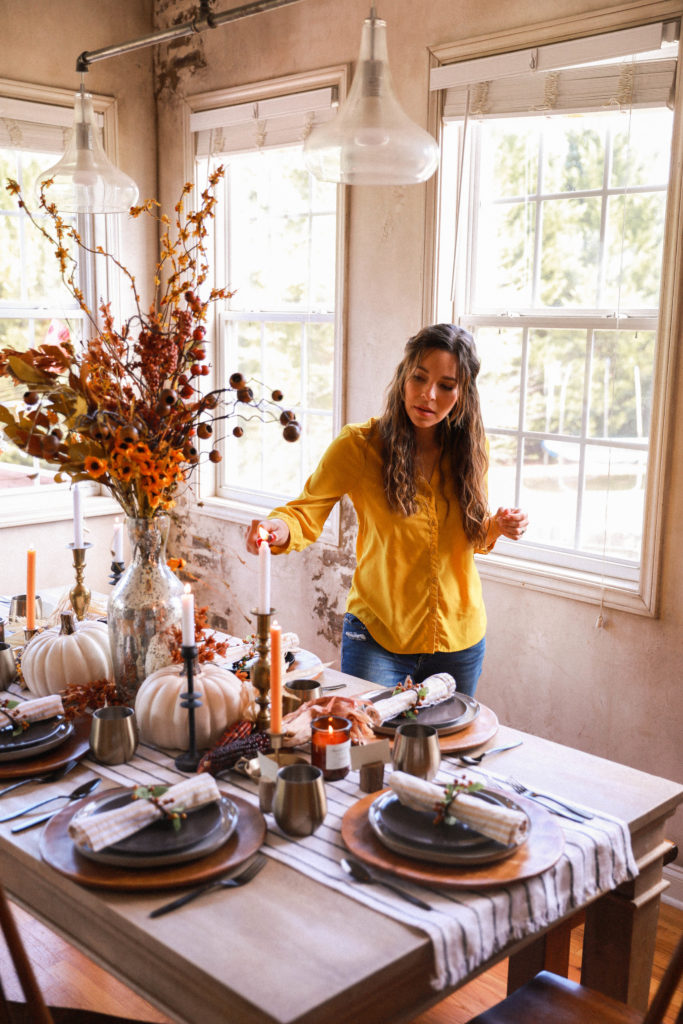 I have slowly collected plates and linens over the years that can work together in a bunch of different ways. We store them in our buffet cabinet in the kitchen so whenever a new season is coming up, it's easy to swap out napkins or table runners for a different look. I love how these glazed plates work with any combination, as well as these wooden chargers (which are on sale right now!).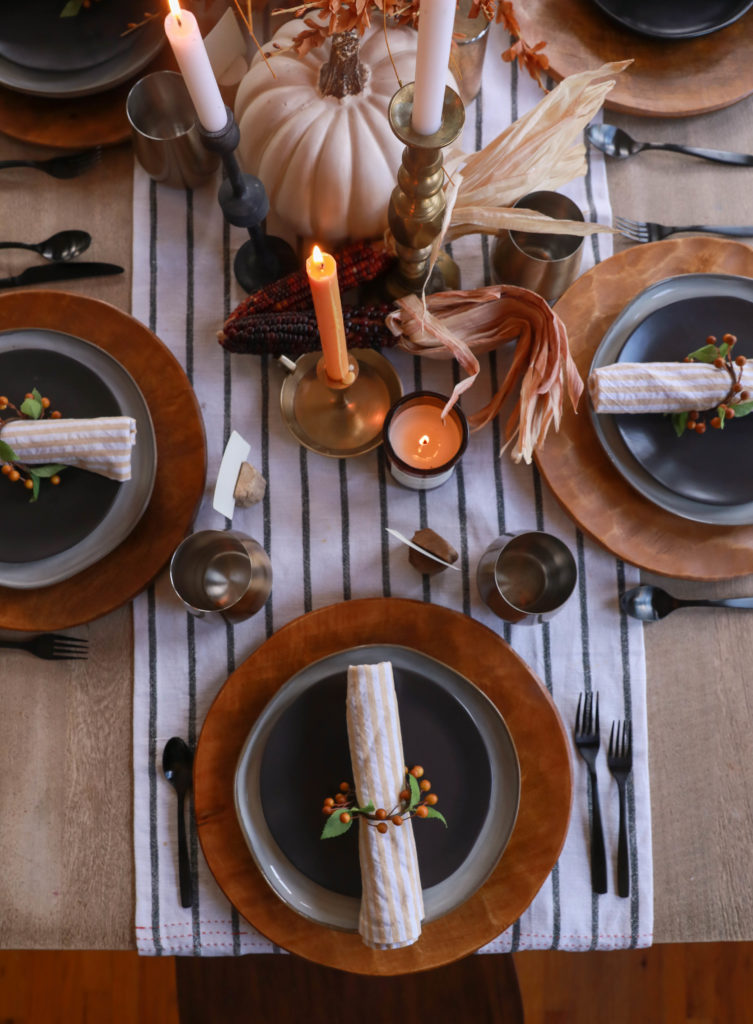 I have also used the vintage candlestick holders for table settings, mantel decor, bar cart, etc. They just seem to rotate rooms throughout the year. The main thing that makes this set up feel more Halloween to me is the striped table runner! A pretty simple switch to the usual fall lineup.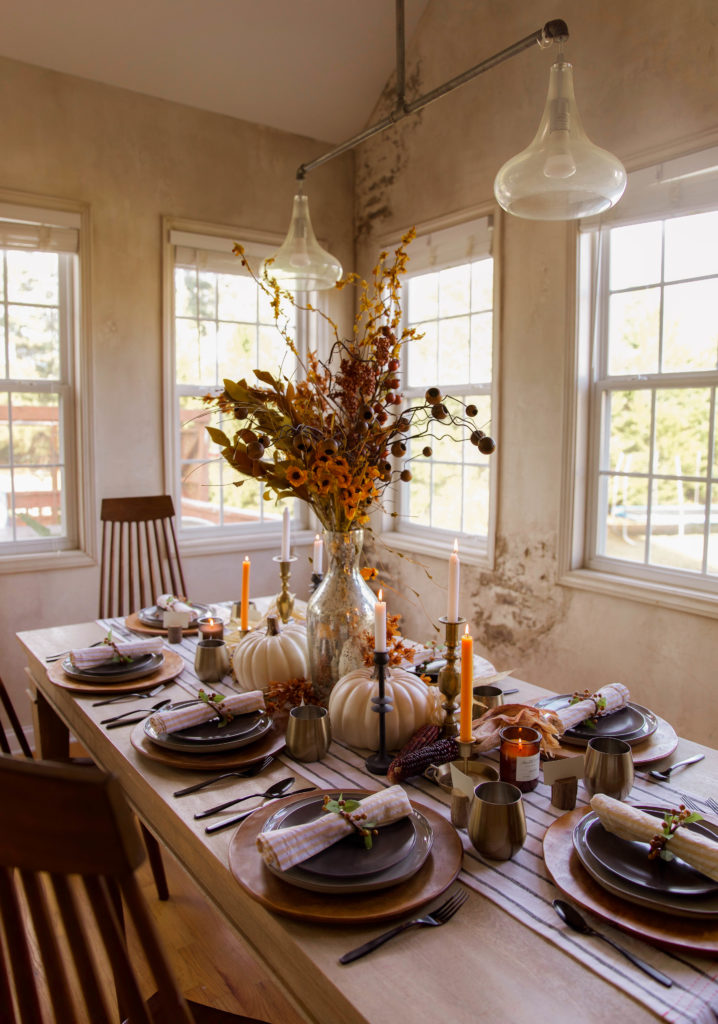 I did a quick tutorial on instagram stories on my process for assembling the fall foliage arrangements in case you missed that! It was easier than typing out the step by steps:) Craft stores now carry so many great options that look pretty close to the real deal. It ends up being more cost effective to re-use them each year than buying fresh florals every season.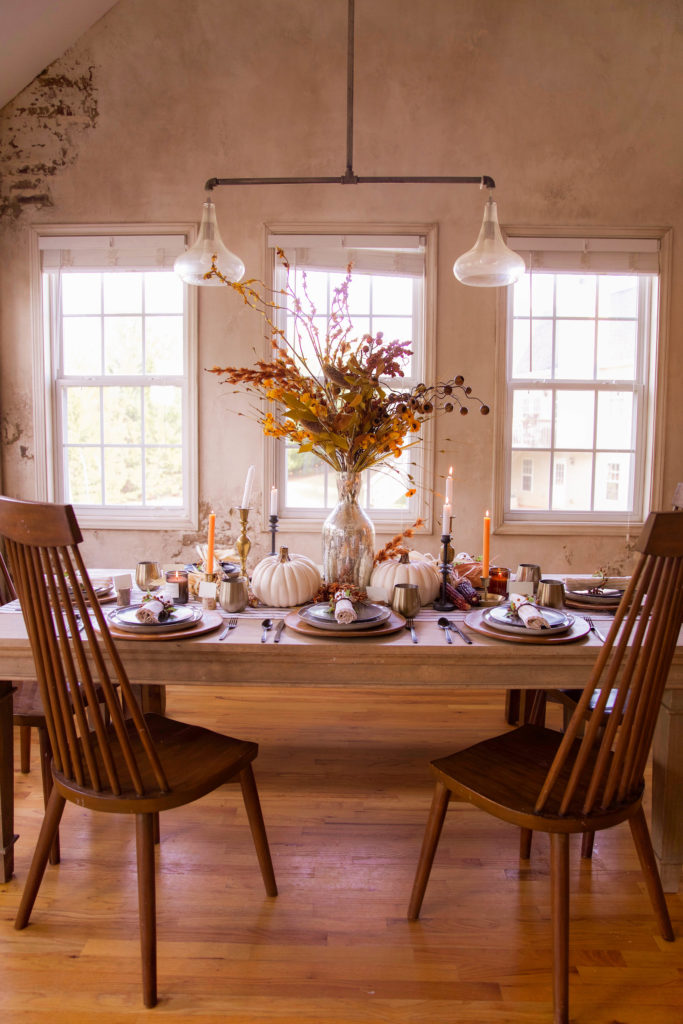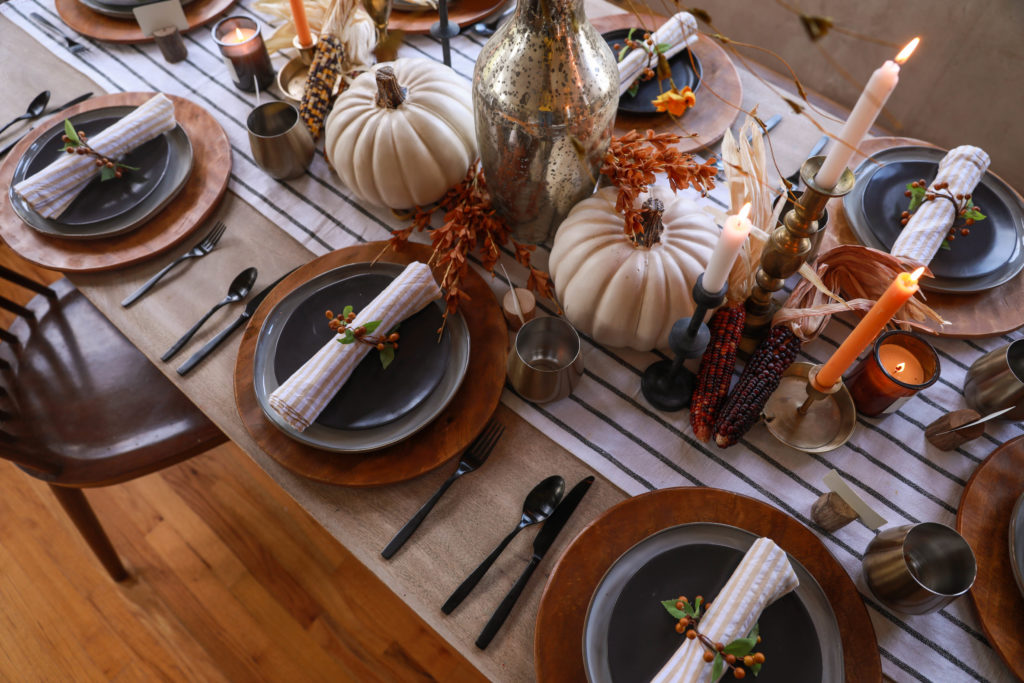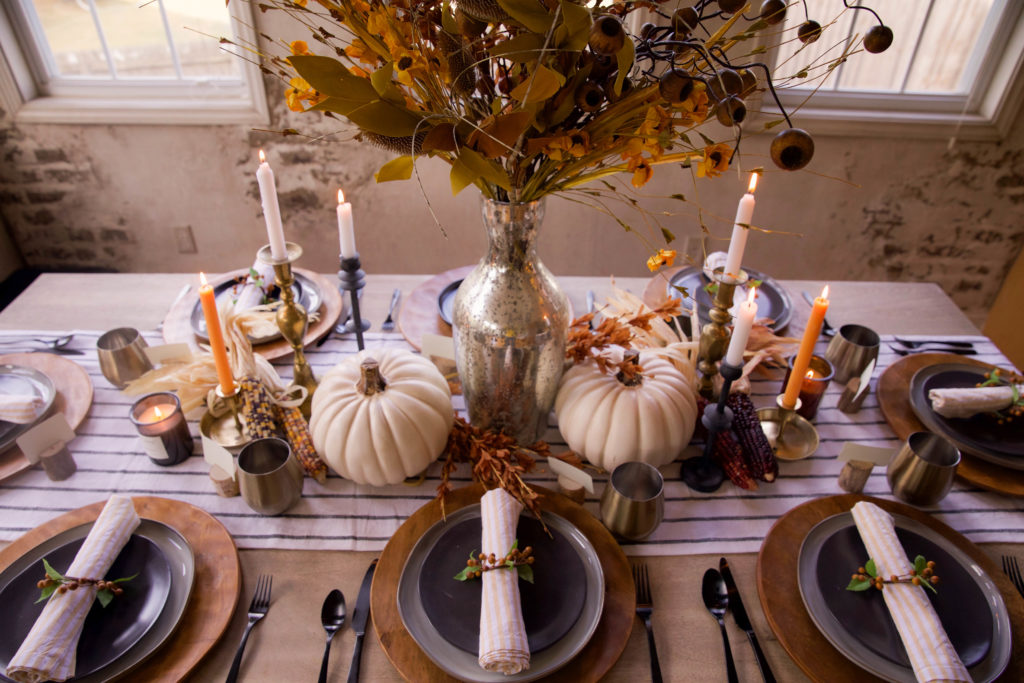 Items used for this table setup:
Table Runner – Hearth & Hand
Candlestick holders – Vintage from etsy
Glazed dinner plates – Hearth & Hand
Black plates – West Elm (similar for less) + Target (sold out)
Wood chargers – Potterybarn – on sale!
Bronze tumblers – Target (old but similar)
Matte black flatware – Hearth & Hand
Napkins – Target (similar)
Berries napkin holders – Hearth & Hand
Place cards + Birch place card holders – Hearth & Hand
Mercurey glass vase – West Elm (old, but similar)
Foliage – Hobby Lobby
Lidded Jar Candles – Hearth & Hand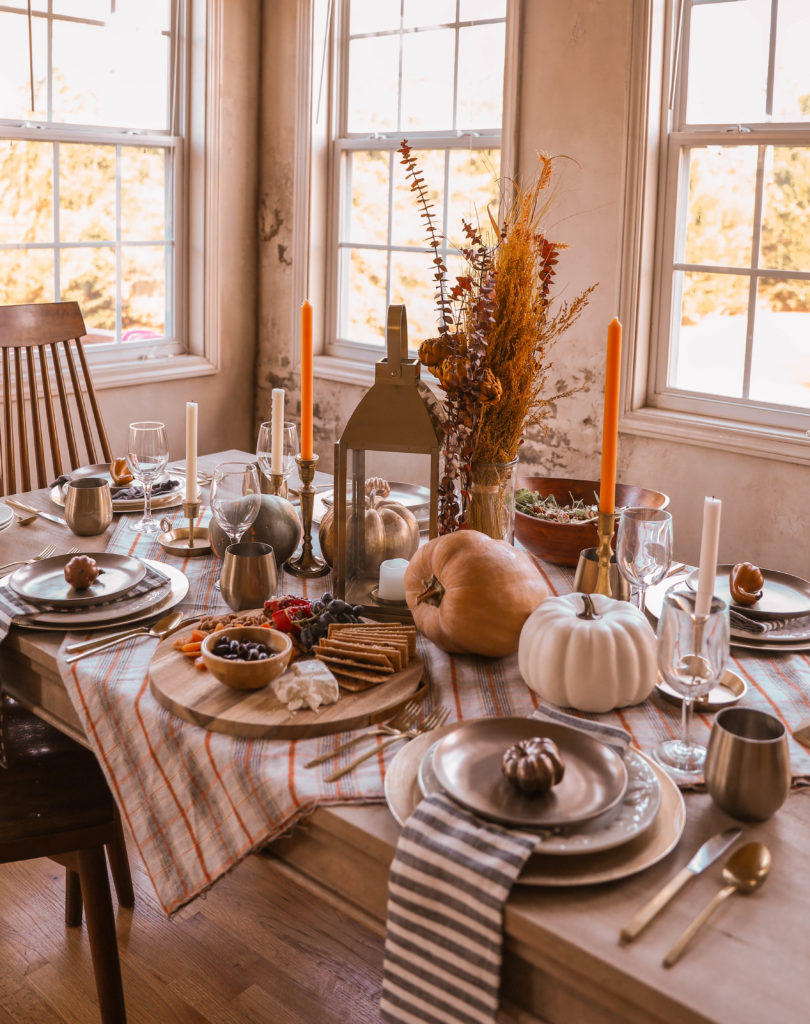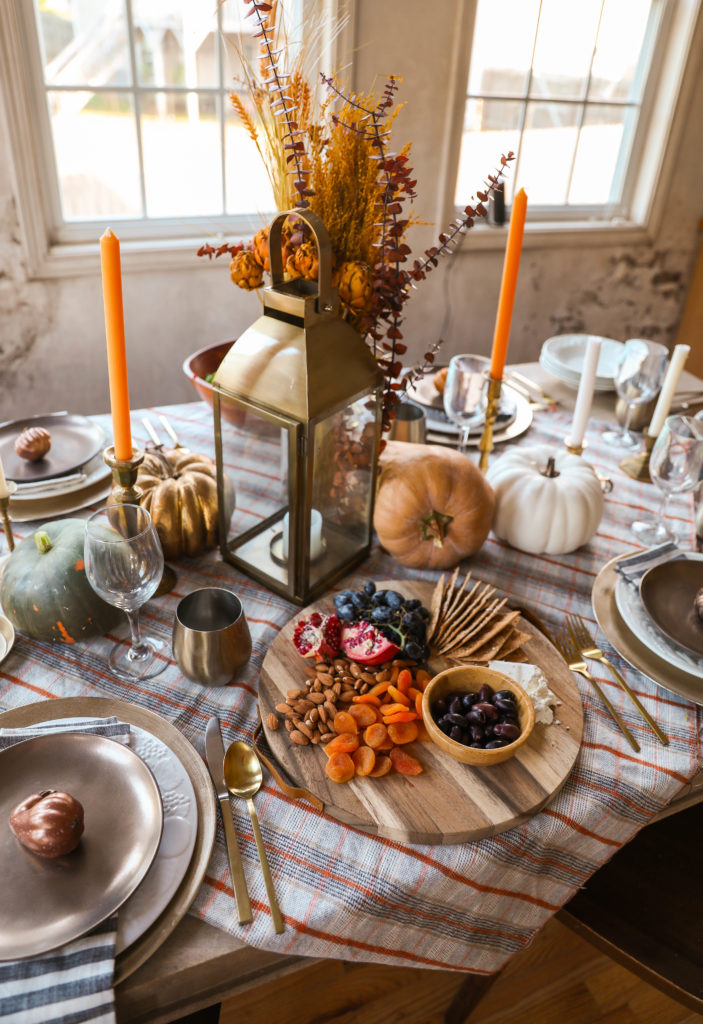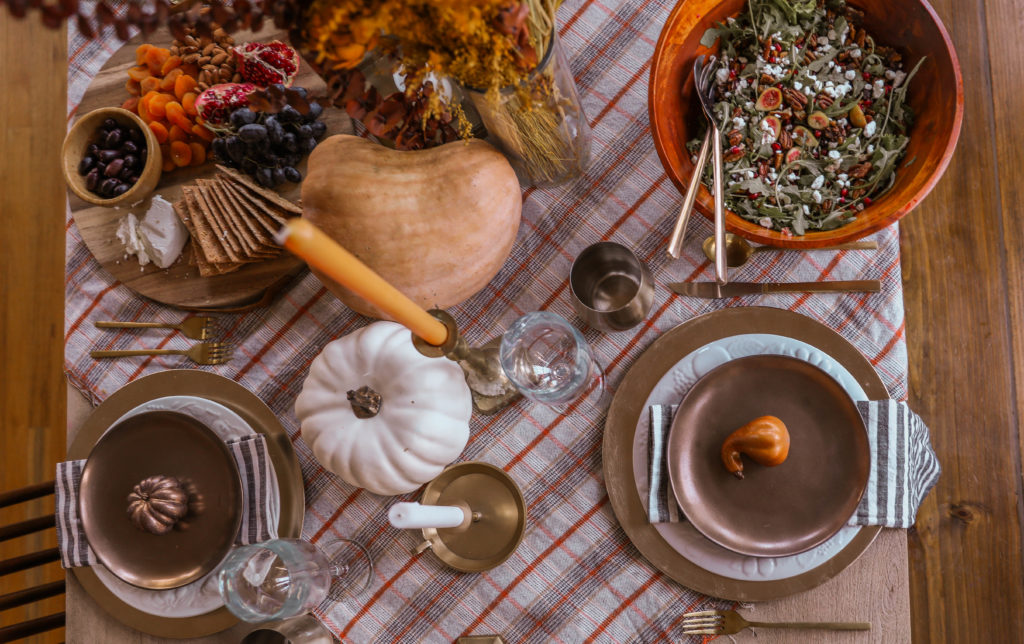 Above is another simple table set up I did last year for Friendsgiving. I used some flannel fabric to create the tablecloth, and layered the charges, plates, and decor from there. You can find gold chargers for pretty inexpensive at numerous stores and craft stores! Put a gold lantern at the center, followed by some gourds, pumpkins, and candlesticks and you have yourself an easy autumn tablescape!
Now to think of a couples costume for this party. Suggestions??