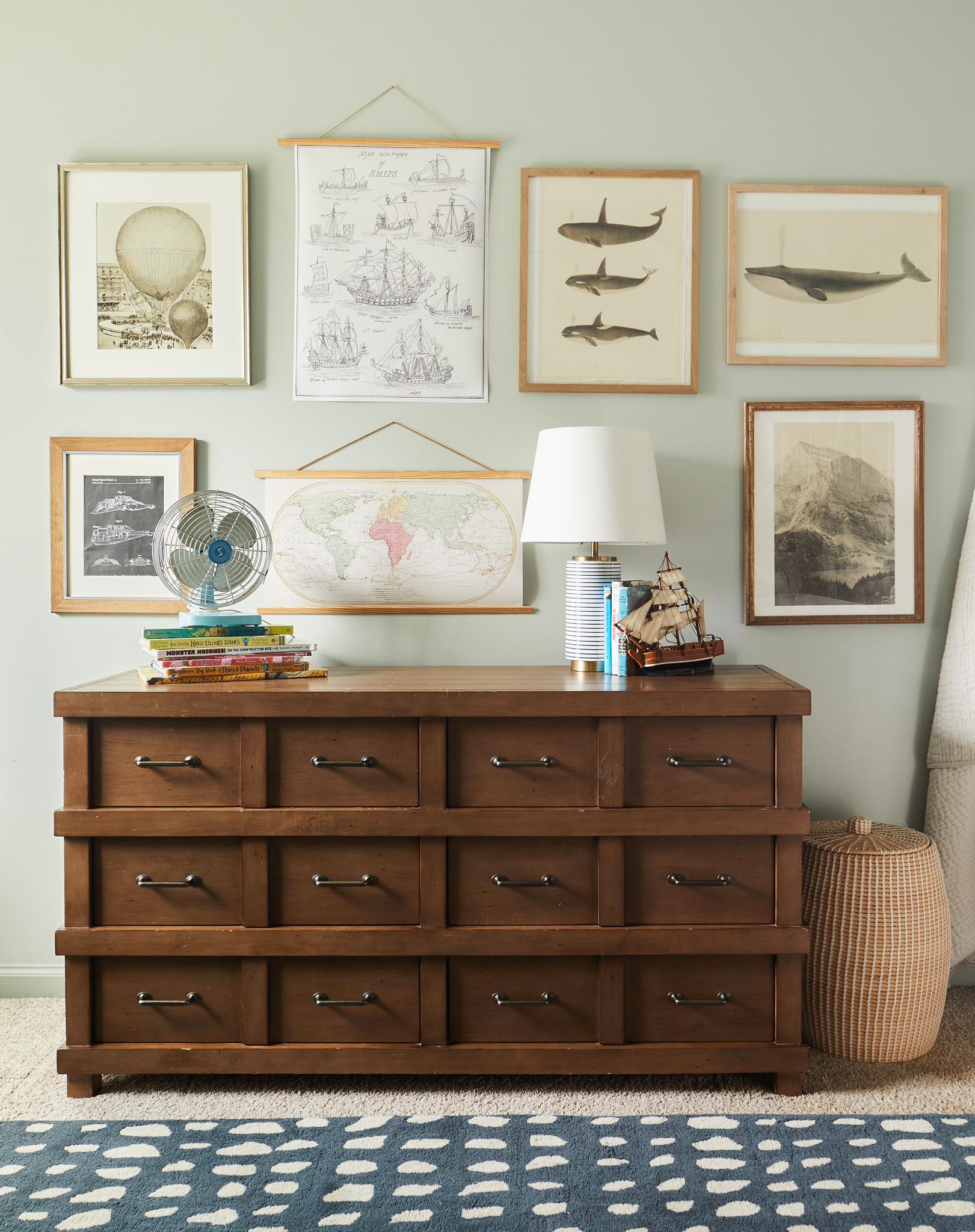 Dresser: Pottery Barn (similar here)
Ships Poster
Vintage World Map Poster
Whale Prints
Poster Hanger DIY
Wooden frames – Target
Striped lamp – (similar here)
Hamper Basket
Rug

I love how paint alone can change a room. We are working on each of the kids' rooms in phases, and once Chiara's was done I was able to start on Rocco and Max's room. We used just about everything from their old room, and wanted to stay under $500 for any updates. A tour of what we came up with!
(Thank you Joseph Bradshaw for the photography)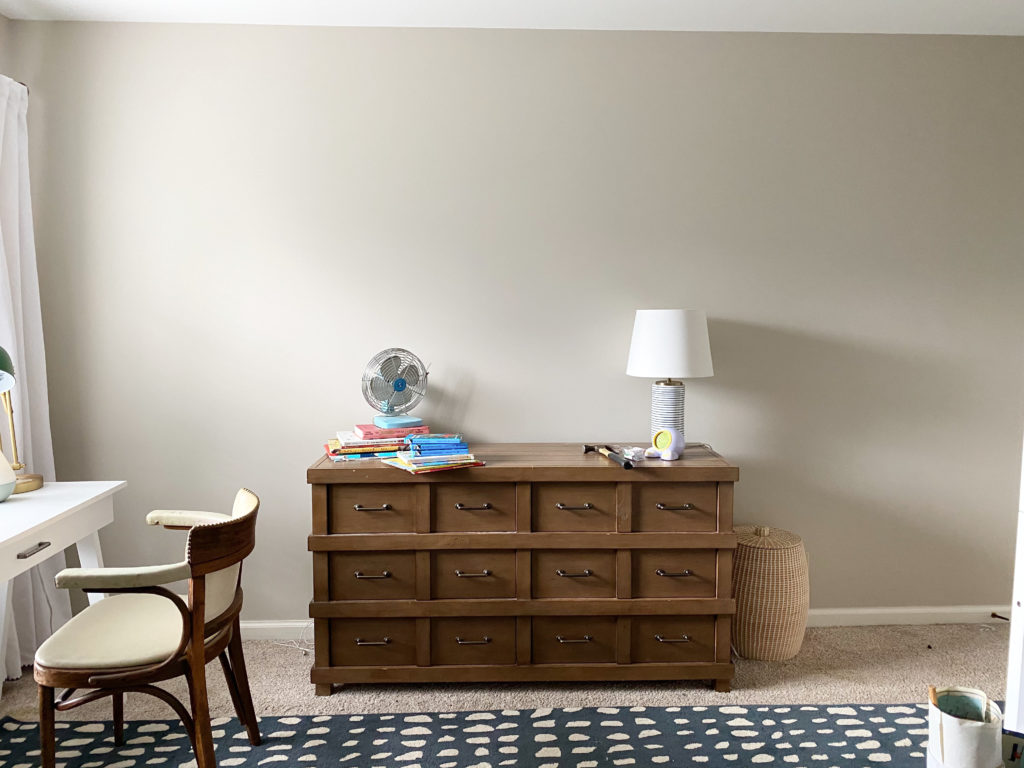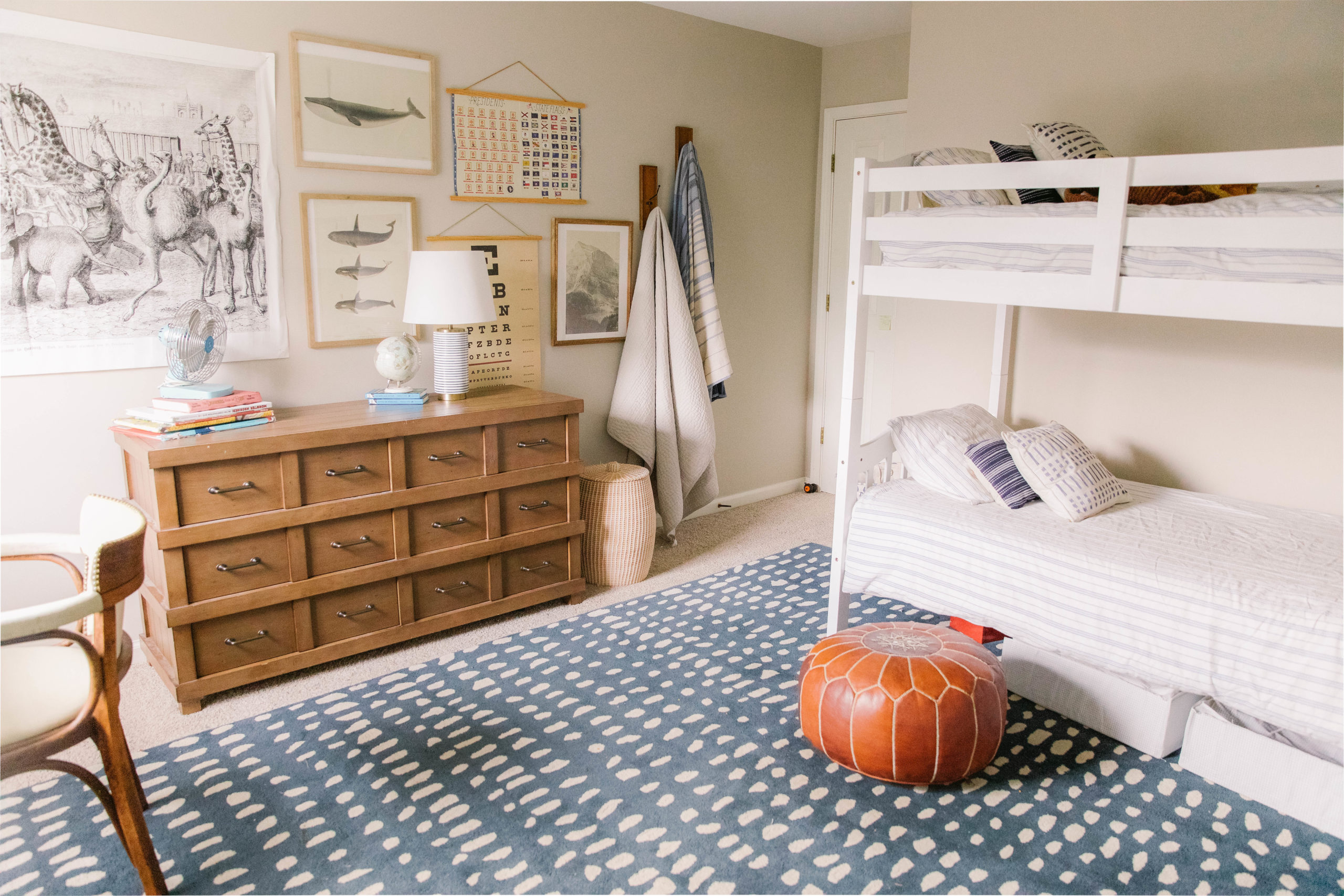 Some before pics!
Before we got started we gave ourselves a $500 budget to work with. This helped me not get carried away. (Admittedly easy for me to do.) I asked the boys what color they wanted their room, and although I didn't really give in to "neon green" we did find a color they both liked. (Formula used below.) We also swapped the ceiling fan, curtains, hardware, and updated the wall art. The boys have loved the outcome, and that always makes these projects fun for Gabe and I to see through.
Sign Language Poster
Constellation Poster
Curtain rod
Rug
Storage unit – IKEA or Target
Wooden bins
Basket bins
Plastic Lego storage bins – IKEA
Globes – Antique store (similar here and here)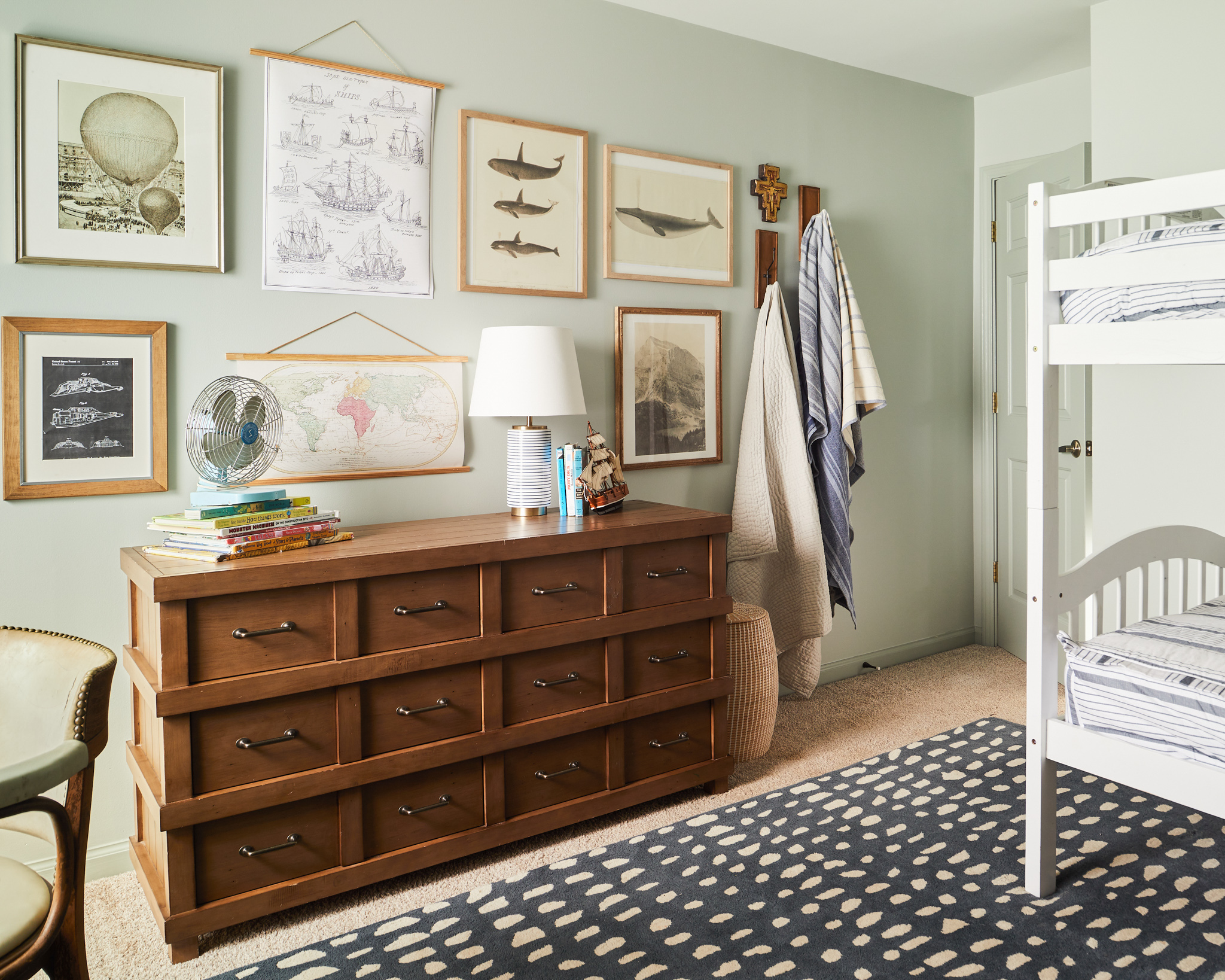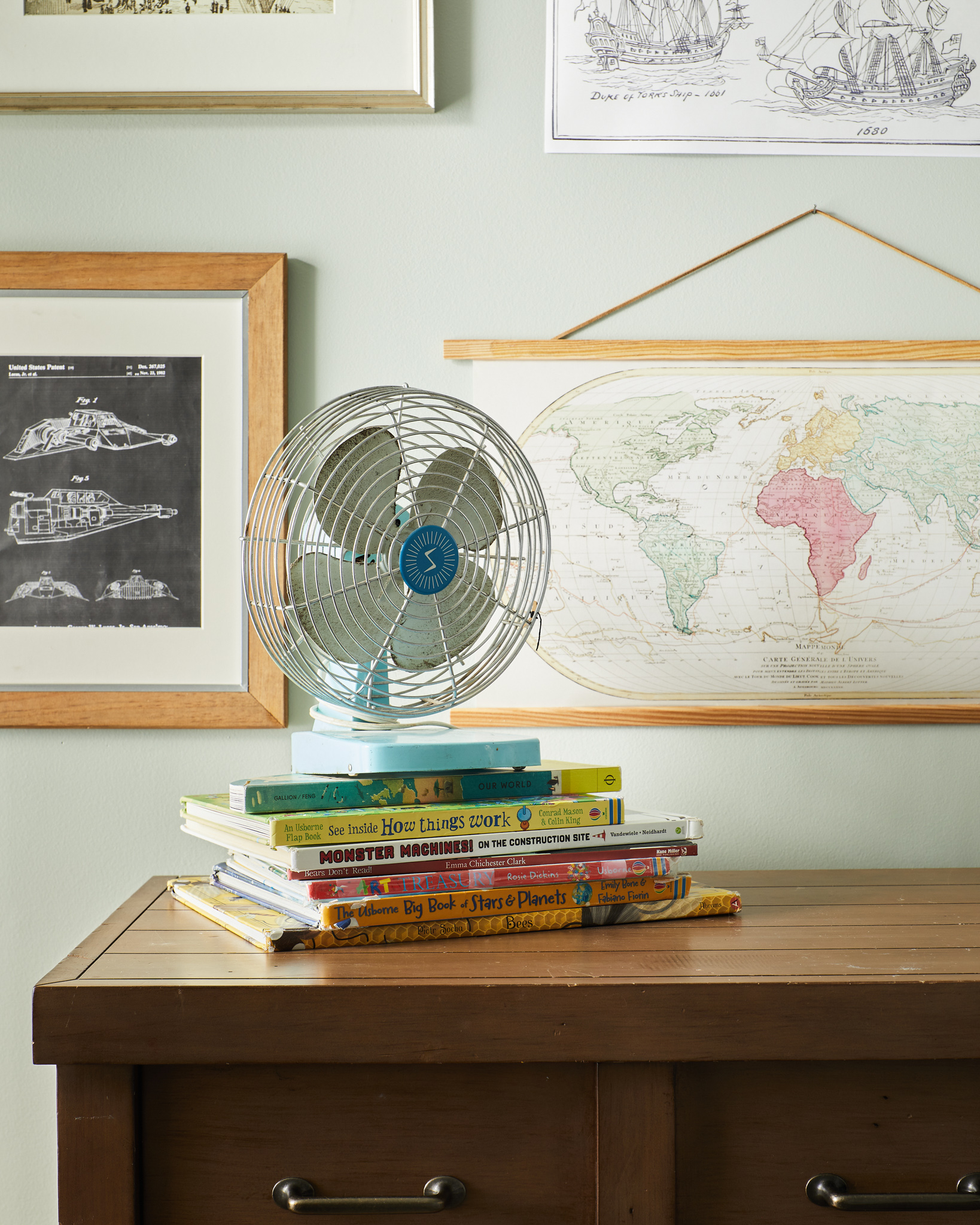 Fan – Antique store (similar here)
Books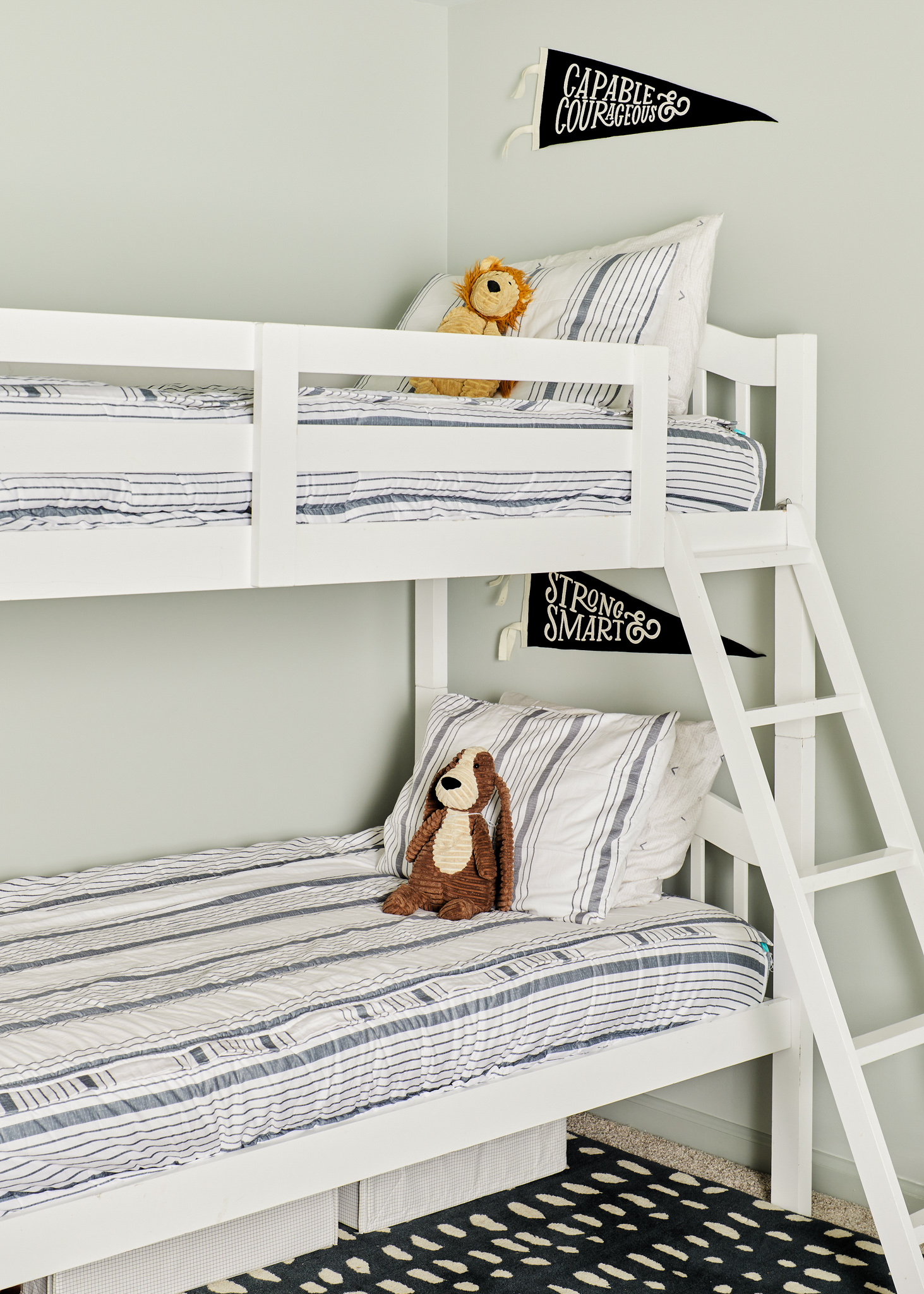 Comforters: Beddys – I finally caved when there was a sale after several of you recommended Beddys. They are really good quality and so easy to put on and zip up to make the bed. The boys' comforters would always end up on the floor every morning, and it's been really nice to have one less thing to battle them about. They willingly make their beds now – ha! (This style is currently on sale, and you can use code "ANNA" for an additional 15% off)

Bunk Beds (+ Other similar options)
Under the Bed Storage boxes
Pendant Flags – Marigold Curated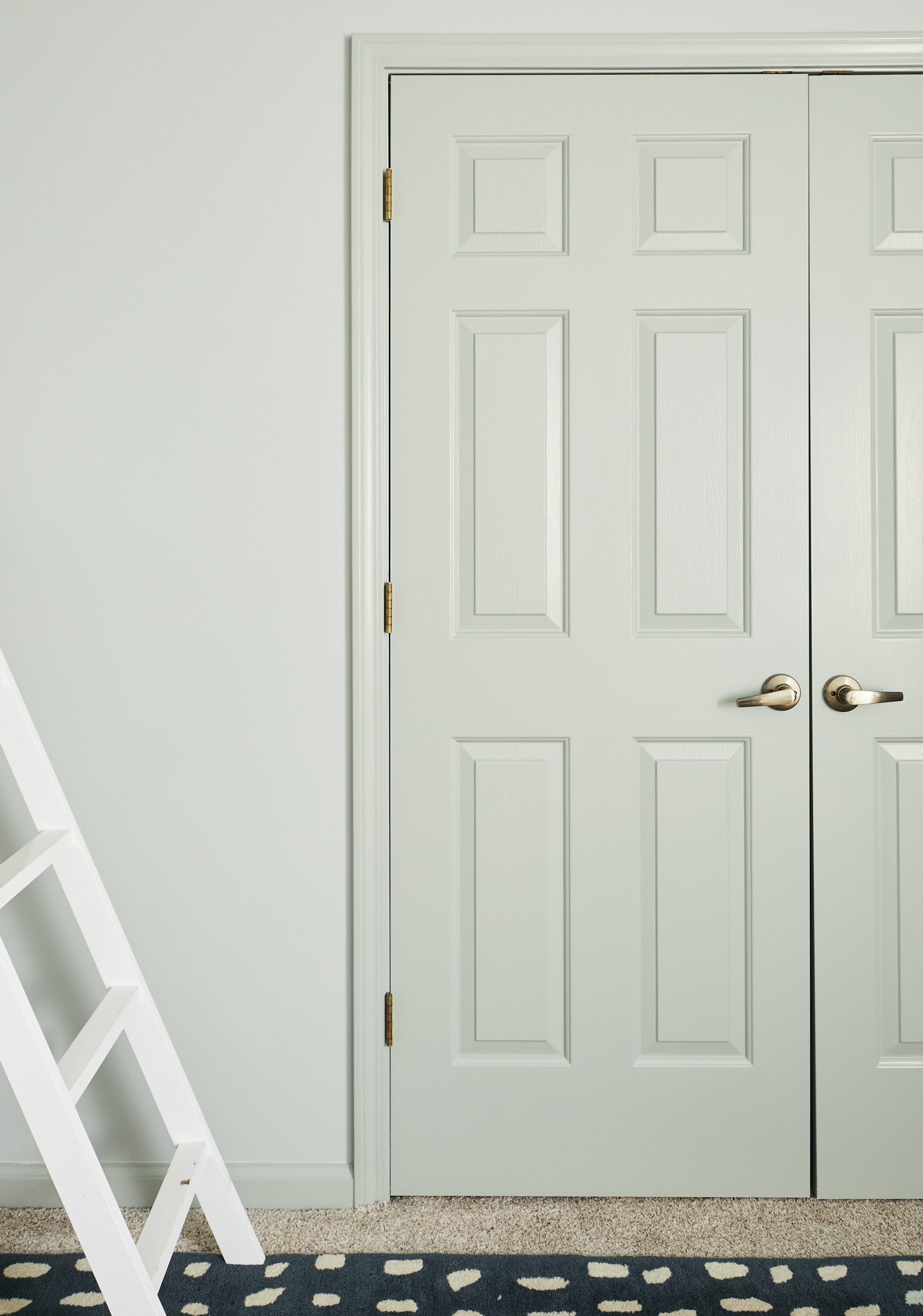 Paint: Walls – Grayish by Clare Paint in eggshell finish
Doors and trim – Oyster Bay by Sherwin Williams in semi-gloss finish
Ceiling – Grayish by Clare Paint color matched at Sherwin Williams in 50% color reduction (flat ceiling paint finish)
*Gabe shared some paint tips throughout this process on our IG story highlights.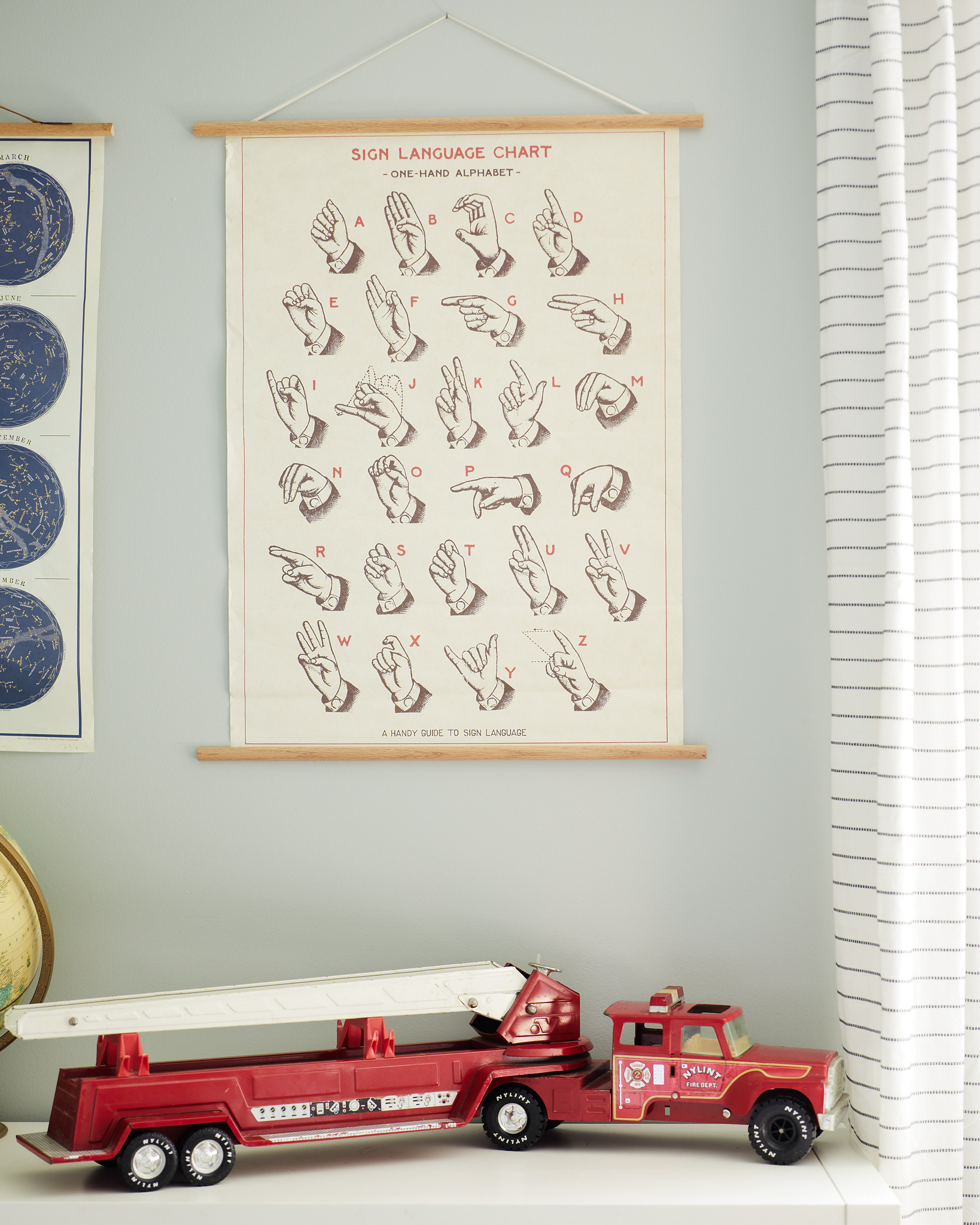 Fire truck – A gem from Gabe's childhood.
Sign language poster
Constellation poster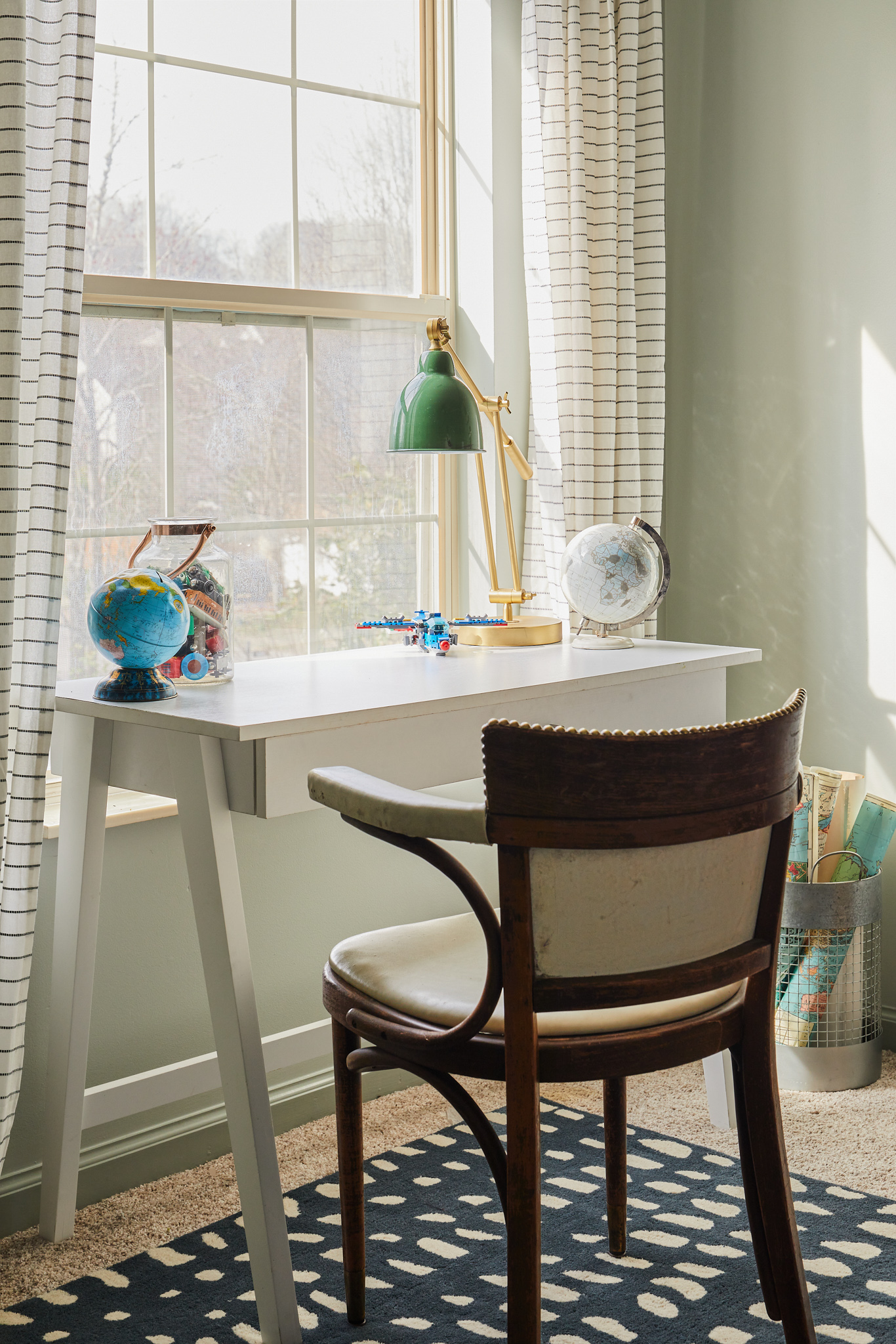 Desk -Target
Desk chair – antique store (similar here)
Curtains
Green lamp – Target (sold out but similar here)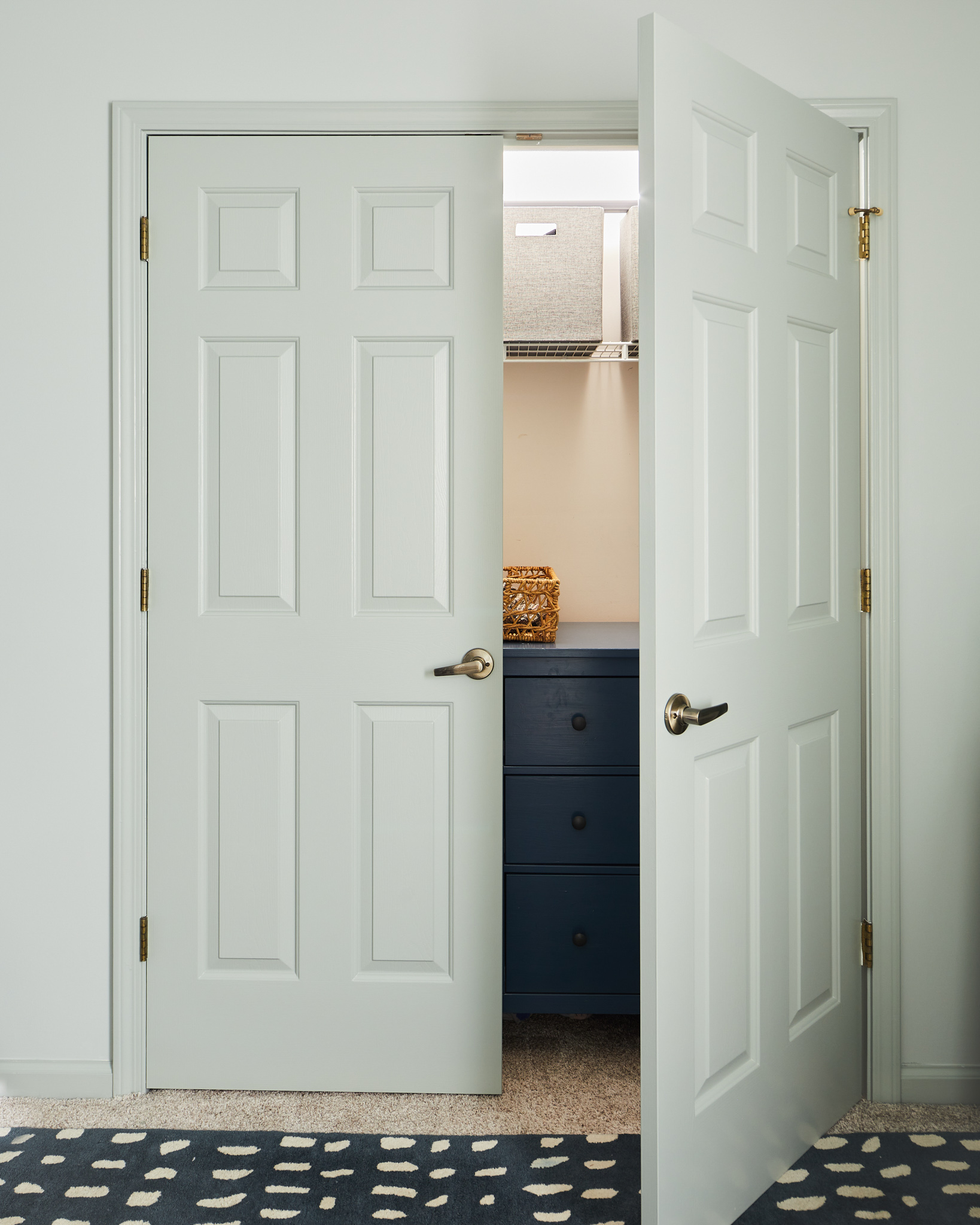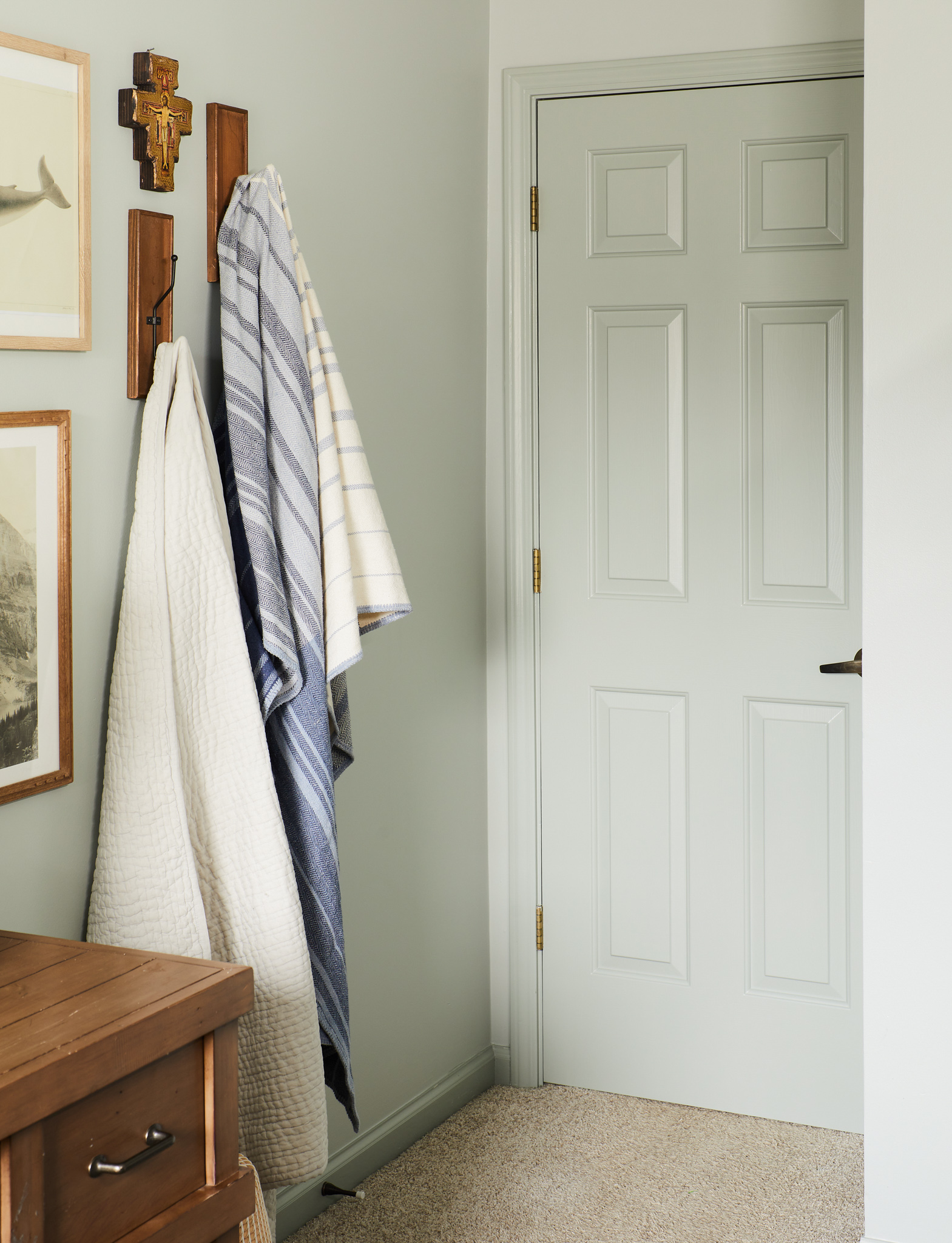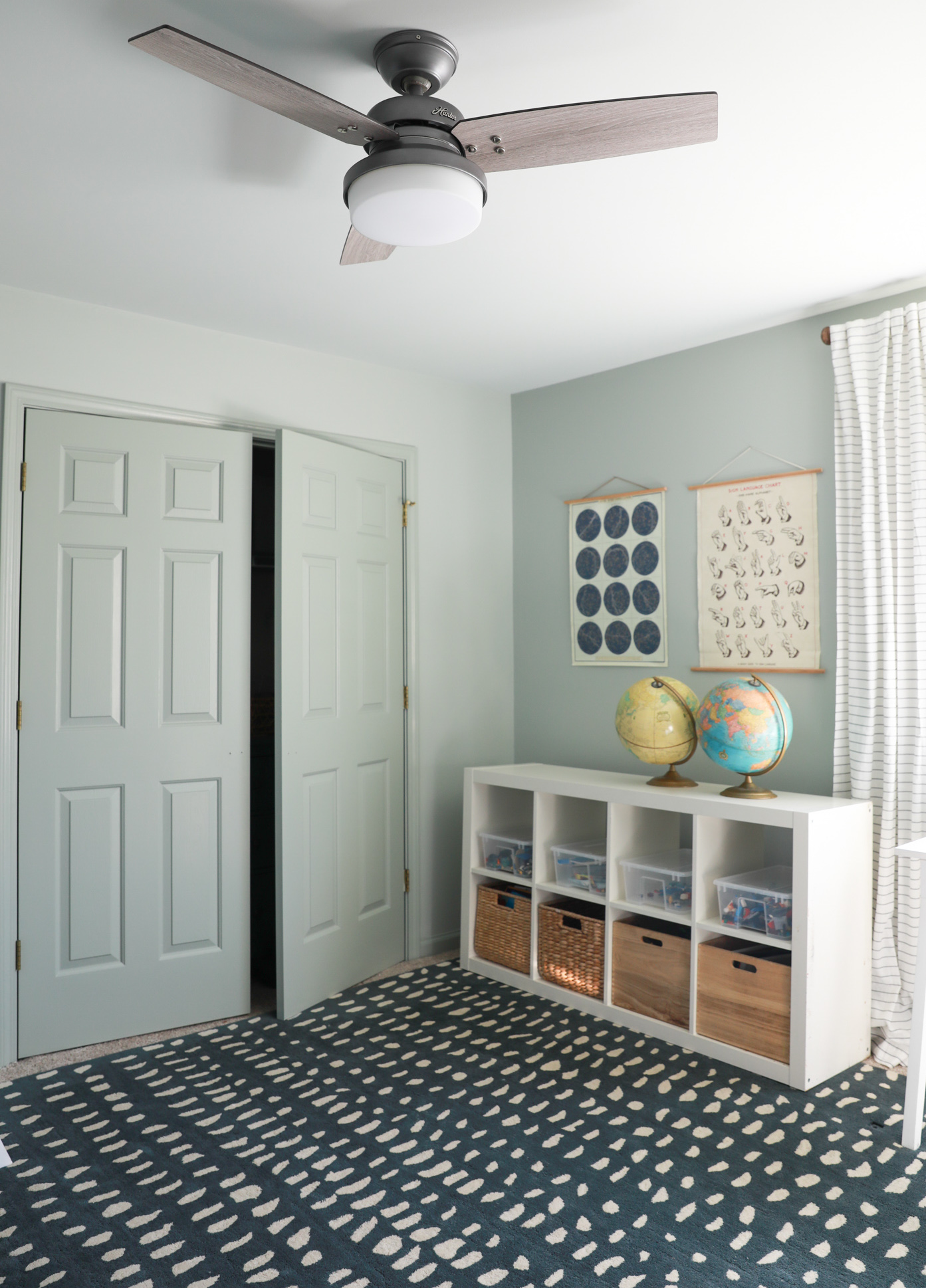 Eventually we will replace carpet on the upstairs floor, but a good area rug over old carpet is a great way to personalize a room! I always love a good pattern.
The boys seem to be spending more time in here since we de-cluttered and painted. They won't admit, but they enjoy their room much more if it is clean. Now to work on motivating them to keep it this way!