Part 1 of this post, and Maria's family story here.
Earlier this summer, we spent a few days at the home of our room giveaway winner painting and installing their new room. It took a lot of prep ahead of time to fit everything in, and we definitely ran into some hiccups. Despite the tight timeline, we were grateful for the opportunity to be able to create this space for a deserving family. Today we are sharing the before and afters of their bedroom makeover.
When I started this room design I asked Maria to share some rooms she was drawn before I created the mood boards to determine the design direction. My goal for this room was to create an oasis for her and her husband to enjoy together.
First….PAINT! Since we were working with a short time frame, I chose a paint combo that I had already tested, used, and loved. Alabaster white for the walls + Shoji White for the trim (both by Sherwin Williams). Shoji White adds a subtle contrast, and the room felt immediately brighter. Gabe used eggshell finish on the walls and semi – gloss on the trim.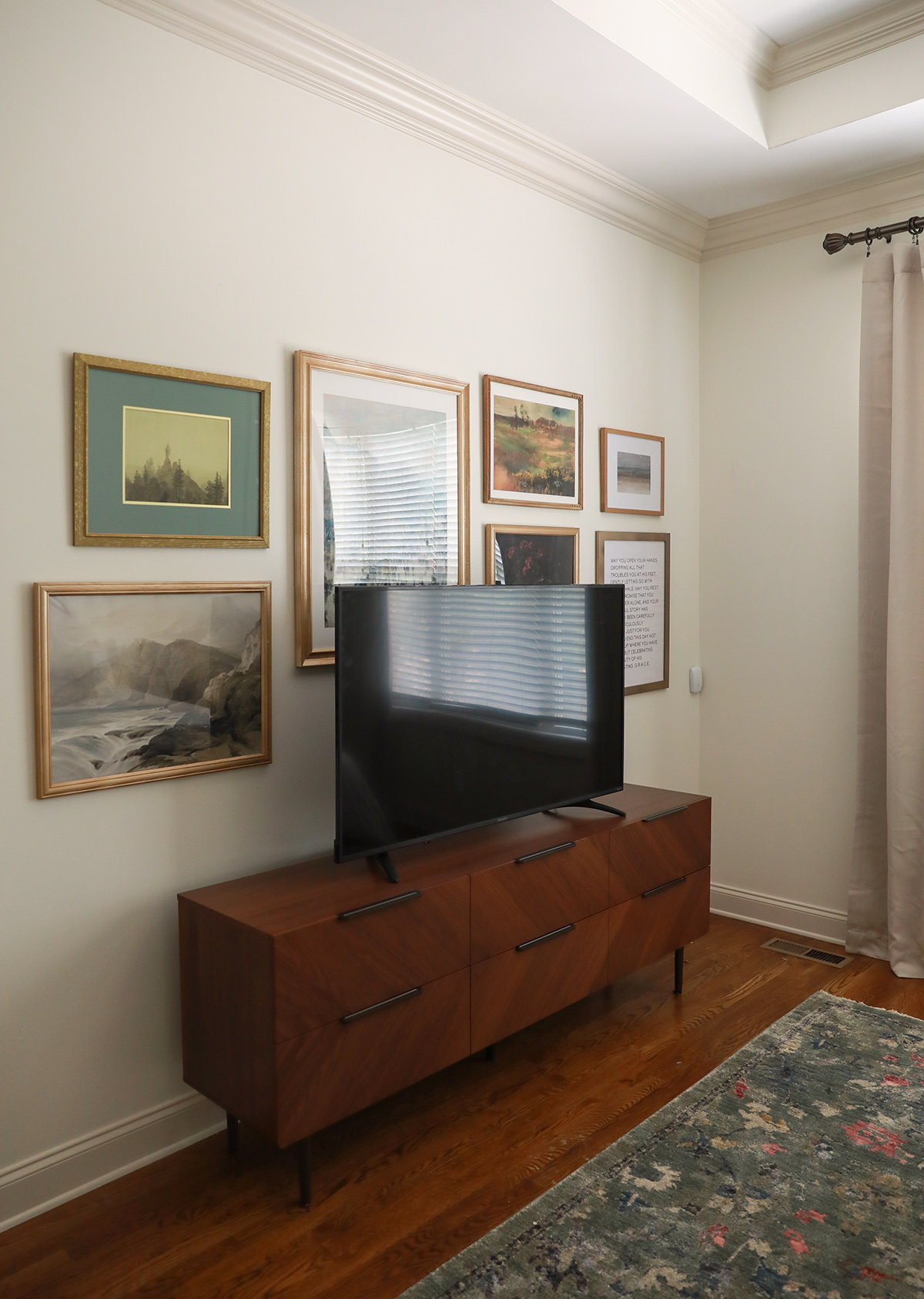 We worked with Article to make this room makeover happen, and I knew this Nera walnut dresser had to be a part of the room! It looks like a midcentury console, but it actually has 6 deep dresser drawers. There are a few ways you can work art around a tv so that it's not such a big focal point of the room. I wanted to create an art wall in a more linear direction that would still work with the room if the tv were ever moved or replaced.
before and after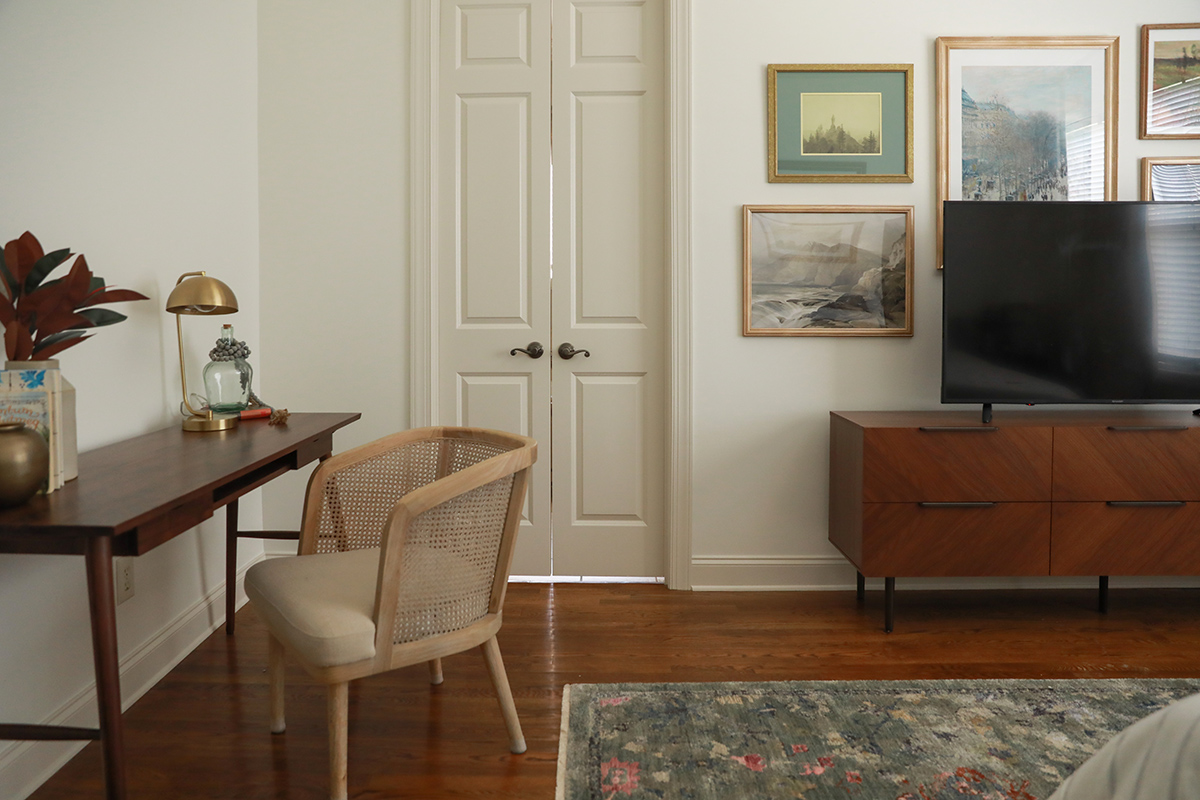 Since Maria's husband has had periods of working from home while their son received treatments, I wanted to include a good work space. The Article Culla desk continued the midcentury modern style with the same walnut finish as the dresser.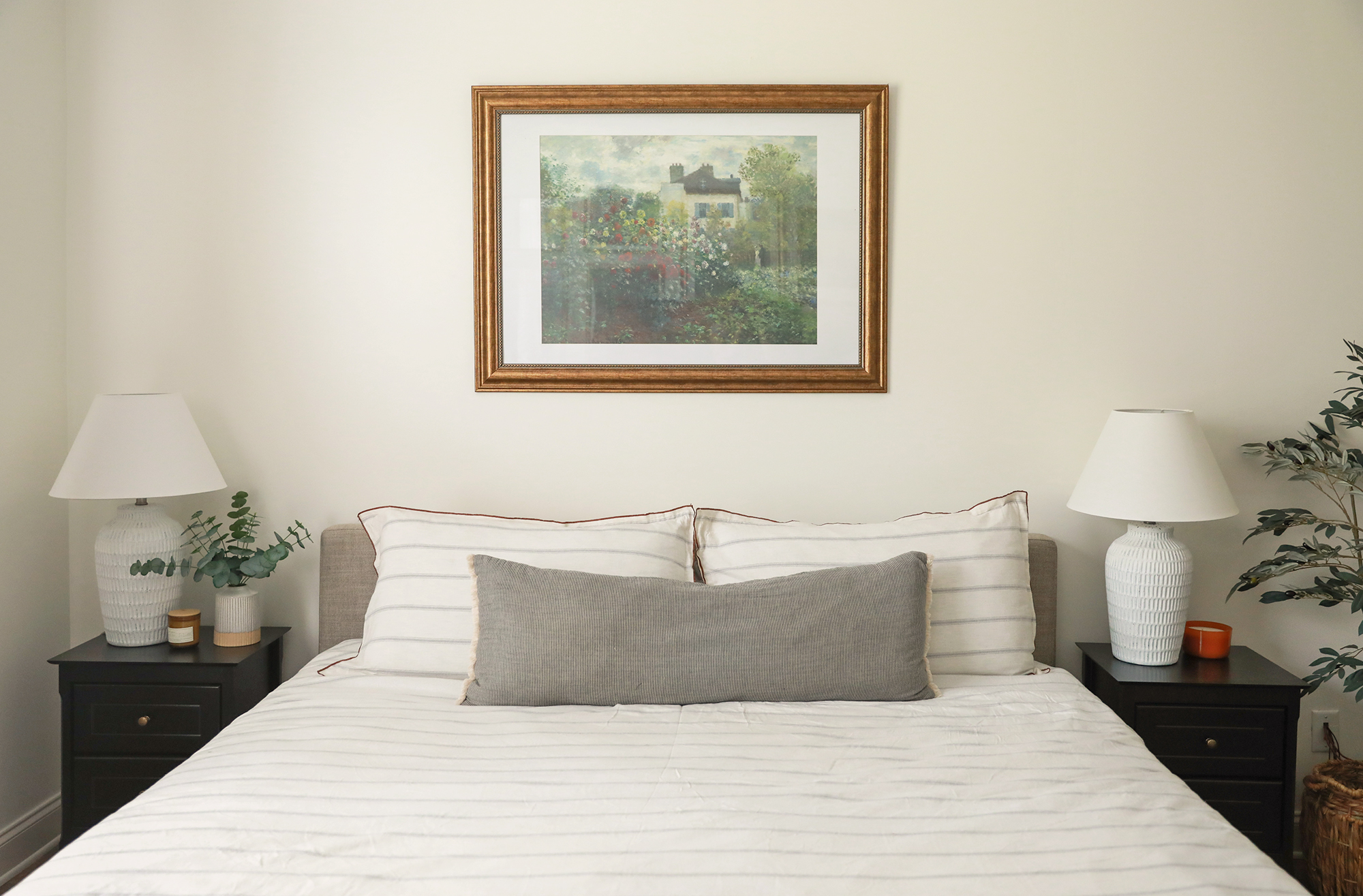 Before and after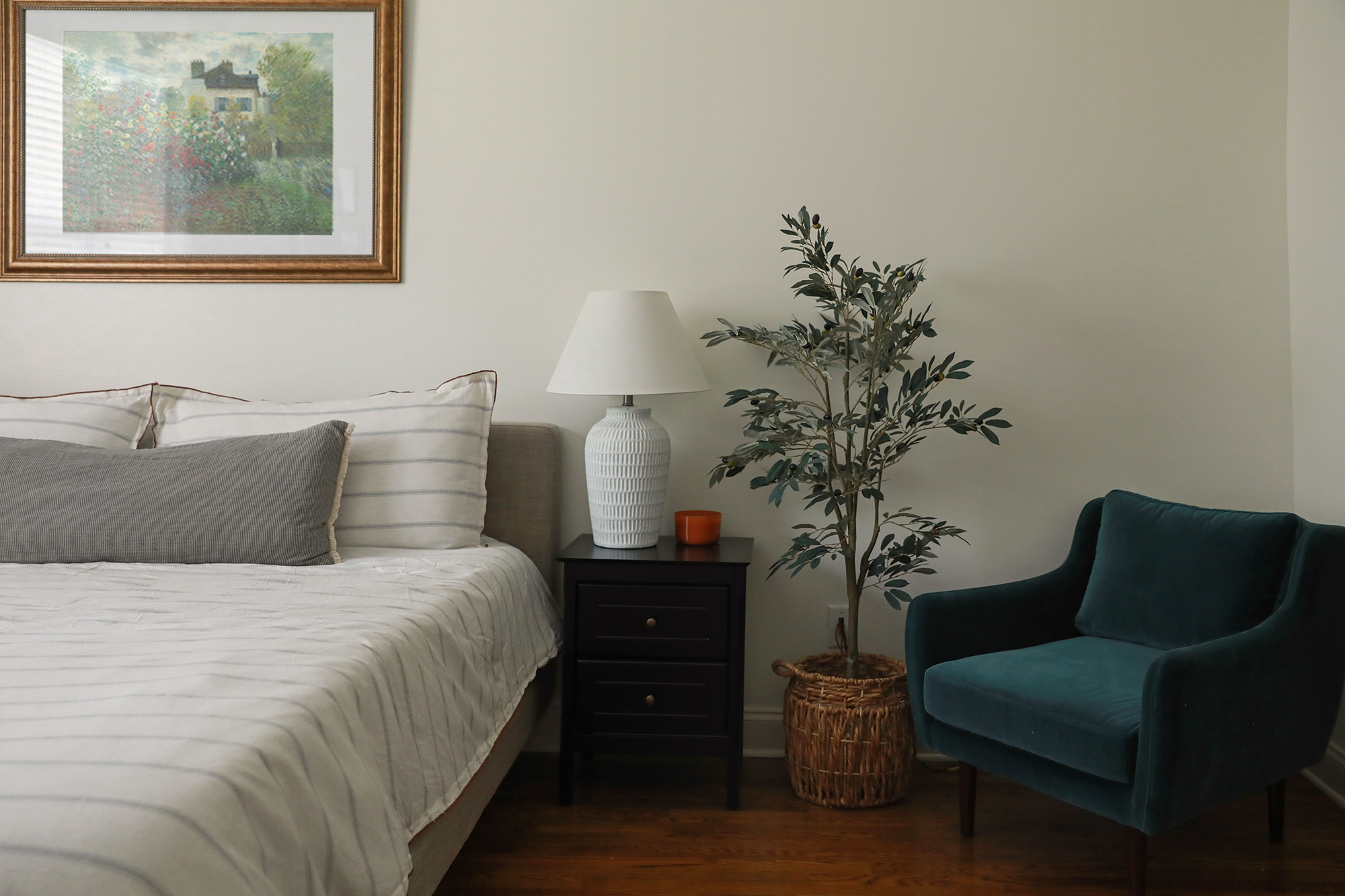 I loved the quote print above their bed, and was able to re-incorporate it into the art wall! I used this vintage art from the shop to print in large format. I had the perfect antique frame to pair it with, but the glass broke while trying to hang it. Still not over it! Thankfully found a back up at a nearby HomeGoods. The nightstands allow for all the hideaway storage, and also adds some great contrast to the neutral tones around the room. I found a great 5′ faux olive tree to bring in some greenery in the room, and it's sadly sold out from QVC.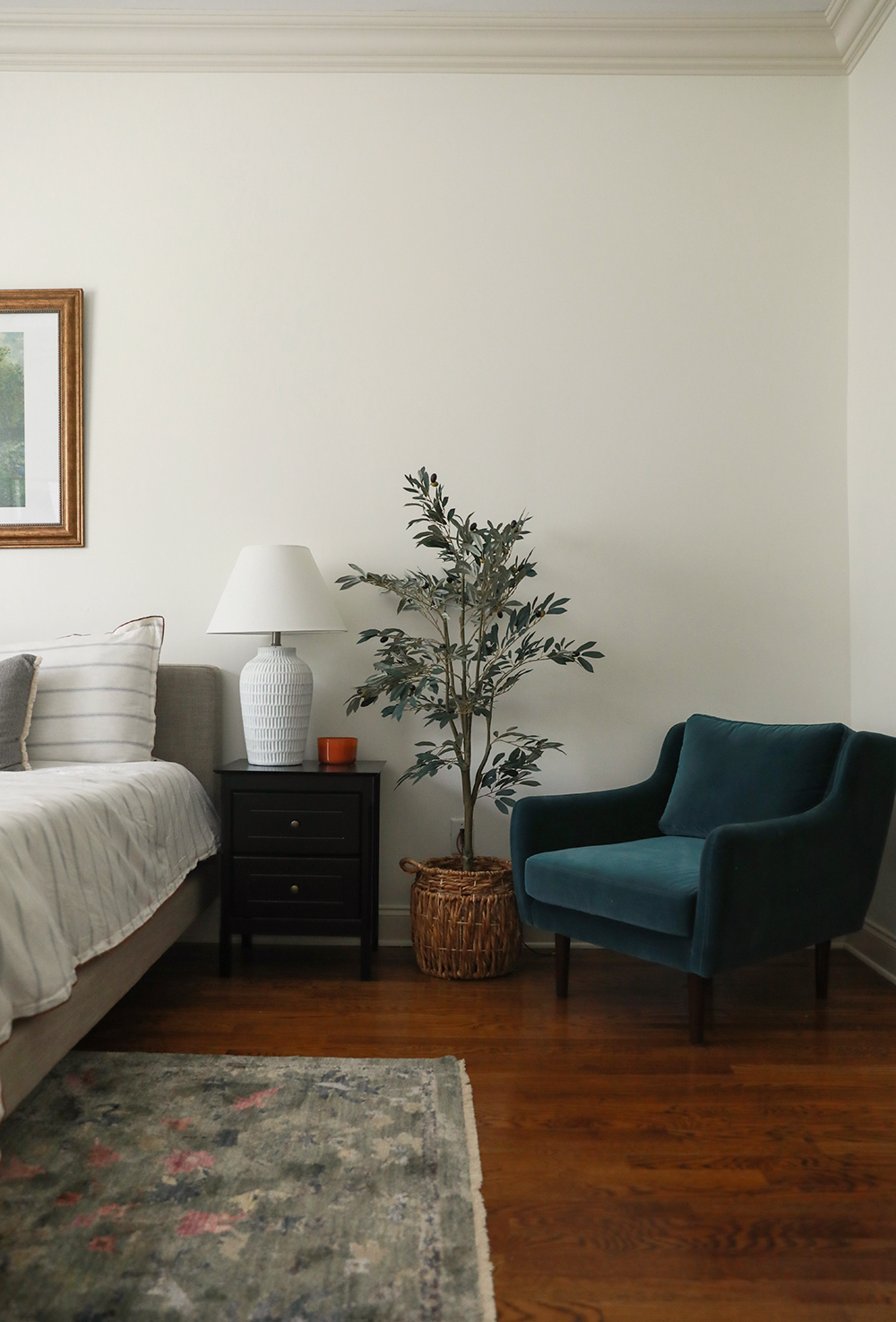 To break up the darker colors I used the Tessu Bed which is a midcentury upholstered platform bed. Its a linen blend material in a taupe color and wooden tapered legs. This matrix velvet chair in lagoon is ridiculously comfortable (we have the same one in our living room), and its a bold beauty.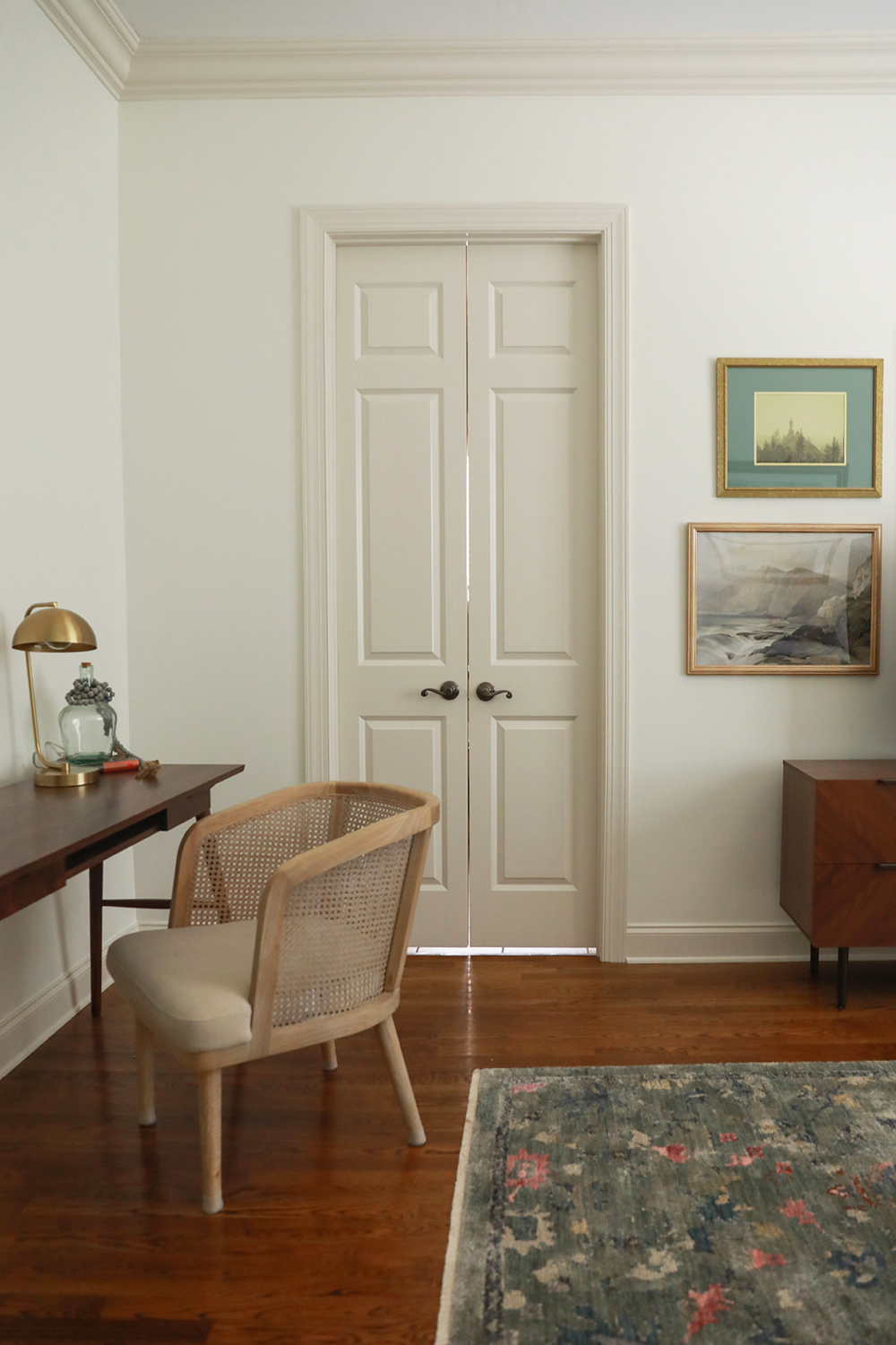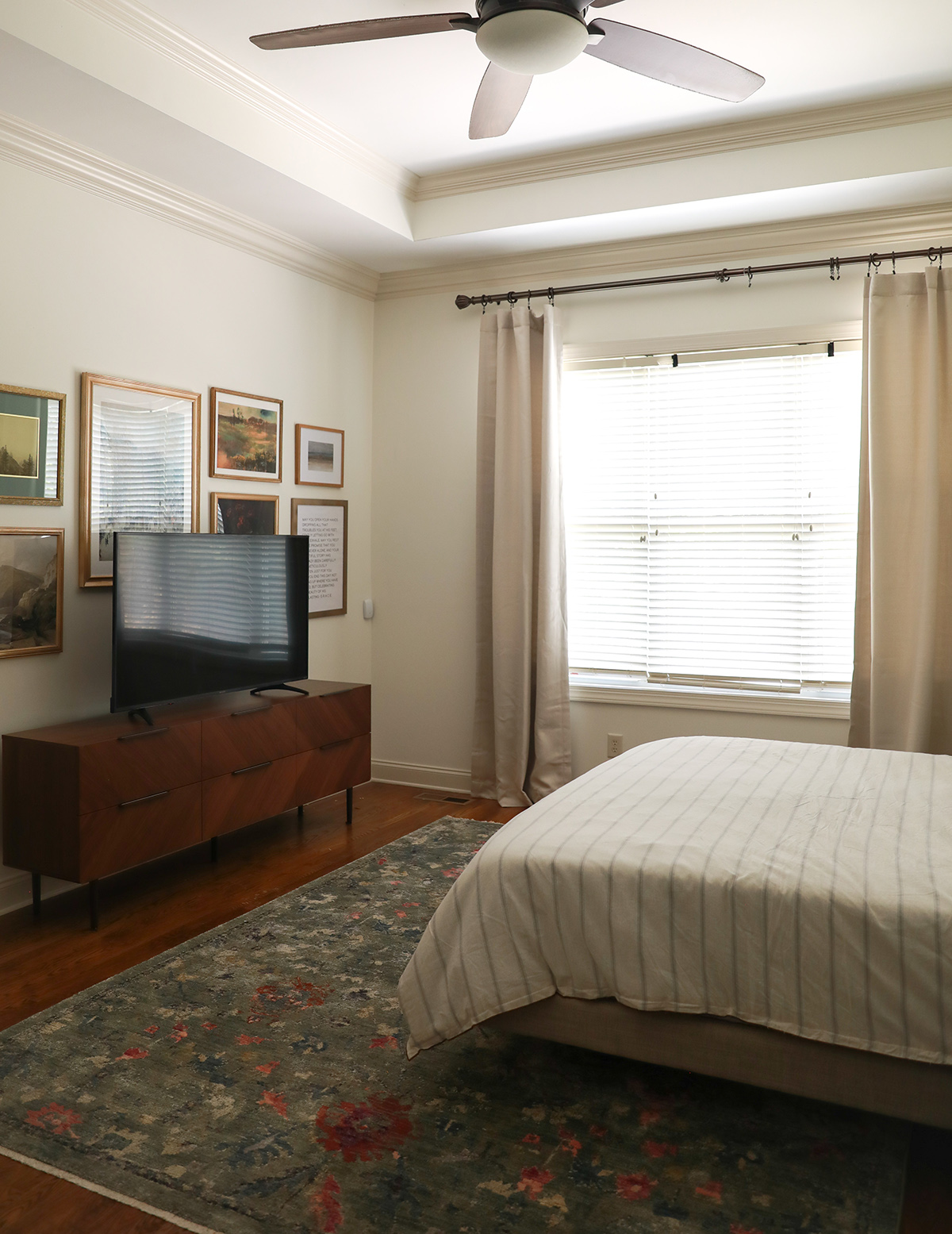 This Loloi Giada rug was the base for the whole room design. I wanted to incorporate some good color somewhere in the room so when I saw this rug, I knew it was something Maria would love. It works beautifully with the natural wood tones and creamy whites.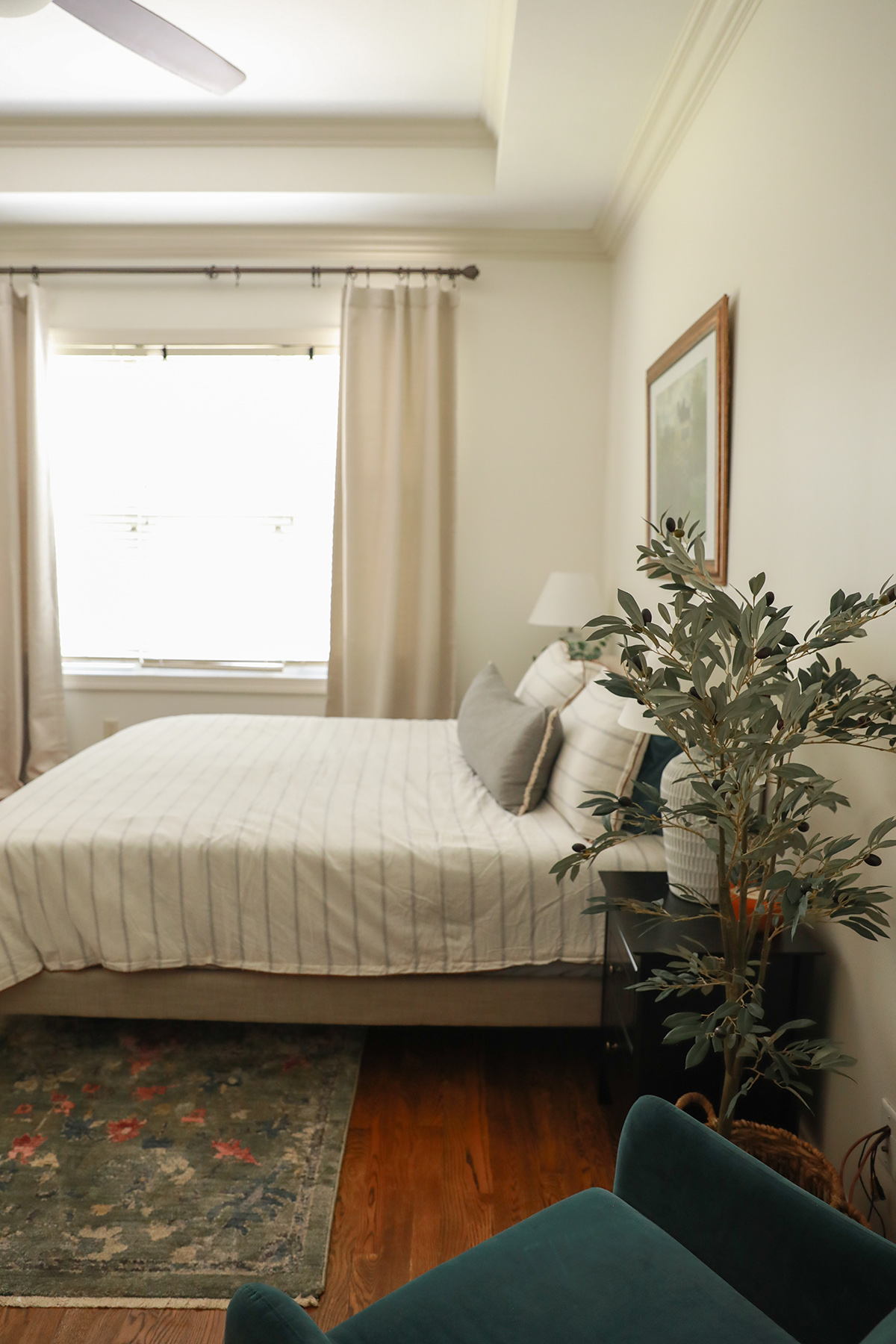 I loved this project so much, and wish it was something we could do more of. So grateful to Maria and her family for allowing us to come into their home to transform their room. They were so kind and gracious. You can catch the whole video process as well as when we got to share the outcome with her on IG stories today:) Linked all of the sources used below, but let me know if there is anything I missed you were looking for.
Sources:
Tessu Bed
Nightstands
Comforter
Lumbar Pillow
Large Vintage Monet Art Print
Lamps and Lampshades
Matrix Chair in Pacific Blue
Olive Tree
Basket – HomeGoods
Curtains
Nera Dresser
Culla Desk
Cane back chair – sold out from Target
Desk Lamp
Giada Rug – Loloi c/o

Art Wall:
Mountain Coast Print, Landscape Print , Floral Arrangements Print, Small Landscape Print
Frames: Antique Stores + Michaels