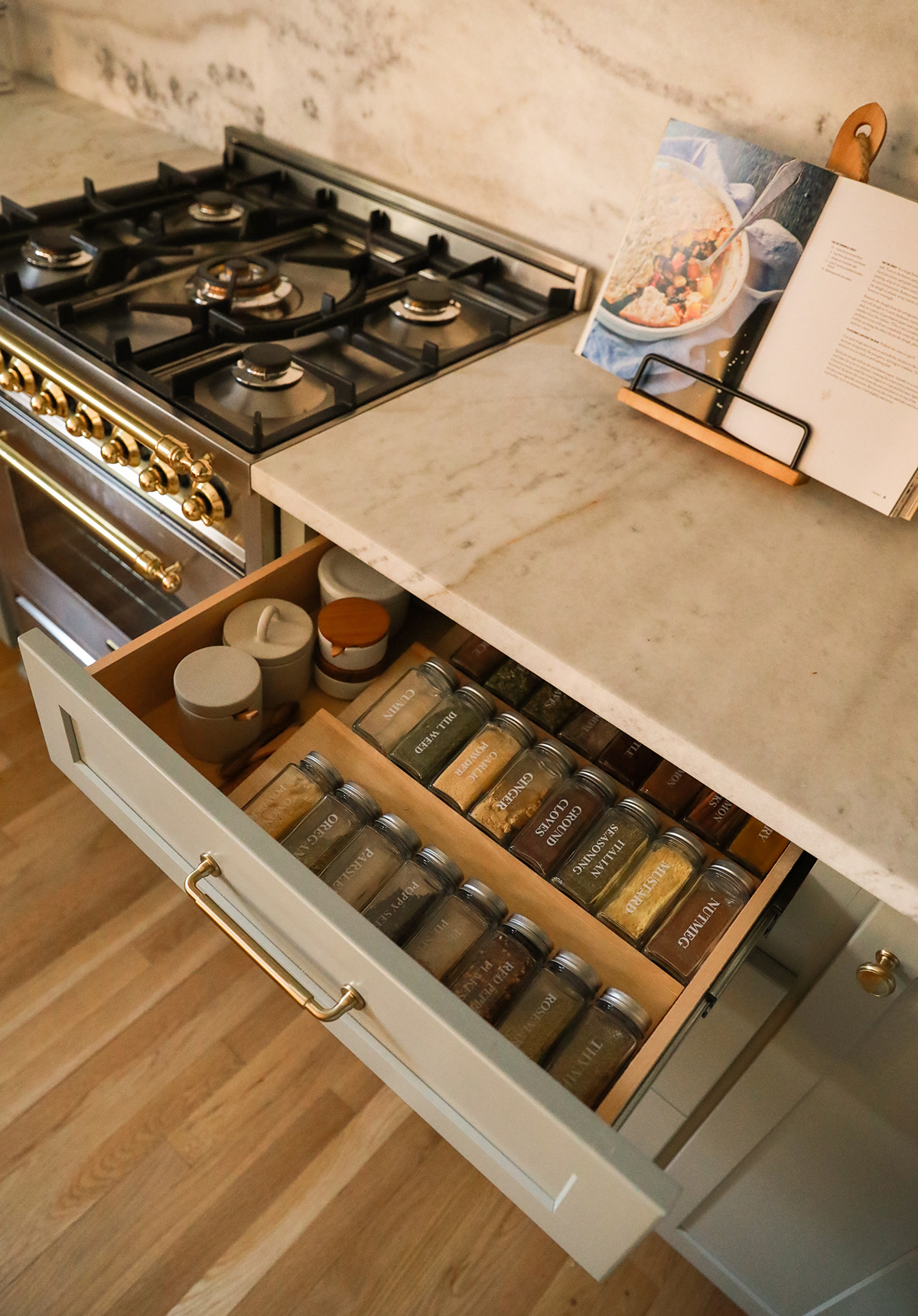 I know we haven't even done an official kitchen tour yet! Since we are waiting on a few things before we can photograph the space, we might as well show you how we are organizing it:) Without fail every January I get the itch to organize every drawer and shelf around the house.
We considered doing custom drawer inserts for a few of these drawers, but after a little searching I was able to find really great alternatives for a fraction of the cost.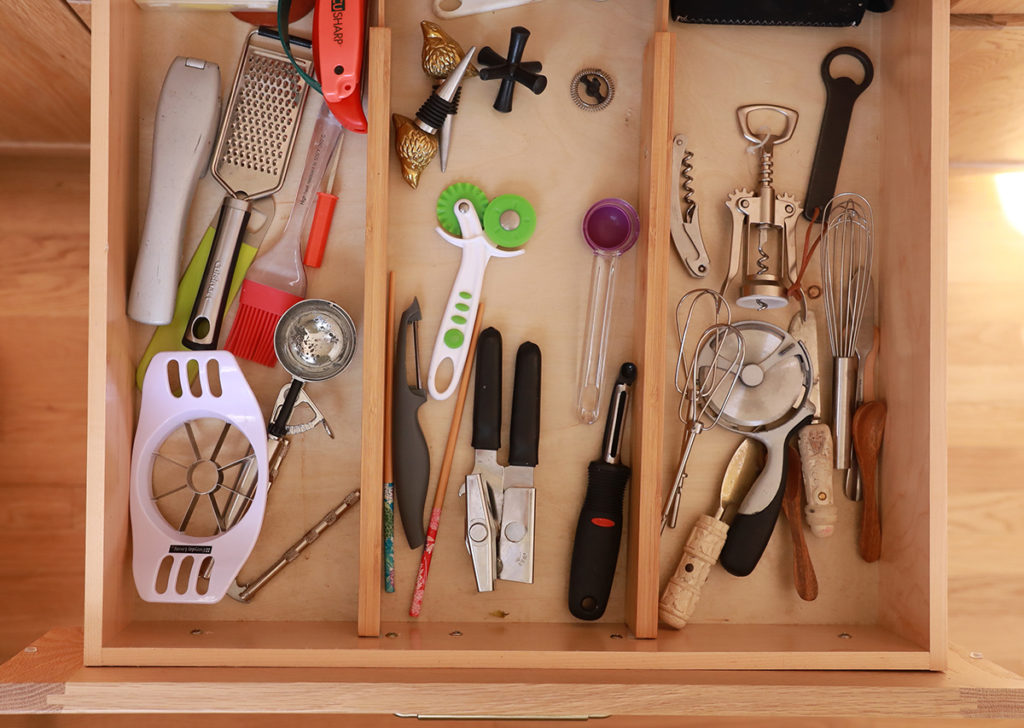 Before
Kitchen gadget drawer after using box organizers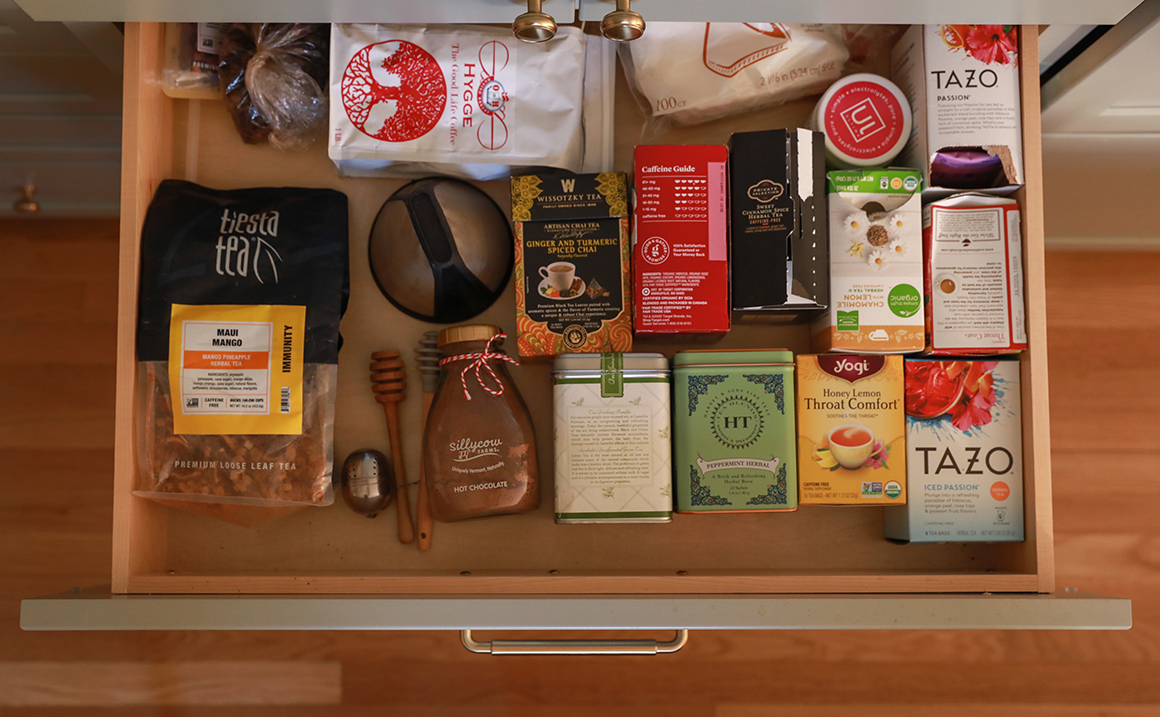 Teas and coffee drawer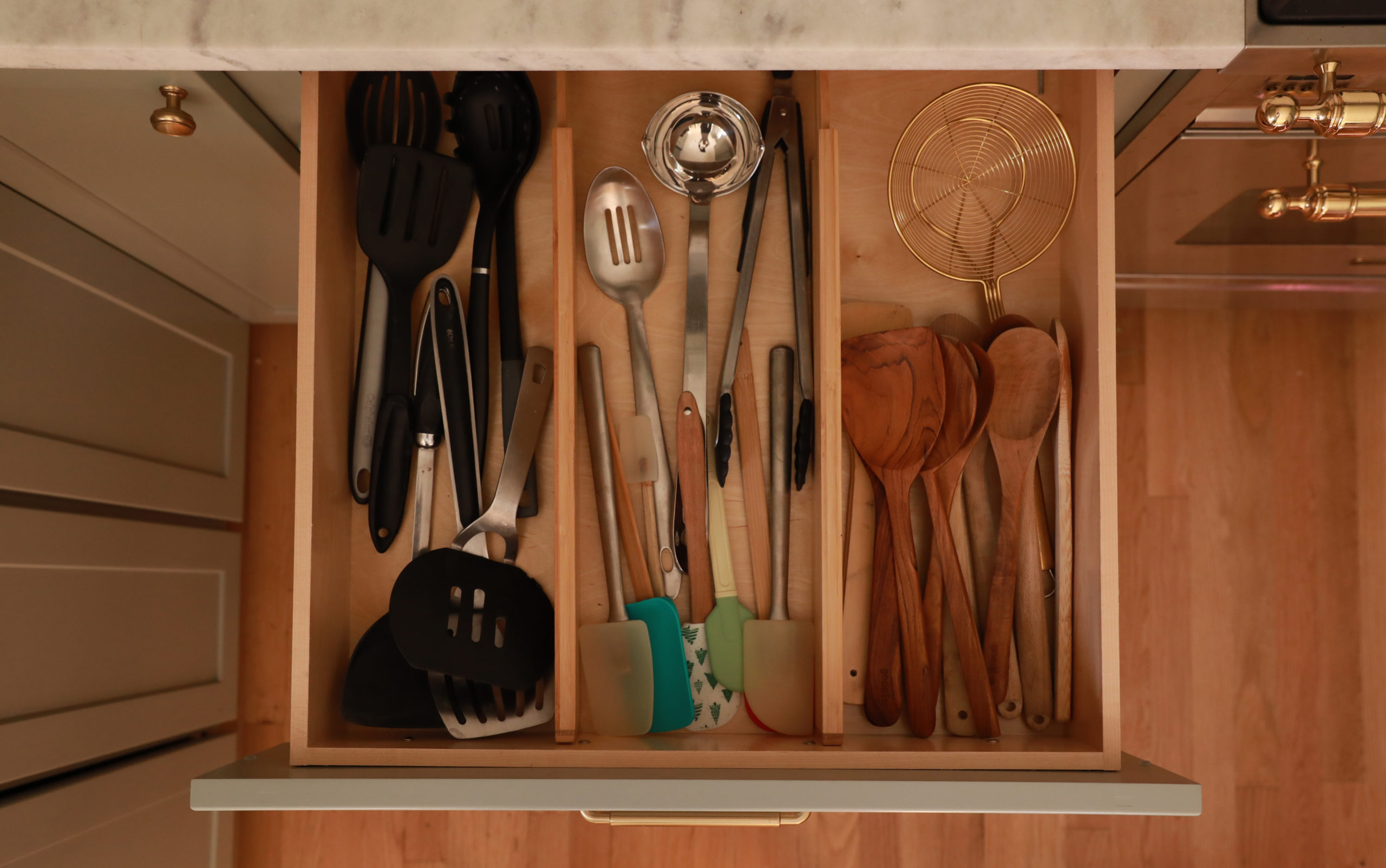 Utensil drawer with bamboo dividers.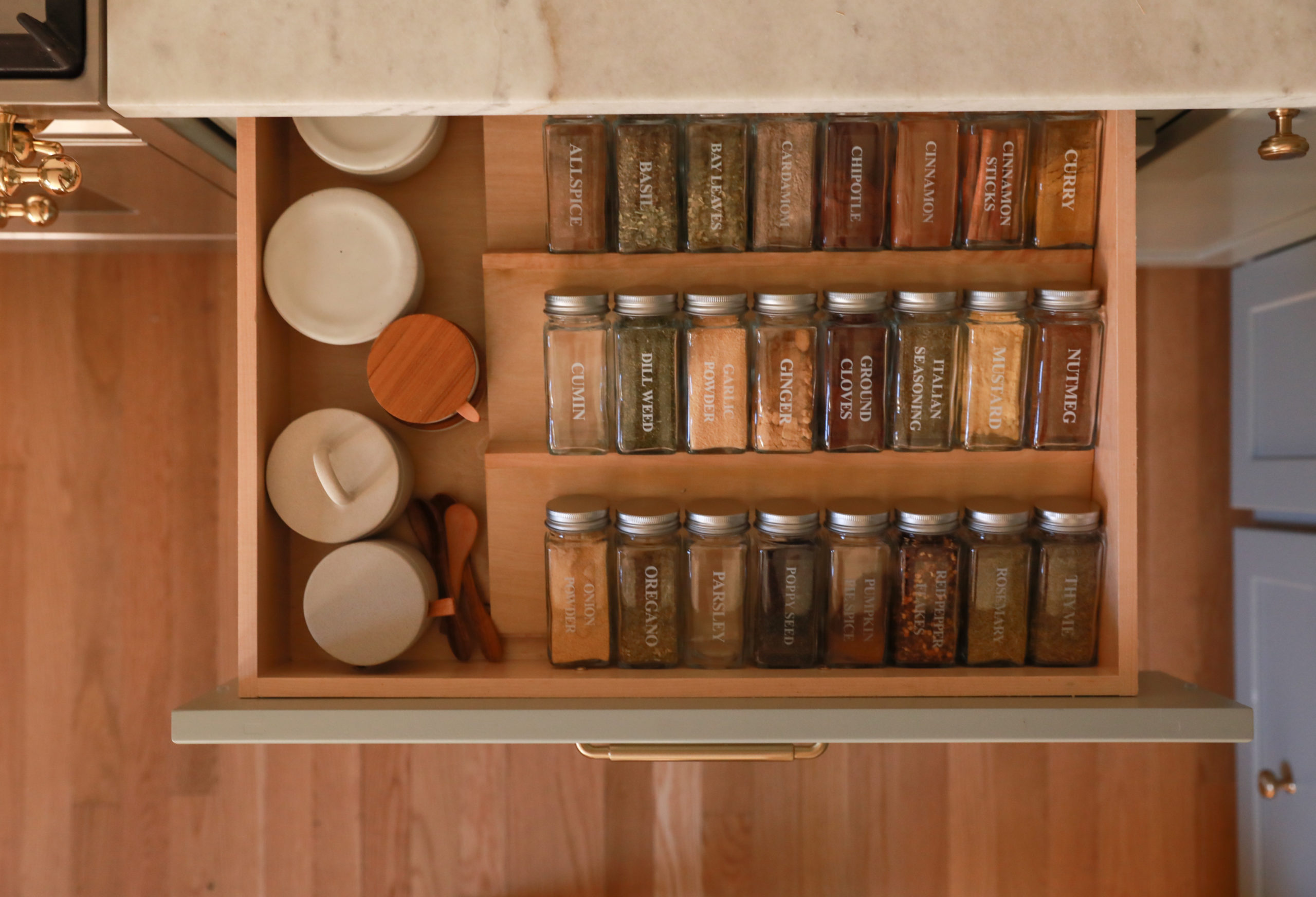 Spice drawer using the rev-a-shelf tiered insert (sold out, but similar here) + spice bottle set.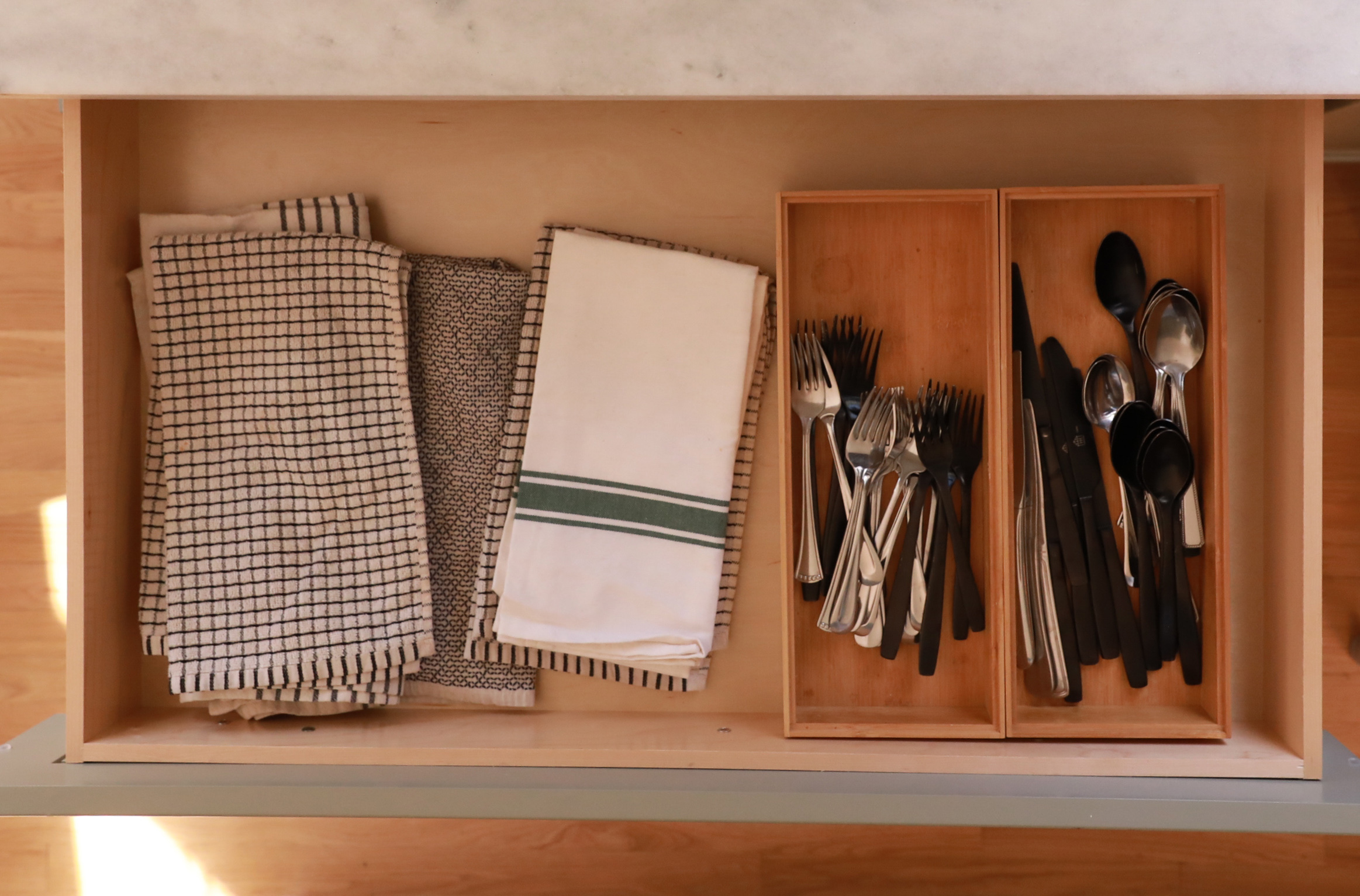 Before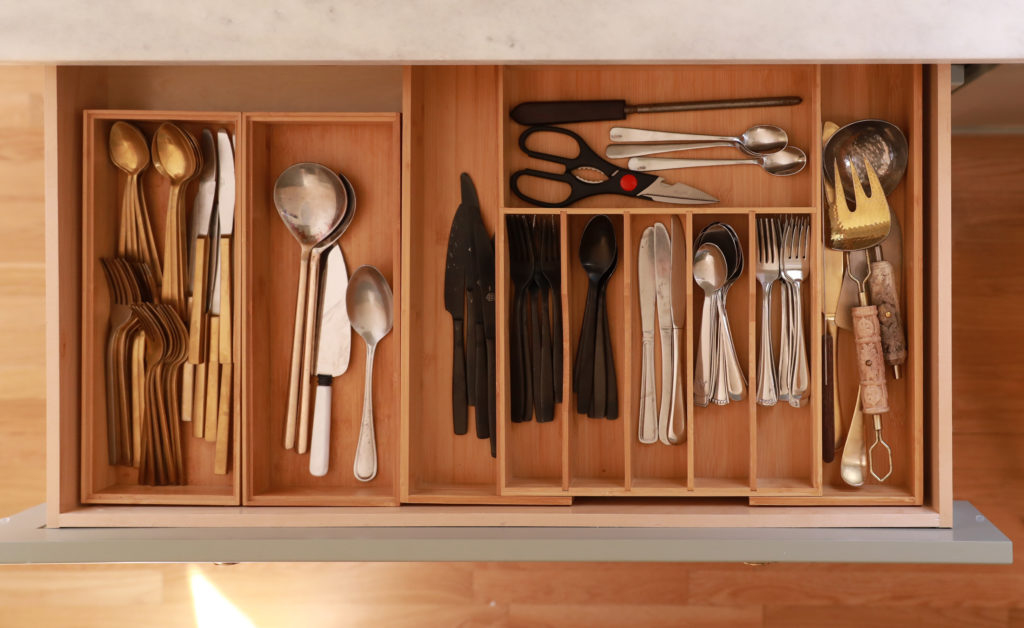 After – using an expandable cutlery organizer + boxes.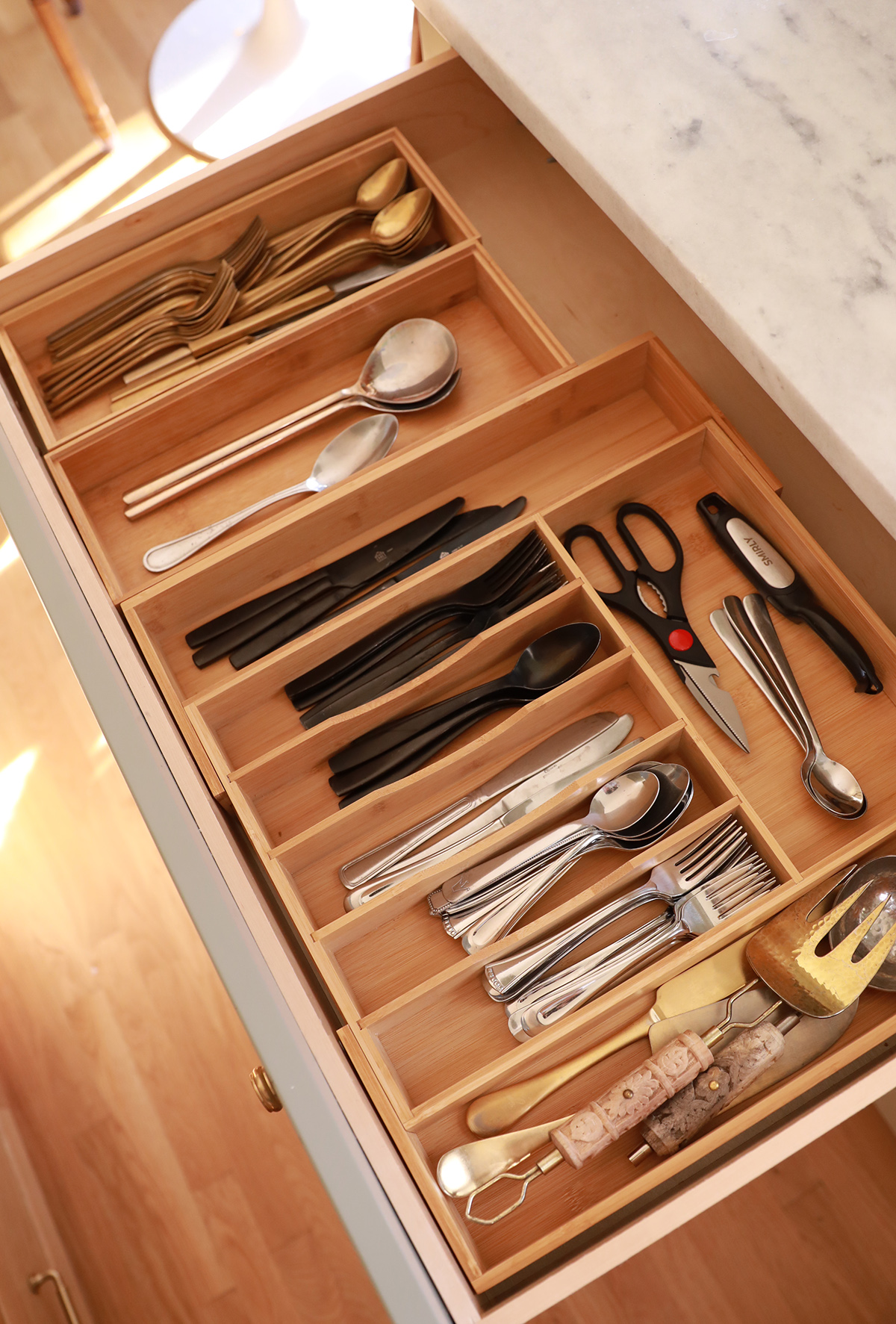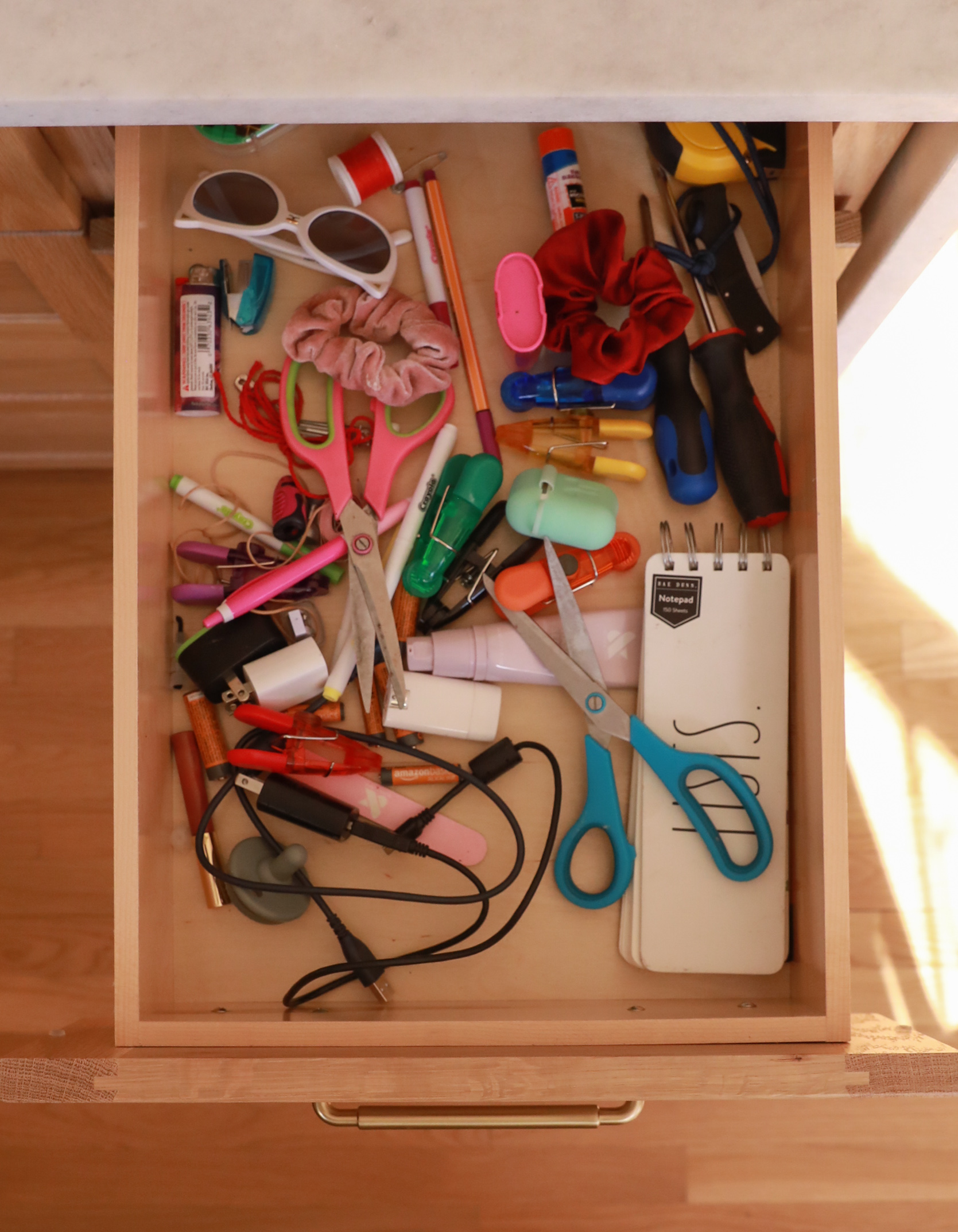 Is a "junk drawer" an American thing? We always had a catch all drawer growing up. I love having one drawer to toss the little things you don't have time to put away. Although it can get out of control quickly. This one is tame compared to previous junk drawers!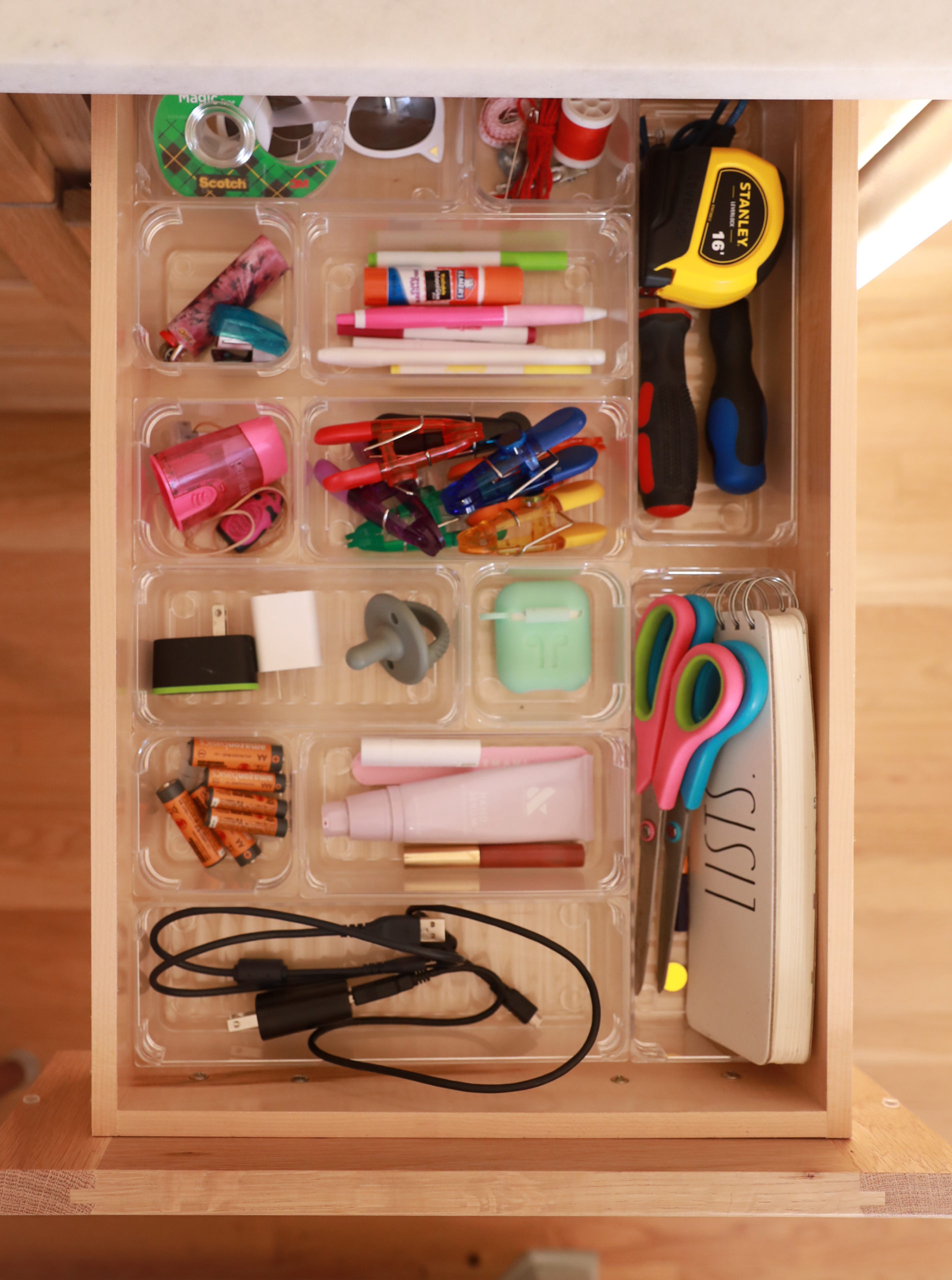 After – using these clear containers.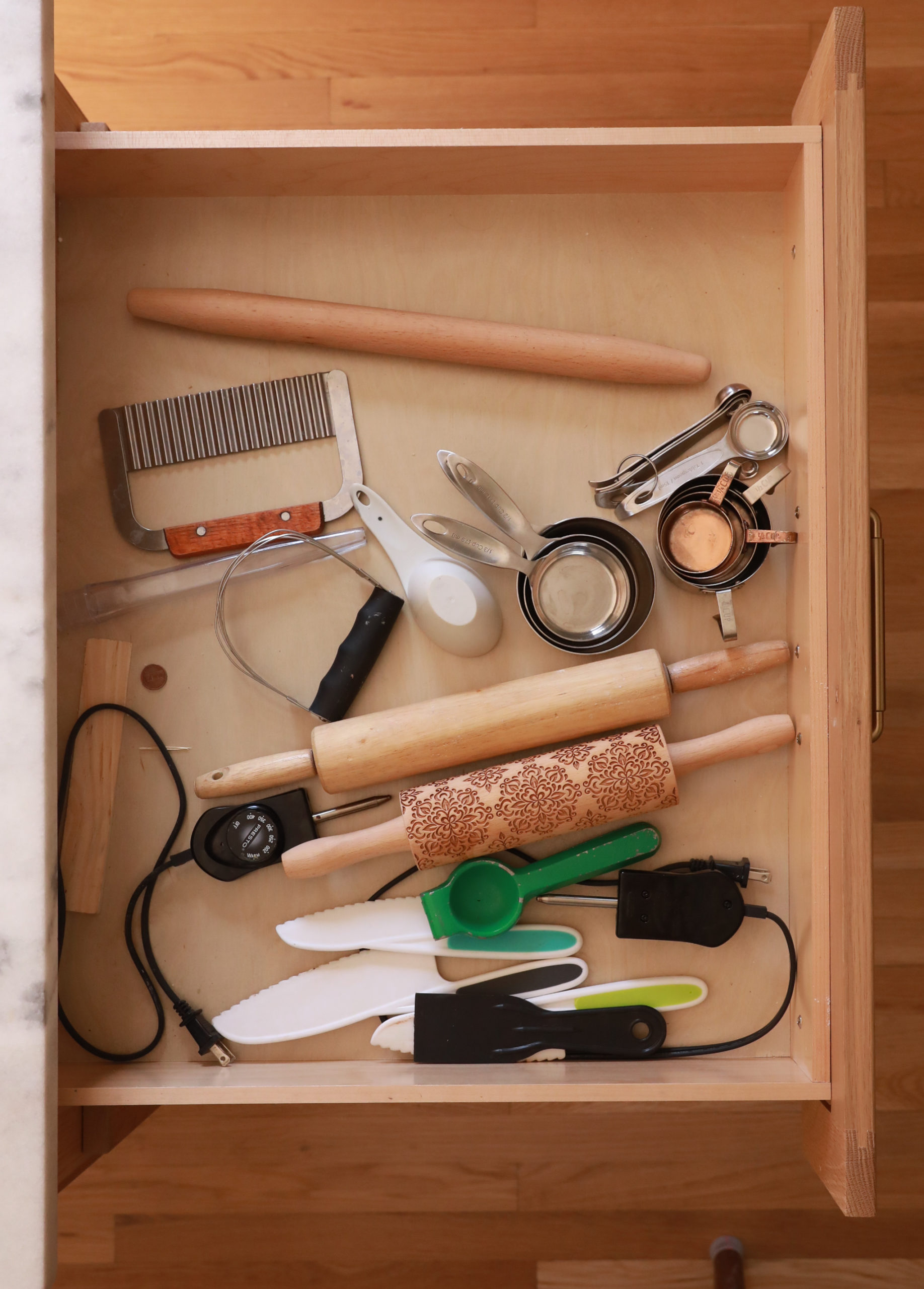 before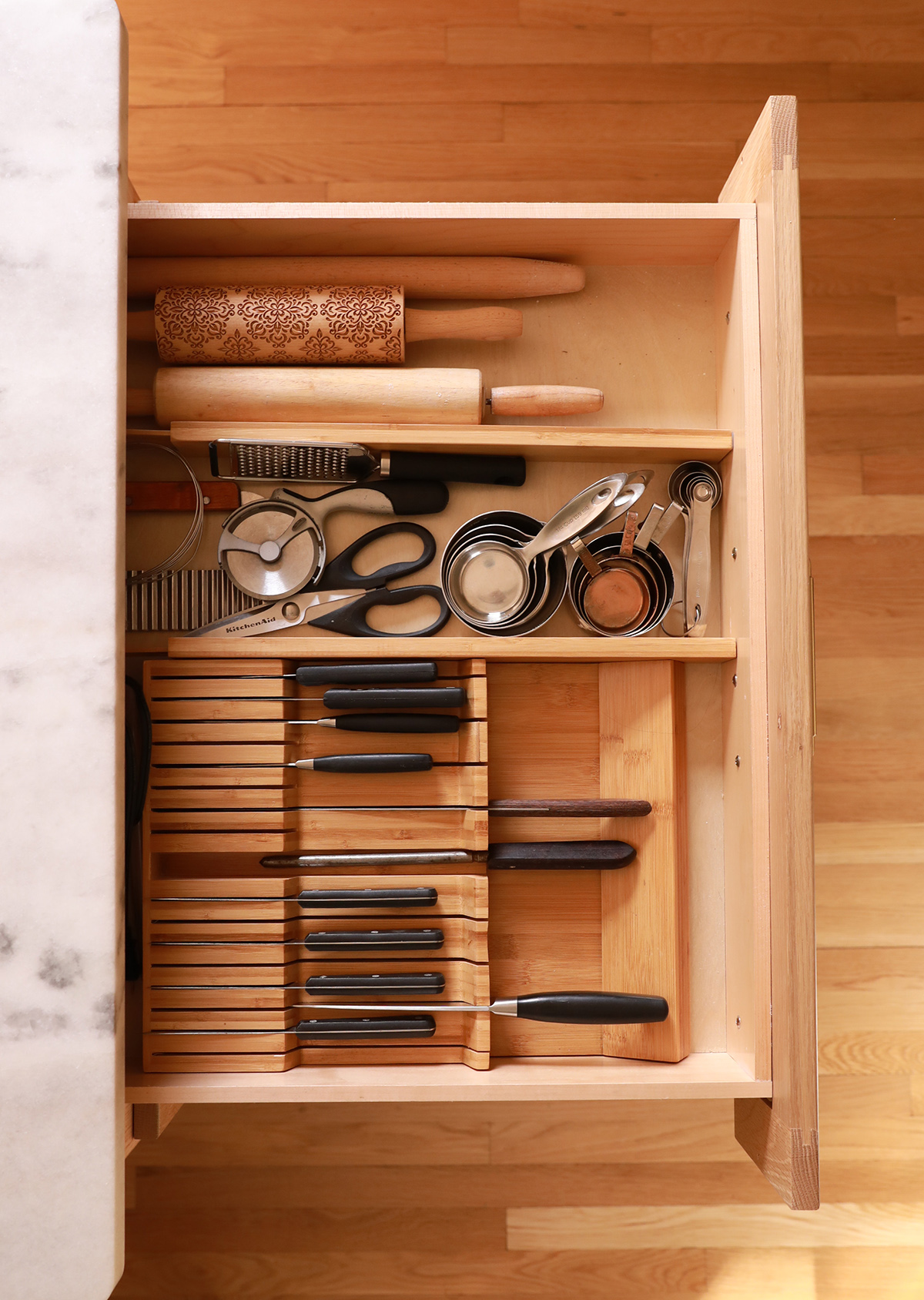 After using the knife organizer + bamboo dividers.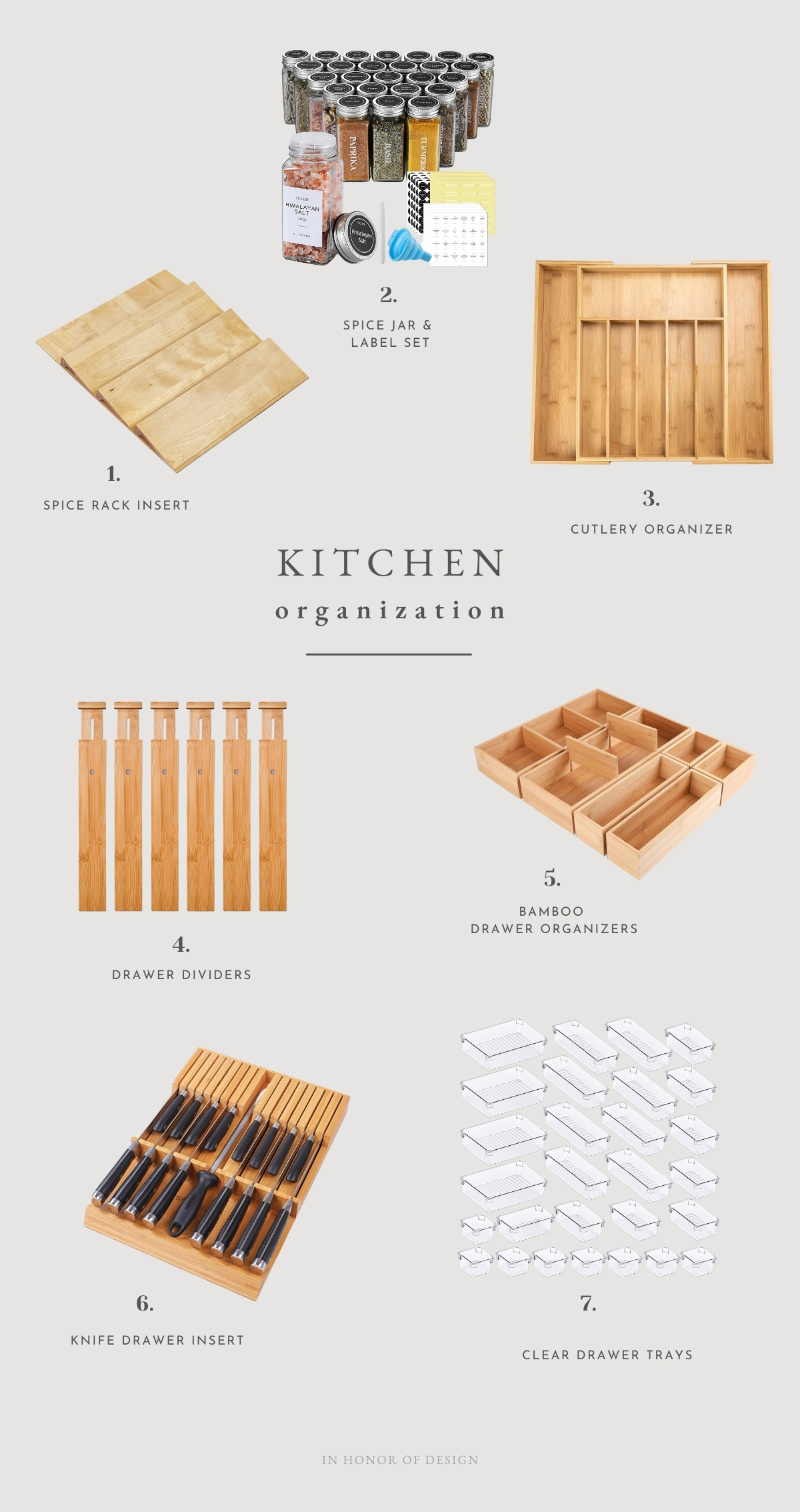 ONE – I went with the 16 inch wide rev-a-shelf spice drawer insert for our 21.5 inch deep x wide drawer. It fit all 25 glass spice jars + extra room in the back for more. (sold out, but similar here)
TWO – These are glass spice jars that include the plastic sprinkle and pour tops + lids. It also comes with a bunch of labels for top or sides of the jars, and a white labeling marker.
THREE – I liked how this was an expandable cutlery organizer. This with a few bamboo boxes was able to organize our every day + holiday sets.
FOUR – These are adjustable dividers that I have in 4 of the drawers above. Easy to use and remove if you want to re-arrange.
FIVE – You can arrange these to whatever size drawer you have so I paired them with one bamboo divider and it took care of all of the smaller gadgets.
SIX – This knife drawer insert houses our sharper cutting knives + steak knives.
SEVEN – I have been able to use these containers in the kitchen as well as three different bathrooms. A good bulk set with three different sized trays.

Now that we have exposed the contents of our drawers, I am going to go ahead and share the gadgets and utensils we use frequently, and a few that are on the wishlist!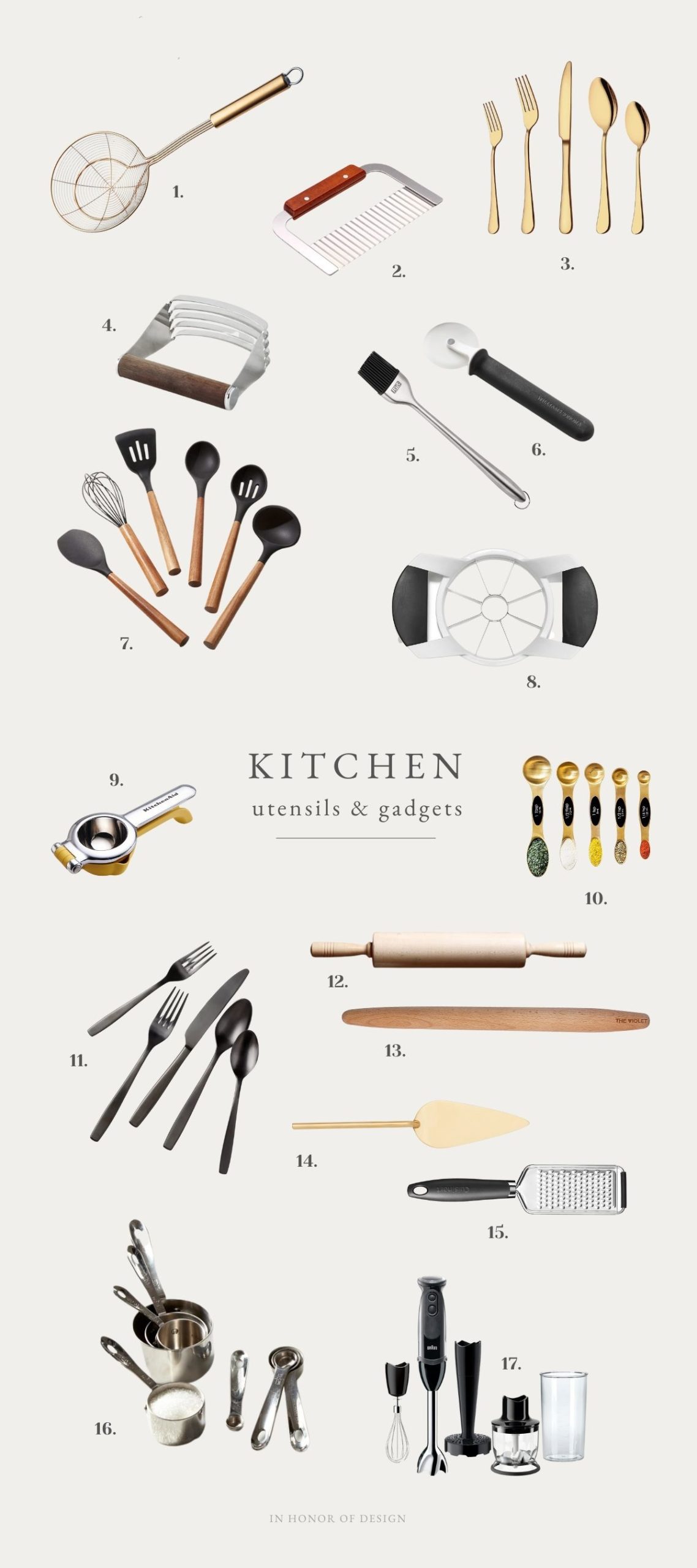 ONE // TWO // THREE // FOUR // FIVE // SIX // SEVEN // EIGHT // NINE // TEN // ELEVEN // TWELVE
THIRTEEN // FOURTEEN // FIFTEEN // SIXTEEN // SEVENTEEN
Large strainer/skimmer for soups, broths, cider, etc.
One of Gabe's favorite gadgets for chopping potatoes to make crinkle fries.
We have a set of gold cutlery from west elm we use for holidays only (I avoid putting them in the dishwasher and they have lasted for years now). This set is a great price point.
Pastry dough/butter cutter.
Silicone brush – I love using this to brush on olive oil and butter to veggies, potatoes, dough, etc..
Pastry cutter for pie crust and dough.
A great every day utensil bundle.
We use this daily to slice apples.
Citrus squeezer for lemons and limes.
This is on my wishlist! Double sided and magnetic to stack.
I use our back cutlery more than I ever thought I would! I like how they pair with so many dish sets.
Favorite type of rolling pin.
I use this for pies and cookie dough.
Pie and cake serving utensil.
The best hand held cheese grater. We use this all of the time.
Stainless steel measuring cups have lasted me years!
This immersion blender was my Christmas gift from Gabe. I am so excited to put it to use. It has several attachments good for mixing, blending, and mashing!

More kitchen organization posts coming up next week!