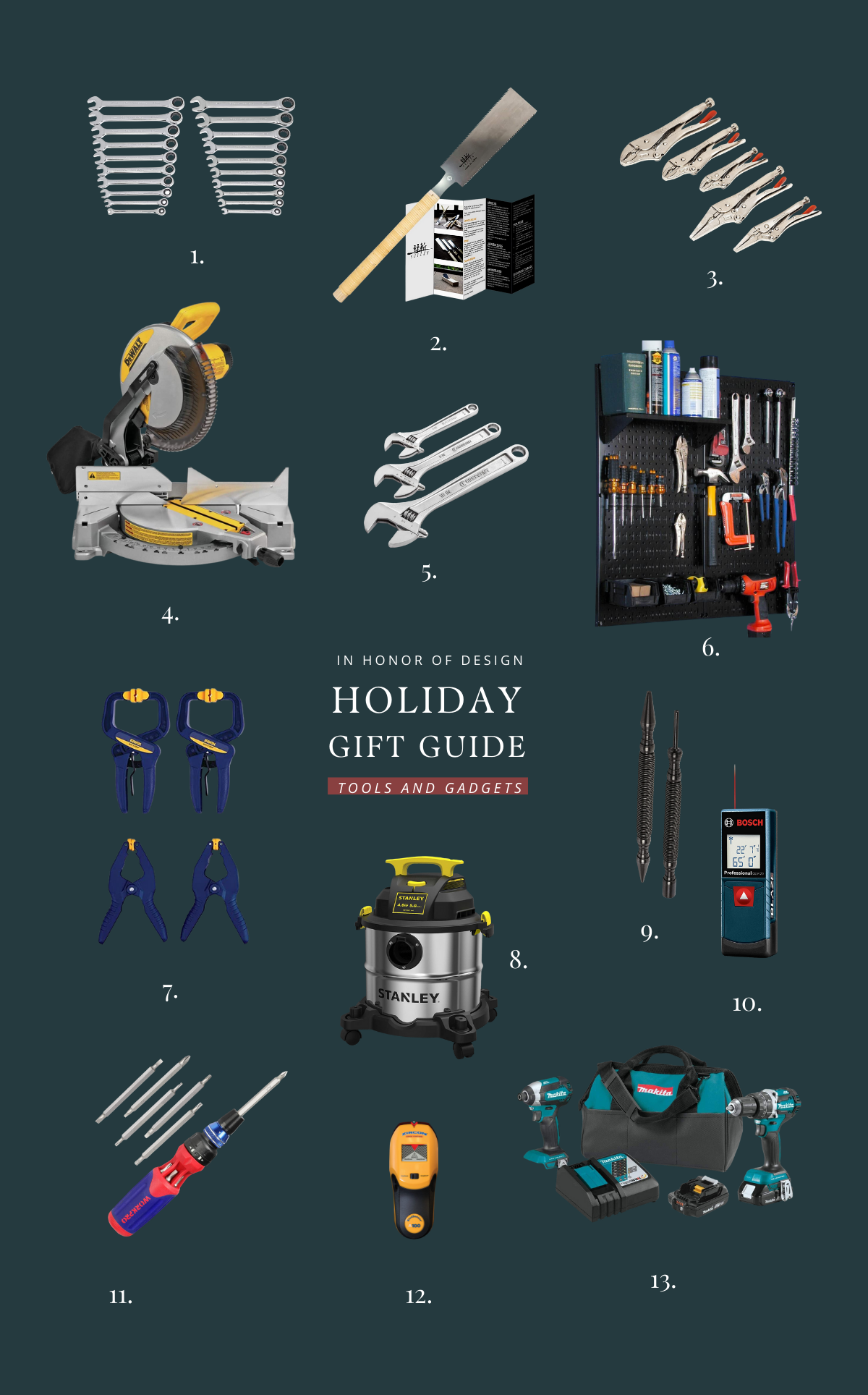 We often get asked what tools we think are most important to have on hand. These are my most-used and well-loved tools I would recommend to any homeowner or renter! If you'd like to support your local hardware store, just bring this list below!
1. GearWrench ratcheting combination wrench set – Versatile and very well-built combination wrenches with the extra feature of a ratcheting action. They are my go-to, especially in tight spaces.
2. Japanese pull saw 9.5 inch – Made-in-Japan, authentic Ryoba-style Japanese pull saw. This high-quality saw is easier to use and requires less effort to cut compared to a standard push hand saw. It is the only saw I use when I have to cut by hand.
3. Crescent 5-piece locking pliers set – One of my most-used and handiest tools. These allow extra grip or temporary hold on a plethora of items. They are a must for any homeowner, DIYer, or aspiring handyman.
4. DeWalt 12-inch single bevel compound miter saw – This saw is generally dialed-in straight out of the box and ready to go to make repeated, precise, dependable cuts. It's a workhorse that will last a very long time and has been indispensable for us as homeowners.
5. Crescent 3-piece adjustable wrench set – These beauties go by multiple names: "spanner," "adjustable wrench," or "crescent wrench." Whatever the name, they are a must due to their versatility to fit a multitude of nut and bolt sizes.
6. Wall Control metal pegboard and storage kit – I love pegboard for organization, but I hate standard pegboard when the peg holes blow out. These metal pegboards, on the other hand, are the best on the market, they will never fail, and they look the best too.
7. Irwin Quick-Grip 8-piece clamp set – The best clamp set out there. It comes with 4 bar clamps, 2 spring clamps, and 2 hand clamps. These are my favorite clamps for ease-of-use and speed-of-use. Trust me: you can never have too many clamps!
8. Stanley 5-gallon wet/dry vent – Well-built, great suction power, but not oversized, it's the perfect vac for any dirty clean-up in and around the home.
9. Ares spring-loaded nail set and hinge pin remover – This is the type of tool that I didn't know I needed until it dropped into my life and blew my mind. It is the best/easiest way to set any nail below the wood surface. A must when working with trim, molding, flooring, and anything dealing with small nails. The door hinge remover is also a game-changer.
10. Bosch laser distance measure – Think of this like a pocket-sized tape measure … but with LASERS! (Cue Austin Powers references.)
11. Workpro 12-in-1 ratcheting screwdriver – My most used tool ever! It has replaced nearly all my other screwdrivers. I love it, and when you are in love, you cannot stop talking about it.
12. Zircon edge sensing stud finder with wire detection – The most cost-effective, easy-to-use stud finder I have come across. The edge-finding capability makes it a great little tool.
13. Makita 18V drill/driver combo kit – This is a great drill and impact driver combo. It is lightweight, well made, and powerful enough to tackle nearly any home project.