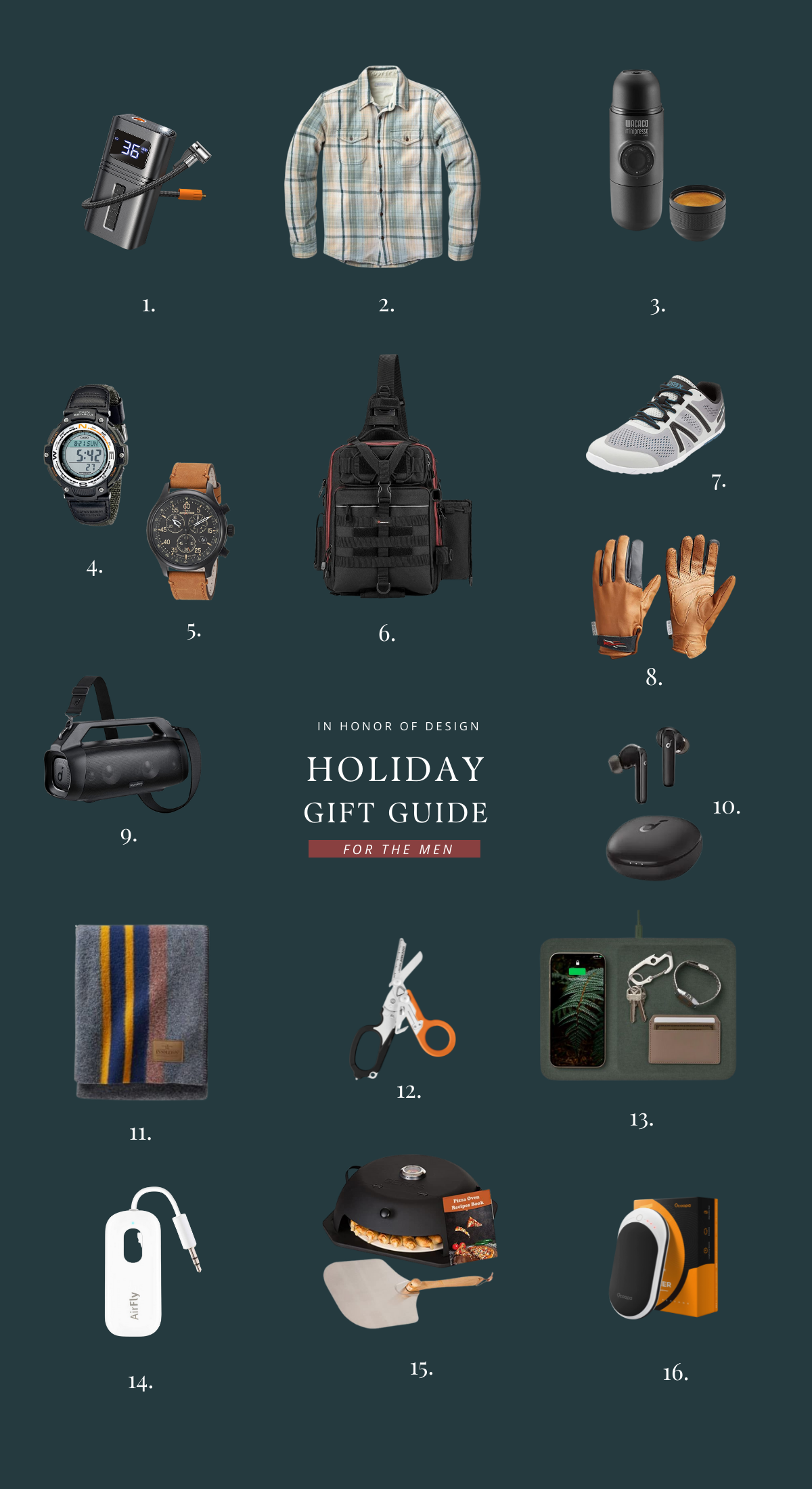 Written by Gabe
I look forward to our annual gift guide every year! Many of these I have personally used and loved or are own my own wishlist! I hope it saves you time in the hunt for the right gift for the menfolk in your life.
1.Handheld Air Compressor and Tire Inflator – A battery powered, hand held, yet powerful air compressor. Great for road trips, roadside assistance, camping, and especially for those pesky summertime inflatables.
2. The Outerknown Blanket Shirt – I don't own one, but I am dreaming of the wintery day when I will. The name says it all.
3. Wacaco Mini Handheld Espresso Machine – The highest rated travel espresso machine on the market that will not burn a hole in your wallet. It is also fully Nespresso compatible.
4. Casio SG100b Digital Watch – This is a rugged well designed watch at an amazing price which carries a wide range of features usually reserved for watches well over $100. It is the best sport/outdoor watch under $100 in my opinion.
5. Timex Expedition Men's Field Chronograph Watch – An amazing looking casual watch with some great features priced under $70. This is high on my wish list this year.
6. Piscifun Shoulder Sling Outdoor Bag – We have a couple of these in our house! This is a very well designed lightweight, durable, and comfortable compact bag that is perfect for day hiking, hunting, fishing, or as a survival bag.
7. Xero Shoes HFS Running Shoe – Xero is my favorite shoe brand, and the HFS is my favorite running/workout shoe. These are minimalist (low cushion) without being extreme.
8. Sitka Gunner Windstopper Gloves – I don't like bulky winter gloves so these are perfect. They form to your hand well, cut the wind, and are good looking casual gloves, yet durable enough for hunting/hiking. Are they the best choice for Wisconsin ice fishing, no, but that is not their purpose.
9. Ankar Soundcore Motion Boom Plus Portable Bluetooth Speaker – I am a big fan of Ankar products. This waterproof speaker with nearly 20hrs of battery life is a great choice for any outdoor enthusiast, pool lounger, or beach bum.
10. Ankar Soundcore Life P3 Earbuds -I am not a fan of Apple's AirPods because they constantly fall out of my ears. The Life P3 earbuds are perfect. They have great sound and noise reduction, are comfortable and yet snug enough for a workout, and best of all are under $100. I highly recommend.
11. Pendleton Camp Blanket – High quality American made wool blanket. It's a mountain man's blanket, not his wife's duvet;)
12. Leatherman Rescue Multi-Tool – Great addition to any emergency kit, field/hiking kit, or for a first responder. The best feature is are the highly effective emergency sheers.
13. Catch:3 Wireless Charging and Vallet – Anna says I need this, and I have to agree. A single place to charge my phone and place my keys, wallet, and earbuds so I don't constantly misplace them.
14. 12 South AirflyPro – Perfect for frequent flyers and travelers. It allows you to connect your wireless earbuds to any audio or entertainment source with an audio jack.
15. Outdoor Pizza Oven for the Grill – This amazing device allows you to bake any pizza on a gas or wood fired grill for that perfect artisan restaurant pizza in your own backyard.
16. Compact Pocket Hand Warmer – This has three settings of heat, a long battery life, and is priced low enough to pick up one for each hand.