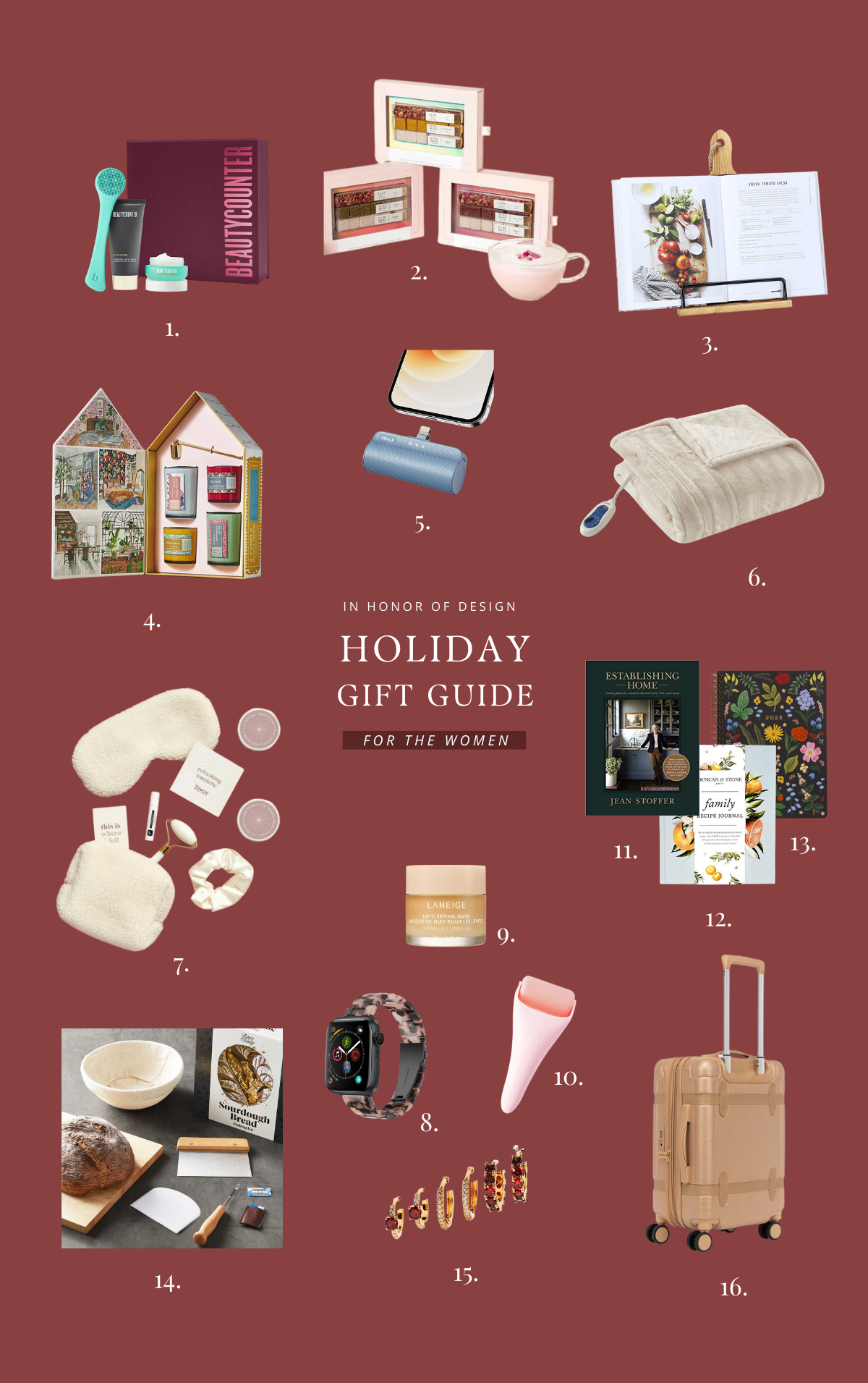 I love to slowly gather gifts throughout the year when I find small boutiques or neat local shops. I am also always ordering a few gifts last-minute when I am out of time to shop. I love shopping for loved ones, but I can rarely name things I personally am wishing for. (Poor Gabe is usually playing the guessing game.) This gift guide forced me to sit down and scour the internet for things I would personally love, but also things I would want to give to my own mom, sisters, or friends.
1. Multi-masker set – This is a set I would give to my mom or a dear friend, since it's like an at-home spa treat. The AHA mask is one of my very favorite skin care products. Only one use leaves your skin glowing and refreshed. The charcoal mask is a deep cleanse for your pores.
2. Instant colorful tea latte kits – A fun and unique gift for the latte lover!
3. Cookbook stand – My brother gave me this for sibling gift exchange last year, and I use it all of the time. Under $25. It would be fun to pair with a cookbook!
4. A Candle for Every Room – I always love any gift from Anthro. This is such a beautiful candle set with the most clever packaging. I want to get this for my mother-in-law.
5. Portable iPhone charger – For the gal who loves a practical gift (me!) who also always has a dead battery problem (me again).
6. Plush heated blanket – Still one of my favorite gifts I have ever received. My mom gave me a plush heated blanket a few years ago, and I use it every night in the winter with a good book!
7. Wind Down Kit – Love this clever gift set! I would use everything in this kit. A soft sherpa sleep mask, stone facial roller, silky scrunch, lavender mist, refreshing towelette, bookmark, and two lavender shower steamers, all in a travel-size sherpa pouch.
8. Apple Watch band – I won an Apple Watch this year and found this watch band that I have loved! Good quality and price with adjustable sizing.
9. Laneige lip mask – Can't say enough good things about this lip mask. It is incredibly hydrating and feels amazing.
10. Ice roller – This would be a fun stocking stuffer. I have been wanting to try this after a friend recommended it! Good for a wake-me-up facial massage in the AM.
11. Establishing Home – I pre-ordered this book so fast! Jean Stoffer is one of my favorite designers, and I have loved diving into her book full of beautiful imagery and very practical and helpful tips.
12. Family Recipe Journal – I have so many scattered family recipes, and I have been wanting to put them all in one place. This looks like a good one!
13. Rifle Paper Co. planner – In denial that it's almost 2023. This planner would ease the punch;)
14. Sourdough bread kit – For the friend who is always up for trying a new hobby;) I actually have been dying to try making sourdough!
15. Birthstone earring set – This would make such a thoughtful and personal gift!
16. Calpak luggage – Spinning wheels, expandable exterior, TSA-approved lock, carry-on size, and lots of interior organizational space!