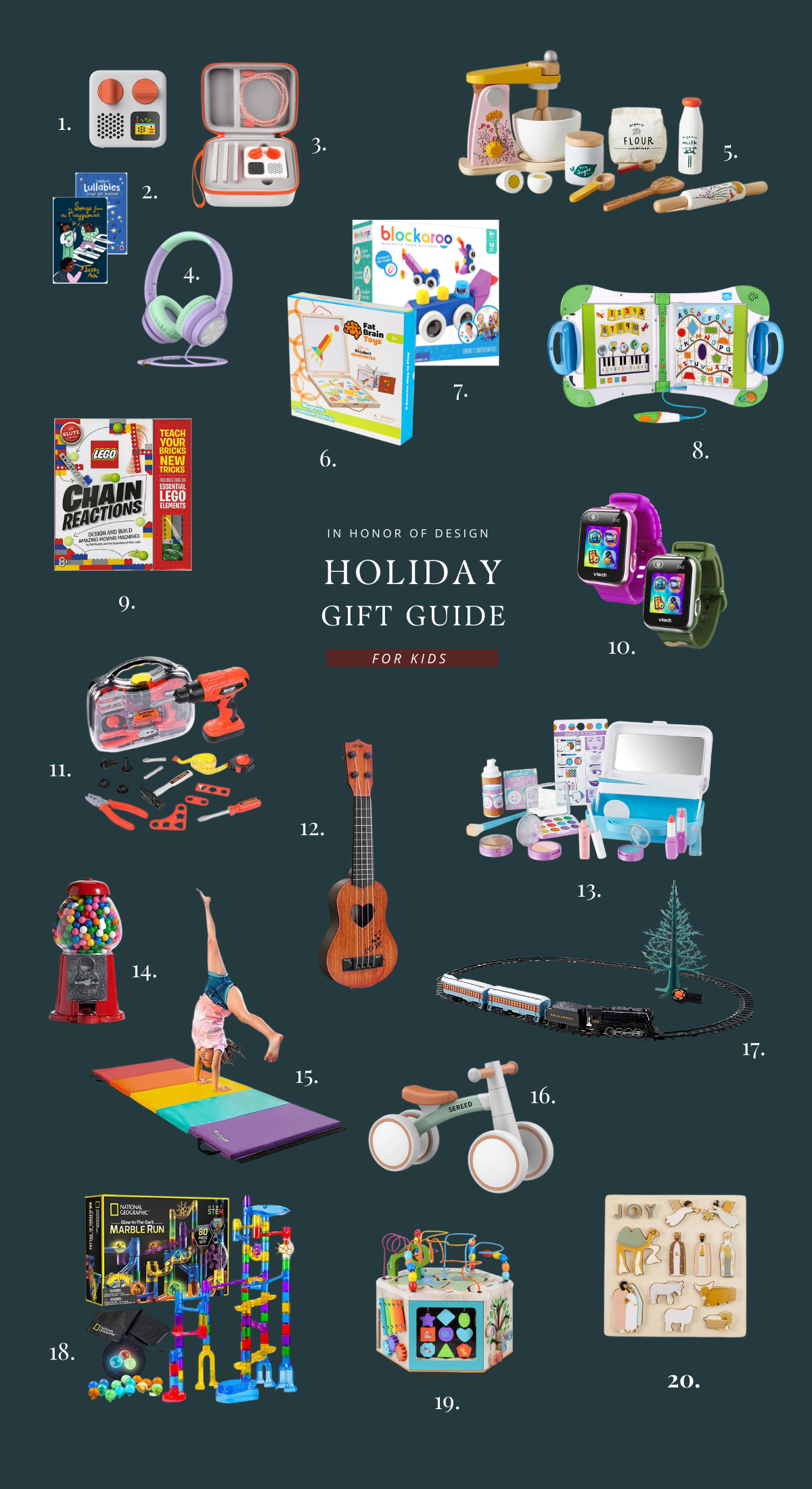 We always tell our kids to think really hard about what they actually want for Christmas, instead of compiling an endlessly long list of things. I love seeing their wheels turn as they carefully think through and write down their wishes. We don't do super big gifts for Christmas; instead, it is usually gifts we know they will really love and use more than a few times. I like to surprise them with something not on their lists as well. Bonus points if it won't break in ten minutes (this has definitely happened a time or two on Christmas morning). This gift guide is a mix of things our kids have loved in the past and items that have really piqued my interest for different age groups.
1. Yoto Mini – After reading so many good reviews about the Yoto Player and the Yoto Mini, I decided to get this for Azelie for her birthday. It has been the best gift for her. She listens to stories or music every night with Chiara, or she uses it with headphones during quiet time. (It's USB rechargeable.) Rocco has also been borrowing it often, so I may need to get one for him too!
2. Yoto Cards – Some of the cards we have loved with the Yoto Mini are the lullabies, Songs from the Playground, Magic Treehouse, and classical music. There are several audiobook and song card options!
3. Yoto Mini Case – This stores the player and cards well and makes it travel-friendly!
4. Kids headphones – We have a few sets of these that have good sound, come in various colors, and are a great price point. This is the pair Azelie uses with her Yoto Mini.
5. Mini mixer set – I thought this was the sweetest set for kids who love getting lost in imaginative play. My kids have been playing "restaurant" a lot lately, so I have been waiting for this to go on sale for Chiara!
6. Magnetic Creation Station – I love the Fat Brain Toy brand. So many good toys for different learning and development phases. This is a fun magnetic shape activity board that is easy to store and travel with.
7. Blockaroo magnetic blocks – Foam magnetic shapes to build and create with. I can't decide which of my kids to get this for, but I know it will be a hit, since they all love to build and construct.
8. Leapfrog activity book – We got this for Chiara's birthday this year, and she has loved it. Another great option for car rides. This includes a few interactive activity learning books.
9. Chain Reactions Legos – My boys still love and use legos all of the time, but they especially love a challenge. These Chain Reaction lego set/books have been a big hit with my kids.
10. VTech kids watch – These watches have camera and video features, games, a timer, and a few other aspects that make a really fun gift for the 4-9 year age range. It is splash-proof and USB rechargeable. We have tried a few brands, and this one has been the best quality.
11. Mini tool kit set – These are always a hit with the toddler age range. The power drill works like a real drill. I always appreciate a sturdy case for easy clean-up too!
12. Ukelele – Such a good price for a sweet little musical instrument!
13. Play makeup caboodle – This is the play makeup caboodle we gave Chiara (3 years old) for her birthday, and she carries it around from room to room, offering her makeover services;)
14. Gumball machine – I will never forget the birthday I got a gumball machine. Such a fun surprise! I love how this looks like an old-fashioned one.
15. Gymnastics mat – Something to help channel the energy during the winter months! We had one of these growing up and used it all of the time.
16. Baby balance bike – Comes in several colors. A great intro bike for the 12-24 month age.
17. Polar Express Train – We got this years ago for Gabriel, and it looks and sounds like the real deal. It's pretty magical! You can also find it at Pottery Barn Kids.
18. Glow-in-the-dark marble run set – This is on Rocco's wish list. There are many configuration and set-up options, so it is a fun gift for kids who like to engineer and construct.
19. Preschool Play Lab – A 7-in-1 activity set featuring a xylophone, counting beads, spinning gears, animal and shape flip board, sliding tree, and wire bead maze.
20. Nativity puzzle – Gus is just now getting into chunky wooden puzzles so I ordered this sweet Nativity puzzle for him:)
We have a local toy store we love to do most of our shopping at. If you have a local toy store you like to support, you can find many of these items there!