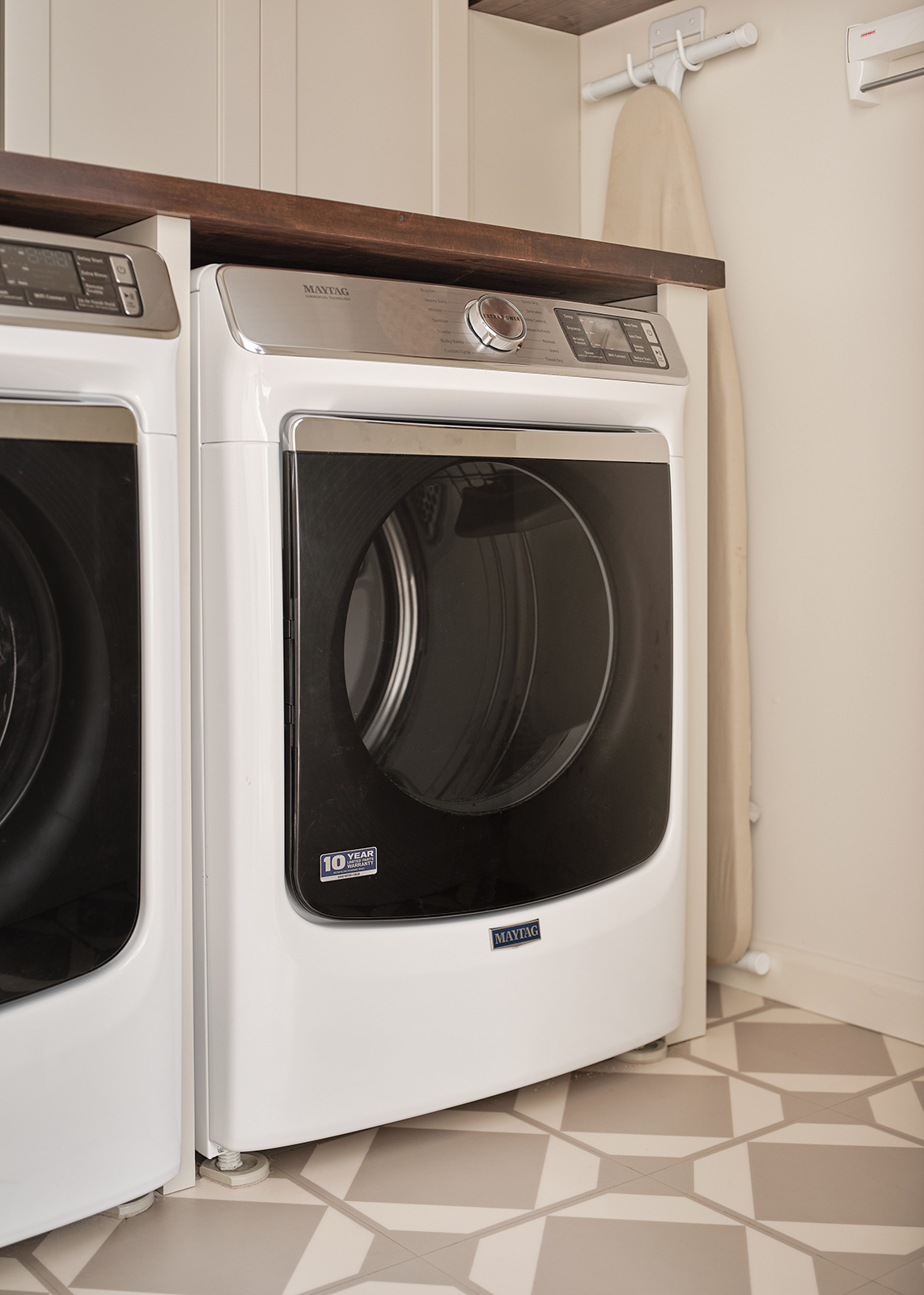 The process of buying a washer and dryer can be overwhelming considering all of the new options available. Thanks to the feedback you all sent us we were able to narrow down the top brands known for quality. From there, we did our own research and ended up choosing Maytag brand. Plus, our previous Maytag® Washer lasted us 14 years (and we purchased it used): talk about a dependable appliance. I'm excited to share more about the Maytag® set we chose, and some of the washer and dryer features that sold us when purchasing at Maytag.com.
Photos by Joseph Bradshaw
(For a limited time, you can get 10% off all laundry at Maytag.com using our code AGTENOFF!*)
What Type of Washer and Dryer Should I Buy?
In case you missed, we shared a post on front load vs top load washing machines here and ultimately decided we wanted a front load washing machine. We also knew we needed a set that had a large load capacity for our big family and wanted a washer that wasn't too harsh on clothes, but could clean effectively. The Maytag® Smart Front Load Washer & Dryer Set seemed like the best choice due to the features.
How to Figure Out If I Have a Gas vs Electric Dryer?
The easiest way to determine what type of dryer you currently have is to check the connections behind the dryer. A gas dryer will have a standard electrical plug and wall outlet, as well as a gas supply line connecting the dryer to a gas valve in the wall. On the other hand an electric dryer will not have a separate gas line. Additionally, the electrical plug, electrical cord, and electrical outlet are much larger and thicker than a standard electrical plug and outlet.
If still unsure, search the model number of your dryer, which is generally found upon opening the door of your unit. Ours is an electric dryer!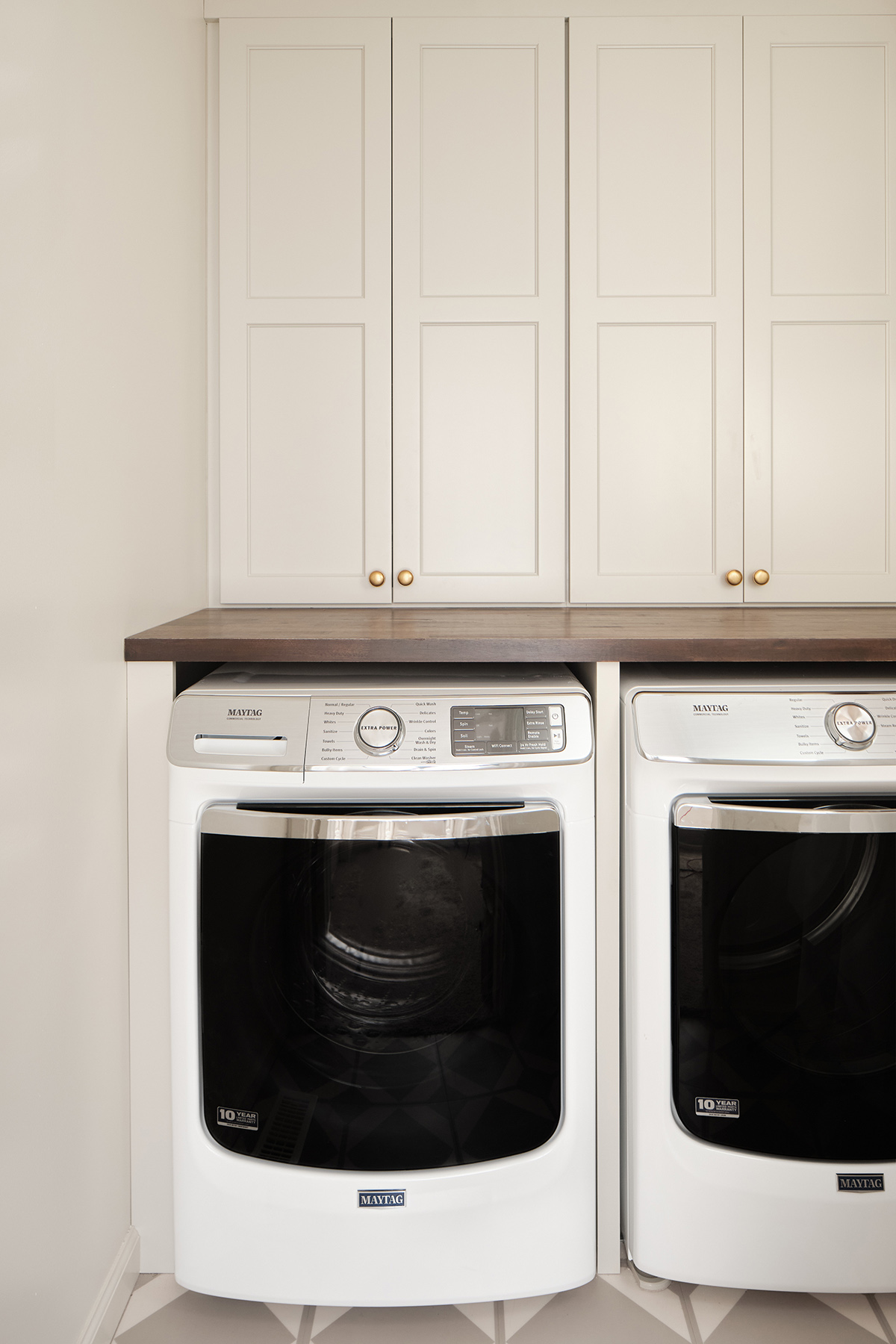 Maytag® Smart Front Load Washer Features (Model No. MHW8630HW):
Late add feature – Pause loads to add last minute items. (I use this feature often!)
5.0 cu. ft. capacity – I love that there is room for extra large loads with 5.0 cu. ft. capacity. We go through many large loads per week when my kids are in sports, so this was a big plus for me!
Extra Power button –Boosts stain fighting on any wash cycle with an intense pre-wash and extra agitation. It uses the combined actions of increased time and a vigorous wash motion to battle the tougher stains.
24-Hour Fresh Hold® Option – One of my favorite features! I am the worst at remembering to switch my laundry loads! This feature keeps clean clothes smelling fresh in the washer with an internal fan and intermittent tumbling that circulates air through clothes for up to 24 hours after the wash cycle ends.
Optimal Dose dispenser – This adds the right amount of detergent when it's needed, holding enough for up to 8 loads of laundry. (Based on an 8-lb load.) So we don't need to add detergent each time!
Quick Wash Cycle – Using extra high-spin speeds, the Quick Wash cycle cleans small, lightly soiled loads in 15 minutes. (Based on a 3-lb load.)
Wrinkle Control Cycle – specially designed to help prevent wrinkles with warm water and low spin speeds.
Efficient water use – Less water per load is a big benefit to our water bill!
Maytag® Smart Front Load Electric Dryer Features (Model No. MED8630HW)
Wrinkle Prevent option with Steam – One of my favorite features! Adds steam to post-cycle tumbling for up to 150 minutes after the cycle ends to help prevent wrinkles from forming. Also reduces static!
Extra Power – Boost drying power to help get thick fabrics drier the first time.
Quick Dry cycle – Drys small loads super fast!
Advanced Moisture Sensing Plus – Contains an extra sensor that monitors inside moisture air temperatures to help evenly and completely dry large and bulky loads. I haven't had a damp laundry load issue since using this dryer!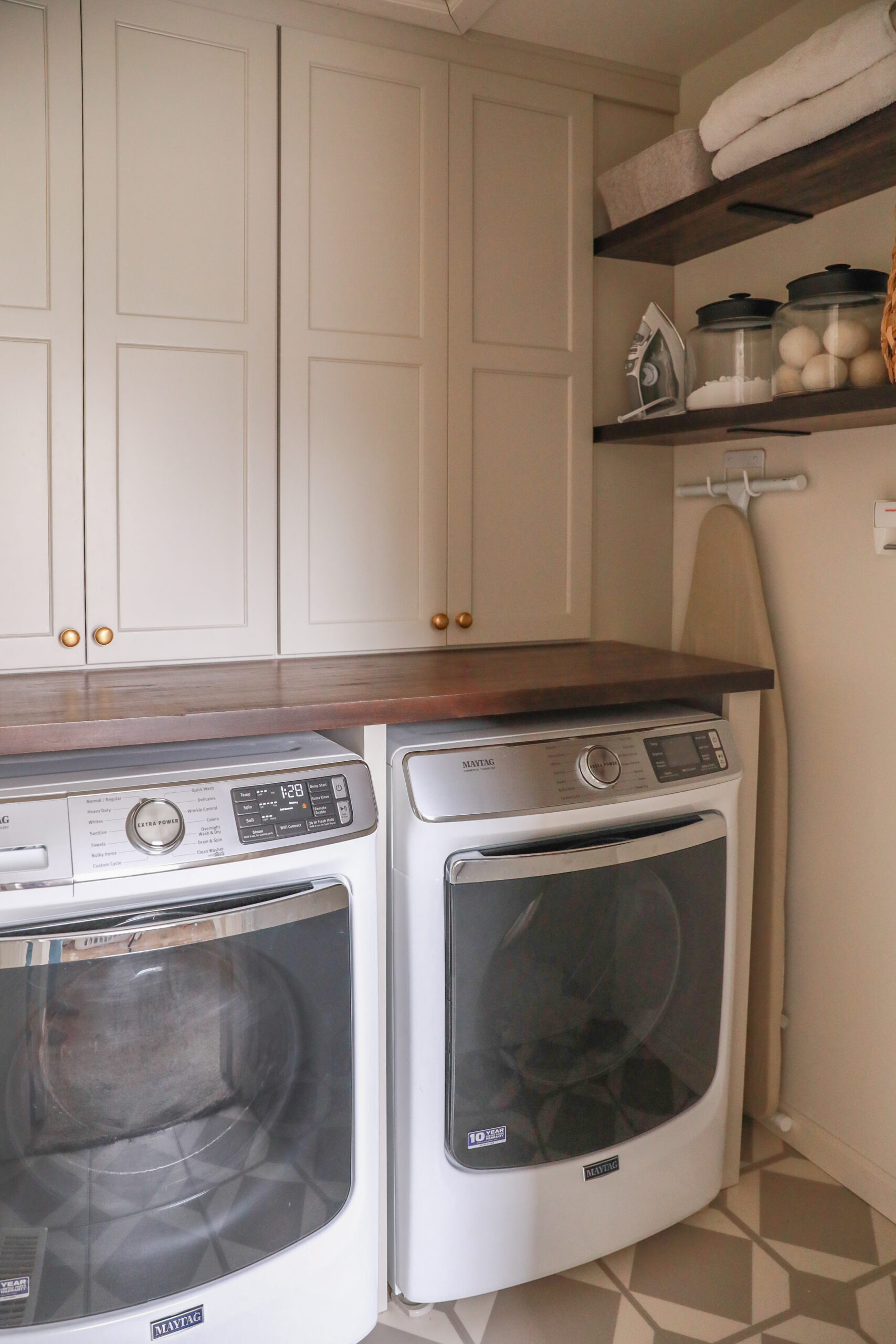 Where to Buy a Maytag® Washer and Dryer
If you are considering purchasing a washer and dryer, we highly recommend purchasing directly online at Maytag.com. We found the process really easy and you can get free shipping on orders over $399. (Click here for details) Our promo code AGTENOFF gets you 10% off all laundry through 4/9/2023!*
If you are purchasing a washer and dryer online a few other things to note:
– Maytag.com offers free delivery with purchases of $399+
-If you create an account at Maytag.com you'll also receive free installation and free haulaway over $1,000 (Click for details)
-They communicated in advance of delivery times, and called ahead before the truck arrived. Our delivery person did an excellent job hauling in the machines and installing them on our second floor small space laundry room. Good customer service and efficiency is so appreciated these days!
This washer and dryer set has been a major upgrade in the day to day laundry grind! I have been especially loving the 24 hr fresh hold option, high cu. load capacity, and the late add feature. Speaking my laundry love language! I have noticed how thorough it cleans without needing a pre-soak on stains, as well as how efficiently it dries. So far our Maytag® Washer and Dryer are living up to the good reviews! Happy to answer any questions below:)
*Promo Disclaimer:Ends April 9, 2023 at 11:59PM EST. Excludes ground shipped products. Cannot be combined with other offers or rebates. Discount taken off regular price excluding taxes, delivery, install/uninstall and haul-away. Only valid for new orders on maytag.com. Major appliances limited to washers and dryers. While supplies last.
This post is sponsored by Maytag, but opinions are our own.