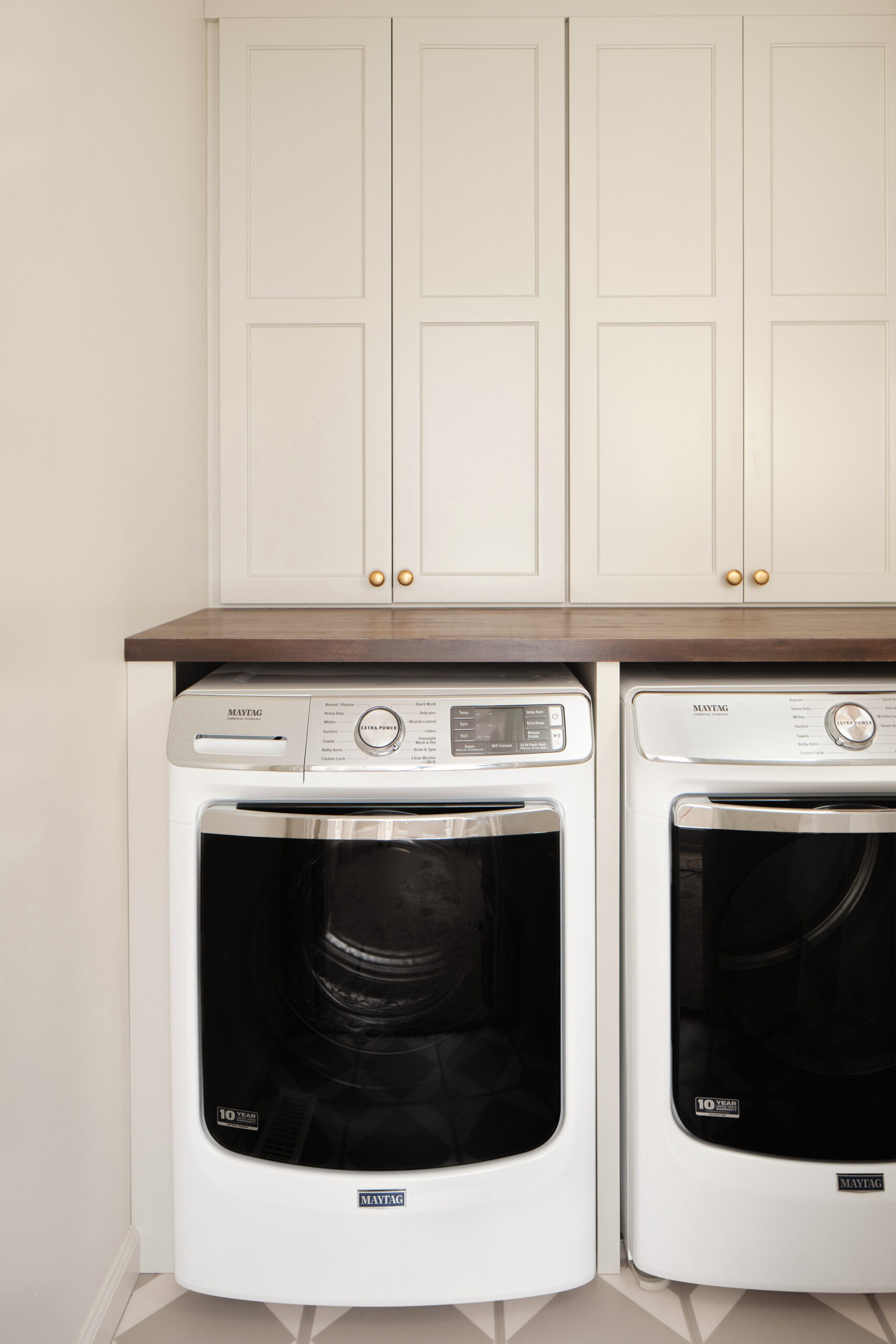 Our small space laundry room was a challenge to use due to the door opening into the space vs. outward. It required some mild ninja level skills to get laundry in and out! Once the dryer died, we went ahead and rode the wave through a whole renovation of the space. Thinking through how we would use this space, we decided to maximize every inch!
Photos by Joseph Bradshaw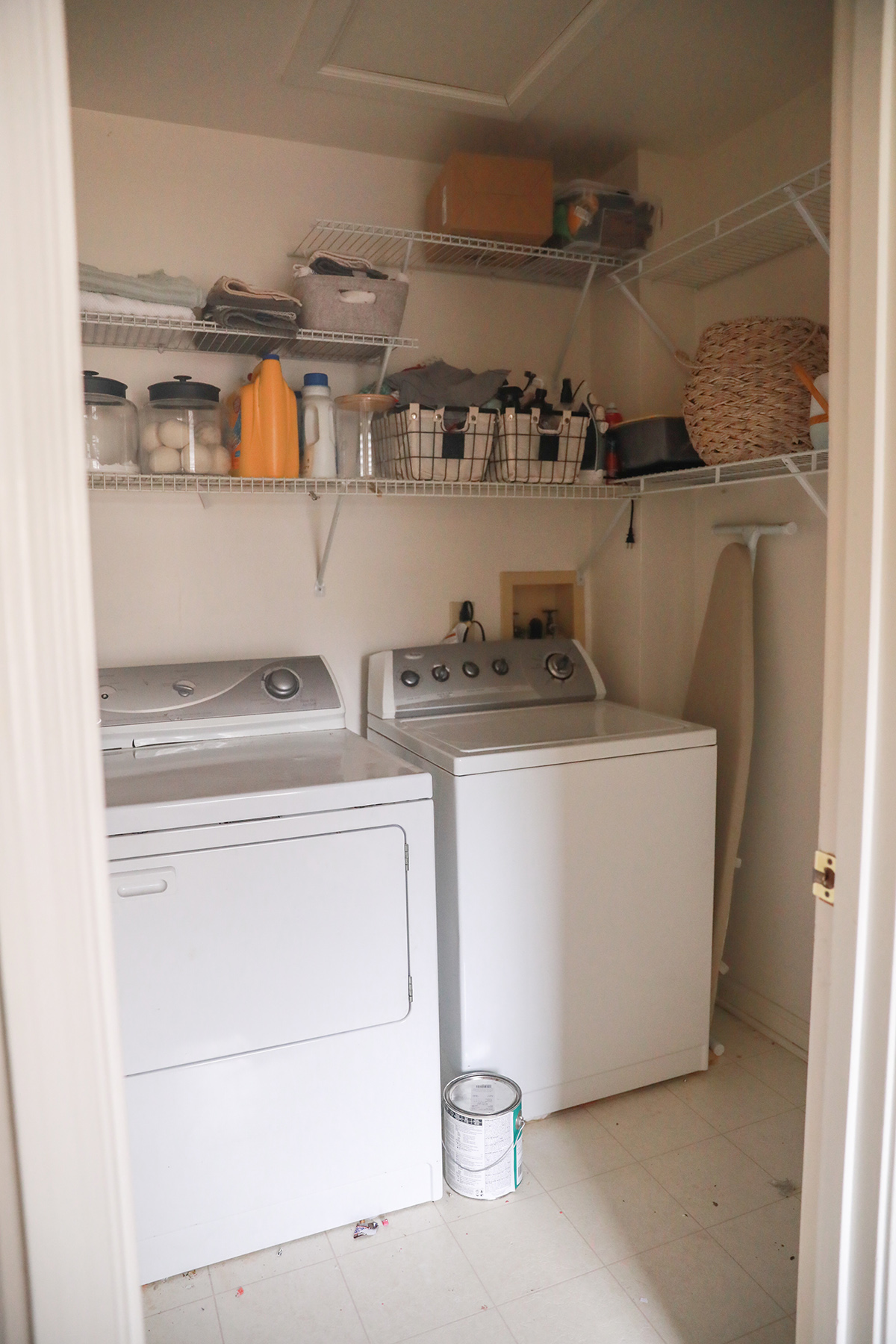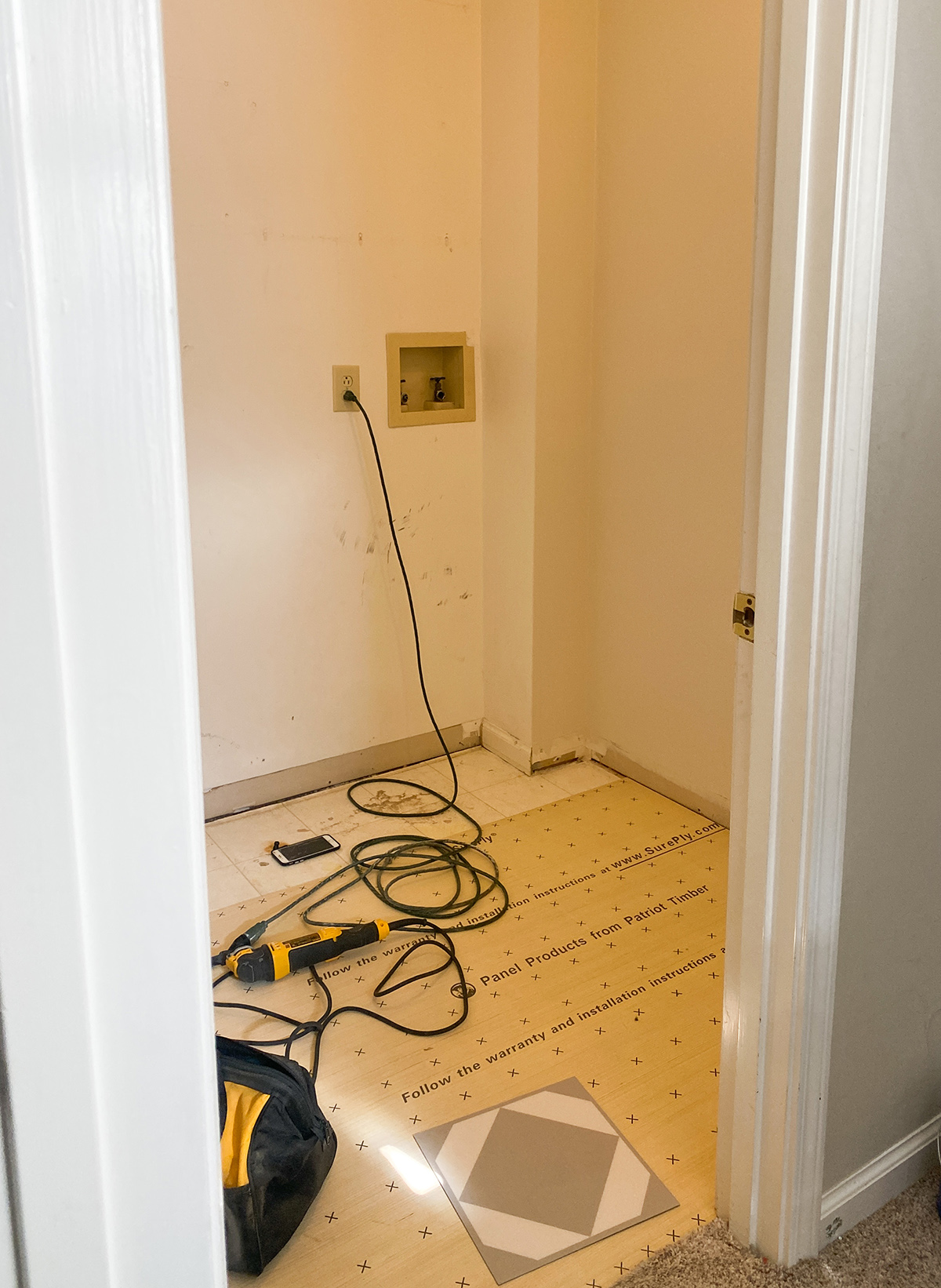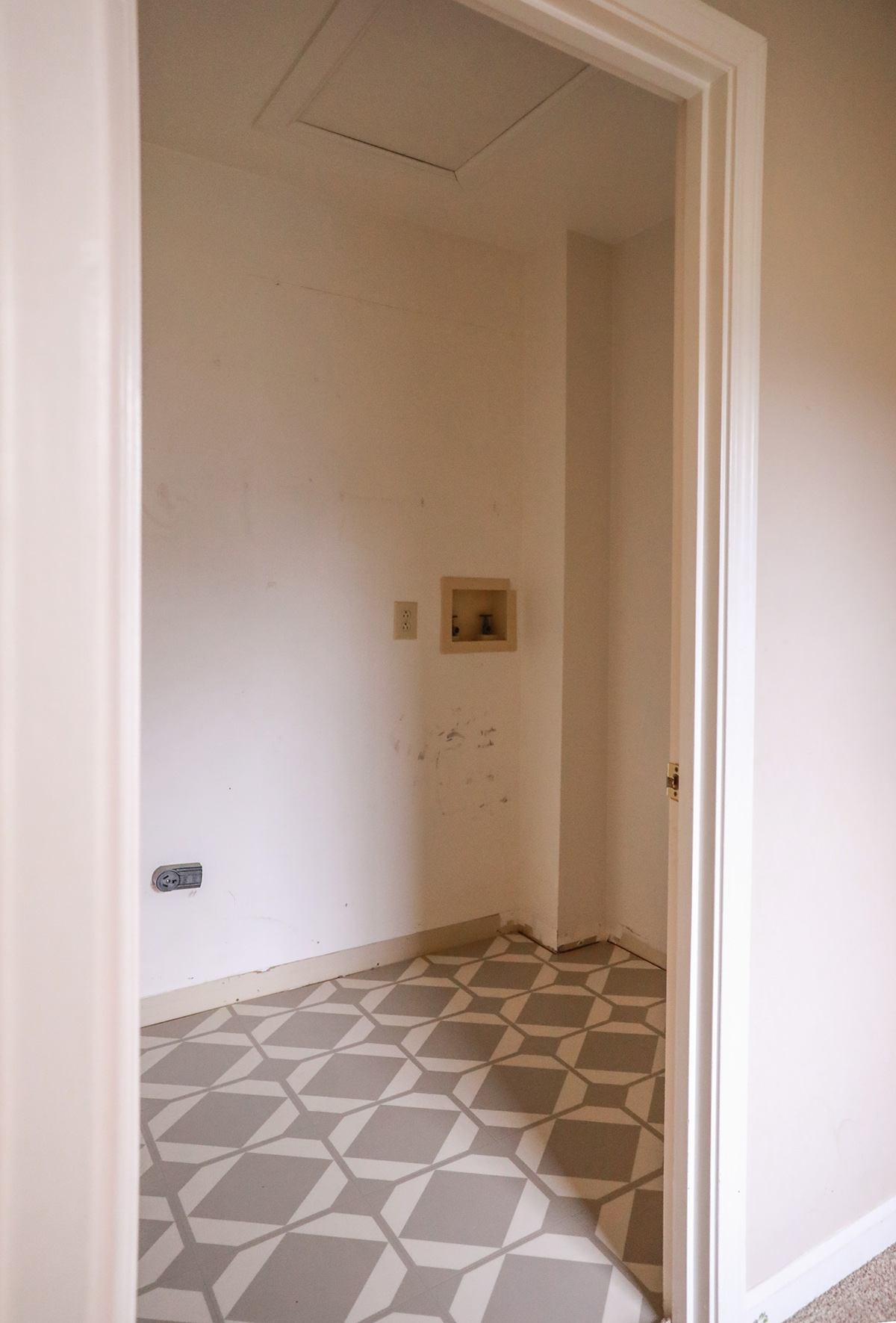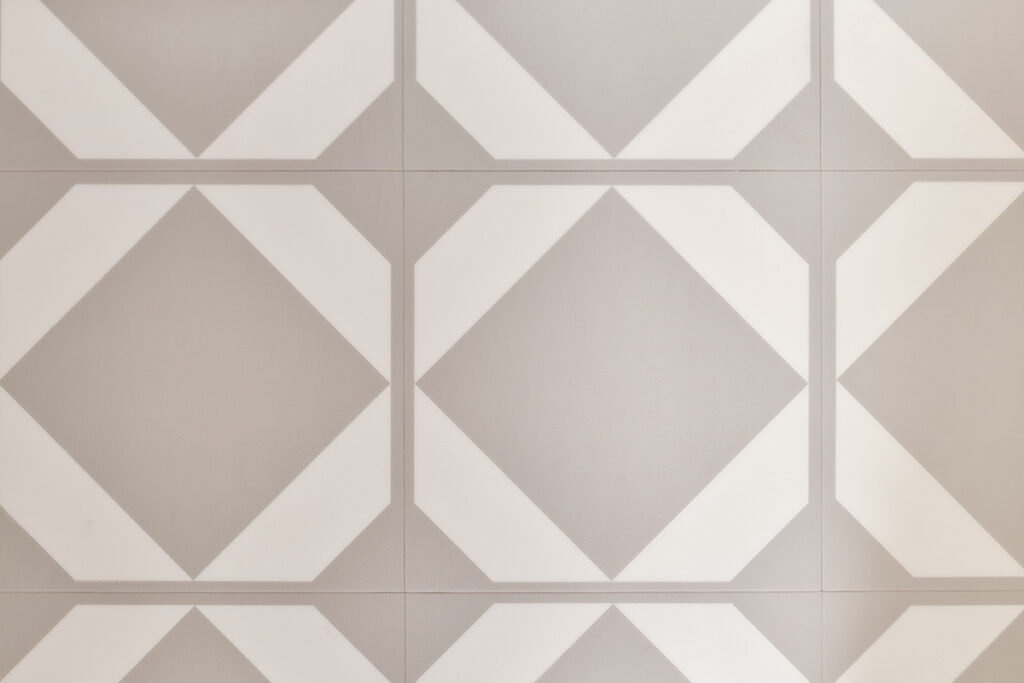 We started with adding luxury vinyl tile right over the old linoleum. We shared a how-to install LVT tile in this post. It's very easy to clean, waterproof, and durable!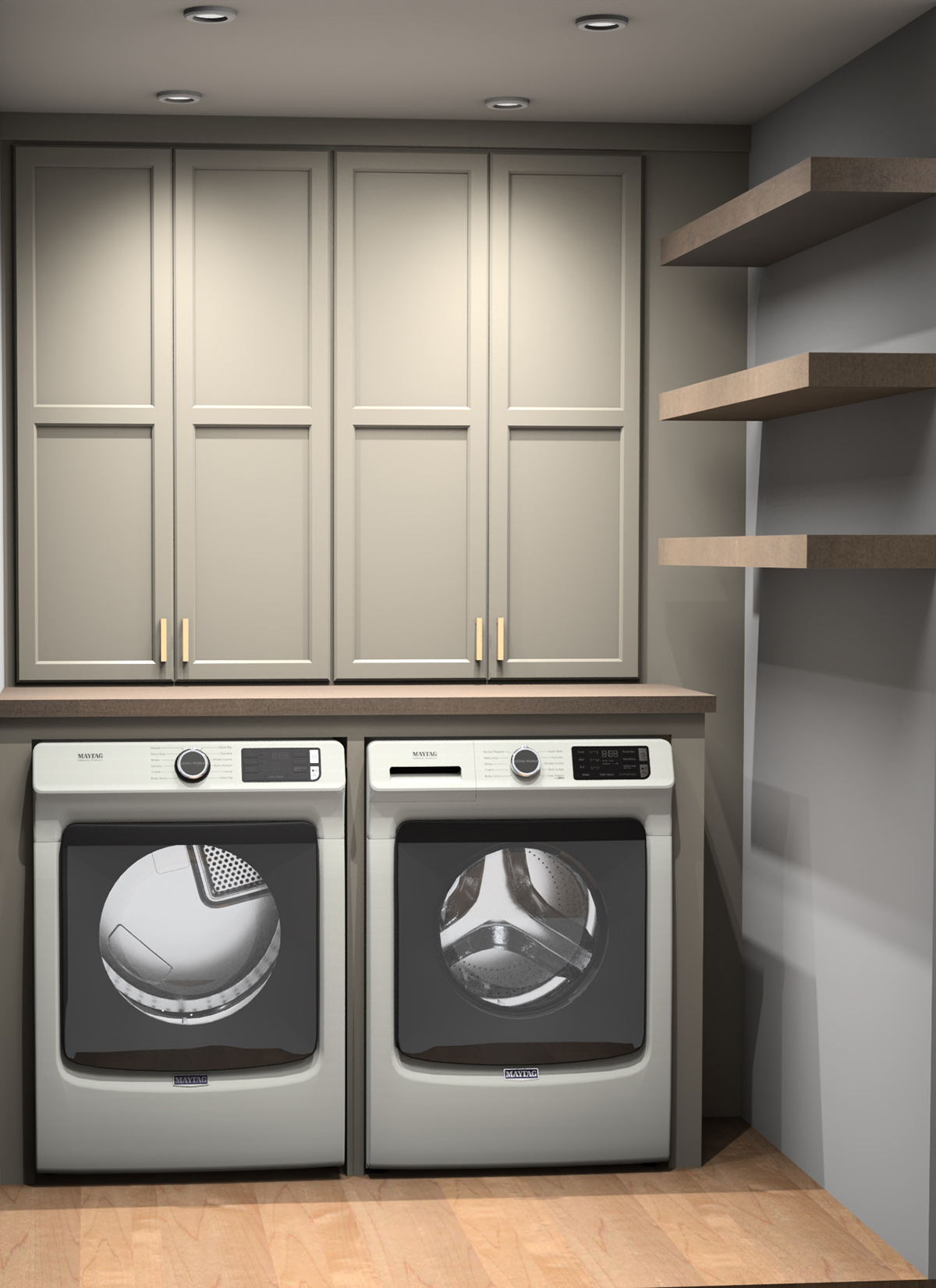 Our house has a few small closets upstairs, so we decided to add cabinetry above the washer and dryer to use as a linen closet/cleaning supplies storage. We heard about Agile Cabinetry, and met with Adam the owner to decide on cabinet color and design. Highly recommend their work if you are local to the TN area! You can tell them In Honor of Design sent you;) They were able to create not only the renderings and measurements based on our design plans, but installed them with precision! Incredible service. The cabinets were made by Wellborn in the color Grey Mist. The adjustable shelving has allowed us to fit so much more than I would have imagined!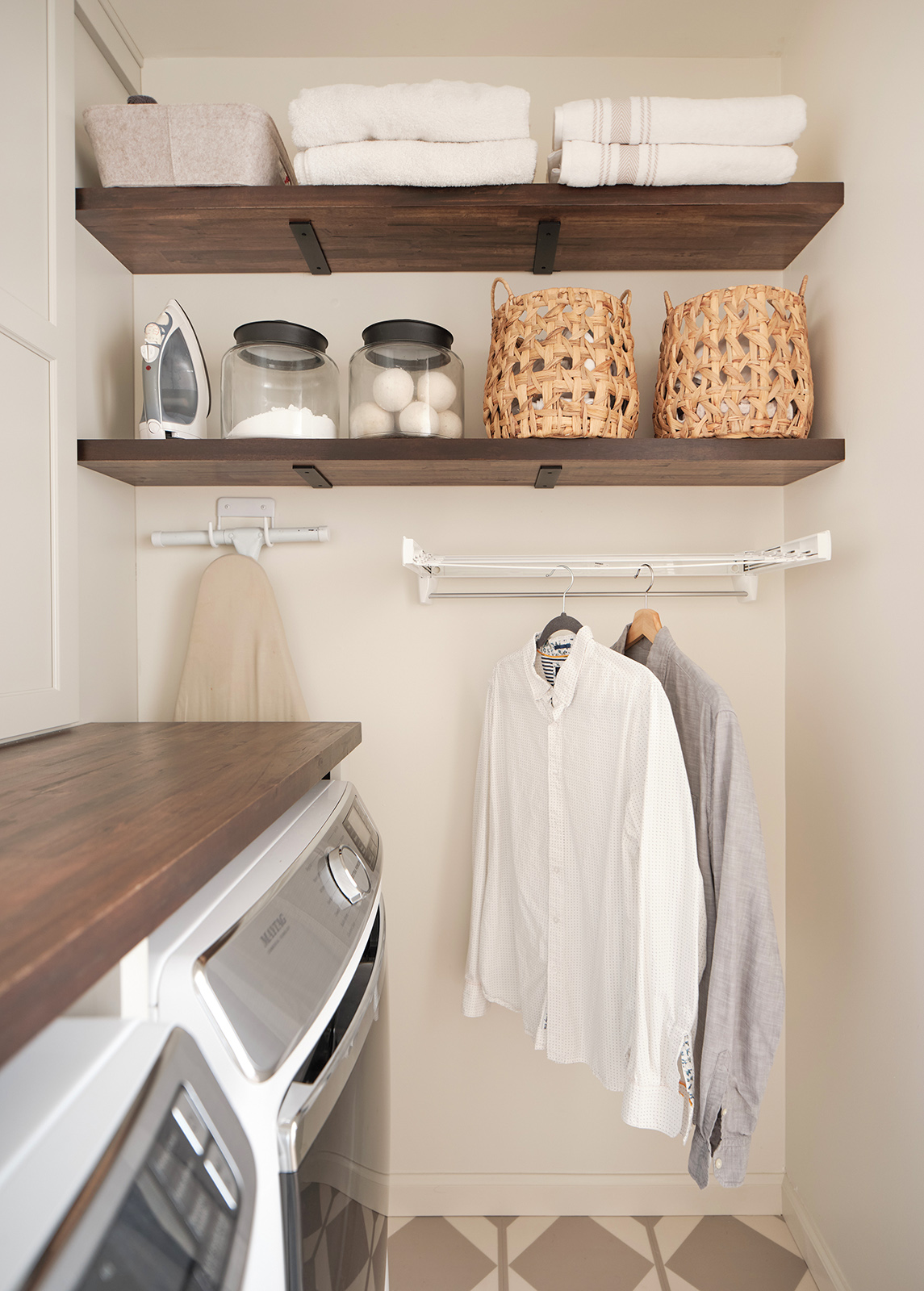 We found butcher block at a local salvage yard in this pre-stained walnut color, and purchased two slabs to turn into the countertop and the shelving units. Gabe finished them in osmo poly-wax oil. Agile cabinetry was also able to cut these slabs to size for us!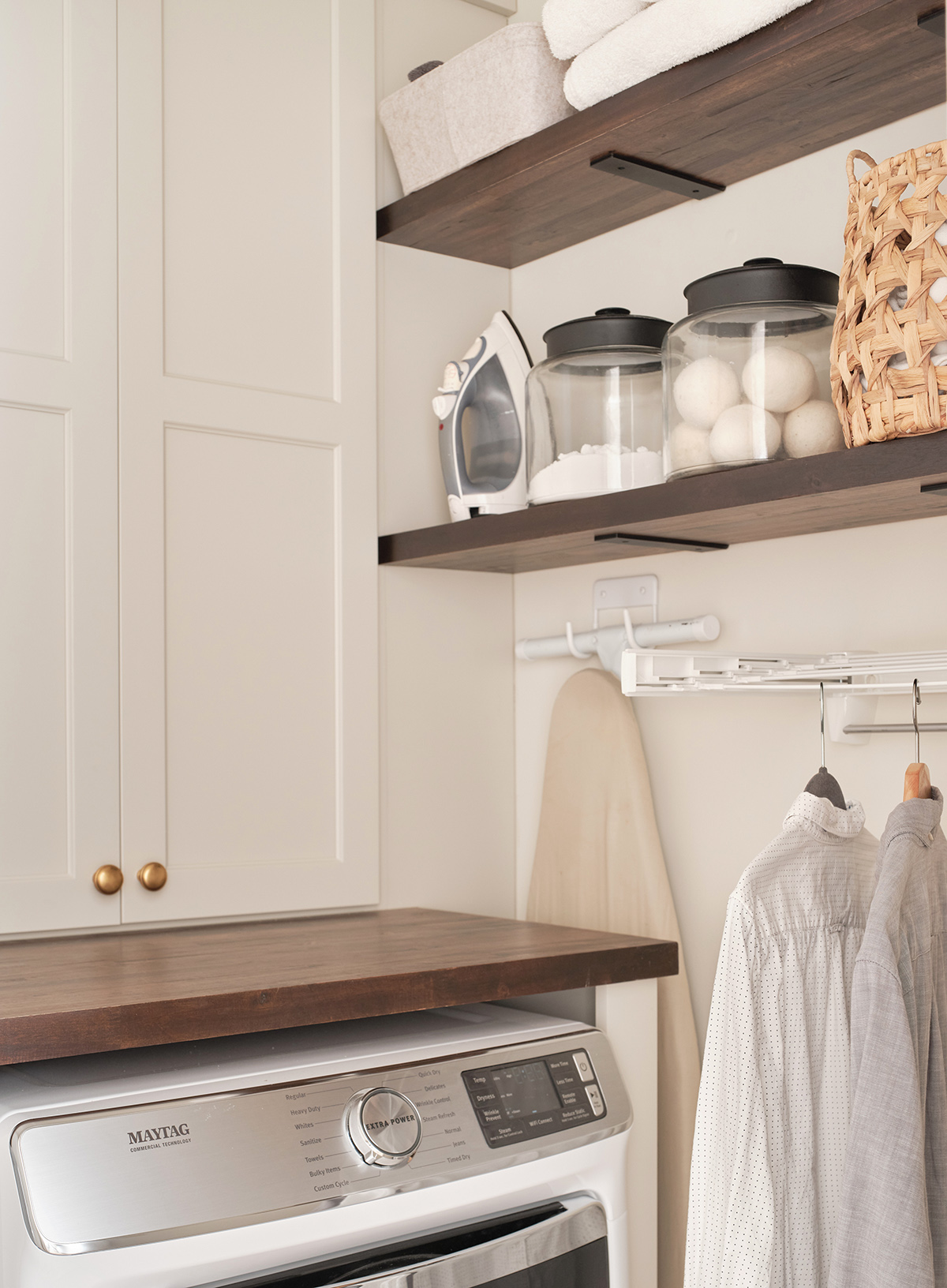 Gabe installed the shelves using these black shelf brackets.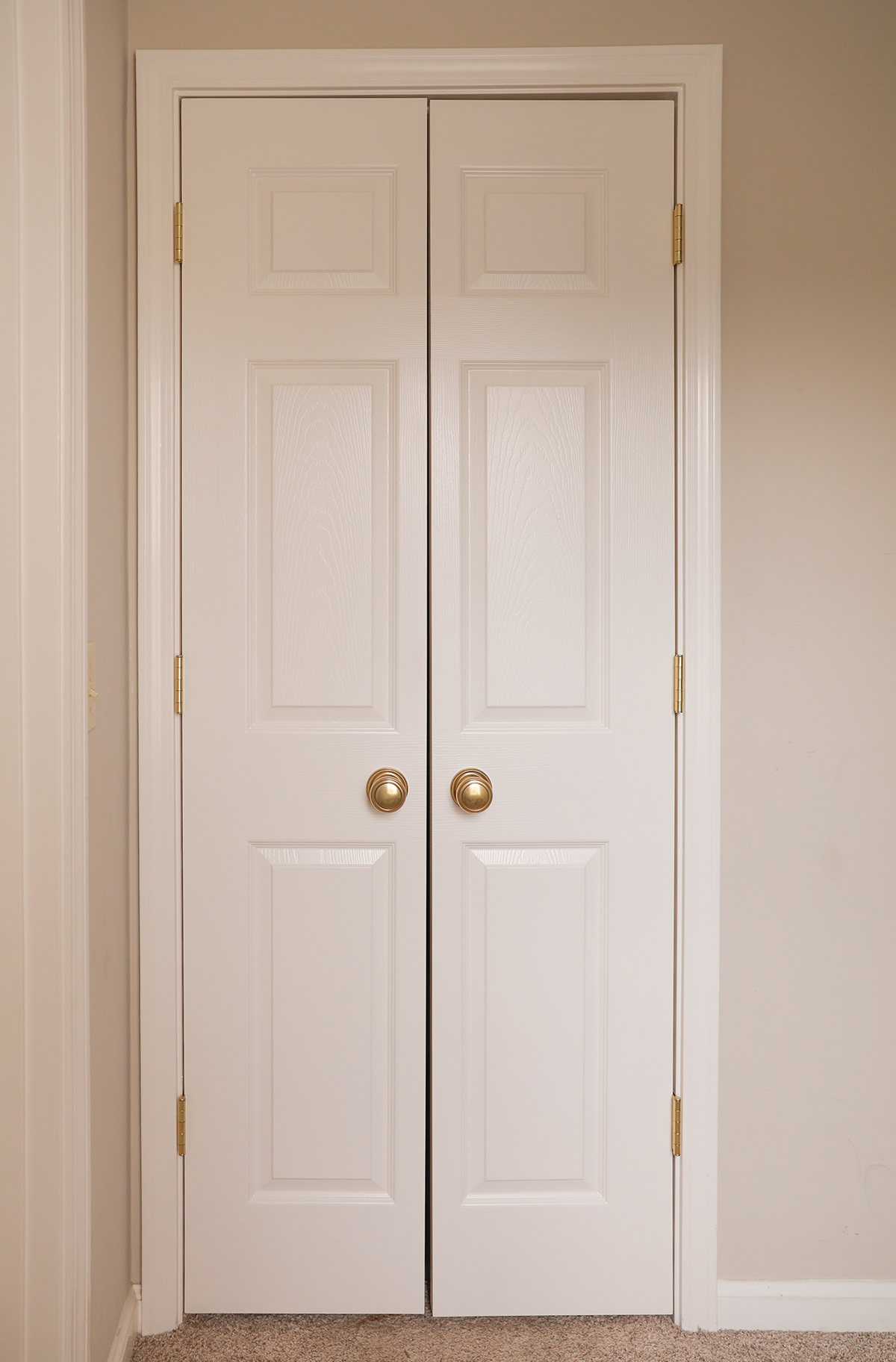 The last step was adding doors that swung outwards vs. inward. We usually would opt for a pocket door, but the wall to the right of these had studs which made it difficult. (There is also the staircase right there. ) Gabe converted a bi-fold door into french doors by removing hinges and patching those areas. To keep consistency throughout the upstairs we used Emtek Norwhich dummy knobs in french antique.
What a difference to be able to open the washer without hitting the door! Feels so much more functional and spacious now!
(Before)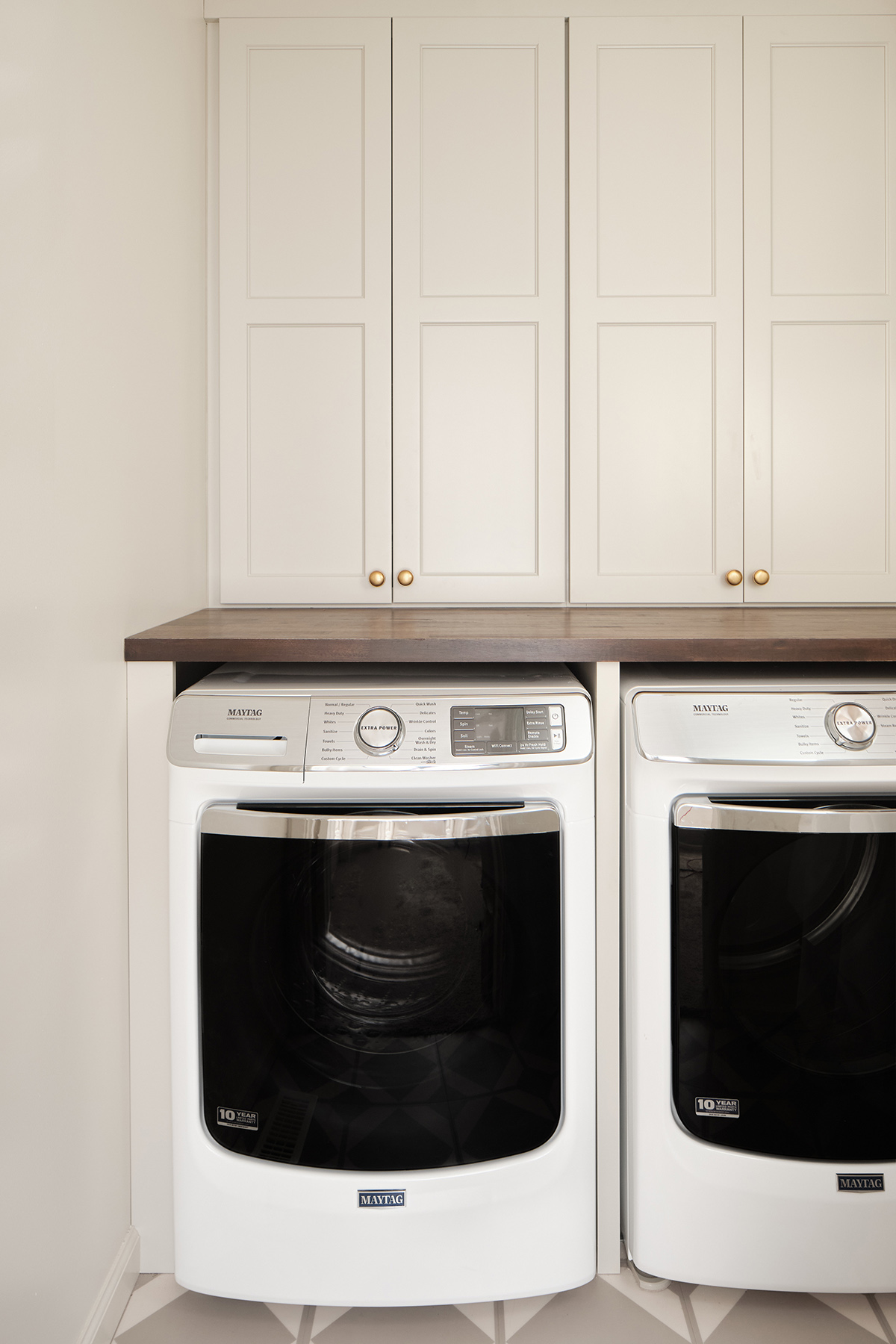 (After)
Having this laundry room more functional with space for linens and towels has been a dream! The flow of the room feels like a night and day difference. I admit it totally took me an hour to get the fitted sheets photo worthy. This is the neatest it will ever look.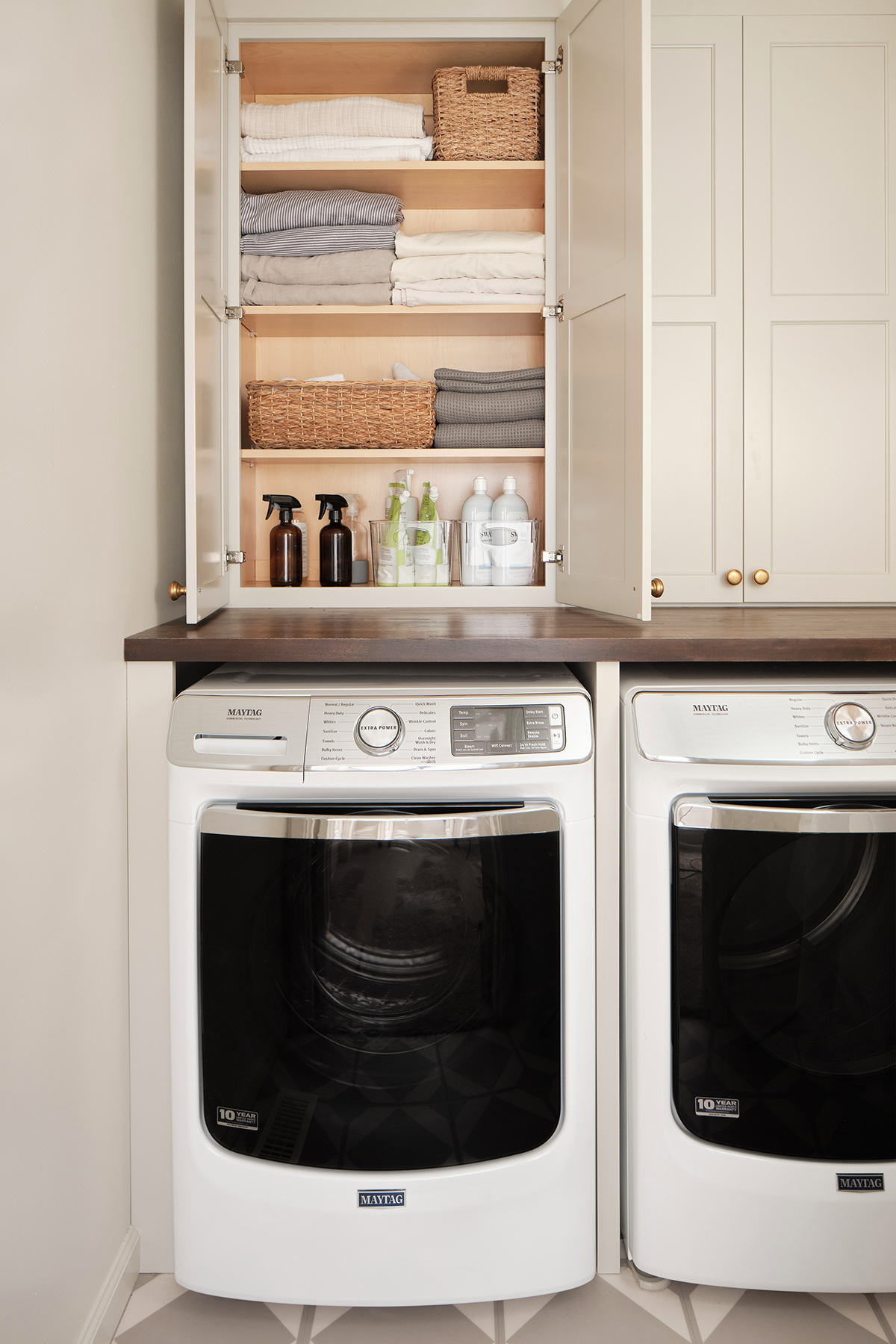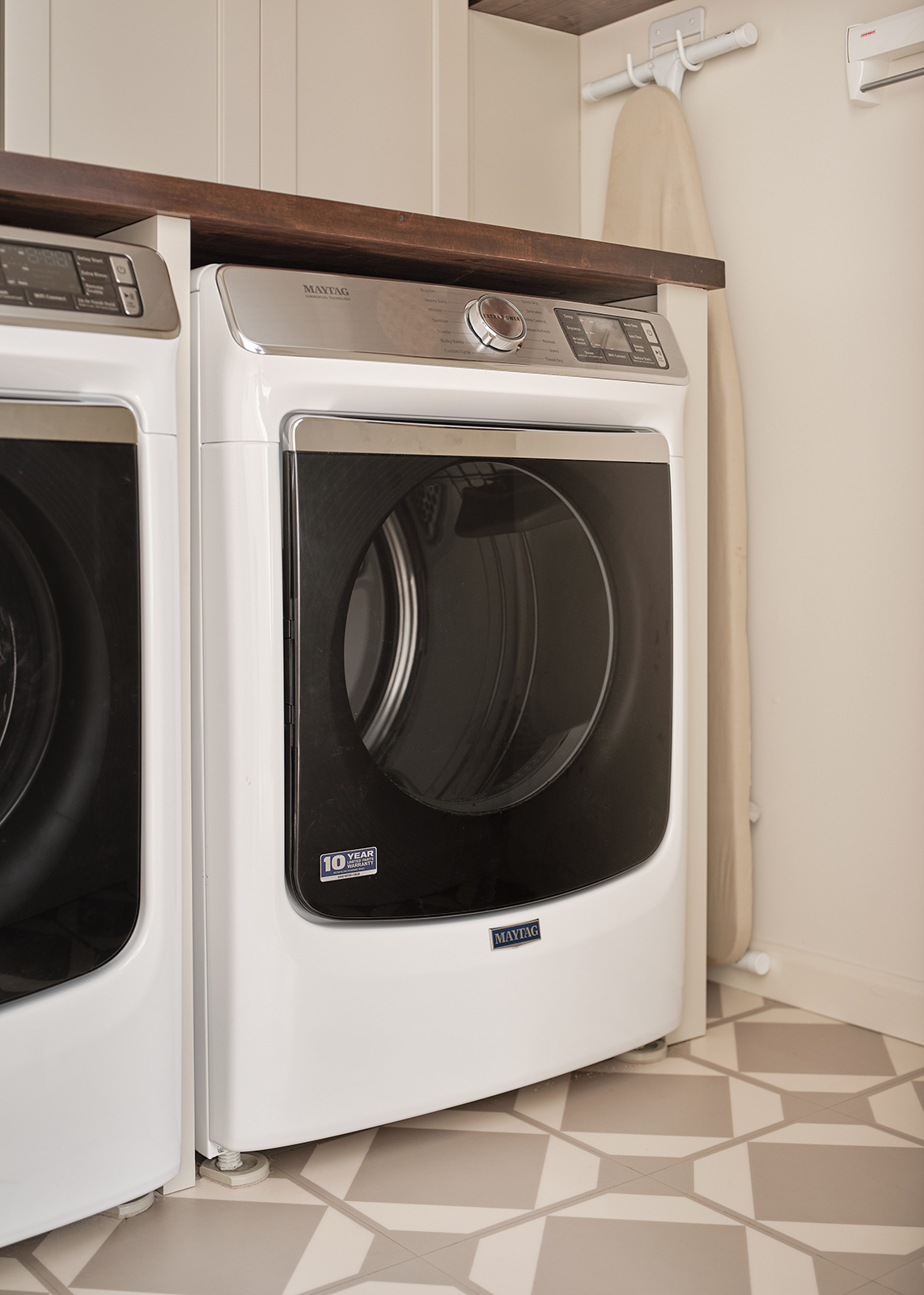 I shared all about why we chose this Maytag washer and dryer set in this post, and highlighted my favorite features! We used these super sliders under the adjustable washer and dryer feet to make it easier to slide them in and out during install and avoid any scratched surfaces.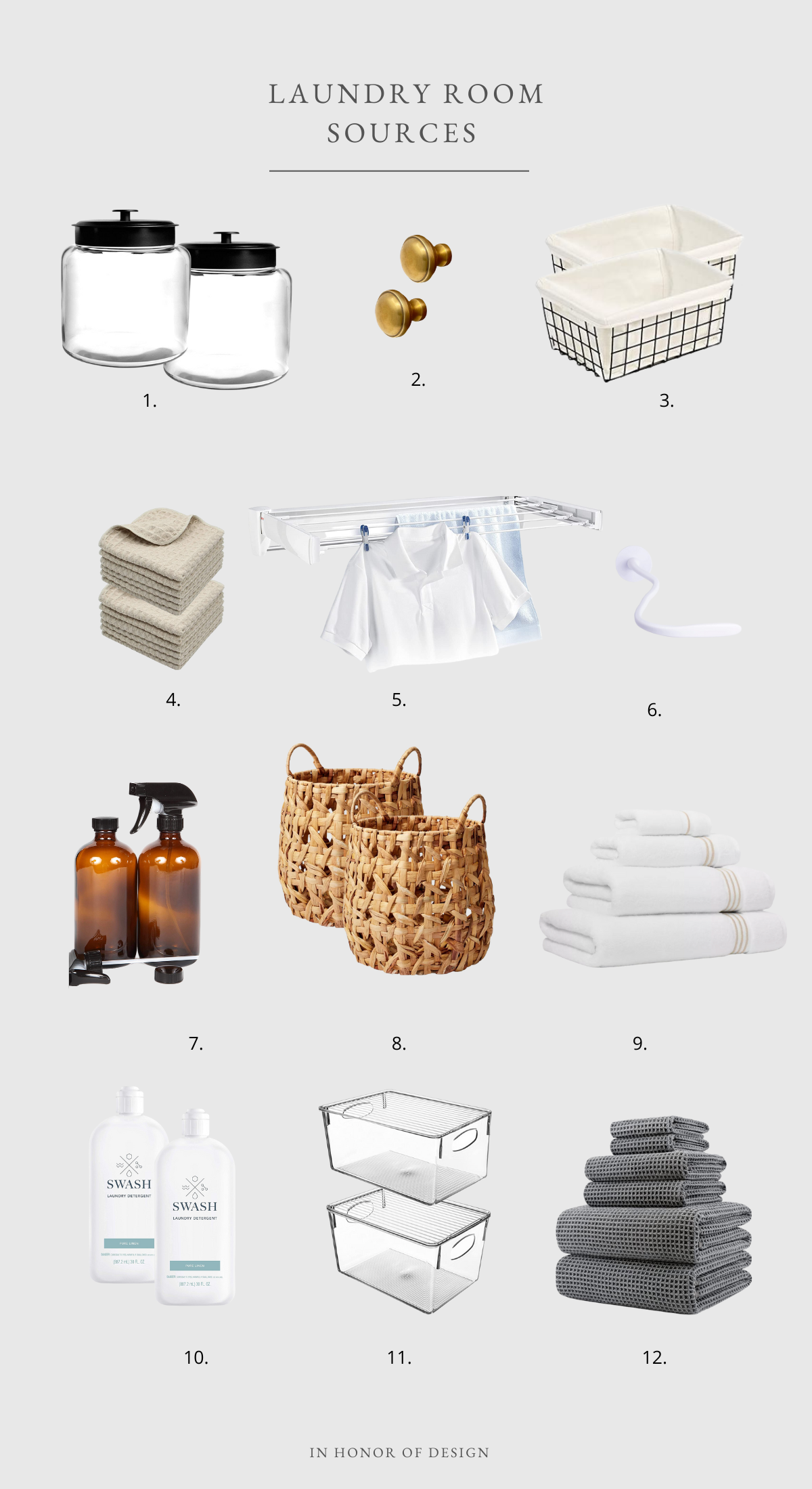 ONE // TWO // THREE // FOUR // FIVE // SIX
SEVEN // EIGHT // NINE // TEN // ELEVEN // TWELVE
Small spaces have big potential! We are still using the stair landing area outside the room for actual laundry baskets and laundry sorting. There are always at least a few loads going!