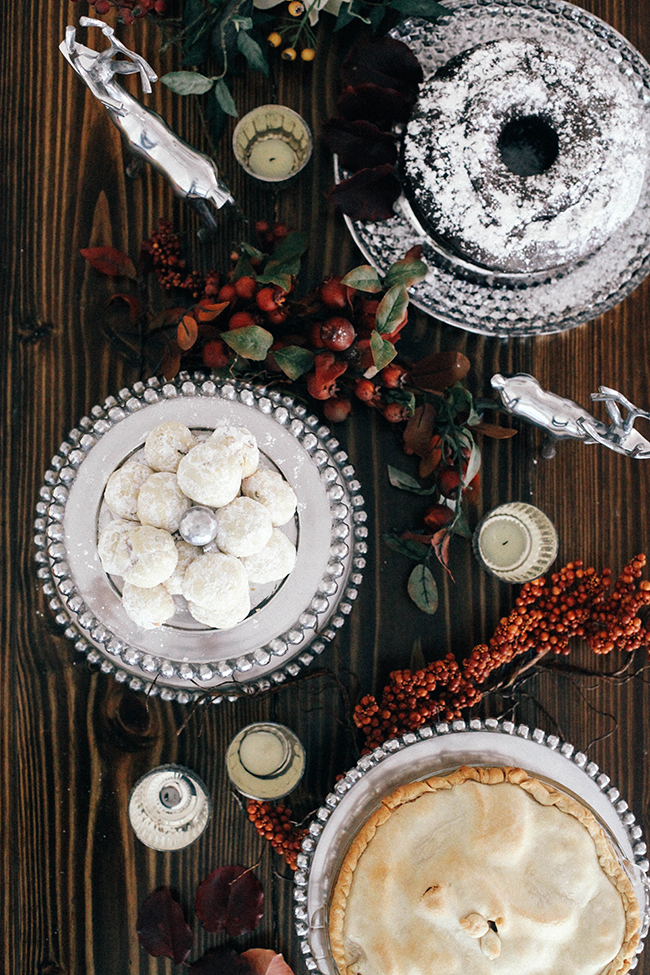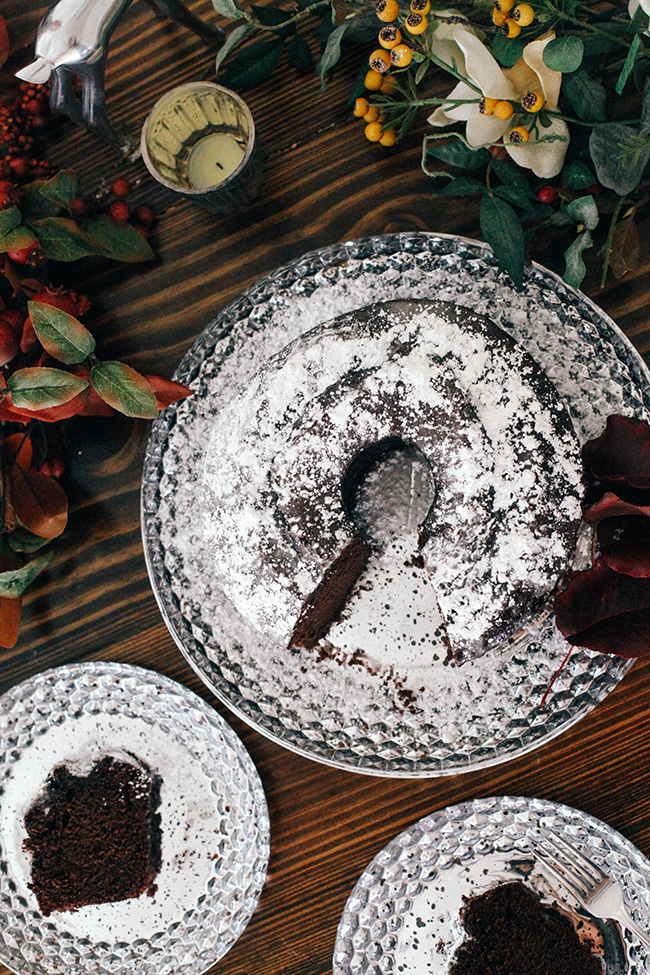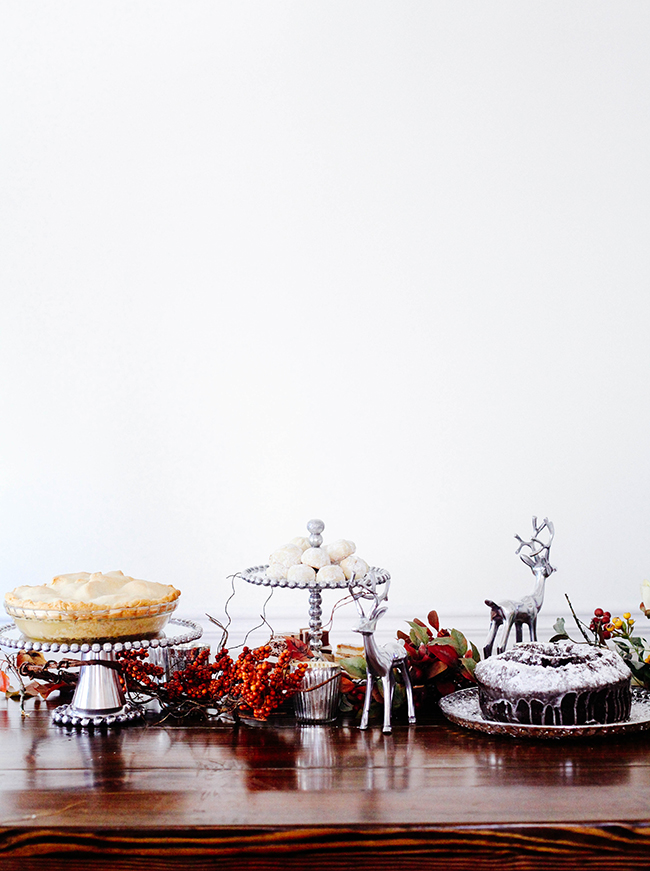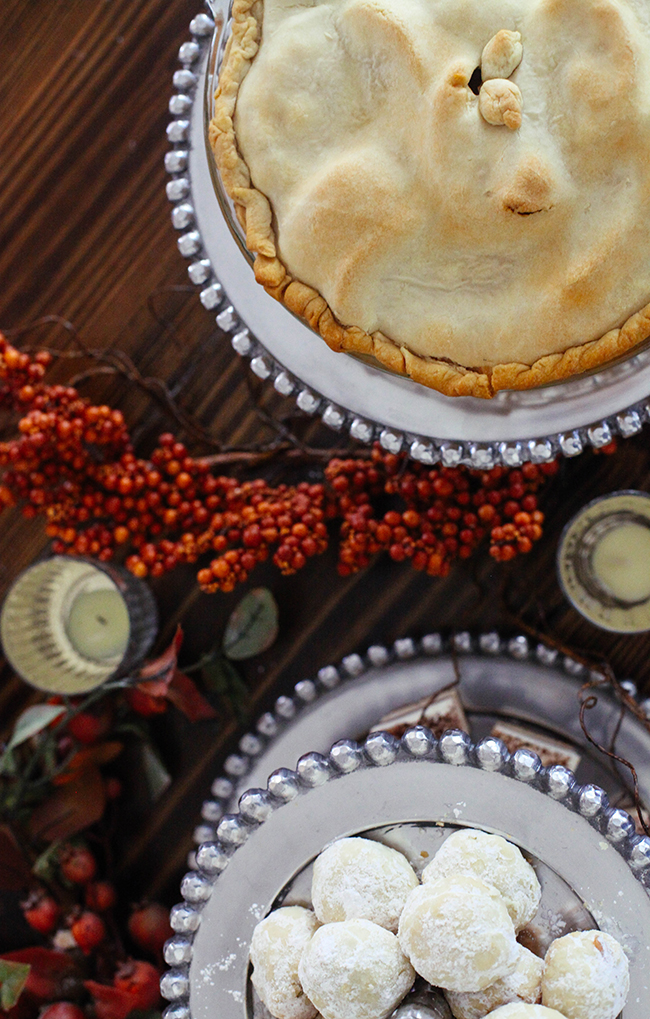 When Target challenged me to share my spin on keeping guests lingering at the table this year, my sweet tooth answered the call. We are staying home for Thanksgiving this year, so I have been working on our menu for Friendsgiving. It's usually tough to save room for dessert after the smorgasbord feast, but as usually anticipated by the crowd, the pies and sweets are always worth the wait.
One way to keep the dinner crew conversation going after the plates are cleared, is to create a dessert bar on a separate table or a buffet display at the center of the commotion. I wanted to do something a little different from the expected fall colors for thanksgiving tablescapes, so I incorporated silver and champagne tones. I worked a few platters, plates, and reindeer (cause why not??) along with fall foliage to make the scene come alive.
Candlelight and Coffee doesn't hurt either;) Having coffee along with that bundt cake or pie, and a little candlelight to keep the atmosphere comfortable to keep everyone together for a while longer!
The making of a Dessert Buffet: Tiered Dessert Stand // Cake Stand // Reindeer // Mercury Charger ( Used this as a platter!) // Mercury Plates // Mercurey Votives (In Store)
What is on your menu for Thanksgiving? I would love to hear! Veronica helped me make these 3 Ingredient Powder Puff cookies, and below is the recipe to one of my very favorites that comes from a very talented family friend. Since Apricots aren't in season you can use frozen!
Dreamy Apricot Pie
Ingredients:
6 C Apricot halves
2/3 C sugar
1/3 C Flour
1/4 tsp. cinnamon
1/8 tsp. nutmeg
1 tsp. lemon juice
2 – 9 inch pie crusts (homemade or store bought)
3-4 tbls. butter
Directions:
1) Preheat oven to 425 degrees.
2) Whisk flour, cinammon, nutmeg, and sugar.
3) In a separate bowl mix apricots and lemon juice. Add in dry ingredients.
4) Line your pie crust into pie dish and prepare edges.
5) Pour apricot mixture into the pie crust. Dot with butter.
6) Top the pie with remaining pie crust, pinch the edges, and slit the top. (Tip: Line the edges of the pie with foil to prevent burning.)
7) Bake for 35 minutes or until golden brown.
8) Sprinkle with a little sugar on top, cool, and serve!
This post is sponsored by Target. All opinions are my own. Shop Home Décor for modern luxury made easy.