As you may recall the great green paint debate, we finally landed on a color for both the walls and the ceiling! Since this all went down right before the baby came, we decided to call in some help to finish the paint job this time. I am so relieved we did too. Sharing the process photos of this newly painted room, and the almost finished design concepts…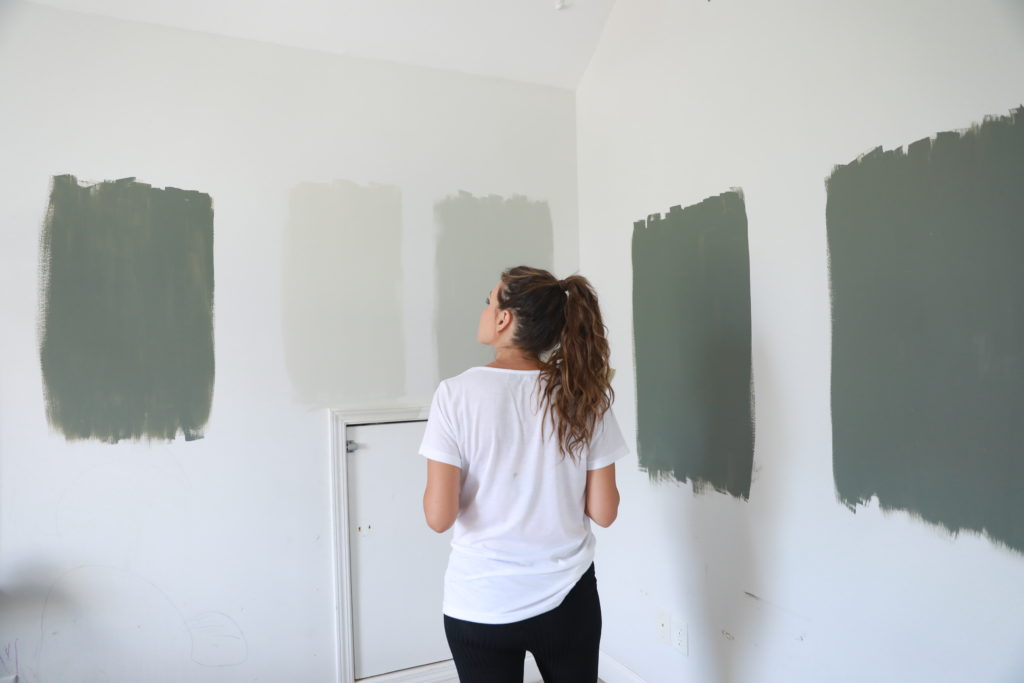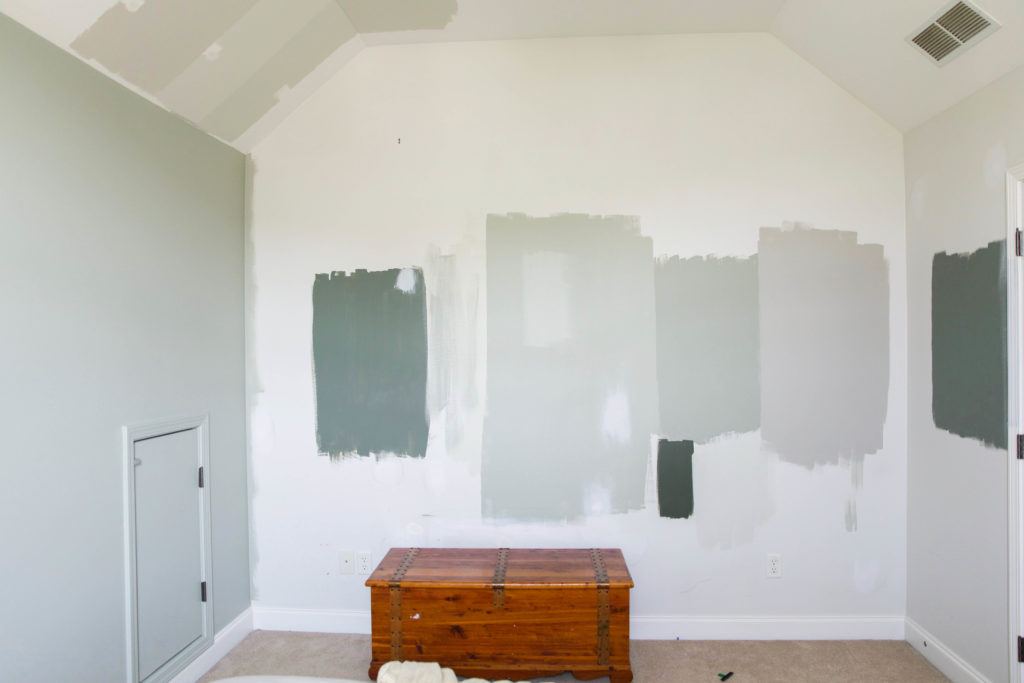 I knew I wanted something different than basic white walls in this space, as everything I see in the design world right now is pretty neutral. I'm all about changing things up in paint colors because it's an affordable thing to change versus furniture! I originally wanted to go dark green, but since this is a bedroom it could easily feel like a cave without enough natural light. I landed in the middle with a lighter gray green hue…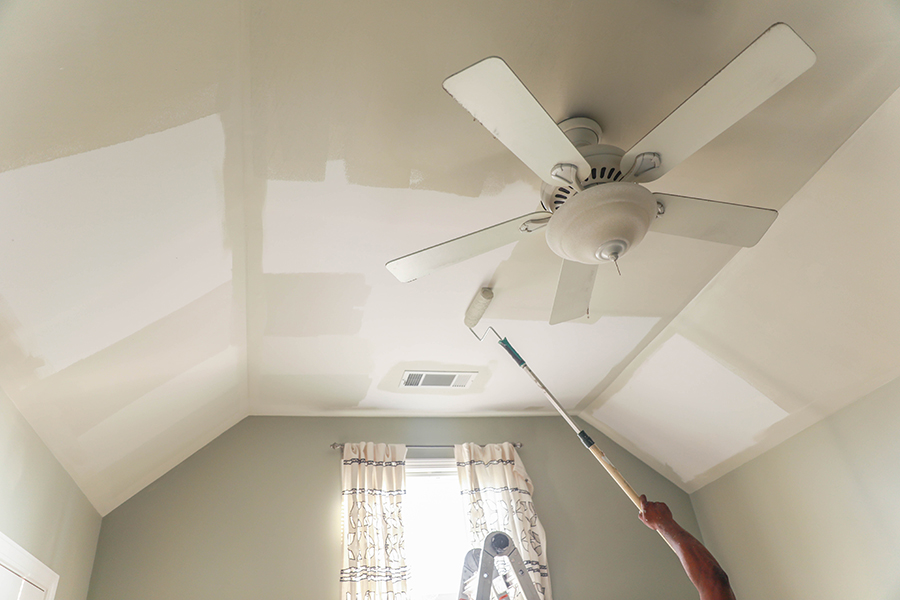 I decided on Benjamin Moore's 'Oil Cloth' at 50% less color. They can create custom orders with color reduction requests. Since this room only has one window I decided I wanted to go more of a lighter gray green hue so it wouldn't feel to dark and grim for guests or any kiddos that rotate in and out of this room (right now our oldest son Gabriel is bunking in here).
The ceiling was an equally tough choice since the ceiling has both slanted and flat angles. I was debating keeping it white or painting it the same hue as the walls, and landed on a light compliment to 'Oil Cloth' called 'Vale Mist' by Benjamin Moore….also reduced to 50% less color. This line of paint is more expensive than others, but it's such good quality that you end up only needing one coat. So, I believe it ends up evening out price-wise because we only needed on gallon of wall paint!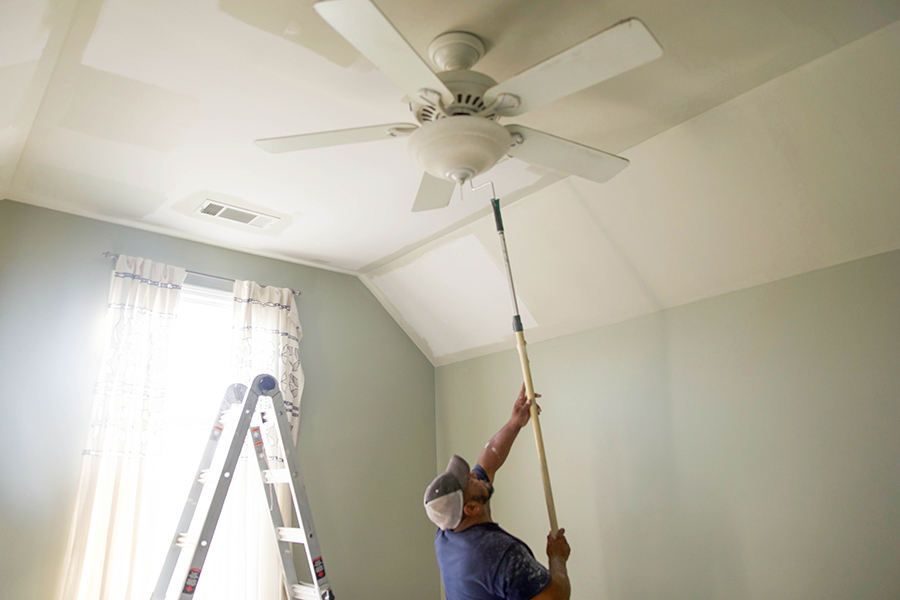 Gabe painted two of the walls, and since we were getting close to the baby's due date, we decided to call in some help to finish up. We recently discovered Homee app. Have you heard of it? It's kind of like Shipt or Insta cart for home services. You can login to the app and to request help for a job that needs to be done around your house. A local rep will pick up your job request, drive to your house, and complete the task within the day! The jobs can be anything from handyman work, plumbing, electrical, etc. Pretty remarkable. They gave me a code to offer you all as well. Use: 'ANNA25' for $25 off your first Homee service.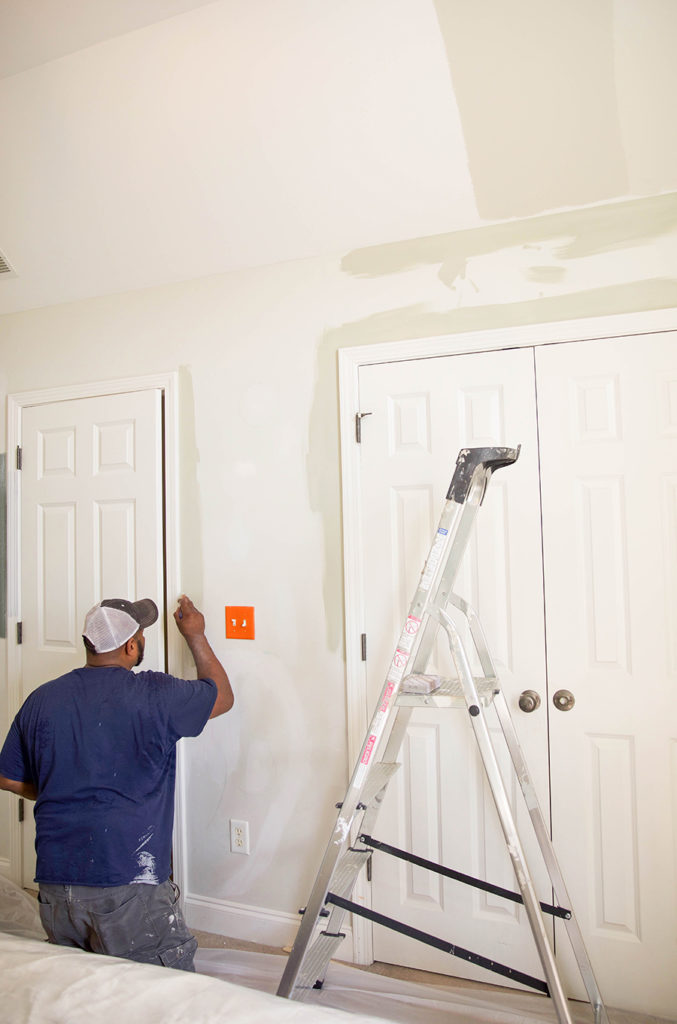 I looove the outcome, and am really glad I didn't settle for something I wasn't enthused about. It may have taken a million trips the paint store at 9 months pregnant, but it's better than decision regret for months to come, right??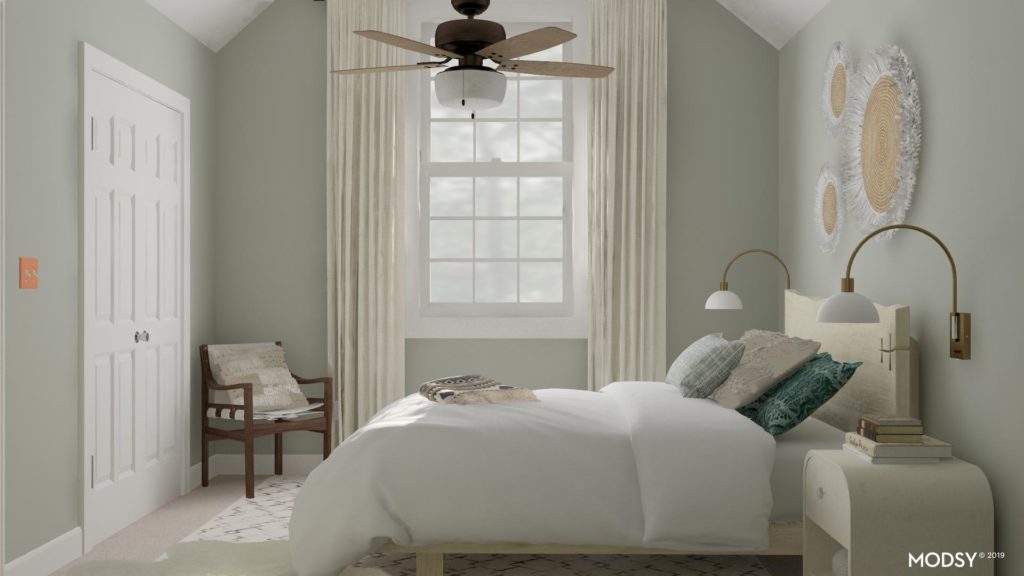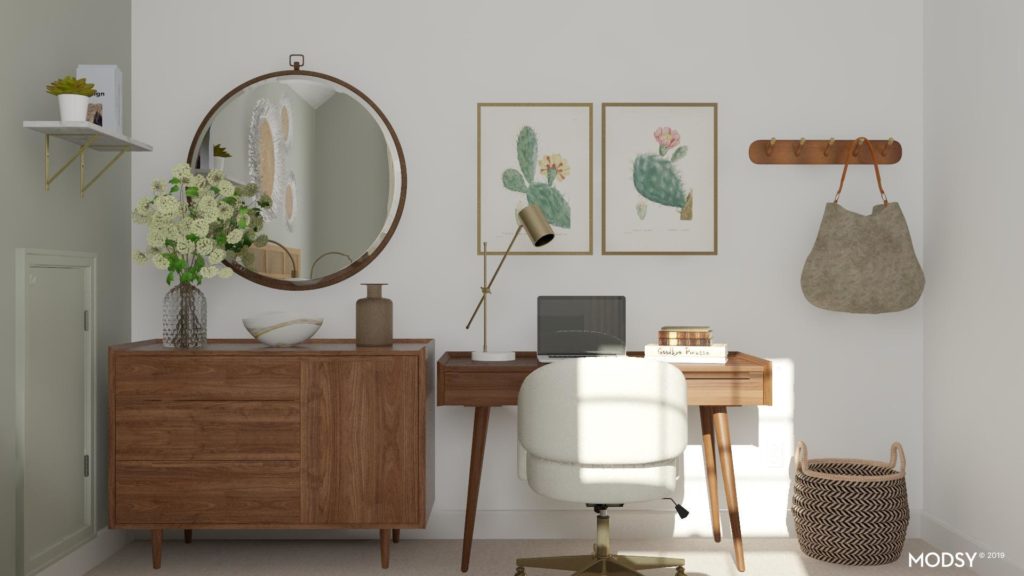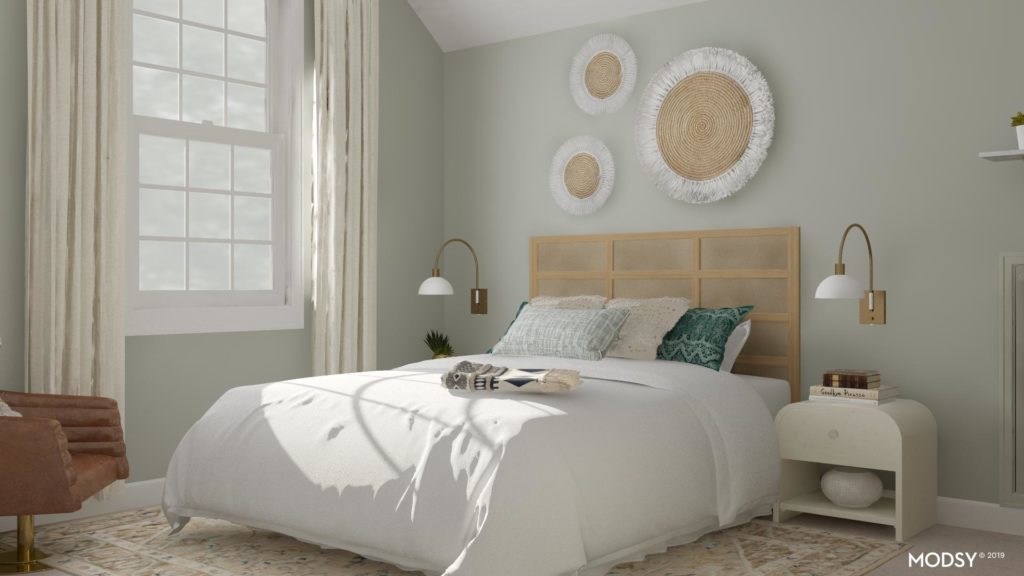 I also felt decision inept towards the end of this pregnancy, and raised the white flag. We decided to work with Modsy on this room for some fresh ideas. You just request which room you want to re-design, upload specs and images, and they do the rest! After reviewing some of the design concepts we came up with one I was so excited about moving forward with. They had some layout ideas I hadn't thought of that will utilize the space really well.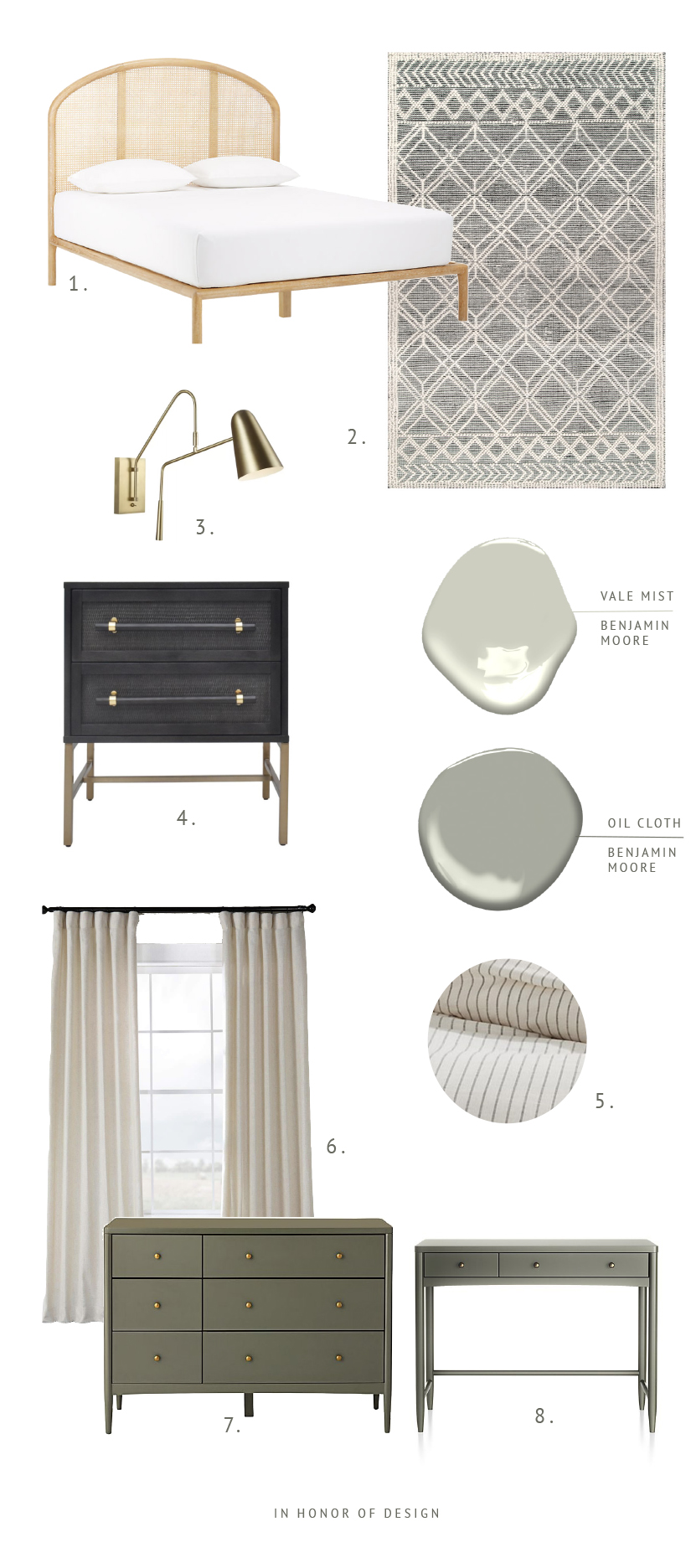 1. Bed – CB2
2. Rug – Rugs USA
3. Swing arm lamps – Wayfair
4. Nightstands – Wayfair (backordered in black)
5. Duvet Cover – Crate and Barrel
6. Linen Curtains – Amazon
7. Dresser – Crate and Kids
8. Desk – Crate and Kids
The challenge with this room was coming up with a versatile design that could potentially work as a guest room + a children's nursery or bedroom. I love the direction it is going….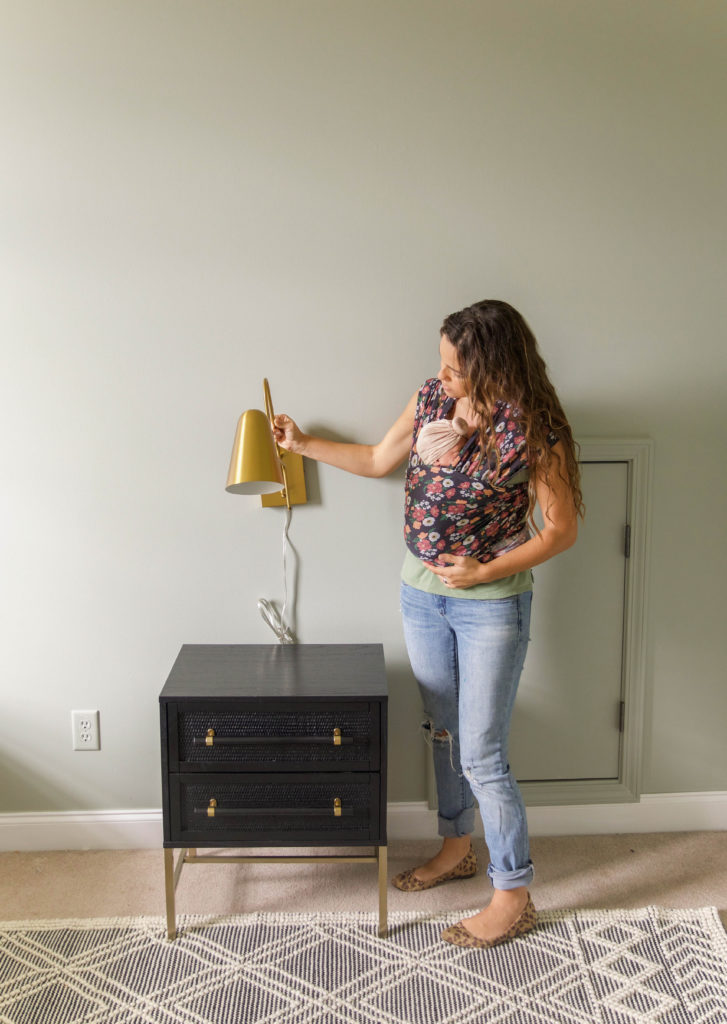 It's starting to come together! I found this thick and textured rug for such a steal. We were able to sell the old headboard to a friend, and are re-purposing some of the other random pieces that were in this room. I always try to think of a new way to use items we are shifting around or I will sell them on FB marketplace! Currently hunting for art + finishing touches.
If you have a room or space that you could use some design help on, check out Modsy. When we get requests to design other people's spaces (hopefully someday!), I have been directing them to Modsy which is almost as good as having an interior designer come help you out. We have another discount code for you as well! Use code ANNA20 for 20% off design packages.
Looking forward to sharing the final outcome of this room with you all!