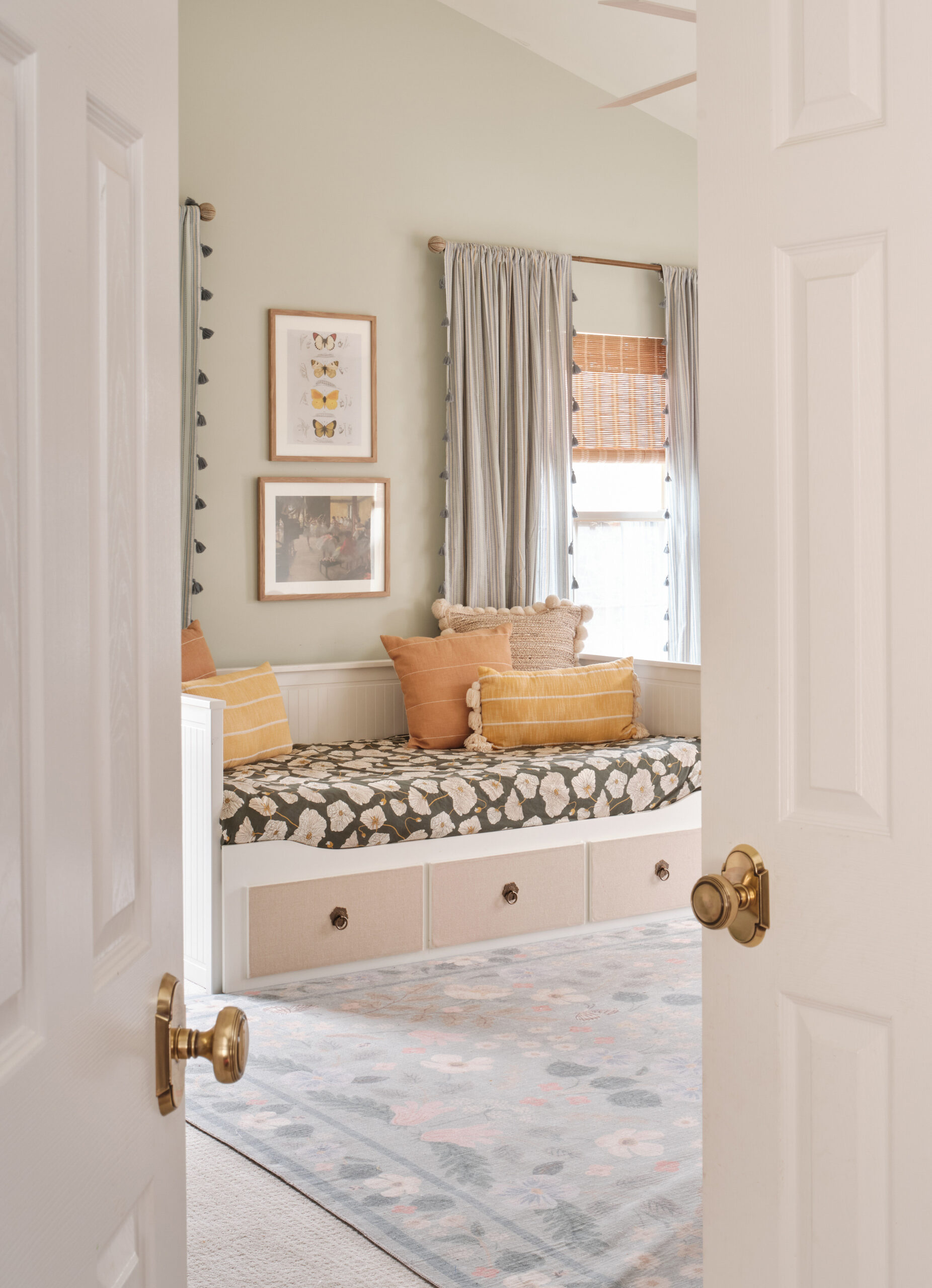 We started this room over a year ago, and I actually have loved being able to take my time thinking through the layout and design for this room for our girls. This is a "bonus room" we converted into a bedroom for all three sisters to share! So how about a tour? Come on in!
(Photography by the talented Joseph Bradshaw)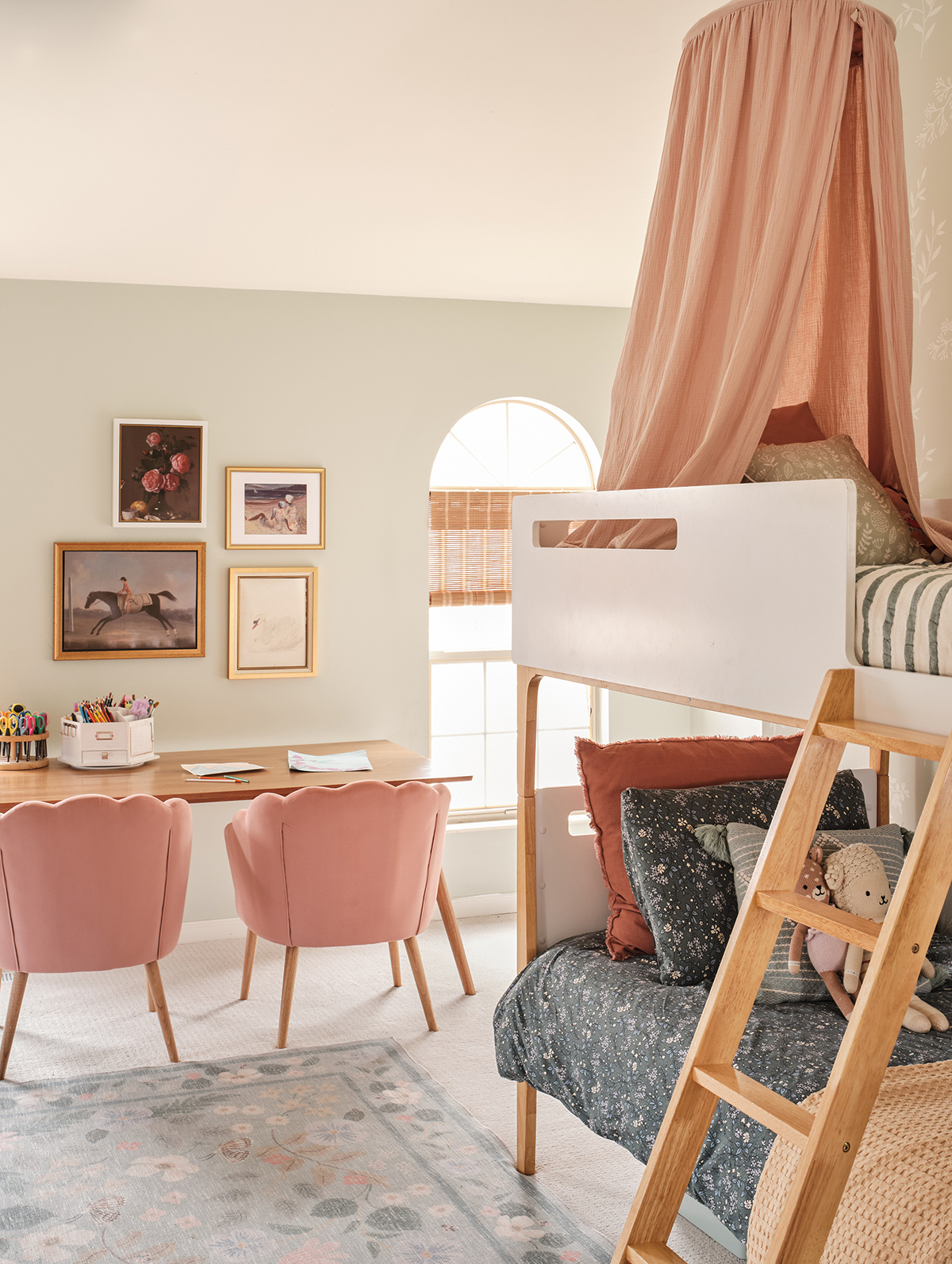 Room Goals: I love working on children's spaces because you can work with color and pattern in a bold and playful way that reflects the fun imagination of childhood. The goal was to keep it a whimsical and ethereal reflection of my girls. It was fun to get them involved in the color choices. Azelie's favorite color is pink, and Veronica loves blues and greens. Chiara loves every color of the rainbow, so no challenge there!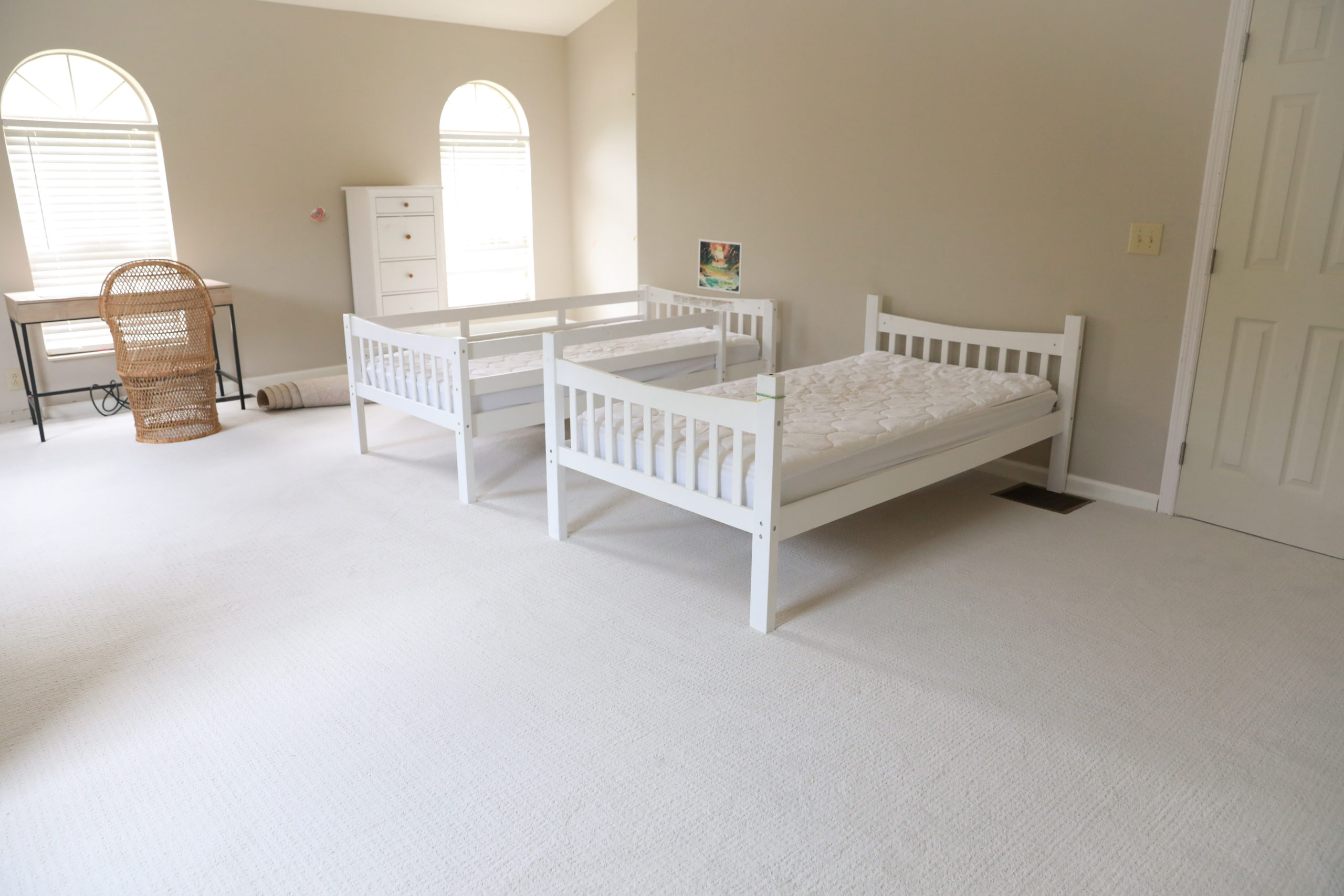 Fresh slate: We started with replacing the old carpet and painting the walls, which made the biggest difference in brightening up the room. I chose the color Filmy Green by Sherwin-Williams as a good base for bolder hues and as a way to work in all the colors the girls love.
Wall Stenciling: I initially considered wallpaper for one of the main walls to break up the large areas, but I ultimately decided to try something less permanent this time. I found this botanical wall stencil set and used the color Alabaster by SW. This was definitely time consuming, but I actually loved the process. It was a good outlet during a time when everything else felt crazy.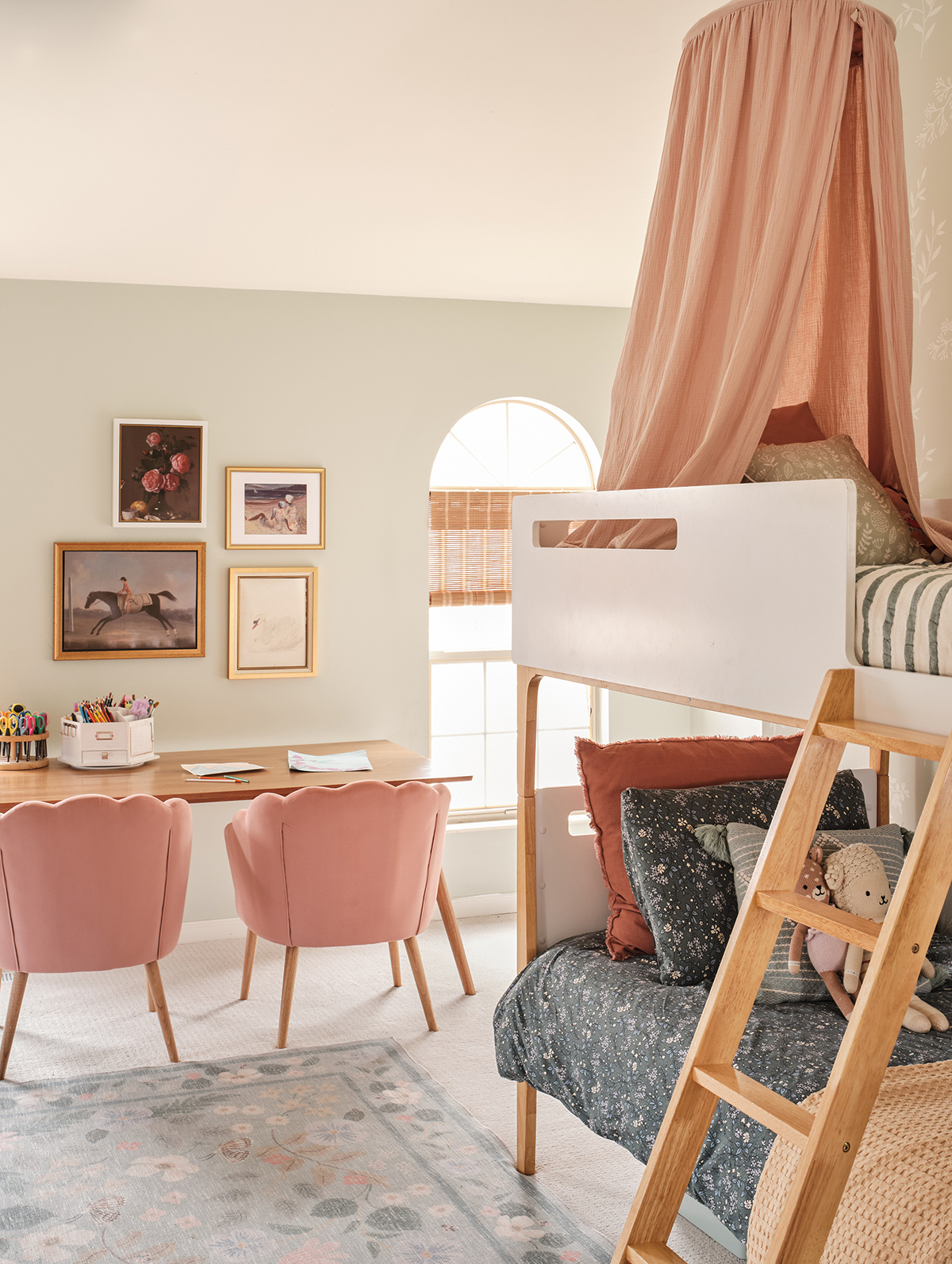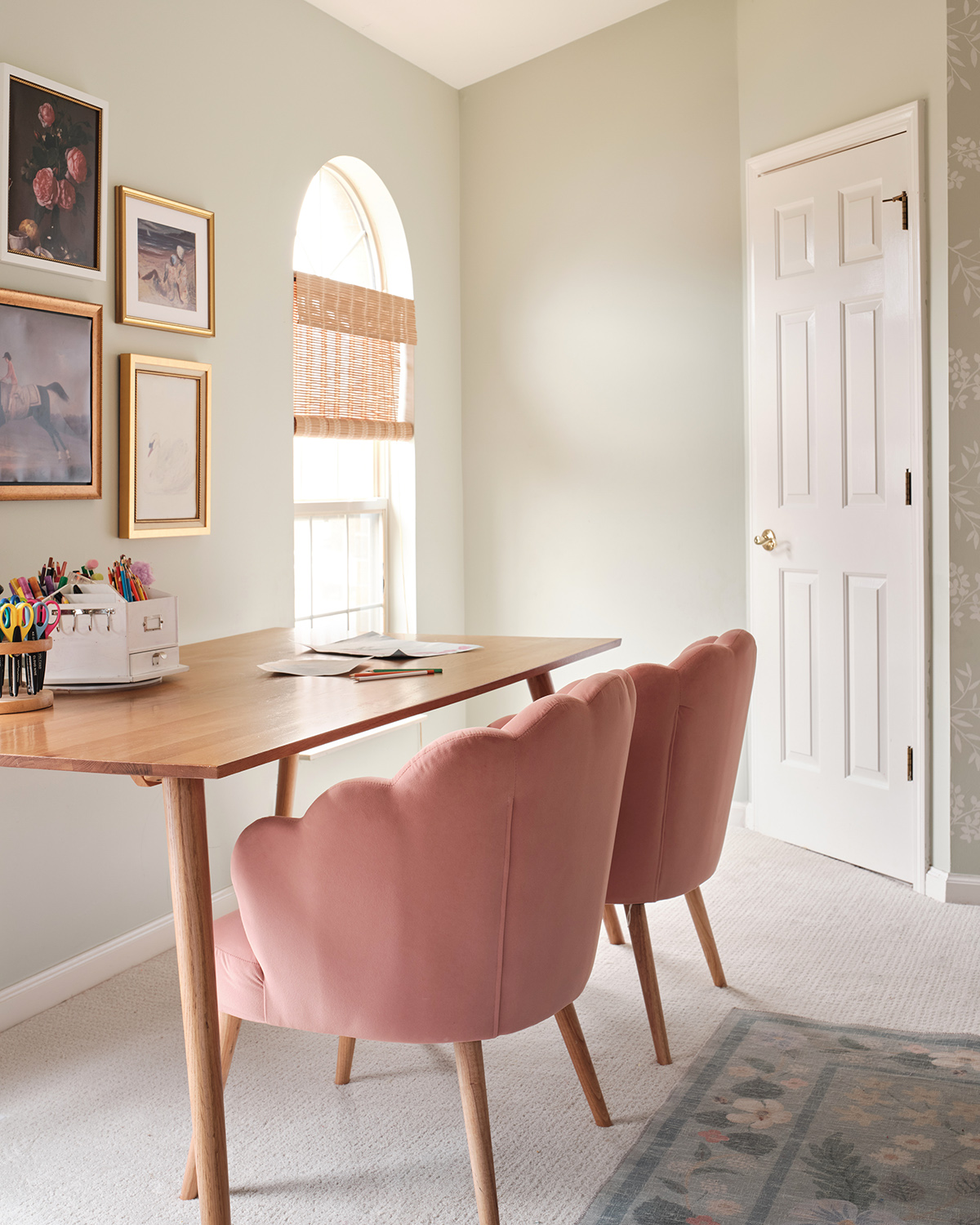 Art Table: All three of my girls love art. They are coloring, crafting, or drawing every day. It became hard to find a place where they could create that wasn't in the way of mealtimes. Bunk beds opened up more space in the room and allowed us to bring in this beautiful wood table from Article. They now use this table daily for art, sewing, or homework.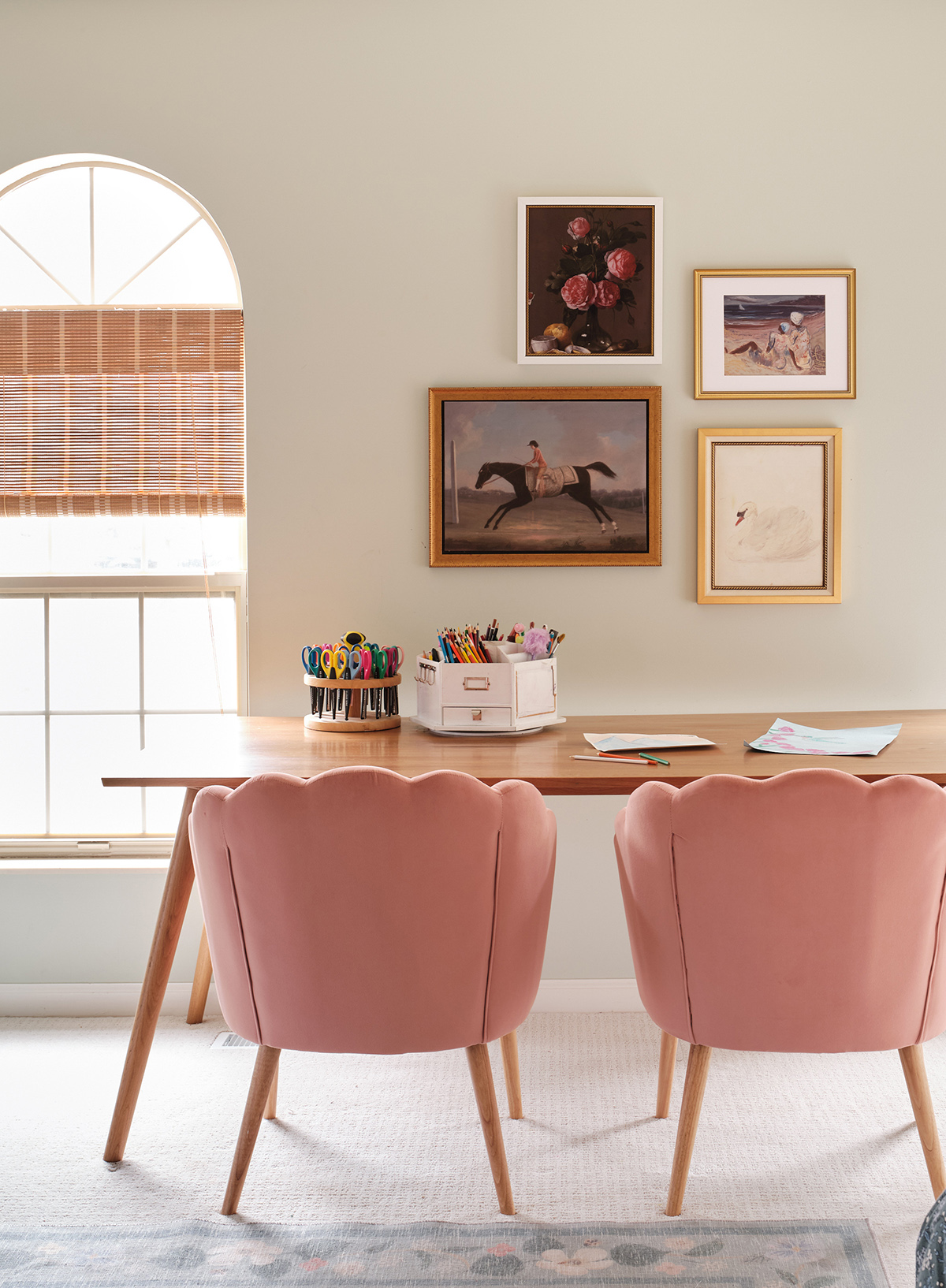 The set of four vintage art prints are from our shop Maris Home, the pattern scissors were a gift from a neighbor, and the art caddy I have had for years from Michaels. This is where they keep their colored pencils and other art supplies.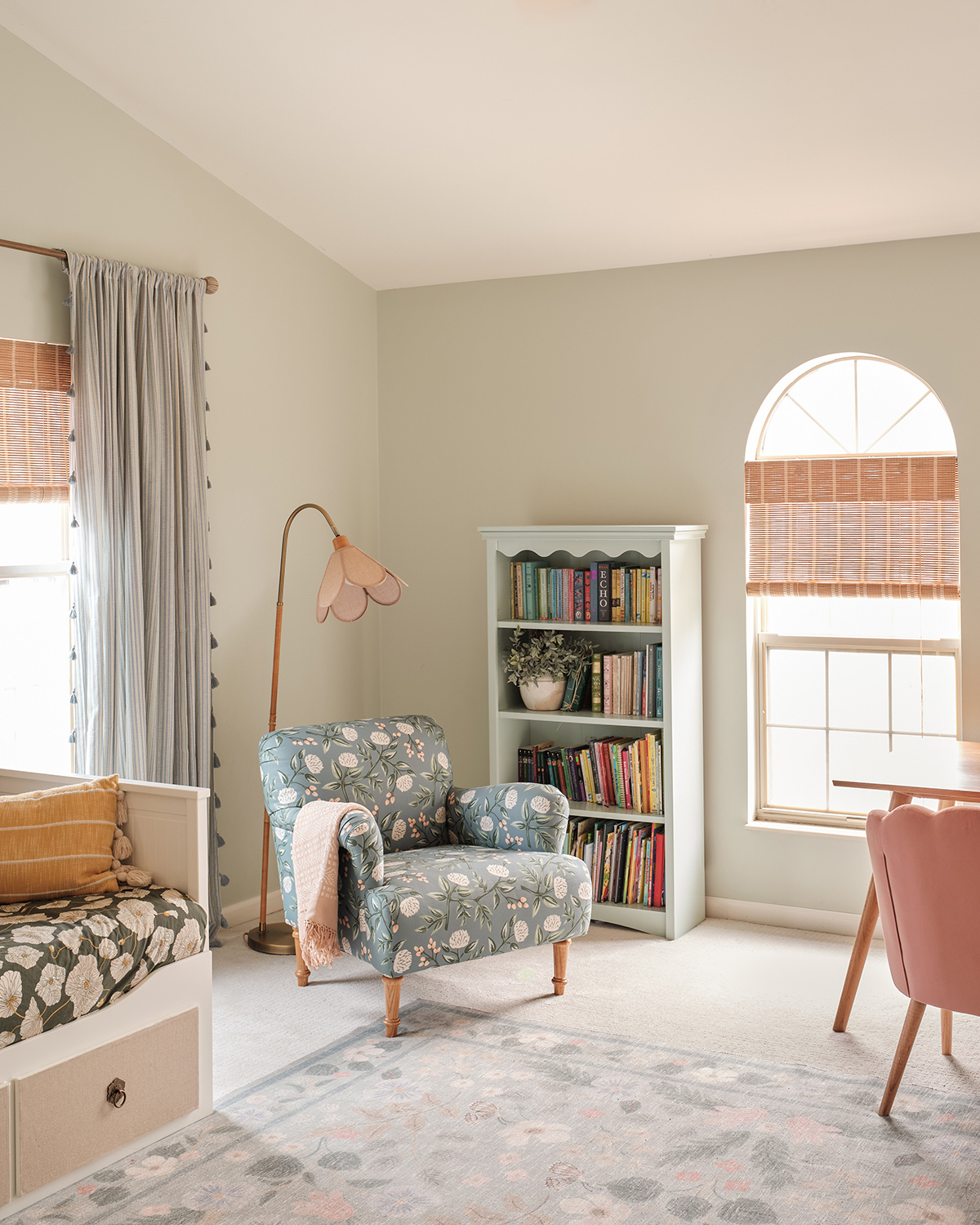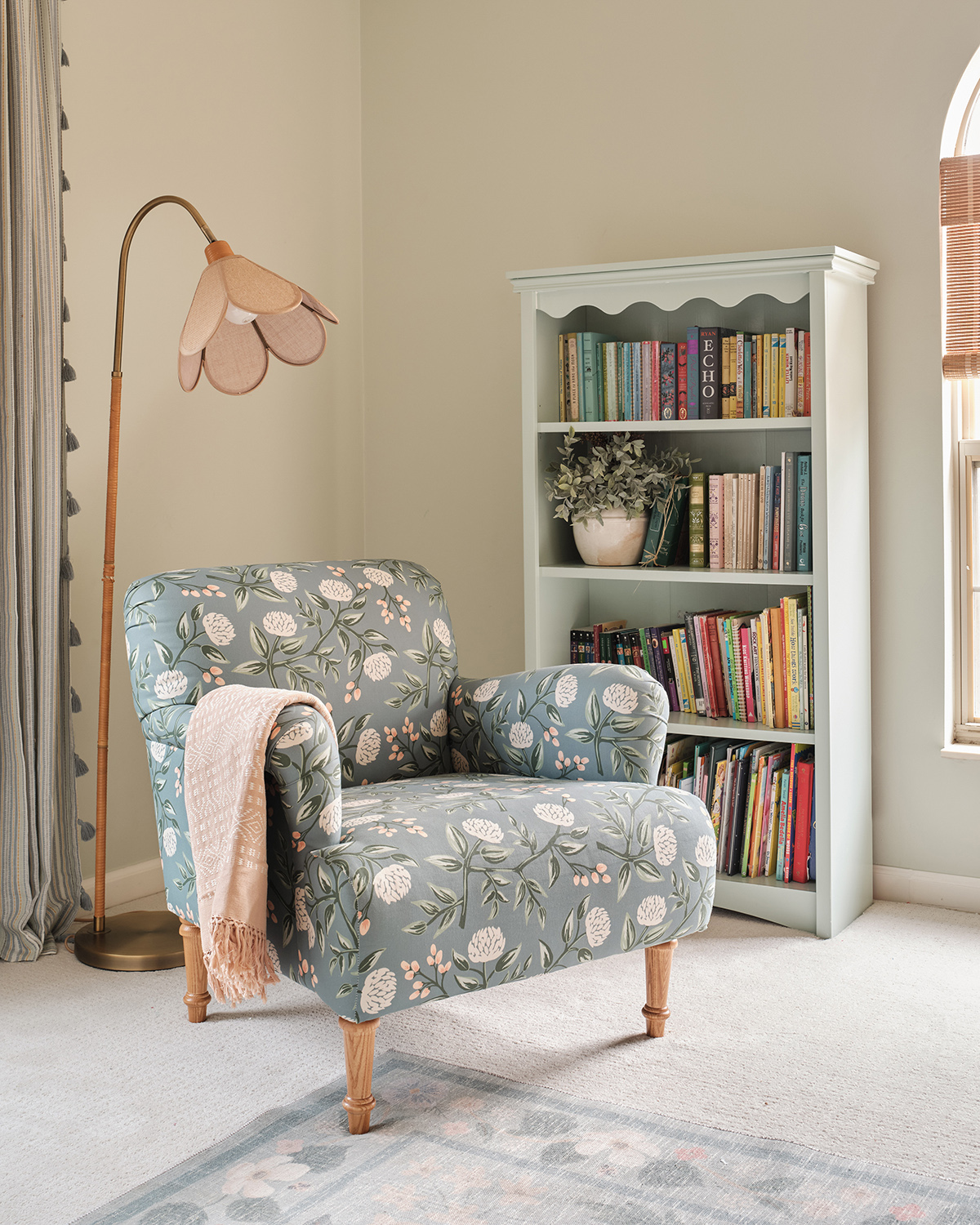 Scalloped Bookshelf: I had a scalloped-trim bookcase in mind from the start, but I could not find it within the U.S. for a decent price (why do all the unique furniture pieces seem to be in Scandinavia or Sweden??). I ended up finding some scalloped wood trim on Etsy. Using a paint spray gun, we painted this bookshelf along with the trim piece. After trimming the piece down to size, we attached it to the top using old wood glue and clamps. Now it pairs so well with the Bristol armchair, and the girls use this space as a little reading corner.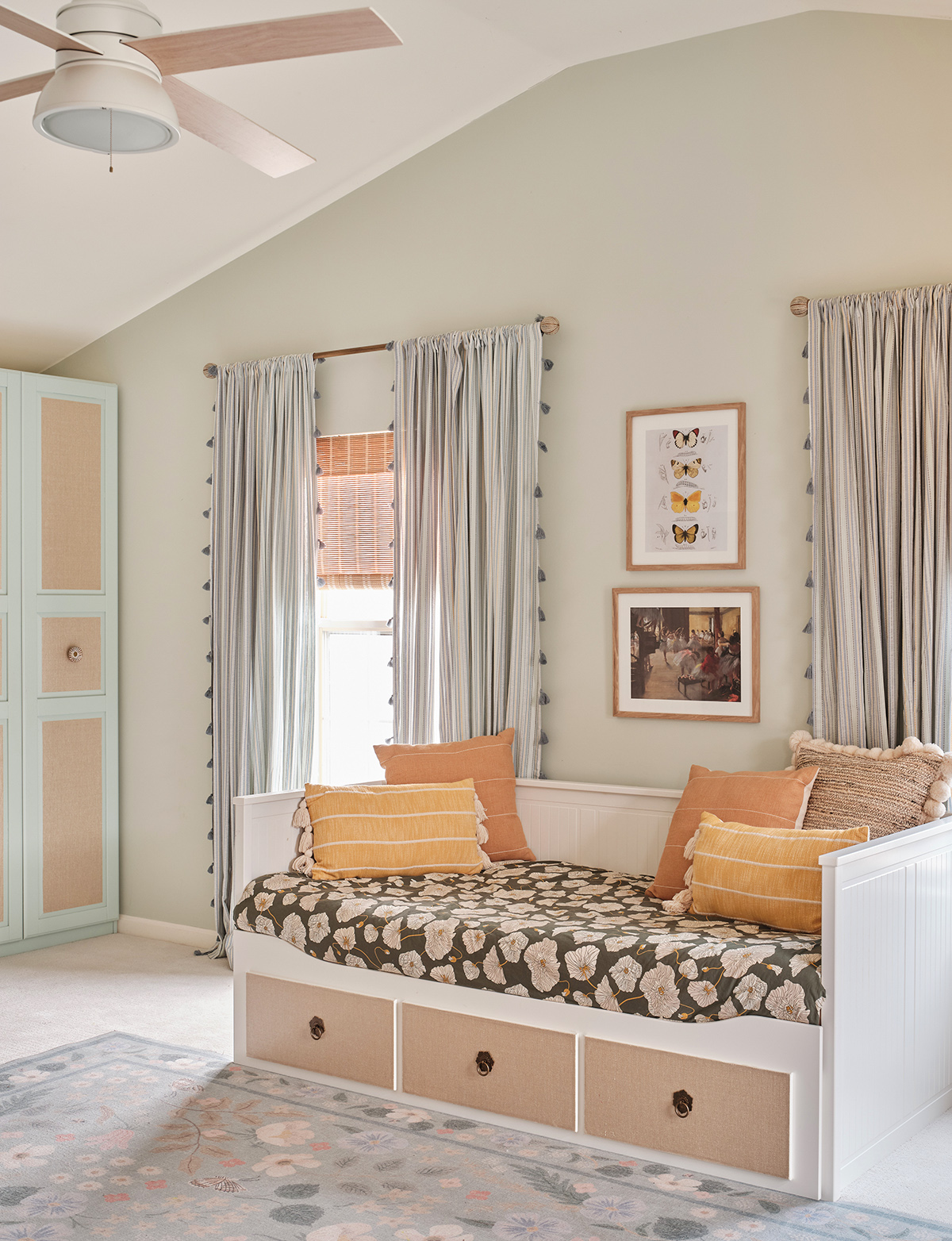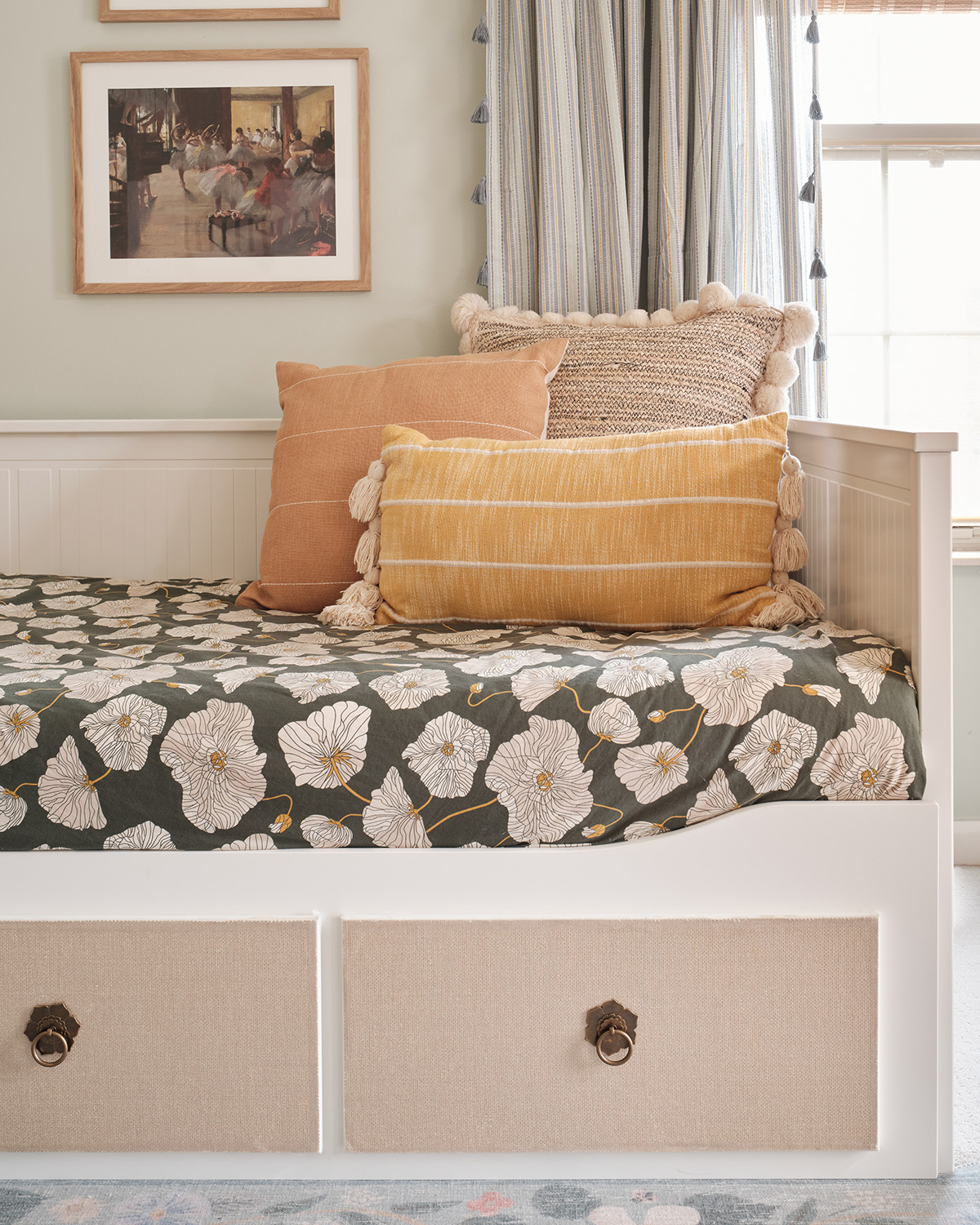 Daybed: Veronica wanted a daybed, and the IKEA Hemnes daybed was the best price we found. I also customized the daybed with the same materials as the wardrobe—wallpaper and wallpaper adhesive! (Step-by-step process here.) While the wardrobe wallpaper has held up well, the drawers needed some extra support around the edges. I used a clear, wide tape to secure, and that has worked so much better! The spacious drawers are where we store all of their art books, notepads, keepsakes, and toys.
No closet, no problem: Since this was technically a "bonus room," there were no doors or closets. After researching some ideas, we decided to go for the IKEA Pax wardrobes as a makeshift closet. They were time-consuming to assemble, but they are VERY spacious. I loved that these could comfortably fit clothing and shoes for all three girls. To customize these wardrobes, we used a paint spray gun and a textured wallpaper. (See this post on customizing the IKEA pax wardrobes for details.)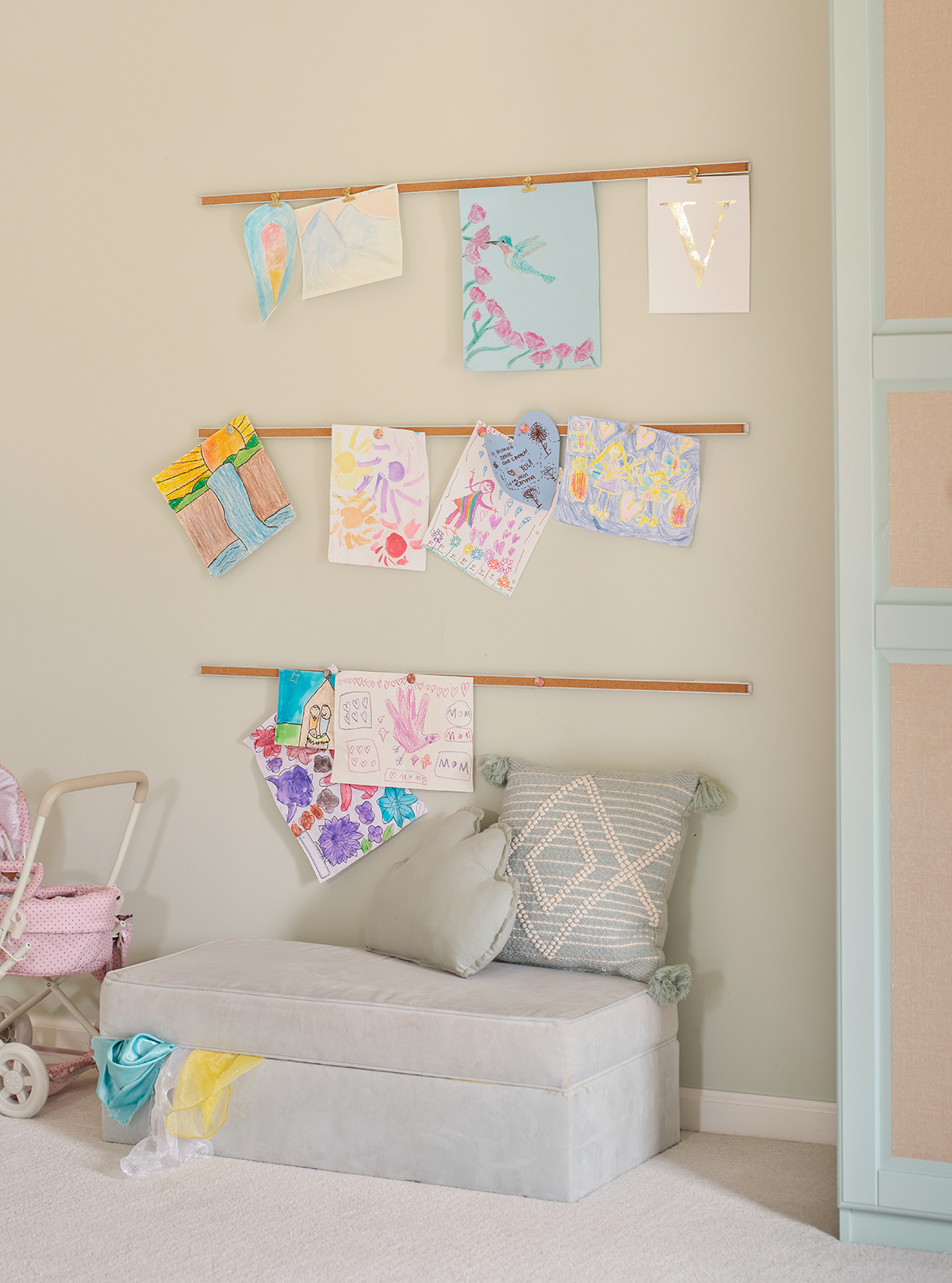 (I shared more about this art display wall here. These bulletin strips have been a great way for the girls to pick whichever art pieces they want to keep and display.)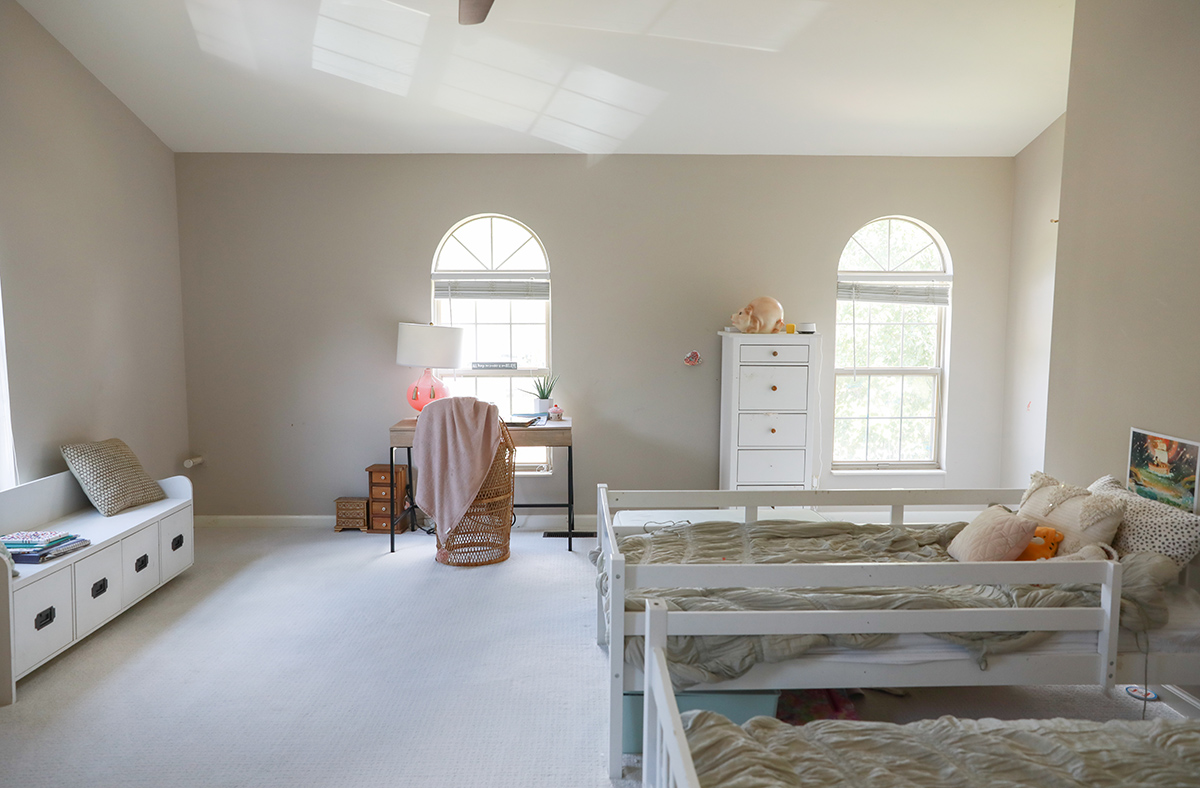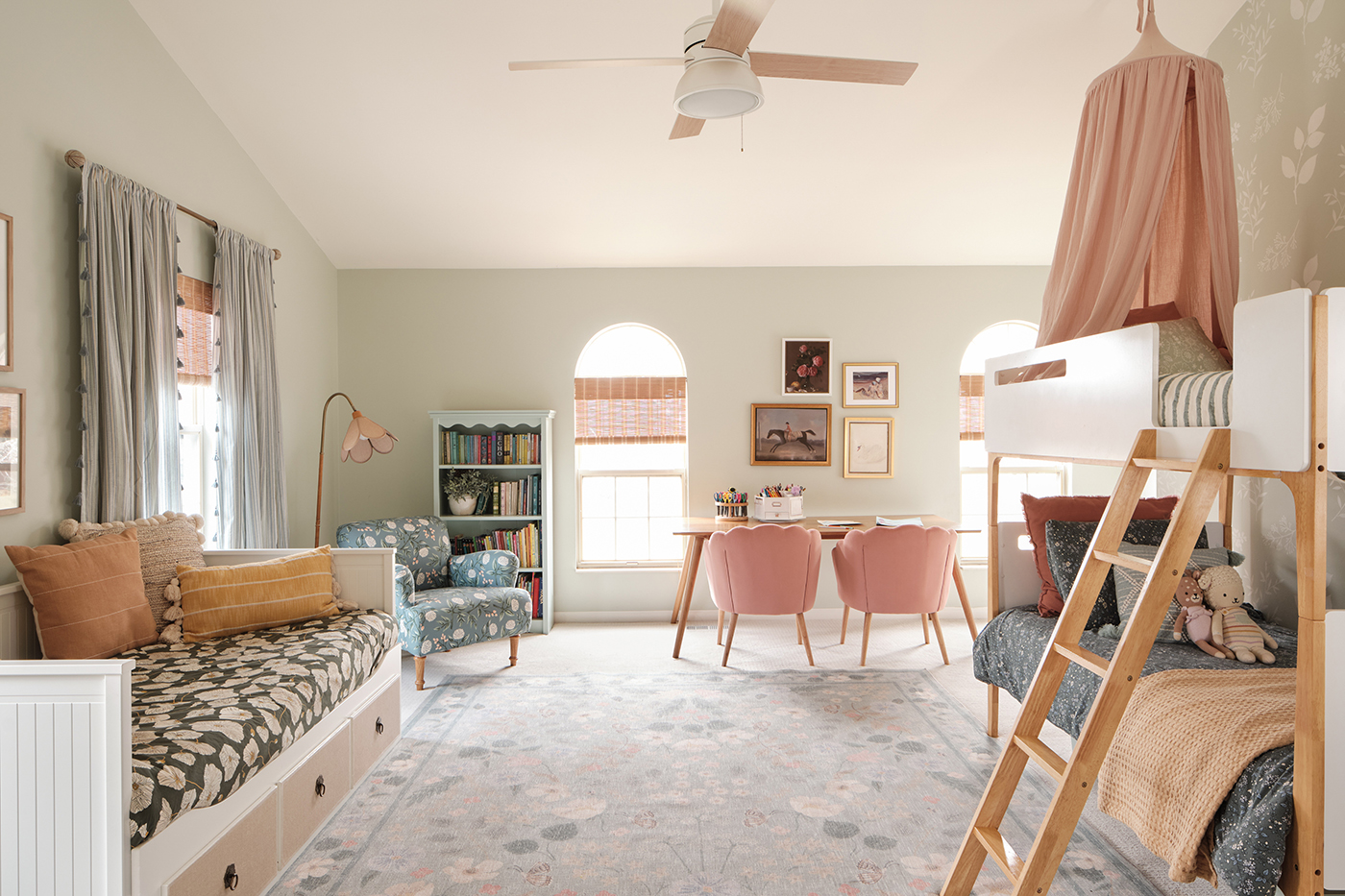 This room is a constant lived-in mess now, which is how it should be! Seeing it used in the way I hoped it would has been the most gratifying part of this process. They use the open center of the room for sleeping-bag sister nights, dance parties, and forts. There are always dress-ups in every corner, stacks of books by the beds, and art scraps underneath the table. Our friend Joseph Bradshaw, who photographed the room, said it reminds him of Mary Poppins, and I think that may be the best compliment—ha! I kind of want to move in!
Sources:
Rug—c/o Rifle Paper Co.
Ceiling fan
Bunk beds (found on FB marketplace, but available here)
Under-the-bed storage containers
Twin-sized comforters
Floral duvet (I had it altered at a dry cleaner to a twin size)
Twin memory foam pillows
Striped quilt
Large linen pillow
Textured tassel pillow
Waffle throw
Canopy (more options here)
Wood table—c/o Article
Scalloped chairs
Art prints (set of four)
Art caddy (Michaels—similar here)
Scissor set (gift from a neighbor)
Bookshelf + Scalloped trim
Floral armchair—c/o Rifle Paper Co.
Petal floor lamp
Striped curtains
Window shades
Daybed (similar option)
Flower drawer pulls
Blooming field duvet
Golden yellow pillows—Kirkland's (sold out)
Pommed pillow
Butterfly print
Ballerina print
Wood art frames
Ikea Pax wardrobes
Wallpaper
Daisy knobs
Bulletin strips
Dress-up box (old)
Cloud pillow (came with the canopy)
Doll buggy
Similar doorknobs