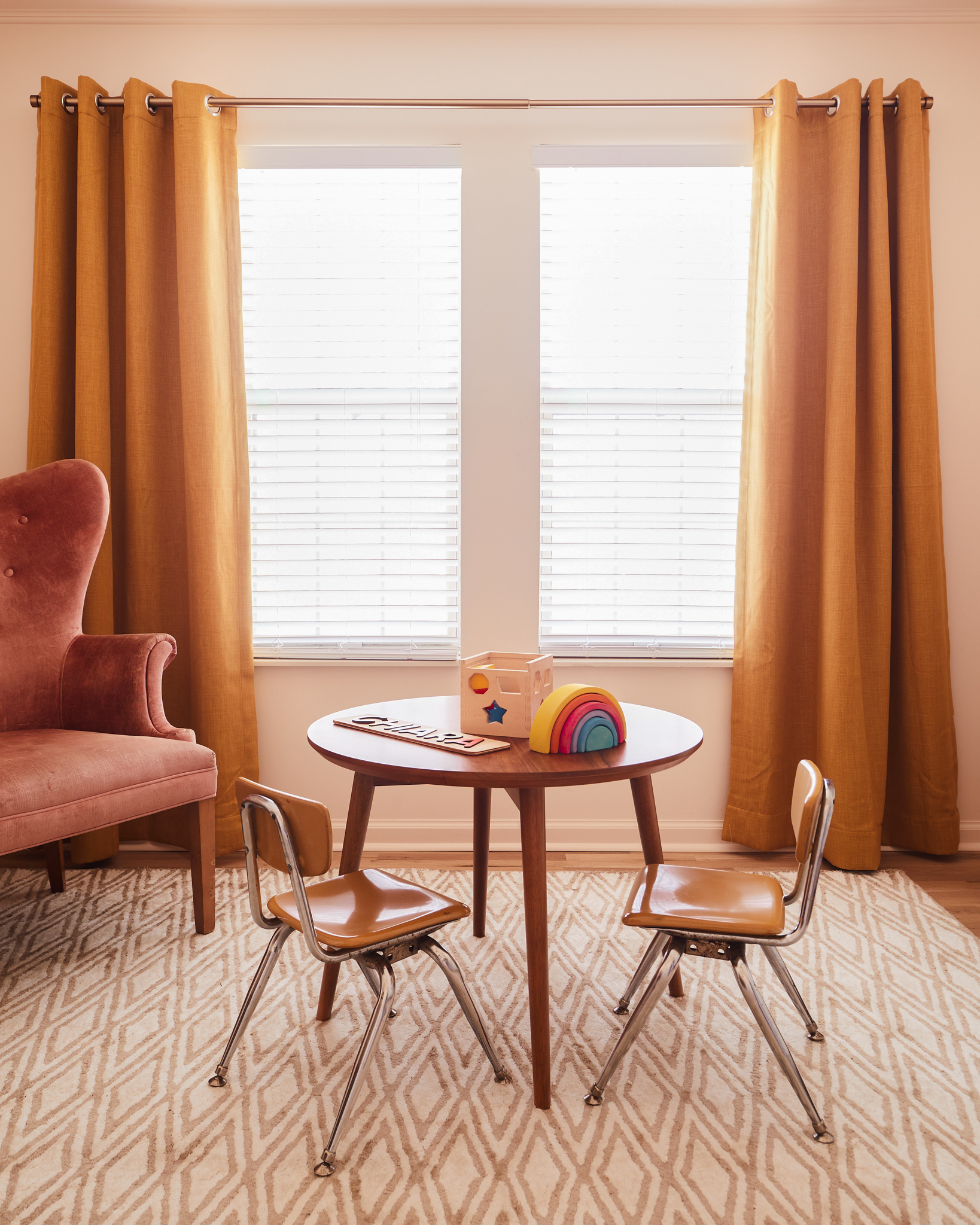 We started this room design last summer, and thought we would be able to whip it up in a jiffer. (How humorous of my optimistic self.) I have come to appreciate slow paced changes in our home this past year. Every corner seems to have a backstory, and some more entertaining than others. Nonetheless, we are happy to welcome you in and give you a tour of Chiara's (Cheech the peach) nursery/play room…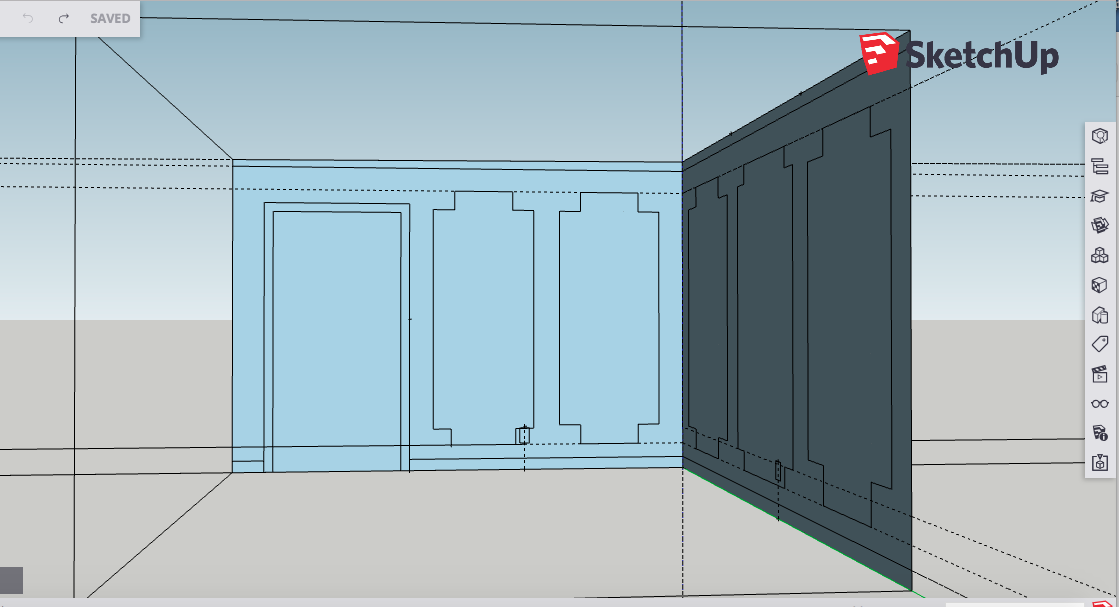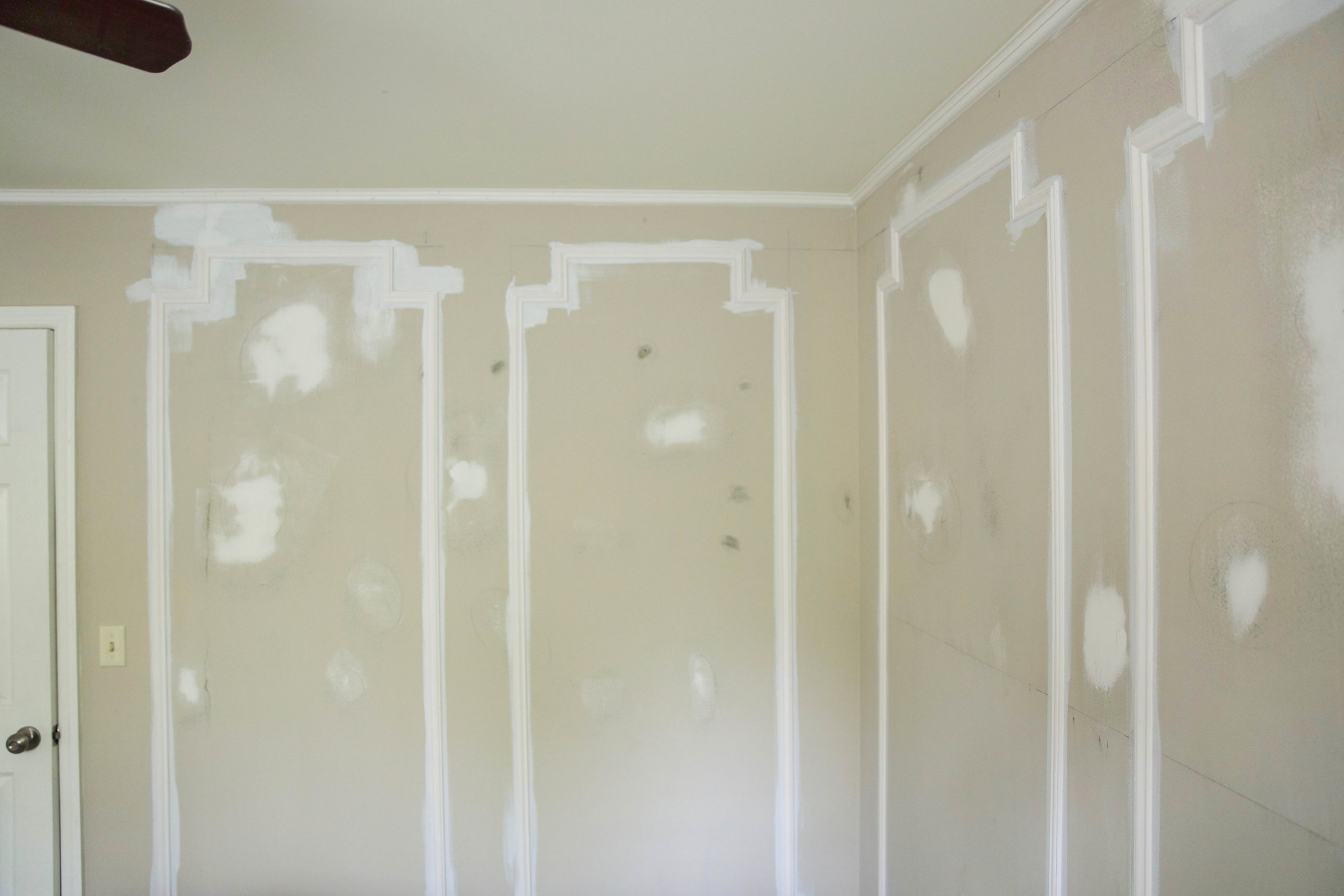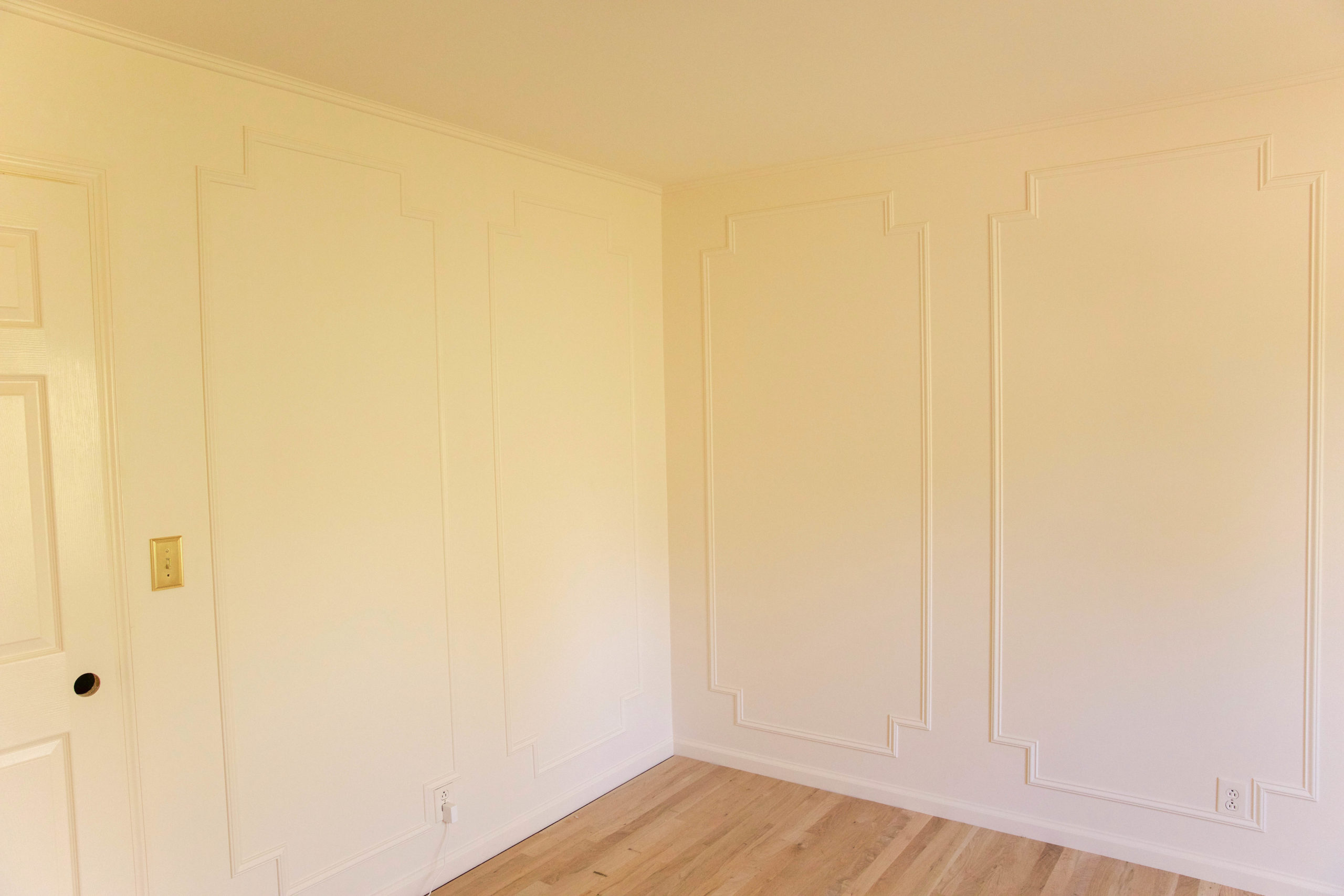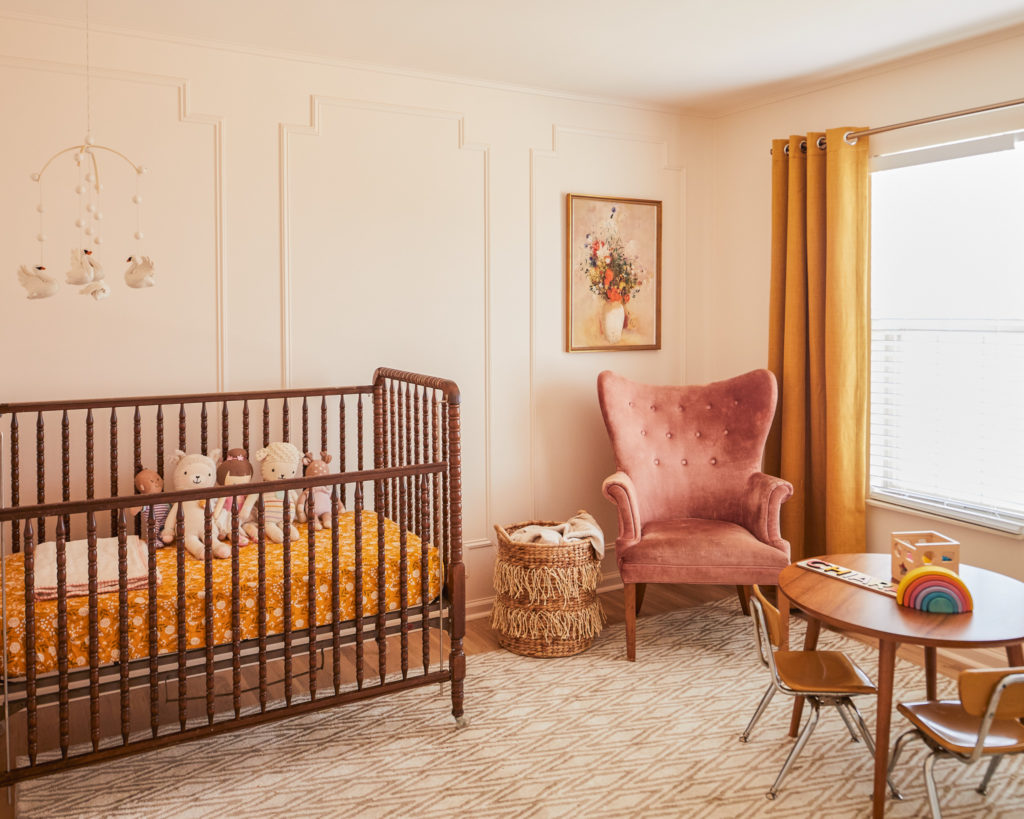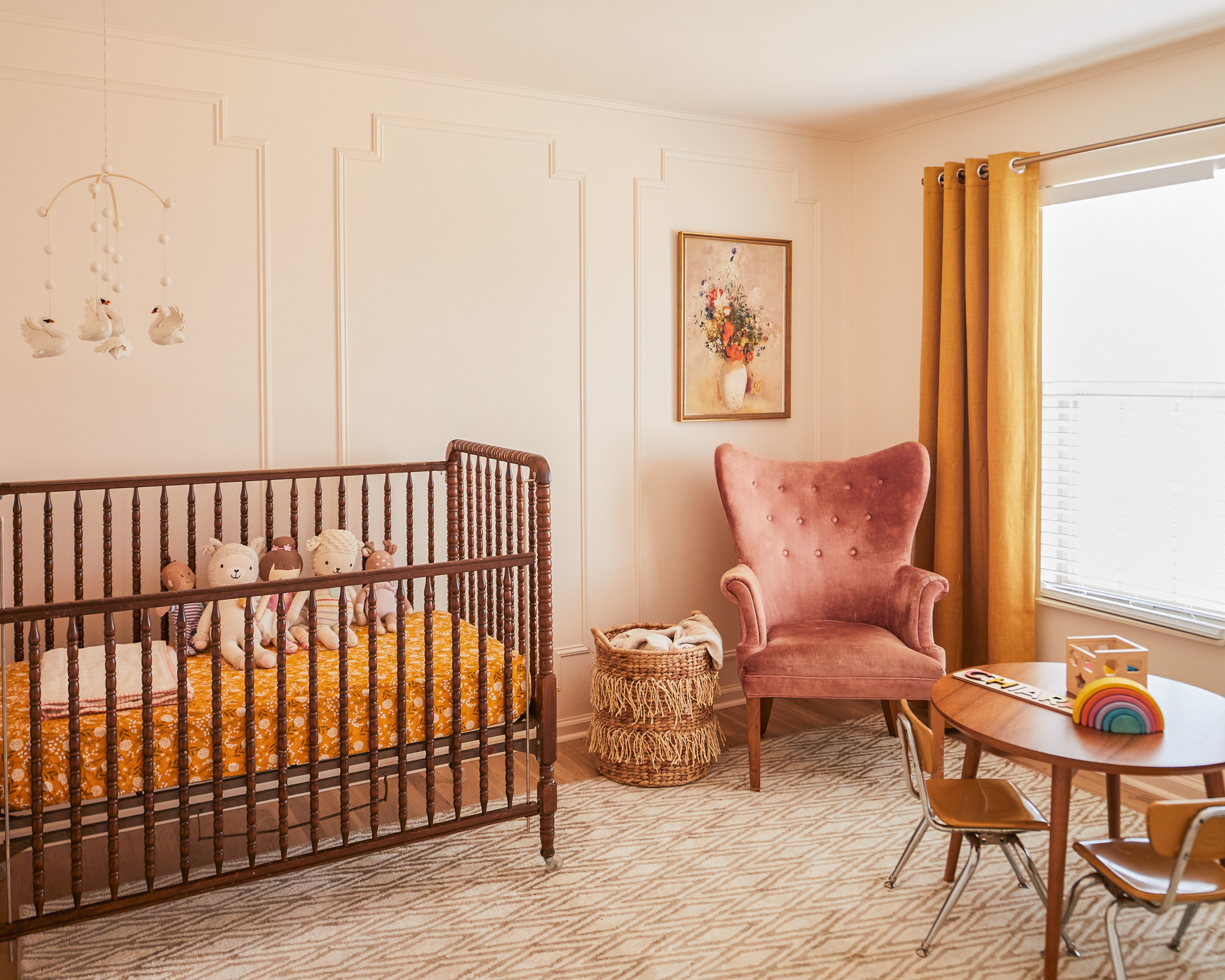 Wall moulding frames:
Gabe and I worked on a DIY decorative wall molding design in SketchUp that would work for all four walls. Some of the frames are narrower than others depending on the wall space we had to work with. It all flows when finished, so you can definitely play around with width if the height is uniform throughout. We also added trim molding on the ceiling edges. It's an inexpensive way to upgrade a room!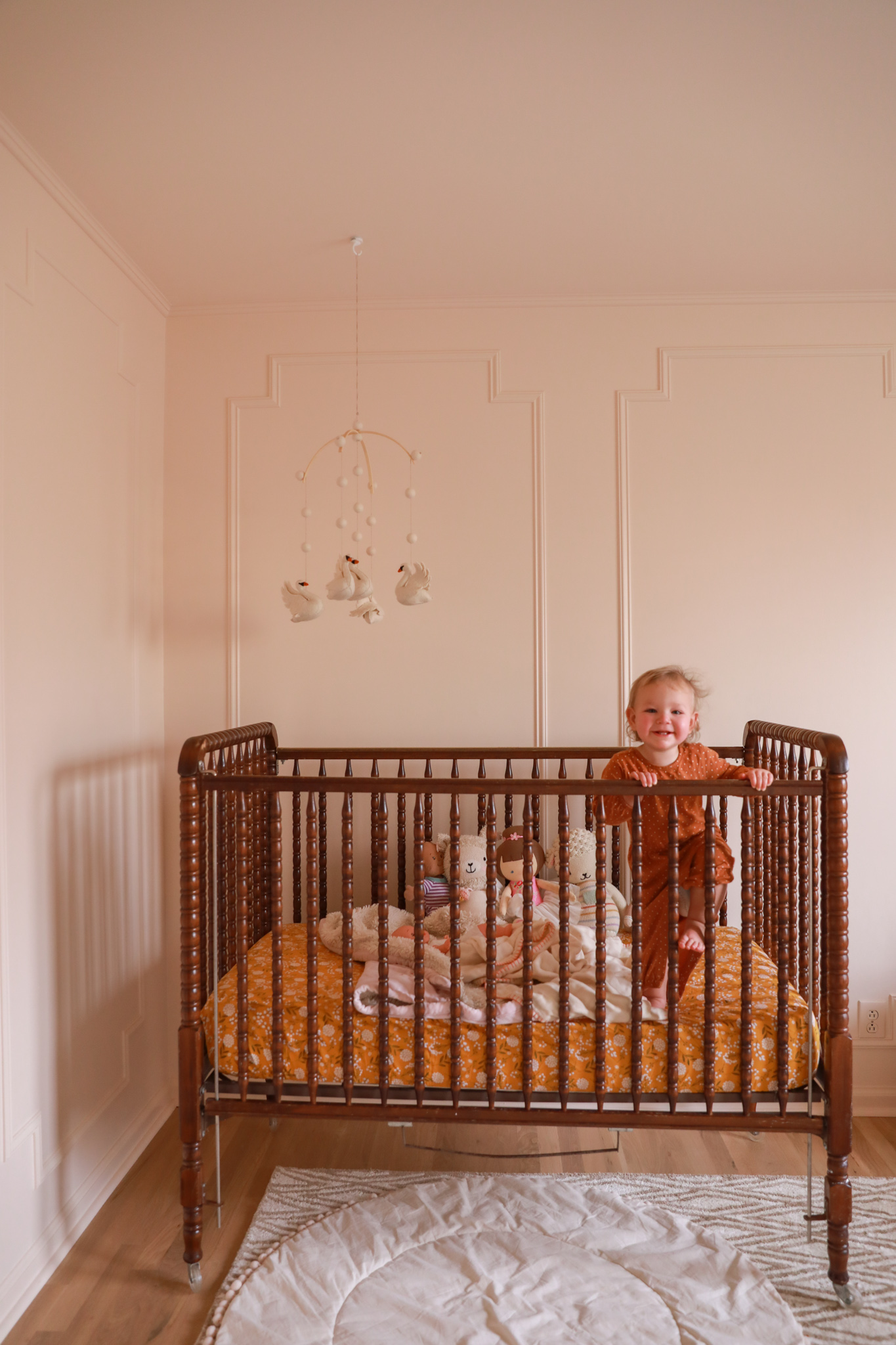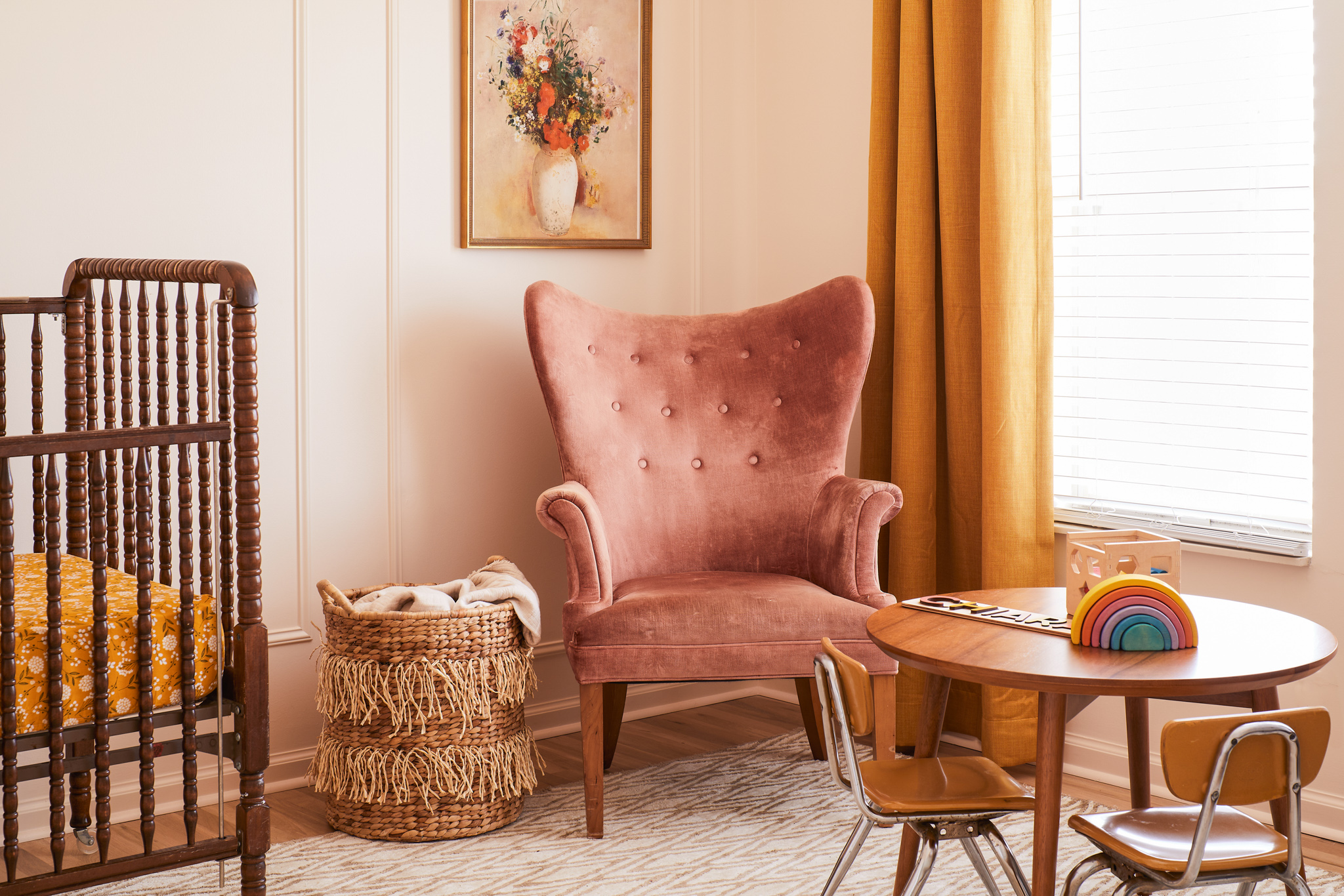 (Photos by Joseph Bradshaw)
Paint colors:
I wanted to work with a warm base tone, and peach only seemed fitting for Chiara. Peach works as a great foundation for a warmer color palette. I desaturated "Arizona Peach" by Benjamin Moore by requesting a 50% color reduction for walls in eggshell finish, and 75% color reduction for the ceilings in flat paint.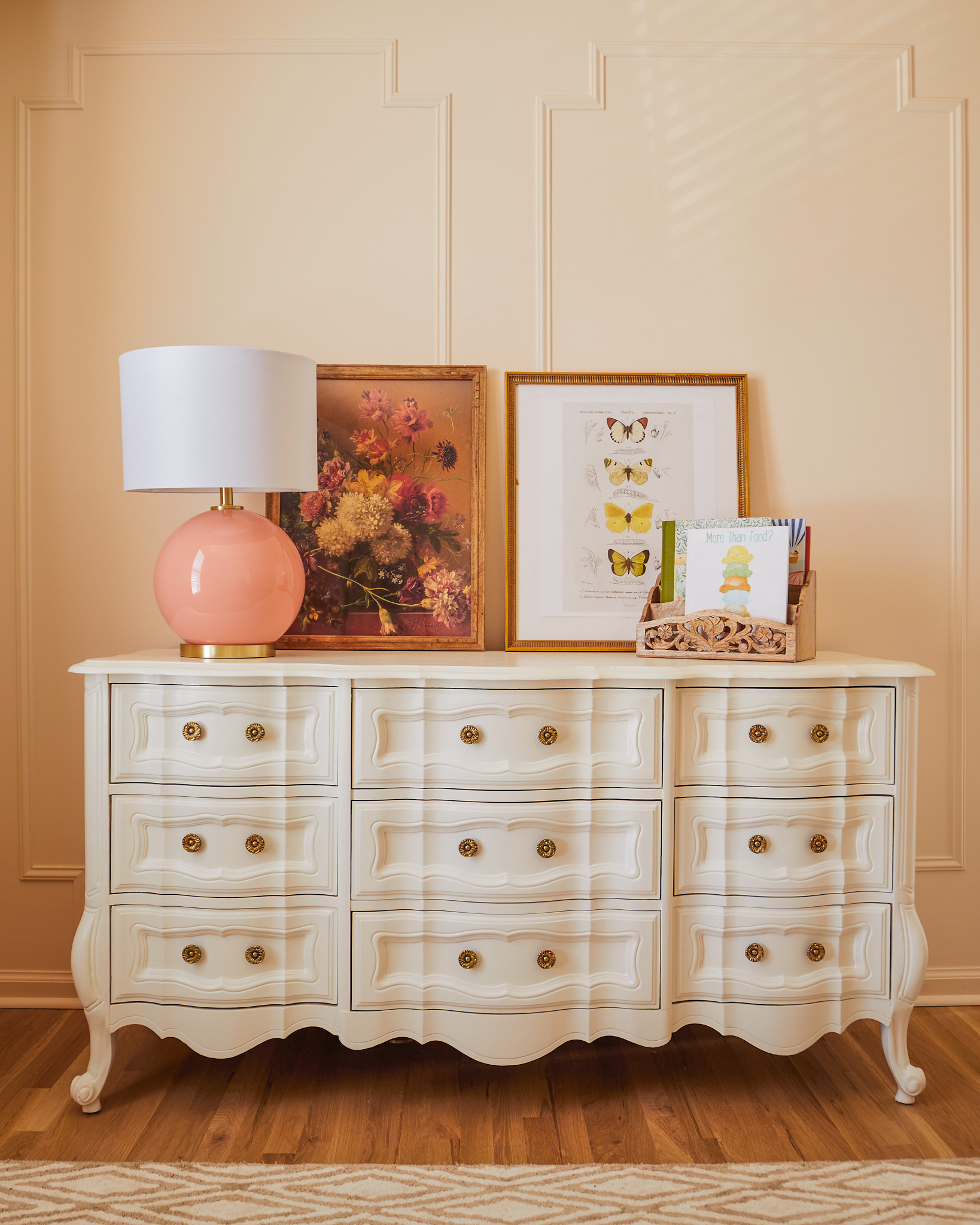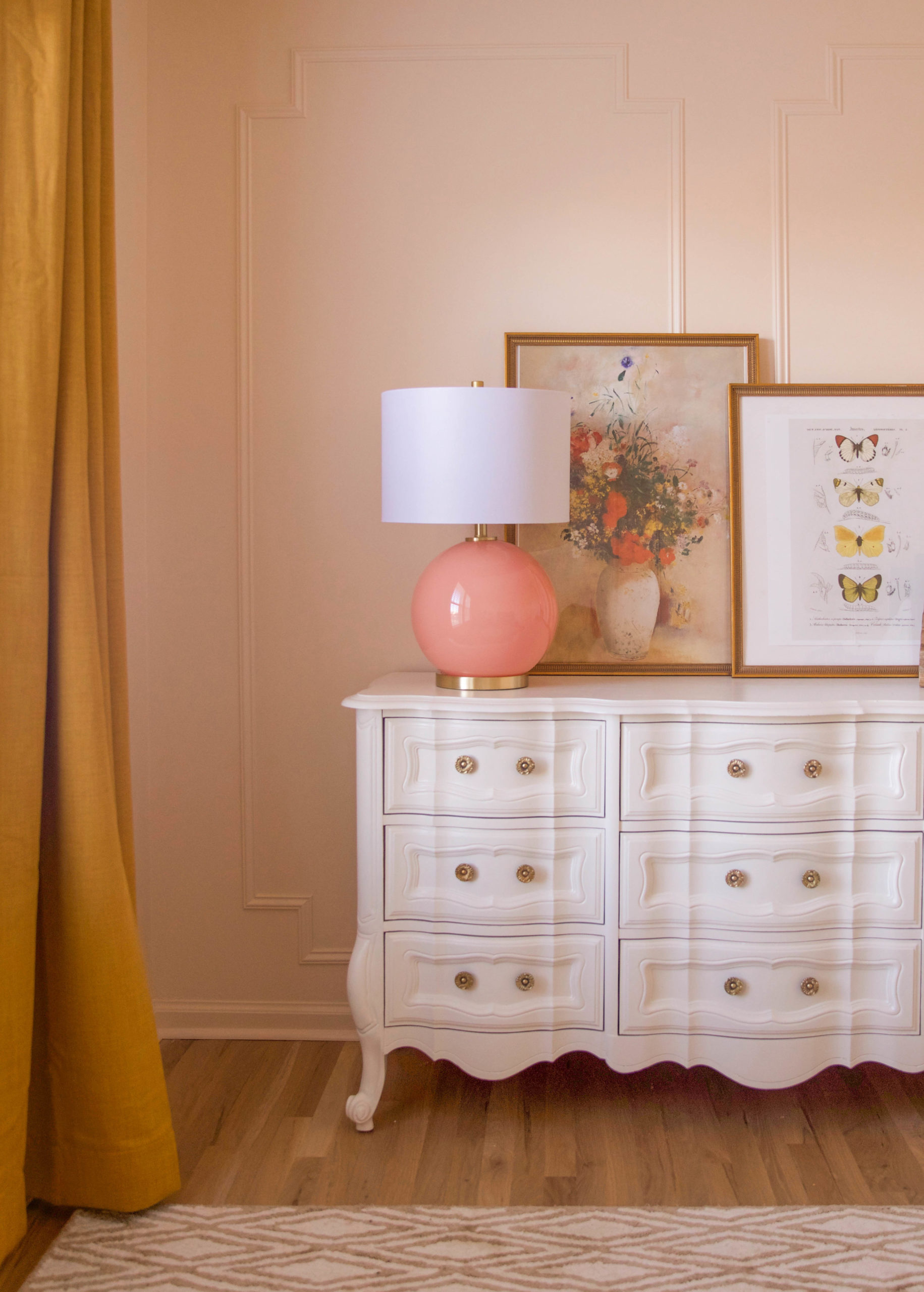 Furniture makeovers and vintage art:
I shared the original mood board to help visualize things ahead of time, and the result is pretty close to that original! I was able to find the dresser for a steal on facebook marketplace and give it a paint spray gun makeover. Art is so easy to change, that I stuck with vintage prints for now. I hope to add some of the kids' art or an alphabet print to the mix as well. I find my frames at Michaels, Target, and Antique stores for really nice gold ones.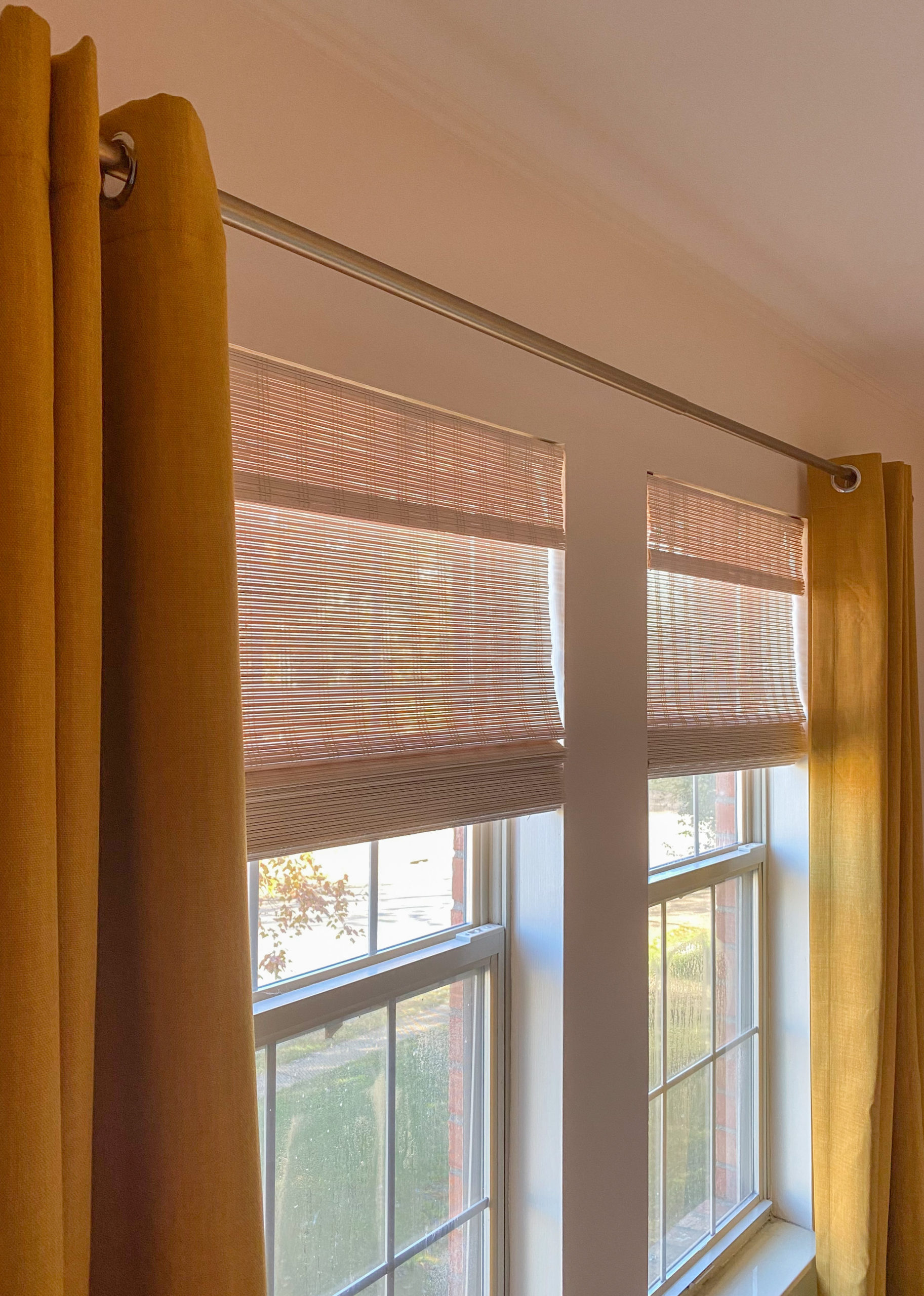 Window Treatments
I waited for a good sale to add these wood woven pull down shades to the windows. I really liked how they were cordless and easy to push up or down. I was able to order the custom size we needed to fit inside the window frames, and they block about 50% of light. With the curtains over them it's full blackout mode for Chiara's nap times.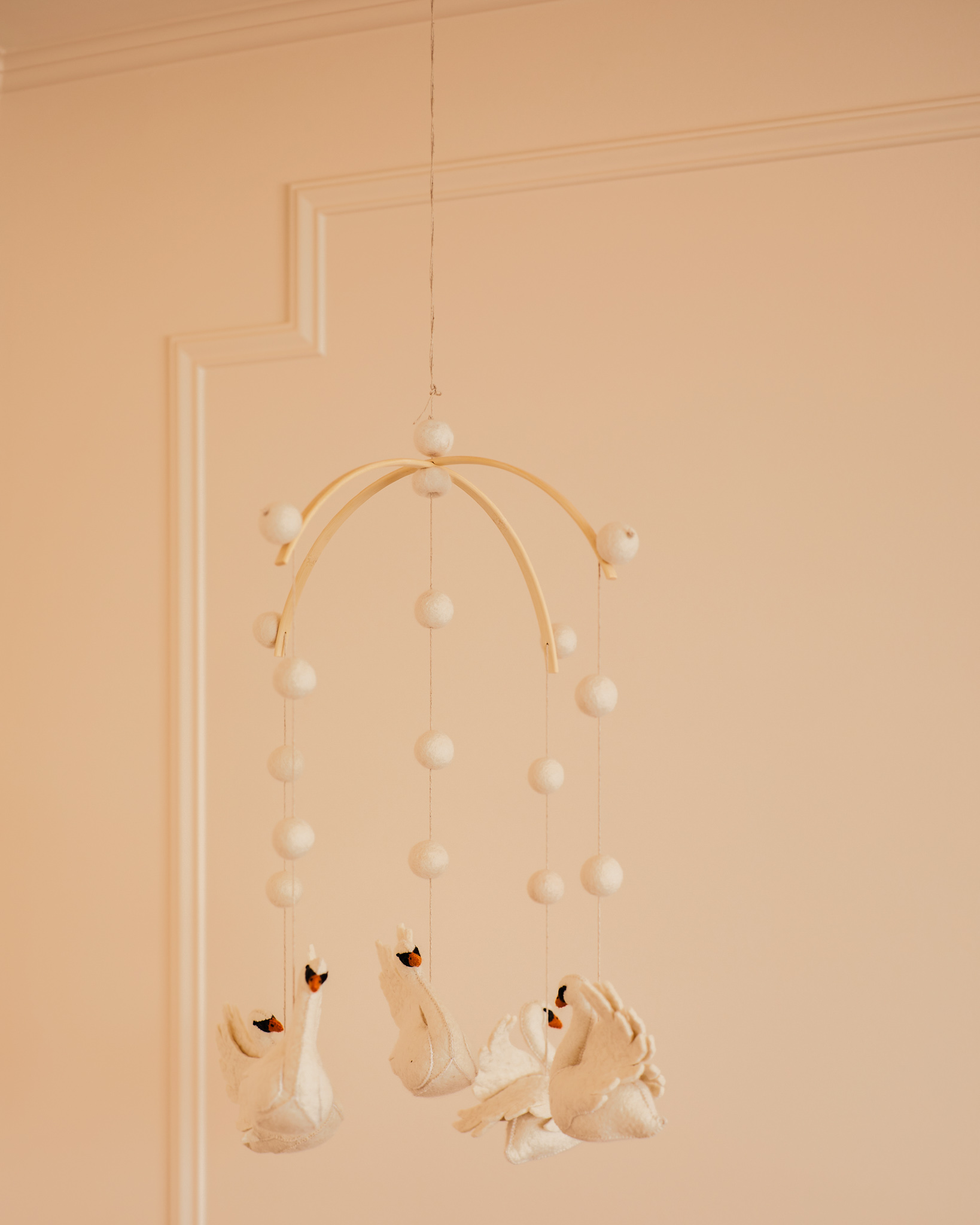 I love to support small businesses when I can, and these felt handmade mobiles by Hello Birdie are incredible!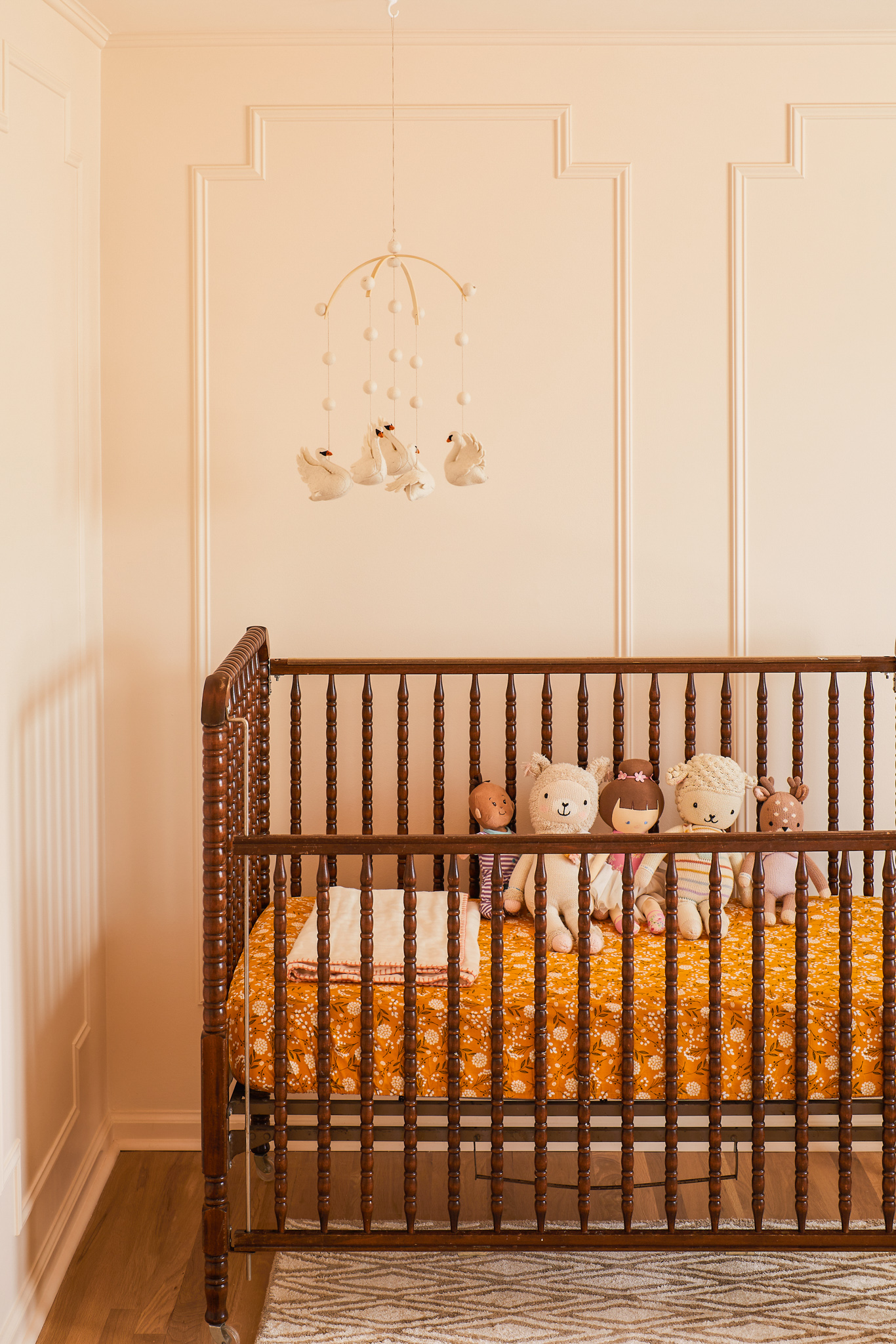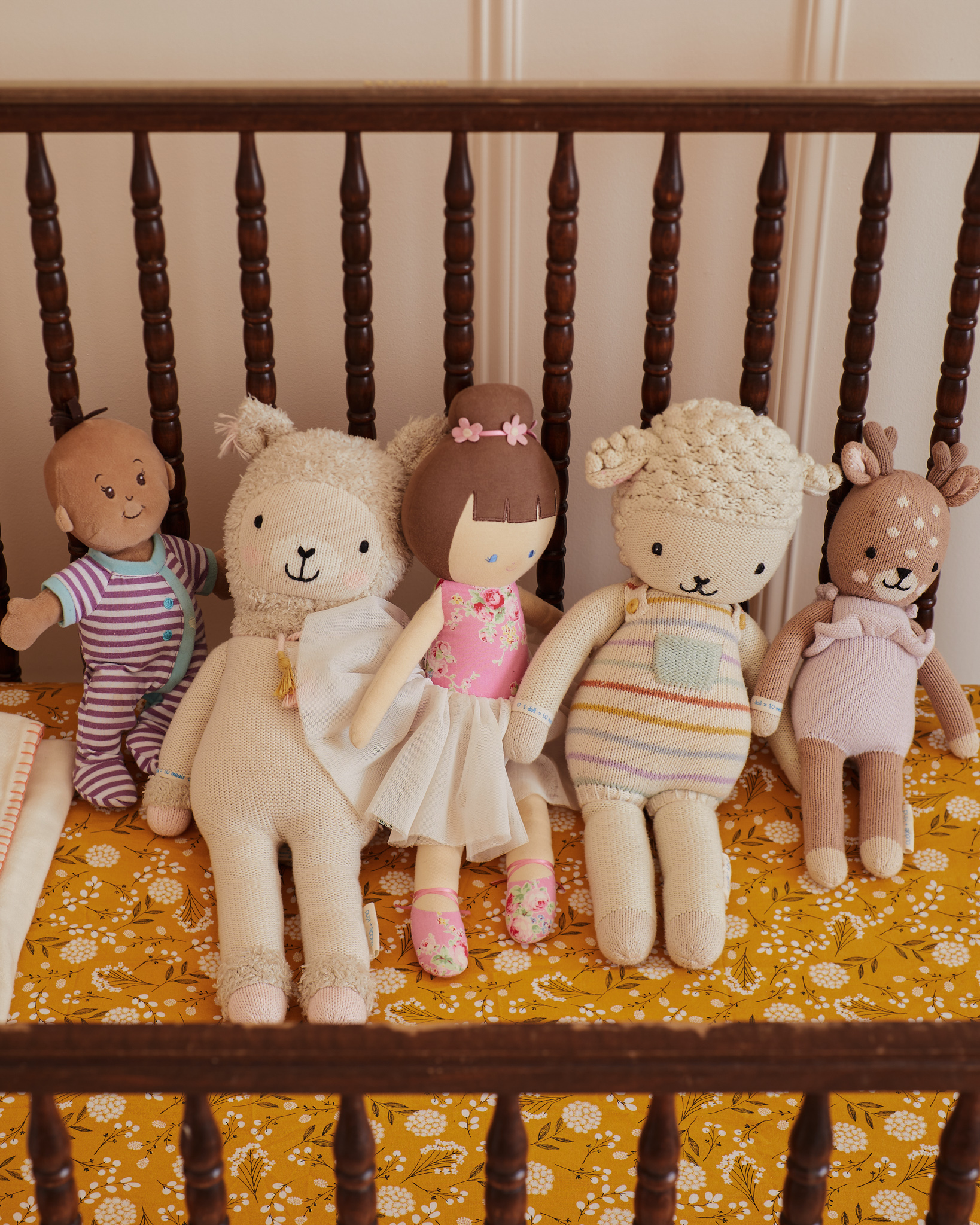 The family crib:
Of course, my favorite piece in the room is the old Jenny Lind crib that has been in my family since my sisters' and I were babies. I have been using it with my own children since Gabriel was a baby, so it holds a lot of special memories for me. A little wobbly, but still sturdy as heck with lots of little teething marks on the rail added over the years.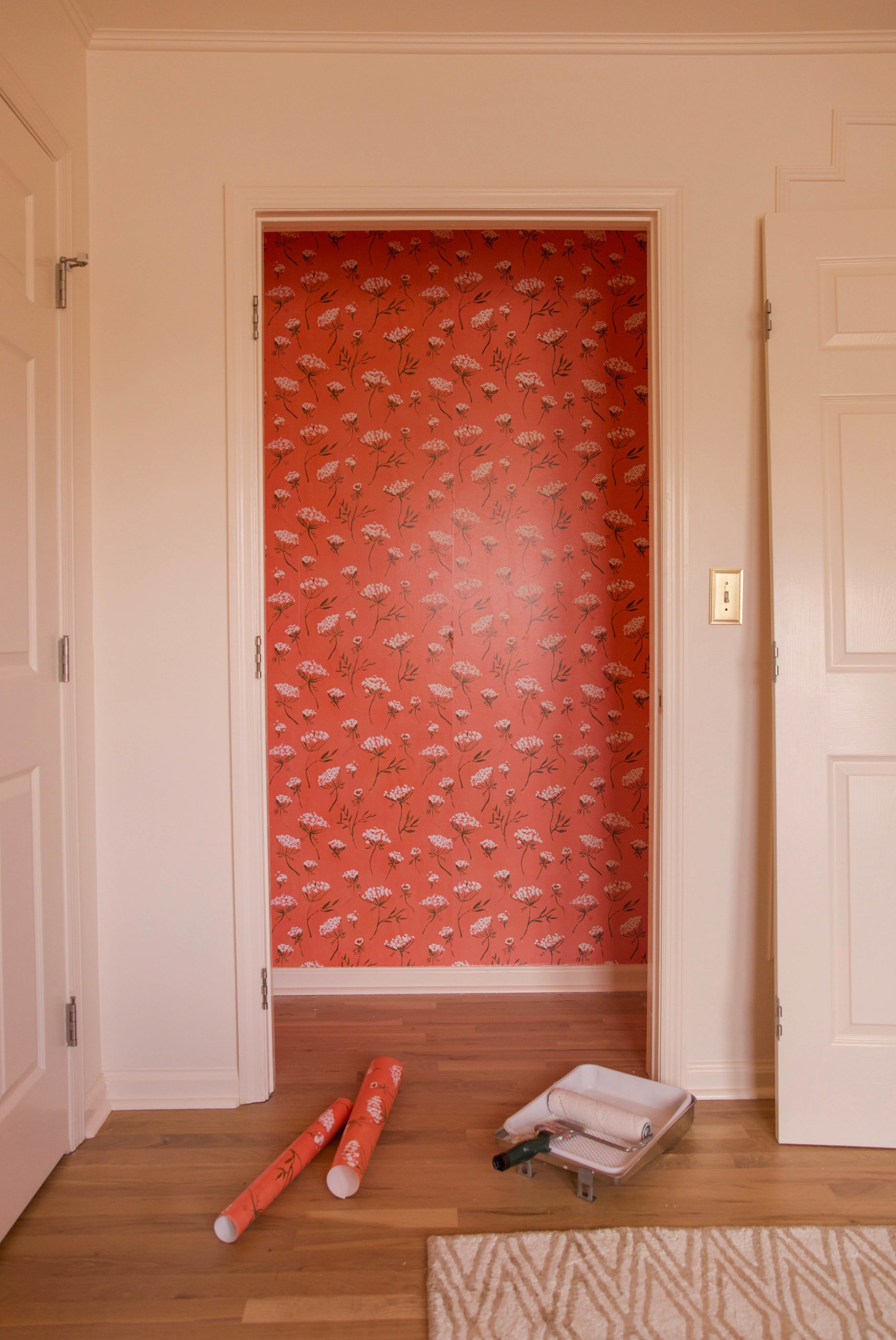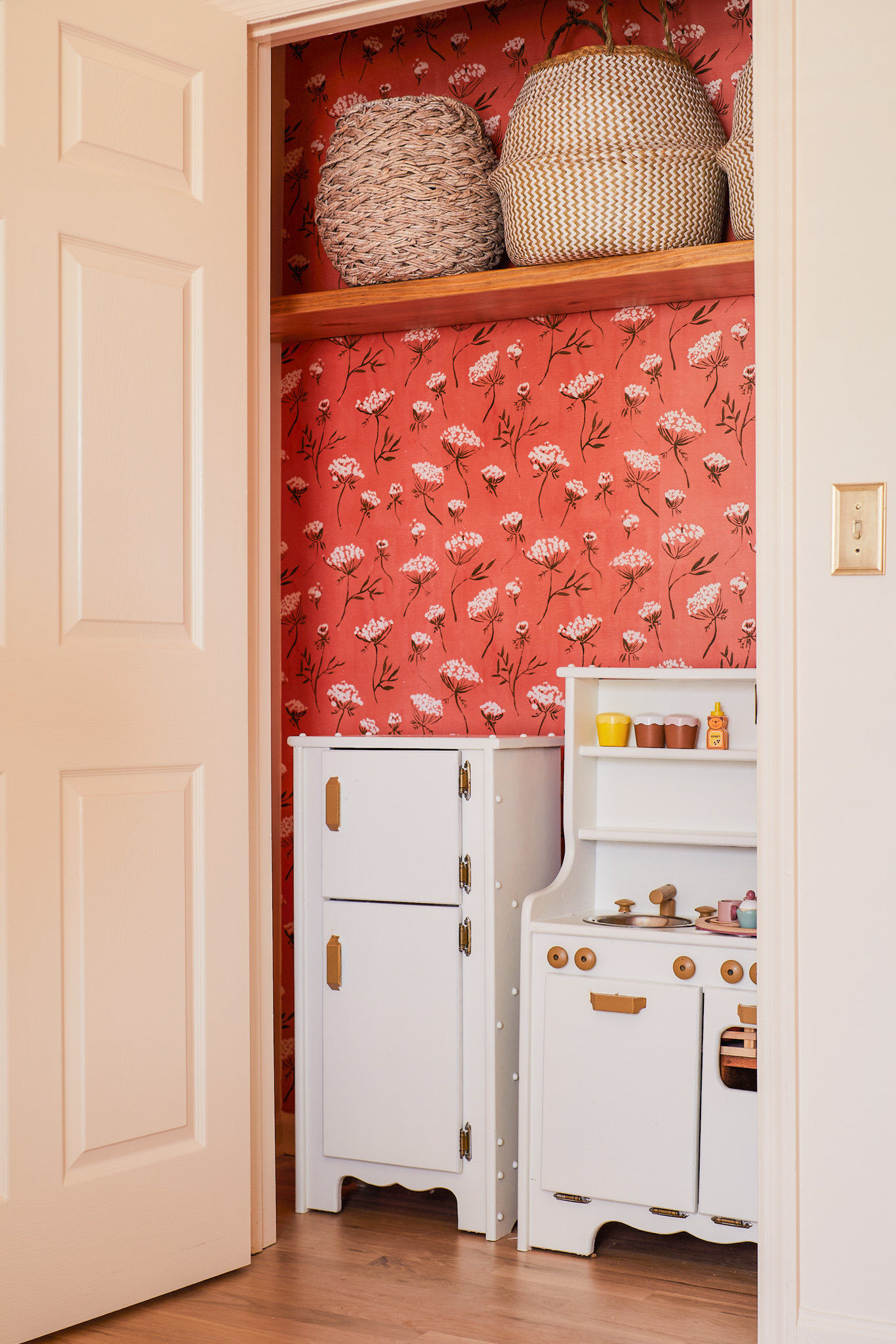 Using a closet for extra play space:
Since all of her clothes fit in her dresser, we used the closet as extra play space for the wood kitchen set. This was another FB marketplace find and you can see the makeover details here. Wallpaper for a closet was the extra factor that it didn't need, but totally made the room. It's a fun way to add some pizzaz without fully committing to a larger space. You can catch the closet makeover steps in this blog post.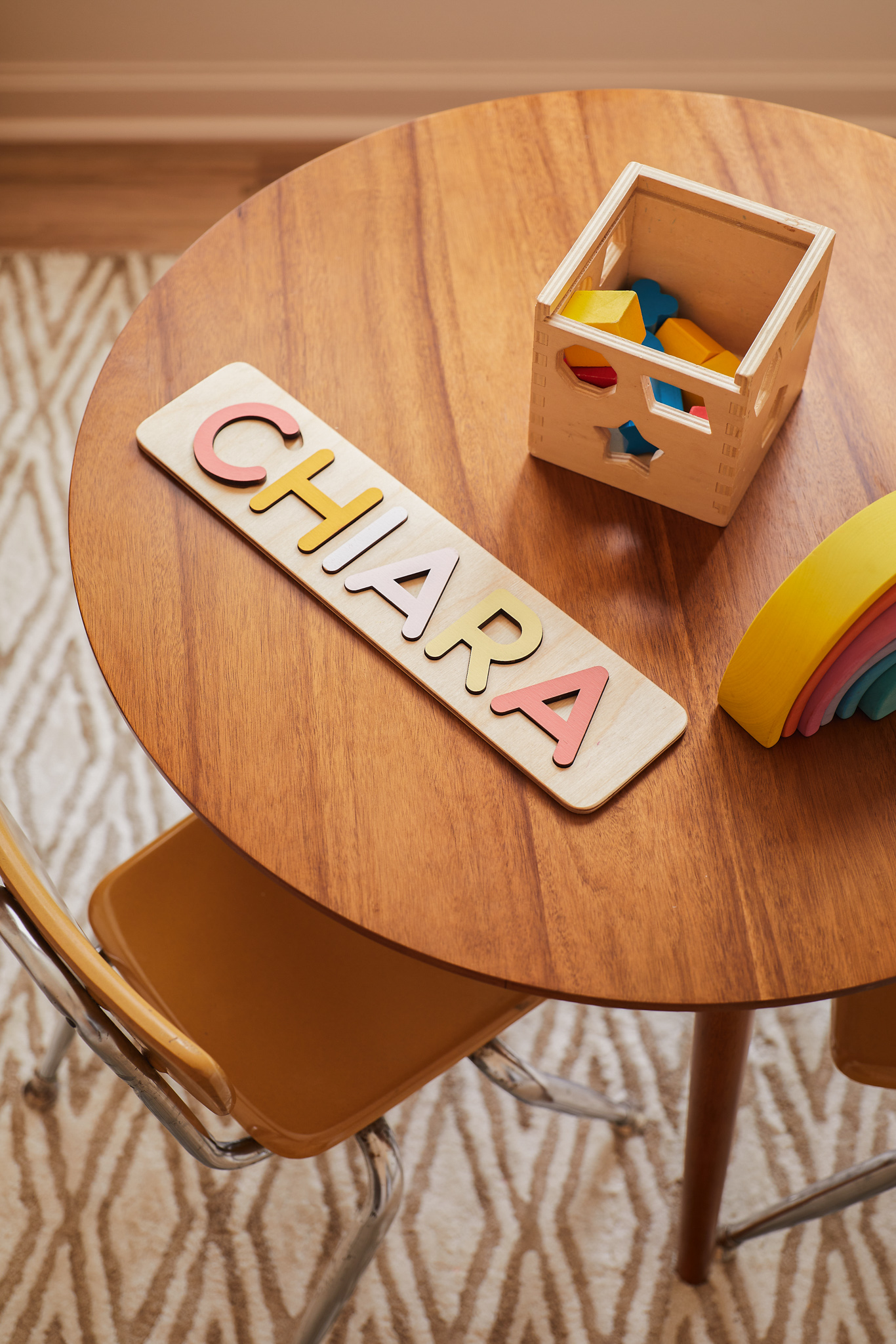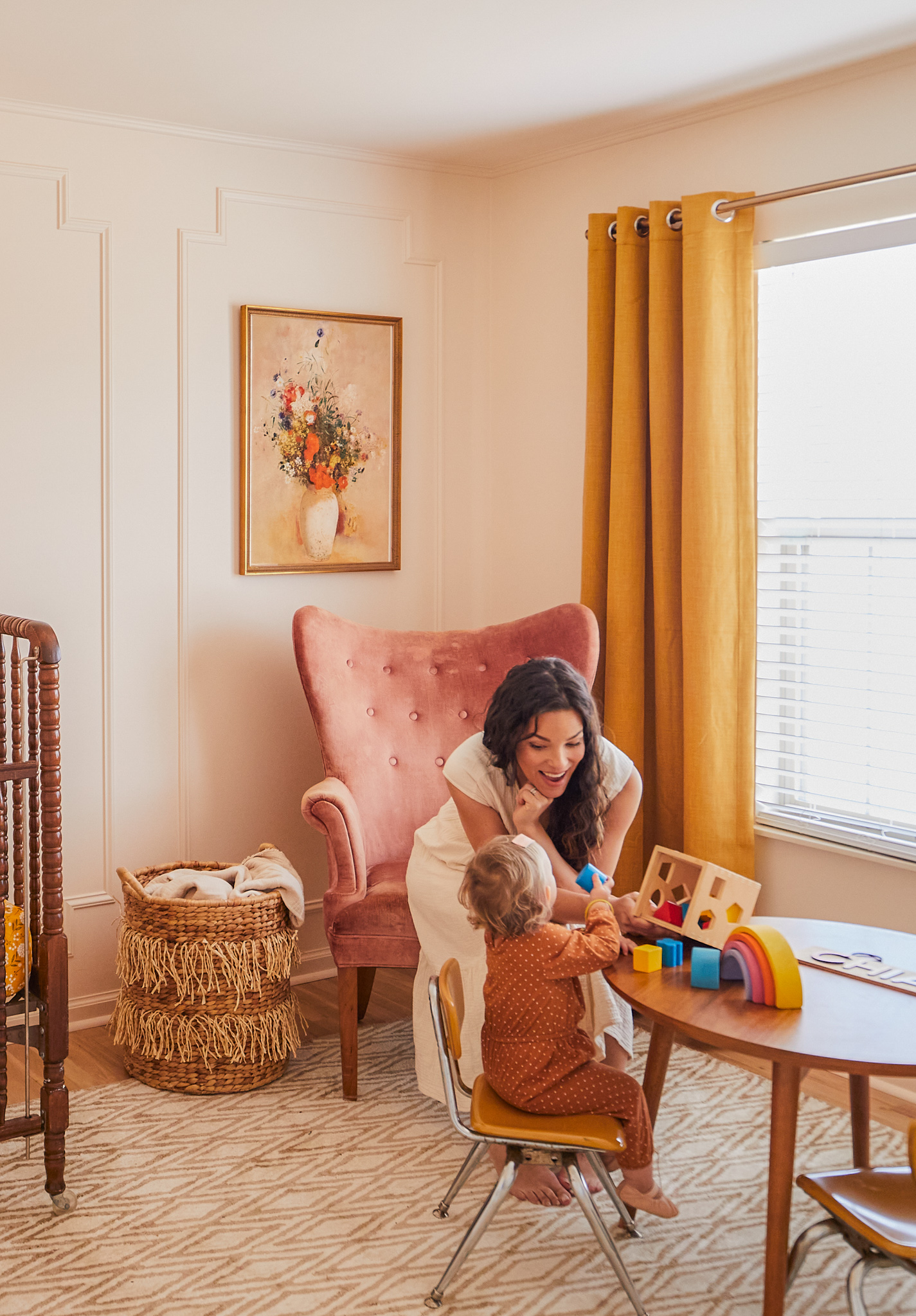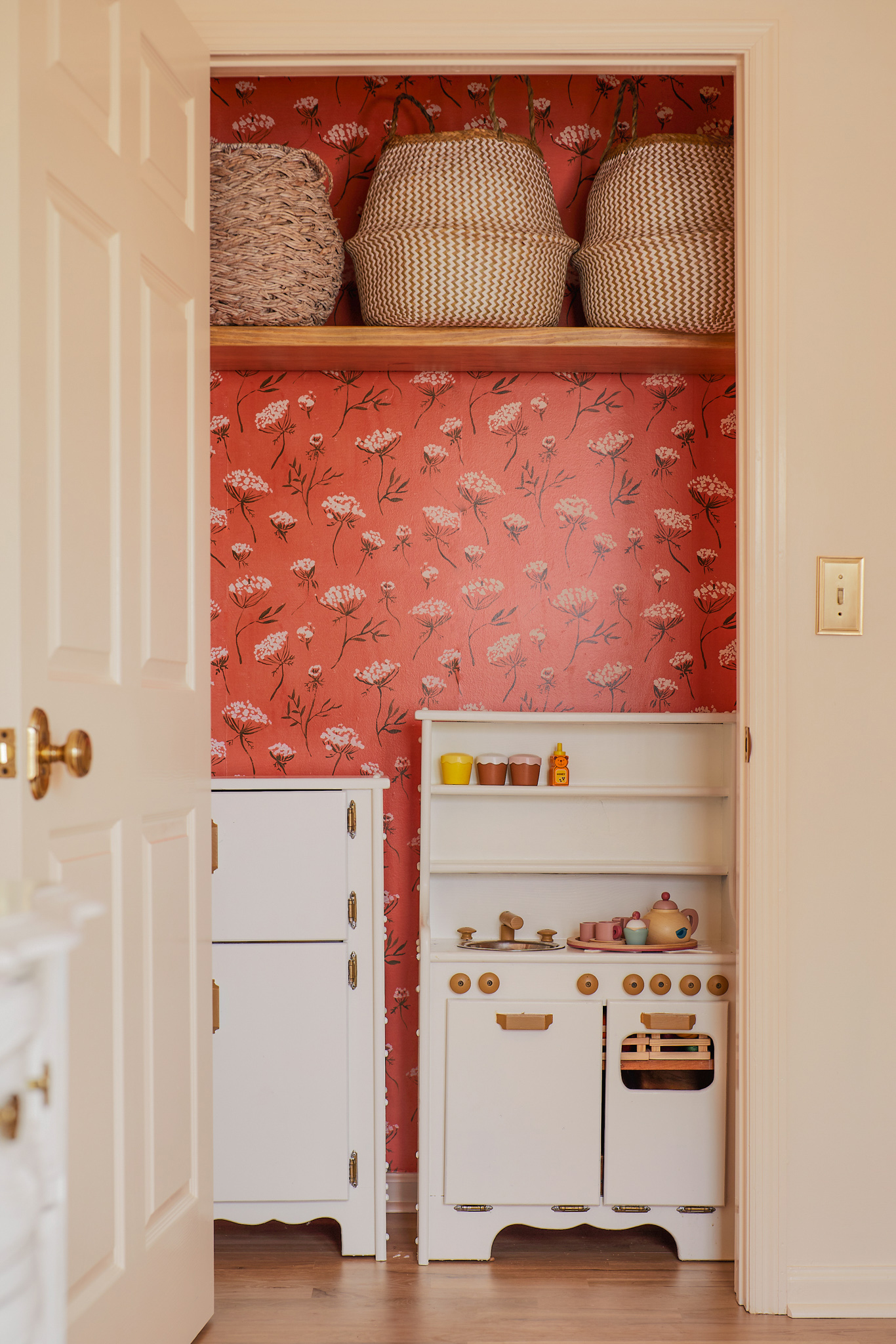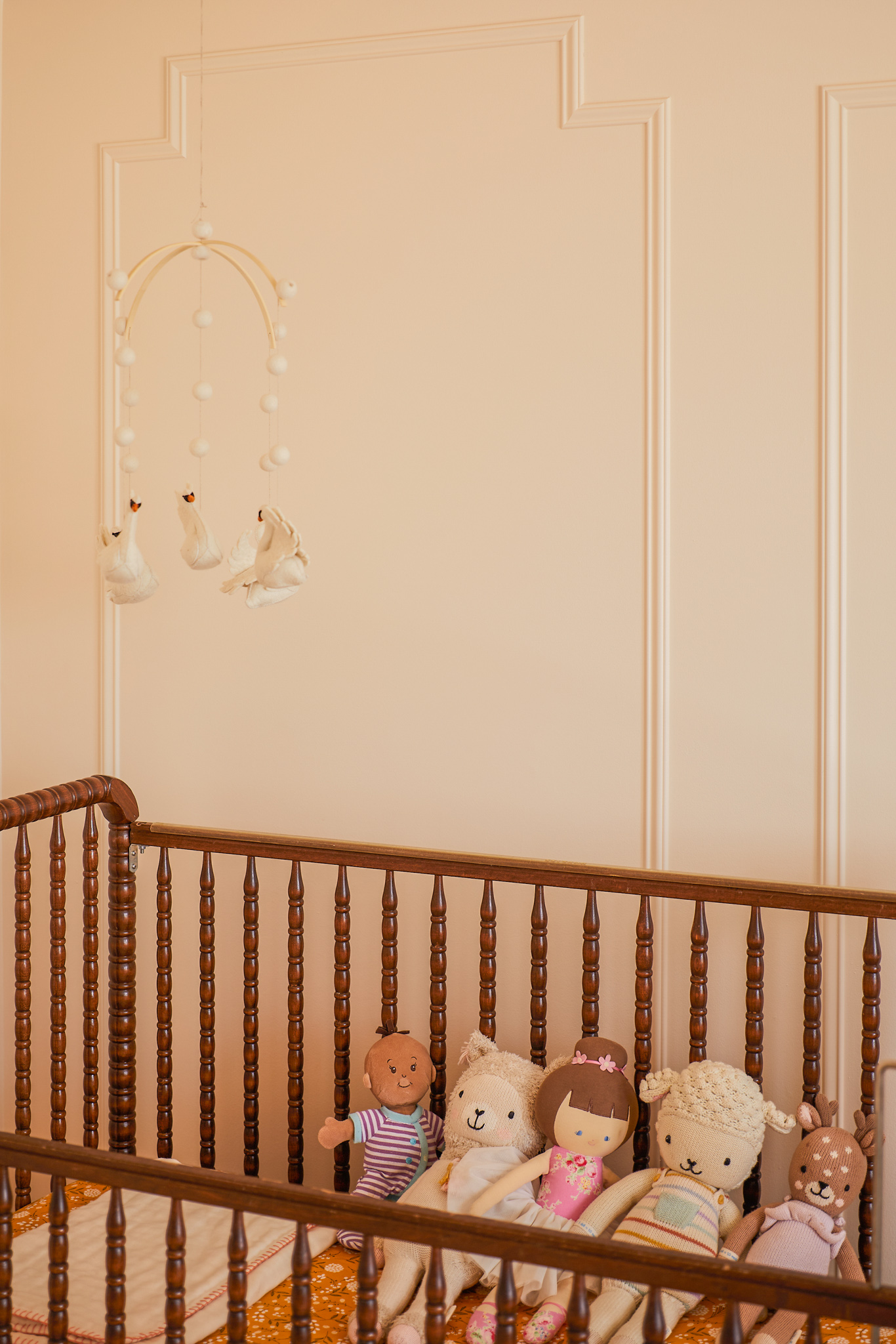 This room ended up a mix of second hand finds, sale scores, re-purposed items from other rooms in our old home, and even a family treasure!
Sources:
Doorknobs
Paint – Benjamin Moore Arizona Peach (50% color reduction)
Ceiling light
Crib – vintage Jenny Lind (similar here or here)
Crib sheet
Blanket
Stuffed animals (gift)
Pom trim mat
Rug – 6 x 9 ft – (Use code ANNA60 for 60% off)
Curtains
Curtain Rod
Pull down blinds in the color Panama cream
Play Table
Wooden name puzzle
Wooden stacking rainbow
Mini chairs: Vintage antique store find
Dresser – Re-painted from FB marketplace
Book holder – HomeGoods
Lamp
Butterfly print
Vintage Floral print
Blanket Basket (similar)
Chair – (Anthro from our old living room)
Vase of Flowers vintage print
Kitchen Set – painted FB marketplace find
Kitchen playfood
Closet wallpaper
Closet baskets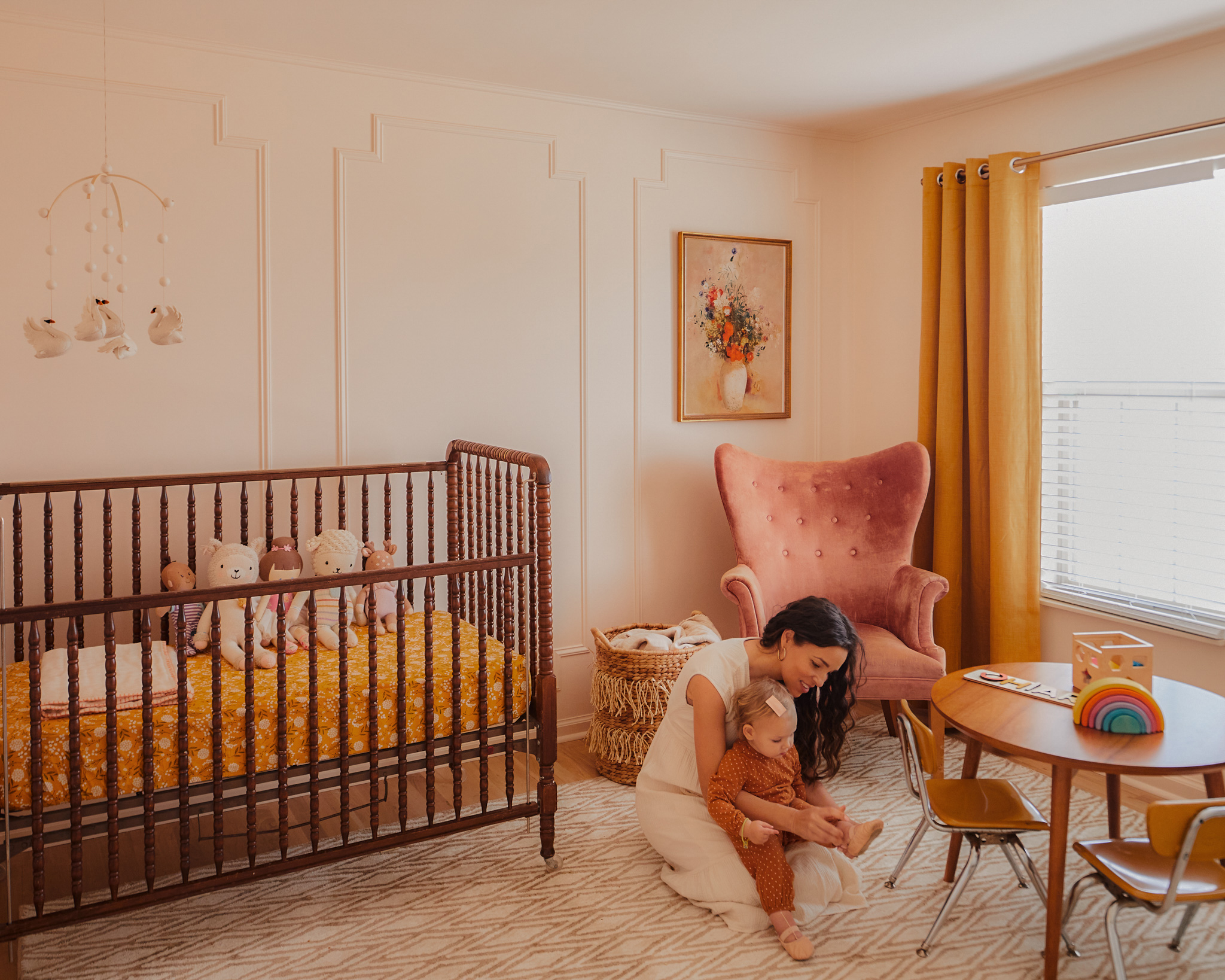 This room was the creative outlet I so desperately needed when our world felt like it was spinning out of control. It was a way to combine my love of home, family, and design. It has been really fun seeing Chiara play for hours in this space, and rope all of her brothers and sisters into play food meals and story time. Thanks to Gabe for yet again being up for doing the install work to make the dream happen. I have a feeling there will get a lot of use out of this space!
Photos by the talented Joseph Bradshaw.